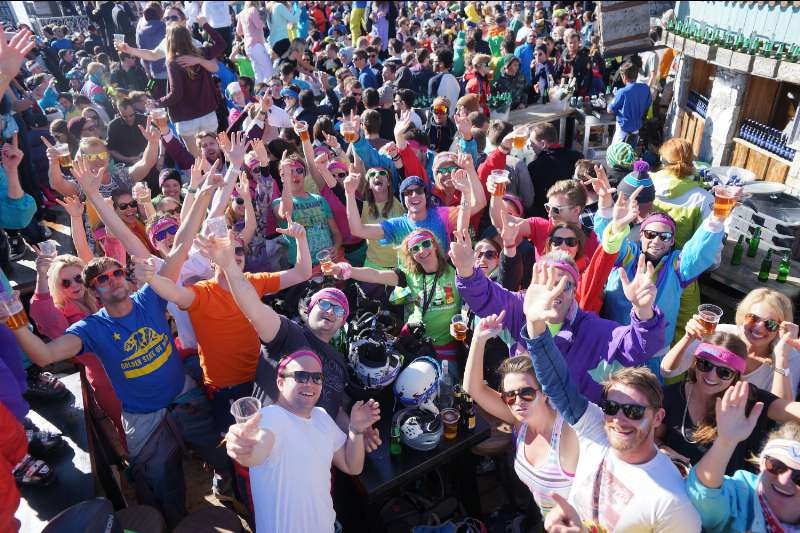 Here in the UK, Spring for me is usually just the countdown to Summer. I can smell the sand and sea of sunny Bournemouth in my dreams and if we are lucky as we have been the past few years, I can get a good bikini sunbathing session in mid-late April. For ski lovers, March means only one thing….Spring skiing in the alps!
I have friends that refuse to ski during the more popular months of January and February holding out for last minute deals. Providing you avoid the Easter holidays, it is generally quieter meaning less people on the slopes and hurrah less queues!
Although lifts are open for longer during the day, in some resorts the price of lift passes decreases and whilst slopes can get slushy in the afternoon sunshine, big snow dumps in April are actually common in the Alps.
You can trade your goggles in for sunglasses and wear fewer layers, with Apres lovers even opting for string vests and bikini tops at the party hot spots such as La Folie Douce! But beware, from experience the snow remains just as cold when you fall and all that drinking on sunny bar terraces does result in you forgetting the all important sun cream!
Then again a Spring ski trip wouldn't be complete without the trademark panda eyes would it?
Here is our run down of the best Spring resort in the Alps and we do have some great last minute chalet deals should this blog excite you enough to book a trip and see what all the fuss is about!
Chamonix, France
Last year, Chamonix had a fantastic spring ski season as far as records go.  As most of the slopes sit above 2000m, skiing conditions are still great! Off-piste lovers will also favour Chamonix in Spring as there are generally better snow depths on higher mountains, reaching up to 4 metres at Grands Montets.
If you want to take full advantage of Spring in the alps and maybe experience other activities alongside your skiing, Chamonix has a well known golf course with superb views making you feel as though you are on the other side of the pond in Canada rather than our neighbouring France! It is also a hot spot for Mountaineering and paragliding.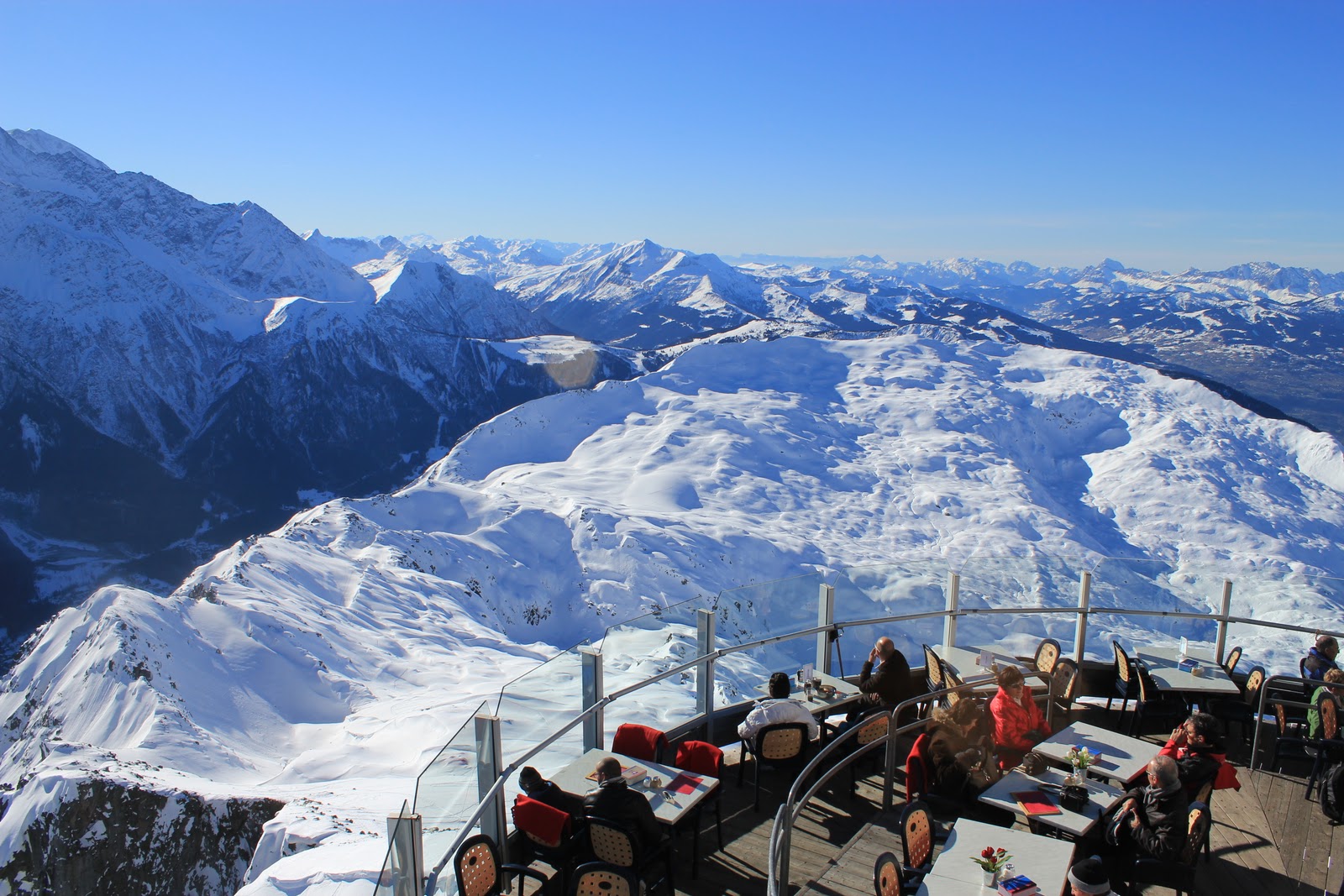 Spring is a more relaxed time of year although the town of Chamonix is still very lively. For the après lover,  early April welcomes the Jour Blanc festival, formally known as the Black Weekend, bursting with events and parties. Also keep an eye out for the free ride closing party at the beginning of May!
Tignes & Val d'Isere, France
You are able to visit the infamous Espace Killy for up to 10 months of the year as it has 300km of high altitude slopes open through until early May 2015. Val d'Isere benefits from North facing slopes meaning the snow takes much longer to melt and in neighbouring Tignes which is approximately 40mins away by car, you have access to the Grande Motte Glacier sitting at 3,400m in altitude!
A vast amount of buildings in both resorts were purpose built in the 60's to accommodate the increasing demand with tourists, so if it's a traditional alpine village you are after with quaint renovated farmhouses and pasture land, sadly Tignes and Val d'Isere are not for you!
If however the scenery doesn't interest you as you'll be spending any hour that you aren't skiing in the first Apres bar or club you can find then voila, what better resorts to visit! Both are well known for their social scene.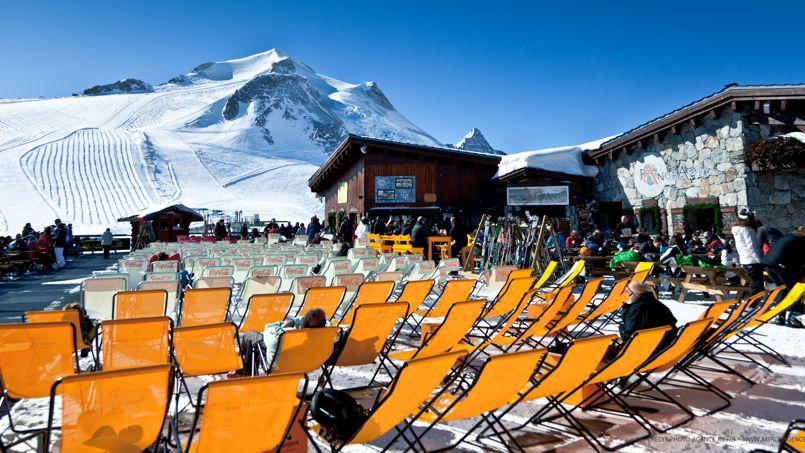 Val Claret in Tignes has some awesome bars suitable for all ages and the famous Le Panoramic restaurant can be enjoyed at the top of the funicular. I was lucky enough to eat here on my whistle stop tour of Tignes and both the food and the views are incredible so well worth a visit in Spring.
On the slopes of Val d'Isere at the top of the La Daille gondola you have possibly the biggest Apres name in the ski world (certainly in France anyway) La Folie Douce….need I say more. This video sums the atmosphere up perfectly!
Verbier, Switzerland
Found in the 4 Valleys, Verbier is a perfect all round Spring ski resort combining beautiful scenic slopes with good apres and also a range non skiing activities including heli-skiing, Quad biking and Husky sledding!
Although slopes are south-facing, there is an extensive snowmaking installation in place meaning that if you are a beginner, the lower slopes will still provide plenty of skiing alongside the higher slopes holding snow. From Mt Fort the views are spectacular and on a clear day you are able to see as far as the Mont Blanc in France or the Matterhorn in Zermatt!
There are some great events on in Verbier later in the ski season making Spring the perfect time to visit! Xtreme Verbier is usually from the end of March to early April and Verbier High Five during mid April which is run by Carlsberg. Any event put on by a drinks brand is going to be a good one!
Zermatt, Switzerland
Zermatt is the only ski resort open 365 days of the year and is home to both the largest Glacier and the highest ski lift! There are 350km of pistes facing all directions on the mountain with an invested snow making system to guarantee skiing even on the glacier during the Summer months.
Set at 1,650 metres, Zermatt is one of the most exclusive and most expensive ski resorts. A favourite for the rich and famous, it combines beautiful scenery with fantastic skiing. Being a traditional Walser Village, some buildings date back more than 500 years and the resort is totally car free adding to it's charm! Everything you need can be accessed by walking or short electro taxi ride.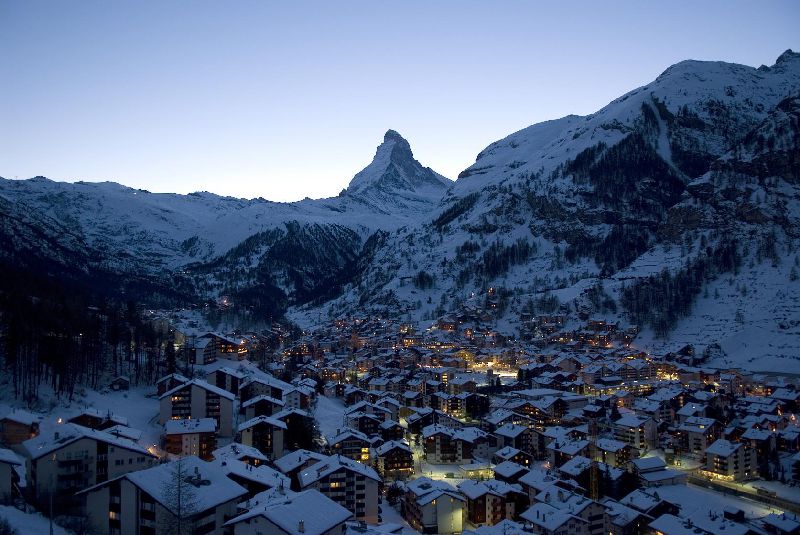 Spring welcomes Zermatt Unplugged in April, a totally free Jazz Music festival founded in 2007 that has now become a hugely popular and unique event. If a night at one of the many bars has left you with a head too sore for the slopes, there are plenty of places to visit including tranquil Museums, Antique shops and restaurants to keep you entertained, or even a Horse drawn carriage ride. If that doesn't suffice you can just spend your day spotting the giant Matterhorn!
Quite simply, Zermatt has it all and what better time to visit and experience this beautiful resort than in sunny Spring!
Find a beautiful selection of our Ski in Luxury chalets for any of the above resorts on Pinterest
Visit our Facebook Page for all the latest chalet offers in resort. You can also find us on Twitter!
For more information on any of the resorts mentioned, please just click Chamonix, Tignes, Val d'Isere, Verbier or Zermatt.