Chalet Pearl, Courchevel 1850
Three Valleys, France
Fully Staffed Only, Sleeps 14
Prices & Availability
Add To My Wishlist
Features
Master bathroom with Jacuzzi bath and big shower
Spa with indoor swimming pool, water fountain, hammam, TV/Music system and massage bed
Gym with treadmill, cross trainer, power plate, weights and TV/Music system
Cinema with huge projector screen
Playroom for children with Play station, X-Box, Nintendo Wii and popcorn machine
Ski room with ski boot heaters, ski rack, coffee machine and TV
Balconies with panoramic view over the mountains and ski slopes
Internal lift
Fireplace
Bar
Wireless internet connection (Wifi) in the whole chalet
Sky TV in Lounge and Master Bedroom, Russian TV channels in all rooms
Luxury bath and beauty products
Exclusive use of chalet and its facilities
Mercedes Viano van including chauffeur daily available from 8.00-20.00h at no costs
Ski in/Ski out - 50m across the road
Location
Chalet Pearl has an enviable combination where fantastic location meets jaw dropping views. Offering some 700 square metres and situated in the middle of the Nogentil area, in Bellecote, above the centre of Courchevel it's within easy reach of the action, but it also has far-reaching vistas across the Dent du Villard and is only 50m from the piste.
View Location Map
The Property
Located in the Nogentil area above the centre of Courchevel 1850 with incredible views over the Dent du Villard, Chalet Pearl is a charming chalet constructed of old timber and local stone.

Compromise isn't a feature of the Chalet Pearl design. With anything. So on entering the chalet one of the first impressions is that of space: generous proportions; over-sized rooms; luxurious areas from games room to steam room; and two floors of immaculate and exemplary design.

The chalet has seven en-suite bedrooms sleeping up to 14 guests in extreme luxury and includes a large master bedroom suite with Jacuzzi tub.

The top floor is dedicated to the living area with a spacious lounge, dining area and bar. There is a fully equipped kitchen where your personal chef will prepare breakfast each morning and an exquisite dinner in the evenings championing the best of local ingredients and international cuisine.

The chalet's spa and gym would be impressive for a luxury hotel let alone for a private chalet that sleeps 14.... one of the best spa and fitness areas we have seen in a private chalet. There is a large swimming pool with loungers by the side to relax in as well as a fitness room and steam room. The gym has all the latest fitness equipment, from Power plates to weights and swiss balls and is fully equipped for a great workout.

It's hard to think of a more perfect way to invigorate and energise or to dissolve post-skiing aches and pains and relax. Complete with marble columns, sauna, and cascading fountain, it's really got the lot – an oasis of pampering and indulgence.

The chalet is equipped with the latest technology; BOSE music system, LCD screens and DVD players in each bedroom as well as the main living area. In addition there is a home cinema room and games rooms.

Prices are per chalet and include the services of the staff. Food and drinks are charged on top.

Please note there is a two week minimum booking requirement over Christmas and New Year.
Room Layout
All seven bedrooms are en-suite, many with fantastic views and balconies, and all decorated to the highest specifications. Combining the traditional elements of local design with the ultimate in modern luxury from plasma screens to Egyptian cotton linen and from plate-sized shower heads to BOSE music systems, the chalet's bedrooms are everything you would expect from standards set this high.
Services and Inclusions
Booking Price Includes:
• 8 staff (1 Chalet Manager/Concierge, 1 Chef, 1 Chauffeur, 2 Waitresses, 3 Housekeepers).
• Breakfast and one additional meal (either breakfast or dinner, but usually it's always a dinner) is included in the usual service. If guests decide to eat at the Chalet twice a day it'll be 50EUR incl. tax per person. All Food & Beverages will be charged to the guest's bill. We don't put any mark up on top. We'll charge the guests the exact same amount that we buy the goods at the bakery, butchery, supermarket, etc.
• The chauffeur is available for any transfers within Courchevel from 8.00-20.00h at no costs.
• The masseuse works solely for us and is available from morning till late evening. Massage fees are at additional costs.

Booking Price Excludes:
● Flights
● Food & drink cost, payable in resort
● Airport Transfers
● Insurance Premiums
● Lift Passes or Ski Rental
● Childcare arrangements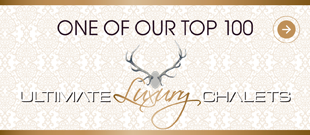 Prices
Arrival
Nights
Price
Key
26 Jan 19
7
BOOKED
02 Feb 19
7
BOOKED
09 Feb 19
7
€ 110,000
€ 85,000
16 Feb 19
7
BOOKED
23 Feb 19
7
BOOKED
02 Mar 19
7
BOOKED
09 Mar 19
7
€ 95,000
€ 85,000
16 Mar 19
7
€ 95,000
€ 85,000
23 Mar 19
7
€ 95,000
€ 85,000
30 Mar 19
7
BOOKED
06 Apr 19
7
BOOKED
14 Apr 19
7
€ 50,000

Currency

This property will be quoted and charged in Euros.
Contact Us
View Wish List

You must be logged in