Chalet Ormello, Courchevel 1850
Three Valleys, France
Fully Catered, Sleeps 15
Prices & Availability
Add To My Wishlist
Features
Indoor swimming pool
Covered outdoor hot tub
Bar
Steam Room / Hammam
Open Fireplace
Massage room
Private gym
Ski Room
Children's playroom
Private Cinema
Wireless Internet (WiFi)
Balconies with stunning views
Elevator
Location
This chalet is in a great location, with breath-taking views from the balconies, just 2 minutes walk to La Croisette and the centre of the resort. Those wishing to stroll into town on foot can do so in around five minutes.
• Distance to piste: 10 metres
• Distance to lifts: 150 metres on skis to the Croisette.
View Location Map
The Property
Just steps from the Bellecote piste, the 1,000m² Chalet Ormello offers guests unparalleled luxury with the emphasis on traditional style, combined with modern comfort. The chalet has 9 bedrooms in total (7 double bedrooms and 2 masters), sleeping up to 15 people.

This property features an expansive lounge area to comfortably accommodate the chalets full capacity in the evenings, with breathtaking views from the balconies.

Ideal for both large groups of adults and family parties, tailor this property to suit your specific needs, by taking advantage of the indoor swimming pool, Jacuzzi, fitness & massage rooms, spacious kids′ playroom, state-of-the-art in-house cinema, plus access to all the in-house privileges and amenities of the Palace Hotel Les Airelles. These include the Spa La Mer, three restaurants, (including that of renowned fusion chef Pierre Gagnaire), Kid′s Kingdom, skating rink, and designer boutiques.

Expansive play areas for children in the chalet and the hotel are located on two floors, and one professional and one courtesy kitchen for guests use and dining area, this can be utilized when groups wish to separate.

Prices are for exclusive occupancy of the chalet on a full board basis including selected soft drinks and a complimentary shuttle service.
Room Layout
Each of the nine bedrooms has been individually decorated with textured- wood accents and rich fabrics. The two master bedrooms each boast fireplaces, and balconies extending from open lounging areas on each floor frame picturesque views of the mountains.

3x en-suite double bedrooms
2x master bedrooms with fireplace
4x en-suite bedrooms with shower room
Services and Inclusions
A unique concept in Courchevel 1850 - A luxury chalet offered on a full board basis but with the option of having your meals in one of the amazing local restaurants instead of the chalet. This offers the flexibility of a private meal in the comfort of your chalet or the opportunity to try one of the area's many amazing gourmet restaurants.

Here are the restaurants that you can choose from:

• Le Festin (for lunch): The famous Lunch Buffet of Courchevel … mythical!
• Le Chalet de Pierres (for lunch): Our authentic restaurant located right on the slopes
• La Folie Douce/La Fruitière in Méribel (for lunch): Our high altitude, open-air clubbing place
• Le Nama at Aman Le Mélézin (for lunch or dinner): Japanese restaurant
• La Table des Airelles (for dinner): Traditional French cuisine, classic and sophisticated
• PieroTT restaurant (for dinner): The original Pierre Gagnaire's concept of Italian cuisine
• Le Coin Savoyard aux Airelles (for dinner): Regional specialities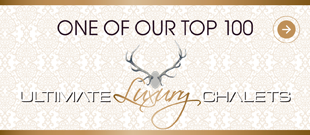 Prices
Arrival
Nights
Price
Key
13 Dec 19
8
€ 140,500
21 Dec 19
7
BOOKED
28 Dec 19
6
BOOKED
03 Jan 20
9
€ 299,900
12 Jan 20
7
BOOKED
19 Jan 20
7
BOOKED
26 Jan 20
6
€ 103,900
01 Feb 20
7
€ 146,250
08 Feb 20
7
BOOKED
15 Feb 20
7
BOOKED
22 Feb 20
7
BOOKED
29 Feb 20
8
€ 140,500
08 Mar 20
7
BOOKED
15 Mar 20
7
€ 122,900
22 Mar 20
7
€ 122,900
29 Mar 20
7
€ 122,900
05 Apr 20
7
€ 122,900

Currency

This property will be quoted and charged in Euros.
Prices Include
Full board catering with a choice of meals in either the chalet or a number of local restaurants
Chalet Manager
Housekeeping Service (head housekeeper and housekeepers)
Food and Beverage Services (chef, headwaiter and their team)
Laundry
Shuttle Service
Concierge Service
Security Service
Soft drinks for any meals exclusively taken into the Chalet


Services with extra charges


Wine cellar and alcoholic beverages
Dry cleaning
Beauty care treatments by La Mer, massages, personal trainer, hair-dresser
Babysitting
Ski equipment, ski passes and ski instructors
City Taxes
Contact Us
View Wish List

You must be logged in
Similar Properties
FROM THE BLOG
The Blue Skies Lifestyle Collection