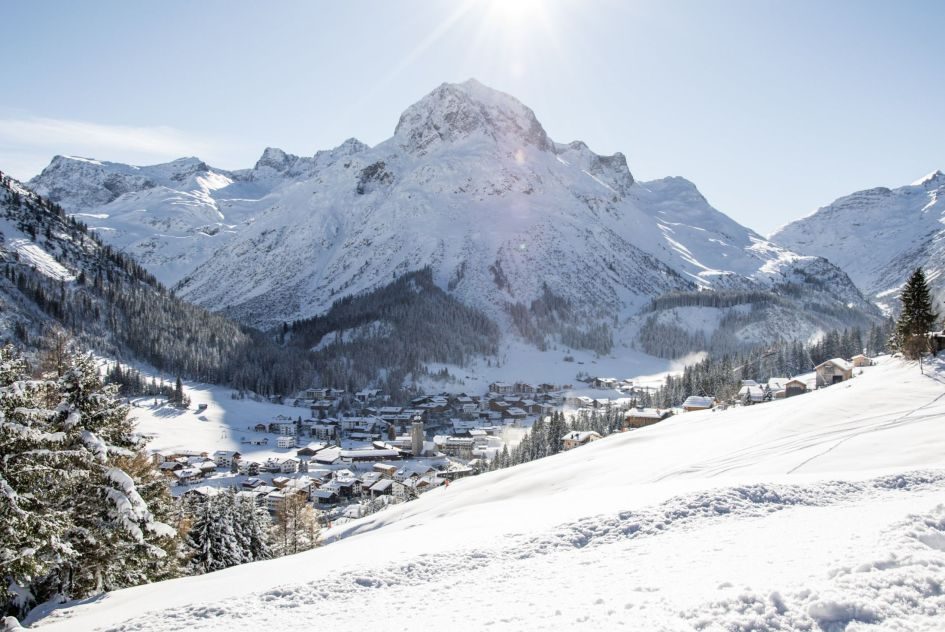 For many years the luxury ski chalet market has been led by the likes of Courchevel in France and Verbier in Switzerland but the Arlberg region in Austria is fighting back with new luxury ski accommodation. There are a handful of luxurious ski chalets that have just come on the market for rental this winter season in St Anton, Lech and Zürs. Read on to discover the new luxury ski chalets in Austria for winter 2019/20…
St Anton is arguably best known for its apres-ski but it is now becoming even more appealing for that luxury mountain holiday in the Alps. With the addition of some new fantastic luxury chalets, St Anton is widely regarded as one of the best ski resorts in Austria. Renowned for its legendary on and off-piste skiing and vibrant lively apres, it is easy to see why luxury ski holidays in St Anton are so popular.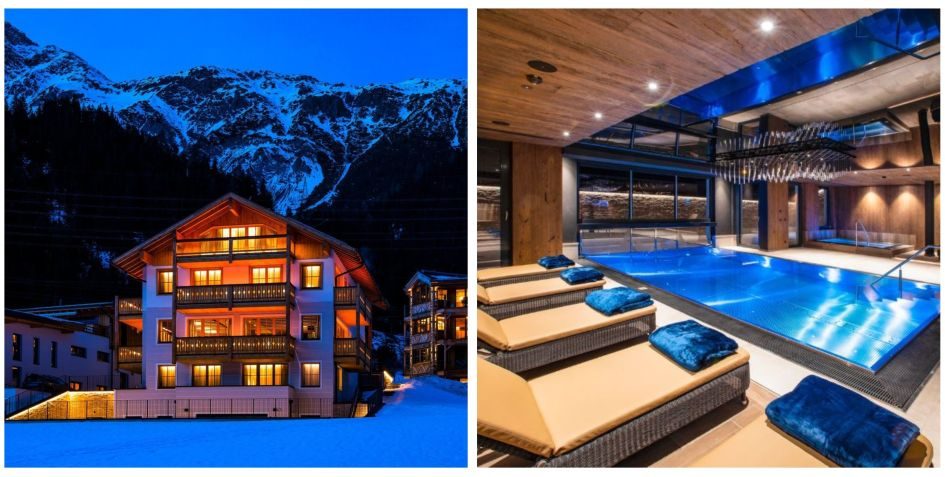 This 900m² luxurious ski chalet is truly amazing. In fact the Sales Manager, Gavin, at Ski In Luxury says this has to be the best ski chalet he has seen throughout the Alps – and he has visited some of the best the Alps have to offer. Chalet Lena sleeps up to 22 guests in 9 spacious bedrooms. Individually styled using luxurious finishes and fabrics, each bedroom features an en-suite shower or bathroom and balcony access.
Chalet Lena has a unique swimming pool, by which the pool flows between the indoors and out. The wellness facilities continue with the steam room which can seat all 22 guests, and indoor hot tub, Finnish and Bio saunas, a massage treatment room and a gym with high-tech, modern facilities.  To add, you can enjoy spectacular views of the valley from the balconies and terraces surrounding the chalet – relaxing within itself, especially with a glass of fizz.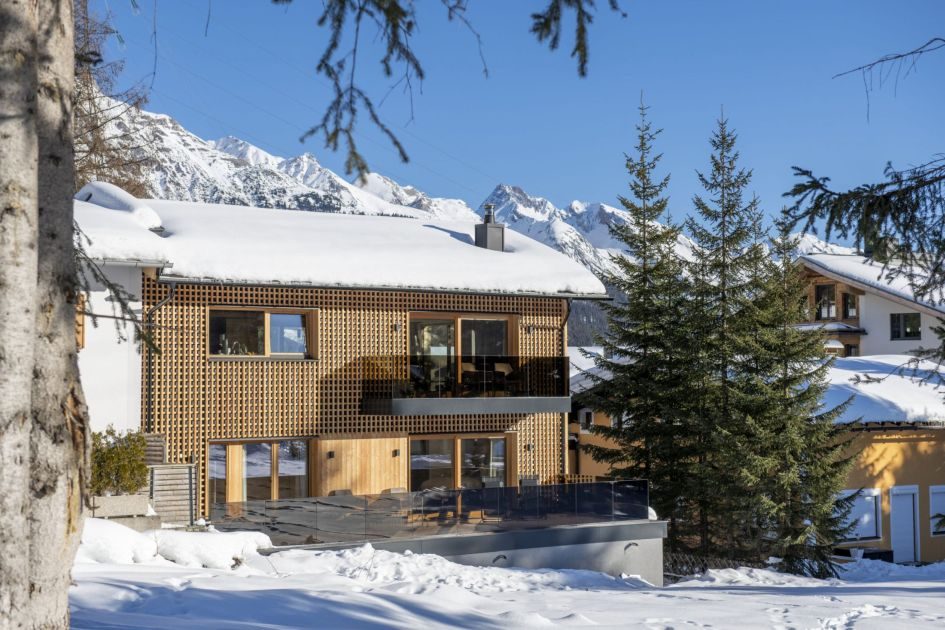 Villa Villekulla is a contemporary luxury mountain villa that can sleep up to 12 guests in six luxurious bedrooms. After skiing, head out to the extensive terrace area, allowing you to capture a closer look at the stunning views with a sip of your favourite drink in hand, soaking up the mountain air. Or you can enjoy the view from the unusual hot baths and enter full relaxation mode. Just a 1 minute walk to the Zammermoos piste, Villa Villekulla is in ideal position to enjoy your ski holiday with family or friends on your luxury ski holiday in the Austrian Alps.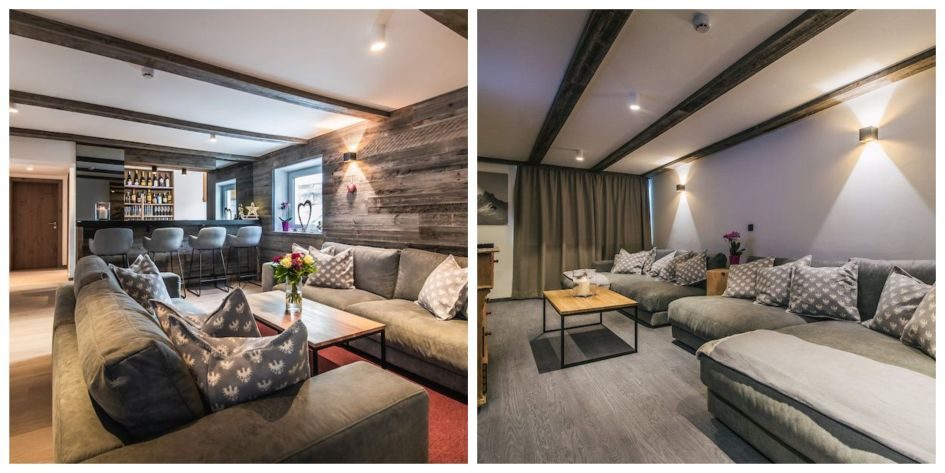 Chalet 47 is a brand new luxury chalet in St Anton, Austria for the 2019/20 winter season. Rebuilt and redeveloped at a cost of well over €3,000,000, guests are now enjoying this luxury ski chalet. An incredible property, Chalet 47 will host up to twenty-seven guests in 12 en-suite rooms. The designers have promised a sleek alpine experience with no holding back on the luxury elements. This chalet is set to wow your large family ski group, corporate ski trips or just a big get together with friends to enjoy a fantastic ski holiday in St Anton and the Arlberg ski area.
At other end of the Arlberg ski area, you will find the high class resort of Lech. Lech is a wonderfully atmospheric village and provides a great diversity of slopes for all grades of skier and boarder, but with more focus to the beginner and intermediate skier than it's party neighbour St Anton offers. It is a chocolate-box Alpine village, awash with high quality hotels, luxury ski chalets and restaurants. With access to the neighbouring resorts of Zürs and St Anton, Lech makes up a part of one of the world's best ski domains with arguably some of the best luxury ski chalets in Austria.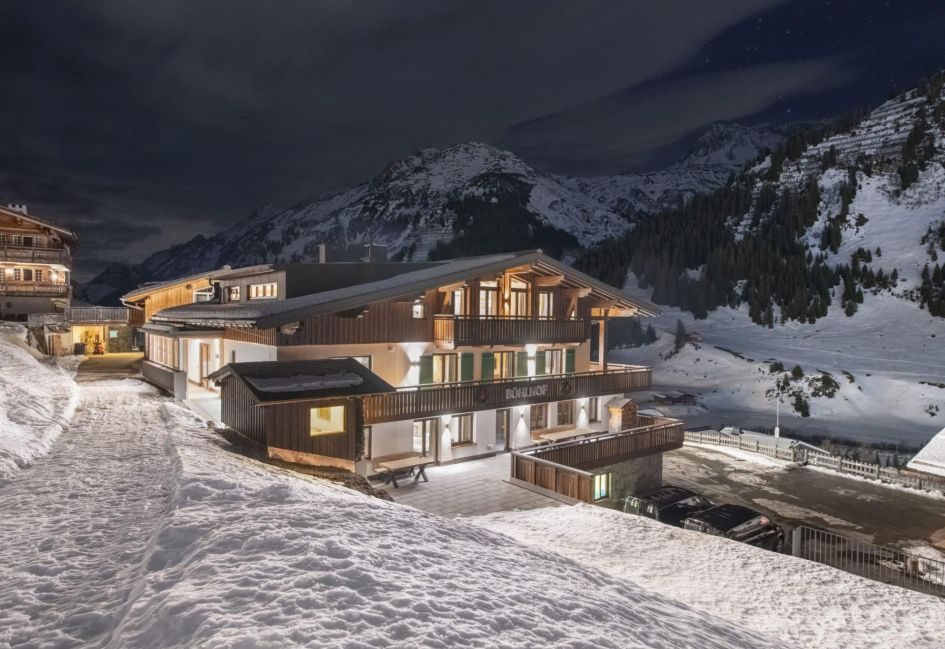 Bühlhof Penthouse is a wonderful addition to Lech's luxury apartment scene with high spec furnishings and traditional alpine interior. Step into the wellness area, boasting a sauna, a relaxation area and a small gym, all on the ground floor. Stepping out onto the terrace, you'll find the outdoor hot tub, the perfect place to take in the amazing mountain views. The chalet chef will produce delicious gourmet food, tailored to your preferences and requirements, on 5 nights and for the other nights, you can indulge in the quality and plentiful dining options in the village. Despite only being a 10 minute walk into the village of Lech and only 6 minutes to the nearest chairlift, if you want to rest any weary legs, you can take advantage of the 24hr driver service.
Chalech 4 is spread over three floors, all serviced by stairs but also by an internal lift. After ascending to the top floor you will be welcomed by a large open plan living area featuring floor to ceiling windows that gives you fantastic alpine views – it is the perfect place to rest your legs in front of the crackle of the wood burning stove as the town of Lech sparkles into dusk. A wonderful highlight of Chalech 4 is the private spa facilities. Boasting a sauna and a Hammam, as well as a relaxation area, this zen space is the answer for weary muscles or simply for those wanting to rejuvenate the mind and body. In addition, guests can push themselves further with a work out in the shared gym or with some lengths in the shared pool, found in the basement of the building. These faciltities are shared with Chalet 5 and Chalet S detailed below.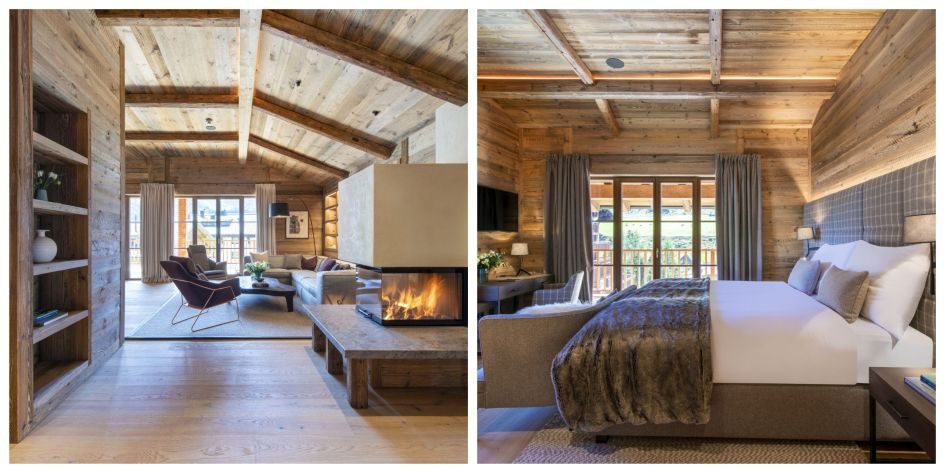 Chalech 5 is a beautiful new apartment that accommodates 8 guests across 4 bedrooms and 2 floors. The design marries traditional alpine materials and craftsmanship with modern design, furnishings and finishings to create the ideal alpine apartment for families or groups of friends. Chalech 5 is a sensational property that is perfectly positioned only a stone's throw from the piste and the Schlosskopf chairlift is a just 3 minute walk away.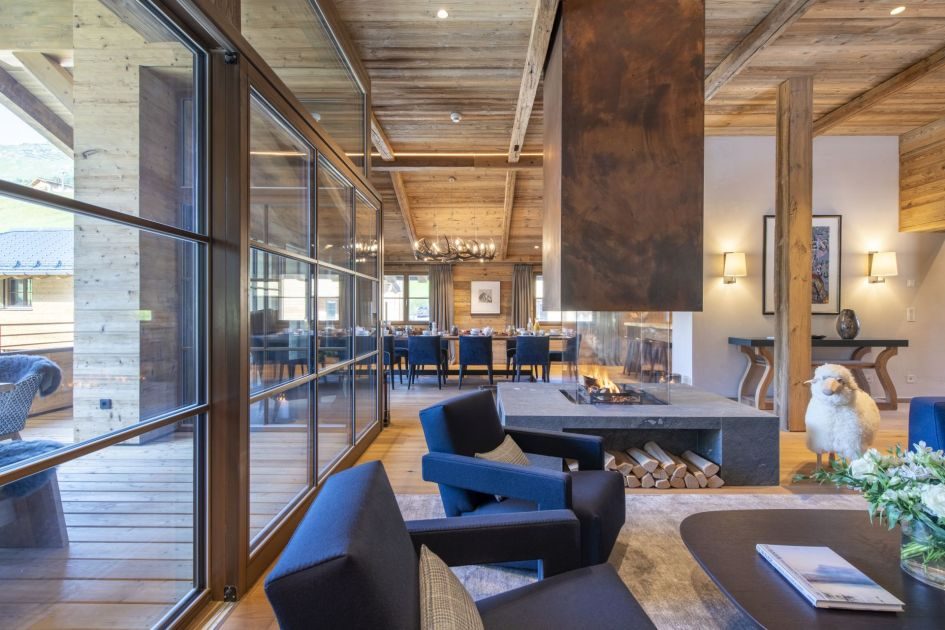 Chalech S is the ideal place to take your luxury mountain holiday in the Austrian Alps. Spanning over 4 floors sleeping 12 guests in 5 luxurious bedrooms. The top floor of the chalet is dedicated to the impressive open plan living, dining area and kitchen. The striking central fireplace welcomes you into the room, creating a warm and relaxing atmosphere. You are immediately drawn to the large glass sliding doors that lead out to the balcony where you can take in the views across the village and beyond to the mountains.
Zürs is a small and refined resort, at an altitude of 1,716m, offering high altitude ski access and fantastic snow conditions throughout the season. Zürs is widely known as the Austrian mecca of alpine powder snow skiing and is home to one of the most celebrated and best ski schools in the world. The Zürs ski school offers personal attention with private instructors or group tuition, from beginner courses to heliskiing.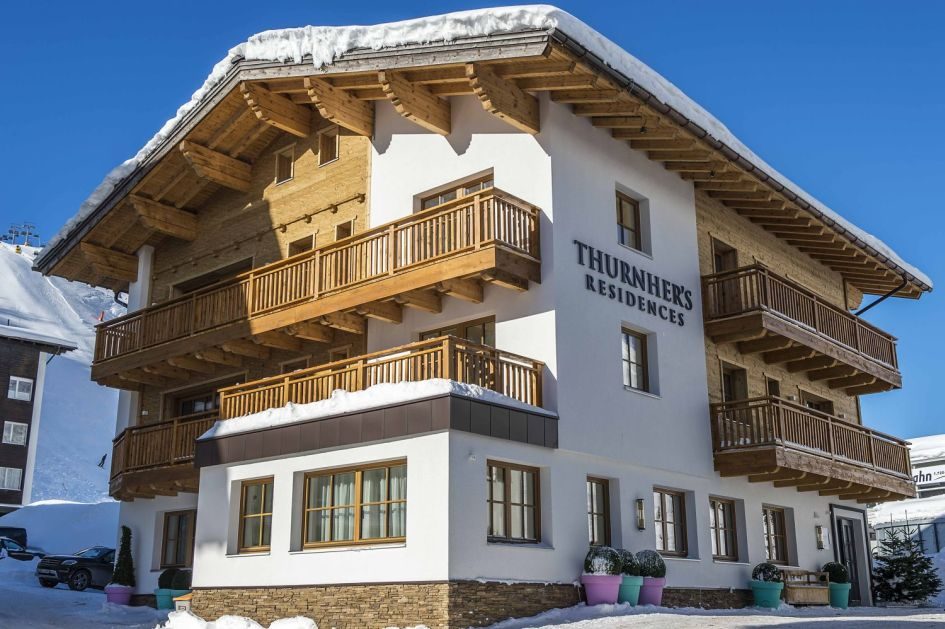 The Thurner's Residences are new to our portfolio and are made up of 5 luxury apartments ranging in size, accommodating between 2 to 7 guests. Located directly beside the Zürser See lift, guests have easy access to the Lech Zürs am Arlberg ski region which offers an incredible 305km of pistes. Centrally positioned within this charming resort, means you are just a stone's throw from the top class restaurants. The Residences are partnered with the 5 star Thurner's Hotel which is just 100m away. When staying at the residences you can make the most of the hotel services and spa area.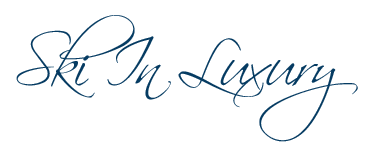 So the choice is yours, all three resorts make up the Arlberg ski area you just need to decide which resort or which luxury ski chalet best suits your group for your winter ski holiday to Austria.
Please do get in touch for more advice and recommendations on any of the resorts or luxury ski chalets in Austria and the team at Ski In Luxury will be more than happy to help. Send us an email or give us a call on +44 1202 203650.