Backstage Chalet, Zermatt
Matterhorn Ski Paradise, Switzerland
Fully Catered, Sleeps 10-11
Prices & Availability
Add To My Wishlist
Features
320m² of Living Space
Levitating Whirlpool
Glass Walls
Spectacular Matterhorn Views
Home Cinema System
Children's Playroom
Balconies
Sauna
Hammam
Wood Burning Stove
Private Elevator
Ski room with heated boot racks
Laundry Area
Office Area
Location
The Backstage Chalet is situated in a quiet residential district in the centre of Zermatt, but at the same time located next to the cable cars to the respective ski area. The resort centre, ski lift and piste are just a 7 minute walk.
View Location Map
The Property
The chalet is based on an old Valais house dating from the 1940s, which Heinz has modernised and extended by two storeys in line with the chalet nature of the building. This extension has been constructed exclusively from local larch and designed to include large areas of glass, providing a spectacular 360 degree panoramic view over the village and the Matterhorn. The chalet has 5 double bedrooms, one of them containing a high sleeper and thus an extra bed, making it ideal for an additional child. The roof structure has open gables, and provides an open living, dining and kitchen space, with the fireplace giving the place a cosy atmosphere.

At the opposite end of the fireplace, Heinz Julen has devised and built a spectacular whirlpool - a fascinatingly small feat of engineering, that is probably unique among its kind worldwide. The pool accommodates up to 6 people. At the press of a button the roof opens and the pool is hydraulically lifted above the roof! The view from above the chalet is truly breathtaking, making the experience unlike any other you can find in Zermatt.

The bedrooms are spread over two storeys below. Right down in the cellar, the luxury chalet in addition has a small private home cinema and games room and is equipped with a workstation, toilet and shower. Next door is the ski room with heated ski boot racks. All these rooms have access to a private lift.

Naturally all the furniture and furnishings have been developed and manufactured in the Heinz Julen studio in Zermatt. The chalet is moreover equipped with contemporary art from Zermatt's art rooms. Here Heinz focuses on cosiness and tradition, blended with a modern-day flair, in an impressive manner, making you instantly feel at home. With all its originality and innovation, the Backstage chalet stands a good chance of redefining the term "5-star luxury chalet business" in Zermatt. Heinz and Evelyne Julen, along with their team, are looking forward to the new season's guest sector with enthusiasm.

There is also an exclusive team, led by hostess Anna, a cook and chalet maids, dedicated to making your stay as perfect as possible. On six evenings our exclusive team will cook for you on site. Once a week you can sample our top quality "after seven" restaurant. There you will be our VIP chalet guests and take your place at the centrally situated family table. During the week the infrastructure of the Backstage Hotel, including spa, cinema, etc. is available to guests free of charge.

Prices are for exclusive use of the chalet to include full gourmet catering and complimentary drinks bar. No travel included.

Rates also available on request for Bed and Breakfast or Self Catered board.
Room Layout
Bedroom 1
• Double bedroom with en-suite bathroom

Bedroom 2
• Double bedroom with en-suite bathroom

Bedroom 3
• Double bedroom with en-suite bathroom and mezzanine with single bed

Bedroom 4
• Double bedroom with en-suite bathroom

Bedroom 5
• Double bedroom with en-suite bathroom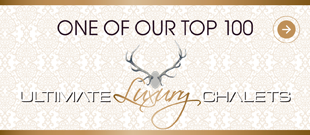 Prices
Arrival
Nights
Price
Key
27 Jan 19
7
CHF 33,500
03 Feb 19
7
BOOKED
10 Feb 19
7
CHF 64,500
17 Feb 19
7
CHF 64,500
24 Feb 19
7
CHF 32,500
03 Mar 19
7
CHF 32,500
10 Mar 19
6
CHF 27,850
16 Mar 19
7
BOOKED
24 Mar 19
7
CHF 32,500
31 Mar 19
7
BOOKED
07 Apr 19
7
CHF 43,000
14 Apr 19
7
CHF 43,000
21 Apr 19
7
CHF 36,000

Currency

This property will be quoted and charged in Swiss Francs.
Prices Include
Exclusive use of the chalet
Professional chef and hosting staff
Concierge service prior to arrival and for the duration of the stay
Shuttle Service to the Chalet within the resort on arrival/departure day
Welcome Champagne Reception
Welcome Basket with an assortment of fruits and chocolates
Meeting with Chef and Chalet Manger to discuss the weekly menu
Daily housekeeping service
Evening turn down service on six evenings
Daily continental breakfast buffet with chalet host
Daily afternoon tea with sweet pastries from our own patisserie
Three course dinner on six evenings during a 7 night stay
Early children's supper on six evenings
The finest selection of complimentary house wines with dinner, beers and soft drink
Complimentary spirits bar
Mid-week bed linen change
Robes, slippers and toiletries
Hairdryers in every bathroom
Lift pass delivery service
Complimentary access to the theme spa/wellness area at the Backstage Hotel – 10 min. walks
Contact Us
View Wish List

You must be logged in
Similar Properties
FROM THE BLOG