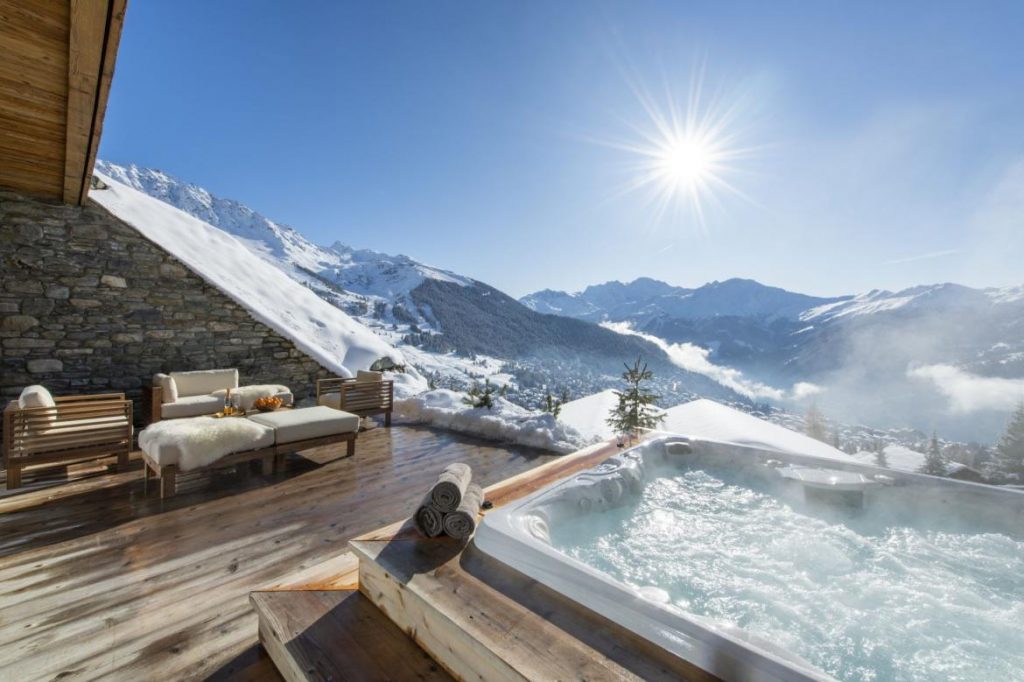 Perfect for soothing aching muscles after a long day skiing, or simply for relaxing with a glass of bubbly, luxury ski chalets with hot tubs always appear to be a priority on our clients' holiday wish-lists.  Featuring properties in France, Austria and Switzerland, allow us to introduce you to Ski In Luxury's Top 10 Luxury Ski Chalets with Hot Tubs…
The first chalet to feature on our list of the Top 10 Luxury Ski Chalets with Hot Tubs is Chalet Calima (pictured above).  Chalet Calima is one of our 'New Ultimate Luxury Ski Chalets 2020', selected as one of the top 100 properties in our entire portfolio.   Chalet Calima boasts an incredible outdoor hot tub, providing the perfect setting for your after-ski relaxation. Enjoy a sip of something nice as you watch the sun setting over the Grand Combin; a perfect way to end another glorious day in Verbier! Once the sun disappears, the chalet's spa area, including a further indoor hot tub, will welcome you back into the comfort and luxury of the chalet.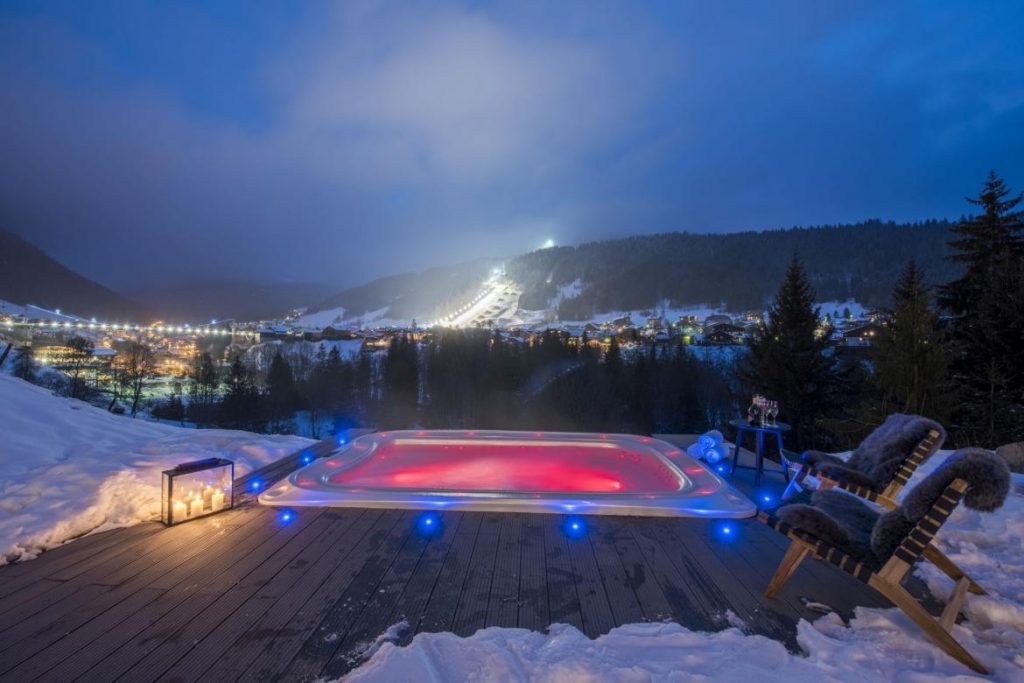 Spread across an extensive 720m2 area, Chalet Sapphire Gem is the second beautiful property to join our list of luxury ski chalets with hot tubs. Featuring an incredible wellness terrace, with a double-size hot tub, a barrel sauna and fire-pit, the views over Morzine are stunning.   Inside, the chalet also boasts a swimming pool, hammam and gym…as well as a pool table, cinema room and extensive wine cellar for those who prefer to relax with a drink in hand!  Sapphire Gem sleeps 16 guests in absolute luxury; perfect after a day on the slopes and a delicious meal from the chalet's chefs.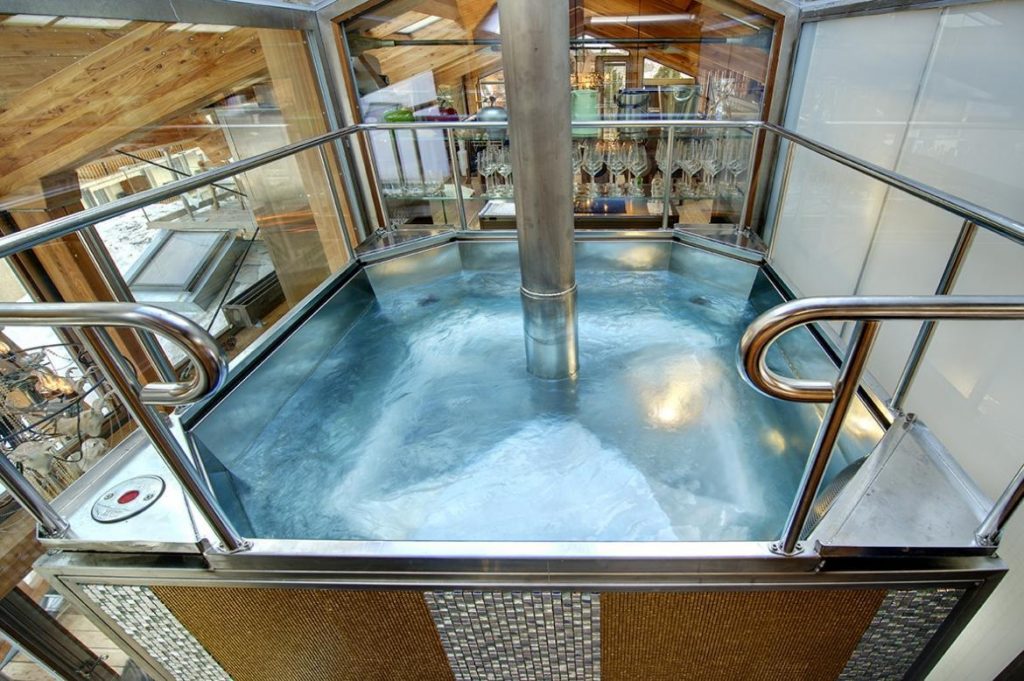 The Backstage Chalet is possibly one of the most unique and luxurious chalets in Zermatt. Designed and modernised by the famous Swiss architect, Heinz Julen, this extraordinary chalet features a fascinating hot-tub.  Seating 6 people it's an interesting feat of engineering for guests to experience. With a press of a button, the roof of the chalet opens, allowing the hot tub to be hydraulically lifted above the roof! From here, guests will be able to appreciate the mesmerising 360° panoramic views of Zermatt, including the well-renowned Matterhorn Peak.   Check out our Ultimate Luxury Chalets blog for a detailed look at Heinz Julen's Architecture in the Alps.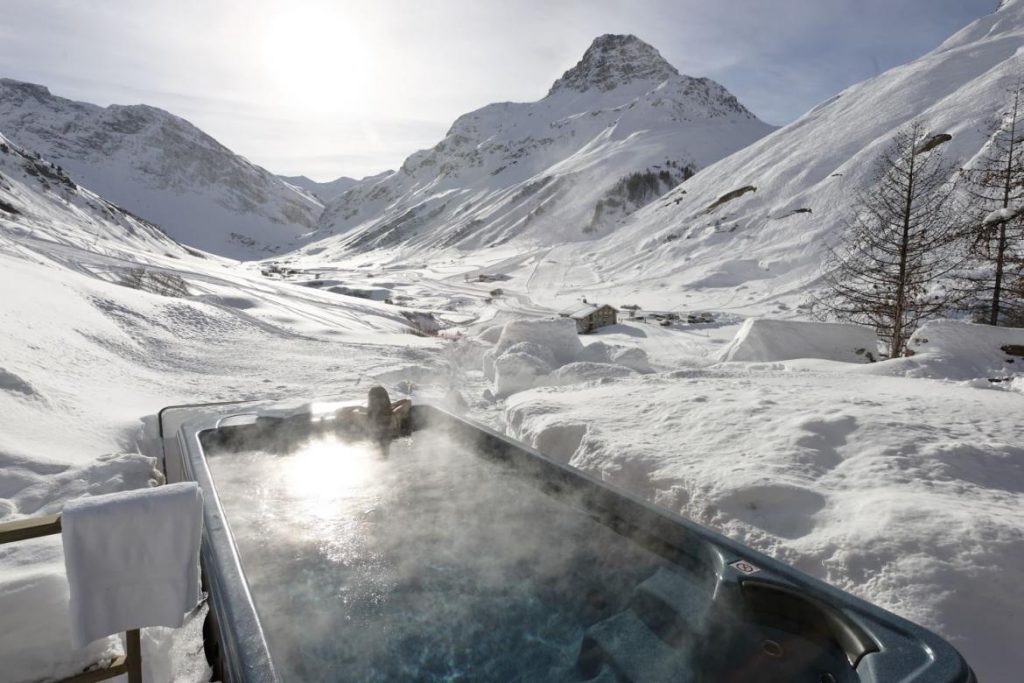 Undoubtedly one of the most exclusive and desirable luxury ski chalets in Val d'Isere, Chalet Le Chardon was an easy choice to include in our list of the best chalets with hot tubs.  Firstly, Chalet Le Chardon presents guests with a chance to unwind in the warmth and relaxation of not one, but two, beautiful outdoor hot tubs! In addition to which, the 18ft swim spa either has a counter-current for an alfresco swim, or is a perfect spot from which to chill out and kick back.  Benefiting from an elegant mountainside position, gaze out to the uninterrupted snowy Manchet Valley and Vanoise National Park views before you, with a glass of champagne – the perfect luxury ski holiday experience!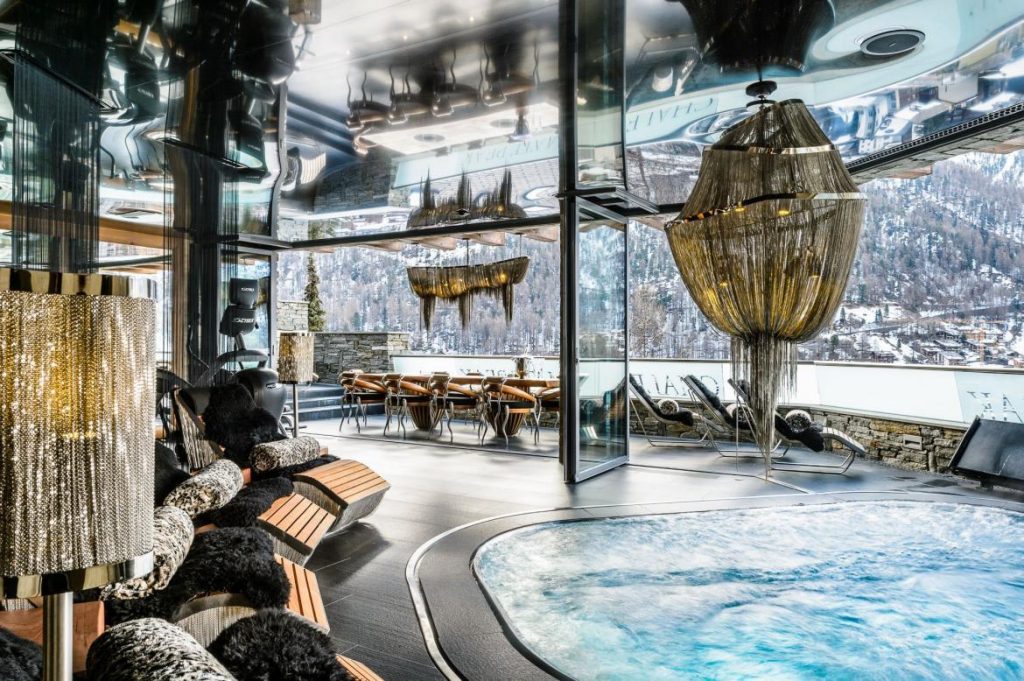 Oozing style, luxury and panache, Chalet Zermatt Peak is one of the most unique chalets in our list of luxury chalets with hot tubs.   The huge hot tub in the  chalet's exceptional wellness area can be fully opened up by folding back the wall of windows, allowing you to feel connected to the majestic mountain surroundings as you unwind.  What better way to relax before receiving a blissful aromatic massage, and settling down to an evening of expertly cooked international cuisine and fine wines.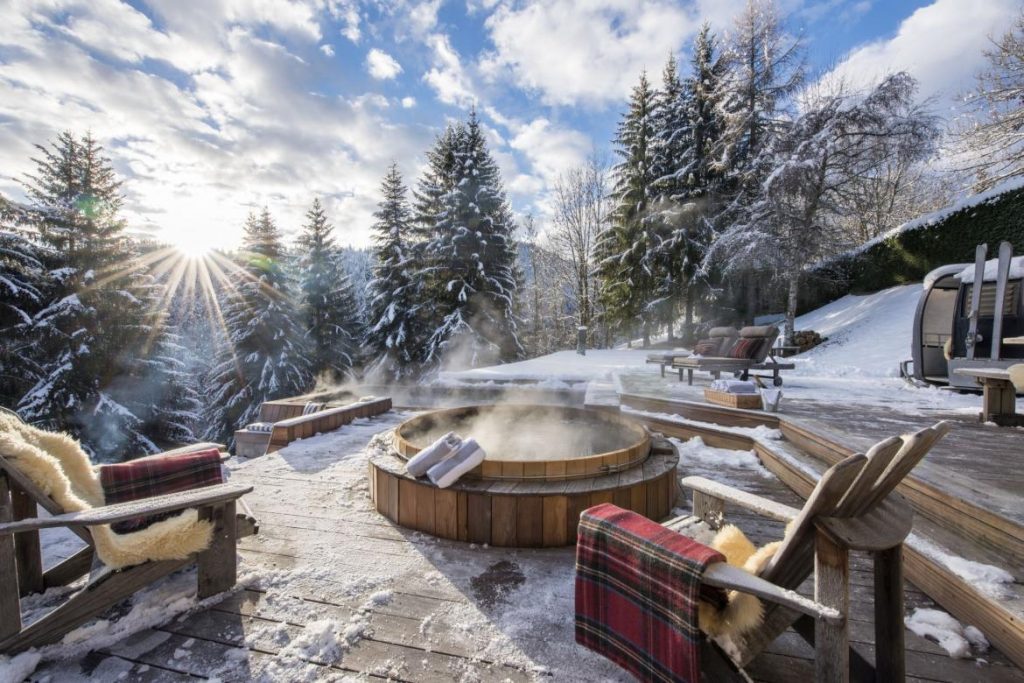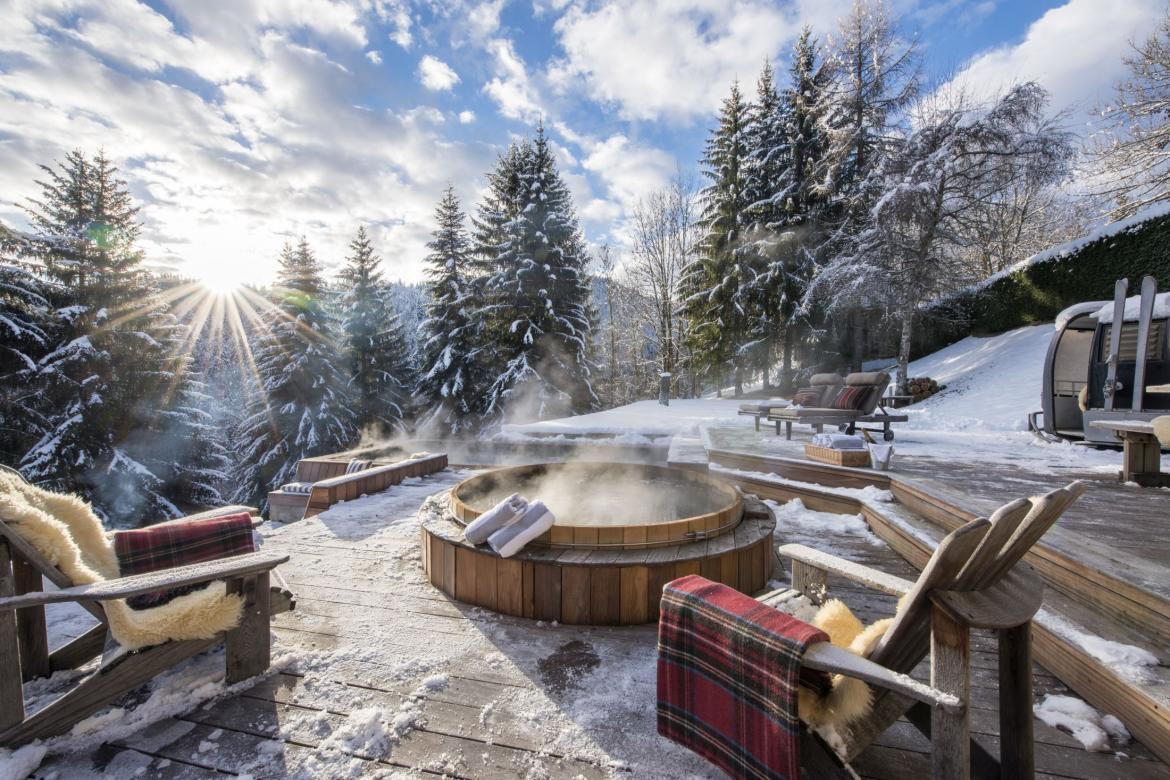 This outstanding luxury ski chalet in Les Gets offers guests a stay in an intensely private and discreet location. Set in its own private grounds, Chalet Ferme de Moudon's outdoor hot tub is blessed with exceptional and uninterrupted valley views of the surrounding snow-clad trees, powder fields and perfect pistes, making you feel all that you survey is your own.  The extensive spa terrace also boasts a heated swimming pool and barrel sauna, so there's no excuse not to leave those 'real-world' worries behind.  Also featured in our Most Romantic Ski Chalets blog, with its incredible chocolate-box exterior and contemporary chic interior, it is clear to see why this luxury chalet with hot tub enters our top 10 list!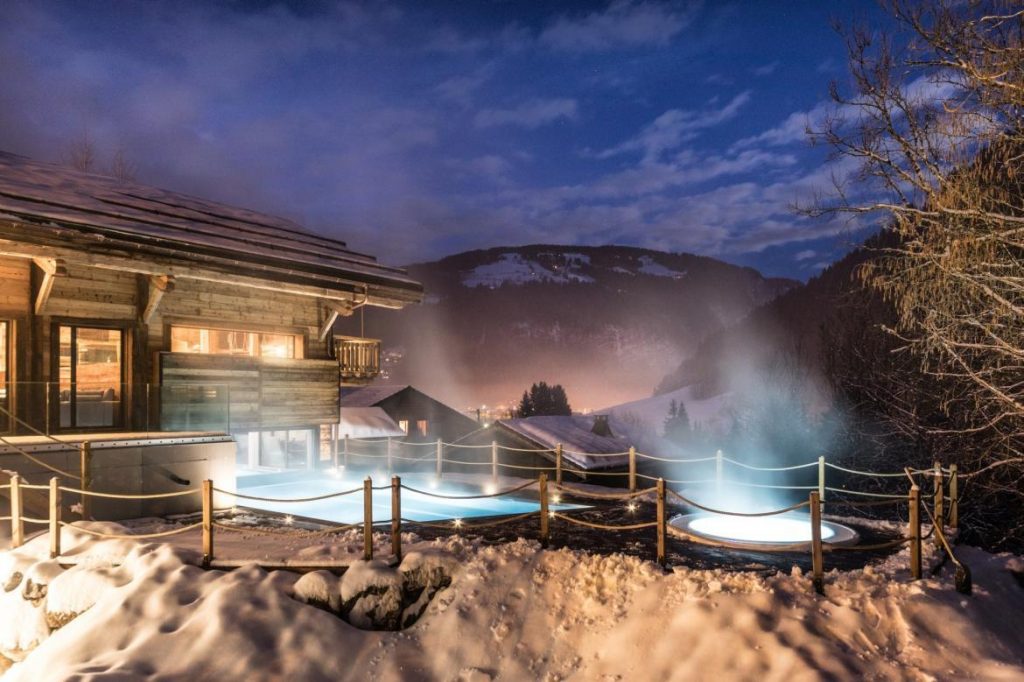 One of the leading luxury chalets in Morzine, Chalet Joux Plane's awe-inspiring outdoor hot tub will leave you fully pampered and ready for your next day on the slopes. Situated at the end of the vast 23m indoor/outdoor swimming pool (itself featured in our Ultimate Luxury blog about the best chalet swimming pools), this gorgeous hot tub is surrounded by captivating, snowy mountain scenery. When you consider Chalet Joux Plane's hammam, sauna, gym and treatment room too…well, it's the perfect chalet for guests who like to combine a day on the mountains with an indulgent spa evening.   All in all, it didn't take us long to decide that Chalet Joux Plane deserved a spot on the list of our top luxury ski chalets with hot tubs!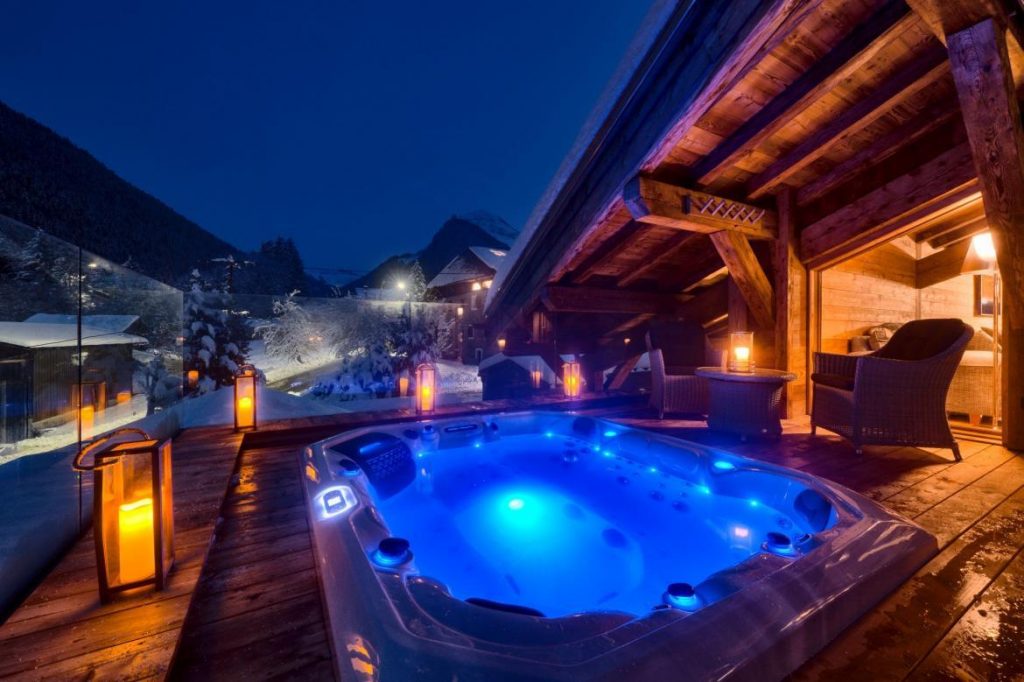 Featuring a whole array of wellness facilities across its 5 floors, the large top floor terrace at Lodge des Nants is where the sensational outdoor hot tub is situated. Perched just outside the open-plan living area and bar, you can easily while away an evening enjoying a drink with a view from the hot tub at Lodge des Nants. For those who prefer to stay cosy indoors, the neighbouring living area also features a huge central fireplace and a pool table; plenty to keep the whole family entertained before dinner.

Despite benefiting from a prestigious position on the slopes, this luxury ski-in, ski-out chalet in Lech houses an outdoor hot tub which manages to combine stunning views with a sense of privacy; perfect for recharging your batteries.   Chalet Mimi also boasts a second, indoor hot tub, as well as a swimming pool, sauna and hammam.   If you're looking for a ski holiday in Lech that combines luxury, beauty and relaxation, Chalet Mimi is one of our favourite choices.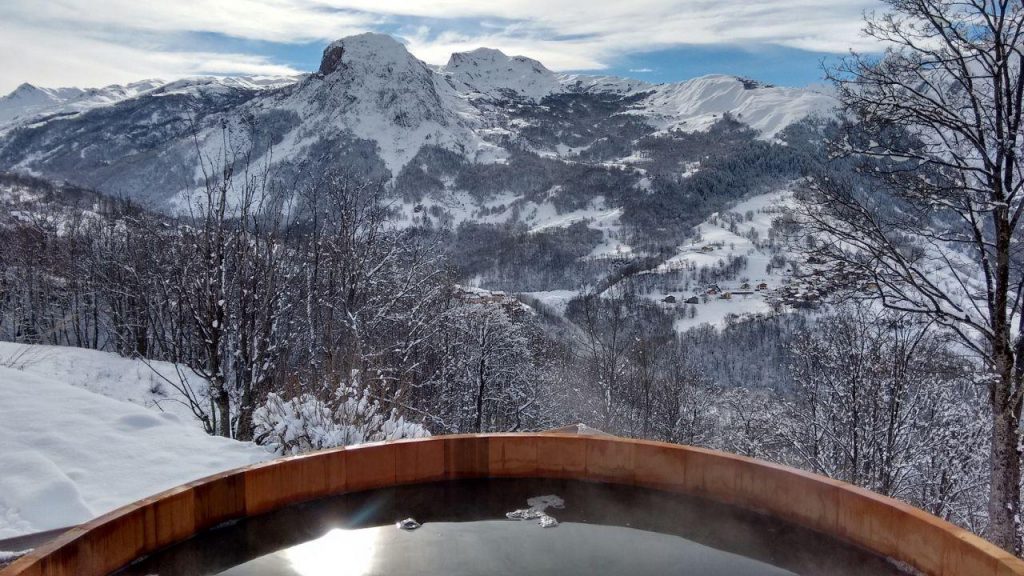 The last but by no means least chalet to feature on our Top 10 luxury ski chalets with hot tubs list is Chalet Coco. This charming luxury family ski chalet presents groups of up to 10 guests with a truly exclusive ski holiday.  One of the finest ski chalets in St Martin de Belleville, soak up the beauty of the surrounding Alpine landscape from the warmth of the large wooden outdoor hot tub, before retiring to the sofas for an enjoyable evening in front of the triple aspect fireplace.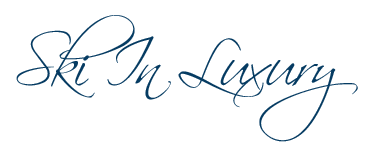 If any of these beautiful ski chalets have caught your attention, please contact the team at Ski in Luxury either via phone on +44 (0)1202 203650 or you can send us an email to get more details.