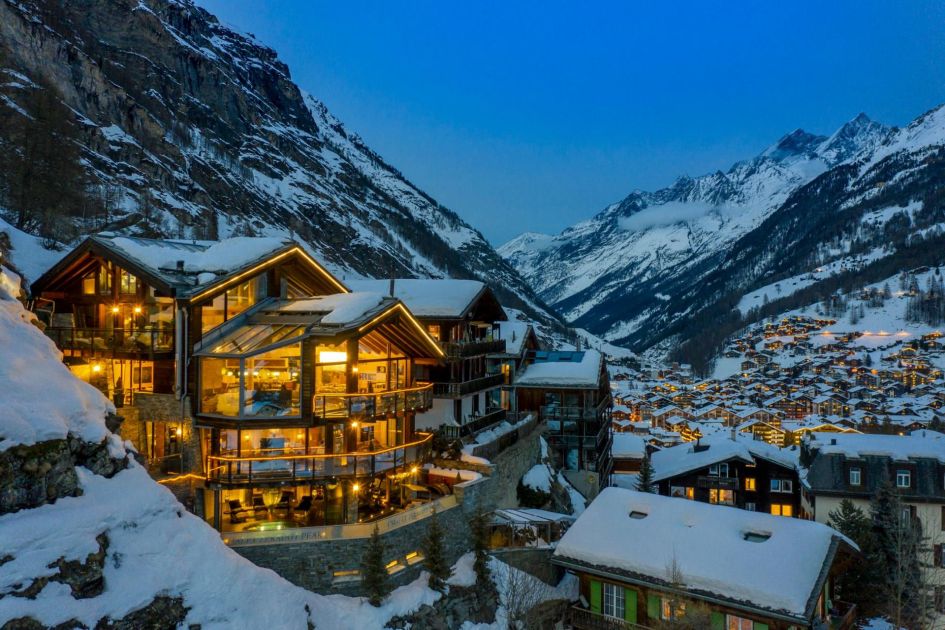 Snow-lovers everywhere have long considered Switzerland to be one of the best destinations for a luxury ski holiday. With such iconic sights of the Matterhorn in Zermatt and the unspoiled beauty of the Rhone Valley, it's clear why. But it's not just the views that capture people's attention; the hospitality and quality of accommodation is second to none. Luxury catered ski chalets in Switzerland unquestionably deliver gourmet meals, high-class service, and incredible access to exclusive shops, slopes, and views of the Swiss Alps and beyond.

Here at Ski In Luxury, we understand what our clients want from a luxury ski chalet. That's why we've compiled a list of the best luxury catered chalets in Switzerland, so that you can breeze through planning and get to the slopes stress-free.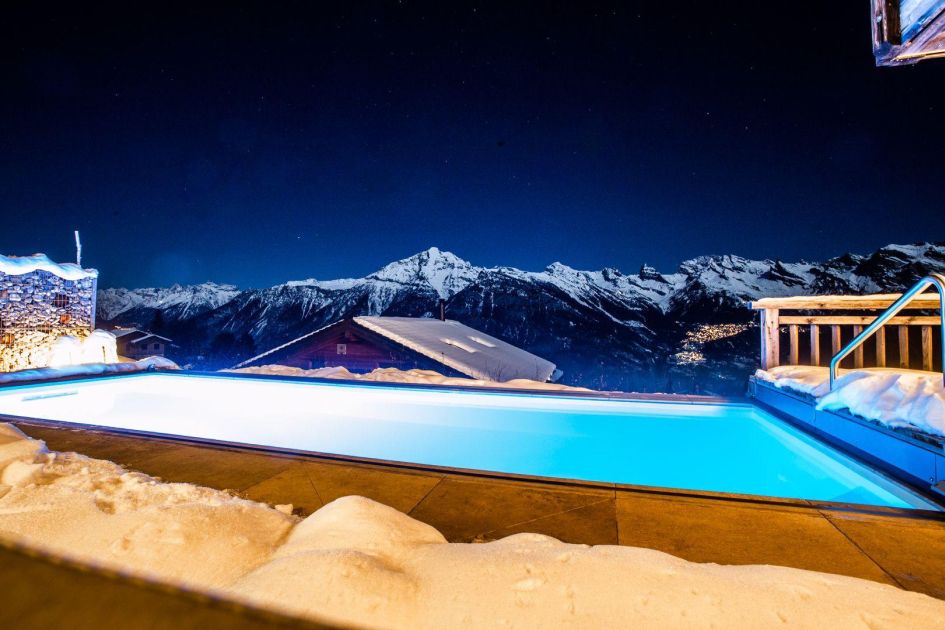 Just look at those mountain views! It's no wonder that Chalet V was featured on our blog of the best ski chalet swimming pools in Verbier. When looking through the fabulous luxury chalets in Switzerland, a view as decadent as this is definitely a highlight. Looking out across the Rhone Valley and beyond, Chalet V offers a private paradise to escape to.
The catering provided is second to none. The four-course evening meals crafted by a private chef for up to 16 guests are totally flexible to your taste. In addition, you'll be blessed with your very own in-resort chauffeur, taking you straight to the slopes in minutes. As one of the best catered ski chalets in Switzerland, nothing is beyond reach at Chalet V.
The revelry doesn't stop at dinner. The chalet is equipped with table tennis, a retro 90's pinball machine, and a stylish firepit for an evening under the starlit sky with a chilled glass of wine. Of course, the chalet team is on hand whenever you need a recommendation of a good vintage. As you lounge in the heated outdoor pool or in the steam room, you can relax knowing you won't lift a finger at Chalet V, one of the finest luxury catered ski chalets in Switzerland.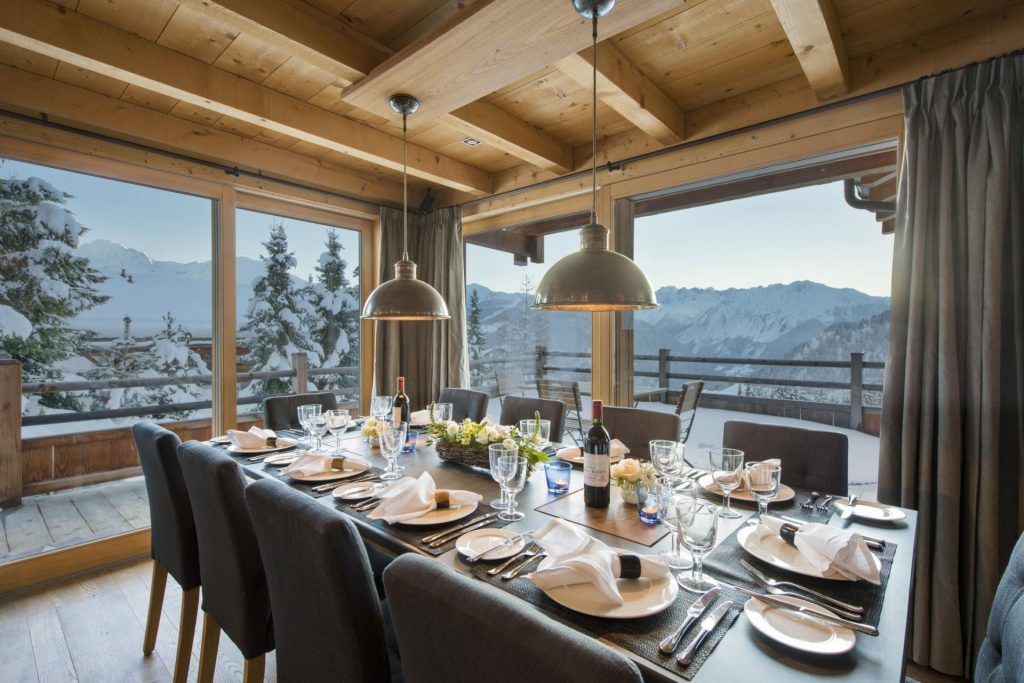 A luxury ski holiday in Verbier holds a lot of unique perks. At Chalet Rock, you can not only experience the Swiss Alps, but also stunning views of the neighbouring French mountain ranges. This includes the famous Mont Blanc massif, viewable from the outdoor hot tub and expansive south-facing terraces. The experience will be blissfully undisturbed, as Chalet Rock offers peace and seclusion thanks to its private driveway access. Owing to the 24-hour private driver service, the slopes and town are only minutes away at any time! Privacy and convenience, exactly what guests desire from their catered ski holidays in Switzerland.
Inside, Chalet Rock has a contemporary style and state-of-the-art sustainable heating systems with no compromise on quality. The double-height living room gives light and space, without trading off the homely warmth and comfort. If that's not enough, you'll have your own personal cinema room to escape to for a cosy night in after a day of hitting the best runs in Verbier.
As this is a luxury catered chalet in Verbier, the experienced concierge team is on hand for pre-dinner canapés and drinks before you indulge in the creations of your private chef. Whatever your taste, your chef is ready to accommodate. In the mood for an Asian-style tasting menu? Or perhaps a bistro steak and chips? Anything is possible at this chalet. The highly trained and experience chef and concierge team are dedicated to making your dining experience a true stand-out of your holiday. The locally sourced, high-quality ingredients are prepared with the utmost care and presented beautifully.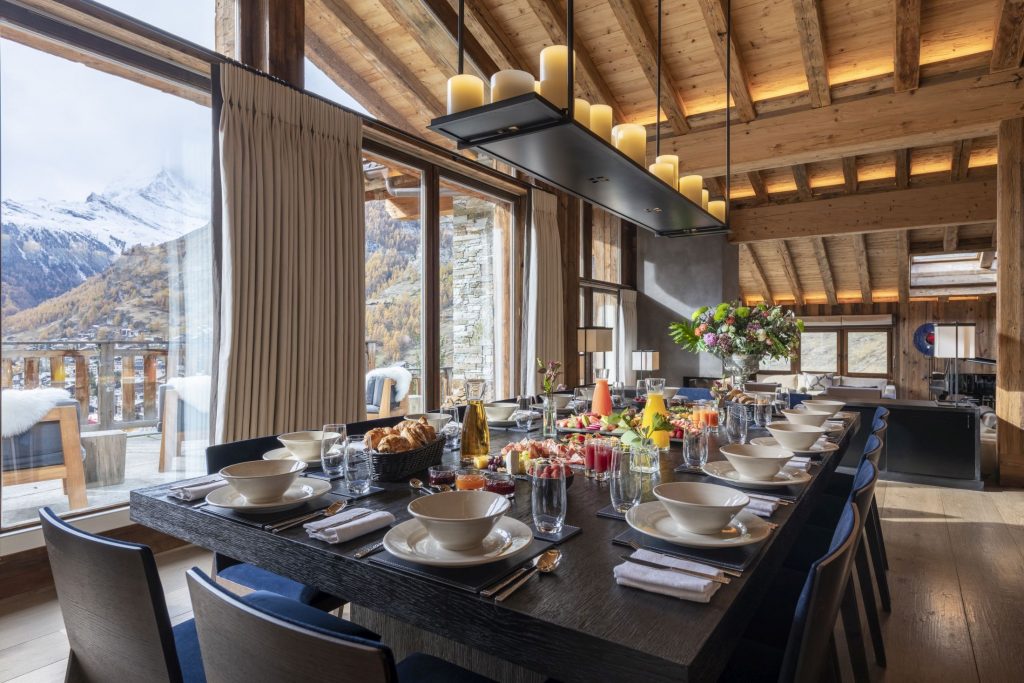 Part of our Ultimate Luxury Chalets collection, Chalet Les Anges is a truly prestigious luxury ski chalet in Zermatt. Three-time winner of the World's Best Ski Chalet award, this luxury Swiss chalet lives up to its reputation. Its service team members are products of their bespoke finishing school, all highly trained and experienced in giving you the best luxury ski holiday in Switzerland. Paired with Michelin trained chefs using quality, locally-sourced ingredients, your time at Chalet Les Anges will be unforgettable.
Having a grand piano, Chalet Les Anges is a rare opportunity to write a symphony with Matterhorn views. Of course, if music isn't your thing, take it slow at the natural stone relaxation area, in the hammam, or with a massage. If you define wellness a little differently, Chalet Les Anges is also equipped with an open spirits bar to wash down your seven-course banquet dinner. Your Michelin-trained private chef will serve up a daily meal plan that guarantees to tantalise your tastebuds. Paired with the five-star service, this property sets the bar for luxury catered ski chalets in Switzerland.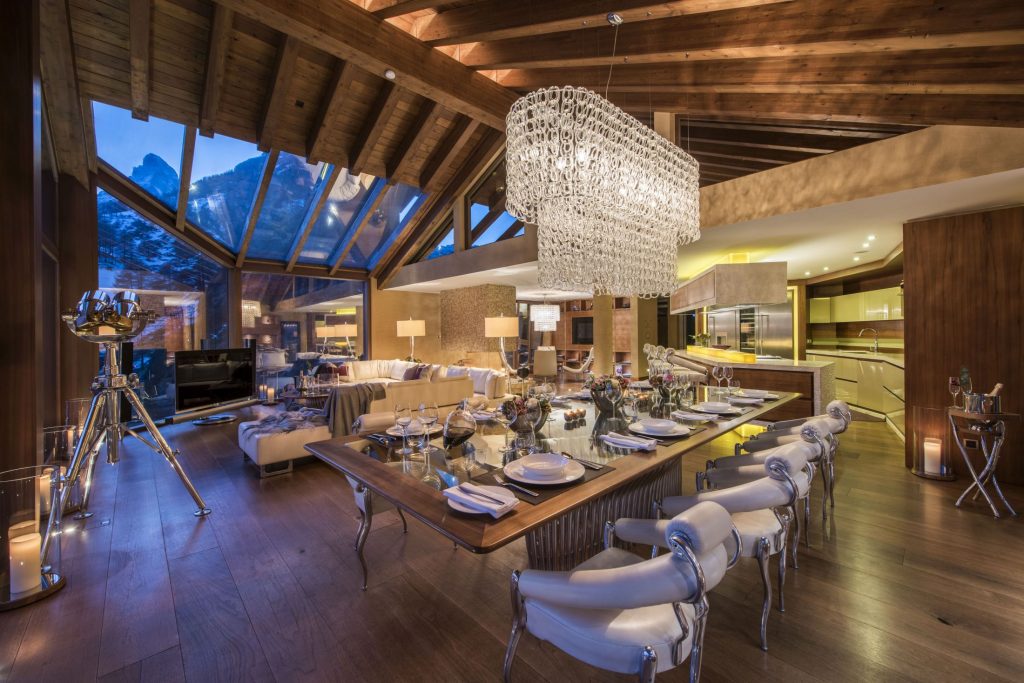 Also a part of our Ultimate collection is Chalet Zermatt Peak. Aptly named for its elevated position in Zermatt village, the panoramic windows at this luxury catered ski chalet offer up stunning views of the Matterhorn. As the current title holder of the World's Best Ski Chalet award, you can expect only the best. An internal lift and 24-hour chauffeur service are evidence of the dedication this chalet has to your ease. Additionally, the partnership with world-renowned spa therapy experts ESPA® means you can experience an hour-long massage each day – just what you need after a day skiing in Zermatt.
Guests are also able to experience the luxury of the indoor/outdoor hot tub. Alfresco wellness – a wonderful addition to this luxury catered ski chalet in Switzerland! And that's not all for alfresco, with indoor and outdoor dining and kitchen areas available to make the most of the mountain air. Your chef's culinary masterpieces will be accompanied by a carefully curated selection of vintage wines from the wine cellar. In addition, you'll have a gorgeous à la carte breakfast to enjoy to set you up to take on the best ski runs in Zermatt! Your dining experience will be unquestionably high-quality. The ingredients are sourced locally, the meals are nutritionally dense, and the menu is adaptable to every member of your party.
Another key point to highlight is the ease of access, thanks to the chauffeur service and lift access from Zermatt village, which is just a minute from the front door. Chalet Zermatt Peak has obviously earned its place as one of the top catered ski chalets in Switzerland.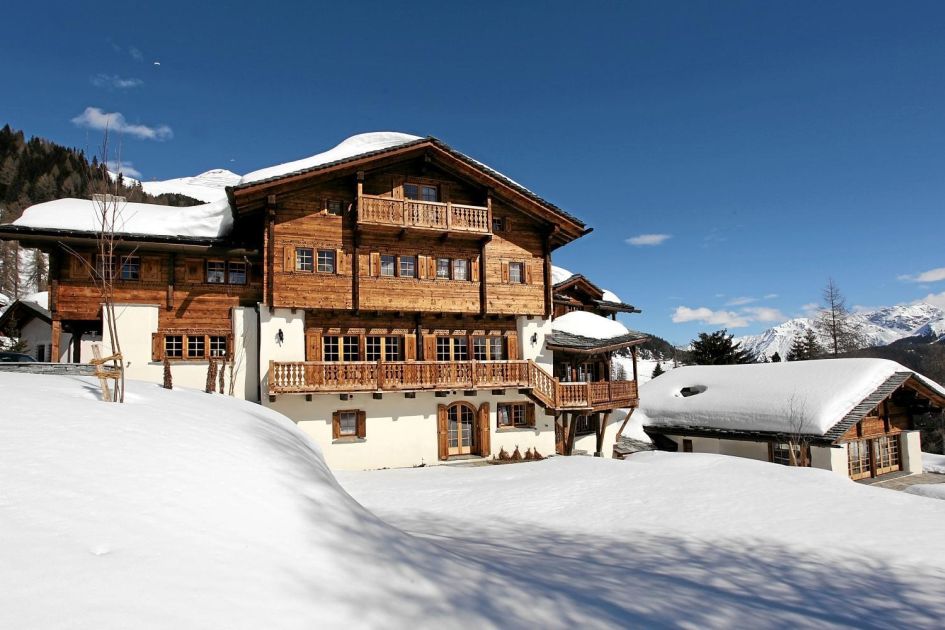 Skiing in via the Höhenweg Davos piste, you'll find yourself at the front door of Tivoli Lodge, one of the best luxury ski chalets in Switzerland. From the outside, its a traditional alpine chalet with south-facing terraces looking out to sensational mountain views. Of course, this spot is undeniably perfect for picturesque moments drinking chilled wine specially selected from the cellar. Tivoli Lodge is tucked away discreetly, yet in an enviable central location in Davos. Finding a better spot would be pretty difficult. The chalet is just 200m walk to the lifts in the morning, and a 4-minute drive to the beautiful Lake Davos.
A running theme of luxury catered ski chalets in Switzerland is the dedicated passion for fine wine and foods. Tivoli Lodge is no exception, of course. From Swiss fondue to an authentic pasta dish, anything you want can be on the menu. You can even involve the kids, with a child-friendly cooking workshop led by your private chef.
Tivoli Lodge is perfect for families, featuring its own indoor soft-play area for the kids that earned it a spot on our best family ski chalets blog. But still there's more! The jet stream pool, hot tub area, fitness suite and games room are all fantastic wellness features provided. Most significantly, a whole team are on hand to make your luxury ski holiday a real escape from life. If you want to sleep until noon, breakfast will be ready when you wake up and not before. If you want to steal the first tracks, your boots will be warm and waiting. The team are ready for any of your whims, with all the local knowledge and contacts to make sure you get the most from the town, ski area and the chalet.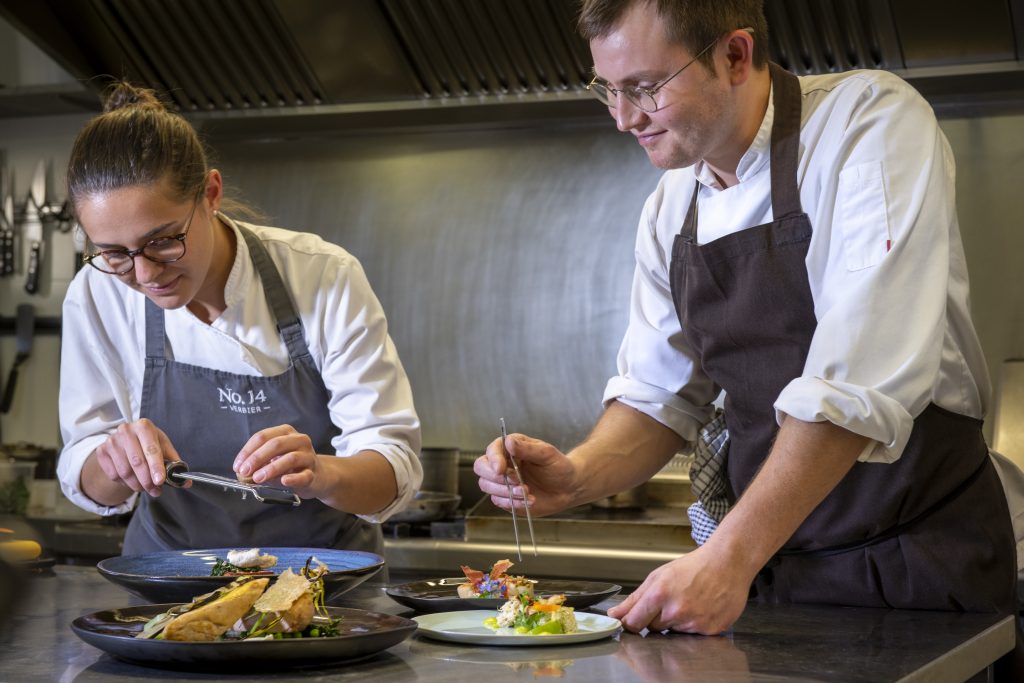 Chalet No 14, one of the top luxury ski chalets in Verbier, is an impressive property. Housing a massive 13 bedrooms, it sleeps up to 26 guests total. Even when every room is filled, this imposing chalet still feels spacious and fresh thanks to it's new renovations for the 23/24 season. All of the communal areas have been remodelled to a high-spec and stylish standard. In addition, there's a new state-of-the-art spa to sit alongside the hammam, sauna, and swimming pool. Finally, there's an incredible outdoor hot tub and bar area. In the evenings, enjoy a Jacuzzi cocktail as the sun sets over the mountains.
After all the skiing and wellness excitement, you'll discover the real reason why this is one of the top catered ski chalets in Switzerland. Linda Söderlund is the answer: a world-class chef with a flexible, international palette. Enjoy pre-dinner canapés by the candlelit dining area, then experience the wonders of gourmet cuisine. Anything goes for this chef; four-course dinner, sushi, street food, tapas… your chalet, your choice. After dinner, utilise the 24/7 driver service to party in Verbier, one of the best ski resorts for nightlife. Party into the night at Farm Club, or dance your boots off at aprés with W Living Room and Cigar Lounge.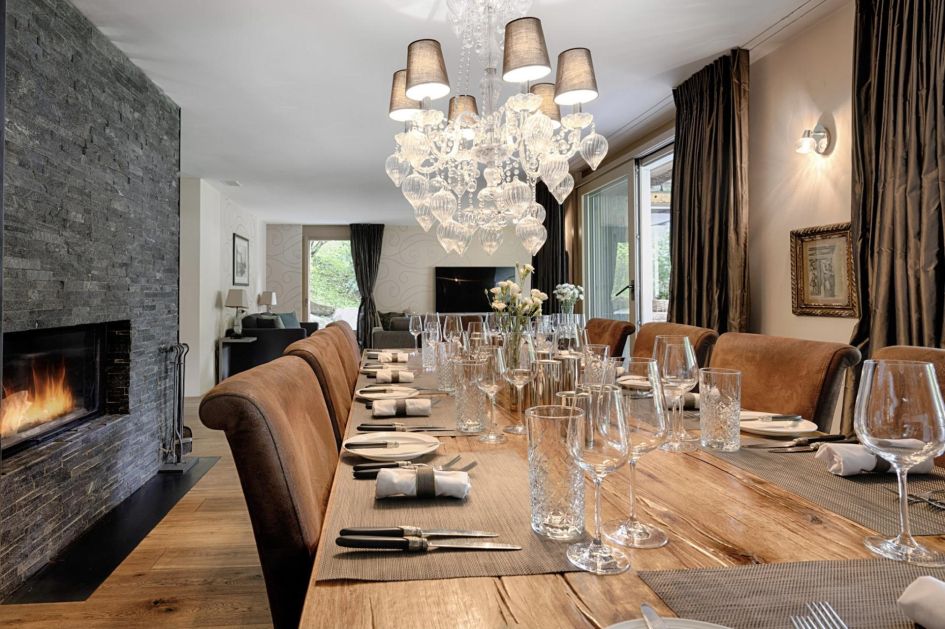 Chalet White Pearl is a unique luxury ski chalet. Located in Zermatt's only ski in/ski out district, this chalet provides ultimate convenience. Another rare feature of Chalet White Pearl is that it is the only free standing ski chalet in Zermatt with a swimming pool! If you're looking for Matterhorn views in one of the best ski resorts in Switzerland, this extraordinary chalet is a stand-out. Add the idyllic viewpoint from the balconies, and you have a truly luxurious catered chalet in Zermatt.
The service at Chalet White Pearl is high-class. You can sleep in knowing that staff will prepare your morning breakfast, and come home from skiing in Zermatt to a delightful afternoon tea. Of course, your chef has to flex his skills and give you a culinary experience with a six-course evening meal too! The only thing that can match the food service is the wellness facilities. A luxury hammam and a bubbling outdoor hot tub for starters, and a massage room for mains. Afterwards, wash down the day with a delectable digestif by the fire. Your luxury ski holiday in Zermatt couldn't get more luxurious than at Chalet White Pearl, which is why it's part of our Ultimate Luxury Chalets collection.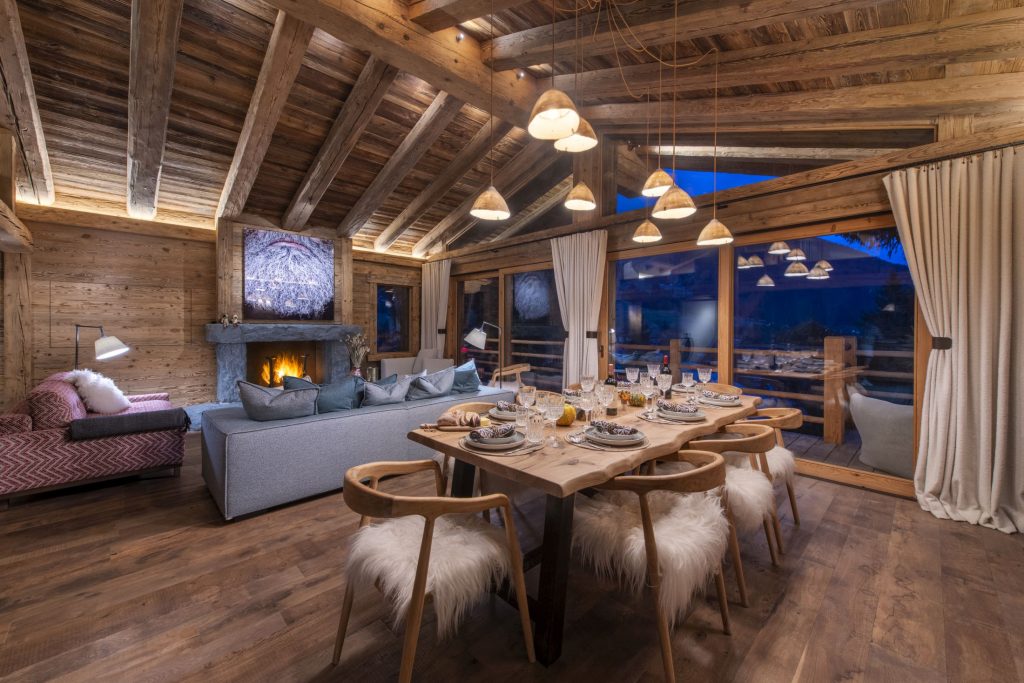 At Chalet Grand Coeur, it's all about the stunning location. For a luxury ski holiday in Verbier, you'll naturally want to be in the best spot, and Chalet Grand Coeur delivers. The chalet is just 1 minute drive from the Savoleyres lift station (thanks to the in-resort chauffeur service) with stunning Swiss Alps views from the sun-catching balcony. This has to be one of the best areas to rent a ski chalet in Verbier. The views don't stop at the balcony either. From the large lounge windows and the outdoor heated swimming pool you also get the fantastic views. Yet your privacy is still maintained – the perfect balance.
The chalet has abundant charm and rustic character, evident in the large open-plan living. Sit by the fireplace for an apéritif and bask in the peace of one of the best luxury catered chalets in Switzerland. Don't worry about dinner – your gourmet chef, a master of his craft, will take care of all your meals. Another main attraction of this luxury catered ski holiday in Verbier is the two days complimentary ski instruction! Whether you want an instructor or a guide, you can explore the ski area with a local and polish up your technique. The stellar service of Chalet Grand Coeur will take care of everything.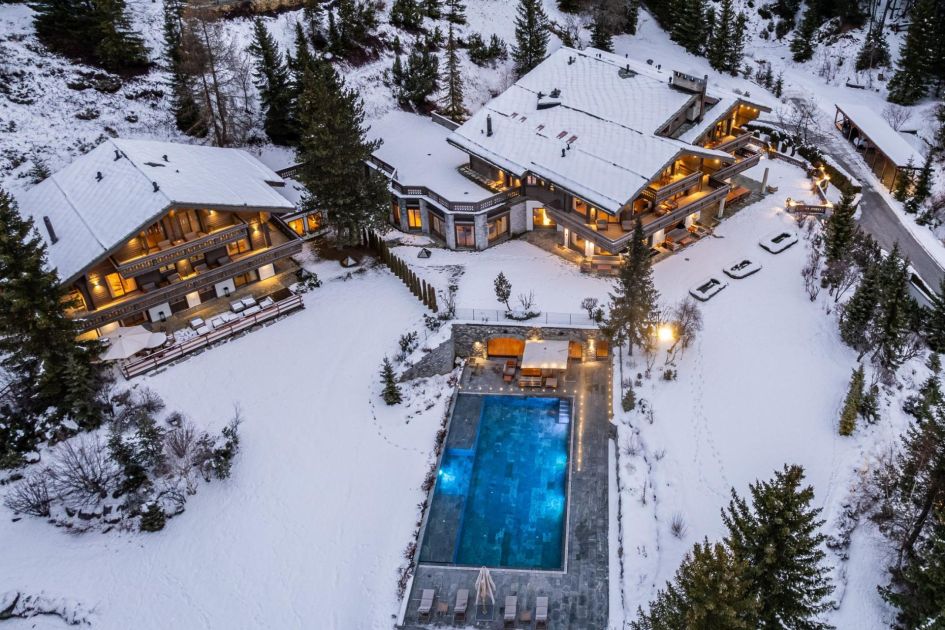 Ultima Crans Montana is a stunning titan of a chalet. Covering 4,500m² and accommodating up to 38 guests, you'll not be short of space in this luxury catered ski chalet in Crans Montana. The luscious Ultima Spa and Clinic alone covers an impressive 1,000m². If you're a smaller group, worry not! Opting for Ultima Crans 1 gives you 10 bedrooms whilst enjoying all the benefits of a top luxury ski chalet. Included in these benefits are airport transfers, a driver service, and a highly trained chef for your culinary whims. Experience extravagant Ultima breakfasts and bespoke gourmet dinners designed to your exact tastes and desires. Plate after plate will be artistically presented and served with a smile for all the guests.
Ultima Crans Montana is in an unmatched location. A ski in/ski out chalet leading to the Les Planches slope is perfect for those keen for the first lift. This exquisite location maximises your time skiing in Switzerland. In addition, the private lake on the property shows just how luxurious this chalet is. It also provides the ultimate photo opportunity! The chalet boasts a high-spec cinema room and office spaces to entertain both families and the busy adults. Wind down in the games room and bar area, or retire to the luxury cigar lounge to end your night, knowing that your freshly made breakfast will be waiting for you before a day's skiing in one of the best ski resorts in Switzerland.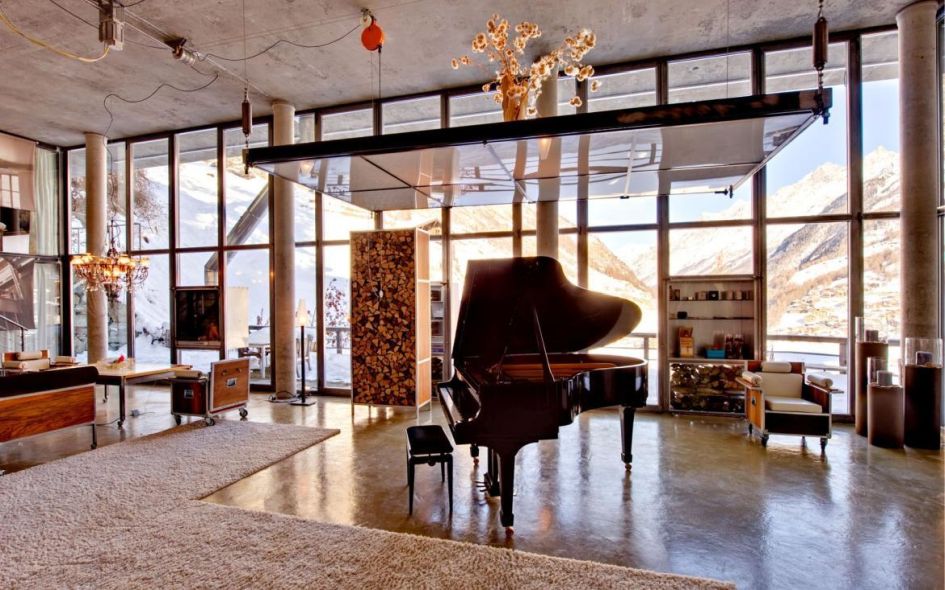 Looking out from the floor-to-ceiling windows of Heinz Julen Loft is a feast for the eyes. You can be in constant view of the Mischabel mountains with both village and valley scenes. Another key feature is the gorgeous Steinway Grand Piano to set the soundtrack to your evenings. The famed designer Heinz Julen masterfully crafted the arrangements of this gorgeous property in Zermatt. It's only natural that it has become iconic, and one of the best luxury properties in the Swiss Alps.
A Michelin-trained chef heads up the kitchen to provide unbeatable meals whilst you relax in the chic architecture. Additionally, any little ones in your group can be taken care of with an early children's supper. Following this, the adults can make the most of their four-course gourmet dinners in peace, enjoying one of the best catered ski holidays in Switzerland.
Located two minutes walk from the Omnia lifts, you're able to walk straight to the heart of Zermatt with ease. This property will be ideal for those wanting to explore the town after a day skiing in Zermatt. The impeccable concierge team will also be on hand to help! They can aid with anything, whether its childcare, planning heli-skiing, booking your ski lessons, or simply recommending restaurants and the best après bars in Zermatt. This type of service is, in essence, what makes a luxury catered ski holiday in Zermatt so special.

Switzerland is, above all else, a stunning location for a luxury ski holiday. With such an array of luxury catered ski chalets to choose from, your holiday is set to be unforgettable. If you'd like to know more about a luxury ski holiday in Switzerland, or enquire about any of the above chalets, give us a call on +44 1202 203650, or send us an email.