Having a private pool in your chalet on your luxury ski holiday in Verbier is the perfect treat after a day on the slopes. Immersing your body in a pool of water is a great way to unwind and recharge, and those hard-worked, aching muscles will be soothed and reset. The largest swimming pool in Verbier seems to be constantly under review, with many luxury chalets competing to have the largest chalet swimming pool in resort. It is therefore with no surprise that there are some incredible luxury chalets with pools in Verbier. From swimming pools spanning the width of the luxury chalet, to others with breathtaking views, let us introduce you to our list of the best, in no particular order, and you can decide which is your favourite luxury chalet with swimming pool in Verbier…
When you enter the pool room at Chalet Makini (meaning 'strength of character' in African Swahili), your imagination will be captured by the contemporary alpine deign and inspiring artwork that surrounds. After a day exploring the Verbier playground, this luxury Verbier swimming pool is the place to be. Set within the exclusive Hameau, the private spa facilities are 100m from the main chalet building. The swimming pool is beautiful and will be sure to work the magic on your aches and pains, as will the hot tub, sauna and steam room. Enjoy a few drinks by the poolside accompanied with some tasty treats to satisfy the post ski appetite. You can even continue to the enjoy the evening in the same building with a dedicated fondue and raclette room for that traditional Swiss dining experience.
The 9m heated indoor swimming pool at The Lodge awaits the exhausted skier who's aches and pains need fast healing. Sir Richard Branson's alpine home caters for your every post-ski needs not only with the inviting swimming pool, but also with an indoor and outdoor hot tub, steam room and a luxury spa with spa services.
Arguably one of the most understated chalets with swimming pool in Verbier, this pool at Chalet Nyumba presents an atmosphere of tranquillity and elegance. Enjoy relaxing in the 10m L-shaped pool with simply stunning views of the Verbier valley and the far-reaching 4 Valleys peaks. The swimming pool has a current function to help work the muscles and also has an adjustable floor which is great for the kids. When you've recharged the batteries and the energy is flowing, the swimming pool floor can be fully raised, and in no time at all you will be throwing your best shapes on the dance floor at your own private chalet après party.
If you are a regular reader of our blogs, you will be familiar with Chalet Marmottiere for it's impressive features and size. With its scale (1,500sqm), the indoor swimming pool does not disappoint, and is simply the (large) cherry on top of what is a very impressive luxury chalet spa area. The pool is 17m long, stretching the whole chalet width and is strong competition for one of the largest chalet swimming pools in Verbier and possibly one of the best chalet swimming pools in Switzerland. There is no doubt you can while away the hours enjoying some 'you time' in this monumental Verbier swimming pool; or perhaps spend a whole day during your luxury holiday in Verbier and use the steam room, outdoor hot tub and sauna, for that well needed mid-ski break spa day.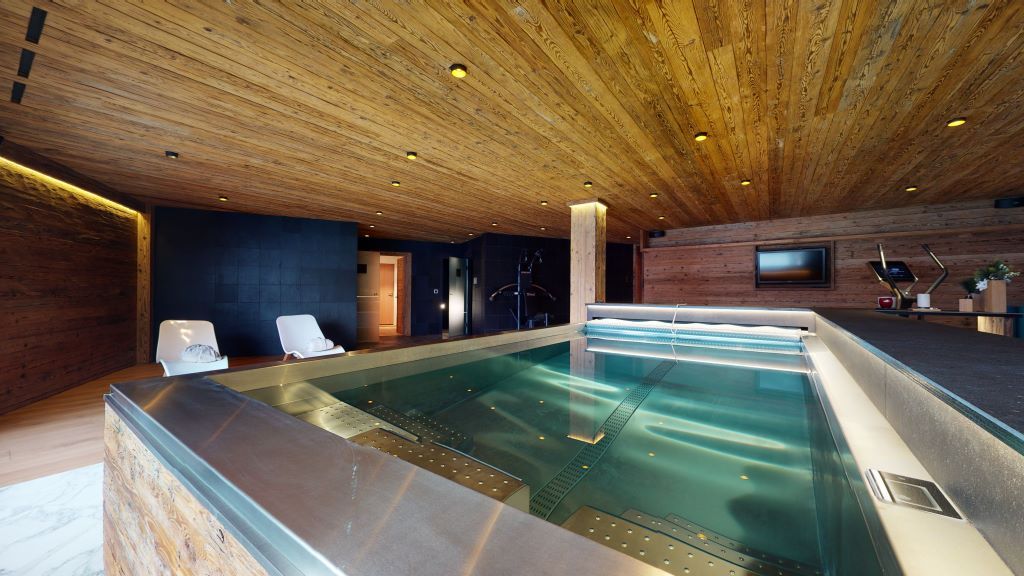 Next on the list of the best chalets with swimming pool in Verbier is Chalet Les Moulins. The swimming pool is an highlight feature of this luxury Verbier chalet. The whole floor extends to a spa and wellness area which is the perfect place to recharge and unwind after a day skiing in Verbier.
Simply the perfect set up for relaxing by the pool side with a glass of something fizzy, or getting straight to it with a few lengths pre or post skiing. Either way, No 14 is a great addition to our list of the best chalets with swimming pools in Verbier. The swimming pool is 10m so offers great space to relax or enjoy some fun and games with the children. You can also make the most of the steam room, Jacuzzi and cold plunge pool (if you dare!).
Chalet Chouqui hosts one of the largest chalet swimming pools in Verbier stretching an impressive 15m. Subtly sophisticated, this swimming pool has the perfect ambience for the mind and body to unwind with a few casual lengths to stretch out those stiff ski muscles. The kids will love this pool too with plenty of room to splash about and enjoy some water-based games. It's something to please everyone on your luxury ski holiday in Verbier.
Chalet Dent Blanche has an incredible spa area with spectacular views. As soon as you enter the pool room you will be welcomed by peace and tranquillity which will immediately soothe the mind. Stepping into the heated infinity pool is truly blissful and you'll soon forget about those achy ski muscles. Be prepared to lose yourself in this wonderful relaxation haven.
Enjoy a different après ski approach in the 11m swimming pool at Chalet Sorojasa. This private pool is perfect for a relaxing après ski swim or for the children who will love playing games and splashing about. Alternatively, it presents the perfect place to start the day with a few pre-ski warm up lengths before you hit the slopes. On the same floor there is a steam room as well as more entertainment including a home cinema, games room with table football and a bar.
Chalet V is located in La Tzoumaz which is an easy skiable distance from Verbier itself. The hidden gem of the 4 Vallees, certainly hosts some jewels in the way of luxury chalets. Not only is Chalet V an exquisite luxury chalet, it features a sensational heated outdoor swimming pool with the most incredible mountain views. It really doesn't need any more words to justify its place in our list of the best chalet with swimming pool in Verbier.
So whether you use a swimming pool to cure aches and pains after a day on the slopes, to splash about in for some wholesome family fun, or simply to enjoy some self-care and spectacular mountain views, we hope a chalet with swimming pool in Verbier has got you inspired for your next trip to the mountains. For more wanderlust, you can also take a look through the 10 Best Luxury Chalet Swimming Pools across the Alps and the Top 10 Ski Chalets with the Best Swimming Pool Views
For more information on any of the chalets above, or any assistance in planning your next luxury ski holiday, please do get in touch with our sales team by sending an email or dialling +44(0)1202 203650.