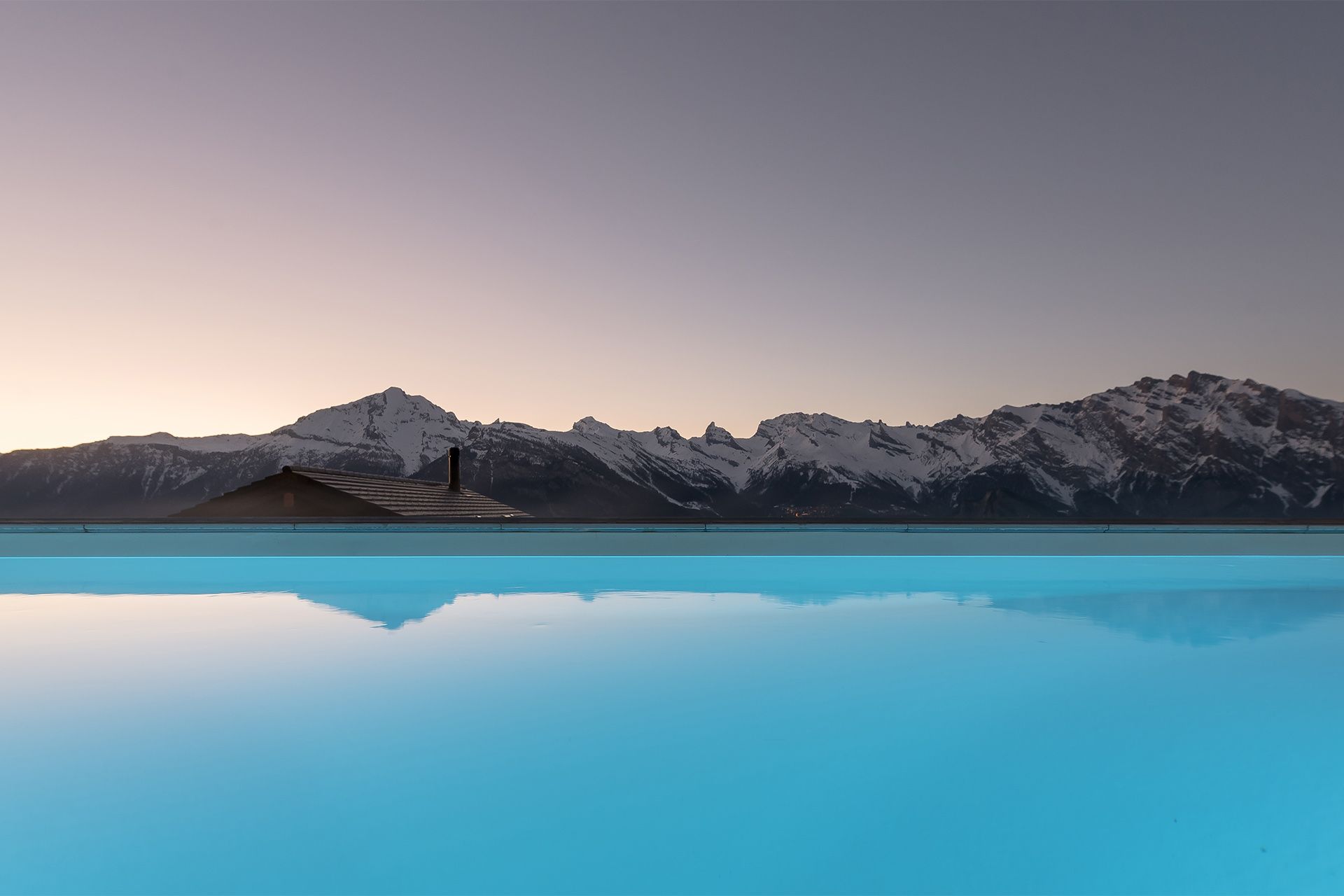 There is nothing better than a mountain view to take your breath away; except for if you are enjoying a breathtaking mountain view whilst relaxing in your luxury chalet swimming pool. From indoor and outdoor swimming pools, to infinity pools and pools with jet streams, we have pulled together a list of the best swimming pool views from our luxury ski chalets collection.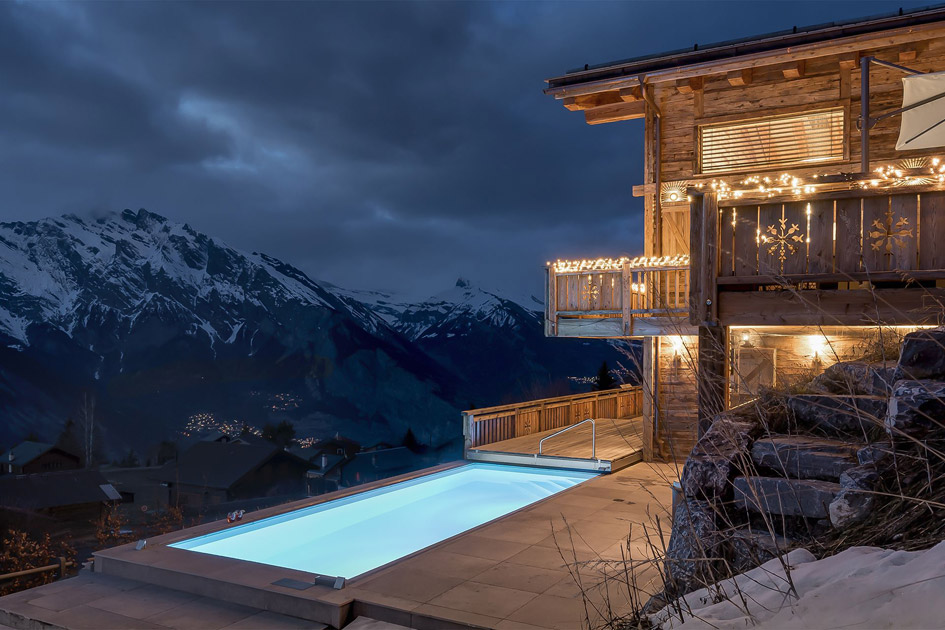 An infinity pool, with the starry night sky and surrounded by moonlit mountain peaks, Chalet V has got one of the best swimming pools with a view in the Alps. Located in La Tzoumaz, the hidden gem of the 4 Vallees, Chalet V offers a unique, luxury experience with a true sense of escapism.
Chalet V sleeps 8-12 guests. Prices start from €22,500 Euros.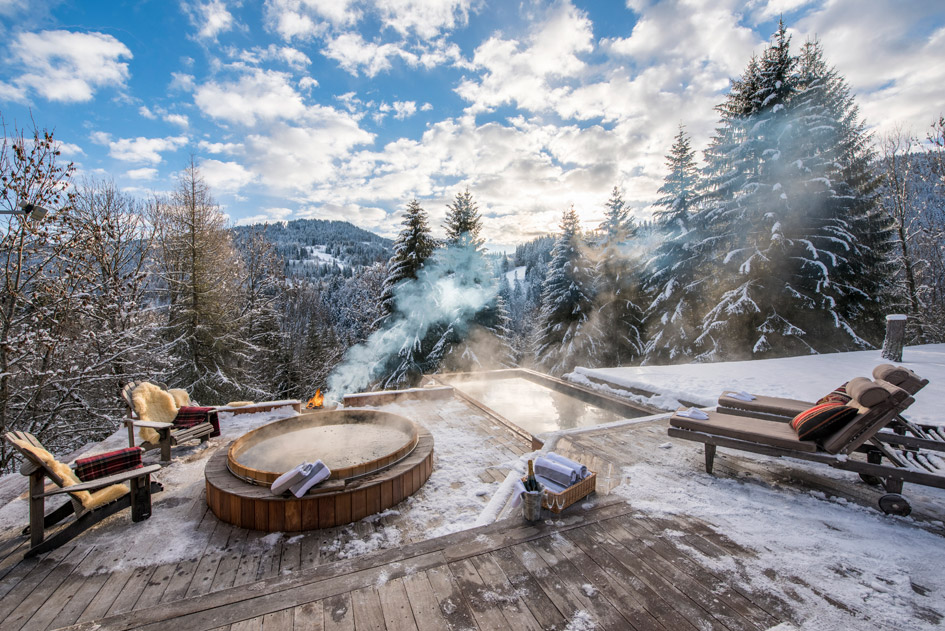 Nestled in the woodland with scenes of a magical winter wonderland, there is a beautiful view from the swimming pool at Ferme de Moudon. Whilst in a private setting, the swimming pool view gives you the feeling that everything you survey is your own.
Ferme de Moudon sleeps 12-14 guests. Prices start from €21,500 Euros.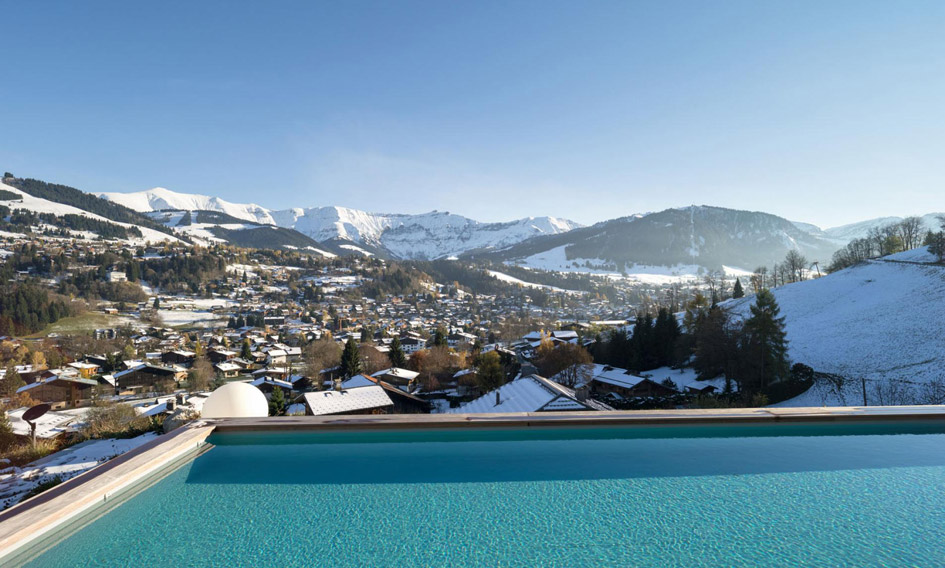 Chalet Mont Blanc has not one but two swimming pools with views. The outdoor 16 metre infinity pool featured above overlooks the charming ski resort of Megeve. Head inside and you will find the spa area featuring a sauna, hammam and 12 metre indoor swimming pool with jet streams. You can also enjoy stunning views of Megeve from the indoor swimming pool.
Chalet Mont Blanc sleeps up to 16 guests. Prices start from €125,000 Euros.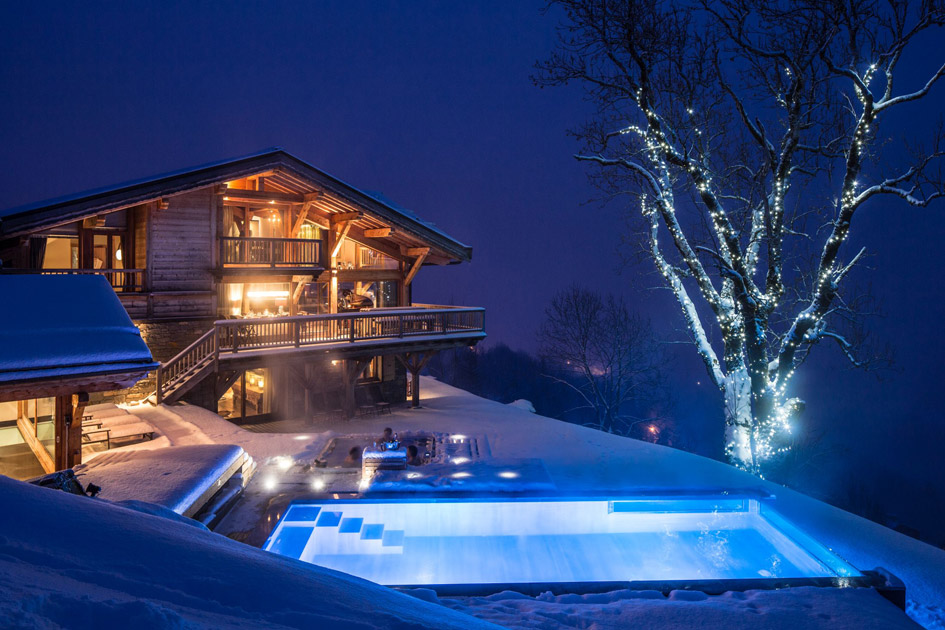 This fresh-water swimming pool at Chalet Grande Corniche is the perfect way to recover and revive after a day on the mountain. What's more, the swimming pool mountain views are extraordinary, extending beyond Les Gets to the famous Mont Blanc.
Chalet Grande Corniche sleeps 15-19 guests. Prices start from €22,000 Euros.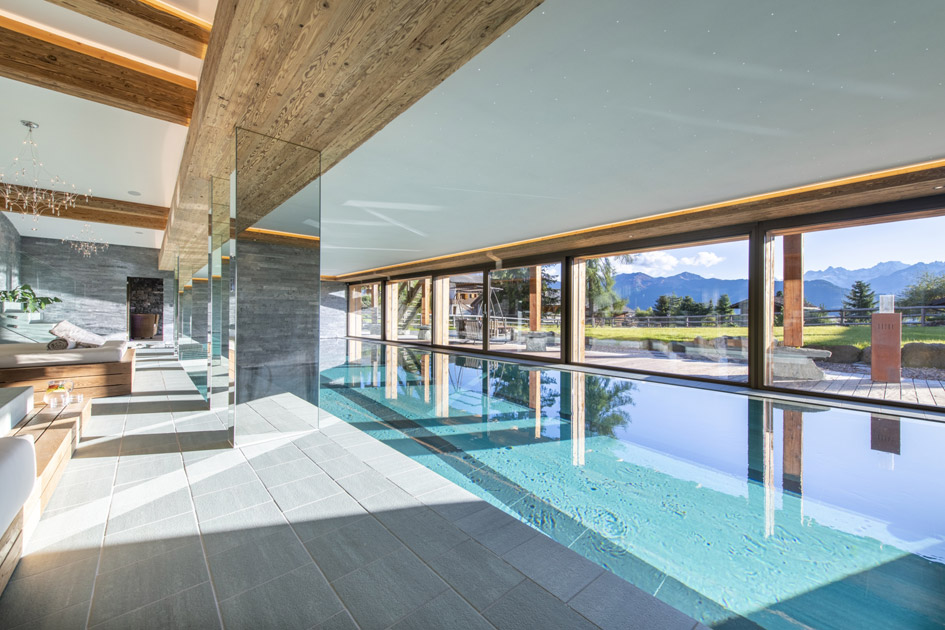 Stretching the width of Chalet Marmottiere, this swimming pool view matches the length of the 17 metre pool, making it one of the best swimming pools with a view in Switzerland. Whether you choose to relax or swim lengths, you can enjoy these south facing, magnificent views of Verbier exposed by the floor to ceiling windows.
Chalet Marmottiere sleeps up to 18 guests. Prices start from CHF 273,000 Swiss Francs.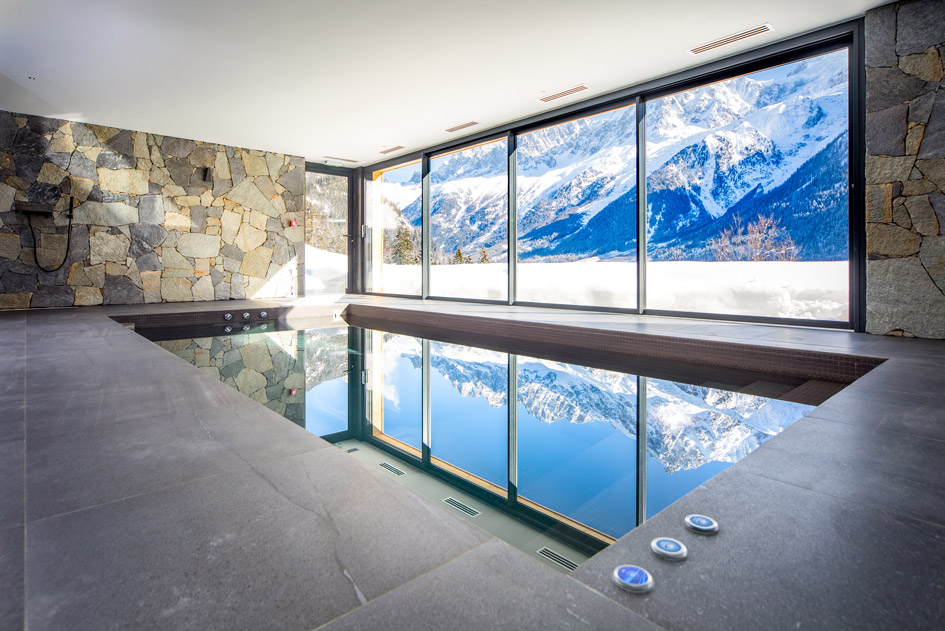 It's all in the name at Le Chalet Mont Blanc: the world famous mountain itself, can be seen in the swimming pool view. Le Chalet Mont Blanc's swimming pool is perfect for recharging your batteries with the option to turn on the swim jets or the built-in Jacuzzi if you please. The swimming pool at this luxury chalet is not alone in facing Mont Blanc, with all of the 12 bedrooms featuring a balcony or terrace with views of the second highest mountain in Europe.
Le Chalet Mont Blanc sleeps up to 26 guests. Prices start from €31,250 Euros.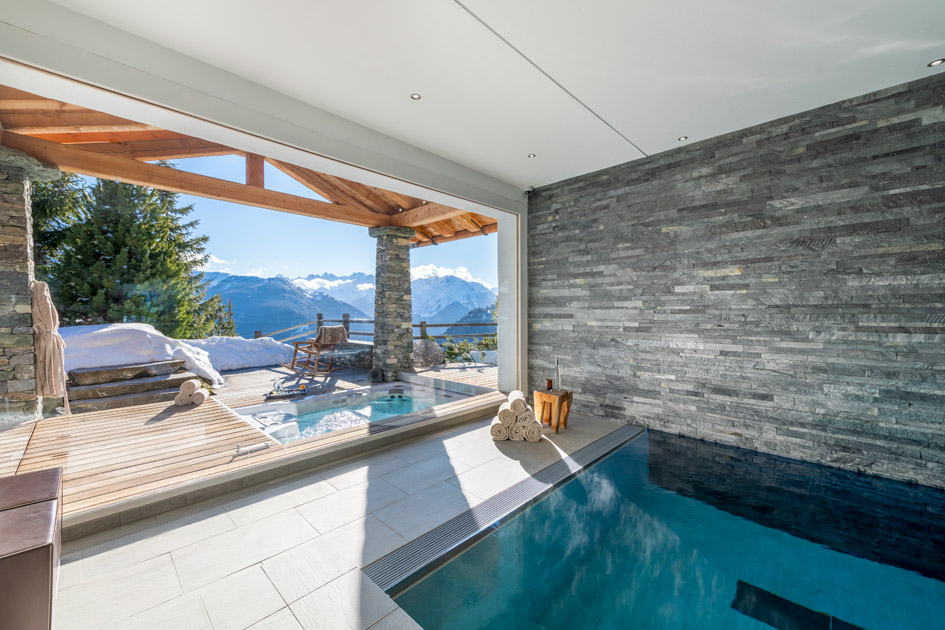 Last, but by no means least, Chalet Spa offers incredible views from its wellness facilities. The floor to ceiling window exposes the beautiful view from the swimming pool, extending across Verbier and beyond. When the day loses light, the swimming pool is lit up by state of the art fibre optic mood lighting, and you can enjoy an evening relaxing in the pool whilst quenching your thirst with a drink from the integrated bar.
Chalet Spa sleeps up to 10 guests. Prices on application.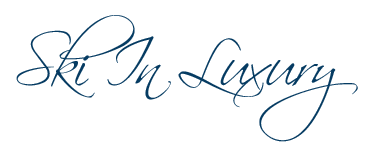 For more luxury chalet swimming pools or for more information on the best swimming pool view in the Alps, please do get in touch with our sales team. You can send an email or call us on +44 1202 203650. We look forward to matching your criteria with the top swimming pool views.