Ski chalet names are often interesting and unusual; I'm sure you've had many ski holidays in the past, staying in chalets whose names you've either had difficulty pronouncing, or one that has made you wonder what the name means. If this is the case, then this fun little guide will provide you an interesting insight into how, and why, chalets are called what they're called. It may even help you decipher the name of your next luxury ski chalet.
Interesting ski chalet names can be the making of some of the most charming ski chalets. In my mind, there are four main groups of luxury chalet names:
1. Ski Chalets Named After Mountains or Mountain Ranges
Mont Blanc, Matterhorn, Everest, Lhotse, Kilimanjaro, Himalaya…the list goes on. It goes without saying that chalets positioned in the mountains would take the inspiration from famous peaks or mountain ranges. However, there are other, slightly more obscure geographical names can also sneak into this category, for example:
Lhotse (pronounced Lot-see), is the fourth tallest mountain on Earth, reaching an altitude of 8,516 metres. Part of the Everest Massif, the summit borders Tibet and Nepal. Meaning South Peak in Tibetan, it was first summited in 1956 by a Swiss team, but was not again conquered until 1977.
Fittingly the standard climbing route tracks up the Lhotse face, whilst this chalet in Val d'Isere boasts stunning views of Val d'Isere's infamous La Face piste. Pictured above, Chalet Lhotse sleeps up to 14 guests and features a large indoor swimming pool, complete with a state of the art projector screen descending at the touch of a button, along with a massage room, sauna, hammam, gym and indoor Jacuzzi.

'Machapuchare' (pronounced Ma-cha-pu-char-ray) is a mountain that rises to nearly 7,000 metres in Nepal and directly translates as 'fish tail'. Unclimbable and untouched are how this beautiful peak has been described, making it one of the least visited places on earth. Accentuated by the tropical lowlands, Machapuchare's sheer, steep peaks are offer a stunning sacred skyline.
Channelling natural beauty with influence from the tropical lakeside city Pokhara that lies beneath the peak, the interiors at Chalet Machapuchare offer a relaxed and calming aura. This serene alpine home is a luxury catered ski chalet in Val d'Isere and has a very beautiful, wilderness inspired, spa area, perfect for unwinding after a day skiing in Val d'Isere.
This is one of several chalets named after famous spots in the Karakoram mountain range. The Baltoro Glacier is 67km long and is one of the largest glaciers outside of the polar regions. Located just adjacent to K2 it runs along one of the world's most spectacular mountain ranges.
The Baltoro Chalet itself is equally spectacular. Located is the Cospillot area of Courchevel 1850, this ski-in, ski-out chalet boasts 5 stunning double bedrooms, a sumptuous spa-area and access to all of the services and facilities of the world-renowned Hotel Le K2 Palace.
2. Ski Chalets Named After Animals.
As well as mountain geography, ski chalet names can often be inspired by local wildlife. Some of the classic examples you'll come across are, Wolf – Loup / Bear – L'Ours / Aigle – Eagle / Leivre – Hare / Lapin – Rabbit / Marmot – Marmotte – Ground Squirrel. In addition to these there are, again, the more interesting choices: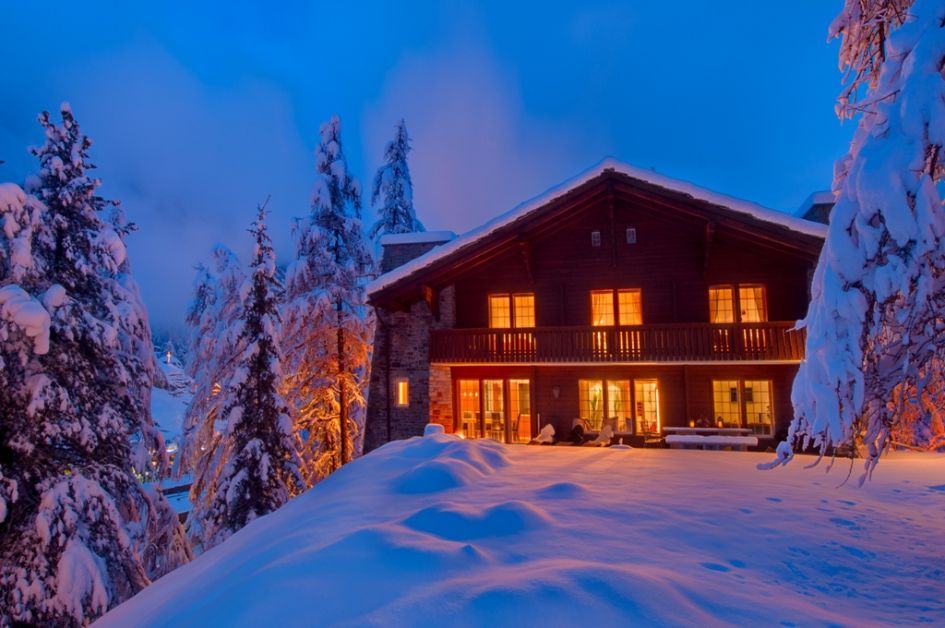 'The Squirrels'. Whist there certainly are mountain squirrels in the woodlands surrounding Chalet Les Ecureuils (les – Ekor-roy) in Zermatt, this one made the list as it struck me as a rather unique choice! The chalet itself is located in a secluded woodland area, so perhaps that's where the inspiration came from. Large windows invite these beautiful natural surroundings inside, whilst the interiors have been planned using the ancient Chinese method of feng-shui to ensure an auspicious environment.
3. Ski Chalets Named After Mountain Flowers
It is always a joy to see the mountains providing beautiful colours from Spring to Autumn, and, as such, mountain flowers often provide the inspiration for ski chalet names. 'Genepi' and 'Edelweiss' are well known flowers with many luxury ski chalet owners choosing these as their chalet names. There are, of course some further interesting flower additions:
This sumptuous luxury ski chalet in Courchevel 1850 takes its name from the Poppy flower. Chalet Le Coquelicot (le – Cock-lee-co) is a very tactile chalet and invites its guests to feel at home and cosy. Poppy flowers can be seen in the fields below Courchevel in early spring and act as a symbol of peace and solidarity in many places.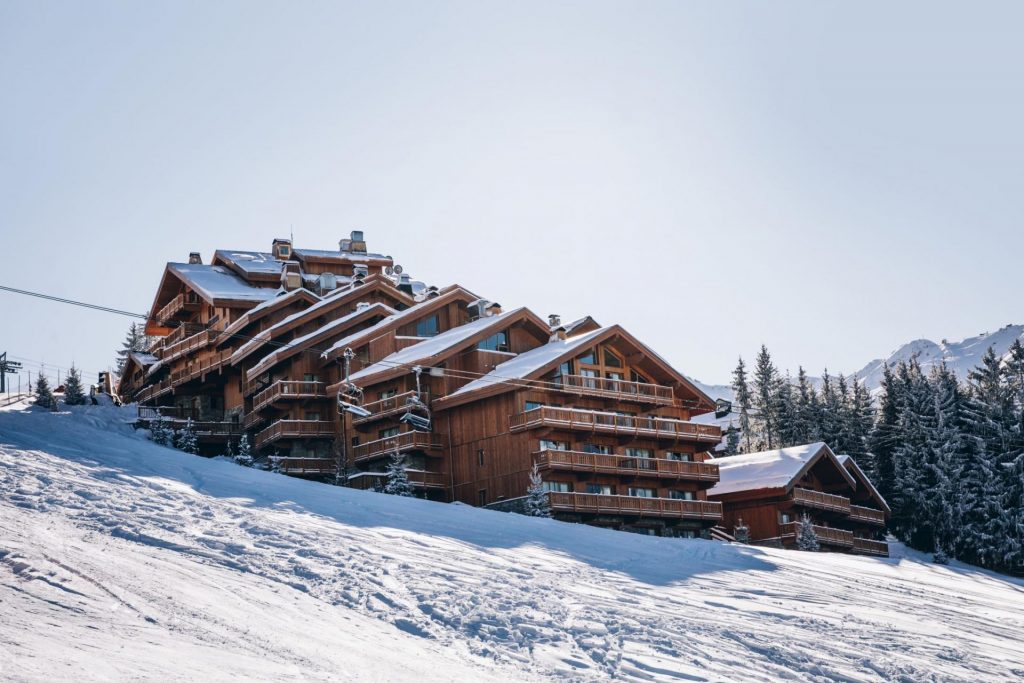 Chalet Églantine is a modern and quirky chalet that takes its name from the Eglantine rose flower. Their naturally strong sweet scent is reflected in the bold interiors and its trailing capabilities can speak for its enviable position slope side, flowering from its Méribel roots.
 4. The Rogue Group
In addition to the three groups above there is the 'rogue group' chalets with no discernible link to the local surroundings or owners.
Here are a few of my personal favourite unique ski chalets with interesting names.
Originating from African Swahili meaning 'strength of character', Chalet Makini (Ma-keen-ee), perched high in the resort of Verbier certainly shows that there can be strength in beauty. As far as luxury catered ski chalets in Verbier go, Chalet Makini is a ski-in ski-out masterpiece offering all the possible luxuries associated in one of the most sought-after ski resorts anywhere in the Alps.
Translating as 'Daybreak' or 'Dawn', the incredible Chalet Aurore (O-raw), in Courchevel 1850 offers spectacular, far reaching views towards the Eastern Alps, meaning that the sunrise often bathes this luxury chalet in a warm alpenglow. Read more about this unique ski chalet in this blog about Chalet Aurore, Courchevel 1850.
For those French speakers amongst you, you will know that 'Casse Noisette' translates as 'Nutcracker'. The traditional winter practice of bringing nuts into the home and shelling them yourself has led this chalet owner to name his chalet after the tradition. Chalet Casse Noisette (Cass-nwa-zett), is luxury self-catered ski chalet in Meribel sleeping eight people and could be the base for your next 'cracking' holiday (sorry).
We all know what 'macaroni' is. Why this luxury ski chalet in Morzine should be named after this is anyone's guess! However, what you probably didn't know is that the original derivation of 'macaroni' from ancient Greek translates as 'eternally blessed', and staying in the beautiful Old Macaroni (Mack-a-ro-ni) chalet will certainly leave you feeling blessed.
If any of these beautiful ski chalets have caught your attention, please contact the team at Ski in Luxury either via phone on +44 (0)1202 203650 or you can send us an email to get more details and plan your next unique ski holiday.