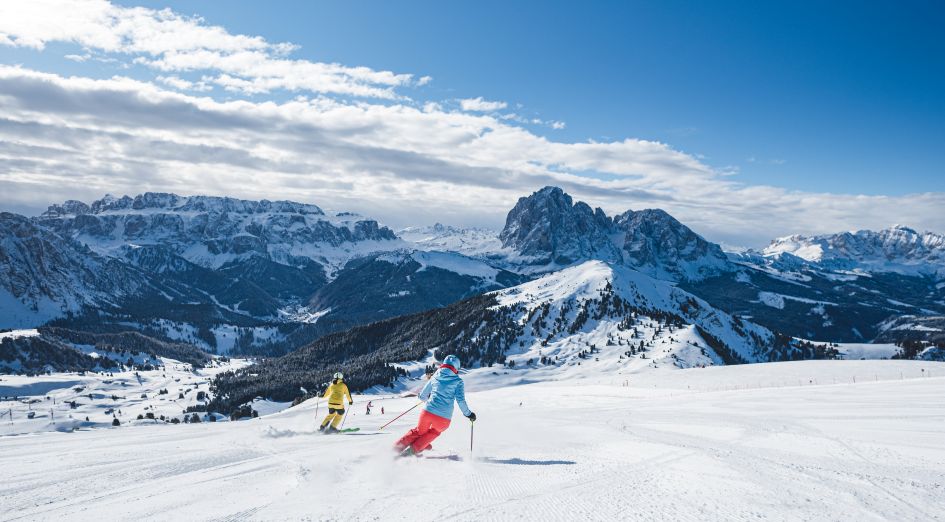 A UNESCO World Heritage Site, the Dolomites are home to some of the most stunningly beautiful natural landscapes and fascinating historical sites in the entire world. The mountains are also home to the epic Dolomiti Superski region, 1,200km of slopes all under one lift pass, a host of different ski areas and some of the best ski resorts in Italy. With that in mind, looking at where to go on a luxury ski holiday in Italy can be a daunting prospect, so we have run down some of the best ski resorts in the Dolomites.
For those unfamiliar, the Dolomiti Superski region is best looked at similarly to the Portes du Soleil in France. Not all 1,200km of ski slopes are connected. The Italian region has up to 15 different ski areas, with several different resorts and villages in each one, some completely separated and others that interlink. Each area hosts a number of Italian ski resorts, from quaint villages to glamorous, world-famous towns. Skiing in the Dolomites has everything from smaller family-friendly areas to the massive 500km of interconnected ski slopes found across the several different ski areas that link up around skiing the Sella Ronda circuit. Here are some of our highlights…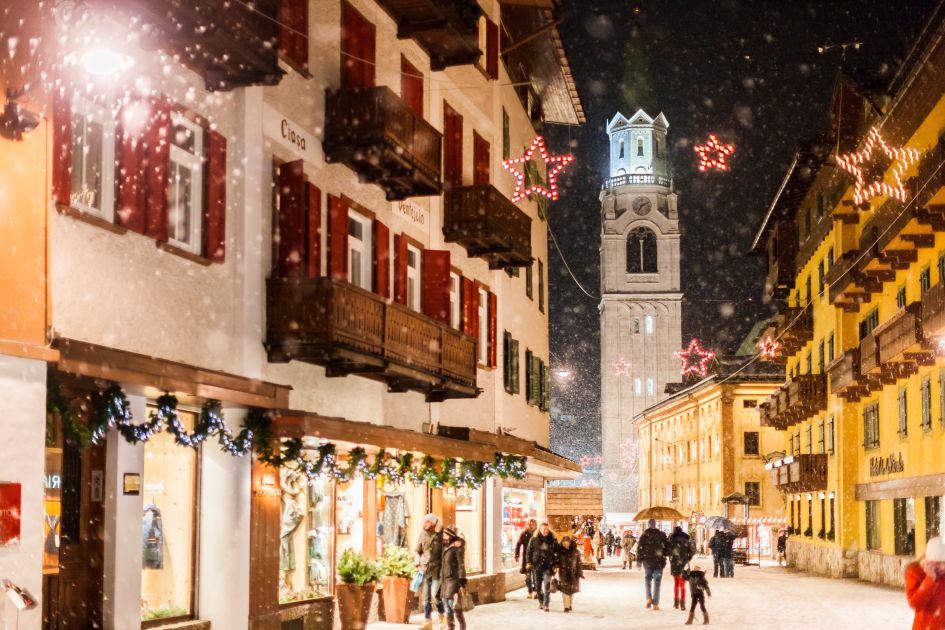 The most glamorous of ski resorts in Italy. The Queen of the Dolomites, and joint host of the 2026 Winter Olympics alongside Milan, Cortina d'Ampezzo is renowned around the world. In terms of Italy ski resorts, there aren't many more famous than Cortina. The resort town is an illustrious destination for both skiers and non-skiers alike. Cortina has become synonymous with those looking to experience the ultimate in luxury. The town combines a rich heritage steeped with traditions. Luxury shopping, gourmet restaurants (including two with Michelin stars), and a singular sense of style are at the core. On a luxury ski holiday to Cortina, you simply can't miss out on a snowy stroll along the famous Corso Italia, browsing through the many stylish boutiques that lead towards the iconic bell tower of the church. For a greater insight into the entire resort, check out our insider's guide to Cortina.
Of course, it is not only the prestige of the town that makes Cortina one of the best ski resorts in the Dolomites. Cortina has two main ski areas (Tofana & Faloria-Cristallo), offering approximately 120km of local pistes. It is connected with a skiable route into Alta Badia and boasts fantastic access to further ski resorts in the Dolomites. There's an exceptional variety to skiing in Cortina, with something to suit every level of skier. Beginners will love the gentle blues of Socrepes and Pocol in Tofana. Intermediates are well challenged with the long cruisy pistes of the Super 8 Ski Tour in Cinque Torri, while experts can travel over to Faloria for some truly steep black runs. There are powdery tree-lined runs, World Cup slopes and a never-ending supply of breathtaking panoramas to discover. Check out our list of the top 5 ski runs in Cortina for some highlights.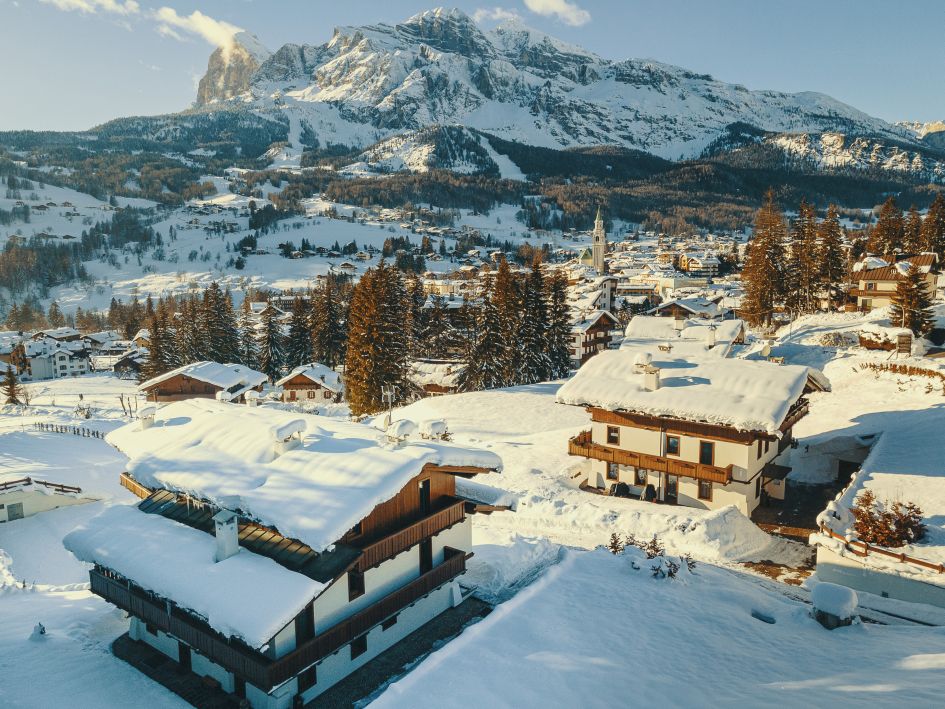 LV | 01 Dolce Vita & LV | 02 Perla are perhaps the two best luxury catered ski chalets in Italy. Located on the exclusive LV Estate, these chalets are the pinnacle of luxury in Cortina. They have the style, services and facilities to rival any in the Alps. The chalets are brimming with features: spa areas with indoor swimming pools and Jacuzzis, plush cinema rooms, multiple living areas of elegant luxury, spacious outdoor areas, unmatched views of the Dolomite peaks and so much more. Enjoy the use of a 24/7 driver service to explore the fabulous resort and return to gourmet meals made by an in-house Michelin chef. Each chalet welcomes up to 12 guests on a luxury ski holiday to Italy.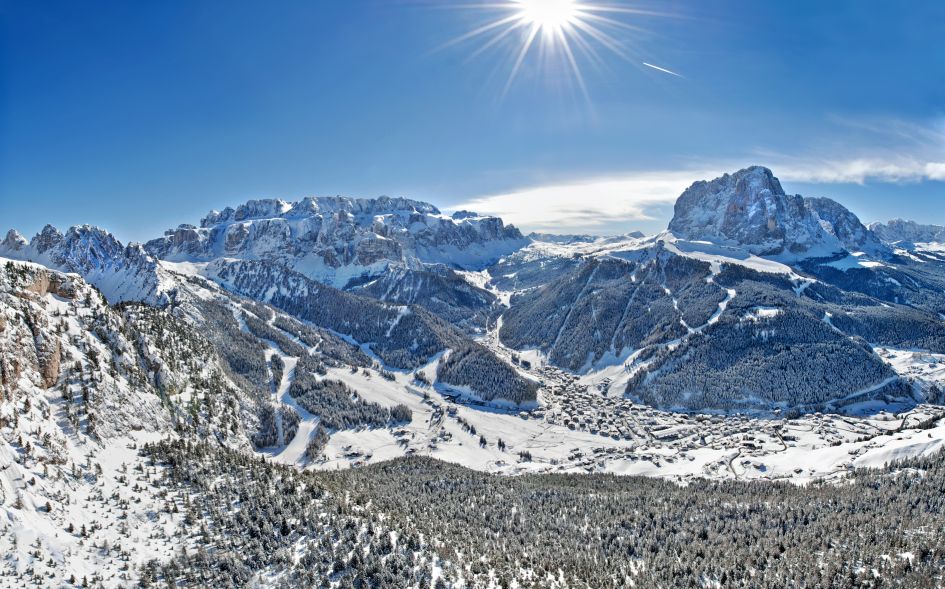 One of three villages in the Val Gardena ski area, Selva is the perfect microcosm of Dolomites ski resorts. Selva Val Gardena ski resort perfectly encapsulates the charm of ski holidays in the Dolomites: a historic, picturesque village surrounded by beautiful alpine forests and majestic mountain cliff faces. The South Tyrolean resort, sometimes known by its German name of Wolkenstein, exhibits the unique Ladin culture of the valley.
At an altitude of 1,563m, Selva is the highest ski resort in the Dolomites Val Gardena ski area. It is also one of the principal ski resorts along the Sella Ronda ski circuit. This means it provides you with unbeatable access to 500km of interconnected slopes, the largest area of skiing in the Dolomites. If you just stick to the local Val Gardena ski area, you are still treated to 180km of ski slopes. The challenge for your luxury ski holiday in Selva Val Gardena will be to complete "The Legendary 8" ski runs, including the fabled Saslong World Cup run.
Selva has so much to do, for families and non-skiers, as well as those wanting to hit the slopes. There is an abundance of non-skiing activities, from exciting on-snow activities such as tobogganing and snowshoeing, to special cultural experiences where you can sample the local cuisine. Incidentally, the food in Selva is sublime, with an interesting mix of Italian and Austrian influences. Our insider's guide to Selva Val Gardena will tell you everything you need to know.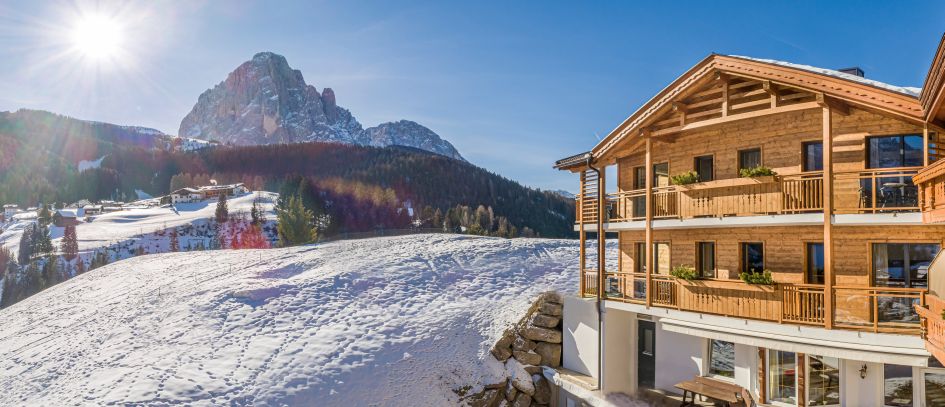 The accommodation on a luxury ski holiday in Italy is as important an aspect as the resort or ski area. Thankfully, Selva Val Gardena delivers with a great selection of options. For small groups looking for a luxury catered ski holiday in Italy, the aptly named Chalet Selva welcomes up to 4 guests. This stylish 2-bedroom apartment affords remarkable panoramic views thanks to its elevated location in resort. Additionally, the chalet-apartment comes with the use of the facilities and spa of the Hotel Rodella. There's an astonishing list of wellness facilities, including an outdoor swimming pool, outdoor Jacuzzi and multiple types of sauna. A driver's service will have you at any of the major lifts within mere minutes, allowing you to maximise your time on the slopes. There are several further apartment and chalet options, with the same great services and facilities, for larger groups between 5 and 8.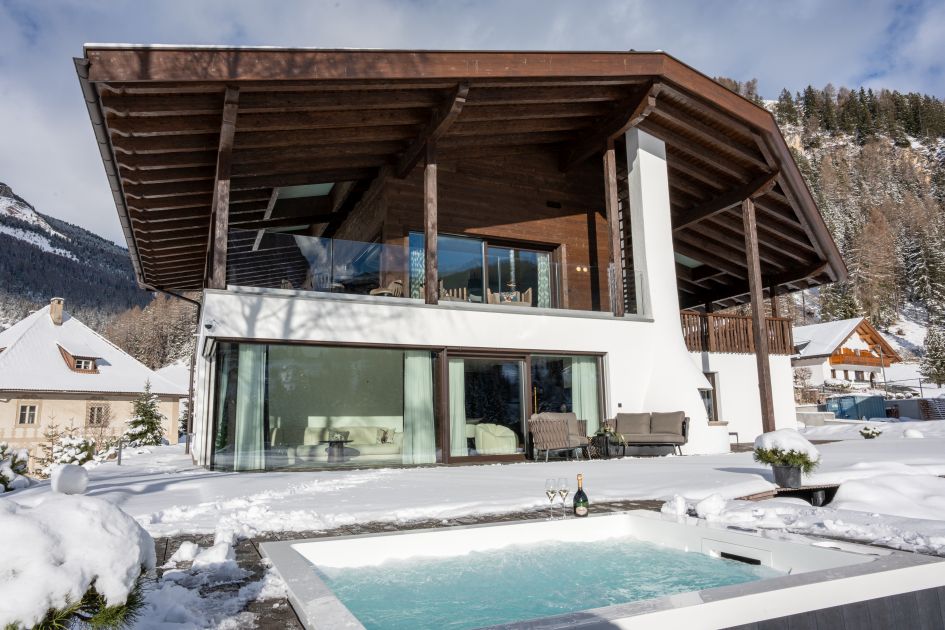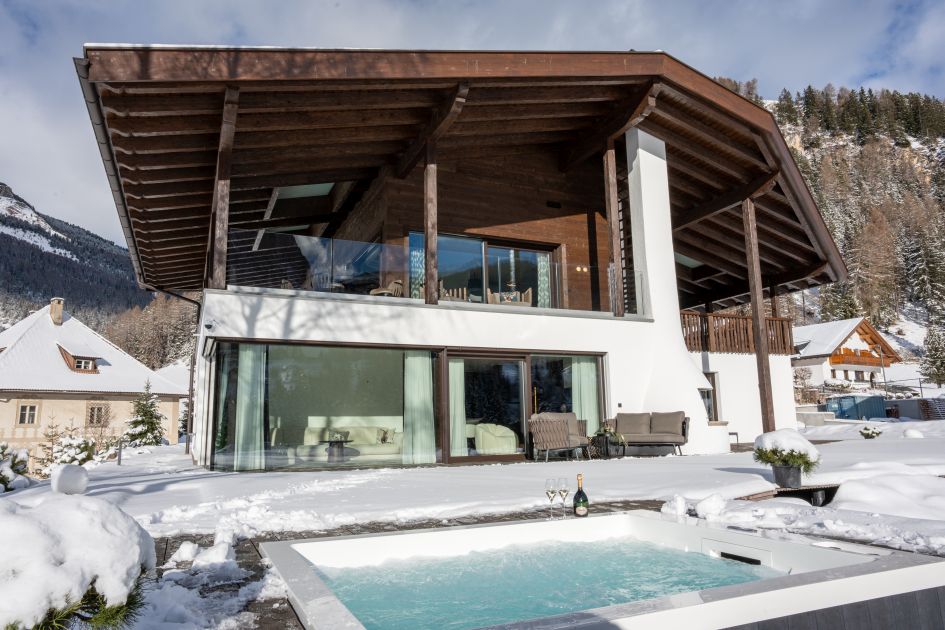 If you wish for the freedom of a self catered ski holiday in Selva Val Gardena, the luxury Chalet Villa Carolina will be right for you. It is structured as two self-contained apartments, with a third floor for entertainment. The chalet is ideal for groups of up to 10 guests who value their autonomy. There are separate lounge/dining/kitchen areas in each apartment, but the true gem of the property is in its lower level. This sociable space features a chic sunken lounge with fireplace, an elegant dining space and a bar with pool table and wine cellar, functioning as the perfect space for late night holiday parties. Outside, you'll find a private garden with hot tub and firepit, all surrounded by spellbinding Dolomites views.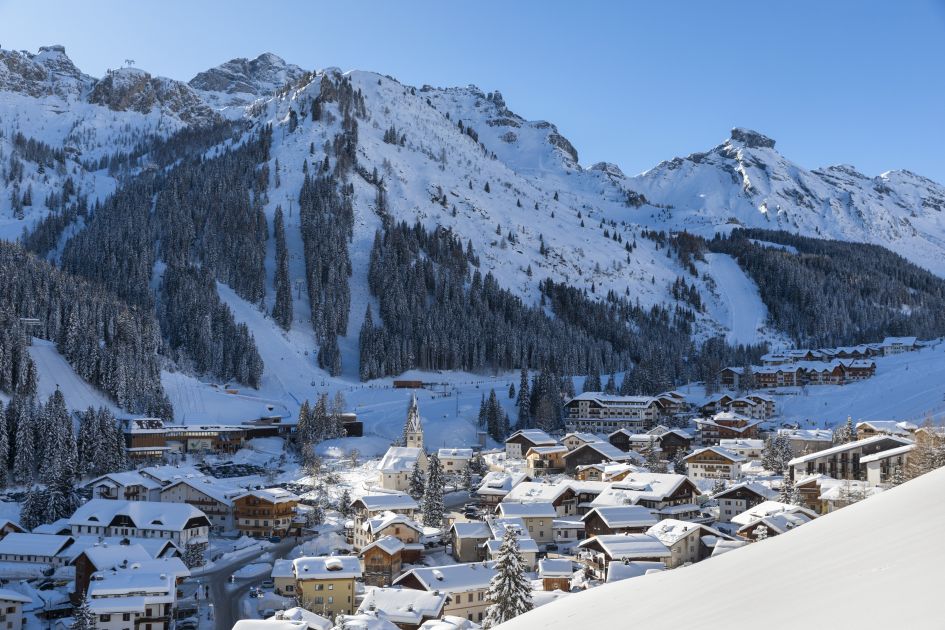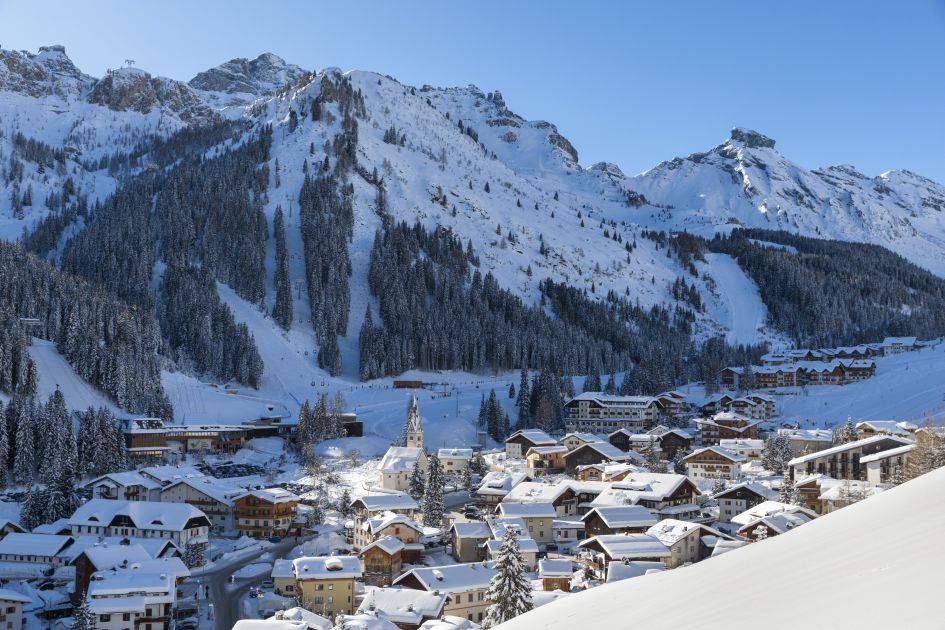 Another stop along the Sella Ronda, Arabba is a quaint, little ski resort in the Dolomites with an exceptional offering. Lovers of winter sports, nature and history should flock to Arabba for their luxury ski holiday to Italy. The small village is a quiet, peaceful resort of immeasurable natural beauty. Many pass by Arabba without truly taking the time to appreciate it. With the same Ladin culture as found throughout much of the Dolomites, and nearby local settlements dating back 10,000 years, it is an excellent place to visit if you want an authentic experience on your luxury ski holiday to Italy.
Arabba forms part of the Arabba-Marmolada ski area, with over 60km of slopes. In my view, it is home to the best skiing in the Dolomites. Expert skiers will love Arabba, finding several long and tricky black runs leading into the resort. The area also offers glacier skiing on the Marmolada, which at 3,343m is the tallest mountain in the Dolomites. This is also home to the Dolomites' longest ski run, the Bellunese. It's a 12km winding route that starts at the top of the Punta Rocca cable car station (3,265m) and ends up in the village of Malga Ciapela (1,450m).
Arabba is a prime spot to set off on the Grande Guerra – First World War ski tour. The First World War ski tour combines skiing and history in one. Taking you on an 80km route (with some short bus journeys involved) through many Italian ski resorts around the Col di Lana, where Austrian, German and Italian armies fought in World War 1, the route now acts as a war memorial. It also takes you along some of the best pistes in the Dolomites, including the aforementioned longest run.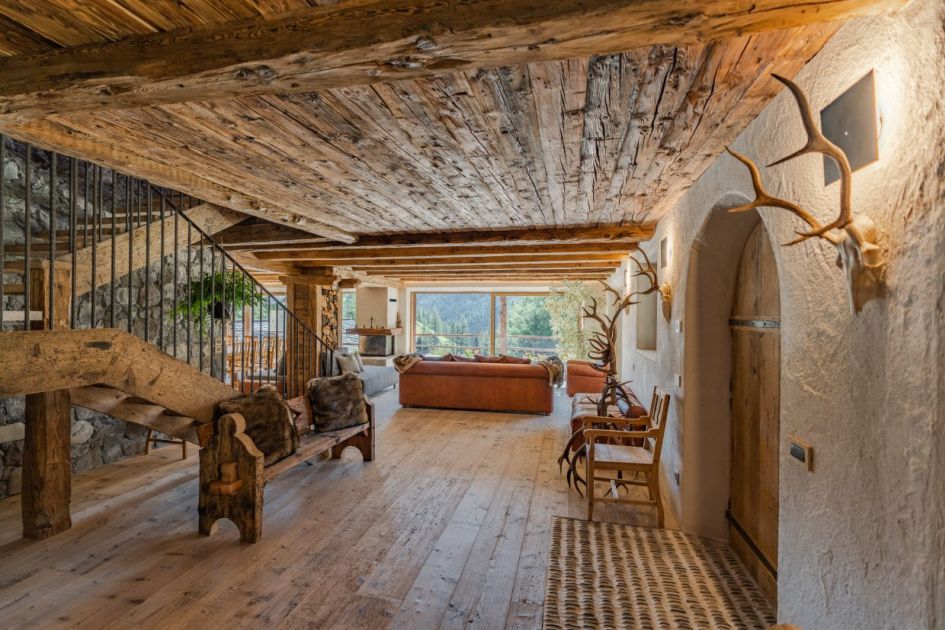 One of the best ski resorts in Italy wouldn't be complete without one of the best luxury chalets in Italy. Cesa del Louf is a gorgeous alpine retreat, providing the perfect blend of authenticity and luxury. Set up for anywhere between 10 and 20 guests, Cesa del Louf has a number of unique facilities that make it stand out. The chalet oozes character, spread over two buildings, and maintaining many original features of its converted farmhouse structure. There's an incredible wellness area, found enveloped by old stone walls and arched ceilings. Additionally, the wellness space has an indoor swimming pool with views to the snow-capped Dolomite peaks.
A ski in ski out chalet in the Dolomites for anyone comfortable skiing off-piste, the chalet also comes with a special driver service, unlike any other in the Alps. Either take a snowcat or a VM90, a specialised Italian military vehicle, to get to the main Arabba lifts. If that's not enough, there's even a heliport! The chalet is in a secluded location up the mountain, while still only less than 1km from the Italian ski resort of Arabba.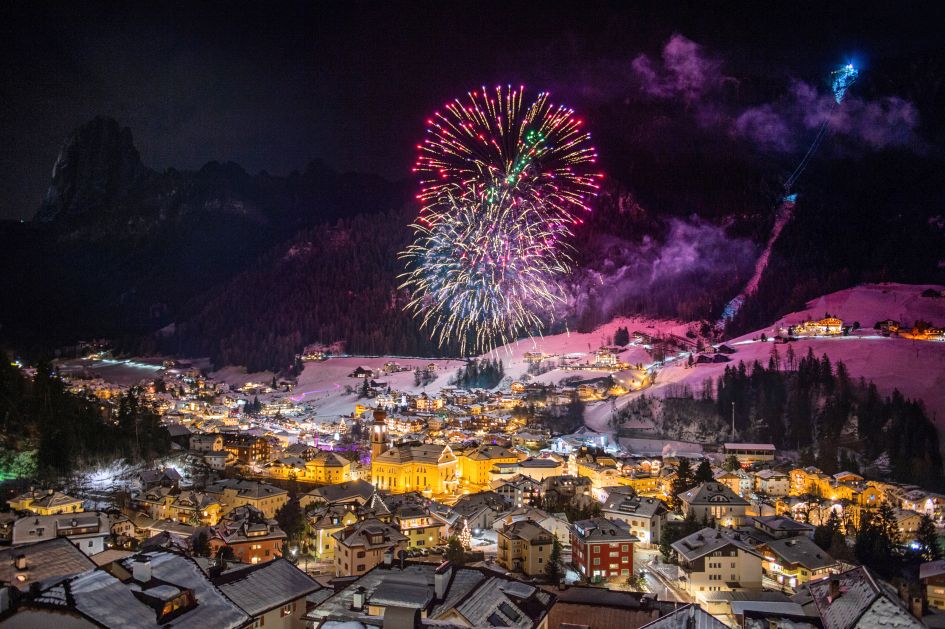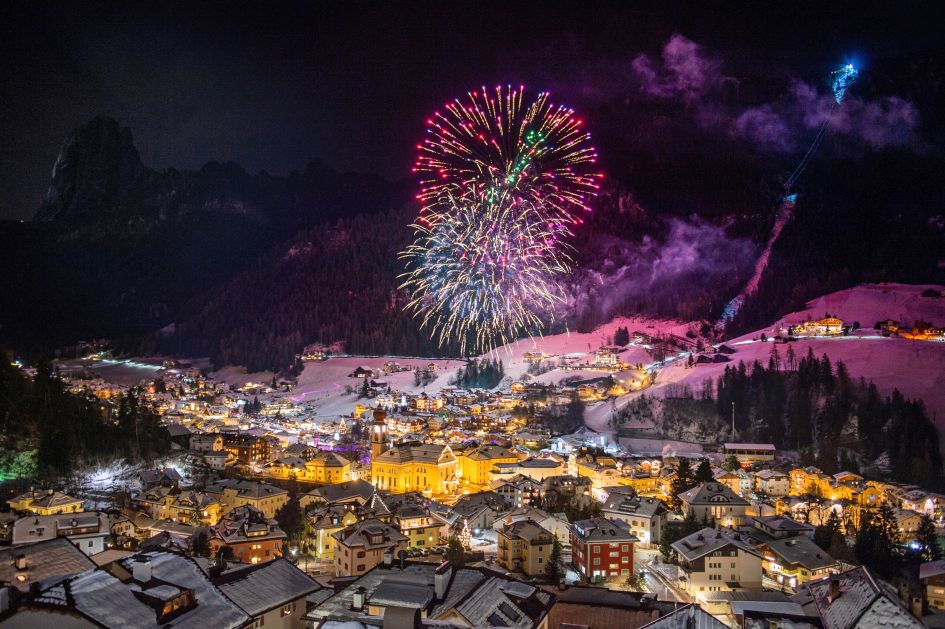 Ortisei is another Val Gardena ski resort, found slightly lower down the valley from Selva, at an altitude of 1,236m. On top of history, culture and beautiful scenery, Ortisei presents a chic and cosmopolitan vibe for your luxury ski holiday in Italy. The Dolomites ski resort has been popular for tourism since the 19th century. Moreover, Ortisei is a fantastic place for boutique shopping, alongside café lunches surrounded by majestic scenery. This elegant mountain village is also famed for traditional craftwork of ornate and intricate wood carvings. This ancestral practice dates back centuries, to long before the village was ever a ski resort.
Skiing in Ortisei offers the same brilliant access to the Val Gardena ski area as Selva. However, while situated further away from the Sella Ronda circuit, Ortisei instead offers easy access to ski slopes on the Alpe di Siusi. The Alpe di Siusi, also referred to as the Seiser Alm, is Europe's largest alpine pasture. The Seiser Alm is a 56km² plateau with pistes ranging in altitude from 1,800m – 2,450m. It is the perfect spot for family ski holidays in the Dolomites. There is a terrific selection of gentle reds and long, easy blues, great for beginners and progression throughout the week. Additionally, the plateau is in a high altitude location ideal for snowfall. There is also a large snowpark in this area, and more advanced skiers will still get to enjoy skiing around the other Val Gardena ski resorts.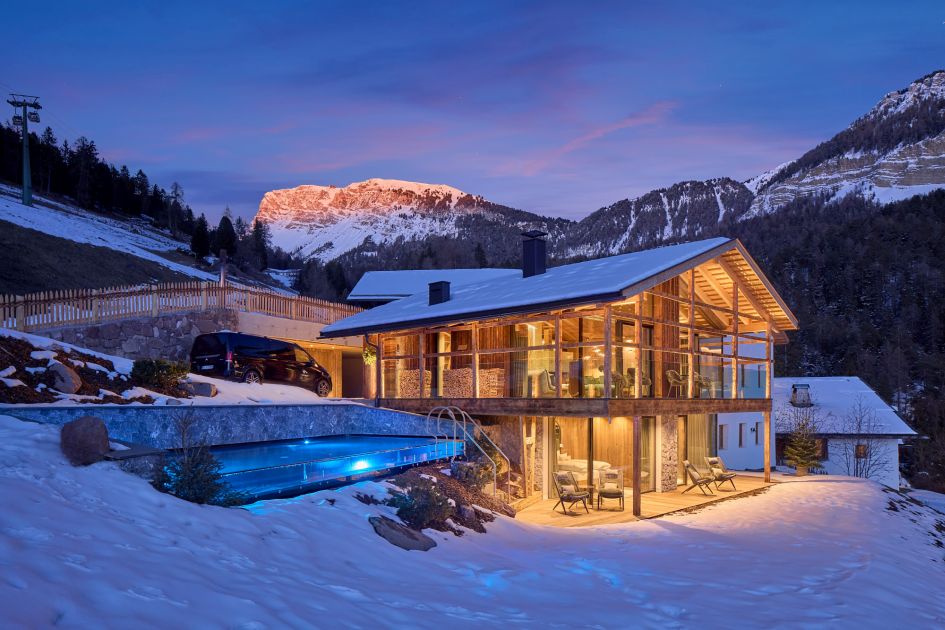 Chalet Vilaiet is a stylish chalet of modern alpine elegance to match the atmosphere of Ortisei. The chalet welcomes 6-7 guests for a stay in total luxury. Chalet Vilaiet is ski in/ski out, with an outdoor heated swimming pool and private garden. There's also a 150m² wellness area, full of incredible facilities. This fully catered ski chalet in Italy comes with both a driver service and a number of noteworthy complimentary experiences. Perhaps the highlight is the day of ski guiding with former World Cup ski legend Isolde Kostner, who also owns the chalet. This is a really special offering amongst our list of luxury ski chalets in Italy.
On your luxury ski holiday to Italy, the Dolomites are simply a magnificent place to visit. While I've talked about some of the best ski resorts in the Dolomites, this is by no means an exhaustive list. There are plenty of resorts to choose from, with an ever-growing collection of luxury chalets in the Dolomites on offer. Should you be interested in a summer Dolomites holiday, many of these ski resorts make our list of top Dolomites summer resorts too.
If you are interested in any of the chalets or resorts on our list, or simply want to learn more about a luxury ski holiday to the Dolomites, then you can speak to one of our Italian Ski Specialists. Simply give us a call on +44 1202 203650 or send us an email. Start planning your Italian luxury ski holiday now!