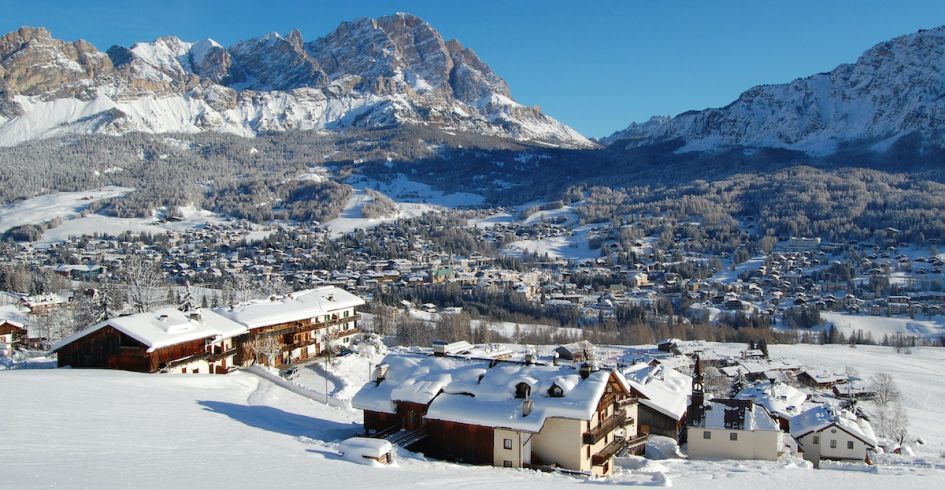 We consider ourselves specialists in luxury ski chalets and mountain resorts, and with a wealth of knowledge between our team, we love sharing our advice and insights to help you plan your perfect ski holiday. Along with our valued partner Francesco in Cortina who operates both Chalet LV01 Dolce Vita and Chalet La Perla LV02, we have put together an exclusive insight into a luxury ski holiday in Cortina…
Cortina d'Ampezzo, the Queen of the Dolomites, is a world-class destination in the Italian Alps: a veritable paradise for lovers of snow sports and wellbeing. Cortina is set in the large, sun-kissed Ampezzo valley, surrounded by the stunning Dolomite mountains. This incredible setting and the many international sports events it hosts, makes a luxury ski holiday in Cortina an ideal destination for snow lovers.
Snow Sports in Cortina
"Cortina d'Ampezzo offers a vast variety of pistes and lifts for beginners, intermediates and experts."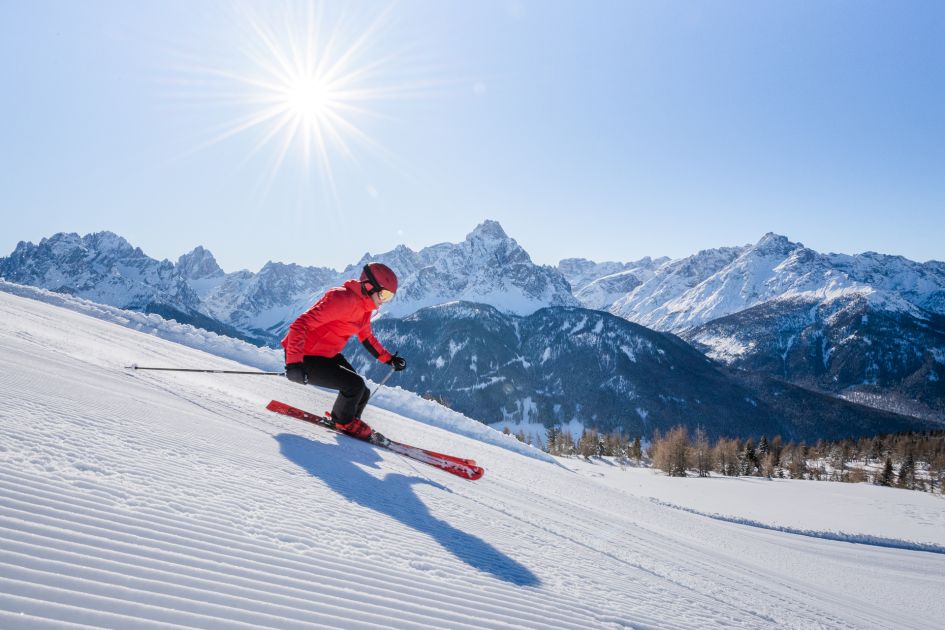 Alpine Skiing in Cortina
Downhill skiing in Cortina is a flagship winter sport – it's in the very DNA of the resort. Cortina's ski runs are famous, and rich with alpine skiing history. From the 1956 Olympic Winter Games to several Ladies' Ski World Cup races, downhill skiing has long been enjoyed on the Cortina pistes. More recently, this ski resort in Italy hosted the 2021 World Ski Championships and it will host the 2026 Winter Olympics along with Milan. So, on your luxury Cortina ski holidays, you can trial some of the ski slopes where the best of the best have competed!
Cortina for Snowboarding
For snowboarding in Cortina, there are several options. Beginners will enjoy the slopes of Pocol, while the 5 Torri and Lagazuoi are ideal for more challenging runs. Every winter, Cortina hosts Snowboard World Cup races on the slopes of the Faloria.
Cross Country Skiing in Cortina
The Queen of the Dolomites offers all those who love cross-country skiing 70 km of piste at all levels of difficulty, framed by some of the most spectacular views in the Dolomites. Some of the routes are actually inside the beautiful Natural Park of the Ampezzo Dolomites. Cortina is part of Dolomiti Nordicski, the largest carousel for cross-country skiing in Europe with 1,300 km of piste. It is connected to the Dobbiaco Nordic Arena in Val Pusteria, via a magnificent route on which the historic race Granfondo Dobbiaco-Cortina is held every year.
Cortina Ski Areas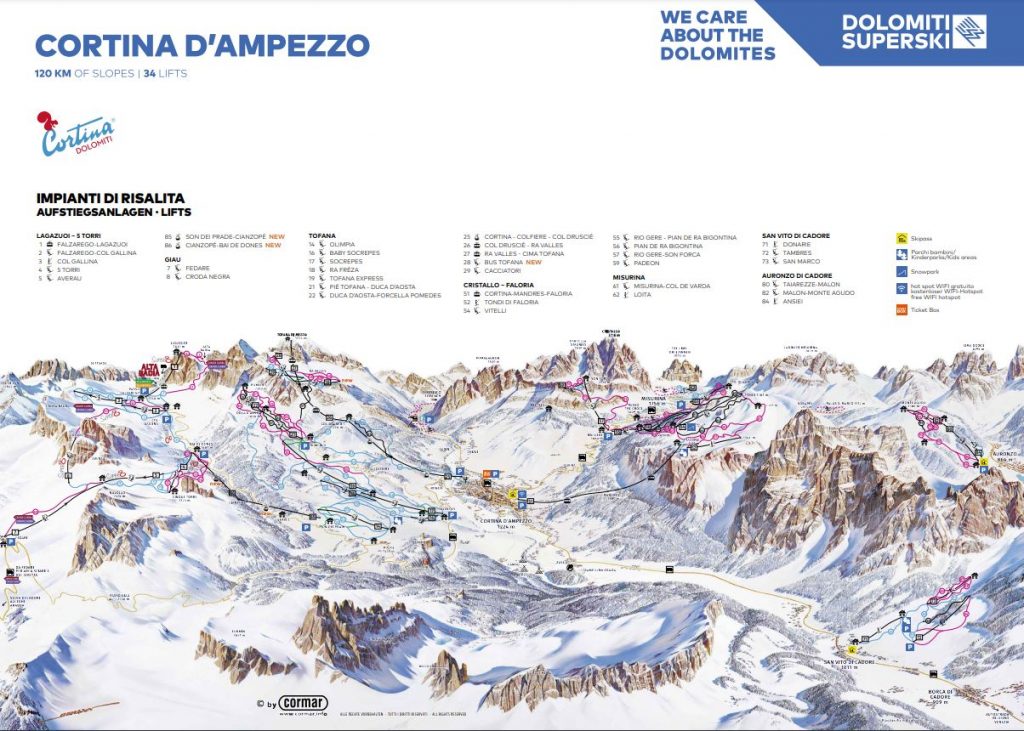 Tofana
37 slopes (6 black, 12 red and 19 blue runs) and 11 lifts (1 gondola, 1 cable car, 9 chairlifts).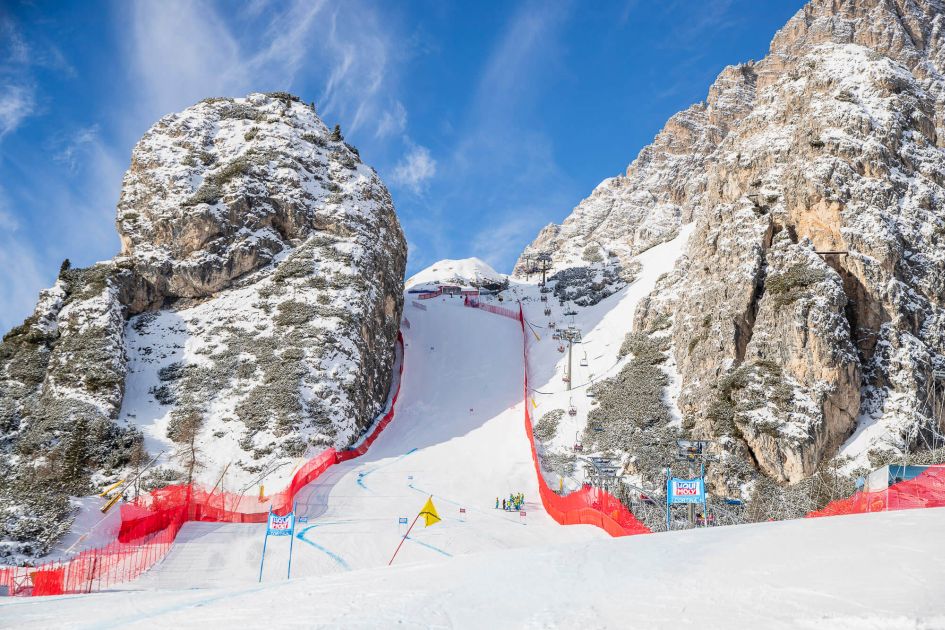 In this area you can ski on the slopes of the Ski World Cup and of the 2021 World Ski Championships. The more difficult slopes, including the Forcella Rossa and the Schuss of the Tofana, are in the higher part of the ski area, while its lower part features easier pistes including those of Socrepes and Pocol. This makes the Tofane ski area ideal for all different types of skiers.
Faloria – Cristallo
15 slopes (5 black, 8 red and 2 blue runs) and 7 lifts (1 cable car, 5 chairlifts and 1 T-bar).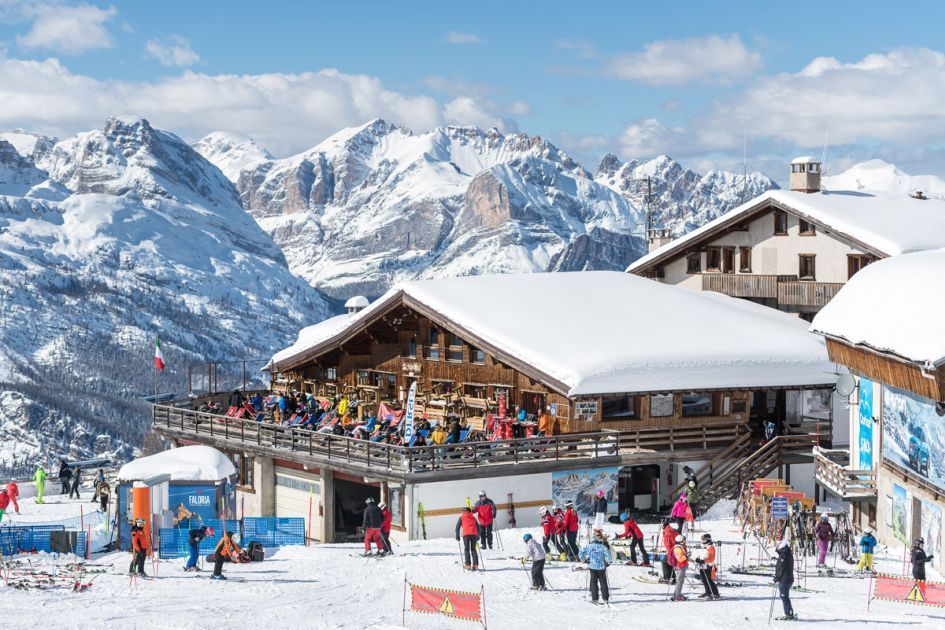 The Faloria-Cristallo ski area is famous for its slopes and stunning panorama, as well as its long ski season, usually stretching from November to May. Some of the classic slopes of the area include the Stratondi, Canalone Franchetti and the Vitelli, famous for hosting the giant slalom during Cortina's 1956 Winter Olympics.
5 Torri – Lagazuoi
16 slopes (9 red and 7 blue runs) and 7 lifts (1 cable car, 5 chairlifts and 1 skilift).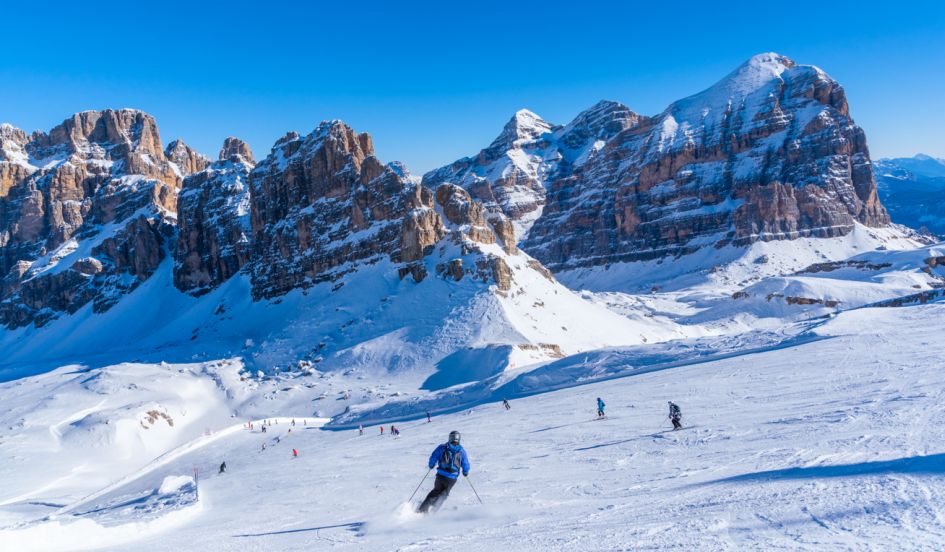 The Cortina ski area 5 Torri – Lagazuoi extends between the Giau Pass and the Falzarego Pass. Its slopes range from easy to medium. The flagship piste of this area is the Armentarola, one of the most renowned in the Dolomites: an 8.5 km run unwinding in a magical landscape between the Fanes mountains. This ski area is a gateway to several ski tours into the neighbouring valleys, including the Super 8 Ski Tour and the Great War Tour – if they are not on your skiing bucket list, add them now!
Cortina Skyline
A new gondola lift starting at Son dei Prade will connect the Tofana area with the 5 Torri and thus with the entire ski area Falzarego and Lagazuoi. Skiers will be able to comfortably reach, without buses or cars, the 5 Torri and Lagazuoi ski area, where the Armentarola slope connects them to the entire Dolomiti Superski carousel as well as the Sellaronda, Great War Ski Tour and Super8 Ski Tour. And vice versa, skiers from Alta Badia and Val Gardena can reach the slopes at the foot of the Tofana on skis.
Non Ski Activities in Cortina
Snowshoeing Hikes
Mountain huts and lodges, breathtaking peaks and landscapes, there are many enchanting locations to be discovered on foot. Slowing the pace, it's truly magical listening to the silence of nature while admiring the splendid winter panoramas of the Ampezzo Dolomites. Snowshoeing in Cortina is a simple but wonderful activity that enables you to discover the snow-clad mountains immersed in unspoilt settings. The beauty of the Dolomites is revealed step by step on your snowshoes, whether by day or after sunset by torchlight. For those who love to lose themselves in nature, taking a snow hike is a must on a luxury ski holiday in Cortina.

Ski Mountaineering and Freeriding
Ski in fresh snow and explore the peaceful, untouched landscapes of the Dolomites surrounding Cortina. For the adrenaline seekers amongst you, luxury Cortina ski holidays are not complete without exploring the backcountry.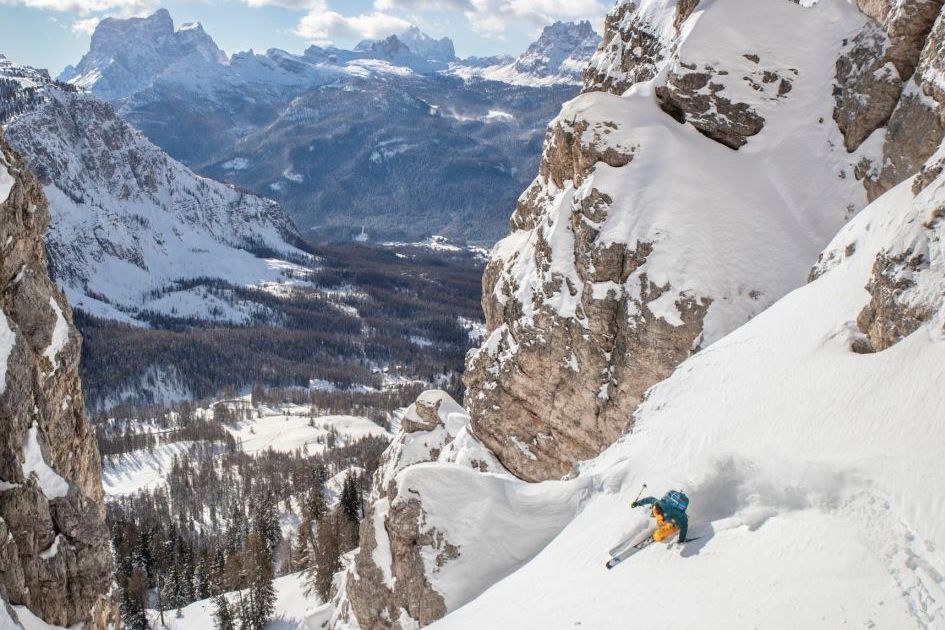 Ski Mountaineering
The perfect activity for those who wish to get away from marked pistes and immerse themselves in the peaceful landscapes of the magnificent snow-covered mountains of the Ampezzo Dolomites.
Freeriding
For experienced skiers who love the thrill of a steep descent, Cortina offers some of the best freeride areas in Europe, both in terms of challenge and sheer beauty.
Fat Biking and Snowkiting
Alternative, yet thrilling snow activities to be practised in Cortina include fat biking and snowkiting.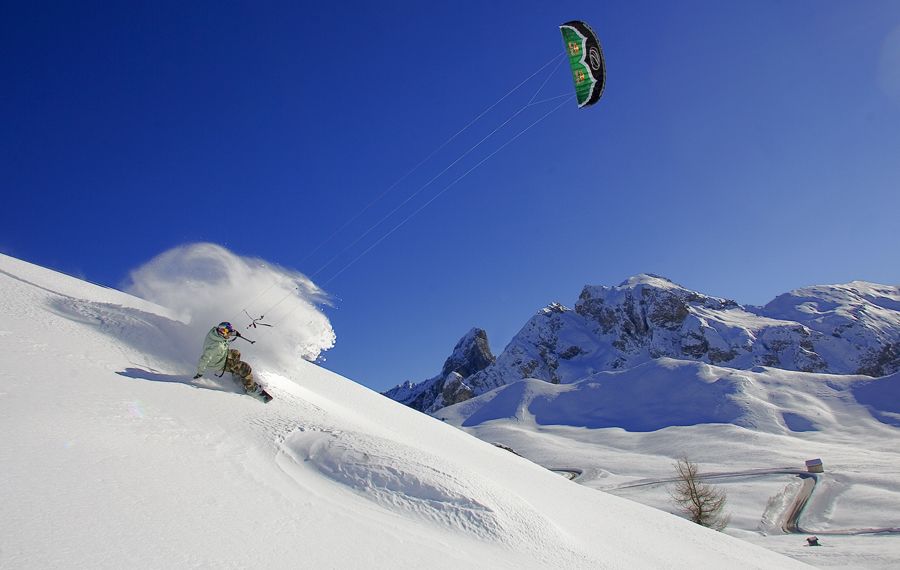 Fat Biking
Fat bikes have special, thicker tyres to be used on snow, providing a fun way to keep biking even in the snowiest of winters in the Dolomites. Rent a fat bike at one of the many shops of Cortina d'Ampezzo and try the area of Col Gallina, with dedicated itineraries featuring moguls and challenging turns.
Snowkiting
Snowkiting is a sport where people use a kite to "surf" on snow with skis or a snowboard.
This increasingly popular discipline can be practised on the wide open spaces of Passo Giau, ideal also for their slope and wind conditions. The minimum age to try the activity is 15 years.
Ice Skating and Curling
Ice skating and curling can be practised at Cortina's Olympic Ice Stadium in both summer and winter. Besides the 30m x 60m ice rink, the Ice Stadium has a bar, a solarium and a playground for children.
Family Holidays in Cortina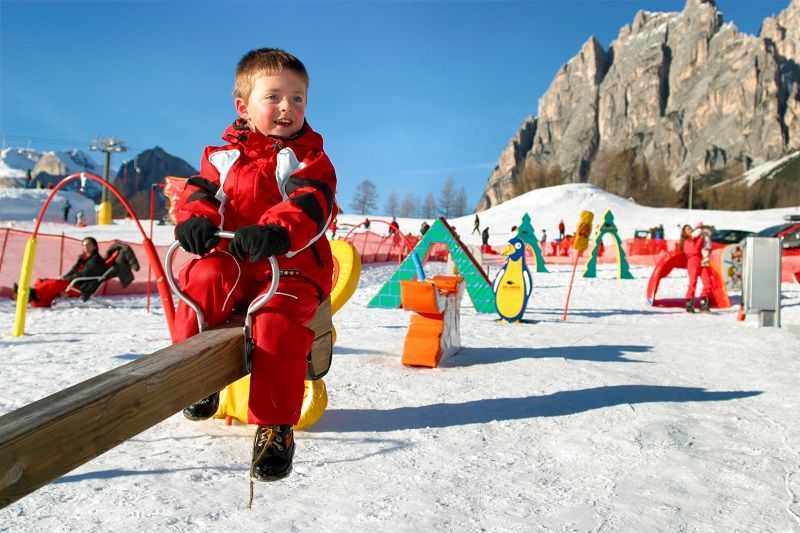 For children, winter, with its wonderful landscapes is the most magical season of all. Whether excelling on skates or skis, riding a friendly pony, or being towed on a dog sled, every child's dream will come true!
Family ski holidays in Cortina are supported by quality services, ski schools and equipment hire, all operating with meticulous attention to detail. In addition – for adults – there is a choice of wellness facilities in Cortina for the ultimate recharge. Just choose your preferred activities, made to measure for families!
Cortina d'Ampezzo: A Paradise for Gourmands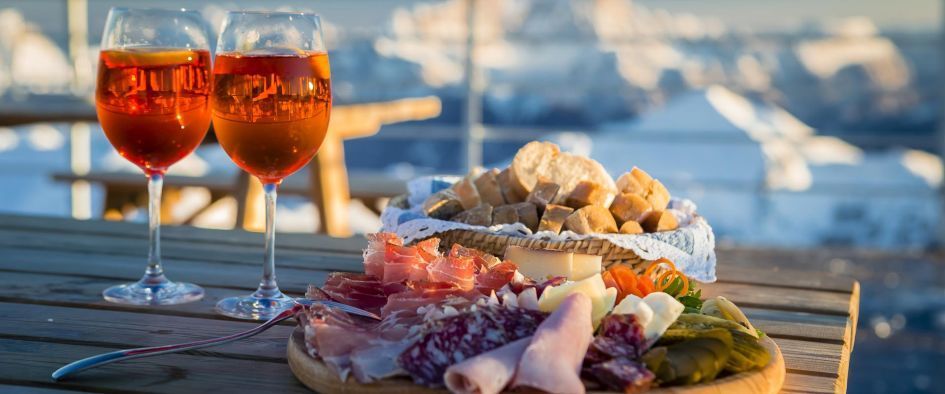 Cortina d'Ampezzo is a borderland that embodies flavours of Italy and Tyrol. Taste the typical dishes of Cortina in the restaurants, pizzerias, agriturismi (Alpine farms), cafes, bars, pastry shops, pubs and wine bars that combine the unforgettable landscapes of the Queen of the Dolomites with the pleasure of its traditional cuisine.
The local restaurants in Cortina offer a huge variety of menus, with dishes made of quality ingredients, often of their own production. It's a true paradise for gourmands inclusive of flavours denoting the Ampezzo cuisine, combined with the warm hospitality typical of Cortina. Many restaurants boast high recommendations from respected Italian food and wine guides, and a loyal clientele.
Cuisine in Cortina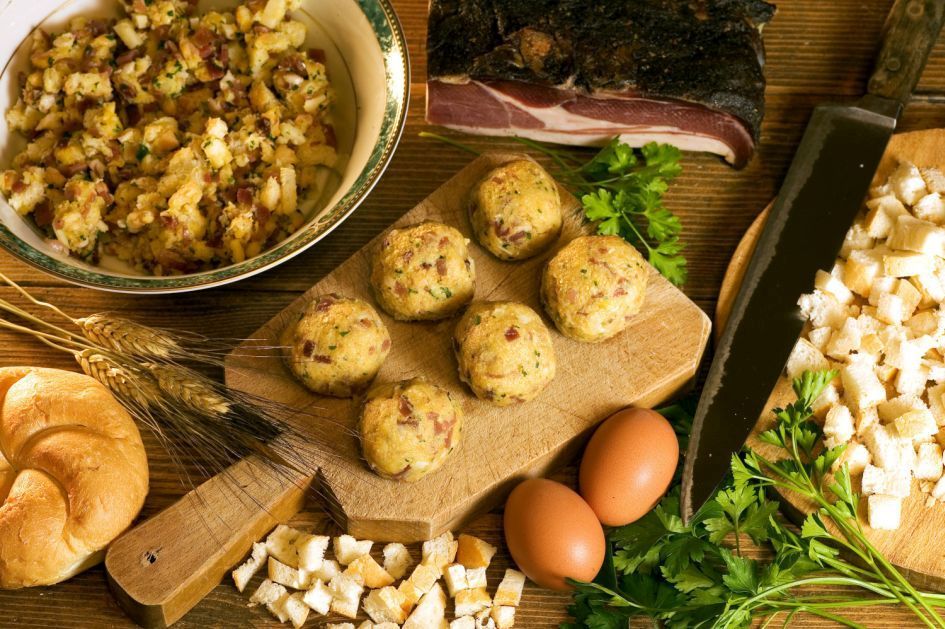 The traditional cuisine of Cortina d'Ampezzo reflects its location and history as a blend of Italian and Tyrolean flavours sourced by genuine local products and a sprinkle of innovation. Typical recipes and signature dishes like spätzle, barley soup, goulash, buckwheat cake, raspberry and gelato (to name a few!), are made with home-grown produce, freshly prepared by experienced hands.
Enjoy mouth-watering meals like never before on a delightful gourmands' excursion with breathtaking Dolomites views for a fully sensory experience. Cortina d'Ampezzo is also regarded for the quality wines on offer, as well as handcrafted beers and tasty cocktails. Whatever your drink of choice, there are wine-bars, pubs and cafes to suit all tastes. You can count on a luxury ski holiday in Cortina to deliver not only amazing food, but an outstanding experience inspiring all your senses.
Tasty Excursions in Cortina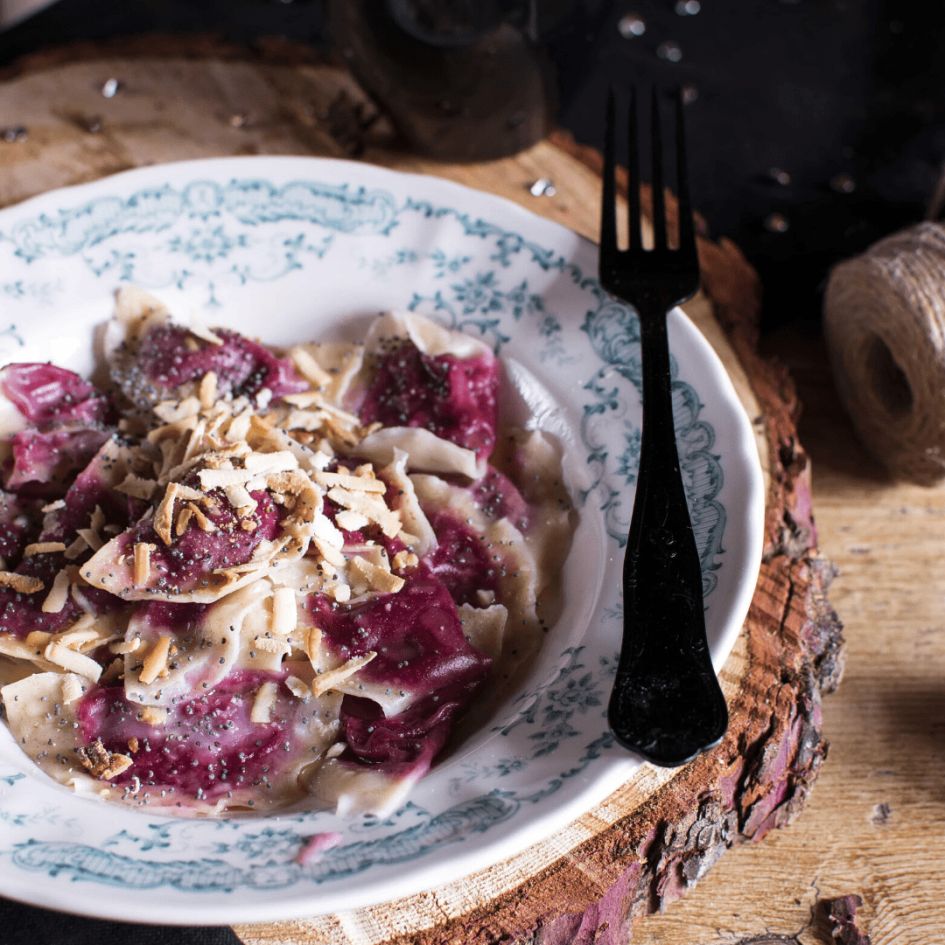 A ski holiday in Cortina can offer numerous foodie itineraries. You can relax amidst traditional aromas and mountain sunshine on the terraces that are a feature of many mountain lodges. On the coldest days, it is well worth enjoying the traditional dishes inside, revelling in the warmth of the old-style majolica wood-burning stoves. Don't miss the classic casunziei; half-moon-shaped pasta enveloping a beetroot filling, and sprinkled with poppy seeds and canederli.

Restaurants in Cortina
Cortina d'Ampezzo boasts two Michelin starred restaurants of excellence: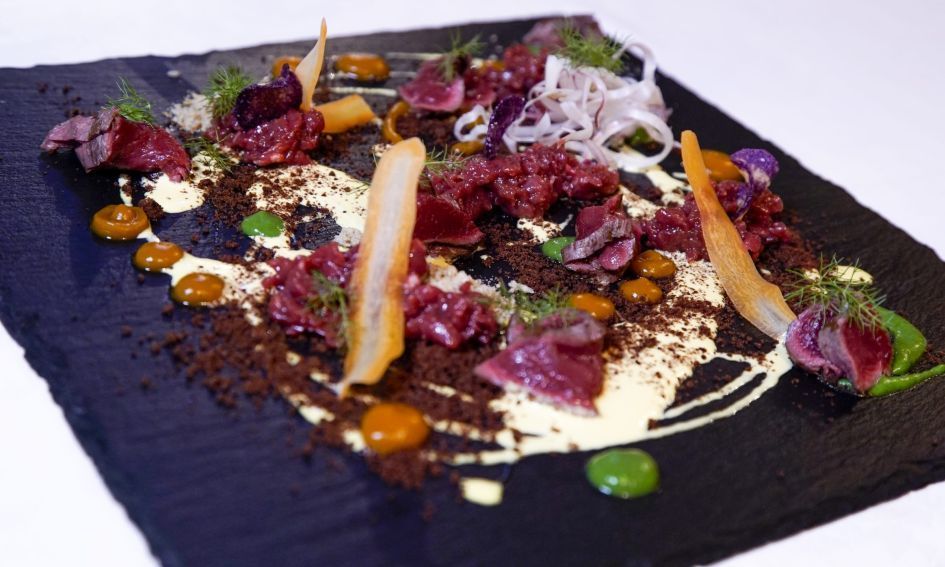 For over twenty years the spotlight has been on the Tivoli, a fine dining restaurant in Cortina d'Ampezzo. Under the guidance of Chef and Patron Graziano Prest and Maridilia Moro, Il Tivoli has risen to the highest levels, becoming a true gem in the arena of haute cuisine. The Tivoli is undoubtedly the most famous restaurant in Cortina and the most popular table in the Ampezzo Valley, recognised internationally and awarded with a prestigious Michelin star in 2018.
The restaurant is characterised by an elegant and whimsical culinary proposal, capable of surprising even the most refined palates. Graziano's culinary soul is oriented towards local and national excellence, brimming with sophistication. Traditional dishes with contemporary twists satisfy demanding palates and expectations. The chalets LV01 Dolce Vita, and La Perla LV02 enjoy a collaboration with Il Tivoli, so guests can take advantage of the chef and catering services promoted by Graziano Prest and his highly qualified staff.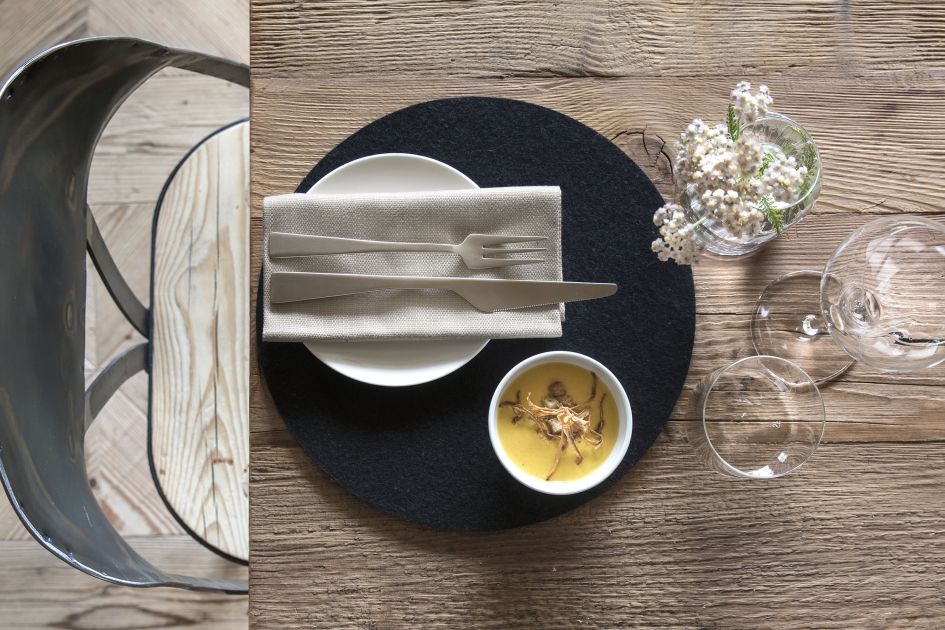 San Bride is an exclusive restaurant in Cortina, serving only a few guests at a time, but doing so with exceptional style. Deeply rooted in its natural mountainous surroundings, this Michelin star restaurant in Cortina works in harmony with nature through innovation, research and experimentation. This is where tradition, local products and cuisine intertwine to deliver an authentic food experience. The role of agriturismi and alpine farms goes beyond food: through their work, local traditions and the environment are preserved.
Apres Ski in Cortina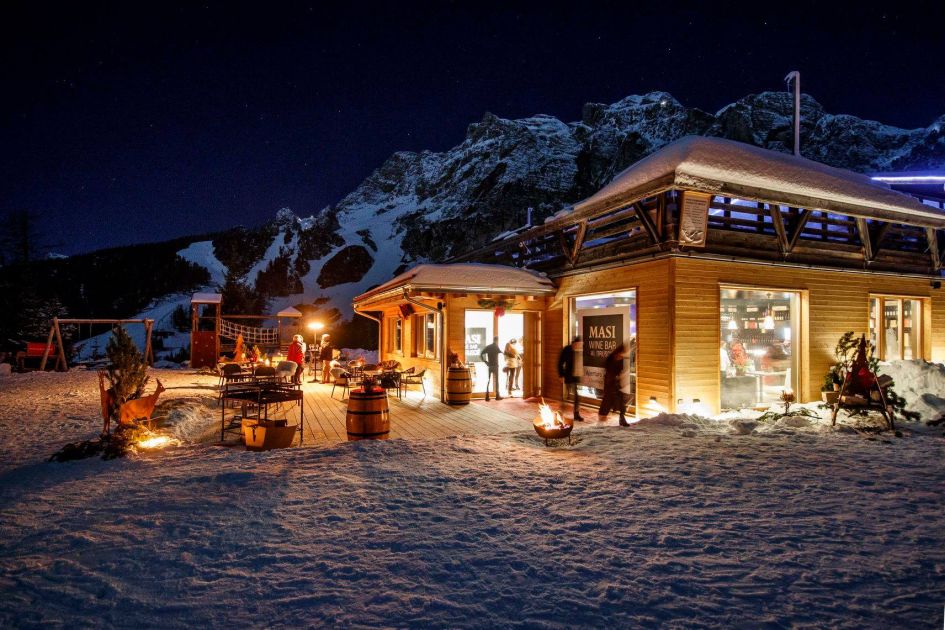 Cortina d'Ampezzo is not only about skiing and sport. The nightlife, especially during the Christmas holidays, is one of the most exclusive in Italy. Mountain lodges organise some of the best après ski in Cortina, with music, DJs and parties. Not a party animal? You might consider a different kind of après ski with dinner at the mountain lodge, then sledding down to the valley.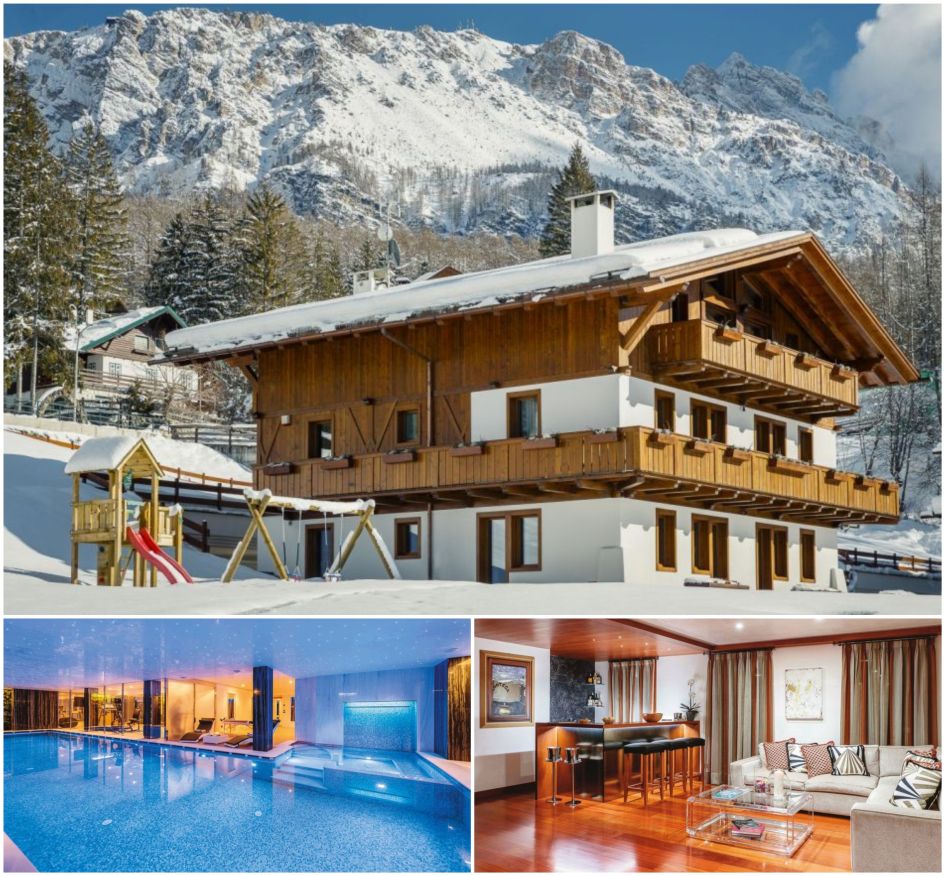 Located in the prestigious area of Via Menardi, LV01 Dolce Vita is an impressive luxury chalet in Cortina. Occupying 4 floors and 900sqm, groups of up to 12 guests can enjoy magnificent views and ample space to relax and recharge after a day skiing in Cortina. You can take full advantage of the private 20m indoor swimming pool, as well as the Jacuzzi, sauna and massage area to ease those hard worked ski legs. It doesn't stop there! With a cinema room, children's playroom, bar area, wine cellar, gym, and balconies and terraces, your evenings will be full of entertainment. Available on a catered or bed and breakfast basis, you can enjoy the finest catered ski chalet cuisine as you please.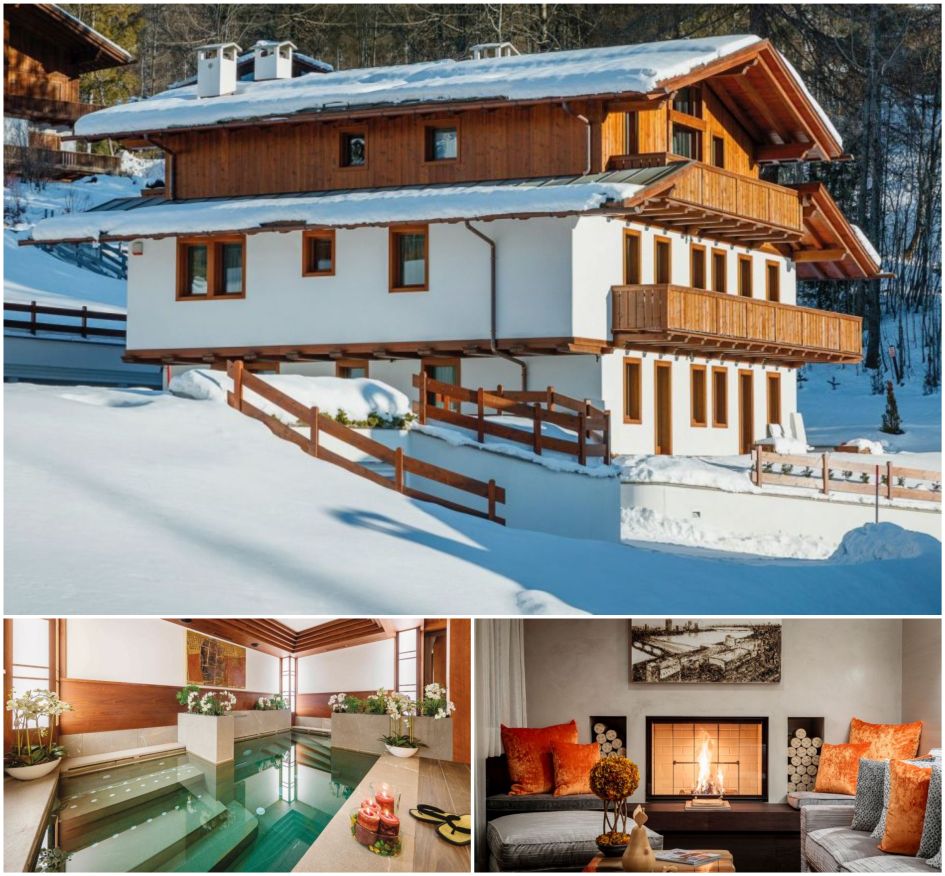 Just next door is Chalet La Perla LV02. Also commanding an exclusive location, just 200m from the lift station, this luxury ski chalet is a perfect base for your luxury Cortina ski holidays. Blending traditional interiors with modern facilities, you can enjoy authenticity without compromising on luxury. Nearly mirroring the spa facilities of Chalet LV01 Dolce Vita, you will have the same opportunity to recharge and pamper yourself. For alternative evening entertainment, choose between the cinema or games room for quality time together on your family ski holiday in Cortina.
Thank you to Francesco for an insightful overview of a luxury ski holiday in Cortina. It is safe to say that with the extensive list of snow activities and adventures, combined with the cuisine and luxury chalets, ski holidays in Cortina have a lot to offer for everyone.
If this has inspired you to consider a luxury ski holiday in Cortina, our Ski Specialists are on hand to assist with your plans. Send an email or give us a call on +44 1202 203650 to start planning your holiday to the Queen of the Dolomites.