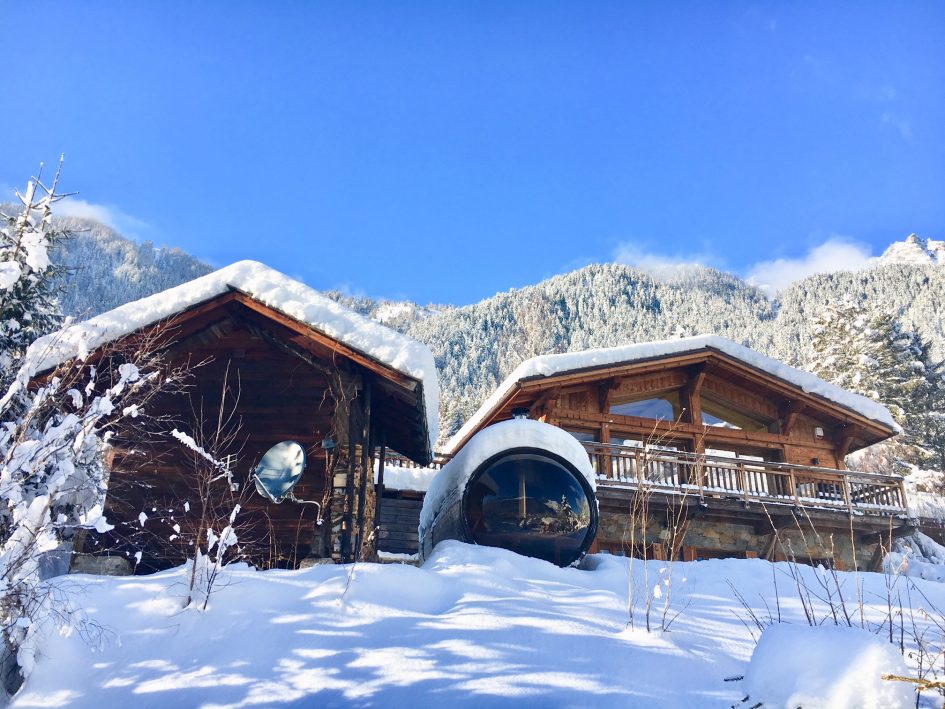 When it comes to booking a luxury ski holiday, the catering is one of the most important aspects of the holiday. With this in mind, why not book your holiday to a chalet that is well known for their superb food and outstanding service. In early December, I was lucky enough to experience this when I headed out to Chamonix. My visit was not short of delicious food or snow, this was during one of the best snow dumps the Alps has seen in many years!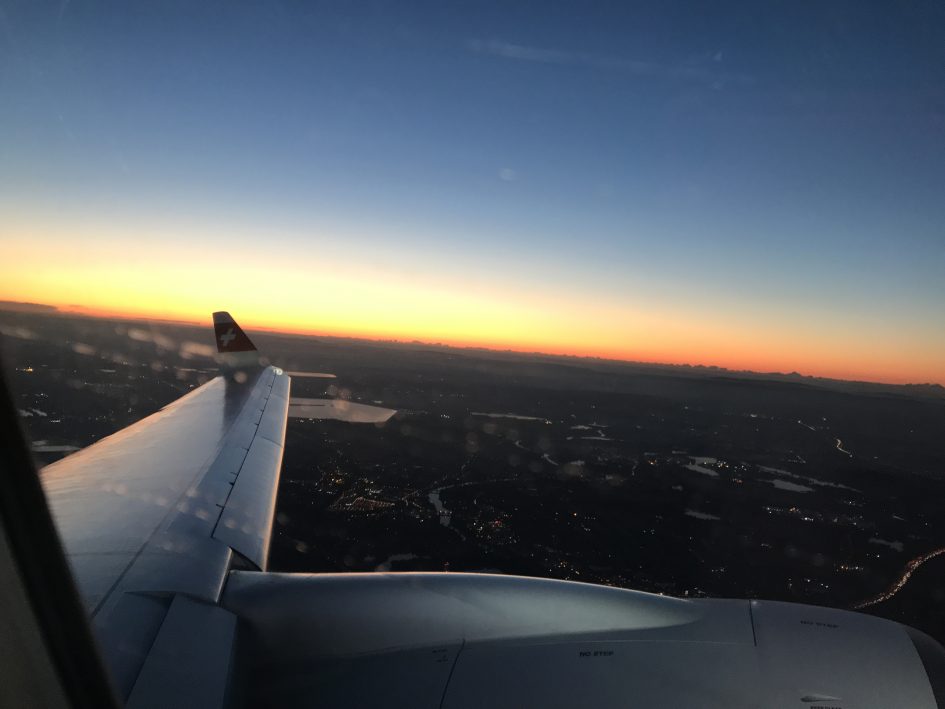 I decided to bite the bullet and get one of the first flights out of Heathrow. For this I had to leave home at 3am! After a smooth flight I touched down in Geneva at 8.30 and before I knew it I was welcomed by my hosts, Jess and Davidos from Eco Lodge where I would be spending the night. After battling through the snow that had taken the Geneva area by storm I arrived in Chamonix and was met by Jon who runs Eco Lodge as well as a host of luxury chalets in Argentiere, just up the road from Chamonix.
After meeting the team who had just finished clearing the access from the snow I was shown around the chalet. Eco Lodge sleeps 8 adults and 2 children across 5 rooms over 2 floors. The chalet is self-sustained and powers itself via solar and geo thermal power. It really is an eco-friendly ski chalet. The Master suite opens out to amazing views of the Aiguilles des Drus. Outside you'll find the large outside hot tub and massive barrel sauna, where better to relax after a day of skiing in Chamonix.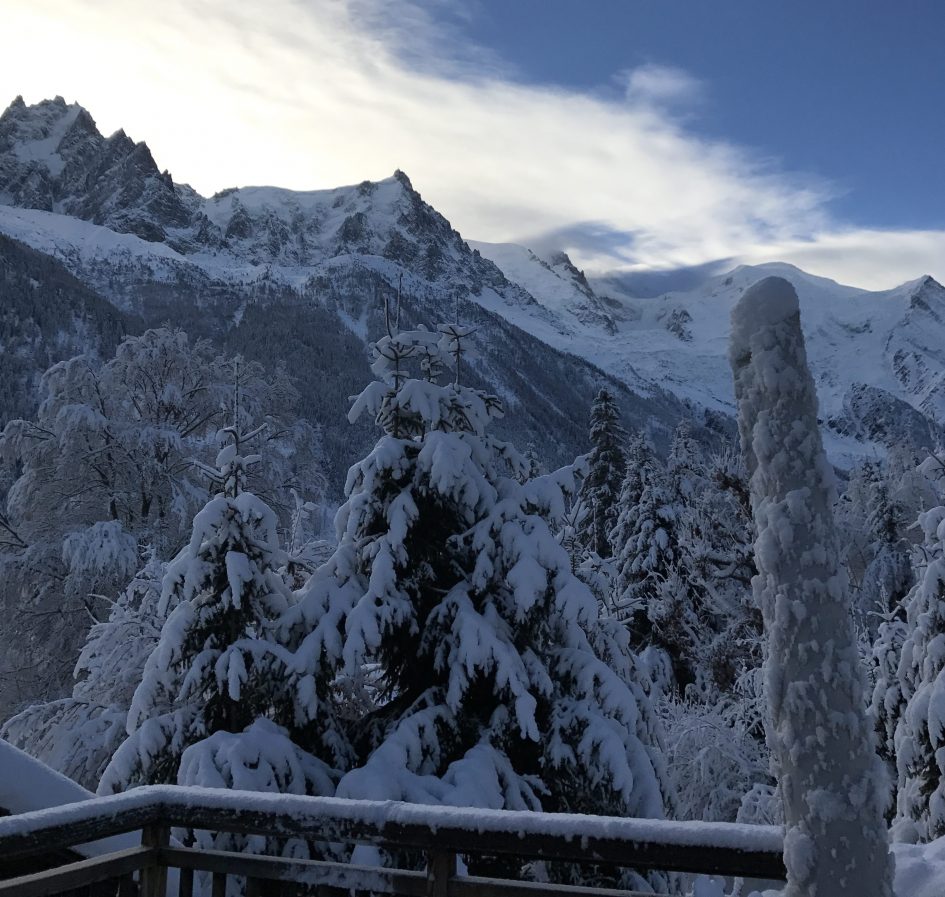 After my tour of the chalet I was keen to see what else Jon has to offer for those looking for luxury chalets in Argentiere, not before a quick spot of lunch though! We stopped in at the Hibou Deli in Chamonix which is run by Jon's partner Jenny. I opted for a lamb wrap, which had a spicy sweet potato hummus. It was amazing! Everything in the deli is home made, from the wraps to the slow cooked fillings, salads and hummus' – is that even a word? This was all washed down by La Chouffe, a Belgian beer that is becoming more and more popular across the Alps.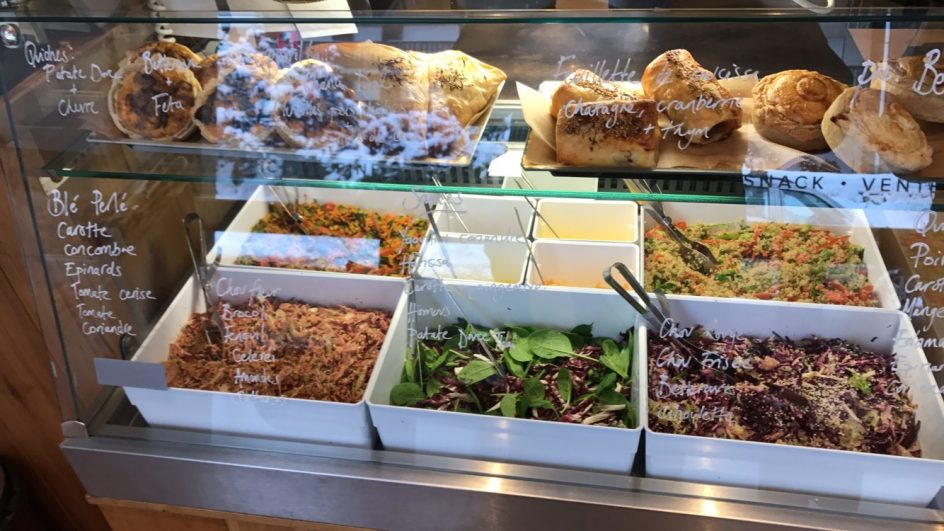 We trudged through the deluges of snow and made it to Marmotte Retreat. Marmotte Retreat is a 4 bedroom homely chalet and is very private, set back from the road there is a 60 or so metre walk to the chalet. When you arrive at the chalet you could be anywhere, this is what we would call a luxury Alpine Retreat, a real winter secluded wonderland! The party pieces of the chalet are the Vinyl record player which is very well stocked with an extensive collection of records, outside there is a brand new hot tub and a massive barrel sauna, again, where better to relax your muscles after a hard day skiing in the Chamonix valley?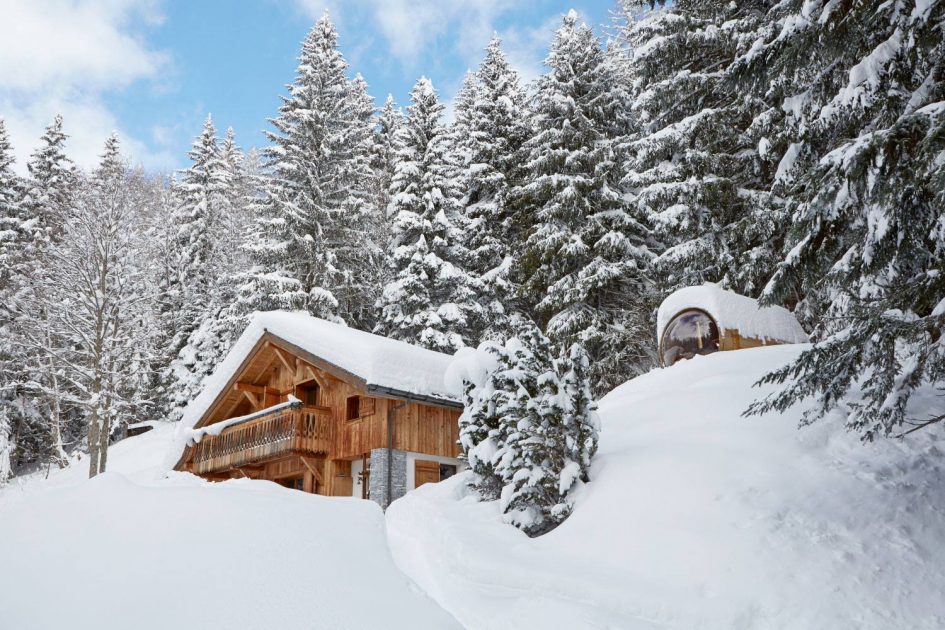 Not far from Marmotte Retreat are the Zeniths, two side by side luxury ski chalets. Zenith 1 can sleep up to 10 adults and 6 children across 7 bedrooms. The chalet has a large kitchen diner, ideal for larger groups. This connects with a spacious lounge for one spacious living area. Zenith 1 features a large sauna and a massive cinema room. The cinema is perfect for those cold snowy evenings and you can even get the big sporting events such as the Six Nations.
Zenith 2 is next door and sleeps 10 adults 3 children very comfortably, a litter smaller than it's sister chalet but still has all the toys, it even has a brand new cedar wood hot tub which has great views of the valley. Zenith 1 & 2 can be taken together or separately and would be great for those looking for a luxury self-catered chalet in Argentiere. If you would like the chalets to be catered, this is also possible upon request.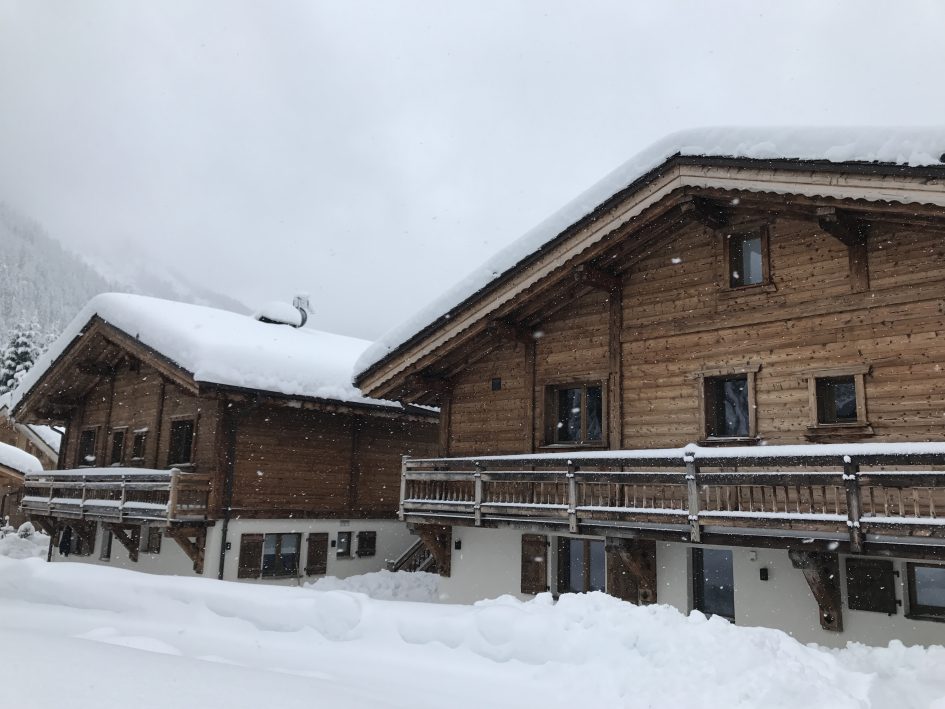 After a pretty long day (it was only 3pm) we arrived back at Eco Lodge. Expecting a sit down and a chilled Beer, Jon asked me if I fancied a ski, did I heck! I had been itching to get on the slopes ever since the snow started falling in November. A little tiredness wasn't going to stop me!
It had been snowing all day and visibility wasn't great so Jon recommended going down to Les Houches – about 10 minutes from the chalet via the driver service. The skiing was insane! 3 laps of the Prarion bubble and my legs were on fire, were tried fresh line after line through the trees. It was awesome. I would highly recommend Chamonix if you have never been, there is so much amazing skiing to experience. Now back to the chalet for the main event….
After clearing the never ending falling snow, the chefs had a dinner to prepare and not just a standard chalet dinner! This was a special night at the chalet, Jon had invited some guests along for dinner and I was honoured to be one of them! Wine suppliers, local suppliers, some close friends and even his accountant – naturally he needed to see where the money was being spent. After a couple of glasses of Champagne we were seated and the magic commenced. A 7 course gourmet dinner with carefully paired wines. Wow!
Where to begin? The canapes came first and there was a trio of them each absolutely divine. First up was the smoked rarebit, a simple yet very tasty offering so good it disappeared in no time. My favourite canape was the Soy Butter Braised Salmon with Caviar, it literally melted in my mouth and was to die for. I wished there was more! Rounding out the canapes was the Crab Donut served with a Sea Urchin Butter, a very different dish but spectacular none the less. The very delicate flavours were well balanced and cooked to perfection!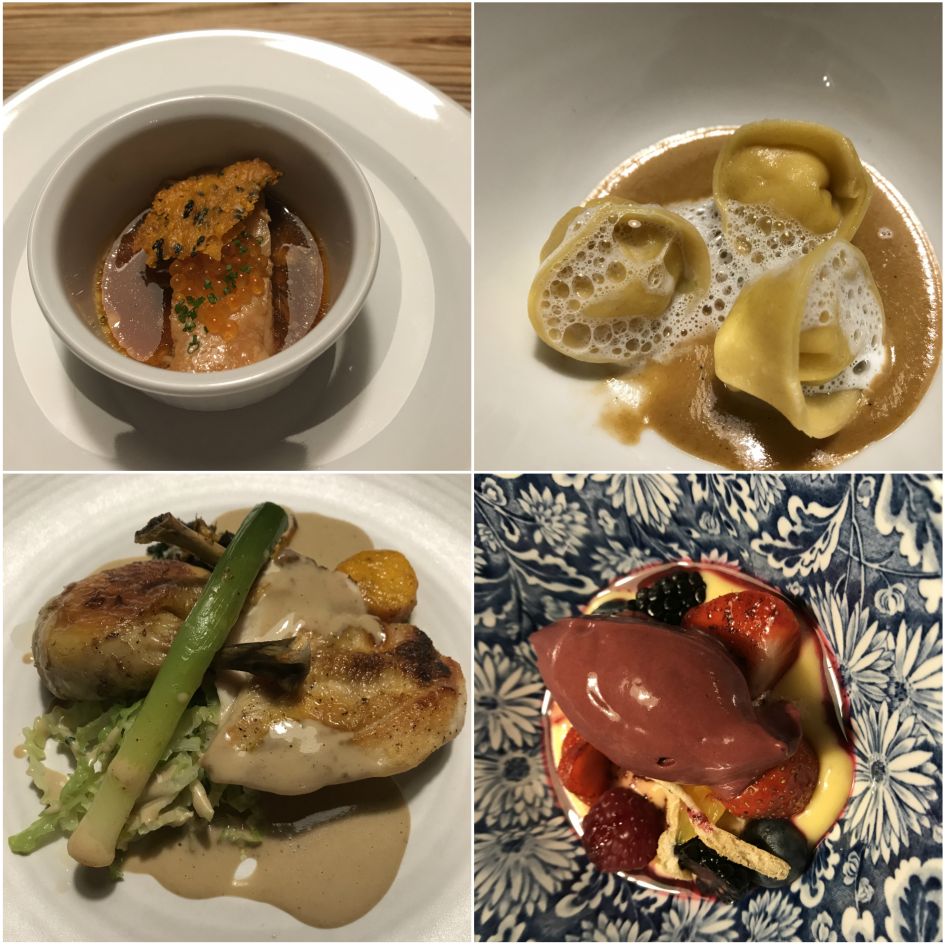 Our next two courses were just as good, the pearl onion was carefully prepared and stuffed with black truffle and Autumn chanterelles and came served with a mushroom gel. This was followed by my favourite dish of the evening, a gorgeous lobster tortellini with shellfish bisque and lemon and thyme foam. Everything about the dish was perfect, we all craved for more! The fish course was a cod gratin served with citrus butter, pea puree, sesame tomatoes and a coconut sauce.
We were then served a "young chicken" stuffed with a wild mushroom mousse served with a butternut squash, baby leeks, cavolo nero and a delicious cep sauce. This was followed by our dessert for the evening which was a wonderful creation from head chef Josh. It consisted of red fruits, yuzu curd, shiso and beetroot and blackberry ice cream. A very unusual combination of ingredients but when combined they worked perfectly and created a wonderful flavour. A local cheese board was then served with some of Jon's homemade Genepi, being a Genepi lover this was the perfect end to the evening.

In the morning I awoke to stunning views of the Aiguille des Drus and it's neighbours, a backdrop to savour! If dinner was anything to go by I couldn't wait for breakfast, I was not disappointed. The table was laden with fresh fruits, yogurts, juices, pasties, cured meats and cheeses, what more could one want? How about home made American style pancakes, both chocolate and blueberry. Not to mention the maple cured bacon and perfectly poached eggs on offer. I was in food heaven.
This delicious breakfast had set me up for the day ahead, I would be heading over to Morzine for more skiing and more food. Could the cuisine I was to be served in Morzine match up to the culinary creations that I had been treated to here in Argentiere? The bar had been set and it was very high!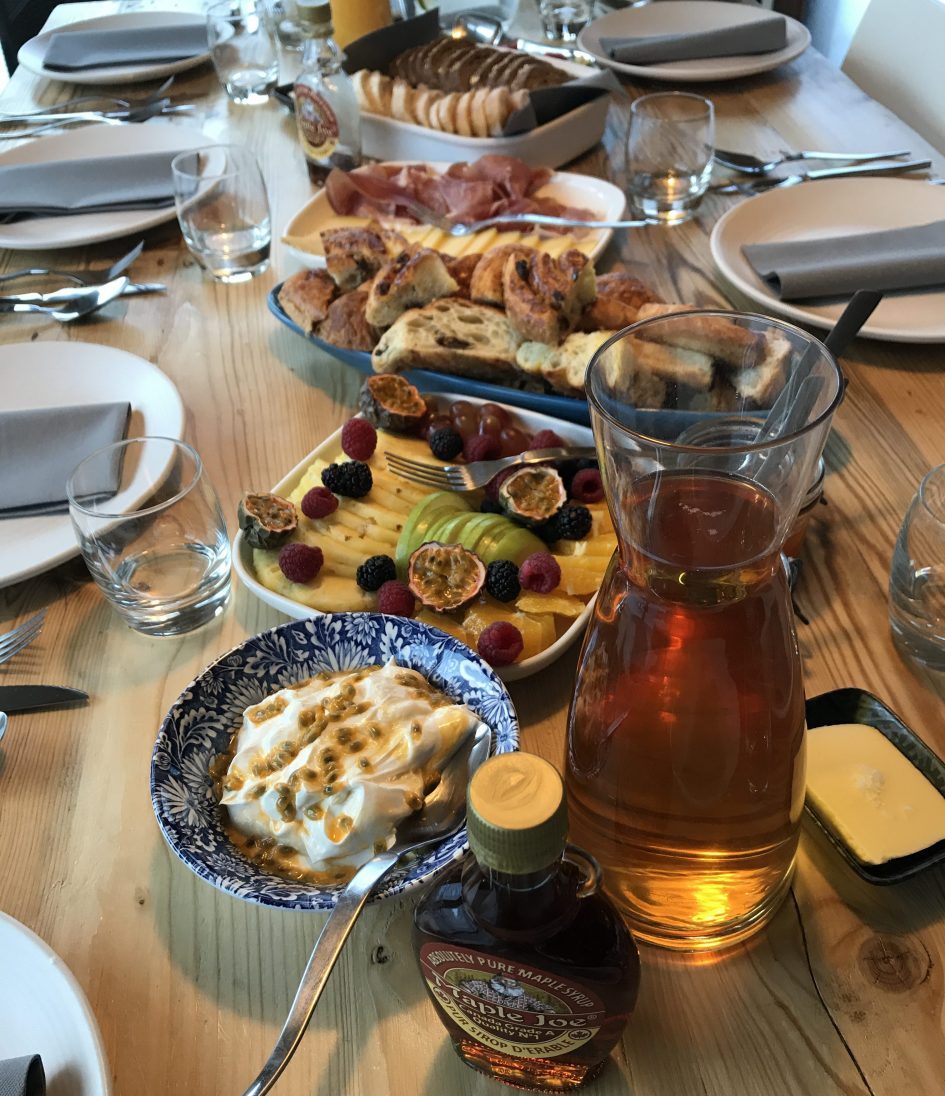 If you're looking for a luxury chalet in Chamonix or the surrounding area and catering and service are both important to you then Jon's chalet's are going to be perfect for you. Jon is already taking bookings for next season and peak dates are filling up fast. If you would like any more information on the catering, service, chalets or on the resorts please do get in touch. You can give us a call on +44 1202 203650 or send us email.
Bon appetit!