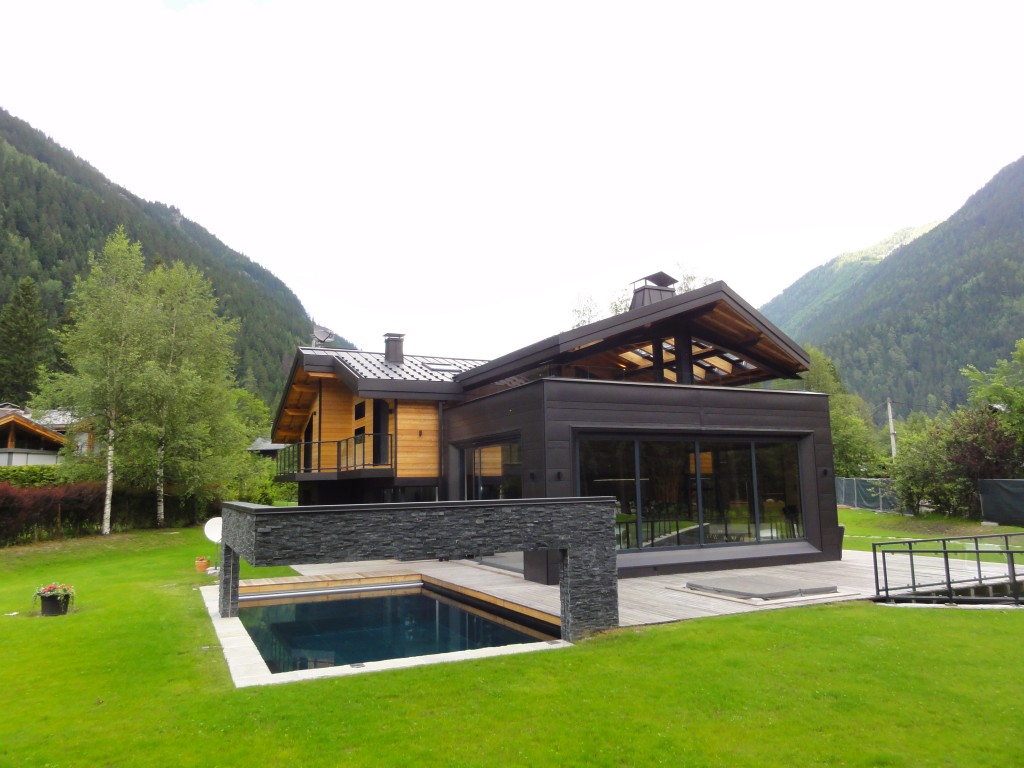 We took a trip out to Chamonix and Verbier last week to look around some of our luxury properties and to soak up some of the mountain sunshine, whilst sampling some of the summer activities that both resorts had to offer.
After a smooth flight into Geneva and a sunny drive up into Chamonix, we were met with the awe inspiring Les Bossons Glacier trickling down the mountain and the ever impressive Mont Blanc looming overhead.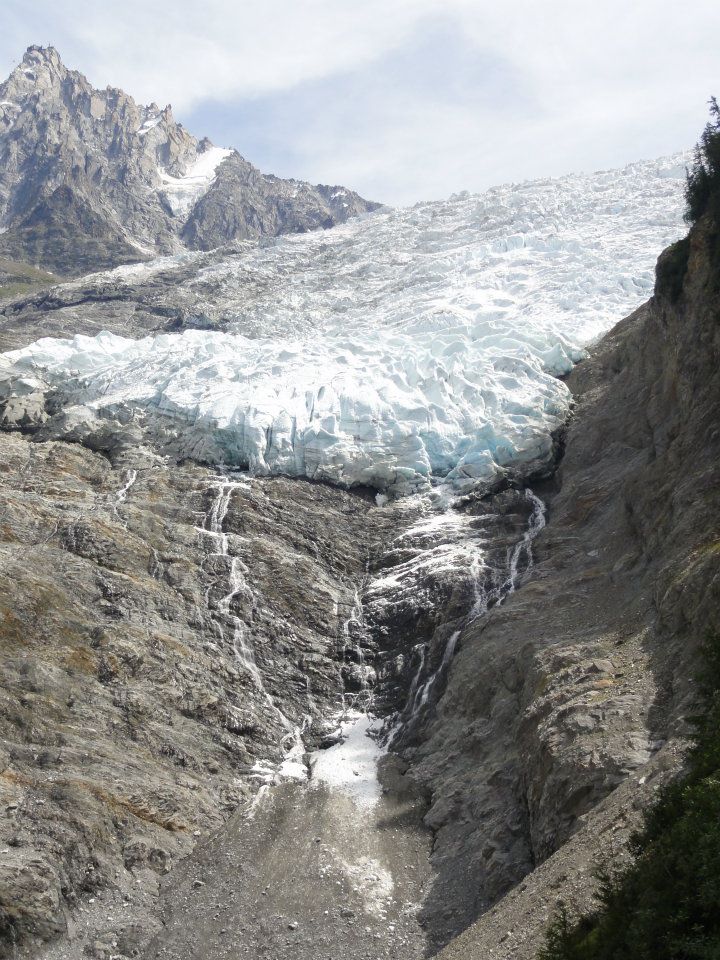 For our two day stay in Chamonix we had the pleasure of staying in Chalet Dalmore, which is ideally located at the end of the golf course in Le Praz, near the Flegere lift. To reach the chalet you drive down a gravel road and into a large open garden in a secluded spot with breathtaking views of Les Drus. Outside, the large garden is ideal for kids to run around and play and also great for a few snowball fights in the winter! To ease those sore muscles there is a large heated swimming pool and hot tub, which we took full advantage of!
Walking into the chalet we were met with an impressive feature fireplace with a wooden sculpture migrating into the ceiling, floor to ceiling views of the mountains and frosted glass staircases. The chalet is contemporary in style but still retained some alpine charm with the beautiful fireplace, wooden floors and beams and fur rugs on the floor. The Chalet sleeps 10 and is set out over 3 floors and feels incredibly spacious with plenty of spaces to go and retreat to, including a glass reading room off the main lounge area, a huge yet cosy cinema room and an impressive upstairs open terrace with glass ceilings for a spot of stargazing, should you desire!
For our first afternoon in Chamonix we had arranged to go hydro speeding with the guys at Prestige Outdoor.  Having arrived a little sleep deprived after an early morning flight we were looking forward to an ice cold dip in the river Arve! After suiting up in wet suits and flippers, we were given a thorough run through of what hydro speeding actually is and how it works, as we were a little in the dark as to what was involved! For those of you that don't know, you are given a flotation aid which you insert your arms in to and then using your body and flippers, you negotiate the twists and turns in the river whilst being pushed along by the natural water currents. There are some very exhilarating sections of white water to negotiate and we were often cheered and waved at as we went underneath the bridges in town! The course is 14 km long and provides some stunning views of the mountains as you are whizzing along the river.
On our second day in Chamonix we visited the beautiful Mer de Glace glacier via the Montenvers railway that runs from the centre of town. The train journey is a short 20 minute ride and whilst you are snaking up the mountain you are acutely aware of the huge undertaking that the building of the railway must have been back in 1908. Once you reach the top the views are absolutely breathtaking and give unparalleled views of the Mer de glace glacier cascading down the mountain and Les Drus rising up overhead. An absolute must if you are visiting Mer de Glace is to view the ice caves inside the glacier. To reach them you can either walk down to them, which is a 15 minute hike or you can get the bubble down. It is worth doing the hike though as there are markers along the way indicating the height and the year the Glacier used to rise to, which is a stark reminder of how far this beautiful glacier has receded in the last few hundred years. Inside the ice caves there are beautiful sculptures of polar bears and fluorescent lighting giving the caves an ethereal feel. There is also an incredibly interesting section on the history of the glacier as well as the building of the Montenvers railway.
We sampled the delights of La Cabane restaurant after asking the locals for a recommendation and being told to try La Cabane on numerous occasions. The restaurant is situated next to the golf course surrounded by woodland and of course lovely views of the mountains. The restaurant is ideal if you are staying in Chalet Dalmore as it is only a 5 minute walk away. The restaurant had a lovely relaxed informal feel and had a variety of tempting French dishes. I had a lovely French Onion soup, along with a very rich but delicious tartiflette and of course the obligatory French tart! A great place to go for a variety of tastes and budgets and their set menus are especially good if you are looking to indulge in several courses.
On our last morning in Chamonix we stopped in at Argentiere on the way up to Verbier, to look at the Rives d'Argentiere chalets which comprise of Chalets Granit, Cristal, Terre and Ardoise. The chalets are ideally located down a secluded gravel road, next to the River Arve with awe inspiring views of the Argentiere Glacier, Grand Montets and Le Tour. The chalets can be rented either as individual chalets or as one for a large corporate group or family. The chalets have been thoughtfully decorated with each chalet taking on a different theme. Underground there are shared facilities for all chalets with a big cinema room, which can double up as a party area, gym and sauna. Upstairs on the open terrace each chalet has its own private hot tub and there is a large outdoor swimming pool, which is perfect for those long summer evenings.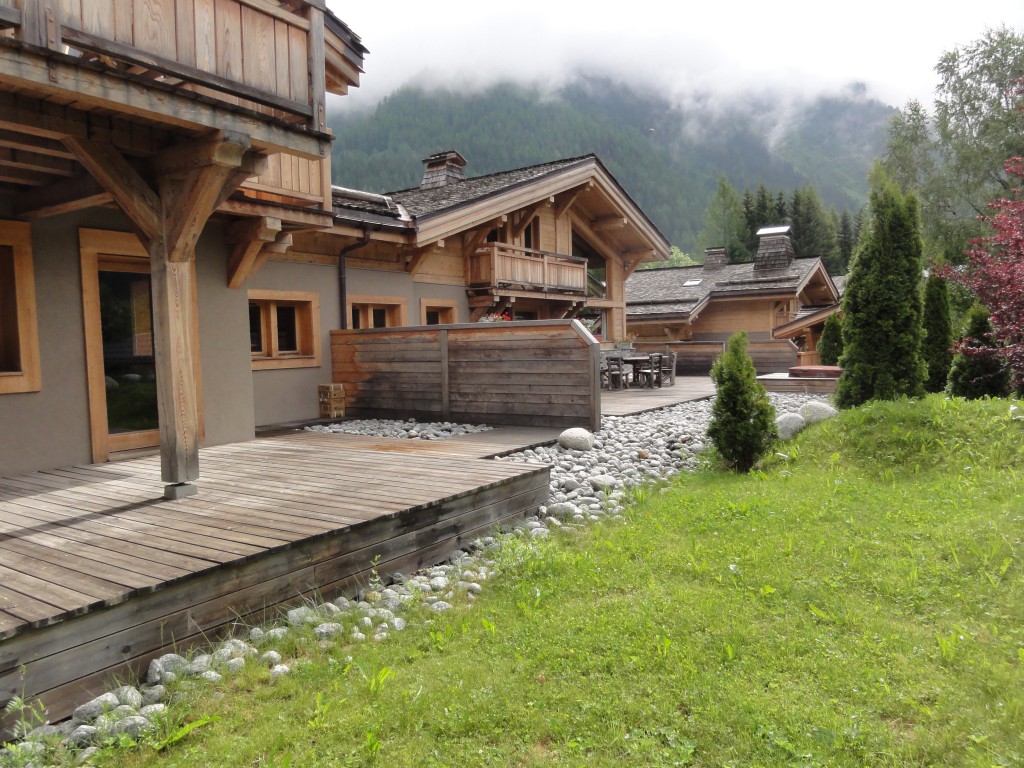 Upon leaving Argentiere we made our way to Verbier, which is a stunning drive up the mountain and then down into Martigny before climbing up again into Verbier. We were unfortunately greeted with a little drizzly weather as we arrived but the friendly and professional staff at the W Hotel soon made us feel right at home. The hotel definitely has the wow factor as you enter, with big glass windows looking out on to the mountains and a contemporary and spacious lobby and living area with comfy cushions and rugs a plenty. Upon entering our rooms we were impressed by the open plan style of the room and mix of contemporary and stylish furnishings with a variety of textures that make you want to reach out and touch everything! The hotel features an impressive spa downstairs with a large outdoor and indoor pool with views of the mountains but for those of you after a more wild stay in Verbier there is a large nightclub inside the hotel!
During our stay we were treated exceptionally well and had a delicious meal with the Sales Director Ben, in the Arola restaurant. The restaurant is beautifully decorated with large hanging copper light shades and coloured glassware on the walls and the varied menu features a mix of Spanish and Swiss flavours. I chose a starter of Langoustine with nettle soup, which was beautifully presented and milk fed Lamb in black garlic for my main. Both courses were absolutely mouthwatering and the waiter couldn't do enough to ensure we enjoyed every aspect of the meal. We ate our dessert in the spacious lounge upstairs wrapped up in the cosy blankets draped on the comfy sofas.
After a delicious lunch at Le Sonalon, a beautiful Swiss restaurant perched on the mountain, with great views of Verbier below, we had the pleasure of viewing a number of properties in our portfolio. My favourite was Bella Coola. As soon as you walk in you are met with an impressive entrance hall and wide wooden stair case inviting you upstairs. The bedrooms are all spacious and many feature four poster beds with a well considered colour theme running through. All bedrooms are ensuite with beautifully finished bathrooms. The owners have collected many of the furnishings abroad giving the chalet an eclectic feel but still retaining cosy alpine charm. The chalet features many quirky features including a glass cabinet with a mini ski slope inside and prehistoric antlers on the wall of the lounge! The chalet sleeps a total of 11 and benefits from a large swimming pool and adjoining bar area. A truly fabulous chalet with amazing views and a great central location only 10 minutes from town.
On our last full day in Verbier we were persuaded by our boss to have a go at parapenting! I'm no stranger to the more daring and extreme mountain activities but was still quite nervous at the prospect of being launched off the side of the mountain! With the rain we'd had the previous day I was half hoping that the flight would be called off, however upon opening the curtains the next morning we were greeted with glorious sunshine and a largely cloudless sky!
However our pre-flight nerves didn't last long, as soon as we met our friendly guides Stu and Mike of Verbier Summits they immediately put us at ease with their infectious humour and professionalism. After driving up to the top of the Medran lift at Les Ruinettes they proceeded to lay out the parachutes on the side of the mountain. With my heart in my mouth and with instant regret of the eggs Benedict I'd had for breakfast, I reluctantly agreed to go first! After being handed a helmet, given a brief safety chat and told to run down the mountain at full speed, we were gently lifted into the air. Any nerves I'd had previously diminished as the views below us opened up and we gently cascaded over the trees. I was surprised at how fast we were going- about 30 miles an hour, as the flight felt so gentle and graceful. As we began to circle over Le Chable towards our landing spot, I took over the controls of the parachute and Mike took some pictures on his go pro. My only regret as we came in to land was that it didn't last longer. This is an absolute must for all your daredevils out there, with unparalleled views of the mountains and an unforgettable adrenalin rush, this is definitely one for the bucket list!