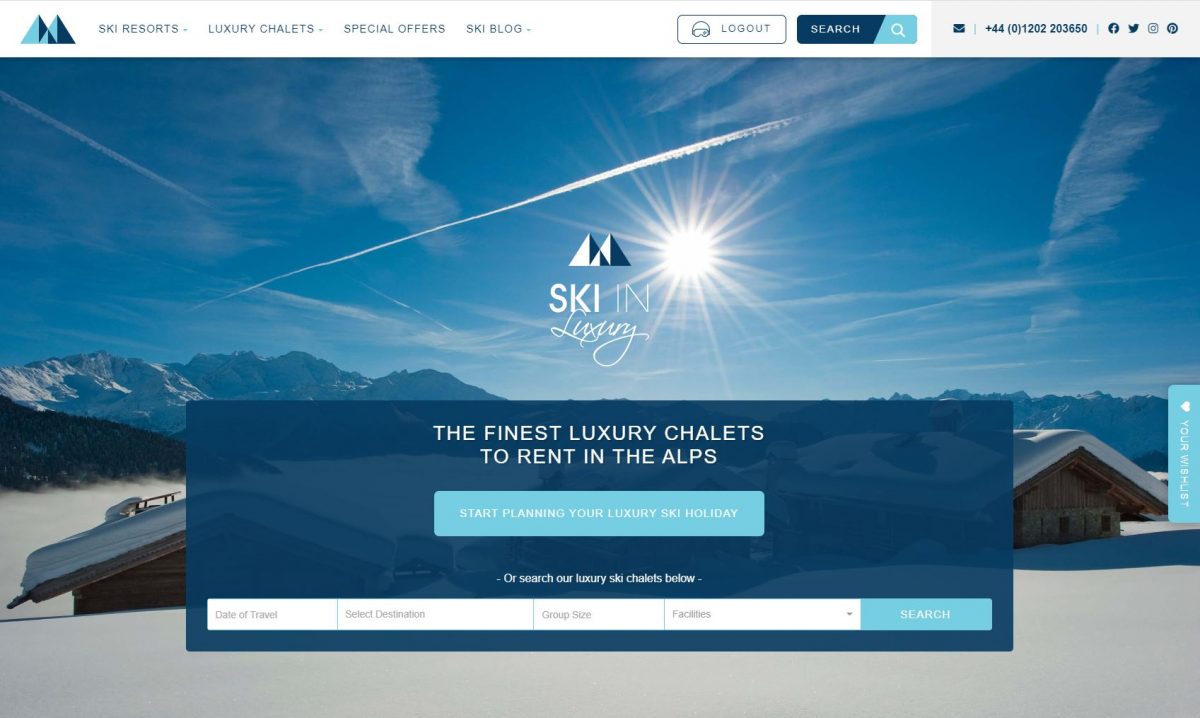 It's been a few weeks now since we launched the all new Ski In Luxury website and so some will be wondering why I have only chosen to pull this blog together now, but we had to iron out the teething issues to ensure we are as "bug free" as possible before shouting about the website. However, we are now at a stage where I feel confident enough to stand at the top of Mont Blanc to scream and shout out loud……"We are incredibly proud to officially introduce the all new, all singing, all dancing Ski In Luxury latest version. Arguably the best ski holiday website online."
When it comes to designing and developing a ski holiday website, I am confident to say that nobody does it quite like we do. We take a vast amount of pride in what we do and how we do it. Fully in-house with involvement from both Fran and I, the owners of the company, and the sales team who give us their valuable feedback on their own personal experience of using the website extensively each and every day at the office. They hear the thoughts and feedback from our clients and in turn record this information so that we can use it to aid our design process.
We spent months researching design ideas, functionality options and analysing the user journey through the website to ensure ease of navigation and easy access to the key information that our clients wish to find. Our websites are all about creating the perfect user experience alongside of being incredibly SEO friendly. There is a reason that we are ranked in the top organic placements on Google for all of our key search phrases.
Our in-house design team came up with a fresh new design and feel of the website, but we had to ensure that it gave our regular visitors the same feeling and ease of navigation as the past versions of Ski In Luxury. Both Fran and I are personally and very deeply involved in every stage of design and implementation, incredibly picky and painful to work with I have no doubt, but we take to heart the development of our website, always looking at developments that will ensure that we continue to be a step ahead of the competition with a cutting edge ski holiday website.
The reason for this blog is to showcase the latest ski website developments and enhanced functionality that we have introduced to make your (and our) lives so much easier! We hope that you love the finished article!
The Homepage

Easy to use quick search option from the homepage hero banner with an instant enquiry button to get straight in touch with our sales team
Easy homepage key ski resort navigation buttons
Easy grid design navigation (as above) for access into key search pages such as chalets with swimming pools, chalets with hot tubs, etc.
Menu dropdown LUXURY CHALETS section with simple categorisation – Luxury Chalet Facilities, Peak Season Ski Weeks, and Popular Mountain Holiday searches including Self Catered Chalets, Pet Friendly Chalets
Simplified mobile navigation for the ultimate mobile browsing experience
Ski Holiday Search Tool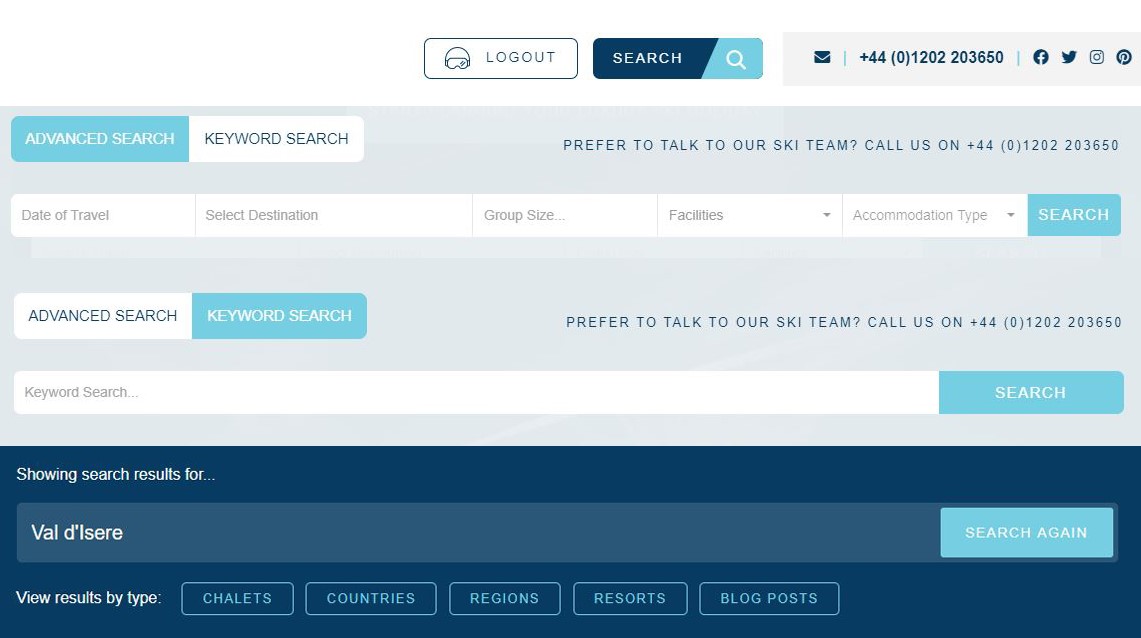 Easy to find SEARCH button from all pages that provides a dropdown search tool with:

ADVANCED SEARCH to make a quick search for holiday accommodation. On the results page, further filters are then provided to enable you to refine your results.
KEYWORD SEARCH enables you to quickly search and find chalets, countries, regions, resorts, blogs and articles of interest

Accommodation search by minimum and maximum budgets in multiple currencies, giving you more flexibility in result filtering
Instant loading search results to make navigation through your chalet holiday options seamless – click into a chalet and click back on your browser to land back in the exact same spot on the search results – when this doesn't work on other websites, it drives me crazy!
Make quick enquiries on properties that catch your eye in searches
We now display all associated board options for our chalets, ensuring that you have the opportunity to search all relevant holiday solutions and find the perfect chalet within your budget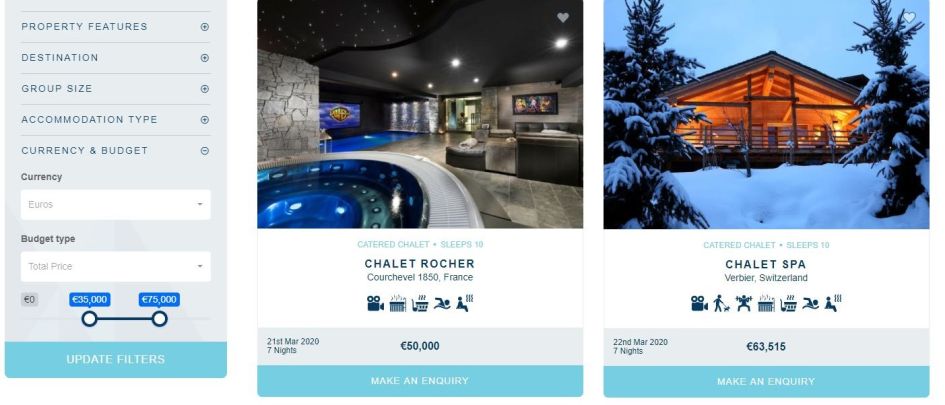 Your Ski In Luxury Holiday
Ski resort pages drop straight into chalet accommodation with the ability to filter the results displayed for that particular resort

Enhanced resort guides with promotional videos, high resolution image galleries, piste maps, and town maps

Login and create your own personalised wishlists for quick return reference

Make multiple property enquiries in one go, and send your wishlists to a friend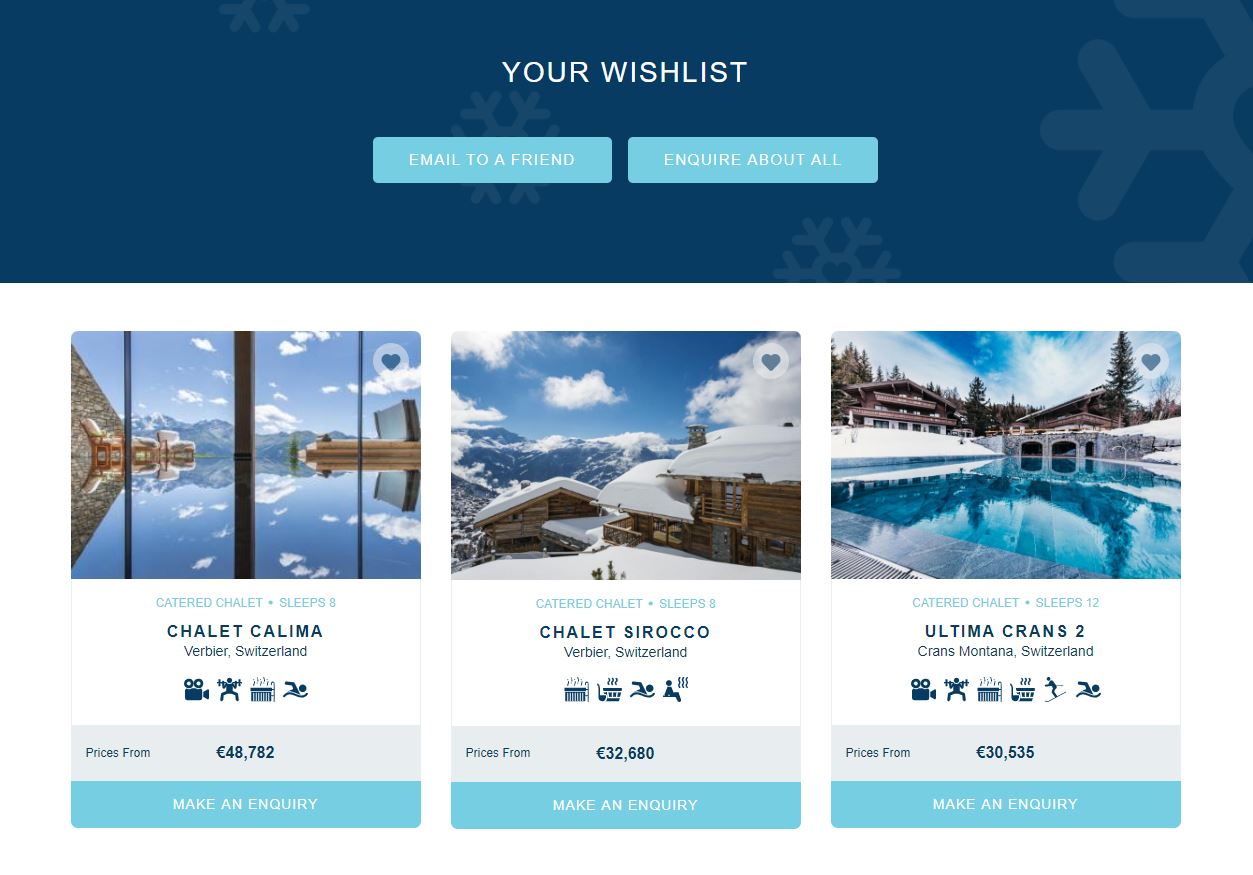 For those who might be interested to see how we have come along since our company launch in 2005, let's wind back the clock to our first ever design of Ski In Luxury to see how things have changed over the past 15 years…..we hope that you agree, we have learnt a bit along the way!
We truly hope that you enjoy using the website as much as we do! We will always continue to listen to your feedback and so please feel free to email us your comments and anything that you might like to see on our ski holiday website in the future. Rest assured anyway, there will be plenty more to come as we continuously strive to improve our website and the service that we can provide to you.