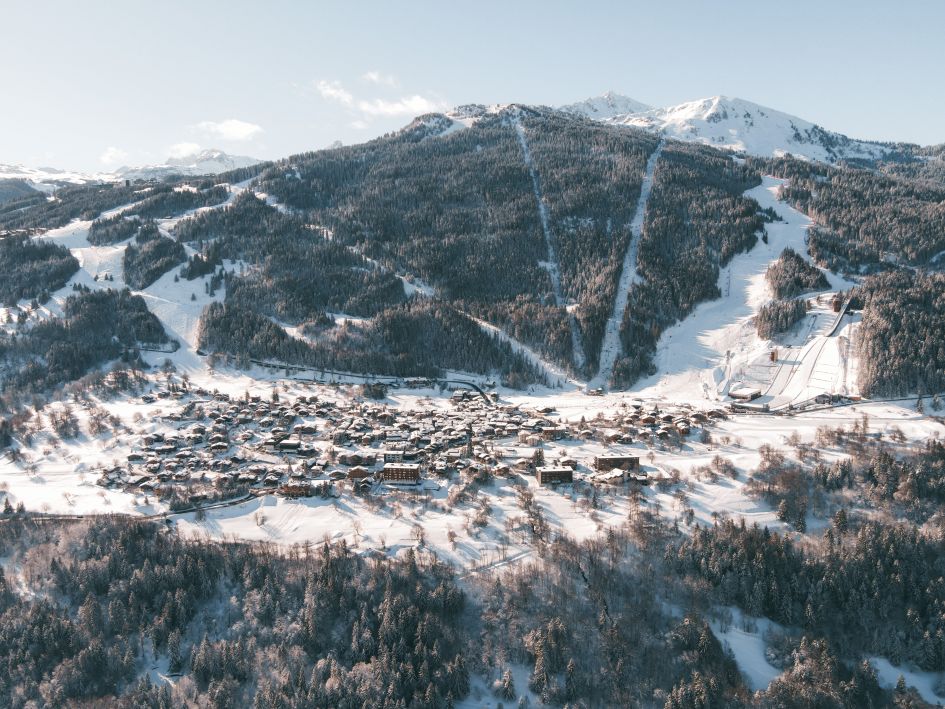 Courchevel Le Praz is somewhat overshadowed by it's louder, flashier neighbour Courchevel 1850. Whilst Courchevel 1850 might be more famous, Courchevel Le Praz has it's own way of sparkling.
Clare and her husband John run Chalet Le Loup Blanc, a catered ski chalet in Courchevel Le Praz. They did seasons together in Méribel for several years before coming over to live and work in the Courchevel valley. Clare especially loves Le Praz for its charm.
We took the chance to quiz Clare on her knowledge and experience of luxury ski holidays in Courchevel Le Praz. Read on to discover the magic of this Three Valleys ski resort…
What makes Courchevel Le Praz such a good option for a luxury ski holiday?
Le Praz has really easy and quick access to Courchevel and the Three Valleys – the largest interconnected ski area in the world – but you feel a world away from the big resorts. The beautiful alpine village has a chic French vibe with its cobbled streets, pretty lights, and smart bars and restaurants.
Courchevel Le Praz feels classy and luxurious without being ostentatious. You'll find lots of permanent residents, ski instructors, and mountain guides who live harmoniously with holidaymakers. It makes a great option for keen skiers who want to experience 'the real France' and get stuck into the authentic alpine lifestyle on a luxury ski holiday in the Three Valleys.
The resort has plenty of character, especially noticeable through strolls around the lake below the bubble cars. Skiing down the Murettes run after stopping for a last drink at the Bouc Blanc is also a joy (although John always races down Eclipse instead!).
What's it like skiing from Courchevel Le Praz?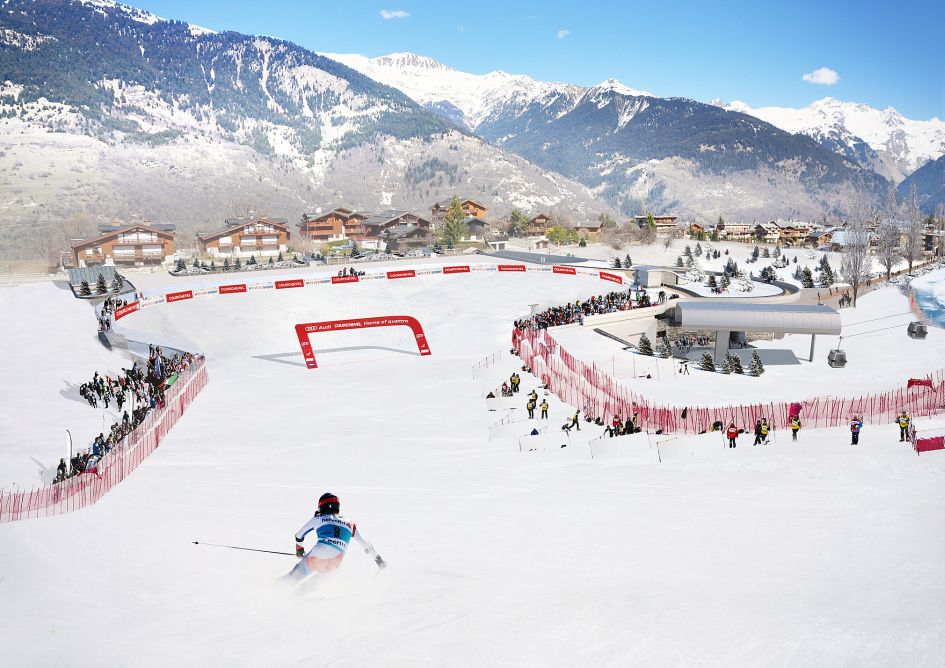 When you're based in Courchevel Le Praz, the brilliant thing is that you have two really modern, speedy lifts to choose from. The Foret chairlift drops you off in La Tania, right near the Bouc Blanc restaurant (an absolute favourite!). From there, you can take Dou des Lanches chair over to Méribel, or ski down a choice of three runs to get to the Bouc Blanc chairlift.

The other option is the Le Praz bubble lift that whizzes from the Alpinium station in the village up to Courchevel 1850 in 6 minutes. From there you can go to the Croisette and the ski school meeting points, or take one of the three gondolas to the mid-station. What we often end up doing from the top of the Le Praz bubble is just popping our skis on and heading straight down to Plantrey chair. From there, you can head pretty much anywhere! You have the whole Three Valleys to explore, and it's really easily accessible from Le Praz.
One ski route back down into the village is via the Brigues red run, from which you can cut off straight to our Chalet Loup Blanc. You can also try the aforementioned Ski World Championships run Eclipse, which is pretty steep but a fun challenge for strong skiers. If part way down it gets too much, you have the option to peel off onto red Murettes instead!
What is the snow like in Courchevel Le Praz?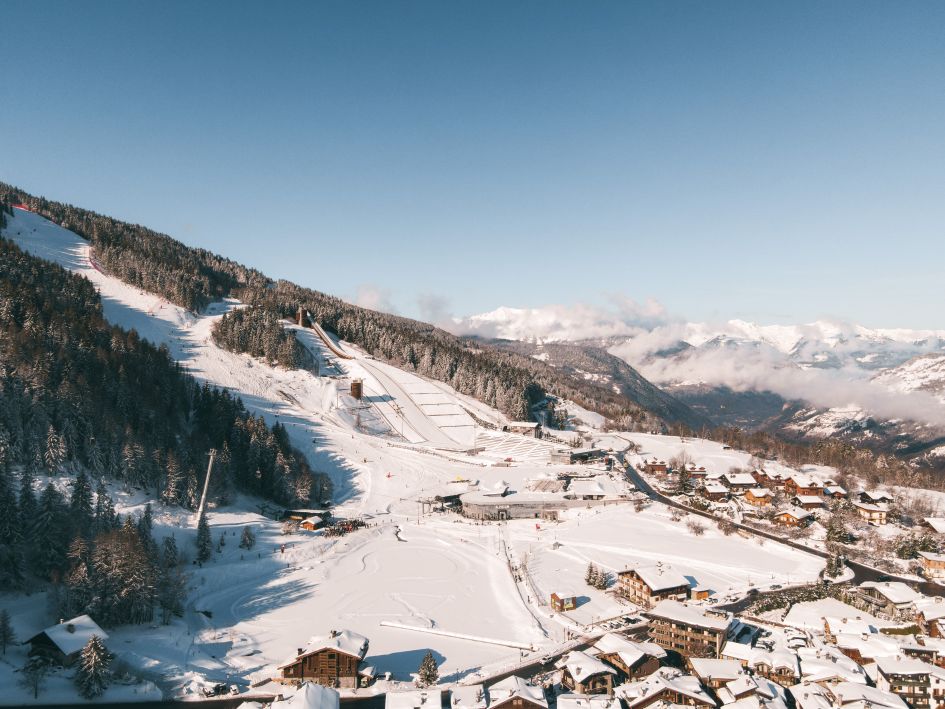 Courchevel Le Praz village is at 1,300m altitude, which is the same as St Anton in Austria, and a little higher than Courmayeur in Italy at 1,224m. Of the 600km of runs in the Three Valleys, 80% of the skiing is above 1800m.
Le Praz is north-facing like most of Courchevel, which means that it holds snow really well throughout the season. The runs coming down into the village are served by snow cannons and they are usually kept open until the 3rd weekend in April when Courchevel closes, so you can ski down all season.

Alternatively, you can take the gondola down and enjoy a nice view of the lake below. The gondola runs until late and is prettily lit up at night-time. It's a fun way to travel back if you end up stopping for après-ski in Courchevel 1850.
What kind of guests are drawn to a holiday in a catered ski chalet in Courchevel Le Praz?
The nice thing about Le Praz is that it's got a lovely relaxed feel. It's friendly, and you really feel like you're in France. We find that Courchevel Le Praz is popular with groups of friends who are looking for a proper French holiday but with seriously amazing skiing on the doorstep.

Because it's on the edge of the forest, its reasonably flat. This makes it great for 3-generation families – i.e. grandparents, parents and children. It's easy for walks and getting around on the bus or with a pedestrian pass on the bubble lift, meaning non-skiers can meet up with the rest of the family on the mountain for lunch and drinks.

What we love about Chalet Loup Blanc is that it's one of only a handful of catered ski chalets in Courchevel Le Praz. As a result, you can fully relax as you don't have to think about shopping, meal planning, cooking and cleaning. It's the ultimate switch off you need on a family ski holiday in Courchevel Le Praz.

Tell us about the village itself. What's it like?
Le Praz is so pretty! It's originally a farming village, so you can expect old stone buildings and narrow cobbled streets. The area's first hotel to accommodate visitors was in the 1910s, and was slightly lower down the valley in Saint Bon. After that, chalet-hotels popped up in Le Praz as adventurous types discovered the sport of skiing. The first ski lift opened in Courchevel Moriond in 1945. Gradually, the higher villages opened to tourists, which meant that Le Praz also accommodated workers as Courchevel 1850 became famous. Today, you'll find a real mix of permanent residents and holidaymakers, which makes it feel like a truly traditional French mountain village.

There was a big development in the late 1980s and early 1990s with the Albertville Winter Olympics. Ski jumps were installed that are still used for training our local club's ski jumpers today. It's a highlight of a luxury ski holiday in Courchevel Le Praz to go over and watch them train. Our son trained as a ski jumper, so we've spent lots of time there watching them fly through the air!

We had the World Ski Championships in Courchevel last season, hence why we have the lovely new Alpinium building, the new lift and big underground car park. The lake has recently been re-landscaped too and looks fabulous with its new walkway. Especially when it's beautifully frozen against the snowy trees – very instagrammable! In the summer you can swim there, and at the sunny end of the season, you'll even see brave people paddling!

Where's your favourite place for après ski in Courchevel Le Praz?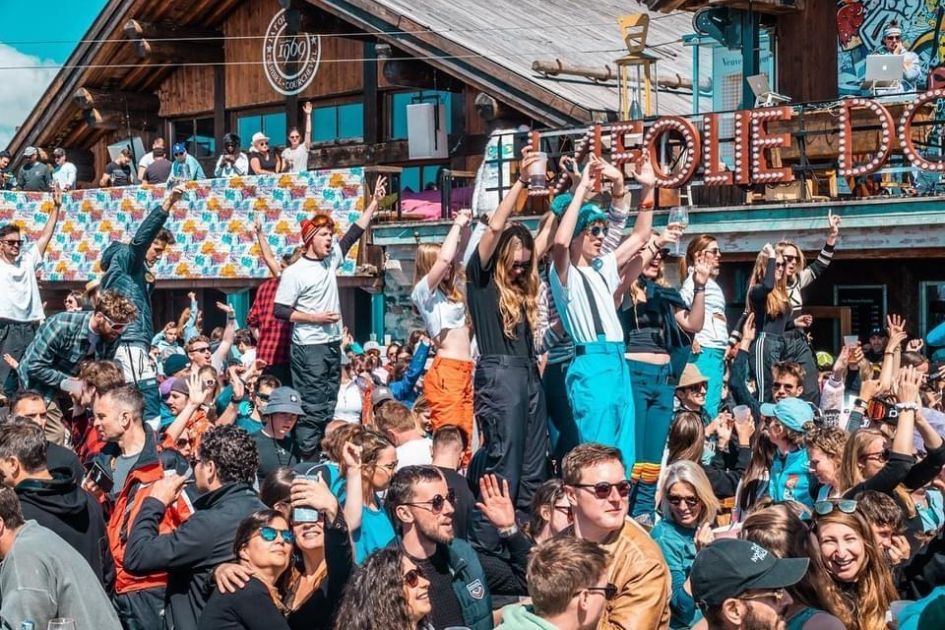 Now you're asking! Well, in days gone by you might have found me dancing on tables in Méribel… However, as time has moved on you're more likely to spot me sipping a vin chaud in the Peupliers bar! It's a wonderful spot, now owned by the family of our local ski champion, Alexis Pinterault. If you're lucky, you might see him hanging out in the bar!

That said, John and I do love going over to La Folie Douce with the team on staff day off. It's pretty wild, and has to be done at least once during your luxury ski holiday in Courchevel! Our guests with older kids also hang out at The Elephant which has live music, DJs, pool, and table football.

Another nice thing to do is to stop at the Bouc Blanc restaurant. Indulge in one of their lovely hot chocolates or vin chauds, or perhaps a cold beer on the terrace, then ski back down to resort. Over in La Tania, Pub Le Ski Lodge has après-ski bands on regularly. Afterwards, you can easily get the bus back to Le Praz.

Do you have any restaurant recommendations for staff night off in the village? And how about for a mountain lunch?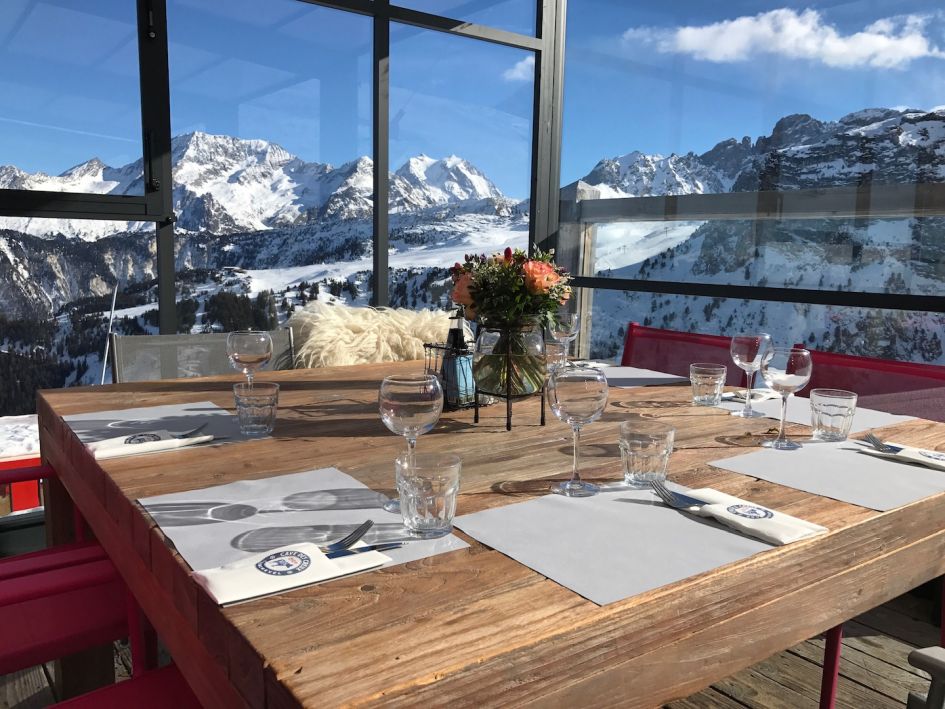 There are SO many nice places to eat in Le Praz, it's a hard to choose! The Bistrot du Praz is a classic choice, with a lovely terrace presented beautifully. The cosy Petite Bergerie is a bit of a different experience as they cook meats on an open fire. There's also the charmingly discreet L'Azimut Restaurant with its Michelin Star menu, perfect for a celebratory night! Of course, sometimes you fancy something delicious, yet a little more simple. In which case, Elephant has a great menu. You can expect pizzas, burgers and classic pub-style dishes – I particularly recommend their veggie burger! See? It's just too hard to pick!

On the mountain, most of our guests go to Le Bouc Blanc at least once during the week. It's renowned for being reasonably priced, really welcoming, and having excellent food – the omelettes are huge! Also, it's accessible for non-skiers using a 'pieton' pedestrian lift pass, so it's a great place for the whole party to meet.

For a lunch treat on the slopes, I'd head to Cave des Creux. It's a wonderful spot to linger over a long lunch in the sunshine. It's genuinely impossible not to give in to a dessert when you see them on display!

What are the top non-ski activities in Courchevel Le Praz?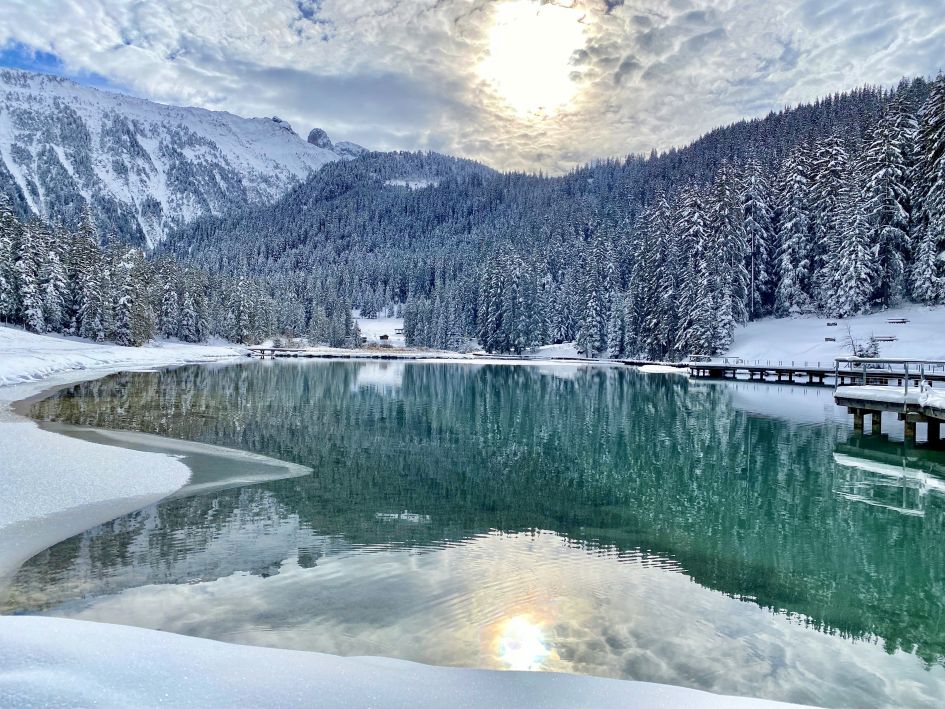 I know it sounds simple, but strolling along the snowy walking tracks is lovely and peaceful, and not too strenuous. It's magical when it's snowing, but gorgeous on a sunny day too. More adventurous walkers often head to Lac de la Rosière. With its bright turquoise waters reflecting the surrounding forest, its an absolutely stunning place. Hardly anyone knows about it, so it's exceptionally tranquil. It's important to note, however, that this lake is definitely not for swimming as it's glacial!

To keep kids entertained, we have the Mediatheque in the Alpinium building. It's a welcoming, friendly space to take younger kids. There are books and games, and you can hang out in there for ages! You could then ride up the bubble to Courchevel 1850 to meet up with skiers, wander around the shops in the Forum or village, and visit the ponies by the snow front. We'd recommend a hot chocolate in the Polar café too!

Aquamotion swimming pool and spa in Courchevel Village is also popular, and has slides and an outside pool. Although, Chalet Loup Blanc has a private pool and hammam, so our guests most often splash around in there after a day skiing in Courchevel.

Each year we do a photo competition with the team. The winner gets a tandem paragliding flight, one of the top non-ski activities in Courchevel! Some of our braver guests have tried it too. You can book it in Le Praz, then travel up on the lifts to Col de la Loze to fly back down to Le Praz. It's such an amazing thing to experience on a luxury ski holiday in Courchevel Le Praz, seeing the slopes below your feet. I appreciate it's not for everyone though!

How does it compare to the other Courchevel Villages?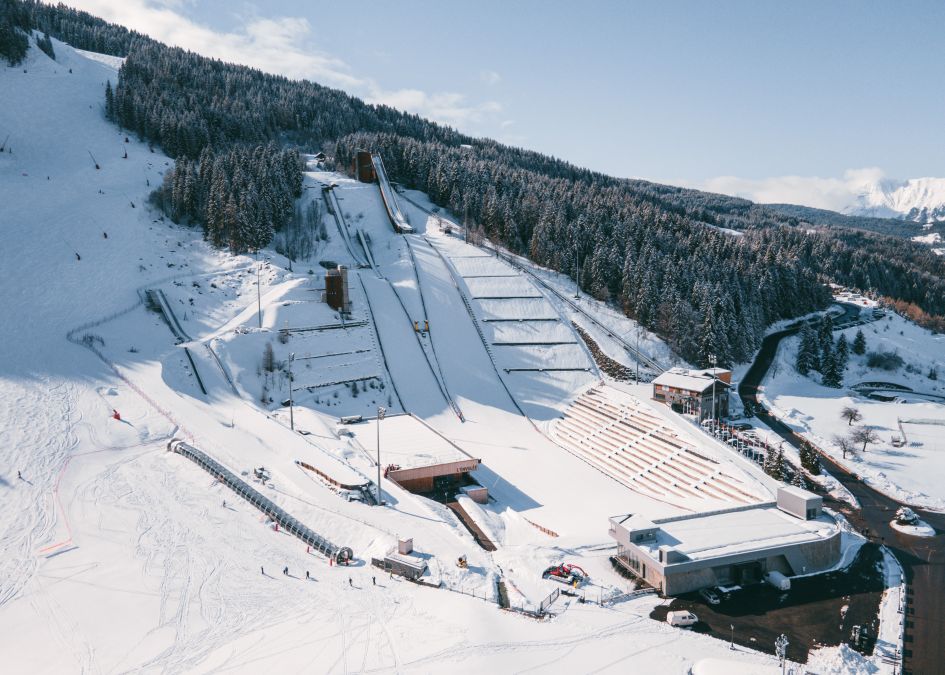 The other resort villages might be a bit higher up the mountain, but I think Courchevel Le Praz has more character about it. It has kept its local, French charm. So if you're looking to step away from a resort-style holiday, it's a really nice option.

Still at the forefront of what goes on is the skiing in Courchevel Le Praz. Appropriately marking the village's ski history is the Olympic torch, which was constructed for the 1992 Winter Olympics. Thanks to the ski jumping, the recent investment into the Alpinium, and the amazing relandscaped black piste (now called Eclipse), Courchevel Le Praz lives and breathes all things ski.

Why should guests choose to stay in a catered ski chalet in Courchevel Le Praz?
The good thing about Le Praz is that the luxury doesn't come with a crazy price tag. Compared to the other parts of the resort, you get great value for luxury. Choosing a catered ski chalet in Courchevel Le Praz also feels really lavish as you get to put your feet up and not have to worry about cooking or cleaning during your week's stay.

As Courchevel Le Praz is small, it's very easy to get around on foot without the need to drive everywhere. We love this aspect, and it's better for the planet! Staying in a catered chalet in Courchevel Le Praz therefore means you have everything you need in the chalet and within easy reach in the resort. Of course, you also get the best of the Three Valleys skiing and the reliable snow record of Courchevel!

Tell us about your catered ski chalet in Courchevel Le Praz, Le Loup Blanc.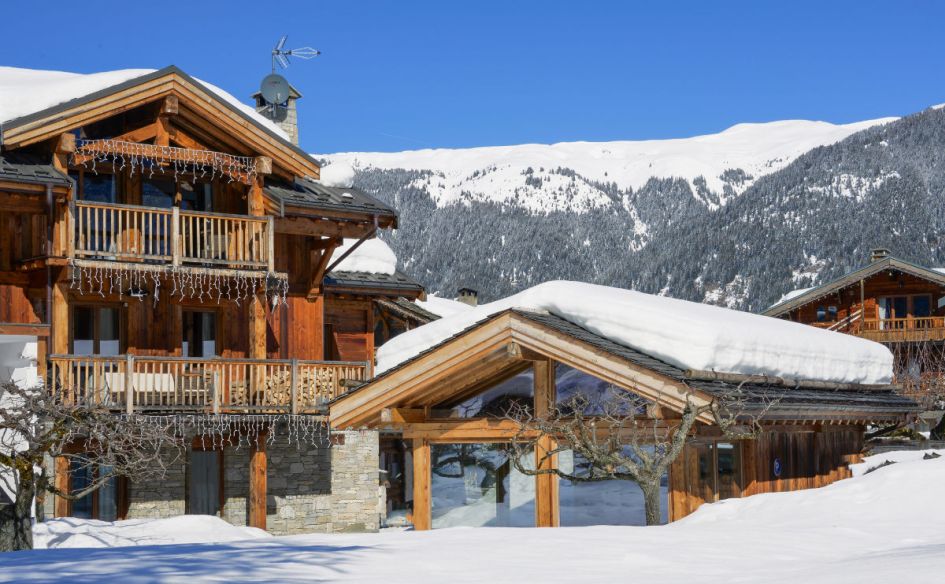 Chalet Loup Blanc is our flagship chalet. It has the pool and the hammam, as well as having gorgeous décor. We get on really well with the owners and it's a real joy to operate it as we know guests will have a great time. It's smart, finished to a high standard, yet still has a lovely and relaxed feel. Guests who want to get lots of skiing done as well as chill out and enjoy their evenings will love this chalet.

Our hosts will adapt their service to our guests. Some groups want their hosts to be discreet and leave them to get on with their holiday, whereas others enjoy chatting and getting to know the team. It's totally based on preference.
What does the catered service at Le Loup Blanc include?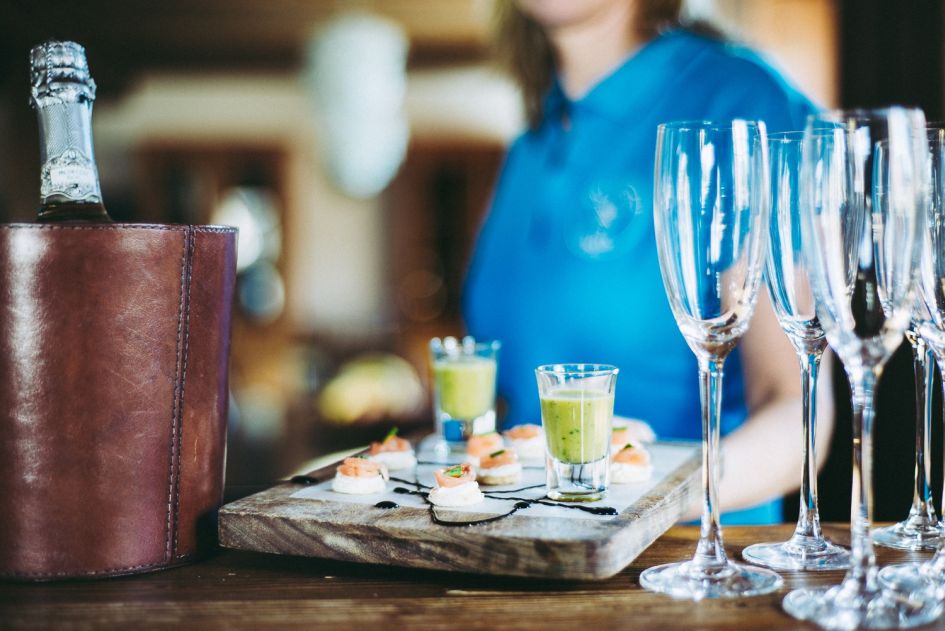 Our guests can expect homemade dinner party style menus from the hosts. These consist of four courses including a cheeseboard five nights a week, with pre-dinner bubbly. Then on a sixth evening we have 'Raclette Night', which guests love! Our hosts leave you with everything you need for a proper Savoyarde soirée. The equipment, cheese, meats, potatoes and wine are all included, plus dessert! On the last night, guests can walk among the twinkling lights and dine at one of the many restaurants in Courchevel Le Praz. We also provide breakfast every day, with hot options served on four mornings. Afternoon tea is of course served every day – all part of the classic chalet service.

What's the best thing about a luxury ski holiday at Le Loup Blanc?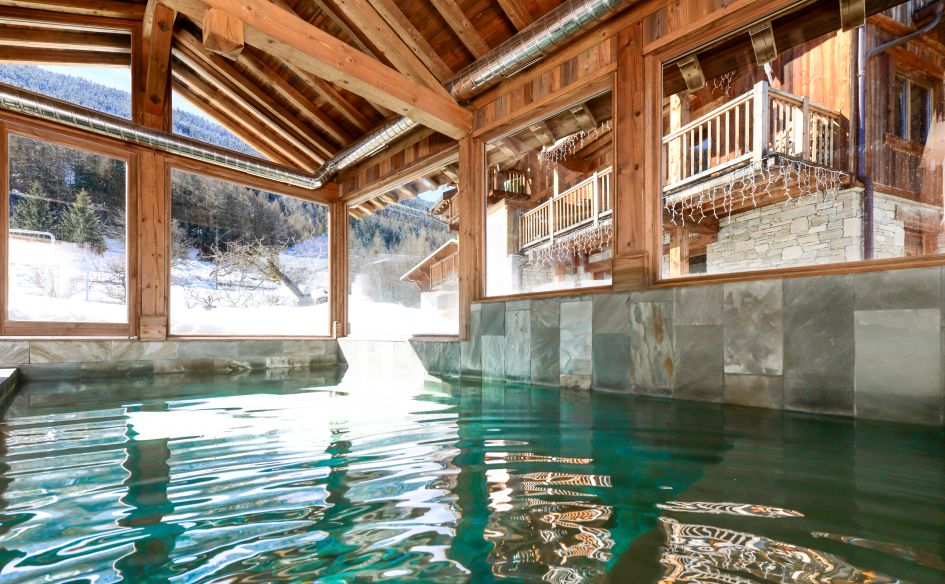 I think it's the feel of the place, to be honest. It has a welcoming home-from-home vibe. The interior designer has chosen some fabulous furniture, lighting features and décor. You truly feel like you're staying somewhere luxurious. With it being a catered chalet, you have the time to relax and enjoy the pool, snuggle up to watch a film in the cinema room, or just sit and read by the fire… Some of our guests use it as a kind of working-from-home holiday, so after skiing they might catch up on emails or schedule a meeting either side of heading out on the slopes!

It's the kind of holiday I'd like to go on myself; that's what we're aiming for in Chalet Loup Blanc. Nice food and a friendly welcome in a gorgeous chalet with insanely good skiing on the doorstep!

Thank you, Clare, for sharing your knowledge and expertise with us on what to expect from a luxury ski holiday in Courchevel Le Praz. You have clear passion for providing guests a wonderful experience on their ski holiday in this underrated ski resort in the Three Valleys. There are so many benefits of a catered ski chalet in Courchevel Le Praz. We look forward to having our clients become guests in your capable hands!
Get in touch with our Ski Specialists to secure your stay in Chalet Le Loup Blanc by sending an email or giving us a call a call on +44 1202 203650.