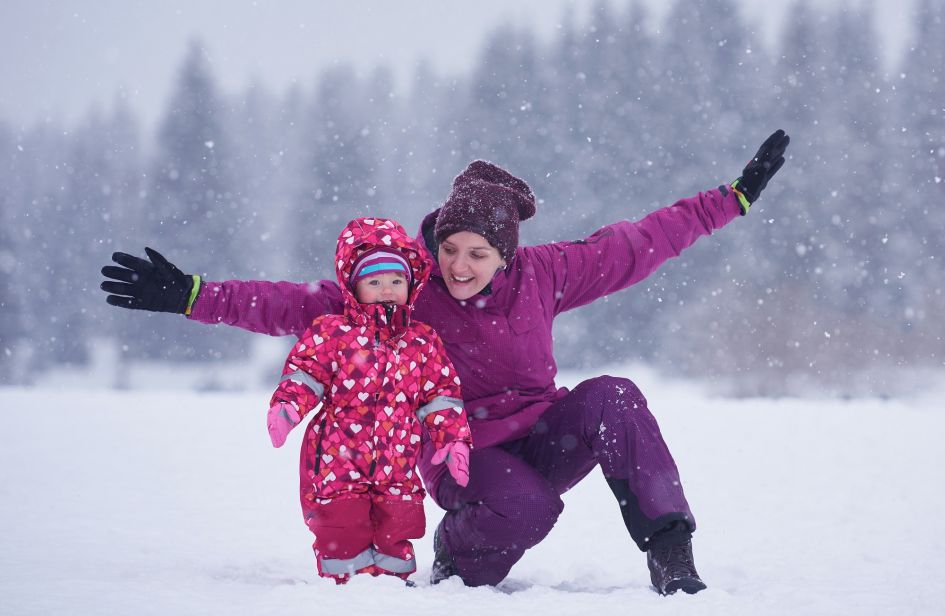 How do you entertain the kids on a family ski holiday in the Arlberg? To help you out, I have put together a list of the best child-friendly activities in the Arlberg, concentrating on two very popular resorts: St Anton and Lech.
Focusing on the What, Who, Where, When and Why, I aim to give you as much information as possible on each activity. You will then hopefully be able to gauge the suitability for your family. Enjoy reading about family, non-skier and child-friendly activities in St Anton and Lech…
Tobogganing in St Anton and Lech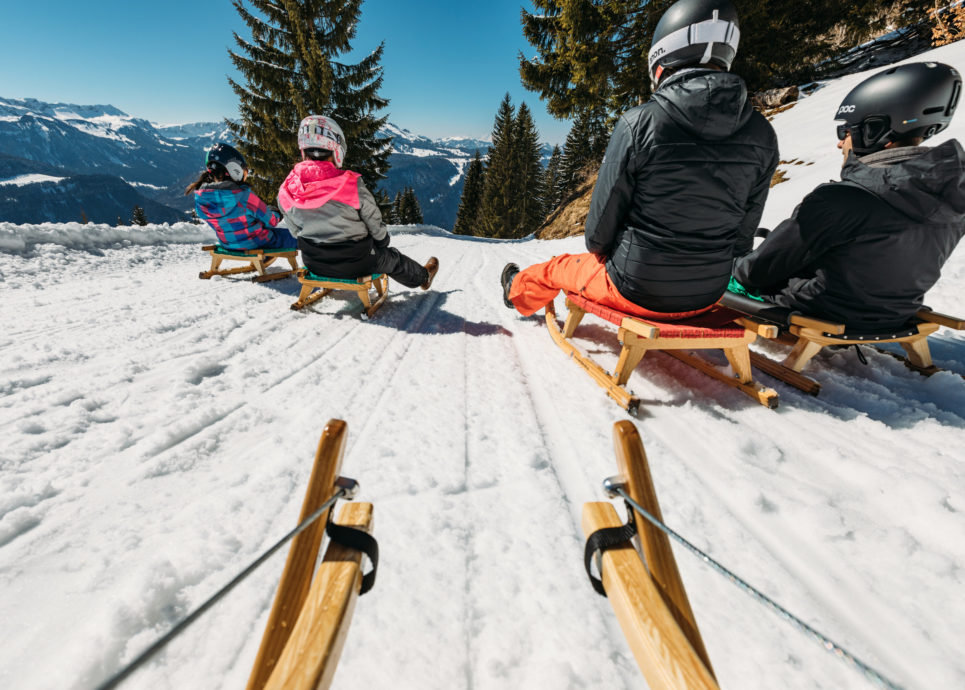 Who?
Your family, yourself, your other half, your friend, a passer by you meet on the way down.
Where?
St Anton – 4.5 km long and illuminated natural toboggan run from Gampen to Nasserein – grab your toboggans from the Nassereinbahn. Prices are from €13,50 (adult) and €6,50 (child).
Lech – 1.2 km long toboggan run and all floodlit through the forest from Oberlech to Lech – grab your toboggans from the Bergbahn Oberlech station. Prices are from €5,50 (adults) and €3,50 (child).
When?
St Anton – Daily (12:00 – 4:15pm) or every Tuesday and Thursday evening (7.30 – 9.30pm).
Lech – Enjoy the run daily from 9am – 10pm.
Why?
…because why wouldn't you want to experience going down the mountain on a a few planks of wood, normally resulting in you falling off once or twice, cracking a few smiles or two along the way. A family activity in the Arlberg which will promise ear to ear grins from start to finish.
Ski Show in St Anton
Ski Show in St Anton. Credit: St Anton Tourism. 
Who?
"The Snow must go on" is presented by the tourist office, the Arlberg Ski School, the Arlberg Mountain Railways AG and the Ski Club Arlberg New School team. What was originally a rare torch relay has now developed into a performance of genuine art on skis performed by ski instructors.
Where?
"Driving Snow – The snow must go on" is a spectacular ski show at the Karl Schranz Stadium (World Cup Stadium) in St Anton.
When?
Every Wednesday at 9pm, normally lasting around 45 minutes.
Why?
To show visits the journey into how skiing has been formed and transformed over the decades. A professional demonstration team depicts the historical development of the cradle of Alpine skiing up to the present day. The presentation is accompanied by multimedia, the slope itself acting as a canvas.
Sports Parks in St Anton and Lech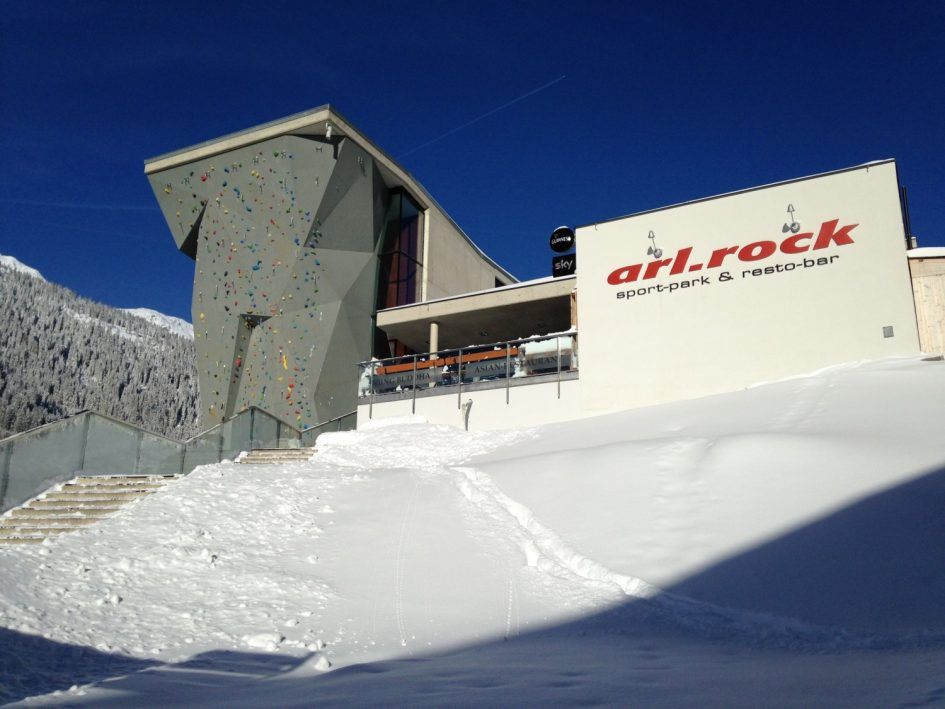 Who?
Any children (or adults) who are cold and miserable because of the non-stop snow outside and want to get stuck into some other sport activity besides skiing.
Where?
St Anton – Arl.Rock is situated next to the train station in the centre of St Anton (Bahnhofstraße 1, 6580 St. Anton am Arlberg, Austria). There are many activities to be offered here and to name a few there is climbing, bouldering, an indoor tennis court which converts into a football pitch or volleyball court. If that's not enough, there are four bowling lanes, darts boards, lots of board games, an air hockey table as well as a huge connect four to entertain the kids further. After you've worked up an appetite their is a delicious Thai restaurant called Skiing Buddha which is located above Arl. Rock.
In addition, new to the Arl.Rock in St Anton in September this year, is the "Arl.Park" – an indoor trampoline park with 13 trampolines, a bag jump (airbag with free fall tower and an air track) floor spring and mat. Jump sessions last for an hour and it is a great alternative for entertaining the little ones…and possibly the big ones when the weather is proving a little miserable outside.
Lech – Sports Park Lech is very centrally located, next to the Lech river behind the Schlosskopf car park (the exact address is Strass 456, 6764 Lech, Austria). With a recent refurbishment in 2009, the sports and leisure centre has had a makeover and in addition to the two tennis courts and climbing wall, you will find four bowling lanes, spacious facilities for fitness and aerobics, indoor cycling and a recreation room with table tennis and billiards. You can enjoy the wellness area which is perfect for aching bodies, followed by the sports lounge cafe – where hot chocolates are well sort after for the little ones.
When?
St Anton – Daily from 1:00 pm – 10:00 pm
Lech – Open Sunday to Friday from 10am -11pm and Saturday 3:00pm – 11pm.
Why?
….because a back-up plan when skiing isn't going to be possible for the day is definitely key. A great family activity option and team sport can boost morale and encourage family competitiveness which is always fun.
Ice Skating in St Anton, Lech and Zürs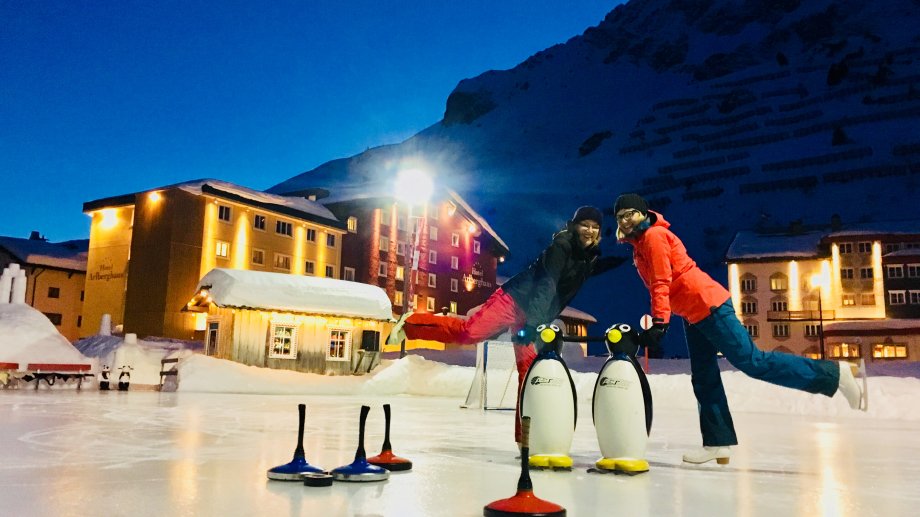 Who?
Professional ice skaters, children, families, loved ones and anyone who wants to give it a go and perfect their pirouettes.
Where?
St Anton – The artificial ice rink is located in front of the Arlberg WellCom centre in St. Anton am Arlberg.
Lech – Lech hosts the first hotel ice rink. Located in the Hotel Jagdhaus Monzabon, you'll find a 300 m2 air-conditioned artificial ice rink where all ages can enjoy skating and curling!
Zürs – Experience skating to the fullest in the fresh air at the natural ice rink in the centre of Zürs. Enjoy fun music as well as a cup of hot punch. Every Wednesday there is even candlelight ice skating for a pure and romantic atmosphere – perfect for an alpine date night whilst the children are with the nanny.
When?
St Anton – Open daily from 1pm to 5.30pm (December to mid-March). On Monday, Wednesday, Friday and Sunday, the ice rink remains open till 8 pm. It costs €4 for adults and €3 for children and the skate rental is the same for both.
Lech – Open Monday, Wednesday and Friday. Children (under 12) ice skating before 3pm costs €2, and €4 thereafter. Adults ice skating is €5 before 3pm and €8 after.
Zürs – Open daily from 3pm – 10pm. Closed on Saturdays. It is free of charge to use and the skate rental for adults is €6 and €3 for children.
Why?
…because ice skating is undoubtedly an essential part of winter and a wholesome family activity. Plus, why wouldn't you want to see your friends and family fall repeatedly from their own misfortune.
Arlberg escapes in St Anton

Who?
Anybody who likes a challenge and that is seeking something different. this activity will promise excitement and mystery.
Where?
Arlberg Escapes located in Pettneu am Arlberg, about a 10 minute drive from St Anton and is easily accessible by bus, being only a 1 minute walk away from the bus stop.
When?
In the winter the opening hours are from Monday to Sunday 5pm – 11pm and in the summer Monday to Sunday 10pm until 11pm. The Escape lasts for an hour and you have to book your slot in advance. Prices start from €60 for 2 players.
Why?
…because it is a new craze which has recently become very popular in and around Europe. Now it is new to this season in the Arlberg Escapes, why not make you and your family a part of it too.
So if you are planning a ski trip, look no further than the Lech and St Anton for your next family ski holiday. Or if you are looking for more activities for non-skiers in the Arlberg, please do take a read of St Anton activities for non-skiers, previously written by one of my colleagues.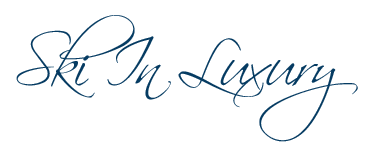 For more information on these winter family activities in St Anton and Lech, or if you need any further advice on where to stay, then please get in touch by sending us an email or giving us a call on +44 1202 203 650 – we will be happy to assist in your search for your perfect family activities.