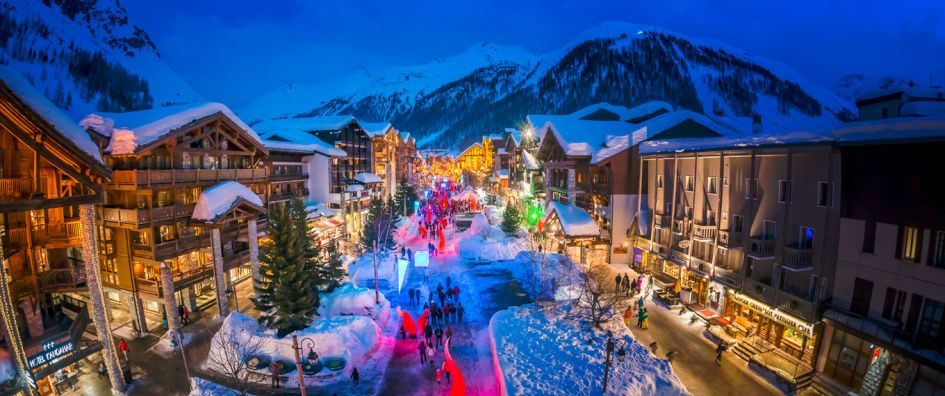 Ski resorts at Christmas have to be one of the most magical places to spend your special day. Cosy-up in front of your luxury chalet's fire with festive nibbles and drinks, open presents under the beautifully decorated Christmas tree, head out onto the mountains for a Christmas ski, enjoy gourmet Christmas dinner cooked, served and cleaned away and then head out into town to enjoy the local festivities… there really is so much to do! So much so that you may not fit it all into one day – but don't worry, because you have a whole week to eat, drink, ski and be merry!
The problem is, you could head anywhere in the Alps and complete all of the above, so let me help you in deciding which resorts do Christmas best for that white Christmas you have always dreamed of. Here is my list of the most festive ski resorts at Christmas. 
There's a rumour that the man in red himself lives in Les Gets. It's usually kept a secret, but if you can keep a secret, I'll tell you… The enchanted forest is where he calls home along with his elves and loyal forest friends. He's usually very busy at this time of year, but if you're lucky, you can take a visit to the hut in the enchanted forest and help the elves in their workshop. You better have been good this year!
With all the magic and charm, Christmas in Les Gets has to be top of your wish-list. The traditional alpine village offers a variety of festive activities including a torchlight decent, fireworks, village fetes, Christmas markets and of course the royal arrival of Father Christmas to the village centre on Christmas Eve. With its reputation of being one of the most family friendly ski resorts, Les Gets will be sure to create that Christmas magic for the whole family.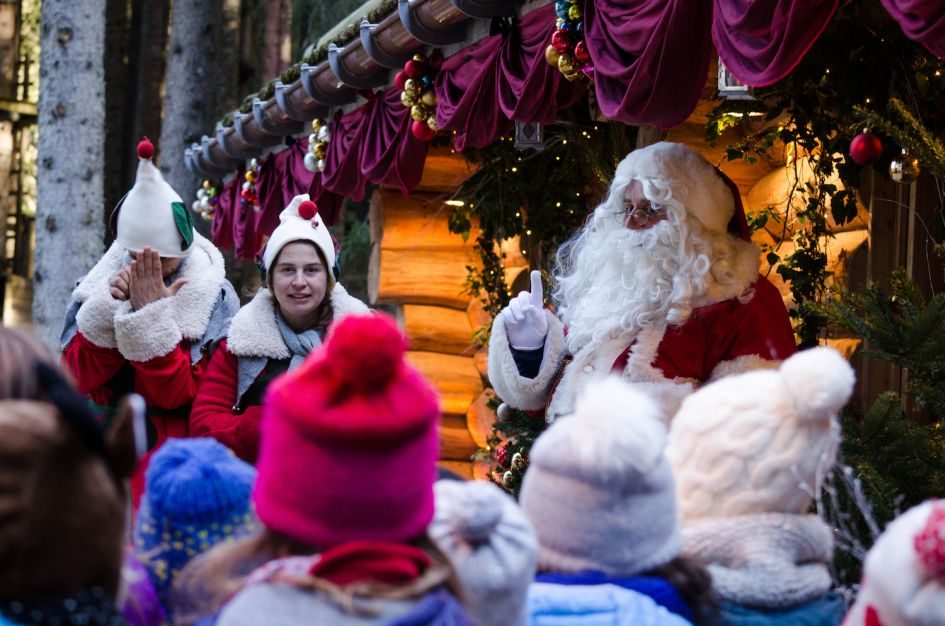 The Queen of glitz and glam on an average day, imagine Courchevel at one of the sparkliest times of the year. It pulls out all of the stops to create a magical festive feel. Every year there is a line up of festivities including Christmas markets, live music, concerts, fireworks and a torch-light descent. On Christmas Eve, Father Christmas will travel up through the Courchevel villages with his talented elves juggling and playing music. An impressive firework display in 1850 will round off the night perfectly. If you manage to head out after you have indulged on your gourmet Christmas dinner, then you can experience the Kachtelane Show from the Moscow Circus in La Tania or later on in Courchevel Moriond.
And if that's not enough festive fun for you, then stay another week to see in the New Year!
Video Credit: Courchevel Tourisme
Traditionally alpine, Megeve's cobbled streets glisten with the reflection of surrounding twinkling lights during the festive season. Horse-drawn sleighs, royally decorated Christmas trees and aristocratic gingerbread houses set the scene for the ultimate ski resort at Christmas. The big Christmas tree light up event and concert in the square gets the festive spirits flying, spreading that all important Christmas cheer.
A couple of weeks later on 22nd December sees another festive concert. With music, dancing, friends and family, what more could you want for a Christmas party? Don't forget to head over to the Christmas Village where you might be lucky to see Father Christmas himself on his Alpine tour, or even help out the elves in their Megeve workshops! The festivities in the lead up to the big day end with the torch-lit parade where you'll hear the sleigh bells in the snow, featuring Father Christmas accompanied by his elves. The chocolate-box resort has got to be one of the most charming ski resorts at Christmas, perfect for all the family.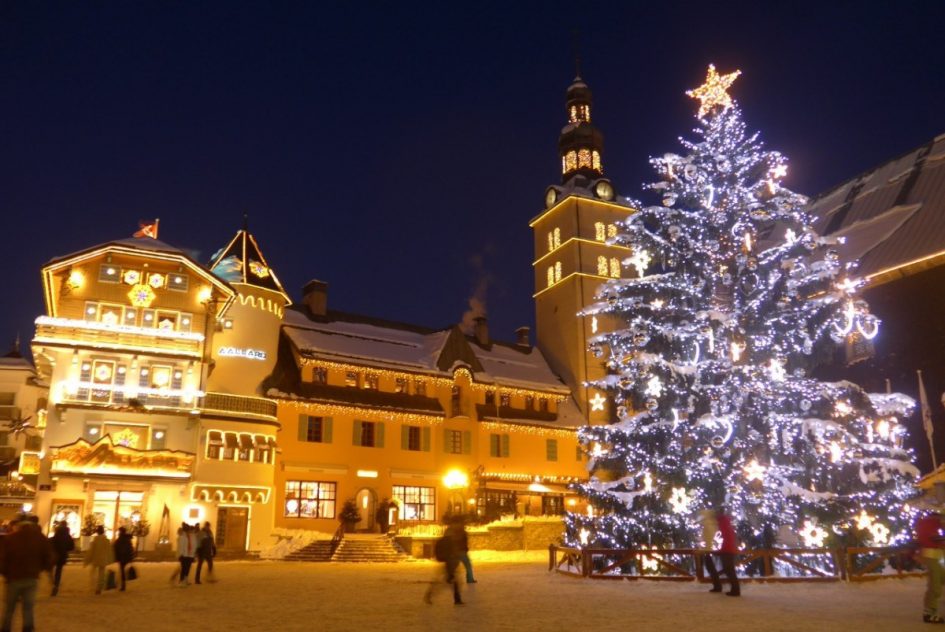 Top of the list for a good party any time through the winter, but have you experienced a Val d'Isere Christmas party? Celebrations for the whole family include live music, dancing in the streets, Christmas carols, fireworks, Christmas markets and unique hand-carved ice displays. Val d'Isere should be highly considered for your ski holiday at Christmas.
Patiently await the arrival of Father Christmas on his Christmas Eve alpine tour, complete with his reindeer for you to visit on Olympique avenue. He will then be able to kick start the Christmas Eve festivities, so raise a warming glass of vin chaud or chocolat-chaud and enjoy a very Merry Christmas in Val d'Isere! What's more, your wish for a white Christmas is guaranteed in Val d'Isere… if you've been good of course. Join others in Santa suits and get out for a Christmas day ski!
Video Credit: Val d'Isere Tourisme
Where the tree tops glisten and the children listen… how about an Austrian Christmas? Truly traditional festivities include the opening concert, Christmas market, choirs, brass bands, eating, drinking and children's entertainment. There's no question you will be in the Christmas mood instantly in this picture-postcard resort.
Before Father Christmas arrives, you can attend advent singing and readings of Christmas stories in the traditional Austrian church. Alternatively, unique to Lech, you can experience the 'Fantastic Gondolas festival' full of wonderful light projections on the mountains, or for the more adventurous, meet at Lech Zurs Tourismus from 6pm for a Chapel Hiking Tour with interesting stories along the way. Arguably, the build up to Christmas can be the best part and Lech tantalises the pre-Christmas senses perfectly.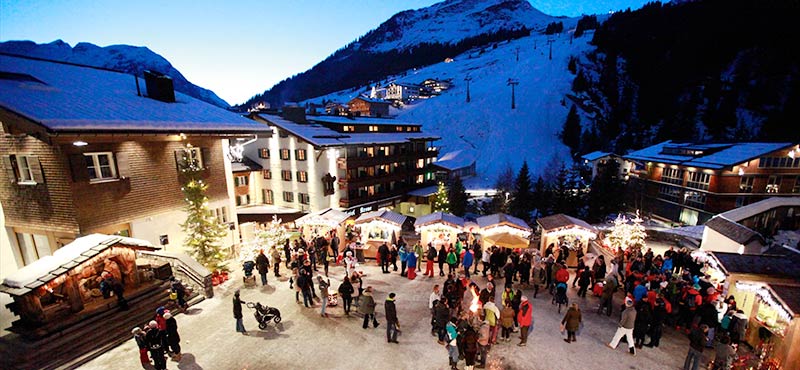 Which ski resort does Christmas best? 🎄
It is a difficult choice for sure with each resort bringing a range of festivities to the table. Our pick for one of the most festive ski resorts at Christmas has to be Les Gets for the all-round family magic and festive fun.
If you are, in the words of Bing Crosby, dreaming of a white Christmas, then get in touch with our team and we will be delighted to assist in finding you the perfect luxury chalet for your Christmas ski holiday. Call us on +44 1202 203650 or send us an email. May all your Christmases be white. 
❄️ Merry Christmas from Ski In Luxury! ❄️