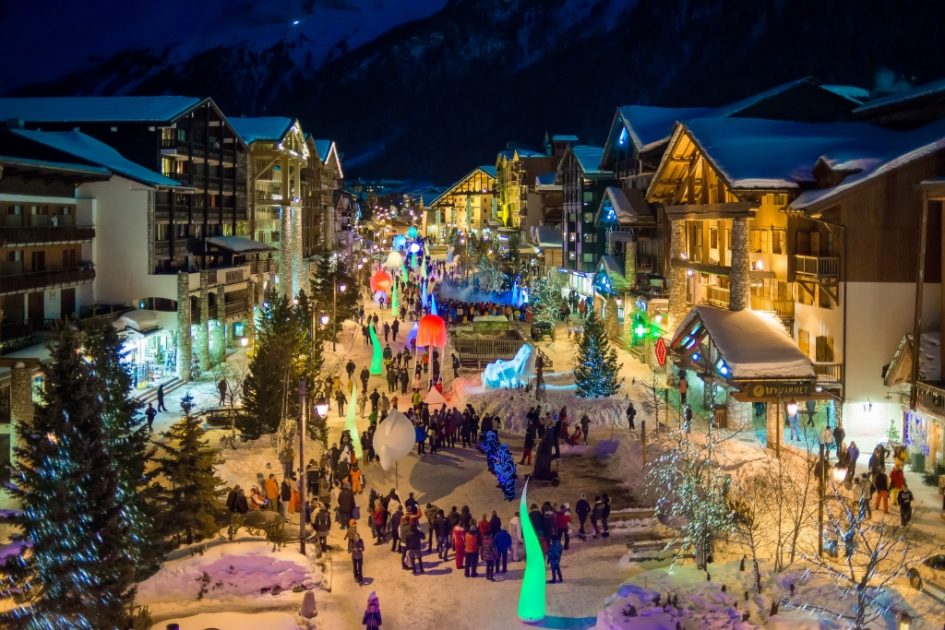 Christmas means something different for everyone but unanimously it is special time of the year for all to enjoy! We think spending the festive season in the Alps just adds to the magic! Just imagine it, waking up to a snowy winter paradise and filling your time with festive cheer.
In this blog we look at what's going on across some of the most festive ski resorts in the Alps this Christmas. However, with the heavy snowfall and cold temperatures throughout November, all the resorts are looking particularly picturesque, promising a Christmas ski chalet holiday to remember! Take a look at the remaining luxury Christmas chalets that we have left in our chalet portfolio to see if one tempts you to take a trip to the Alps for Christmas.

If you have never been skiing before, then Megeve will be the exactly what you picture when you think of a Christmas holiday in the mountains. Megeve at Christmas is ever more so the iconic winter scene. With the centre of Megeve being completely pedestrianised, you will find horse drawn carts taking people around town. If your children have never been to the Alps, then a sleigh ride should be on the top of the to do list. Megeve is also a top luxury destination in the Alps for shopping and is the perfect spot to get some last minute gifts.
The Festive fun begun with the lighting ceremony of the Christmas tree on the 9th December. This extraordinary evening was set with a musical ambiance and crowds of people came to the village square. The highlight was seeing the huge tree with over 1000 lights become illuminated to get everyone in the Christmas spirit! Throughout the festive season, why not visit the Christmas village in Megeve and find Father Christmas tucked away in his grotto? Did I mention there is a fantastic musical evening as well as the normal long lists of aprés skiing activities to do. Sold? Then take a look at the superb chalets in Megeve for Christmas that we have on offer!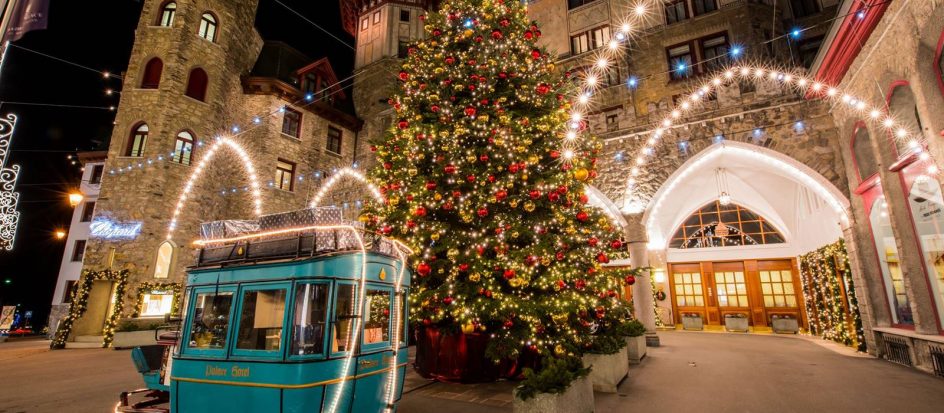 There may be no better place to spend Christmas than in a ski resort and St Moritz is the epitome of a winter wonderland. Christmas in St Moritz is summed up as stylish, elegant and classy and could be the perfect place for a romantic Christmas holiday to the Alps or a sophisticated skiing vacation for all the family.
The streets are lined with festive lighting and a huge tree sits proudly at the entrance to the iconic Badrutt's Palace. The St Moritz Christmas market is the ideal spot to find a glass of warming Gluhwein. Throughout advent, the Ovaverva pool, spa and fitness centre will release a daily special offer, which gives you the perfect excuse, to test out one of the best spas in Switzerland.
To have a look where you could stay for your Christmas ski holiday to St Moritz visit our Chalets in St Moritz listings.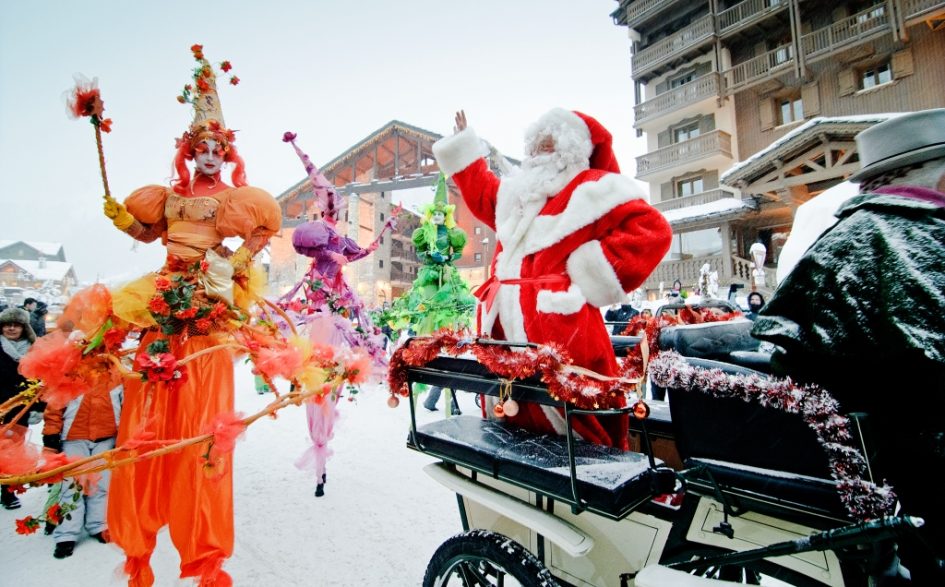 Val d'Isere is a top Christmas destination for all the family. There is so much going on here. You will be sure to see Father Christmas around town and on Christmas Eve you'll even have the chance to ski with him! On Christmas day there is a special evening of sledging for all the family to enjoy.  Why not grab a great family photo with one of the giant snow sculptures that will be sat in the Main Street over the festive season? You could definitely use it on your Christmas cards next year! Who knows, you may end up making it your Christmas tradition.
New Year in Val d'Isere should not be overlooked as the Airstar Night Light event makes for an impressive evening. This includes a huge fireworks display, live music, fire shows other incredible displays!
We have a great collection of chalets in Val d'Isere, many of which would be perfect for a family Christmas skiing holiday.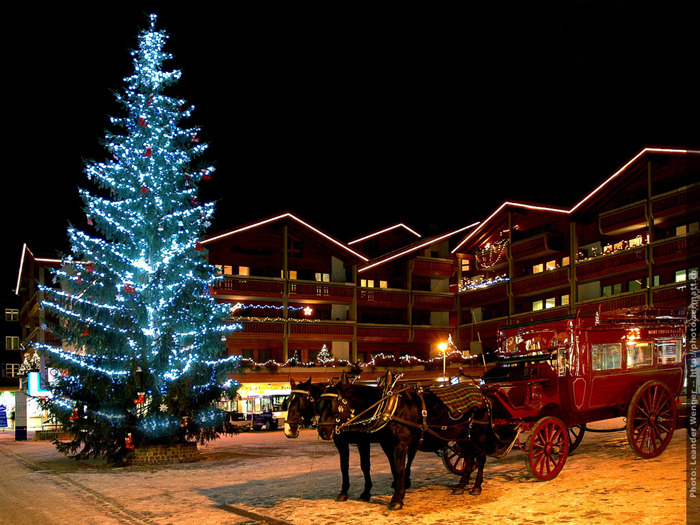 Zermatt is one of the most stunning resorts in the Alps and at Christmas there is an incredibly festive buzz. St Nicholas and Zermatt's charming mascot Wolli will be heading around resort to stop and meet the children that are lucky enough to be on a Christmas ski holiday in Zermatt.
For adults, there is a great Aprés ski scene for your own celebrations in style. I would personally recommend Gee's Bar that has a great vibe throughout the year, and especially at Christmas. Don't forget that as a high altitude and snow sure resort you will certainly be able to ski on Christmas day. Not many people can say that!
We still have some luxury chalets in Zermatt available for Christmas, so don't worry you're not too late!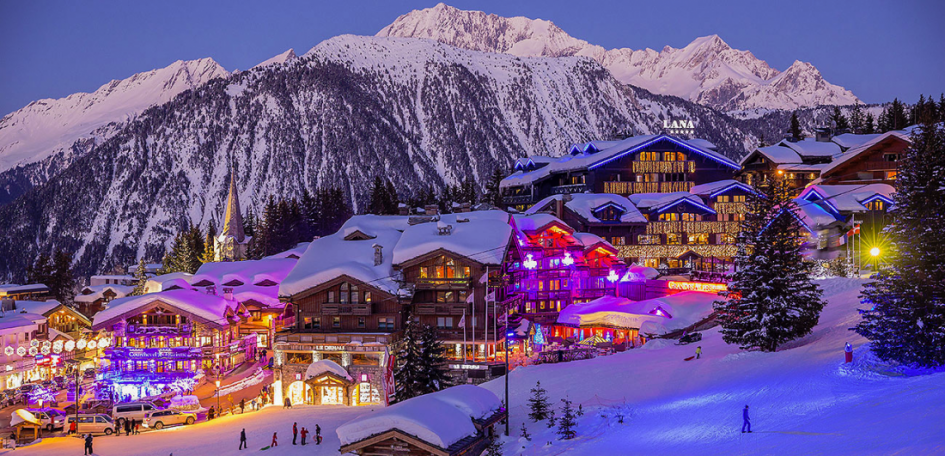 Christmas in Courchevel is a magical week with plenty going on. Courchevel provides great street entertainment throughout the week of Christmas, creating a playful and cheerful atmosphere. Head up to Courchevel 1850 to get amongst the hub of action. This does not mean that the other Courchevel villages miss out….Jean Sérien the storyteller and Fanfralette the Christmas fairy will be flying through all the Courchevel villages including La Tania.
On Christmas Eve in Courchevel the festivities reach fever pitch with Father Christmas and his performing elves passing through each resort on his iconic red sleigh! This ends in Courchevel 1850 and is swiftly followed by one of the greatest fireworks displays in the Alps! On Christmas Day the Katchalene show will take place in Courchevel Moriond. A superb evening of illusions, performers, music and magic definitely not one to be missed!
So there we have it, a quick pick of our favourite festive ski resorts in the Alps! From cracking Christmas events to great fun in the snow, the Alps are a top Christmas holiday destination. Get in touch if you you like to know more about Christmas in the Alps and what is going on. If you are after a last minute Christmas vacation and need help finding where to stay, one of our team is here to help you . You can send an email or call us on +44 1202 203650.
We wish you a Merry Christmas and a Happy New Year!