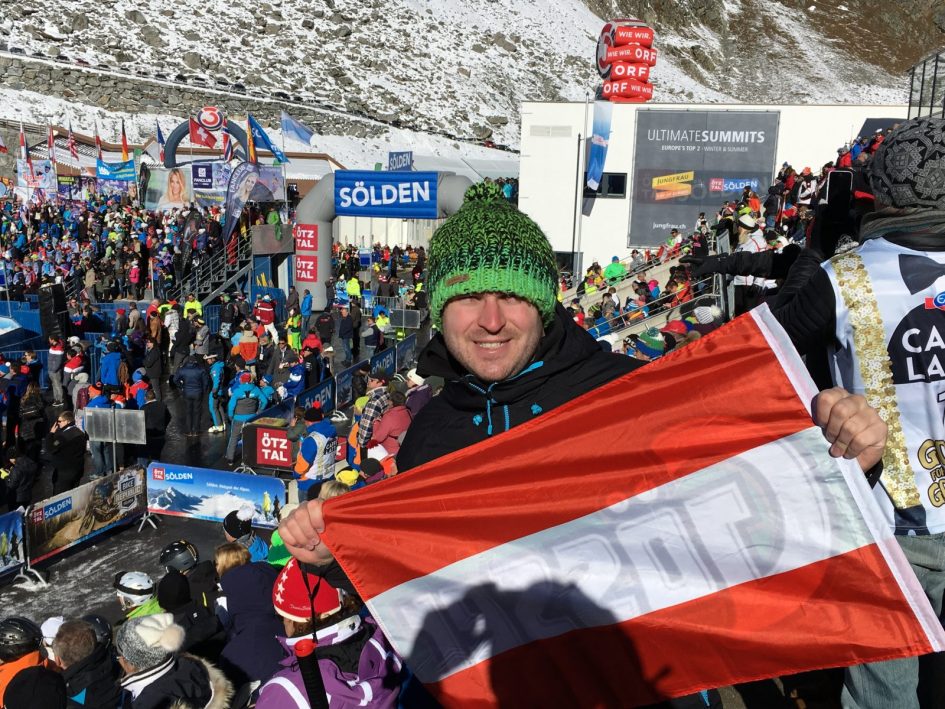 This week I headed out to Austria and during my stay I was lucky enough to squeeze in a day in Solden to see the women's first World Cup event of the season. The environment was incredible, the weather was fantastic and best of all the snow coverage was amazing. It was easy to forget that this was a weekend in October and only when turning to look down the valley was I reminded that we weren't in the middle of the winter.
After such a great couple of days I would seriously recommend attending a Skiing World Cup race to anybody. I could wax lyrical all day about how amazing these events are, but below I have broken it down my personal 5 key reasons to attend a World Cup Skiing Event…..
Reason #1 – Any Excuse To Be In The Snow
There is something about being in the mountains surrounded by snow that is the reason that most of you reading this love going to the Alps, but what is it? How can you describe the feeling to others who have never been?
On this sunny but chilly Saturday morning in October we set off from the resort of Seefeld where we had stayed overnight and crossed the valley floor to the Oztal valley on the opposite side. As we travelled, the clouds were low and as I sat there looking out of the window, a large gap appeared in the clouds. I was expecting to see blue sky but I was met by a steep mountain face, completely unexpected but simply stunning. Out the other window I was met by large Tirolean farmhouses with a small layer of frost on the roofs.
The higher we climbed the mountain the more the frost turned to snow. We passed through the resort of Solden and then started climbing the road up to the Glacier. The further we climbed the whiter the landscape got, even the snow machines were on. As we reached the base of the glacier we parked up, got out and were met by thick snow and a crisp morning mountain air. The air was thin but inviting. It seemed a far cry from city life back in the UK. As I looked around and studied the surrounding scenery it reminded me why I love skiing and why I love working in the ski industry. As far as I could see, attending the first World Cup race of the season was as good an excuse as any to get that first hit of the season, get that first experience of the snow and mountain air. I had been waiting 6 long months for this and there I was, taking it all in. Snap back to reality and it was time to find my place in the grandstand.
Reason #2 – Fantastic Skiing
There is no doubt about it. These athletes are very talented. They ski at speeds that the majority of us would baulk at and every turn is taken on the edge, quite literally. Accidents do occur and there is always a team of medical professionals on call. Their ability is astounding. They ski low, very low and in Solden in particular, from the grandstand at the bottom you can see them slither their way down pretty much the entire slope. The small section that you can't see is shown on the big screen at the bottom.
Reason #3 – The Amazing Atmosphere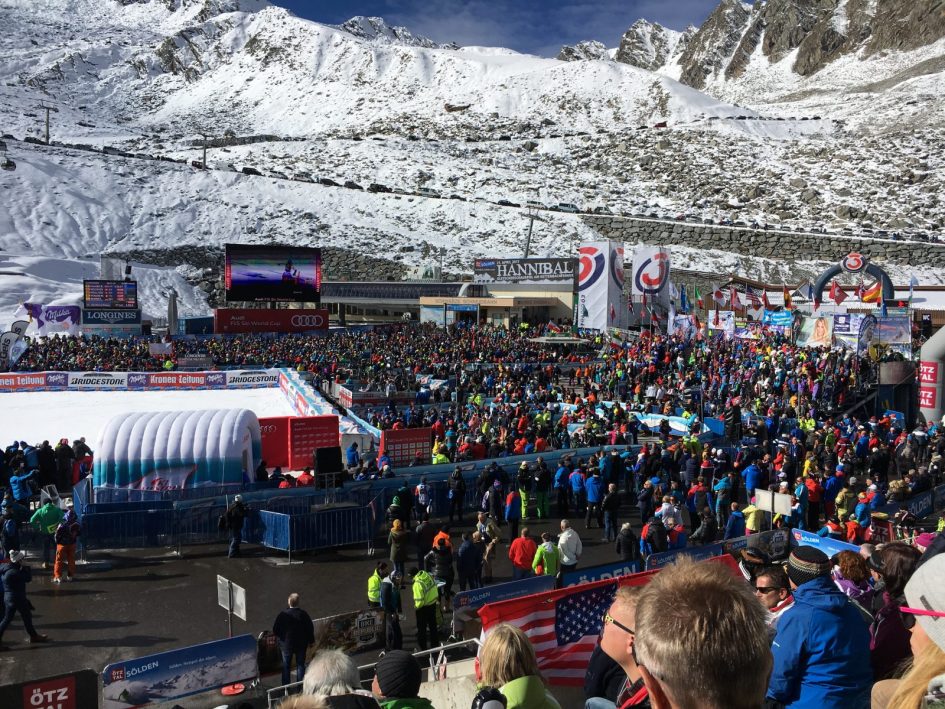 The skiers are incredibly passionate, as they finish their runs they immediately turn to look at the screen although most of time they don't need to as if they have taken the lead the passionate and vocal fans will let them know. The sound of cow bells ringing and horns blowing combined with the roar of the crowd creates an amazing atmosphere. The skiers are all ultra-competitive but you can also see that they have the utmost respect for their fellow compatriots. They hug and applaud each other and they clearly love what they do. The beaming smiles glued to their faces show this.
Reason #4 – Wild Animals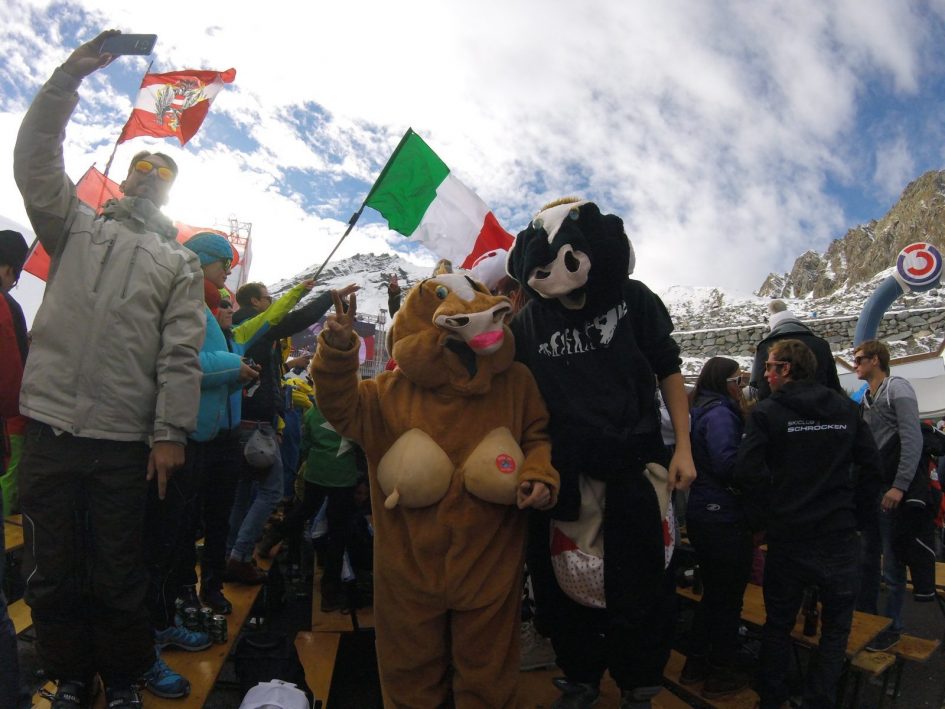 Yes, that's right, you read it correctly! On the drive up to Solden we passed through sleepy villages and saw a range of animals from Alpacas to mountain cattle yet it was high up the mountain, close to the peak of the glacier that the most interesting and wild animals were found. The Solden cattle were like no others that I had seen before. They had big juicy udders and were found to be grazing on bratwurst and beer. They seemed to have a lot of energy and could be found dancing on tables with humans.
Reason #5 – Amazing Après Ski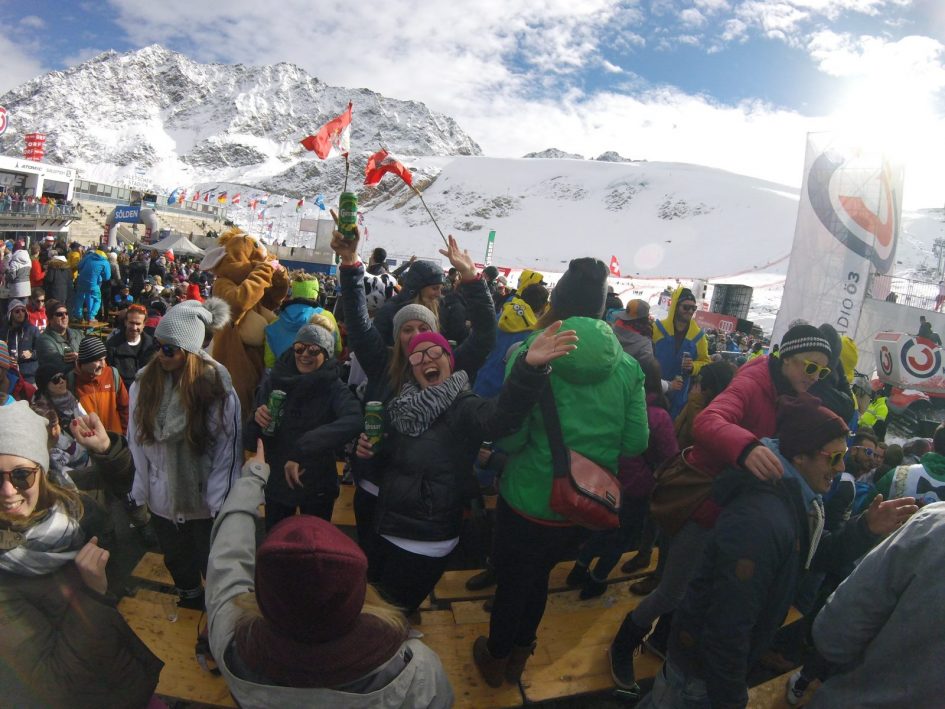 One thing is definitely true, you can't go to Austria without experiencing Austrian après. Even those that don't tend to like partying after a day on the slopes will find themselves sucked in to the vortex of Austrian après. The Austrians have an incredible amount of energy and high up on the Rattenbach glacier high above Solden were 100's of people all celebrating the finish of the race. People were dancing on tables (with cows), people were dressed up (as cows) and people were eating beef burgers (including the cows). The music was loud, the beers were flowing and everybody was having a great time. The Austrian's sure know how to throw a party. Fan clubs of the different athletes were all singing and dancing together and everyone was having a great time. Of course it isn't just the Austrians who can party. I am sure that at all World Cup ski events the atmosphere will be just as good.
If you haven't already I seriously suggest following the athletes to at least one World Cup skiing event. I had an amazing day. If you want to head to one of the races yourself then the venues and dates can be seen by clicking here.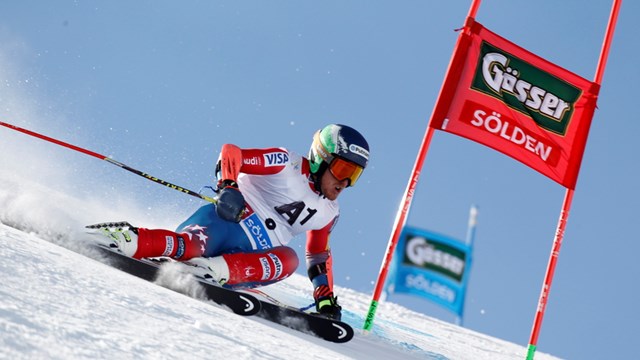 If watching skiing isn't your thing and you are more interested in other goings on in resorts, then drop us an email and let us know. You may enjoy a spot of curling, you may want to attend a live music event in the Alps. It may be that you want to head to a certain resort when they have a food festival on. There is so much more than a holiday in the Alps or a luxury ski holiday than just the skiing.
Seeing the World Cup GS women's race in Solden was the highlight of my Austrian adventure, beating the previous day when I had taken part in a Biathlon with people from all over the World. My team was more like a meeting of the UN with me as the only Brit, a guy from Sweden, a South Korean, a Syrian, a Chinese man and a Brazilian. We were all in Austria to discuss the future of the Alps. I think this goes to show what global sports skiing and other winter sports have become.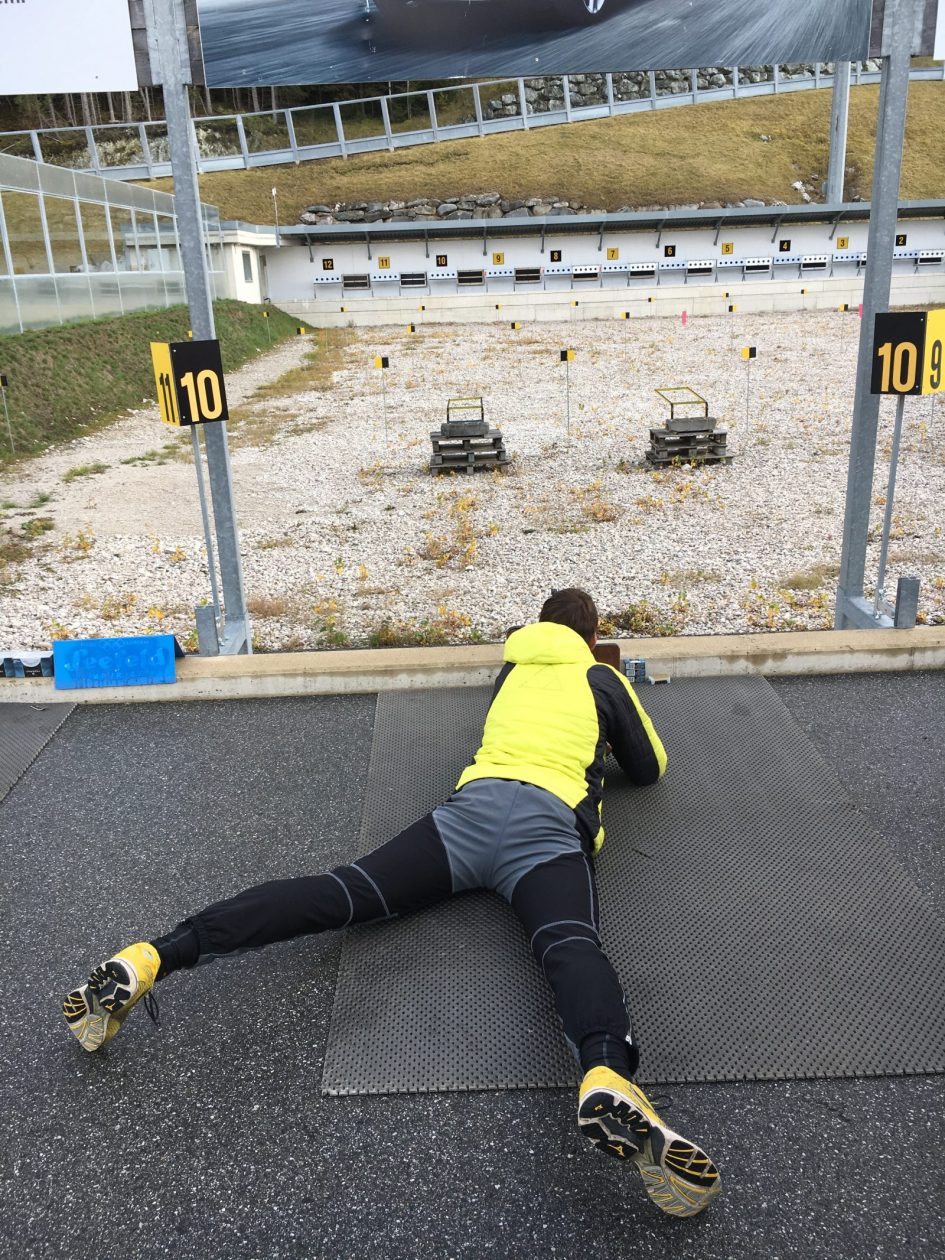 At Ski in Luxury we offer ski holidays for Russians, holidays in ski resorts for those from the Middle East, we have clients booking with us from emerging markets such as China as well as our more traditional clients in the UK and Europe. We really are a global ski holiday agency and we are here to ensure that your exacting trends are met. We know that different countries and cultures will desire different things from their holidays so we offer an individual approach and service to all of our clients.
If you are thinking about your next holiday or want more information on anything I have mentioned above, then send us an email or call us on +44 1202 203 650. It would be great to hear from you and to share my experiences from an amazing few days in Austria.