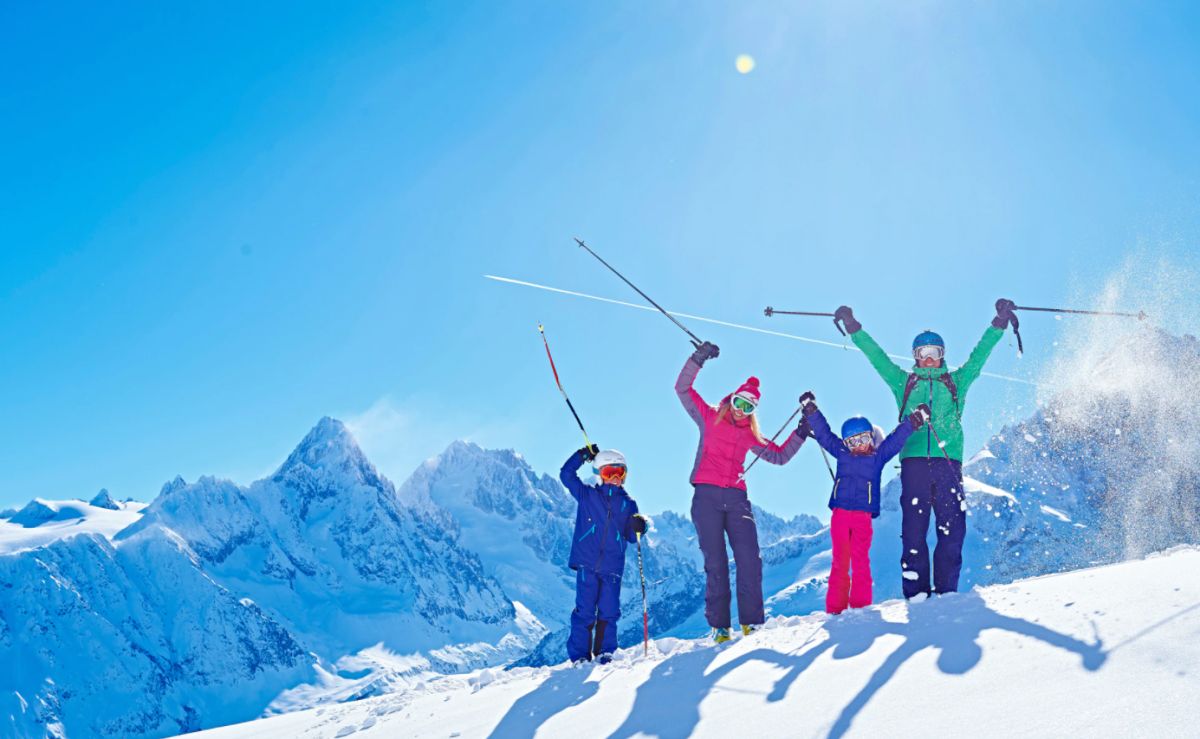 We're going on a family ski holiday, we're going to the Arlberg, hip hip hooray! You can't ski over it… you can't ski under it… you've got to ski through it! Thinking about a family ski holiday in the Arlberg and if it is suitable for children and families can take some time, but we're going to take you through some reasons as to why the Arlberg region is a top family ski destination to consider.
The Arlberg ski resorts are extremely well geared up for families and children. St Anton am Arlberg, St Christoph, Lech, Zürs, Schröcken, Stuben and Warth all have extensive children's areas and slopes.
I have the pleasure of sharing with you the best children's area and slopes and I promise you this will be your trusty handbook for all your future Arlberg family ski holidays.
St Anton and St Christoph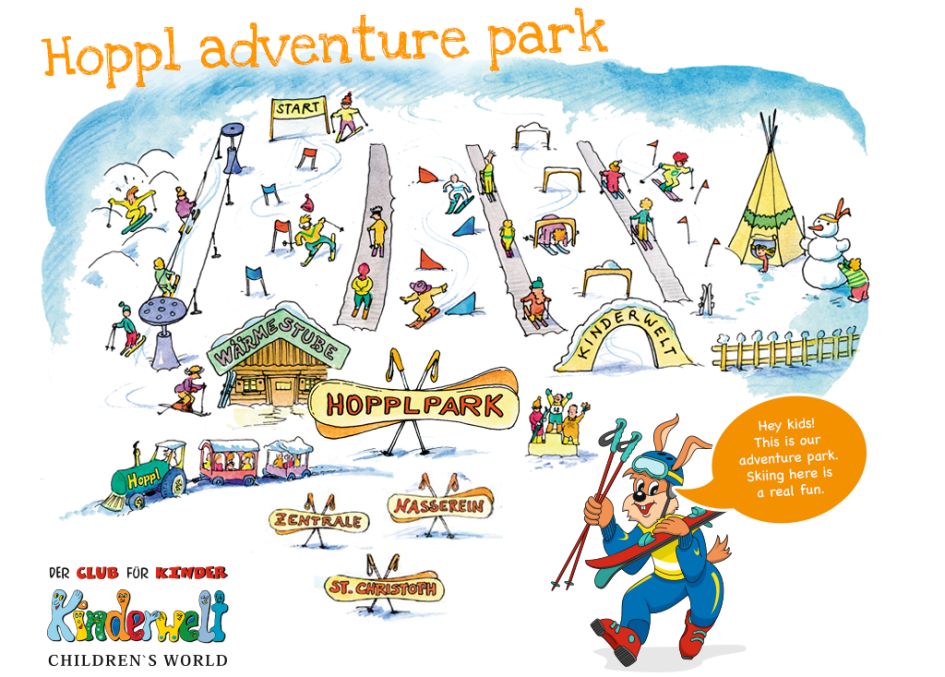 In St Anton you have the Kinderwelt (Children's World) at the base station of the Gampen and Galzig lift, and also in Nasserein.  Furthermore, you have another Kinderwelt in St Christoph located opposite the well-known Hospiz Alm, all of which are operated by Skischule Arlberg.
These fun-filled children areas offer magic carpets and button lifts to take their first ski steps up the mountain. To encourage their imagination, there is a carousel and a fairy tale snowfield of various obstacles. Nasserein in St Anton even has an Indian yurt which creates great excitement with the children, especially when you see ski instructors getting animated, singing and dancing like wild Indians. If you're lucky enough, everyday you'll be welcomed by Hoppl the Bunny who is the well known mascot in St Anton – be sure to say hello from me!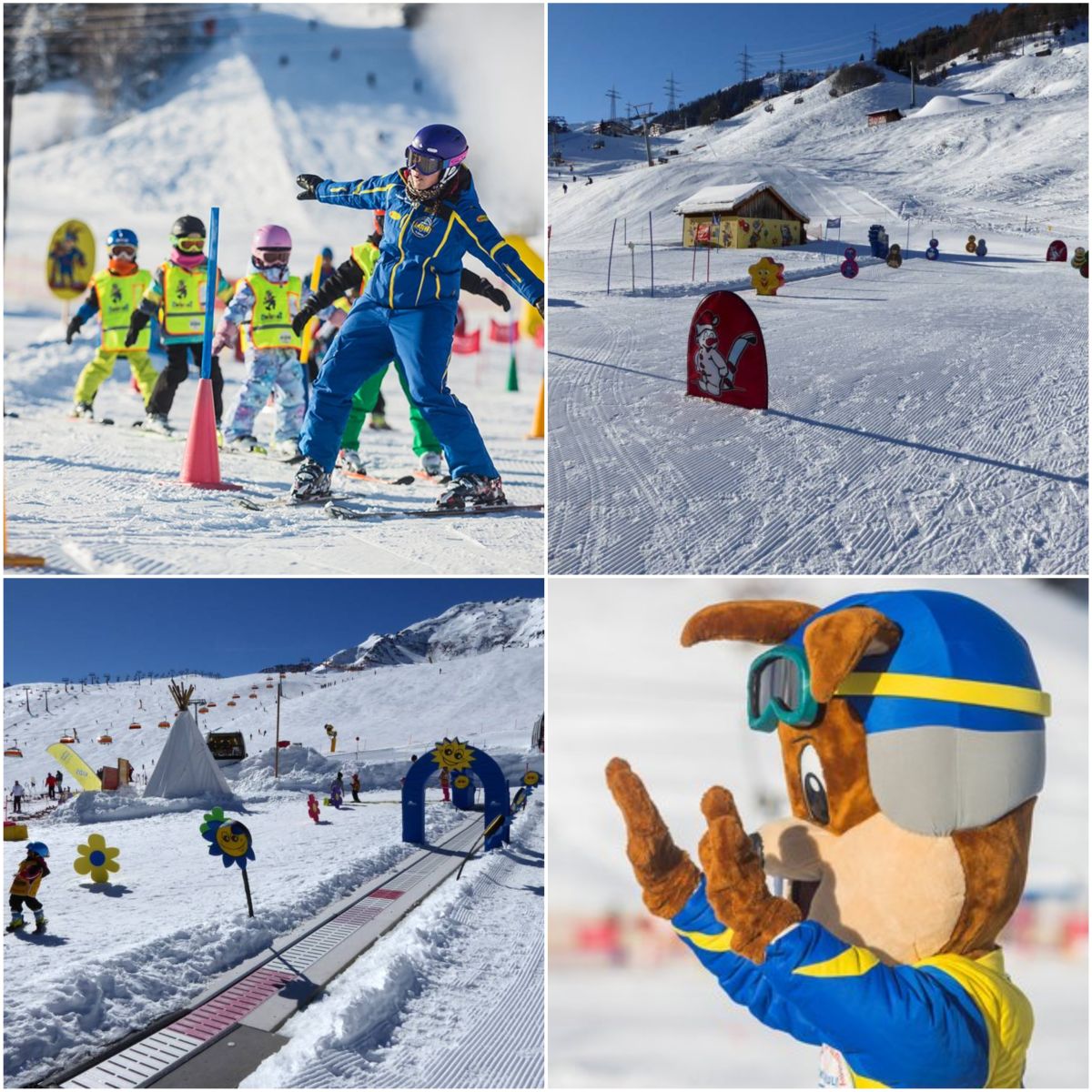 Now onto the fun slopes which are very popular among children… and adults. The 400m long fun slope is located between the Osthang and Zammermoos chair lift and is definitely an adventure for all of the family to enjoy both little and large. From start to finish there are bumps, bridges, tunnels and snake-like turns making up various different skiing elements. Master the funslope and you can give Hoppl a high-five at the end, then take the Tanzbödenbahn lift to lap it again…and again…and again.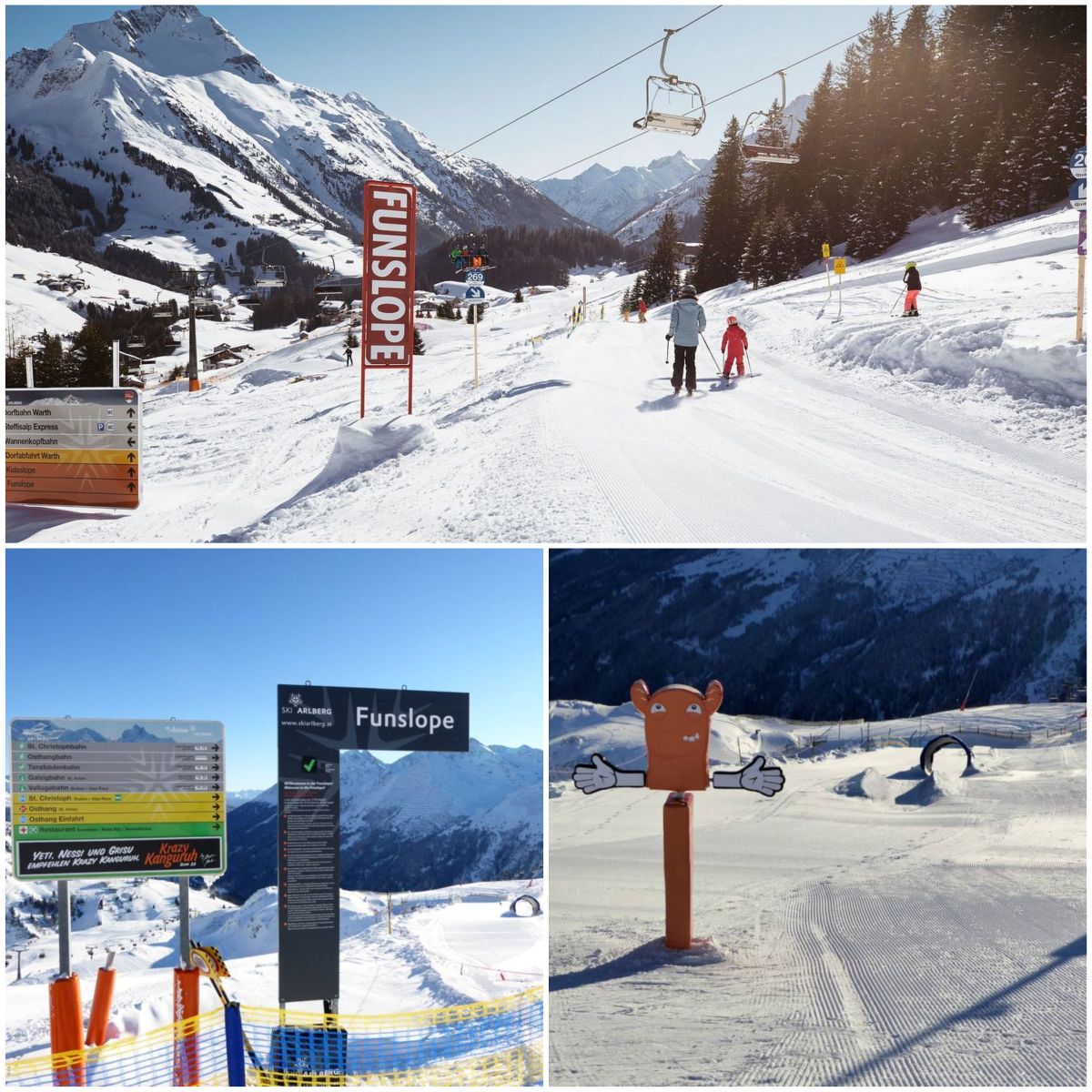 Another popular run is Hoppelweg Trail, an easy blue run marked No. 27 leading from the top of Gampen into St Anton, continuing onto Nasserein. It is well suited for children due to the lifelike wildlife hidden amongst the forest, as well as outlining the ski rules on the way down. It proves a very popular route at the end of the day to get skiing families of all abilities down the mountain safely.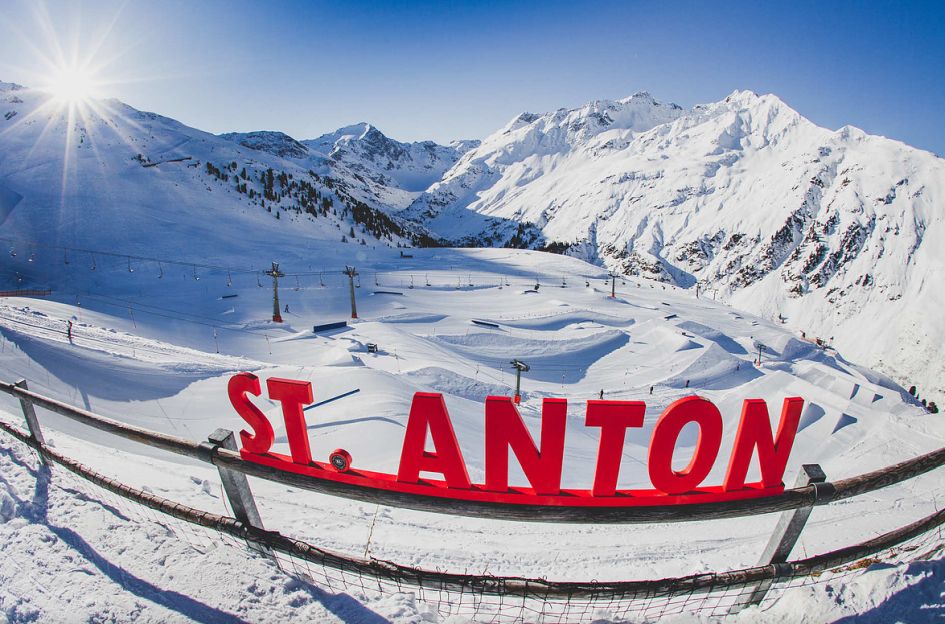 For the slightly older children and adults you have the Stanton Snowpark in Rendl (St Anton). This is optimally equipped for all levels of skiers, having a fun run for beginners, a medium line with easy rails and jumps and a pro line with huge kickers. For anyone who dares the kicker line, you are braver than I am. You would normally find me at Rendl Beach Bar which is a great place to sit back and watch some unbelievable jumps at a birds eye view.
Lech and Zürs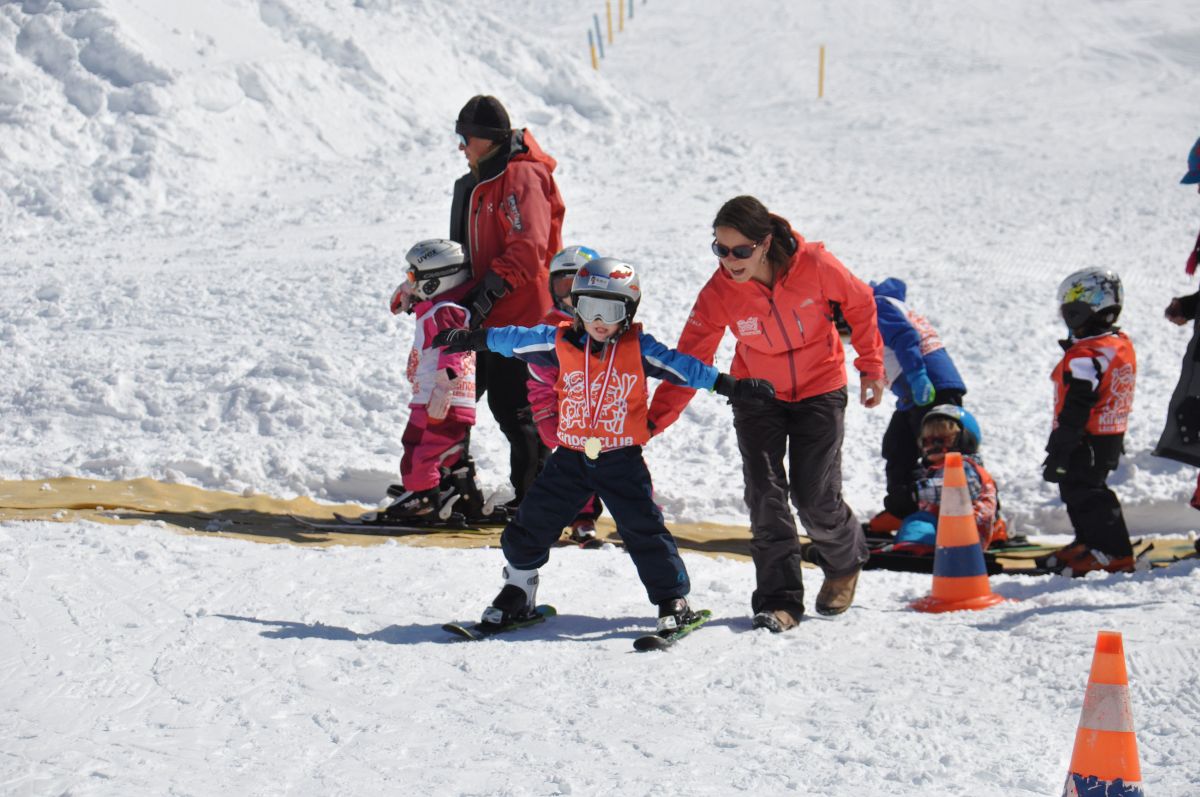 The Kinderclub in Lech has a number of magic carpets surrounded by a variety of animated characters and a carousel to perfect a snowplough stop. There are also racing poles so children can get their sharp turns and edges in, bringing out the competitive yet still playful side of skiing.
The Brockiland in Zürs is the ultimate children's ski area, offering multiple magic carpets and a double chairlift to take you up to the practice slopes. It also has a castle made out of snow and ice, and many cones and poles to navigate your skiing turns. The little ones will certainly not be able to stop talking about this as they make there first curves in the snow.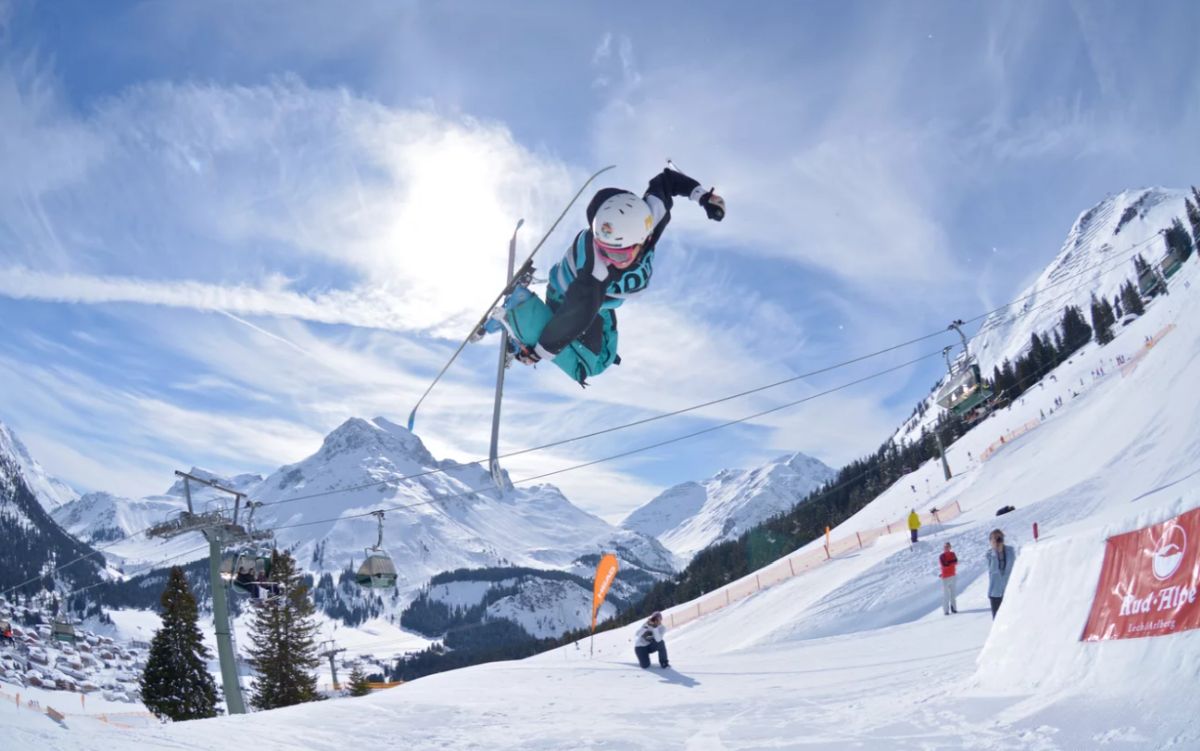 The Snowpark Lech is located at 1,600m, high on the Schlegelkopf, offering you 20 or so features on which to practice tricks, and covering around 3.6 hectares. The features offer something different for all skiing levels with easy rails and small bumps, to a rail line and some massive jumps. It is also shaped daily to perfect each and every jump.
Schröcken, Stuben and Warth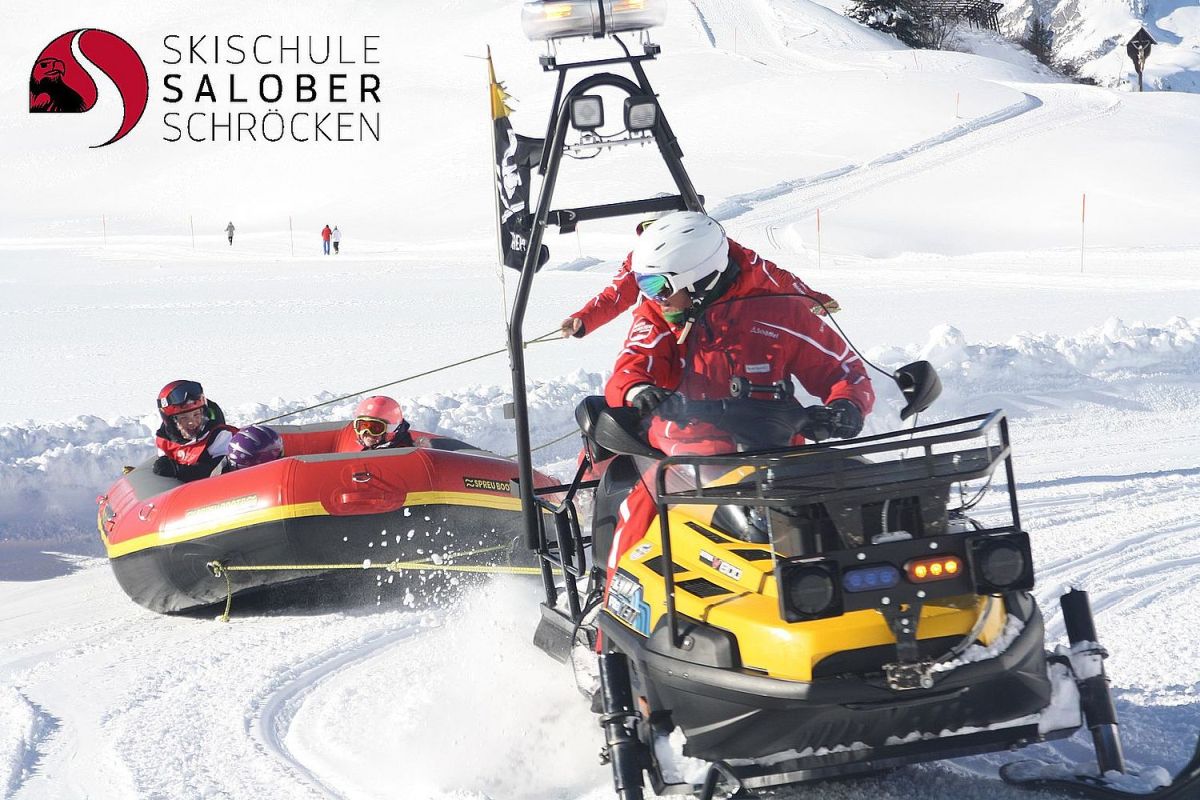 Not to forget in the Arlberg, you have Schröcken where the children are guaranteed to have fun, although the skiing might take second precedence as they are transported to the area on a rubber boat towed behind a Skidoo. Warth and Stuben offer slightly smaller areas, yet that's not to say they still don't have a magical skiing experience as they learn to ski.
There is also a fun slope and snowpark in Warth at the bottom of the Wannenkopf lift. It was originated for beginners to practice their first tricks over boxes and rails. The fun slope is the perfect place for families to have some fun as they navigate themselves through the obstacles.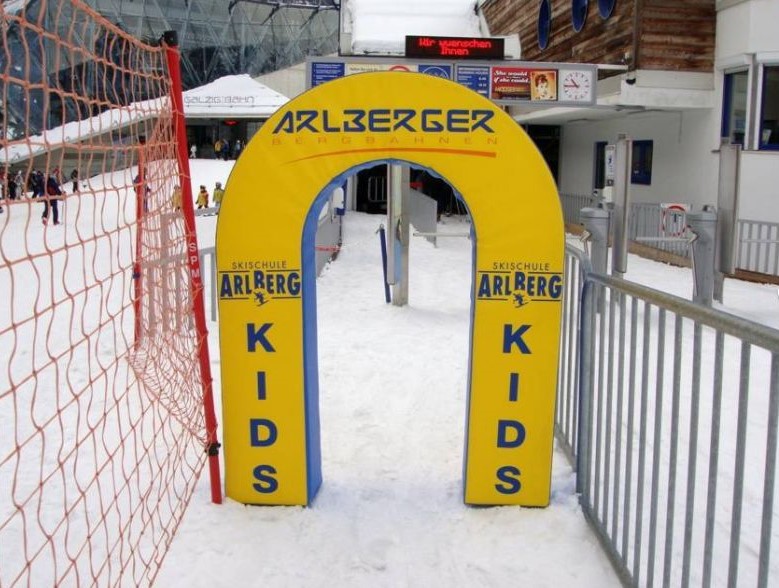 Throughout the Arlberg ski resorts the main lift stations will have a children's entrance (see above) which is very useful in busy periods and makes it easier to keep a head count.
All of these amazing family ski resorts offer a variety of children's ski areas and slopes to create a magical skiing experience for both little and large, beginners and advanced ensuring families will have a wonderful Arlberg family ski holiday.
So without further ado, if you would like to start your family ski holiday in the Arlberg by exploring the variety of children's areas and slopes then please get in touch by sending us an email or give us a call on +44 1202 203 650 and we will be happy to assist you in your search for a family adventure.