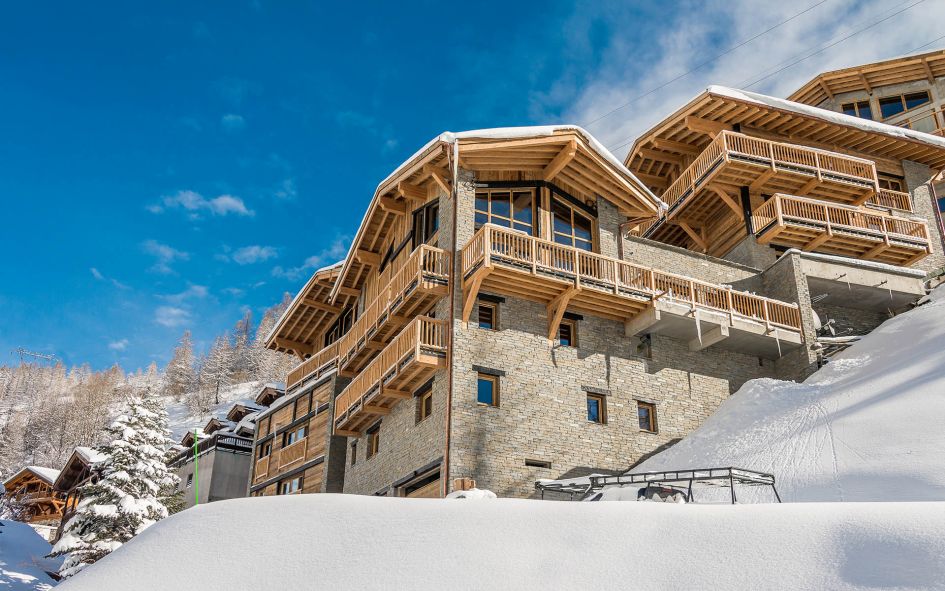 "I didn't want to create another run of the mill development, I wanted to create something bold and contemporary, a destination for the next generation of luxury ski travellers." These are the words of Guerlain Chicherit, four time world freeride ski champion, professional rally driver and the man behind the new Black Diamond Residence located in Tignes Les Brevieres.
In December of last year, I was fortunate enough to be invited out to stay at the new Black Diamond Residences and experience the service they offer. It was my first time in Tignes Les Brevieres, considered to be the unspoilt gem of the Val d'Isere and Tignes ski area, it is the more attractive little sister to Tignes Le Lac. If you are looking for a picturesque village with traditional alpine charm but with access to one of the best ski areas in the Alps, then look no further!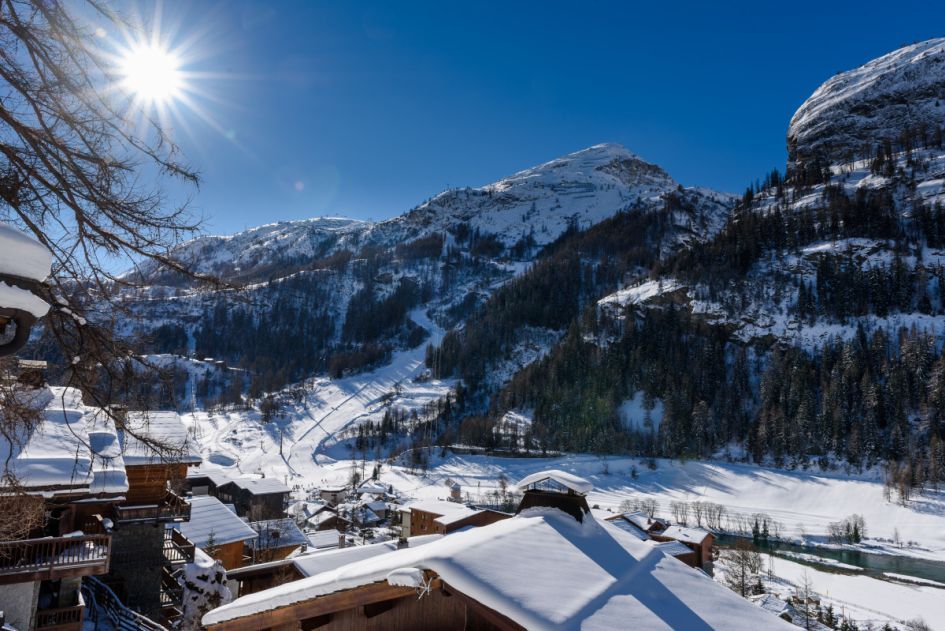 So what exactly is Black Diamond? It is a collection of 6 individual and unique residences, each designed by Guerlain with modern decor, urban style, state of the art facilities and of course, all offering the highest standard of luxury you can expect from a luxury chalet in the Alps. Black Diamond is the perfect solution to your 'Chalet vs Hotel' debate as you have your own private space and access to fantastic 5* hotel standard facilities.
As part of the shared facilities, you will have access to the spa area, complete with indoor pool with waterfalls and jet current, hammam, sauna and relaxation area. If you are looking to keep up with your training whilst on holiday, there is a fully equipped gym and personal trainers can be arranged for you in advance.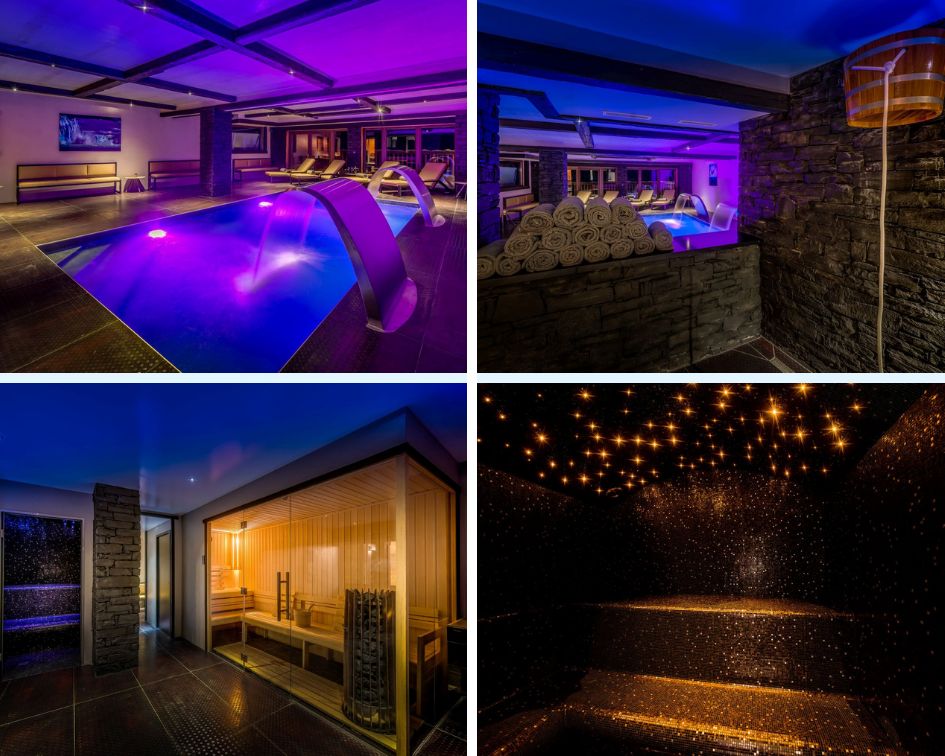 On the lower floor, there is a communal ski lounge and in-house equipment centre with a team of 'ski butlers' on hand to help prepare you for a full day on the slopes. This is the perfect place to arrange to meet your guide in the morning and check out what the weather looks like for the day before heading out to the lifts.
You start your ski day in Les Brevieres and there is a pedestrian gondola just 100 metres from the chalet which will whisk you down to the ski lift.
If you are looking for a more exclusive apres experience, what could be better than your own private apres terrace at Black Diamond? This large terrace benefits from views over the resort and is the perfect place to relax at the end of a long ski day. There are fire pits and furs on hand to keep you warm, as well as signature cocktails served from the terrace bar and even live music and DJ sessions to get you in the party mood.
Black Diamond is made up of 6 individual chalets each with a private entrance, and ranging in size from 350m2 to 650m2. Which one would you choose to stay in?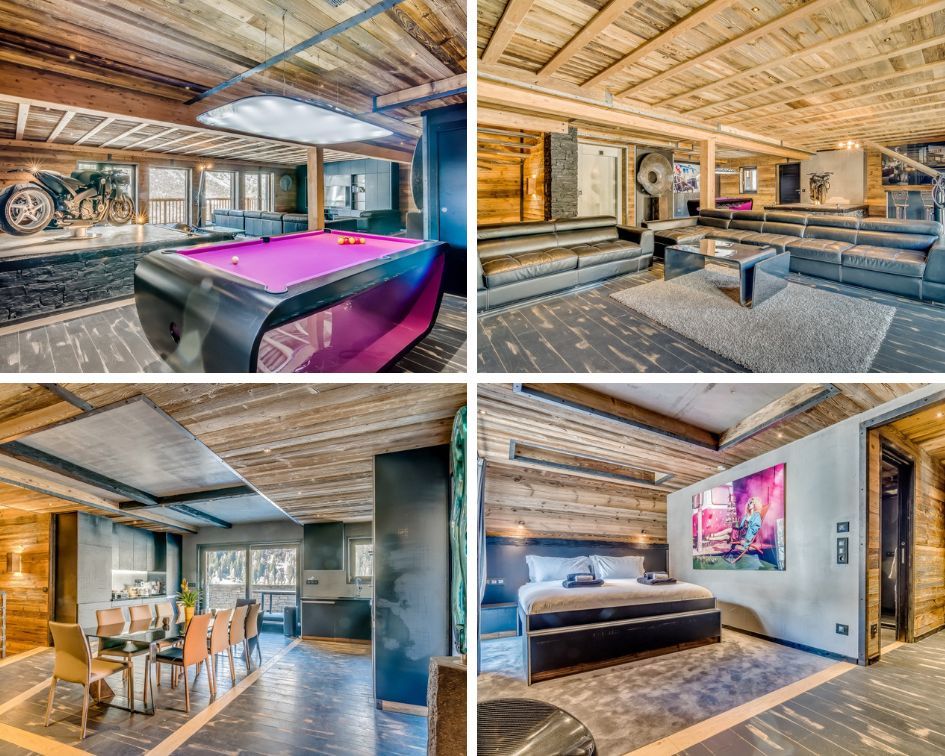 For all the action movie buffs out there, Chalet Babylon features memorabilia from the world of science fiction and taking centre stage is Vin Diesel's motorbike from the movie Babylon AD.
Size: 400m2




Sleeps: 8 + 4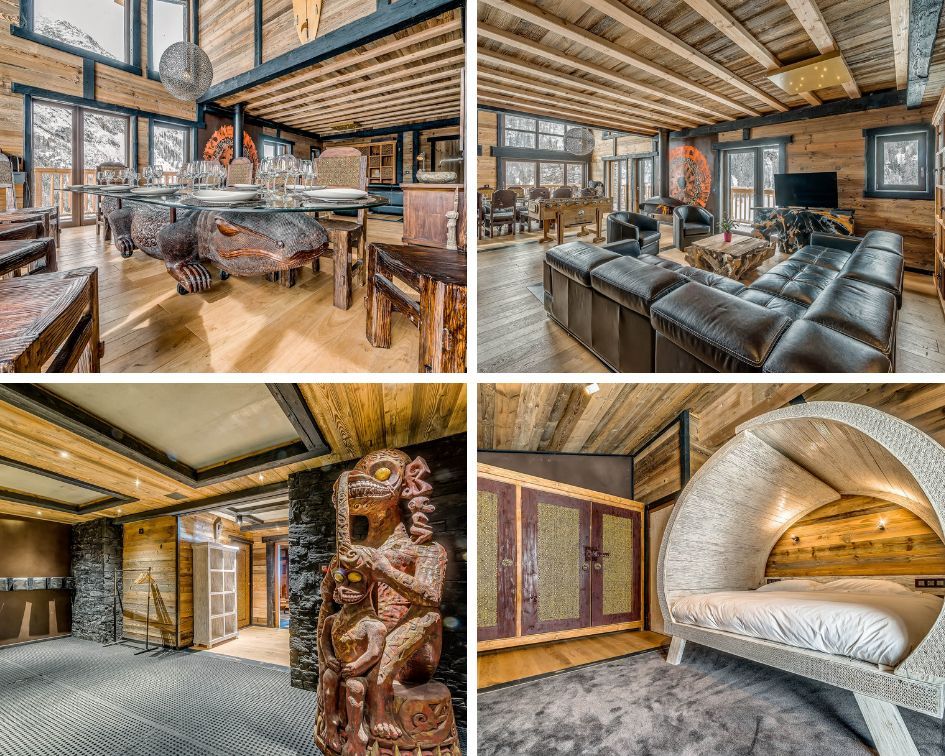 Chalet Ubud was inspired by the spiritual nature of Bali's lost city and this really comes across in the decor and furniture you will find in the chalet. Ornate Asian panelling, handmade beds, stone baths and fascinating statues all add to the atmosphere making this the ultimate chalet for peace and tranquillity.
Size: 400m2




Sleeps: 8 + 4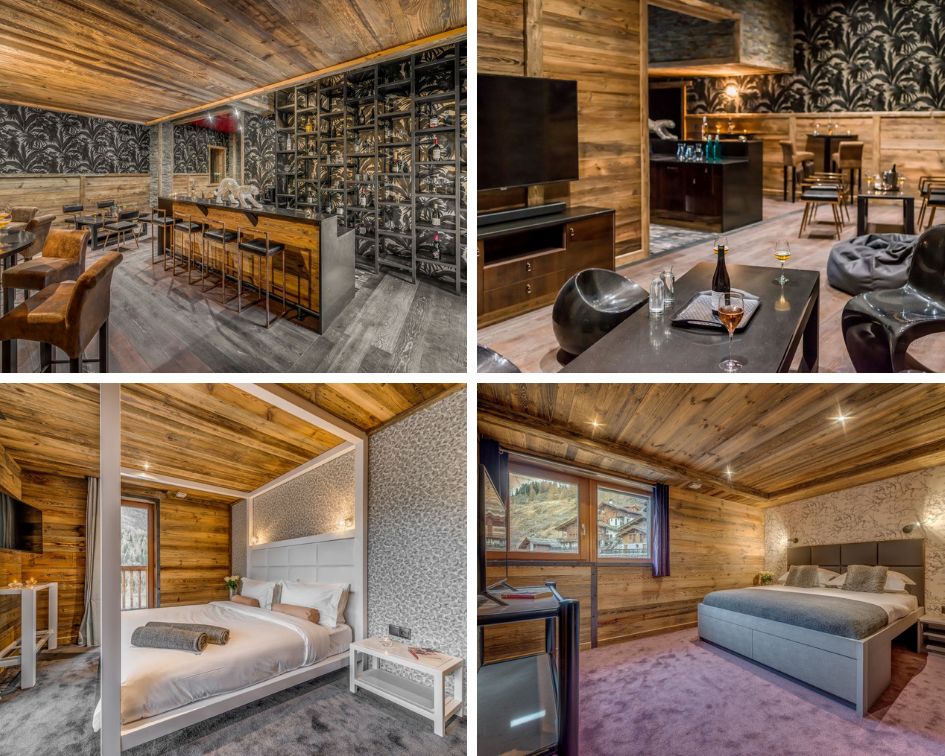 The largest of the 6 residences is Chalet Raven. Spread over 6 floors and featuring its own private bar area, yoga studio and a huge hot tub on the terrace. This residence was designed to embody exclusivity, named after one of the rarest diamonds in the world, The Raven Diamond.
Size: 650m2




Sleeps: 14 + 4
Chalet Banksy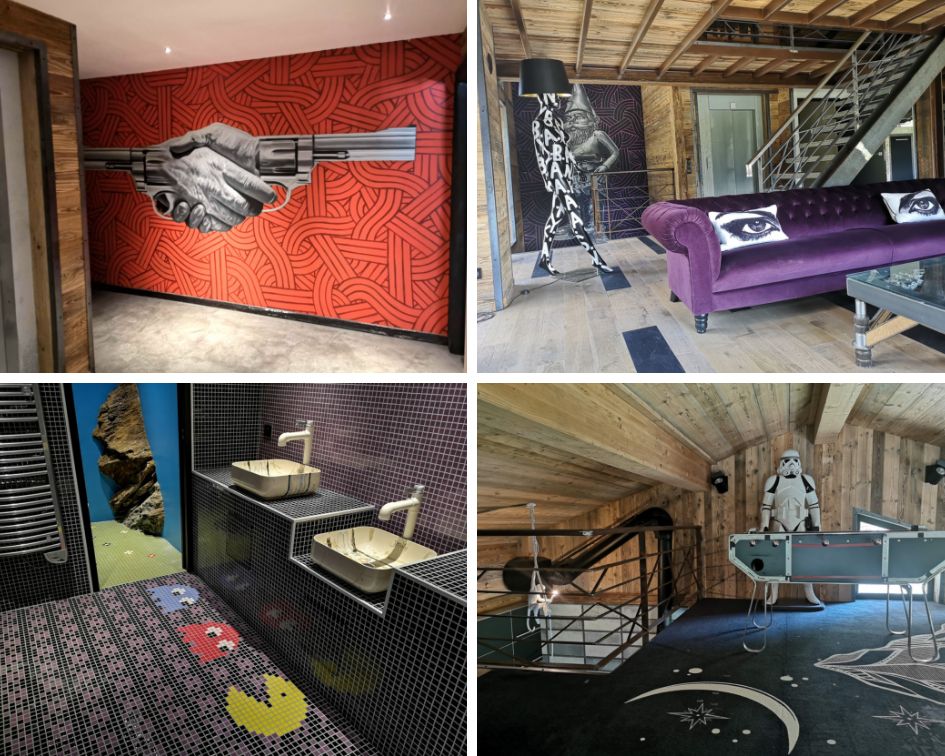 Not to be biased, but my personal favourite Black Diamond Residence has to be Chalet Banksy. It may be the smallest, but it is certainly not short on character and is an exceptional tribute to the legendary street artist it was named after. Banksy style artwork has been commissioned to display throughout making this the ultimate urban mountain retreat. If you are a fan of quirky, fascinating artwork, Chalet Banksy is for you.
Size: 380m2
Sleeps: 8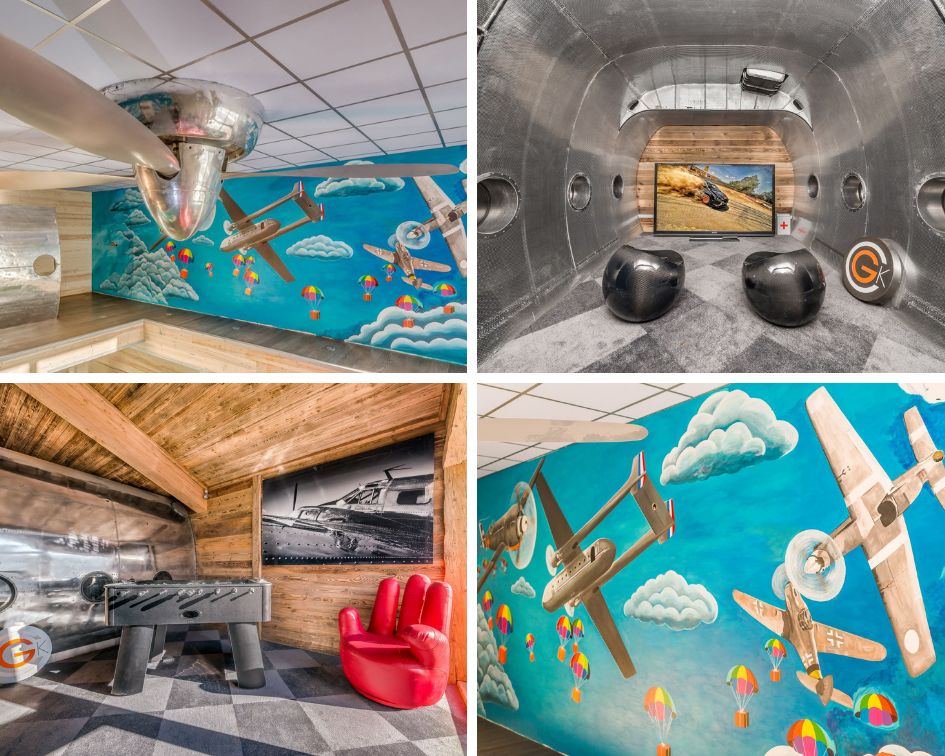 Undoubtedly Guerlain's most ambitious project within Black Diamond, Chalets Tango and Charlie both feature bespoke furniture and accessories made from a Nord Noratlas, a 1950's military aircraft. These chalets are ideal for families with young children as they both feature unbeatable playrooms and children's dormitories, the only worry will be getting them out of the chalet to go skiing! I can personally vouch for the slide in the playroom in Tango, it is fun for adults as well as children!
Tango:         Size: 600m2      Sleeps: 10 + 4
Charlie:       Size: 600m2      Sleeps: 12 + 4
Don't take my word for it, the only way to truly appreciate this fantastic property is to see it for yourself. Give us a call on +44 1202 203650 or send us an email and let us know which residence is your favourite. This is #changingtherules of luxury skiing.