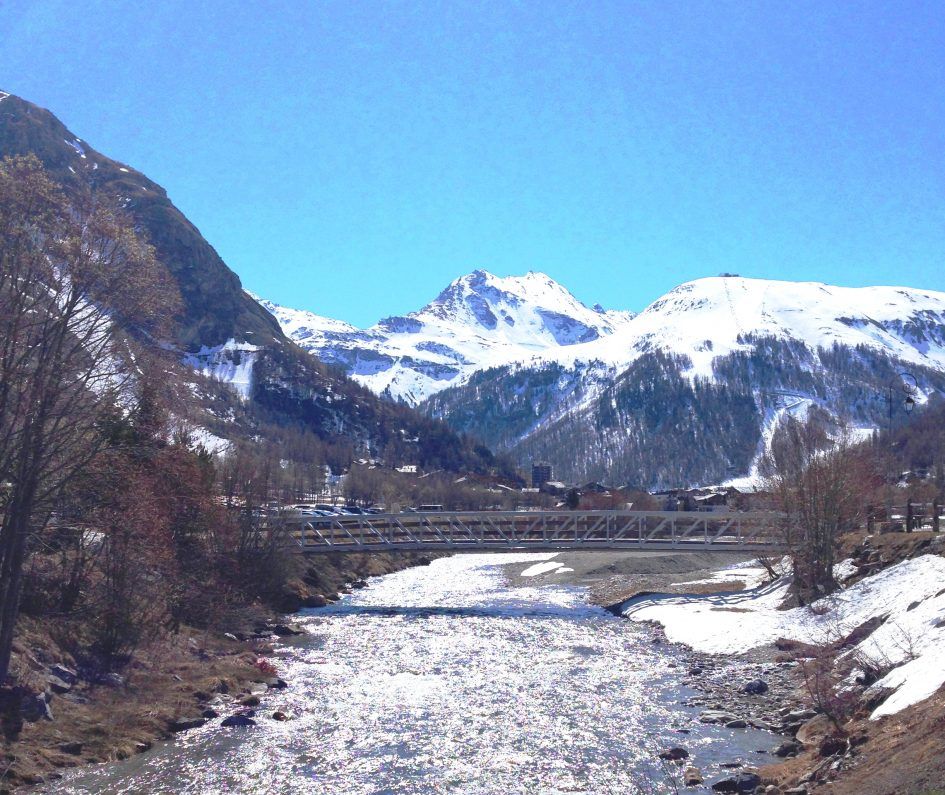 Well it's been a whirlwind tour of Val d'Isere, but I honestly don't think I can come up with one bad thing to say about it! This bustling, high altitude French resort has something for everyone. Whether it be phenomenal skiing on over 300 KM of pistes, apres ski at the infamous La Folie Douce, shopping in the beautiful boutiques and shops, dog sledding, ice skating, or relaxing in one of the many spas, Val d'Isere really does tick all the boxes!
The standard of service through out my whole trip was exceptional and it was kicked off by being presented with my own miniature bottle of champagne as soon as I arrived at Geneva airport. My bags were taken from me and whisked ahead to our private transfer, a very nice and comfortable VW Transporter. The three hour transfer from Geneva to Val d'Isere passed quickly thanks to the champagne, luxury packed lunch we were given and chatting to the other guests I would be staying in Chalet Le Killimanjaro with.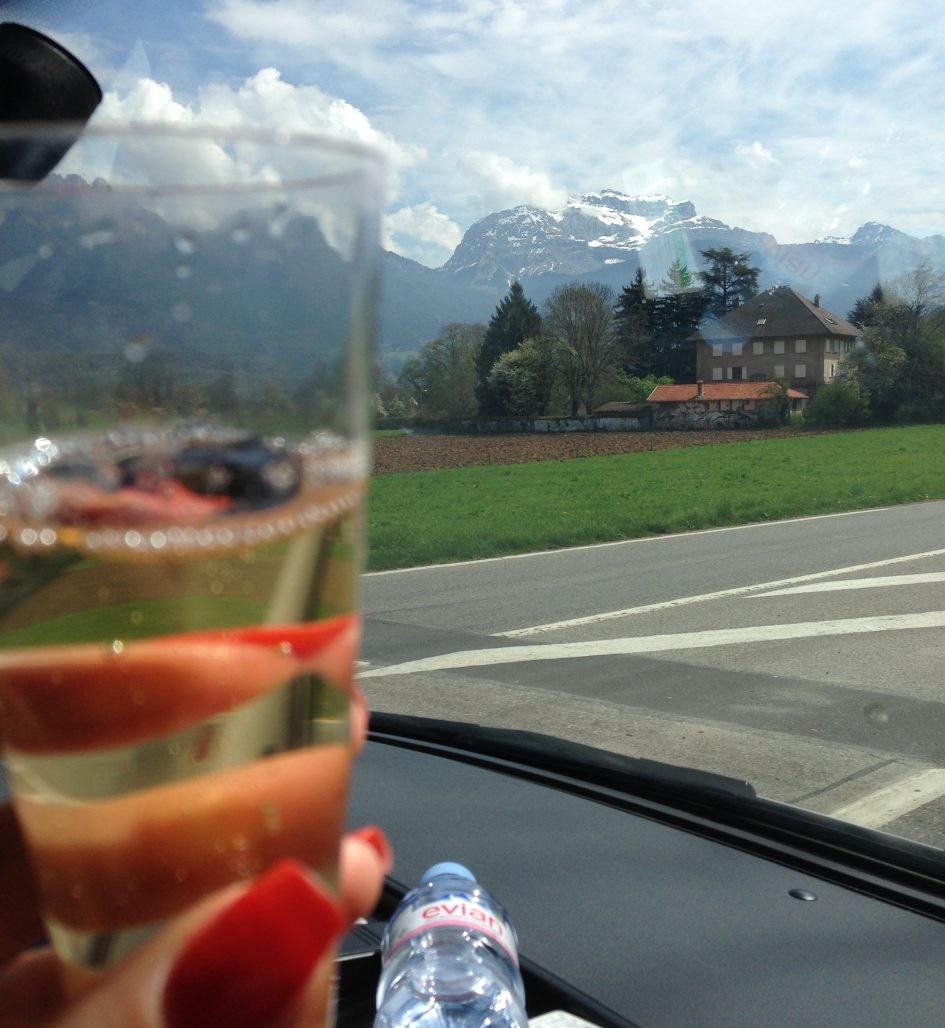 We were welcomed by the chalet staff all standing by the front door ready to greet us. A team consisting of Chalet Manager, Chalet host, Chef and Driver, all of whom were very friendly and attentive. As our bags were taken to our rooms we were presented with yet more champagne and we ran through the chalet welcome and safety information.
Half an hour later and the driver was ready to pick us up and take us to Val d'Isere high street and to Oxygene Ski, where we were to be fitted with our ski (or in my case, snowboard) equipment. Within 15 minutes all 5 of us were prepared for the mountain thanks to the fantastic efficiency of the Oxygene team. We left the equipment in the shop for their personal delivery service to take everything directly to our chalet – no need to carry the equipment ourselves – bliss!
A short stroll down the high street and I met up with the Val d'Isere Tourism Office to have an introduction to the resort. Not only had the very lovely tourism gentleman come in just to meet me on a Sunday, but he then offered to give me a private tour around Val d'Isere, the new town, old town, ski area and the Aqua Leisure Complex and Gym. He also showed me the oldest building in Val d'Isere, located right next to the church, the building has one door on top of the other to ensure they could not get snowed in during the winter months!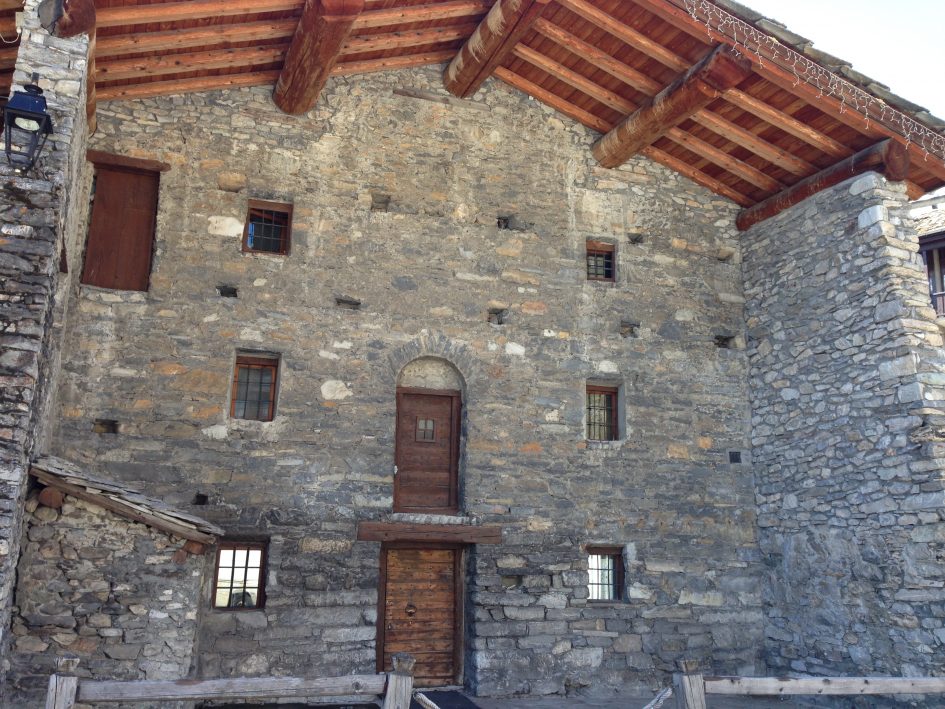 I had to remind myself I was here on business and not pleasure, so it was an early start the next day commencing in the small hamlet of Le Cret and to Chalet Du Cret, a luxurious farmhouse chalet sleeping 12 guests and featuring a sauna, steam room, outdoor hot tub and TV room, just to name a few!
It was then onto the complete opposite… two recently built chalets known as Chalet White Pearl and Chalet Black Pearl, both of a similar layout and both featuring a private indoor swimming pool but with polar opposite interiors, Chalet Black Pearl with a more masculine design and Chalet White Pearl being delicately feminine! A short drive and I was in La Daille, a small suburb of Val d'Isere, to see the incredibly unique Domaine Toit Du Monde, two chalets that can be combined to sleep 16 guests with ski in ski out access and two indoor/outdoor swimming pools that magically appear from underneath a descending floor.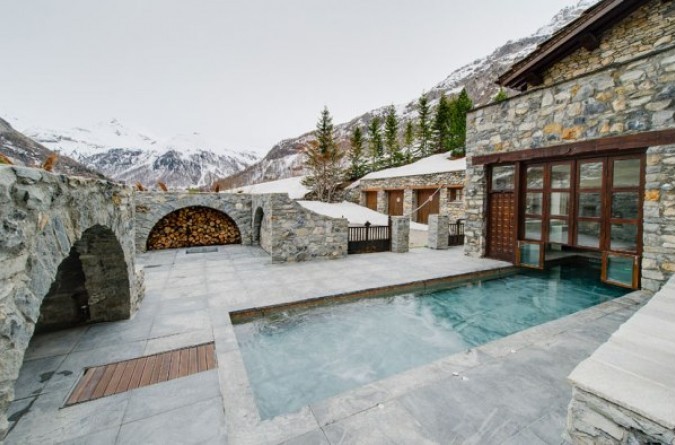 The day was full of chalet viewings, including Club Bellevarde in the afternoon, a 24 person chalet situated directly on the Santons piste. Ideal for large corporate groups and featuring a twin outdoor hot tub and cinema screen. Ski in ski out and just a short walk to the main town centre.
The day flew by so quickly and I was soon back in Chalet Le Kilimanjaro making the most of the gorgeous outdoor terrace, hot tub and of course more well deserved champagne….

7:30 pm saw all 7 of the chalet guests congregate in the luxurious living area of Chalet Le Kilimanjaro for canapés before dinner was served at 8. Every night during my trip I was presented with the most amazing 6 course dinners: miniature canapés, divine starters, exquisite main courses, mouth watering desserts, phenomenal cheese boards and my favourite… luxurious petit fours! The food in the chalet was to die for and every course had a perfectly paired wine to accompany it – full to bursting is an understatement, but I could not resist a single course.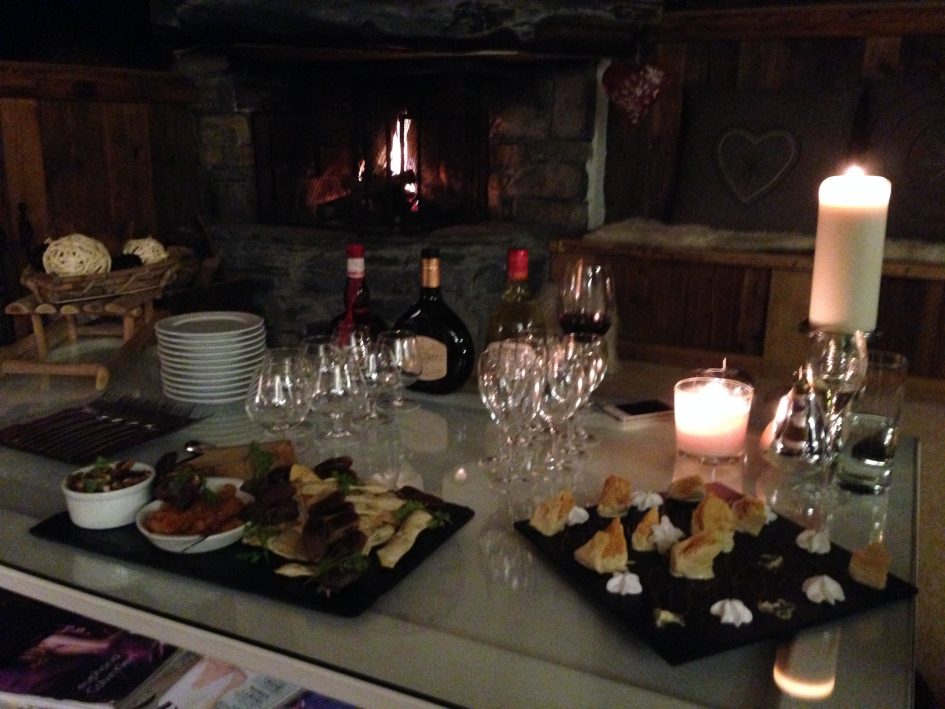 Monday evenings' festivities continued by exploring some of the top bars in Val d'Isere. Conscious I only had 3 more nights left in resort, I felt I needed to make the most of the evening. First stop was The Blue Note, a chilled bar serving up all your favourite drinks to a mixture of jazz and funk. One drink later and it was on to Le Petit Danois, a bar come restaurant with pool tables – I indulged in a game and managed to beat Le Petit Danois' head chef.. much to his surprise! Not wanting to linger after my win (and my embarrassing victory dance), we had heard of a seasonaires party taking place in the Saloon Bar, it was packed with a fantastic atmosphere. Feeling like I had one more left in me, we made the short walk over to the infamous Dicks Tea Bar, definitely more a nightclub than a Tea Bar! Knowing it was a day on the mountain tomorrow, it was time to head back to the chalet, the drivers came and picked us up and ensured we were returned to the chalet safely.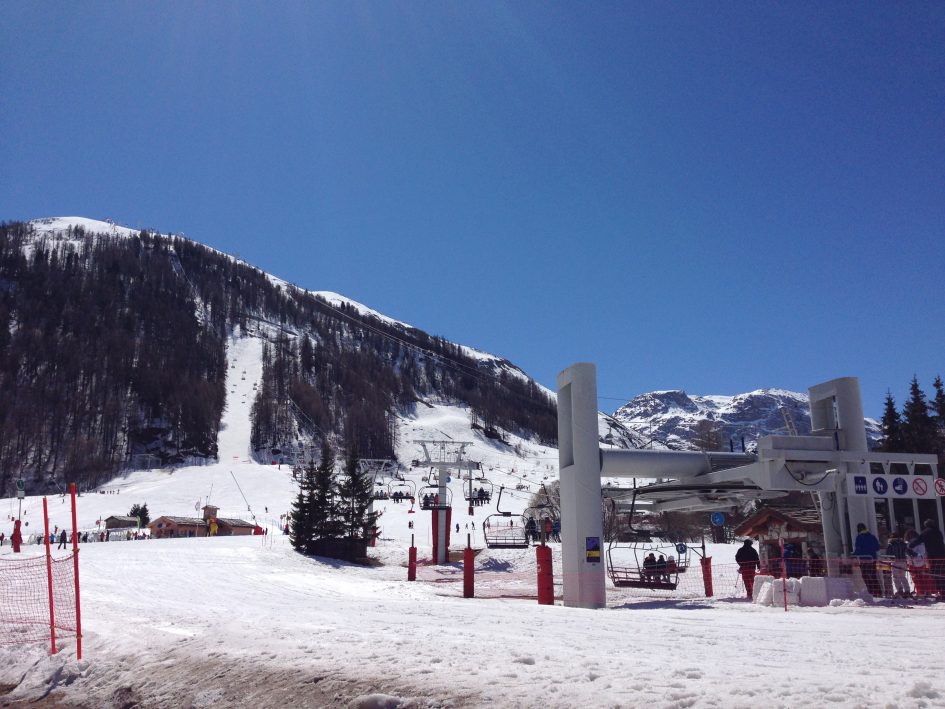 The mountains were calling and I could not have been more excited. I was met at the chalet bright and early to sneak in a viewing at Chalet La Tene, a modern and stylish chalet with ski in/ski out access. Well, we had to take full advantage of ski out, so we booted up and jumped straight onto the Santons Piste and skied/rode down to the Olympique cable car. This shot us up to the Rocher De Bellevarde ski area, and the most amazing views! From here we did a few runs and tried to cover as much of the Val d'Isere, Le Fornet and Tignes ski area as we possibly could in a morning! Rather fast paced and a little bit gruelling, I was starting to regret my little bar tour the night before…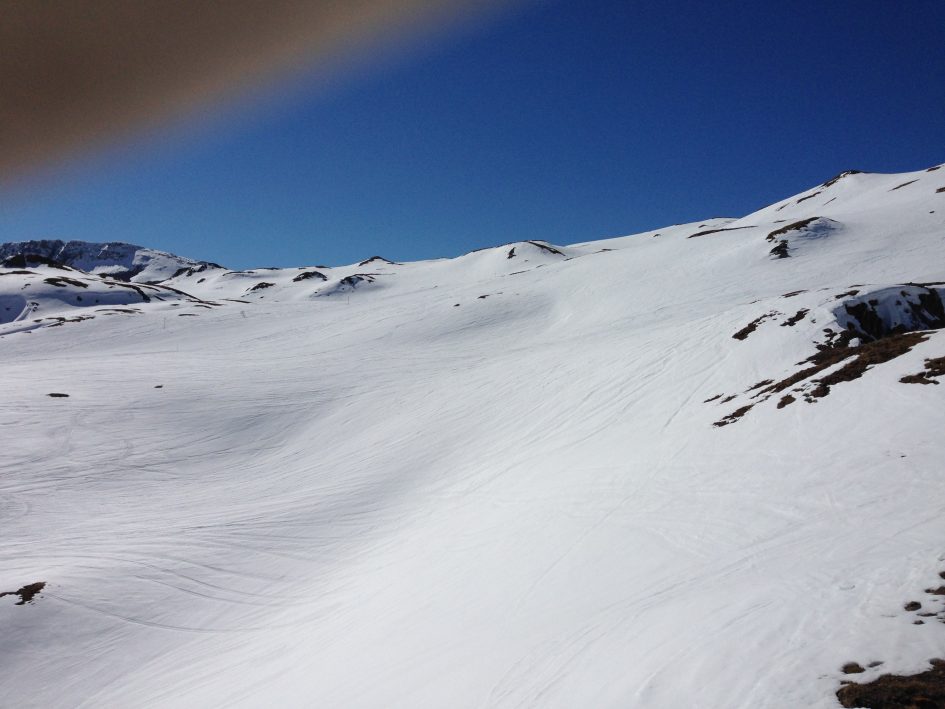 Hooray! Lunch time at last. I needed refuelling and perhaps a little hair of the dog. We headed down into La Daille and to a lovely restaurant with the perfect sun trap of an outdoor terrace, Restaurant Les Tufs. This restaurant is great for people watching and enjoying the sunshine and it is in a fantastic location to the slopes. A bottle of wine (between 2 of us) and a huge burger later it was time to get back out there.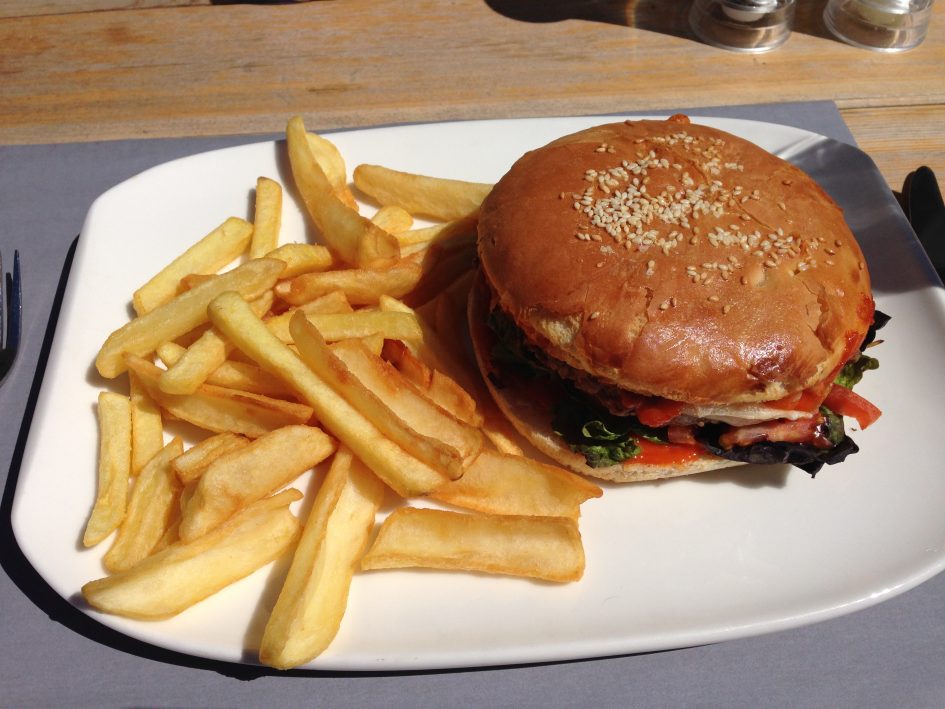 Towards the end of the day, a quick pit stop was required in La Folie Douce, a renowned apres ski bar situated at the top of La Daille chair lift. It's easy to see how this bar has gained such a fantastic reputation, with a large outdoor terrace area, live bands and DJ's. The place consumes you, making it very easy to lose track of time and very difficult to leave! You just have to try and remember that you need to ski/ride back down to the resort….
A more chilled evening was called for and I opted to make the most of the chalet hospitality and you guessed it… more champagne!
My final day had arrived, I couldn't believe it. I was out of the chalet before any of the others had even ventured out of their rooms. Another busy day of chalet viewings, but today was all about the Ultimate Luxury Chalets, starting with Chalet Husky, a very art deco, modern chalet with its own rock climbing wall! The chalet sleeps up to 14 guests all in very unique en-suite bedrooms.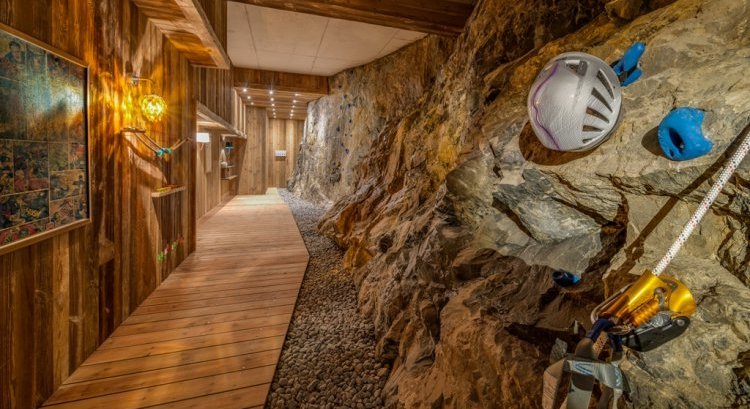 My day continued with viewings of Chalet Alice, Chalet Solyneou, Chalet Le Rocher and possibly my favourite chalet, Chalet Marco Polo. The chalet has won Best Chalet in France for the last two years running and it was easy to see why. The fine detail throughout the chalet has been carefully thought about and immaculately presented. Sleeping 12 guests in 6 exquisite, individually designed bedrooms, the chalet is even equipped with its own in house spa and relaxation area. The pool was the pinnacle point for me, completely laden with gold leafed tiles. My jaw literally dropped to the floor as I walked into the pool area.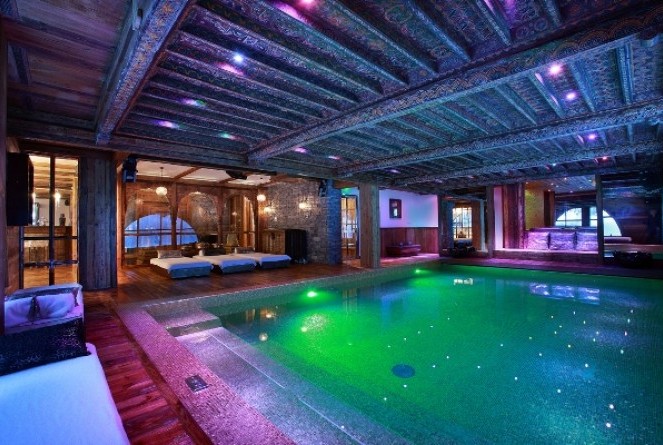 Work (if you can call it that) done for the day, I met up with some of my chalet companions for some apres ski in Cocorico, a bar set to rival La Folie Douce, but in a slightly more accessible position for anyone who has not been on the mountain. Located at the very bottom of the Santons piste in the Place du Rond Point des Pistes, there was a large mix of skiers, boarders and non mountain goers, all there for one reason, the fantastic live music and apres ski. The sun was shining, the band was playing and the drinks were flowing. I even bumped into someone from back home who now lives in Meribel but was visiting Val d'Isere for a stag do… small world!

Losing track of time, we made a mad dash back to the chalet for a quick shower and my final dinner. For the first time in my life I tried frogs legs! I'm not sure if I was egged on by the champagne or if sheer curiosity got the better of me, nevertheless I did try them and they weren't as unpleasant as I had anticipated. By this stage all the guests in the chalet were more acquainted and conversation was becoming far more relaxed, which made for an excellent last dinner.
Very early doors the next day ready for my trip back to the Geneva and the UK, in a shared transfer with the highly recommended Snow Drone Transfers, in yet another immaculate VW Transporter.
I have absolutely no doubt that I will return to Val d'Isere with everything it has to offer, its history and its perfect mix of old school resort with modern day living.
If you have any questions about Val d'Isere, Ski In Luxury would love to hear from you. You can send us an e-mail or call us on 0044 (0)1202 203650.
Find us on Facebook and follow us on Twitter.