When you think of skiing you think of clipping in, sitting on an ascending chairlift to then style your way down the slopes, right? Downhill skiing is the most common form of skiing of course, which became popular and experienced significant growth in the mid-1900's. However, downhill skiing was not the first form of the winter sport requiring two wooden planks strapped to your feet and a poles in each hand, it was indeed cross-country skiing (often referred to as XC skiing). As one of the fastest-growing winter sports, much has changed since the use of wooden planks. New cross-country technologies and styles transform the industry in almost every decade, but the basics haven't changed in almost two thousand years.
You can find cross-country routes in pretty much every ski resort, however there are some specific destinations that hold a reputation for offering the best kind of scenic trails. We spoke with Alex at Norwiski for his expert advice on the sport and the best ski resorts for cross-country skiing….
Introduction to Cross-Country Skiing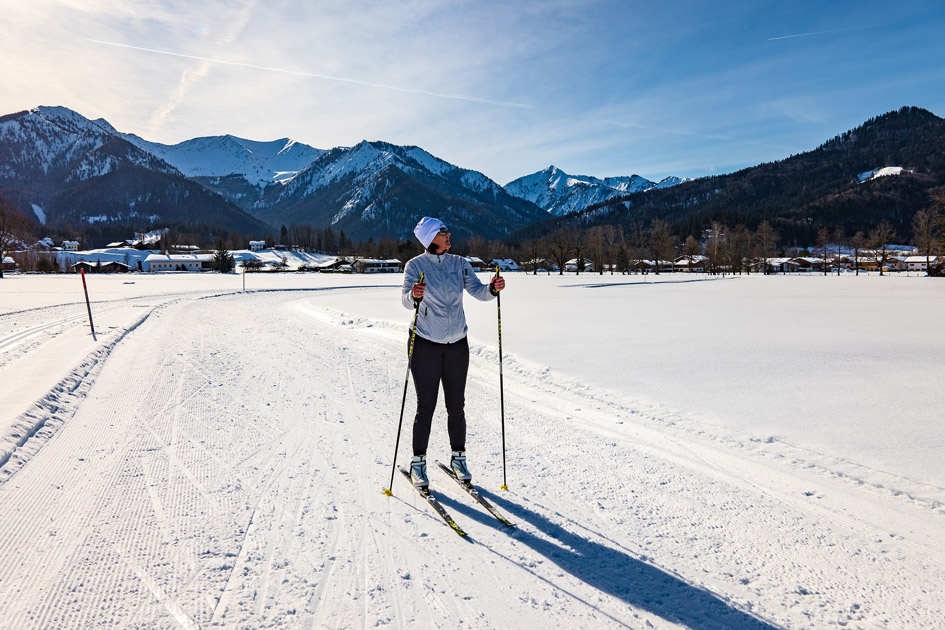 Cross-country skiing, also known as Nordic skiing or langlauf track skiing, is usually practiced on flat ground along designated snowy tracks hidden in the wonders of ski resorts. Compared to downhill skiing, cross-country skiers are able not only to descend from a hill, but to get back up there by themselves.
It can be performed in a classic style which involves a striding motion along the existing parallel tracks; or in skate style which is similar to the basic technique of ice skating and is often adopted in cross-country racing. The sport has originated from Scandinavia where the locals would use skis for simply getting from one point to another as well as to collect wood for the fire or chase game. Now, it is a popular activity for winter sports lovers of all ages, since it is not only a great way to explore the hidden areas within and around a ski resort, but as a sport that makes all your muscles work simultaneously, it is a great way to keep both your body and mind healthy and young.
As with almost every sport, it is never too early to start cross-country skiing. However, it's good to know that many elderly take up cross-country even without having any skiing experience. Why? It is well-known to be one of the most exhaustive sports, but it's generally quick to learn and its movements are much more natural compared to downhill skiing.
Cross-country skiing is fun too! With the help of specially designed skis and the appropriate technique you will be able to make your way up on hills, which is a very rewarding experience. And then comes the challenge: skiing downhill on your skinny skis.
Resorts for Cross-Country Skiing
You can find cross-country skiing trails pretty much everywhere where there is regular snow in the winter. For those who won't be satisfied with the frontier conditions of some backcountry trails, they should head to one of the many ski resorts which not only have networks of groomed cross-country ski trails, but provide the comfort and services that can make or break one's much-awaited cross-country skiing holiday.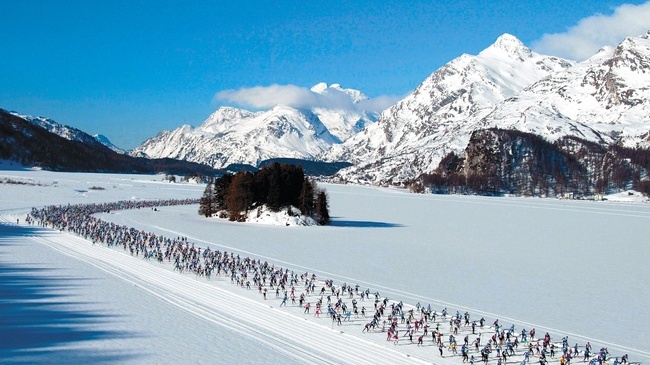 The Engadin Valley is a popular cross-country ski destination with 220 km of well-groomed trails set within the beautiful and diverse mountain scenery including the Graubünden peaked region with one popular trail in particular stretching over three lakes! And if you're not afraid of the dark, you can try out night-time cross-country along a 9.5 km trail.
The luxurious St Moritz is the birthplace of winter sports and along with two winter games, it remains to be a home of competition with the Engadin Ski Marathon; the resorts largest sporting event involving over 13,000 cross-country ski enthusiasts each attempting to cover a 42 kilometre distance from Maloja to S-Chanf.
There are lots of luxury chalets for cross country skiing in St Moritz. Check our portfolio for some inspiration!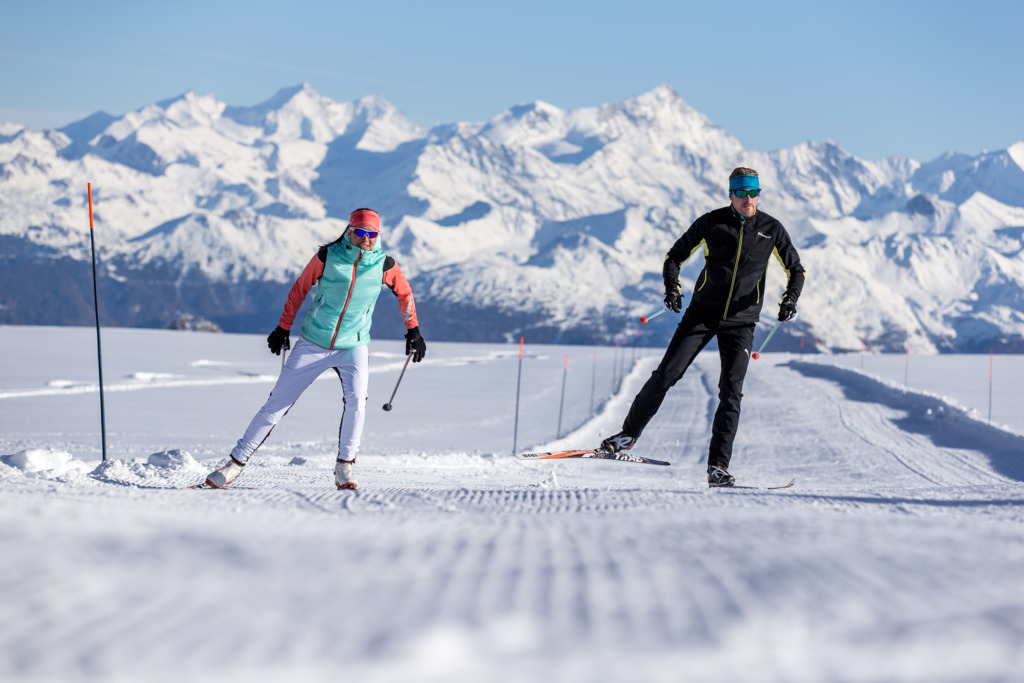 Guaranteed beautiful views of the Bernese Oberland, Gstaad offers a diverse range of cross-country ski trails for all skating and traditional cross-country abilities. The famous Glacier 3000 offers an enjoyable track that can be skied from April through to December where you can appreciate the views of Mont Blanc and the Matterhorn. It is arguably the most beautiful destination for cross-country skiing.
If you are in Gstaad, you shouldn't miss the Gstaad – Feutersoey – Gsteig trail that truly opens up the area near and far. From gentle to moderate slopes, it's an ideal for any classic or skating cross-country skier who'd effortlessly stroll through the magical landscape.
The Panorama Suite is a fantastic base if you are looking for a luxury cross country ski holiday in Gstaad.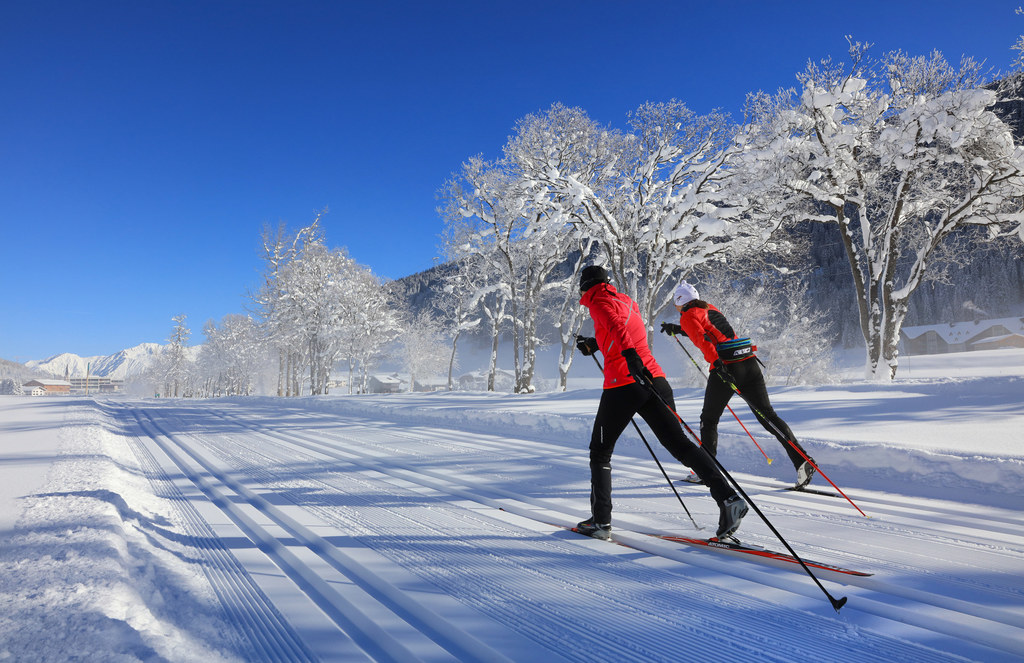 Cross-country skiing in Davos and Klosters encompasses over 175 km of well-prepared skating and classic trails including approximately 5 km of night trails. The season starts as early as October, making it one of the longest winter seasons in the world. As a result, the Norweigian and Russian cross-country ski teams come to Davos and Klosters for training.
Both towns offer gentle trails for warming up, as well as the steep, merciless run that is the Cologna Stutz. You can find yourself trailing along the sides of the romantic valley or even trying to set a personal best on the FIS World Cup racing trail where the most elite complete every year.
For a change, in Klosters you should head out to the Baretschuhti, famous for its dense forest, and try to catch the charming view of Lake Davos in sparkling sunshine. There are also several connections to trails of nearby towns, so the variety should make you able to discover a new route each and every day.
We have a great selection of luxury chalets in Klosters for cross country skiing, as well as the impressive Tivoli Lodge in Davos.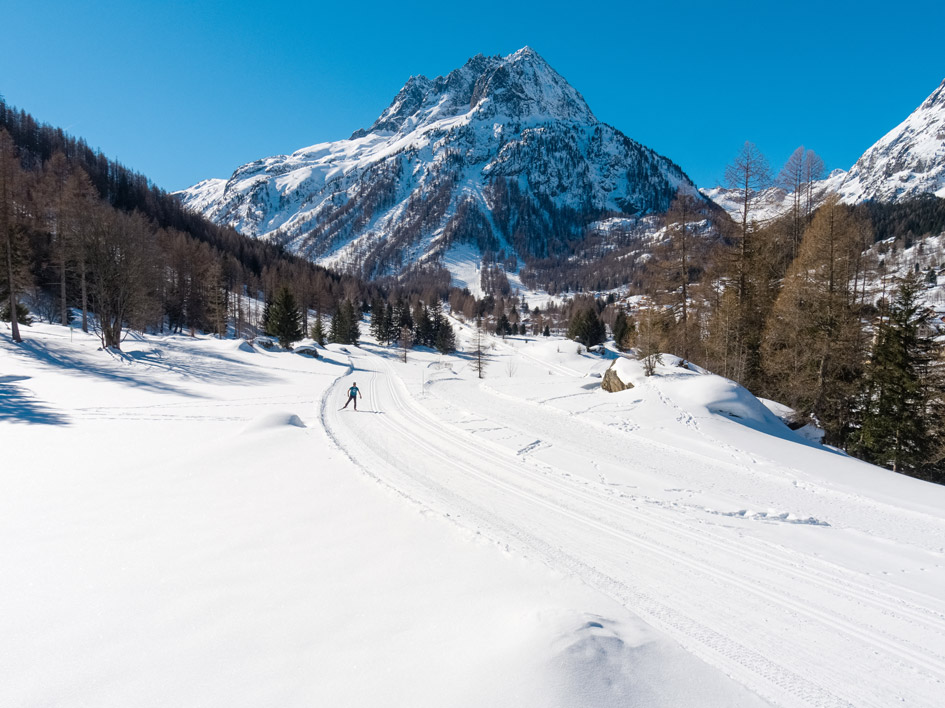 The Chamonix Valley, known for its endless activity, of course accommodates the cross-country enthusiasts. With over 50 km of Nordic trails across Vallorcine, Les Houches, Chamonix and Argentiere, many will guarantee views of the famous Mont Blanc or Aiguille du Midi with a choice of skating or classic routes.
One exceptional trail we'd definitely recommend that is situated at around 1,850 m: the trails of Prairon. You can only access these untouched slopes using the Prairon gondola. It offers two groomed but untracked trails, and a 360° panoramic vista over snow fields and magical forests.
If you are looking for a luxury cross country ski holiday in Chamonix, get in touch and we will provide you with a number of suitable luxury chalets.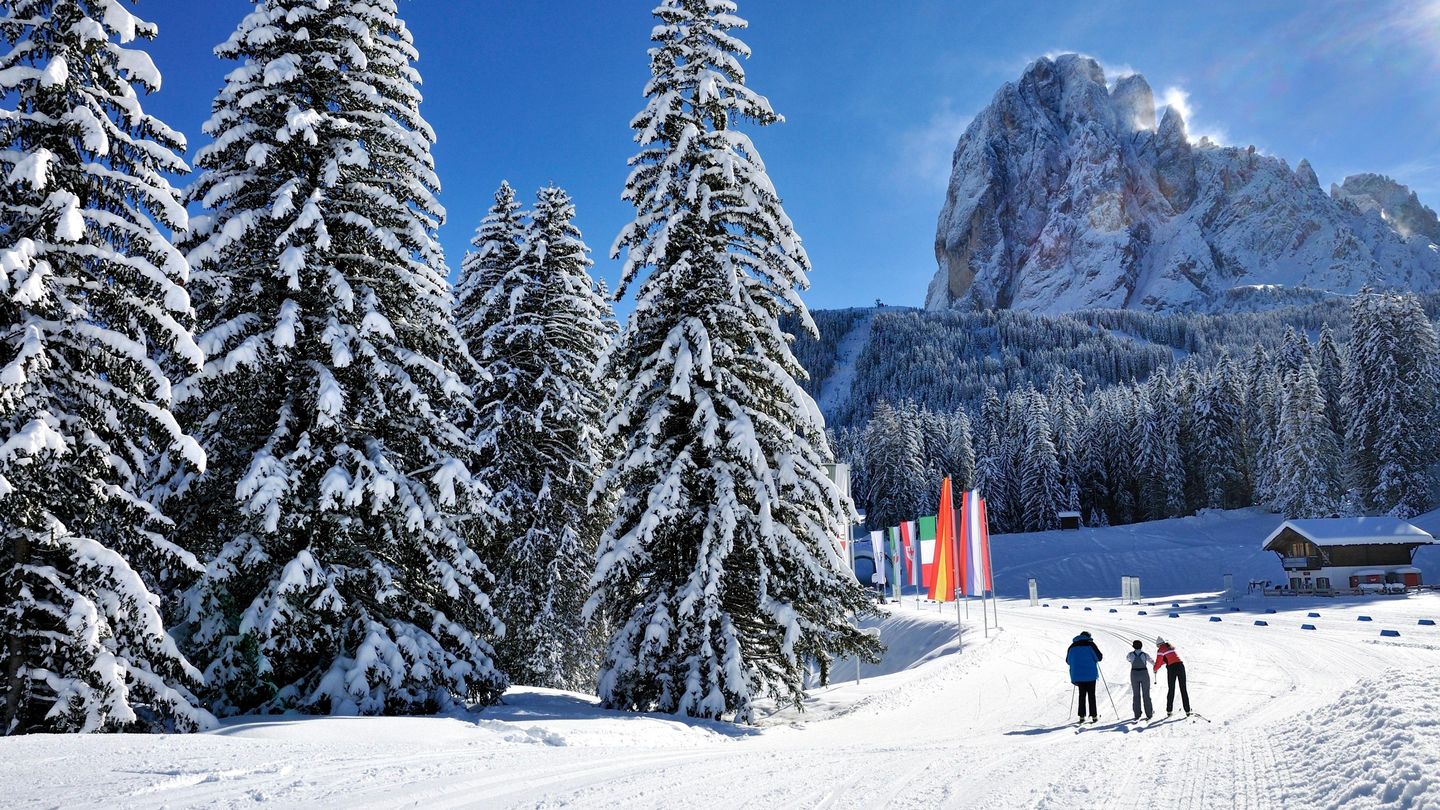 The cross-country skiing paradise of the Dolomites. Selva Val Gardena, often referred to as simply Selva, is a fascinating village still reminiscent of its Austrian history but with the flick of Italian spirit. The Vallunga valley of Selva Gardena has more than 133 kilometres of groomed and well-kept cross-country ski trails for all levels. As it is part of the gorgeous Natural Park Puez-Odle, the natural scenery is something you can count on.
With a 20 minutes short walk from the Selva parish church, you will find both the valley entrance and several services for cross-country skiers: a storage facility, and ski hire center, and if you haven't done any cross-country yet the school should be your first stop where instructors will help you to acquire the basics, and then you could get on to one of the several green and blue trails designed to be short and undemanding.
The more experienced will find more challenge in the race-level red and the most challenging black trail, the latter which offers an altitude difference of 210 m. But the strenuous efforts are worth it: following the 10 kilometres long trail through the ascending valley, you will end up at the field of Pra da Rì, with the most stunning view of the Dolomite mountains – it's something you definitely don't want to miss out on.
Selva Val Gardena is a special place for cross-country ski lovers. It combines the best of South Tyrol, its one-of-a-kind scenery and unparalleled hospitality with everything a cross-country skier needs and loves – and there's even a biathlon stadium, where you can watch the true professionals.
If we've captured your interest in Selva Val Gardena, then take a look at our luxury chalets in Selva Val Gardena for cross-country skiing.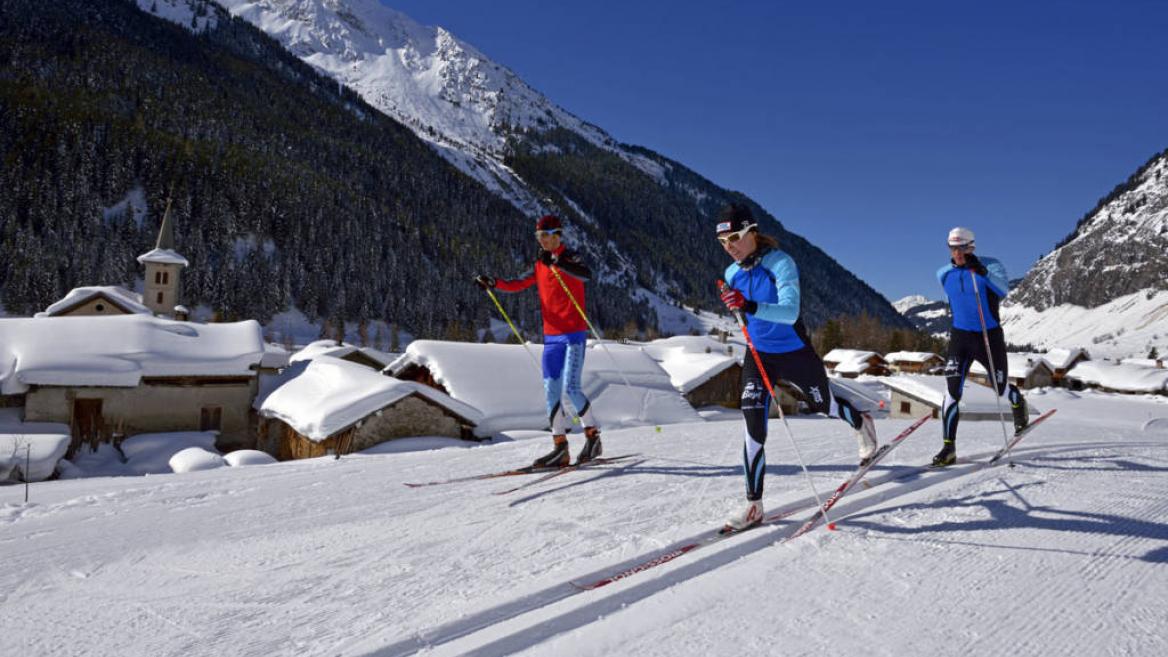 La Plagne naturally offers plenty of opportunities for cross-country skiers as well with 186 kilometres of groomed trails. As you'd expect, you'll find trails for every level and style, but there is a striking contrast between some of the trails. Some of them lead you through magnificent forests and abandoned villages, while others feature views of Mont Blanc itself.
Being spread across altitudes of 3,250 and 1,250 meters, the ski area offers large verticality and most of the cross-country trails are near the high-altitude villages, such as around Plagne Montalbert and Montchavin Les Coches.
La Plagne regularly delivers one of the best snow conditions for cross-country skiing in France, having an average snow depth of 255 cm at summit and 26 cm at base elevation. If you fancy this classic ski destination for cross-country skiing, browse our collection of luxury ski chalets in La Plagne for somewhere to rest and recharge.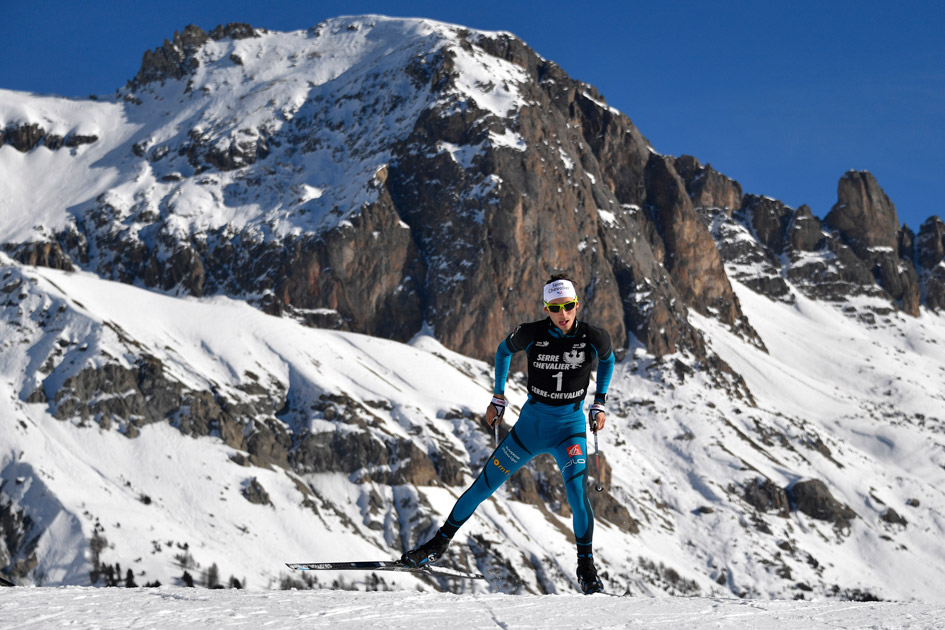 Having 45 kilometres of cross-country trails, Serre Chevalier is not the typical choice for cross-country skiers in France. However, the available Nordic area provides more than enough variety both in scenery and style. The 45 kilometres of trails include 10 kilometres just for skating, as well as a system of eight interconnecting loops leading through Guisane Valley, that are divided to beginner and advanced trails  as well as family trails with picnic and dog-friendly areas.
One of the distinguishing features of Serre Chevalier is its wooded slopes ranging from its 2,150 m treeline, to the ski area's lowest altitude at 1,200 m. Near Montier Les Bains, the red La Chalp trail leads through a 13 kilometre forest route that is truly unparalleled with the ancient aqueduct of Pont des Granges. This area offers many surprises for cross-country skiers who are curious enough, from its fairy-tale hamlets, to some of its extreme terrain features. Plus if you wish to venture a little farther from the centre, there will be an even larger choice of cross-country ski trails.
The town of Briançon, and the villages of Villeneuve, Le Monêtier-les-Bains or Chantemerle offer several chalets near and far, but the historic village of La Salle les Alpes located at the very centre of the resort is one of the best situated. Take a look at our luxury ski chalets for your next cross country ski holiday in Serre Chevalier.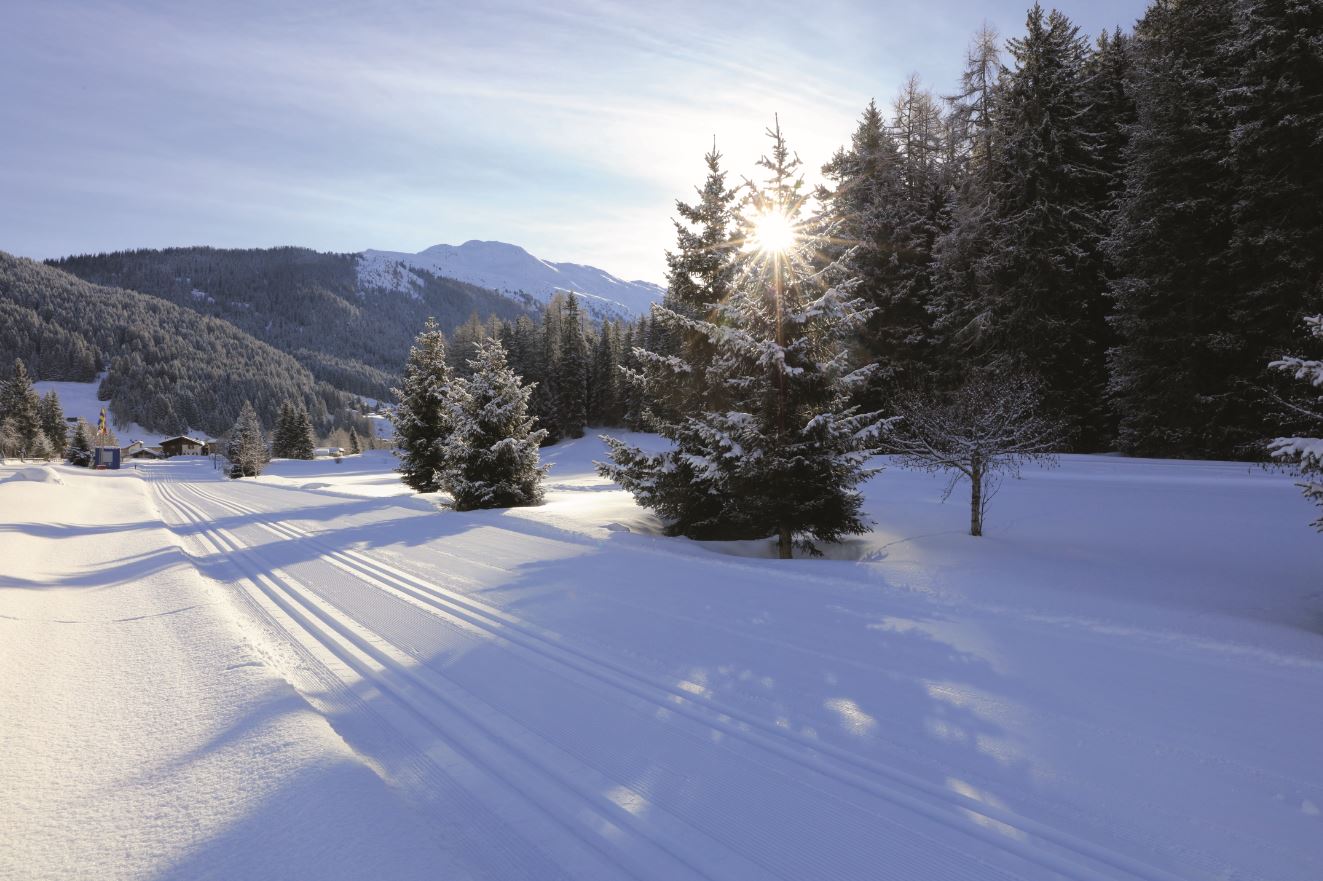 Where many resorts offer cross-country ski trails in the depths of mountains, the above detailed destinations are Norwiski's top resorts that are most committed to the sport and offer most spectacular trails and services for cross-country skiers. Thank you to Alex for his expert knowledge. If you you need to find out more about cross-country skiing, discover tips and tricks or read the latest from the industry, check out the Norwiski Cross-Country Skiing Guides.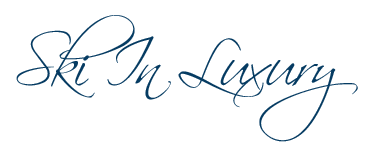 If you fancy giving cross-country skiing a go, or want to discover new cross-country trails for your next trip, you can send an email or call us on +44 1202 203650 and we can assist in the search for your next luxury cross-country ski holiday.