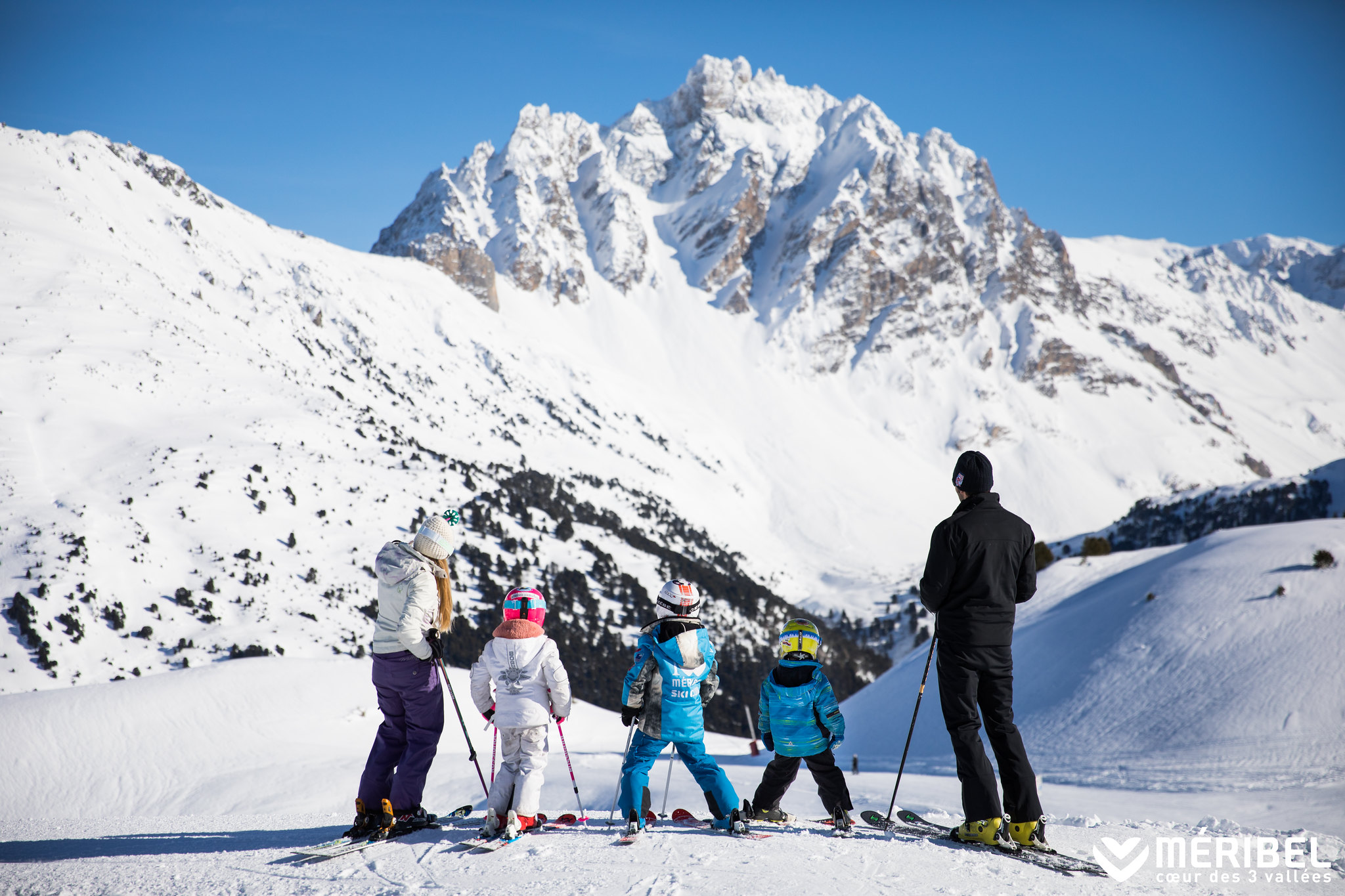 So, you're taking the next big step as a family and venturing to the mountains for your first family ski trip. Amazing, you're going to love it! However, it's not as easy as booking your summer holiday, where anywhere with a pool and slides would keep the kids happy – there are 'tots' to think about for a luxury family ski holiday. Fortunately for you, this is where we step up to give you a helping hand with the organisation of your winter ski holiday.
Before you book the best holiday ever (we may be slightly biased!), let's run through our top tips on planning your family ski holiday of a lifetime. This guide will cover all the essentials for beginner skiers and what you need to know before you book your first family ski trip.
What to look out for

It's important to pick a family ski resort that offers plenty of options to suit your family's skiing ability. If you are beginner skiers, you will be looking for the best ski resorts for beginners and therefore need lots of green and nursery slopes for you and the kids to master your skills. For a pain-free journey to and from the slopes, it may best suit you to pick a ski-in, ski-out ski chalet for beginners, or accommodation near a ski lift which takes you to the ski schools. Many of our chalets offer a driver service and if this service is included, your journey can also be hassle free. The driver will load up the van for you, ready to drop you right outside your chosen lift to start your day, then pick you up at the end and bring you back to the comfort of your chalet.
Make sure there are plenty of good ski schools available in the resort. This isn't a DIY job, Dad! Learning to ski can be tricky and sometimes dangerous, so doing your research and choosing a professional instructor is a must – try asking your friends for recommendations, read reviews online or of course get in touch and we'll be happy to assist. For kids, the ski schools make learning to ski extremely fun, testing their agility using games and obstacles to learn new skills. This is important to keep the kids excited with a desire to keep learning. Be sure to consider private lessons too, one-to-one instruction could be more beneficial in building your confidence on the snow. Here at Ski In Luxury our ski instructor partner is SkiBro. They provide an unbiased lesson finding service throughout the Alps; connecting you with the best ski instructors for your requirements.  Feel free to ask us more about their service and arranging lessons for your first family ski trip.
Down days; what else is there to do?

Many resorts have a lot more to offer than just skiing, so conduct some research and figure out what other activities are available. The children will never get bored and there's a huge number of memorable experiences to discover. For instance, great days off the slopes could be filled with ice skating, sledging, thermal baths, spa days, dog sledging, crazy golf and much more.
If the weather isn't great or the kids need a day out of their ski boots, a popular down day activity is to head to the water park or the local swimming pool, most resorts have these facilities. Courchevel Village is a great example of this, and is home to Aquamotion. This huge swimming pool complex has an array of outdoor and indoor pools, surf machines and slides. It's a great way to keep yourself and the kids amused during your holiday.
What to consider when picking the perfect luxury family ski chalet

The accommodation can make or break a holiday, but you can rest assured, with our extensive portfolio and expert Ski Specialists, we will match you with some of the best luxury family ski chalets for your first time trip. When it comes to choosing your chalet accommodation, the location is key. Consider good connections to the centre of town, as well as being close to your ski school. Eliminating the hassle of carrying your ski equipment too far is priceless, especially when you're carrying the little ones' too!
You're on holiday, so no need to worry about cooking each night – get yourself into a fully catered luxury chalet where your alpine chef will cook up delicious meals that suit everyone's dietary requirements.
Now we have gone through some basics in booking your perfect first family ski trip, let's look at a few of our favourite first-time family ski holiday destinations in France.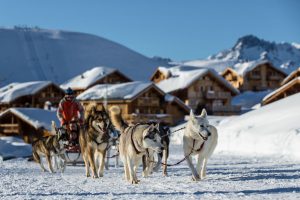 Alpe d'Huez is one of the oldest ski resorts in France and has been growing ever since the first lift opened in 1930. What makes this resort perfect for a young family skiing for the first time is its huge array of nursery slopes. The majority of green and nursery slopes are located extremely close to the village centre, which is ideal. Altogether, there are 41 green and 34 blue pistes to explore once you have mastered the basics.
There's also a good variety of ski schools to choose from within the resort. With plenty of English-speaking instructors, you won't struggle to pick up the skills needed to enjoy your holiday. Children's lessons are determined by their age and ability, whilst ability and interests determine adult lessons.
In the event of poor weather, which is unlikely with the resort's excellent sunshine record, there is plenty of fun to be had with the kids. You can make use of the Olympic sized ice-skating ring, which is magical at any time of day. If you want to soak up the scenery whilst the kids have a blast, there is no better way to do so than cruising on a husky sled ride or a skidoo operating from the top end of the altiport (at the end of the trail to the Sarenne gorge). The traditional husky rides take place every afternoon and are a must to make your first family ski holiday extra special.
The abundance of luxury chalets in the resort that offer ski-in, ski-out access onto easy greens and nursery slopes, definitely makes this resort a good choice for your first family ski trip.
My top pick for a family friendly ski chalet in Alpe d'Huez is Chalet Chazen. In an idyllic ski-in, ski-out location, this stunning apartment in Alpe d'Huez presents the perfect base for a first family ski trip. In your downtime, you can spend time on your private balcony, admiring the stunning views with a glass of your favourite, or you can head to the next door hotel with free-access to their spa and entertainment facilities and well as their 4 restaurants.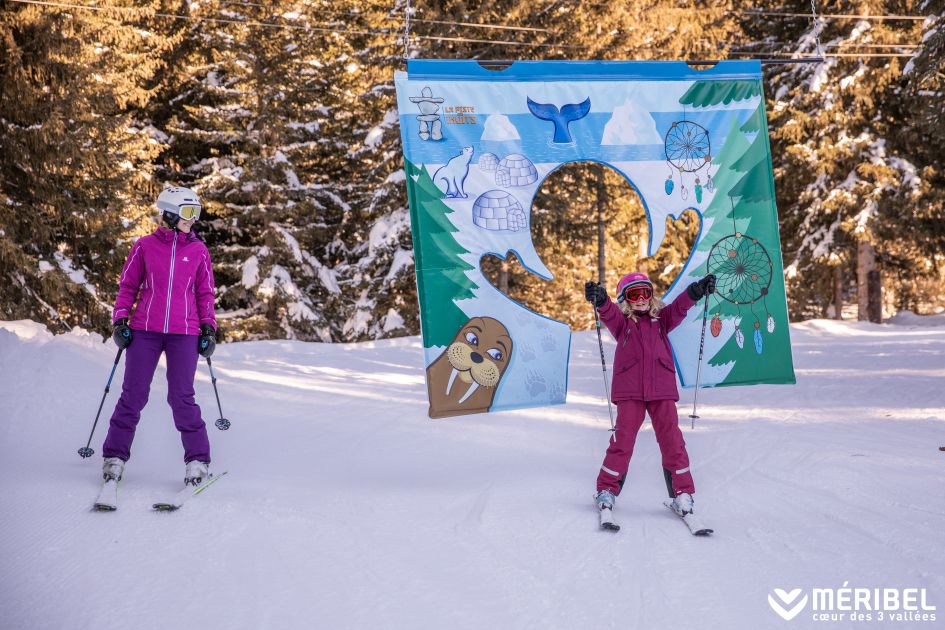 Situated in the famous 3 Valleys, Meribel is a top contender for the perfect first-time family ski trip. Meribel is nestled in between the neighbouring resorts of Val Thorens, St Martin de Belleville & Courchevel, making it the perfect access point for the array of family friendly pistes on offer in the 3 Valleys circuit.
For children, there are plenty of beginner friendly areas for them to have fun on and learn the basics. The kids will love the 'Moon Wild'; is a themed piste with life-sized animal models hidden in the woods – there is also a quiz about the forest animals to add even more excitement to the day. You will find this by the bottom of the 'Blanchot piste'.
There are a large variety of beautiful chalets available, all a snowball's throw away from the best family ski runs. With the picturesque scenery and abundance of activities on offer, Meribel creates the perfect package for your luxury family ski holiday in the Alps.
My top pick for a family friendly ski chalet in Meribel is Mont Tremblant. There is plenty for all the family at this spectacular luxury chalet in Meribel, including a swimming pool, cinema room, games console, pool table, table football and a playroom. You can enjoy not having to lift a finger whilst the chalet team look after you, giving you that all-important quality family time together.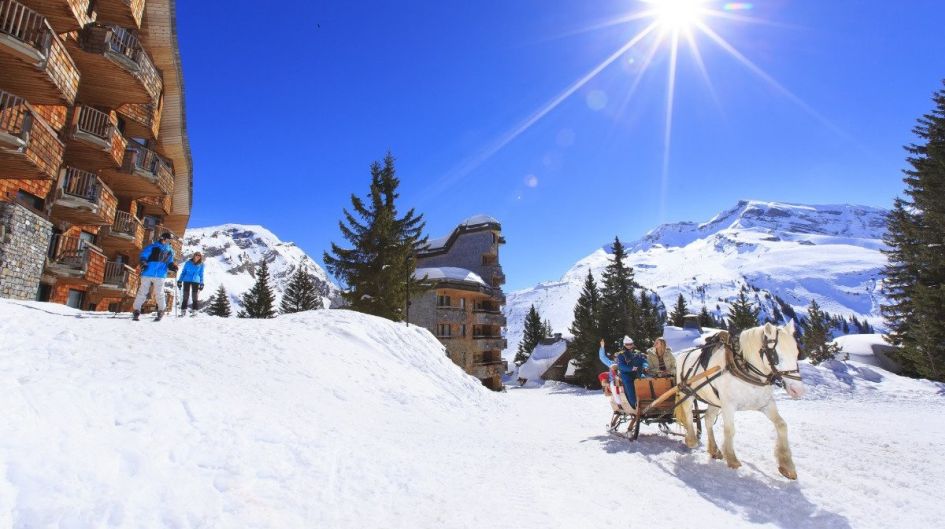 Avoriaz is nestled in the heart of Les Portes du Soleil, which is a well know ski area made up of 12 different ski resorts making it one of the largest ski areas in the world. Why is Avoriaz great for young families? Firstly the transfer itself is very short compared to other resorts in the French Alps. Being just over 75 minutes from Geneva is a massive bonus, and means the dreaded "Are we there yet?" or "I feel sick!" is less likely to pop up in conversation at the start of your family ski holiday. Once you are in resort, one thing you will notice that makes Avoriaz extra special is its pedestrianised streets, so no fast drivers, no car fumes and no busy roads – just the occasional snow mobile or a horse and cart, which is always a delight for the young ones.
With the resort built with skiing in mind, it's hard to find a luxury chalet that is not ski-in ski-out or extremely close to the piste. For first time skiers or snowboarders the resort is a great choice, with nursery slopes in the centre of resort and a number of easy greens and blues around Avoriaz, not to mention the wider Portes du Soleil ski area.
My top pick for a family friendly ski chalet in Avoriaz is Chalet Kipnuk which is located on the edge of the piste in a sought after ski-in, ski-out location. Also conveniently located for ski-school as well as the Aquariaz water park, it is the perfect base for a first family ski trip.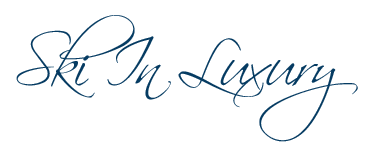 Skiing is a holiday for all generations to get together, year after year. In our opinion, the best gift you can give your child is the ability to ski…it will bring them a lifetime of joy. Now we have covered the essentials to booking your first family ski trip, you can start looking at what is best for you and your family. With hundreds of luxury chalets available here at Ski In Luxury, we are here to help with your criteria. Either drop us an email or give us a call on +44 (0)1202 203650.
Now it's the exciting part, let's start looking at where to book…