Courchevel is considered the most famous ski resort in the world and is part of the World's largest ski area, The Three Valleys. But which part of Courchevel suits you best? Check out my guide to Courchevel below to discover the incredible and characterful Courchevel resorts…
Courchevel breaks down into 5 quite distinctive ski resorts: La Tania, Courchevel Le Praz, Courchevel Village, Courchevel Moriond and most famously, Courchevel 1850. This guide to Courchevel will help to distinguish each village with a focus on the skiing, Michelin restaurants and top luxury ski chalets to help you make the most of your luxury ski holiday to Courchevel.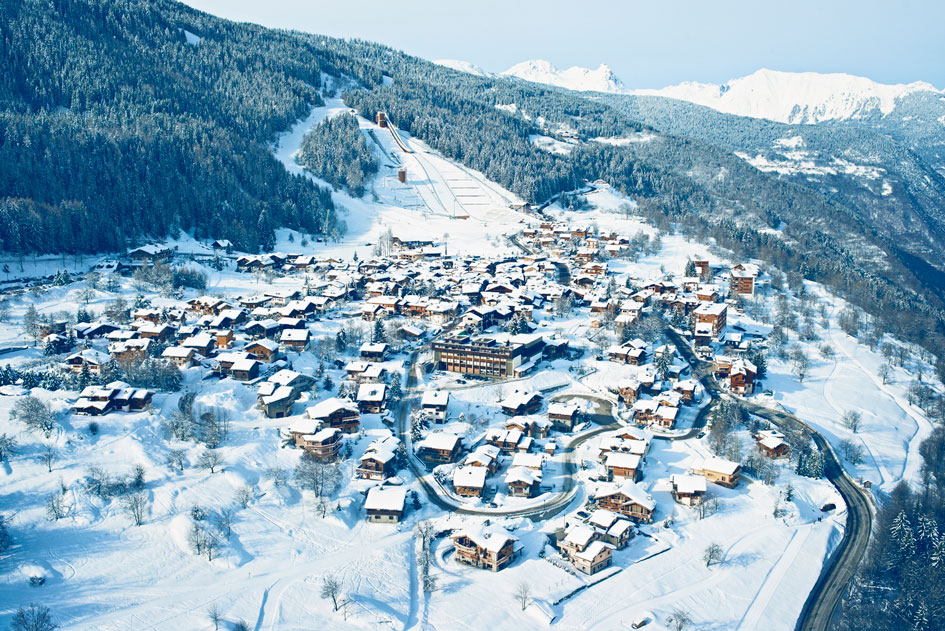 Overview: Courchevel Le Praz, formerly known as Courchevel 1300, is a rustic, traditional and authentic alpine village. Popular for cross-country skiing and ski jumping.
Altitude: 1,300m
Skiing: Courchevel Le Praz has pretty tree-lined runs which are perfect for low-visibility days. The ski runs in this area are usually quieter, so it's a great place to avoid the crowds. To access Courchevel 1850, you can take the Praz gondola or if you want to head towards La Tania and Meribel, you can take the Foret lift.
Top Restaurant: Michelin restaurant Le Bistrot du Praz is based at the foot of the slopes and is one of the most welcoming restaurants in the Alps. Owned by Charlie Renaudie, here you can enjoy excellent quality French cuisine.
Where to stay? Chalet White is an exceptional luxury ski chalet in Courchevel Le Praz that showcases elegance and style. It features stunning wellness facilities, a home cinema and top quality service. The chalet is conveniently positioned in the centre of Courchevel Le Praz and can accommodate 10 guests in 5 individually styled bedrooms. It's a wonderful chalet for a family ski holiday in Courchevel.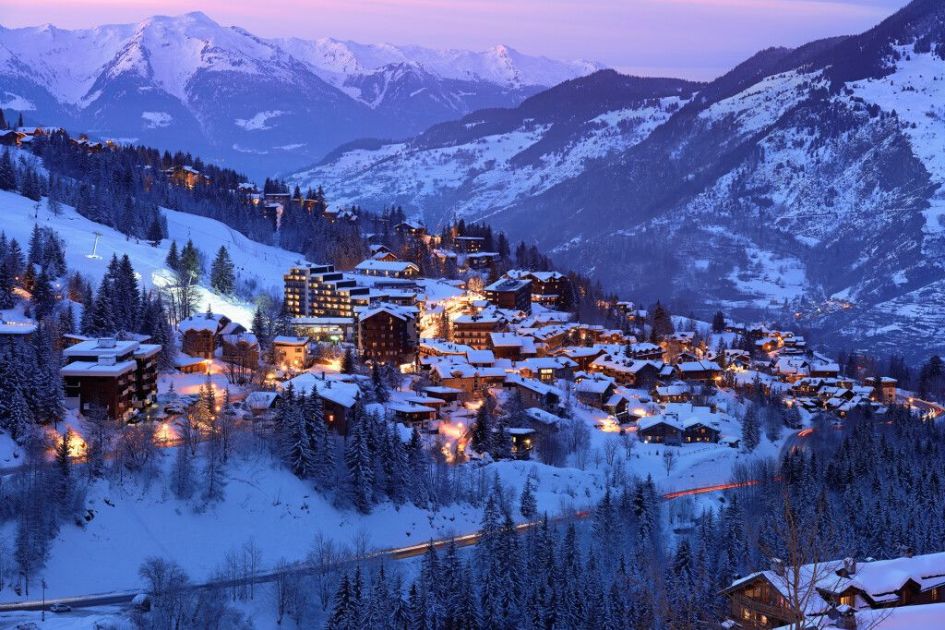 Overview: Arguably the quietest area of Courchevel, Courchevel Village is popular with families. The village has kept a traditional atmosphere with chalet-style buildings and without being spoilt, has a few modern apartment buildings dotted around. Courchevel Village was actually the original village in the Courchevel region and remains a great place to head for your value for luxury ski holiday, avoiding the prices of its exclusive sister, Courchevel 1850.
Altitude: 1,550m
Skiing: Escape the crowds and enjoy the slopes at all levels in Courchevel Village. Despite only having a couple of ski runs to its name, being just below Courchevel 1850 means access to the wider area is ideal. It is easy to access Courchevel 1850 by using the Tovets chairlift or the Grangettes gondola.
Top Restaurant: L'Oeil de Boeuf offers fine cuts of meat to be cooked on the open fire. It's a unique, romantic experience inside the cosy, rustic restaurant. As the name suggests, the specialty is beef.
Where to stay? Penthouse Le George is a great base for your luxury ski holiday in Courchevel Village. Located in a prime ski-in, ski-out position, this modern penthouse offers all the luxuries you need to relax after a day skiing the Three Valleys. Relax out on the terraces enjoying the outdoor Jacuzzis and fire pit, or snuggle up inside by the wood burning fireplace whilst watching the evening draw in over the mountains. Accommodating 10-12 guests, Penthouse Le George is an excellent choice for a self catered ski holiday in Courchevel.
Overview: After 1850, Courchevel Moriond is the next liveliest Courchevel resort with a good atmosphere created by a range of bars, restaurants and shops.
Altitude: 1,650m
Skiing: Courchevel Moriond has its own ski area which includes a mixture of runs for all abilities; it is almost a resort in its own right. Just left of Courchevel 1650, you can still avoid the crowds during peak times and enjoy skiing in the sunshine and between pretty tree-lined runs – it's a perfect ski resort for skiing in all weathers. There are gentle, wide slopes for beginners and the stronger skiers can take advantage of the off-piste challenges in Les Avals. For non skiers, there is plenty to do including the 3km toboggan run!
Top Restaurant: Bistrot Le C offers delicious menus constructed and influenced by traditional French cuisine, and created from fresh, local produce. My director claims one of his favourite meals in the Alps has been in this restaurant!
Where to stay? Chalet Bacchus is an excellent choice for a luxury ski holiday in Courchevel Moriond. Located on the Belevedere piste, this impressive 560sqm chalet is modern, chic and luxurious. With 2 hot tubs, an indoor pool, sauna, Hammam and massage room, it's facilities will see to all your ski aches and pains in no time. Not forgetting to mention the cinema room and private bar which are also idyllic facilities to unwind after a day on the slopes.  Enjoy full gourmet catering, an open bar, driver service and exceptional hospitality whilst staying in this stunning 7 bedroom luxury chalet in Courchevel.
Overview: The highest village in Courchevel and also by far the largest, Courchevel 1850 is well known for its glitz, glamour, fur and diamonds. It's considered the crème de la crème of the French Alps and is recognised internationally for having access to the World's best ski area. The streets are lined with designer boutiques, gourmet restaurants and chic cocktail bars attracting international wealth and prestige.
Skiing: The largest ski area of all the Courchevel levels, Courchevel 1850 can accommodate all ski abilities and has some of the best ski schools in the Alps. You can enjoy some fun family ski runs, tree-lined routes and open pistes.
Top Restaurant: This is not a straight forward or easy choice! There are many world-class restaurants in Courchevel 1850. 2* Michelin Chabichou has to be mentioned as one of our top choices for exquisite gourmet cuisine. It's a very historic restaurant, offering some of the finest dishes in the Alps curated by some of the best chefs in the world. Find out more about the top restaurants in Courchevel 1850.
Where to stay? When it comes to luxury ski chalets, the bar has been raised in Courchevel 1850. There isn't much you can't have; ski-in ski-out, marble swimming pools, in-house night clubs, top-class wellness facilities, butler service, in-resort chauffeurs, Michelin star chefs and I promise you it doesn't stop there. The choice of where to stay is overwhelming; whether it's five-star palace hotels or ultimate luxury chalets, there is something to suit everyone's desires (and dreams…).
The scale of the chalets are noticeably larger than any other resort, and for this reason, I am going to feature Chalet Edelweiss, one of the largest luxury chalets in Courchevel 1850. Approximately 3,200 sqm over 7 floors, Chalet Edelweiss can accommodate up to 16 guests and boasts an extensive list of luxury features.
Overview: The youngest village to be classed within the Courchevel territory, La Tania is next on my Guide to Courchevel. With pine tree lined ski runs leading into the chocolate box alpine village, La Tania offers great value for luxury, pretty scenery and a variety of local slopes.
Altitude: 1,350m
Skiing: Enjoying a great position between Courchevel 1850 and Meribel, La Tania is the perfect family-friendly ski resort for access to the Three Valleys ski area. The resort has a handful of runs appealing to all abilities.
Top Restaurant: Another Michelin star restaurant, La Farcon is not to be missed if you are staying in La Tania. It maintains an authentic cuisine fused with creative menus; you will be sure to enjoy this culinary delight.
Where to stay? Ours des Montagnes is my top choice for your luxury ski holiday in La Tania. For a family or group of friends of up to 10-12, this chalet ticks a lot of boxes. Light and contemporary, just 70 metres from the slopes, outdoor hot-tub, games room and a sauna, there is a lot to keep everyone entertained after a full day skiing in Courchevel. Ours des Montagnes offers great value for luxury.
Of course, staying in one village is not limiting! There are great connections between all the villages and the rest of the Three Valleys for you to explore.
So which part of Courchevel suits you best? We hope this guide to Courchevel has helped, but if you are still not sure, feel free to enquire with our team of Ski Specialists and we will be delighted to chat with you about your next luxury ski holiday to Courchevel. You can give us a call on +44 1202 203650 or send us an email and we would love to hear from you!