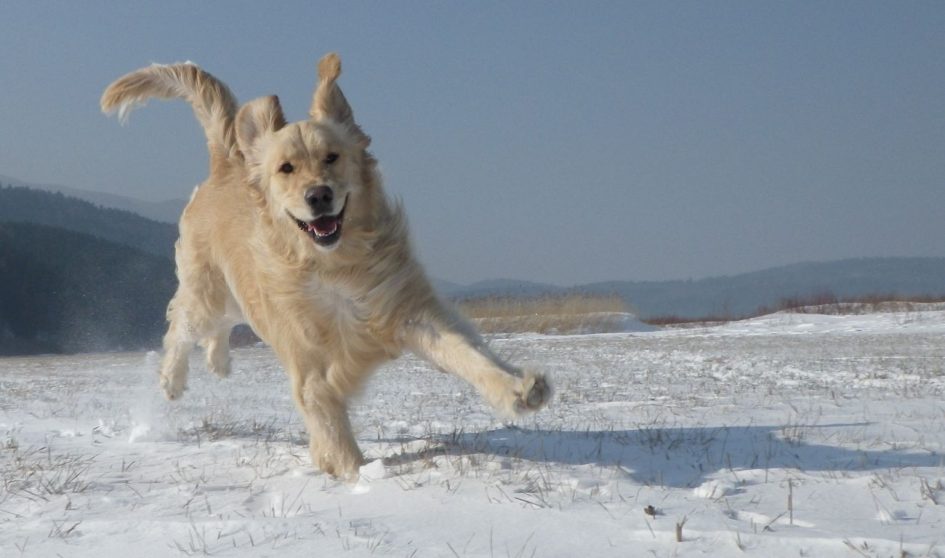 If you grew up with dogs like I did then you will completely understand why there is the phrase 'dog is mans best friend' and furthermore why the man who said it, Frederick King of Prussia, quite rightly thought of one of his greyhounds as his best friend. When I look back at family ski holidays I know for sure that there were times when my mum wished there were dog friendly chalets around as she was most likely thinking "if only I could take the dog instead!" I mean for starters the dog doesn't squabble in the back of the car like siblings do, or constantly ask "are we there yet?" No, a dog is always there when you need him, that perfect companion, which makes the family complete.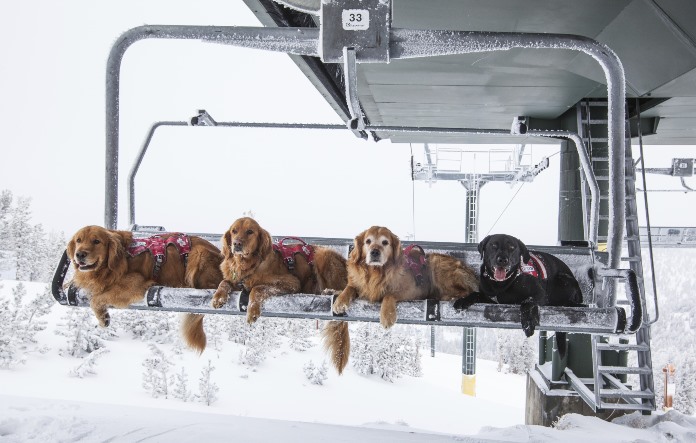 No family holiday would be the same or quite right without the family dog but logistically it isn't always possible to take him with you. I mean can you imagine, you are all off on your family holiday, the happiest time of the year and you aren't allowed to take your best friend along for the ride. Well luckily there are chalet owners out there, who like us couldn't possibly imagine not taking your beloved dog on holiday with you.
Let's take a look at a small selection of chalets which allow dogs, from the Ski in Luxury portfolio, so this year your holiday can be with all the family in tow.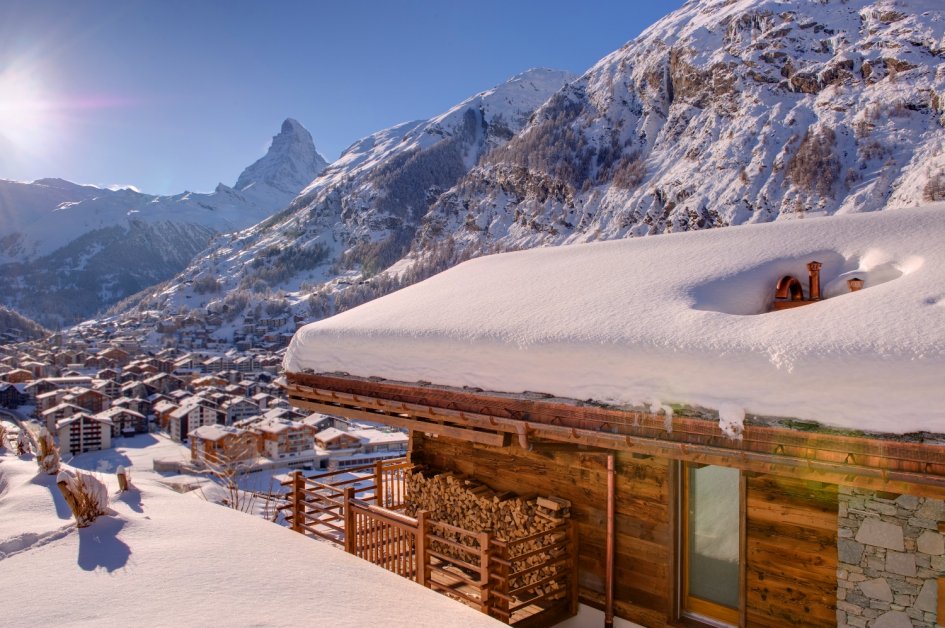 With Zermatt being an incredibly dog friendly ski resort and with the staff at Chalet Maurice utterly spoiling your companion, this really is a perfect luxury chalet for a dog. You can be rest assured while you soak up the incredible Matterhorn views, enjoying the fabulous wellness area complete with sauna, massage room and outdoor hot tub your trusted side kick will equally be in heaven. If you happened to run out of the door in a rush forgetting the dog bed, no need to panic as one can be arranged ready for your arrival. Your dog will be spoilt rotten in Chalet Maurice with special diets catered for along with an evening turn down service with special doggy treats supplied. Not only that but the staff will happily organise dog walkers and sitters along with vet visits. Tables will be booked at dog friendly restaurants where the staff will even arrange for the dog to be brought to the restaurants at lunchtime.
Where can I take my dog on holiday this winter? Which luxury chalet can I rent where my dog is allowed? If you are anything like my family, these were probably the first questions that sprung to mind. Chalet Pelerin just so happens to be another perfect solution to those questions. If you and your dog want the ultimate experience set in an idyllic location then this is the chalet for you. The chalet offers fabulous snowshoeing trips to the remote Alpage; a restored authentic French farmhouse; for a candlelight dinner. Your best friend would without doubt love to be springing through the snow beside you. After a day skiing in St Foy, relax back at the chalet in the afternoon with a glass of bubbles in the outdoor hot tub watching the sunset while your dog chills out next to the bonfire on the patio.
With Chalet Mont Tremblant located in its own grounds, this an ideal dog friendly ski chalet. While you enjoy a swim in the luxurious outdoor swimming pool your best friend can have fun frolicking about in all that snow. Once again the service your dog will receive will be second to none, as the staff will feed them and keep an eye on them whilst you are out enjoying the many kilometres of piste the Three Valleys has to offer. With connections with the local vets you can be rest assured that if your dog requires any inoculations this too can be organised in readiness for your trip back home.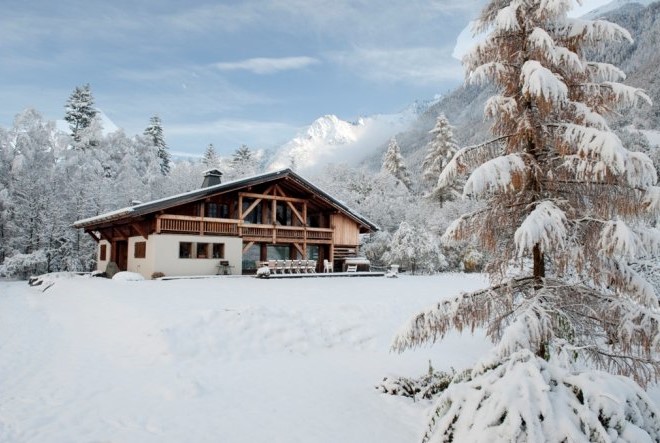 A perfect and idyllic spot next to the forest this is another fabulous option for your furry friend. With Chalet Valhalla offering so much space outside, the dog will have oodles of fun jumping around in the snow. Just make sure to bring a brightly coloured ball so you don't spend the rest of the afternoon searching for it! At night you can be rest assured that the dog even has it's own space in the ski room, where it can keep guard of all your equipment.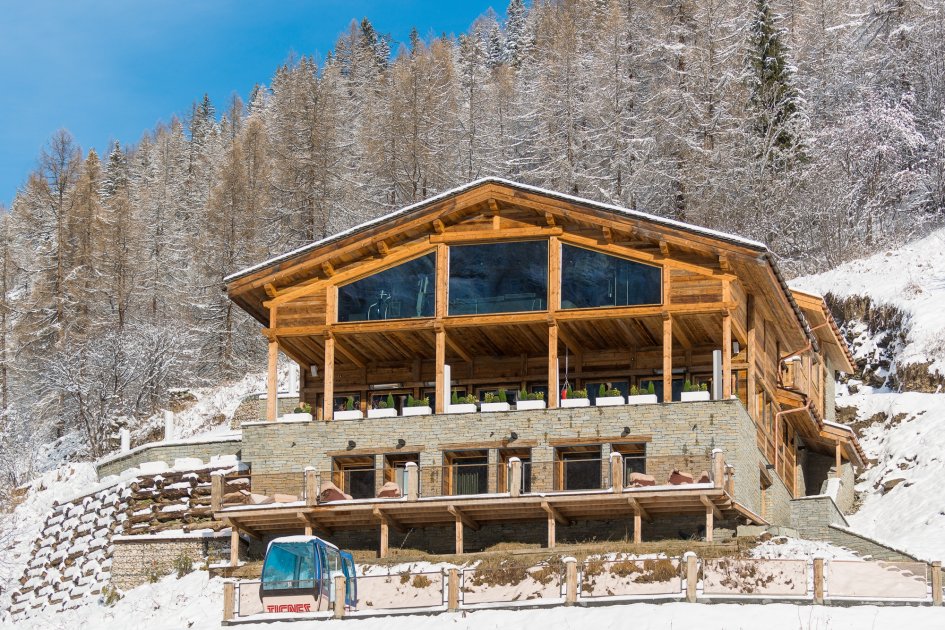 The stunning Chalet Quezac is a fabulous option for your whole family. With a secret 'children only' playroom, a stunning fully stocked bar for the adults, along with a stunning hot tub, you can be reassured that this dog friendly chalet is the perfect solution in Tignes. This chalet even has a kennel outside but obviously during the winter months the dog quite rightly will be inside with the rest of the family, snuggled up by the fire.
Whether you want to take the dog on the slopes with you like the gentleman below, have the non-skier in the group take him for walks throughout the resort and the surrounding forests, or just have him waiting in the chalet when you get back home after a wonderful day on the slopes, the choice is yours.
We here at Ski in Luxury understand if you can't bear to leave your best friend at home this Christmas or any time of year, so please feel free to give us a call on +44 1202 203 650 or send us an email, so we can help to find you the perfect ski chalet for dogs which will best suit your entire family.