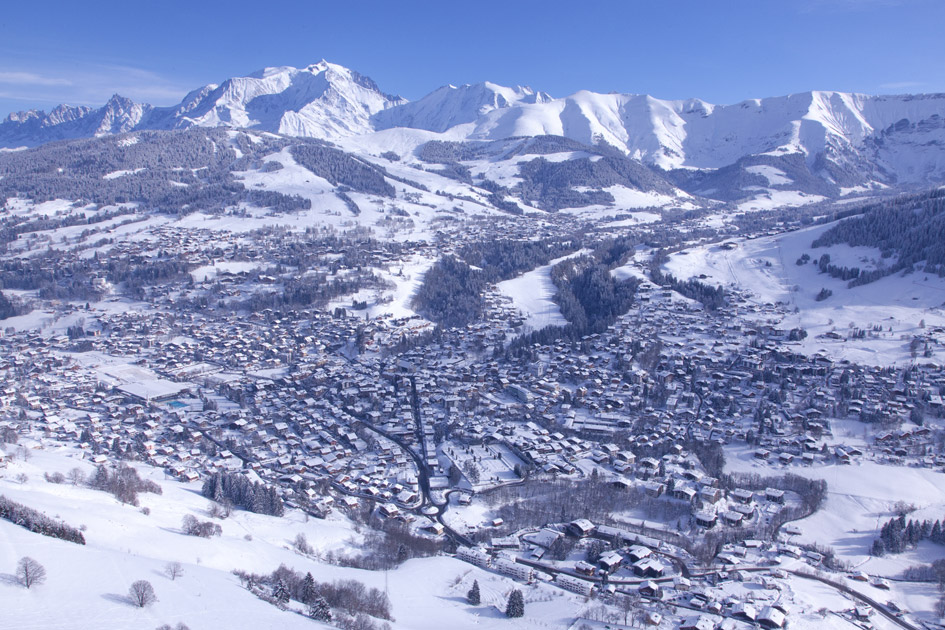 Megeve is one of the world's most exclusive winter ski resorts. It's fame and reputation derives from its close proximity to Mont Blanc and it's founding by the Rothschild family to be St Moritz of France. Since the 1920's, the magical chocolate-box village has been a prime destination for the rich, famous and fashionable, who are captivated by the charm and ambience that this luxury ski resort in the French Alps has to offer. Located just over an hour from Geneva Airport, the gorgeous town of Megeve features cobbled streets, a stunning church, multiple Michelin starred restaurants and miles of well-groomed pistes! Being one of the most stylish resorts in the Alps, luxury ski holidays in Megeve never disappoint. Keep reading our Megeve Resort Guide if you would like to find out why…
Skiing in Megeve

Megeve is a perfect resort for families, offering diverse terrain to entertain all abilities.  The Megeve ski area suits both beginners and intermediates, whilst still having an exciting choice for any expert skiers in the group. There is great variety of terrain to be found in Megeve, with tree-lined slopes that are both magical and perfect for low visibility days when it's snowing, and expansive runs up higher where views are stunning and you can enjoy the incredibly close proximity to Mont Blanc – it's truly unforgettable. The ski area around Megeve is quite spread out, so it's perfect for anyone who wants to avoid crowded pistes and long lift queues. Outside of the usual school holiday madness, Megeve is a brilliant resort to visit for getting some serious mileage under the skis. 
In Megeve resort itself, Le Chamois is a central lift, which opens up to a lovely selection of pistes in the Rochebrune and Mont d'Arbois ski areas. The surrounding villages nearby, Combloux, Les Contamines, St Nicolas, St Gervais and La Giettaz, also have their own characterful ski areas, and can be easily reached by regular, free ski buses.  For groups staying in a luxury catered chalet in Megeve, a driver service is often provided for transportation to and from the ski lifts, simplifying your stay and truly opening up the whole ski area for exploration.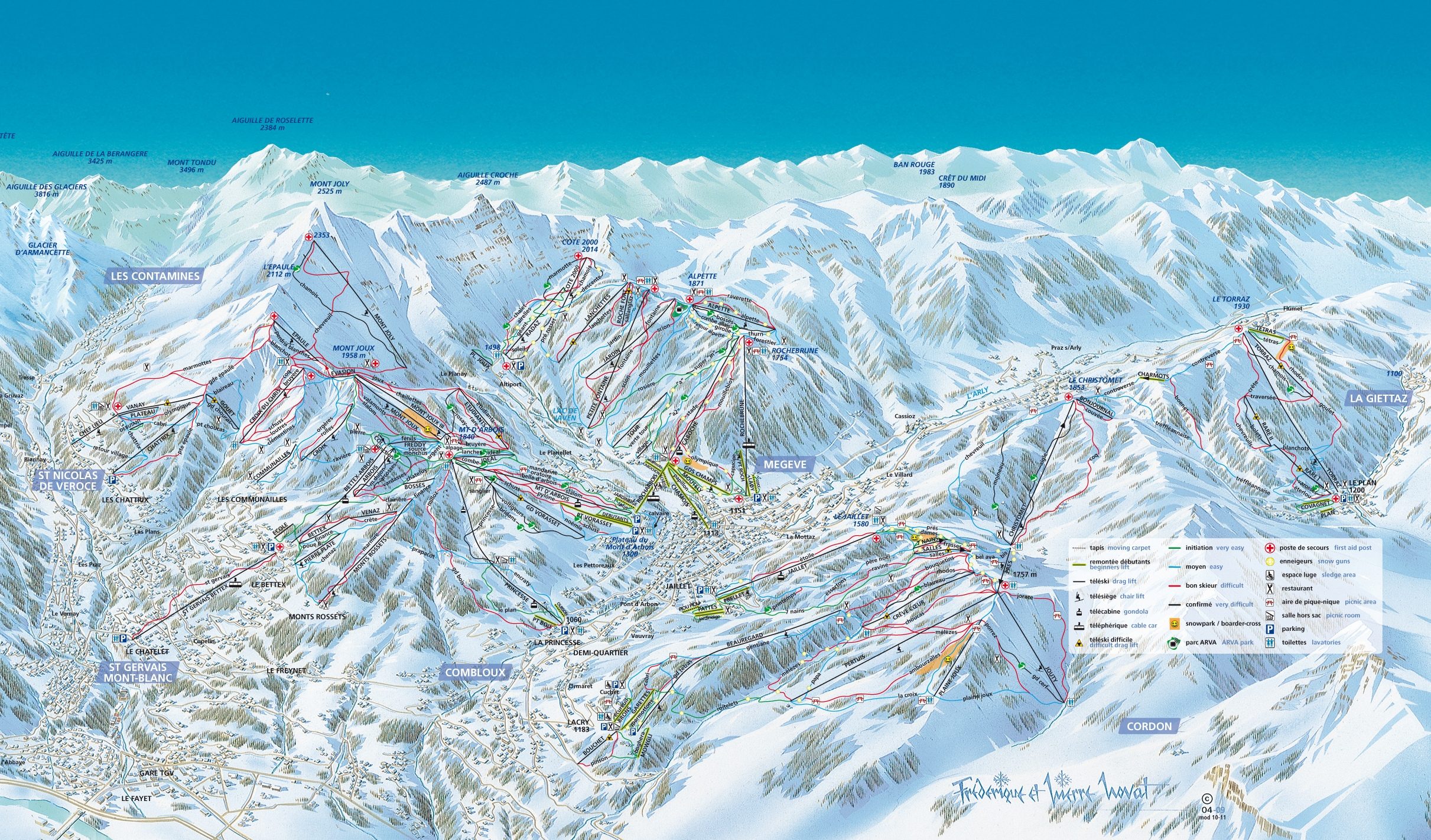 When skiing in Megeve, you can have access to over 400km of slopes; enough for even the most dedicated skiers! The local Megeve ski pass includes Jalliet, Combloux and La Giettaz, and is also known as Les Portes du Mont Blanc.  Mont d'Arbois is the main local ski area in Megeve, and it also has a great number of runs dispersed across the mountain. Thanks to the wide green pistes here, this is where beginners will be most happy, whilst intermediates can enjoy their days cuising the long blues winding through alpine trees. For those seeking a little more adventure on their luxury ski holiday in Megeve, you can purchase a ski pass which covers the entirety of Megeve's local skiing plus the neighbouring resorts of Les Contamines, Saint Gervais and Saint Nicolas de Véroce. Really keen skiers and experts with a car may also consider skiing in the Chamonix Valley or Courmayeur in Italy – you can explore more of the Mont Blanc region here. 
Restaurants in Megeve

Another vital aspect of a luxury ski holiday – the local cuisine! Luxury ski holidays in Megeve wouldn't be complete without trying the local dishes, and Megeve has a fantastic range of mountain restaurants, whether you're looking for a long gourmet lunch or a quick snack to refuel. With the magnificent scenery, what better way to enjoy some local delicacies than with a stunning view of Mont Blanc?
You can't visit Megeve without a trip to La Ferme de Mon Père. Styled as a traditional farmhouse, it's one for the gourmets with three Michelin stars and a reputation as one of the best restaurants in France. Authentic in every way, the restaurant has its own sheep, cows and goats and emphasis their respect for local produce and seasonal dishes.  Another Michelin starred restaurant in Megeve is Flocons de Sel, an alpine haven of delicious food where local ingredients feature prominently, including a good selection of fish and shellfish from Lake Geneva not far down the road. 
Known for its imaginative modern French cuisine and convivial atmosphere, Le Cintra is another must visit during a ski holiday in Megeve. If you prefer Savoyard specialities such as fondue and raclette, then head to L'Alpage in the centre of Megeve for a classic alpine experience.
Après Ski in Megeve

Après ski in Megeve is classy, varied and almost taken more seriously than the skiing itself. The real question is where to apès, as there are numerous venues to enjoy on a week's ski holiday to Megeve! For a leisurely evening with friends, Rendez-vous, previously known as Palo Alto, is a luxurious venue with booths and classy decor.  There is also Le Tigrr, a chic bar that specialises in cocktails, champagne and sushi.
On the slopes at the top of Mont Joux in St Geravis, is La Folie Douce, a well known spot to see and be seen whilst enjoying alfresco drinks and music throughout the afternoon.
Non-ski activities in Megeve

As you would imagine in a resort whose design was inspired by St Moritz in Switzerland, Megeve has a lovely, traditional Haute-Savoie village charm and is blessed with outstanding surrounding scenery. If you are a non-skier or are taking a day off from skiing, then there is an enjoyable variety of activities to explore. The centre of town is a main attraction in itself and is certainly a spot to meander through during a ski holiday in Megeve. The village is a perfect blend between cultural history, and chic designer luxury. It will be sure to captivate you with its charm. Megeve hosts a brilliant range of activities from ice skating, dog sledging, bowling, tennis, parachuting and hot air ballooning, to indulging in a spot of designer shopping for those who prefer a leisurely pace. 
Luxury Ski Chalets in Megeve
Luxury ski holidays in Megeve are not complete without a luxury ski chalet to retire to after a full day on the mountain. With spas and games rooms, stunning views and traditional interiors, Megeve arguably has some of the best luxury ski chalets in the French Alps. We have selected a handful below for a taste of what to expect…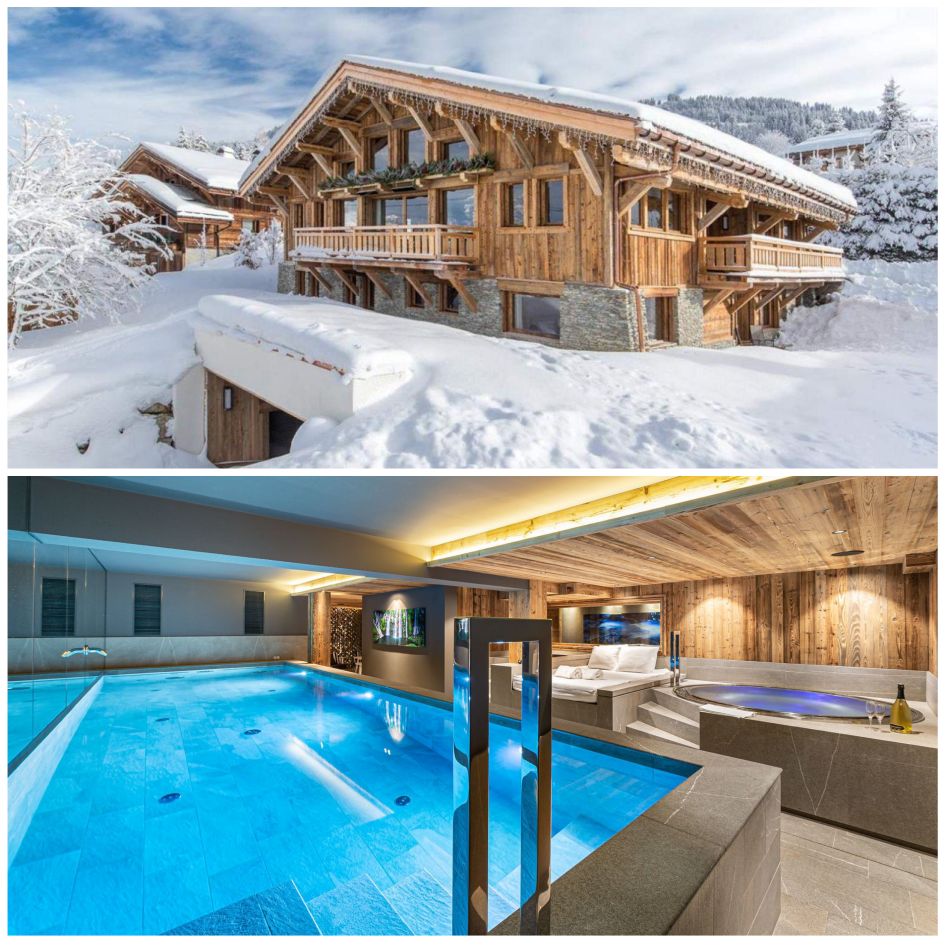 Sleeping up to 14 guests across 6 bedrooms, Chalet Orcia reflects the true spirit of traditional Megève farmhouses.  Don't be fooled though, along with the aged wood and vaulted ceilings are ultra high end features, refined furnishings, and a beautiful contemporary style. Relaxation really is the keyword when it comes to Chalet Orcia with a huge range of wellness facilities including a beautiful swimming pool, sauna, Jacuzzi, hammam, relaxation room and a modern gym for those who want to continue their fitness off the slopes. The chalet is located in the highly sought-after Pettoraux area of Megeve, providing easy access to the centre of the resort as well as to the ski slopes. As Chalet Orcia is offered on a self-catered basis, it is a great option for guests looking for privacy on their ski holiday to Megeve but with the luxury of having their own full wellness suite.
Prices range between €32,000 and €82,000 a week.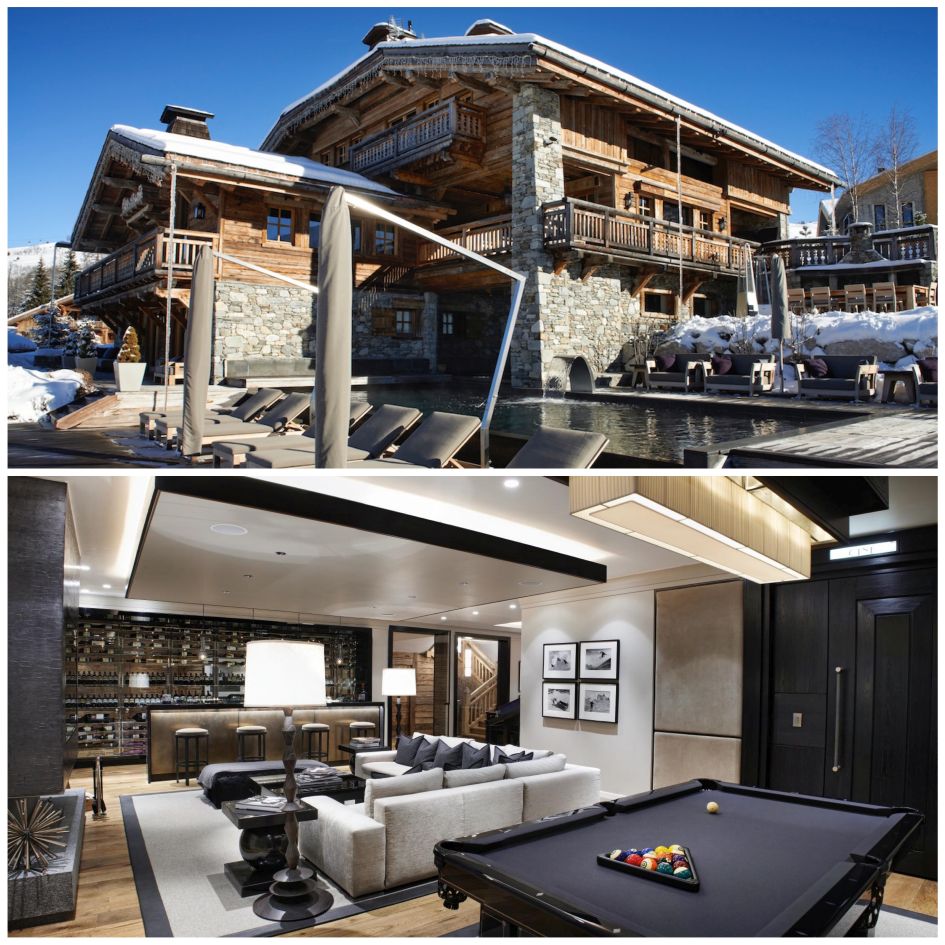 Chalet Aspen is one of the largest and most luxurious properties we feature in our portfolio. Boasting 1200 sqm of space, there is everything you could wish for from a luxury ski chalet in Megeve. This modern 4 floor chalet is located in the heart of the Mont d'Arbois area of Megeve, a very desirable position on the Rothschild's former estate. Sleeping up to 14 people across 6 en-suite bedrooms, Chalet Aspen is offered on a catered basis with daily menus tailored to guests' preferences.
This chalet knows how to entertain, and even has a dedicated entertainment lounge! Features include table football, a pool table, air hockey, wine cellar and a Steinway piano for the budding musicians among you. If you'd prefer a movie there is a dedicated cinema room with luxurious seating for up to 8 guests. Or for some relaxation and recovery, you will find an indoor/outdoor swimming pool, both indoor and outdoor hot tubs, a sauna, hammam with ice machine, and gym.
Prices range between €110,000 and €205,000 a week.
Situated in the "The Pearl of Mont Blanc" (better know as Combloux) and facing Mont Blanc, is Chalet My World, an incredible property which perfectly blends contemporary with traditional alpine style. Enjoying a lovely, quiet location, Chalet My World makes the perfect destination for luxury ski holidays in Megeve. This beautiful chalet is the gold standard for a Megeve luxury ski chalet, not only with it's style but also the features and facilities. You can relax in the incredible wellness area, participate in some competitive fun playing foosball and pool, or simply enjoy a glass of Champagne with 180 degree views of Mont Blanc. Offered on a catered basis, Chalet My World can sleep up to 15 guests across 6 en-suite bedrooms (including 2 masters) and a children's dormitory.
Prices range between €40,000 and €83,000 a week.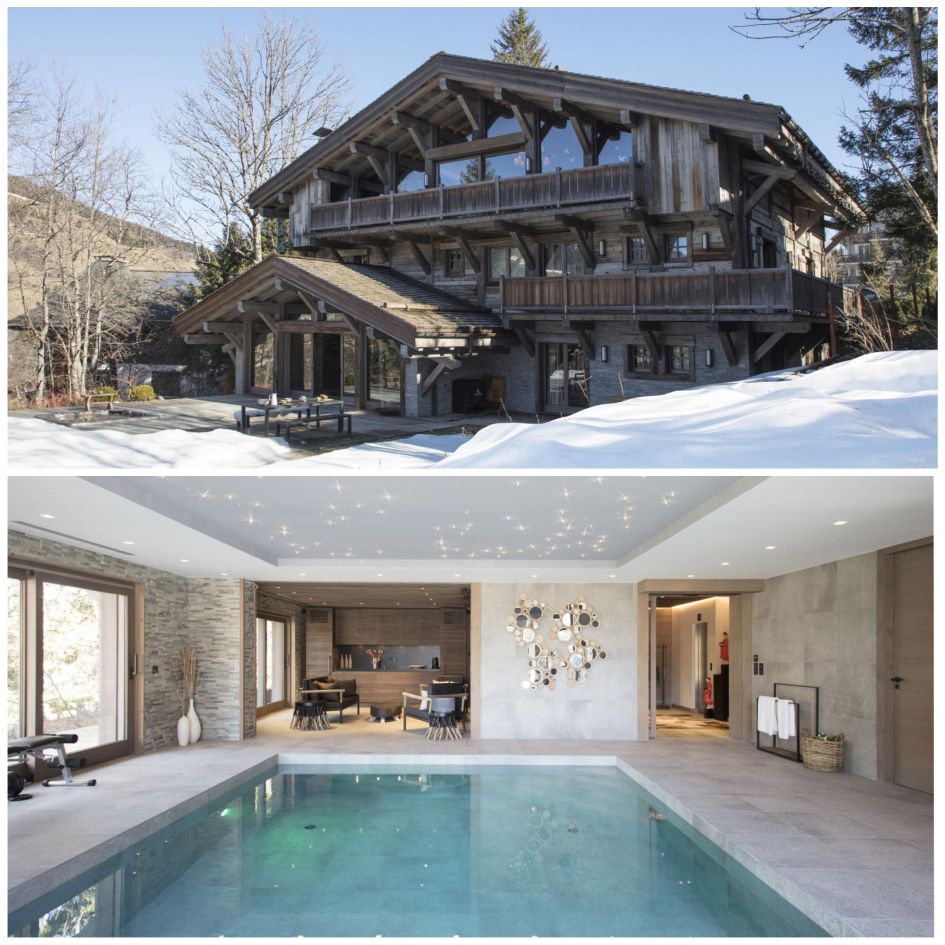 The impressive Chalet des Ecureuils is an elegant and modern alpine style property in the residential area of Rochebrune, located just a few minutes walk from the nearest ski lift. The location of this chalet is ideal for those keen skiers looking to get the first lifts up the mountain, and be the last one back down! The large balcony at Chalet des Ecureuils offers superb open views of Val d'Arly, as well as being perfectly positioned for a beautiful mountain sunset. Spanning 4 floors, the chalet hosts plenty of space to accommodate 12 guests. The spa area is a highlight, and is worthy of the finest 5-star hotels, with a sauna, steam room and relaxation area. In addition, there is also an indoor swimming pool with mountain views. Chalet des Ecureuils is rented on a bed and breakfast basis.
Prices range between €35,000 and €65,000 a week.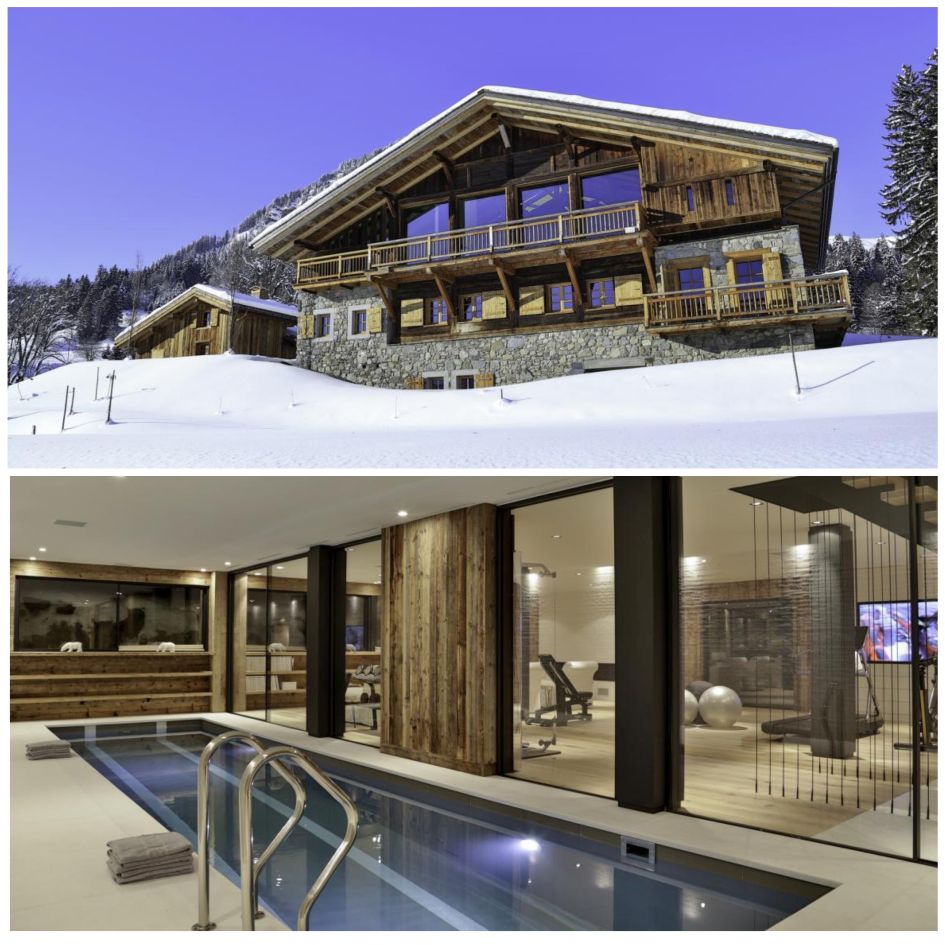 Last on the list, but by no means least, Fermes a la Leonthine. Located in Praz-sur-Arly, in a private setting, this impressive Megeve luxury chalet is just a 10 minute chauffeured drive to reach the Megeve ski area. The structure of this renovated farmhouse proudly showcases the original timbers, whilst stylish interiors and modern facilities are in place creating the ultimate fusion for a truly luxurious stay. In a private and peaceful location, there are many spots to enjoy the stunning panoramic views as well as extensive grounds perfect for hours of sledging fun. It wouldn't be a luxury chalet in Megeve without wellness facilities, and Ferme a la Leonthine does not disappoint with swimming pool, sauna, hammam and a large gym. The chalet can sleep up to 14 guests across its 3 floors and 6 en-suite bedrooms and is rented on a catered basis.
Prices range between €35,000 and €79,000 a week.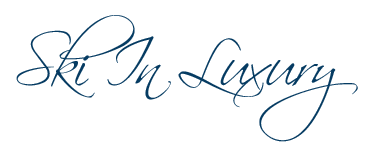 If you think that luxury ski holidays in Megeve are what you are looking for this winter, please do get in touch for more advice and recommendations and the team at Ski In Luxury will be more than happy to help. Send us an email or give us a call on +44 1202 203650. We look forward to hearing from you soon!