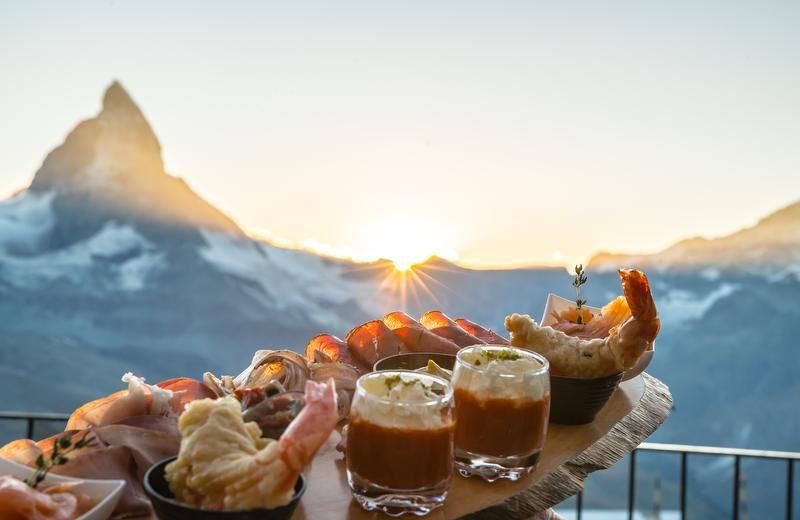 A question we often ask ourselves when considering a luxury ski holiday in Zermatt: 'should we book self-catered or catered accommodation?'. Whilst a huge aspect of any holiday is the food, trying out the local cuisine and enjoying the company of the locals, some guests love the ease of a catered ski holiday. We do, however, understand that eating out at lunch and then having a 4-course evening meal can leave you feeling a little full, and therefore our luxury self catered chalets in Zermatt could provide a perfect alternative.
Knowing where to stay and where to eat are two vital parts of planning a self-catered ski holiday in Zermatt. Therefore, we thought we would combine the two together by providing a guide that answers all your questions and prepares you for an unforgettable luxury ski holiday to Zermatt.
Restaurants in Zermatt
Zermatt has an impressive variety of restaurants including fine dining, traditional dishes and local buffet bars, creates the perfect balance. With so many restaurants available, you might want to skip the fully catered evening experience and have a little more flexibility instead with a self catered chalet in Zermatt.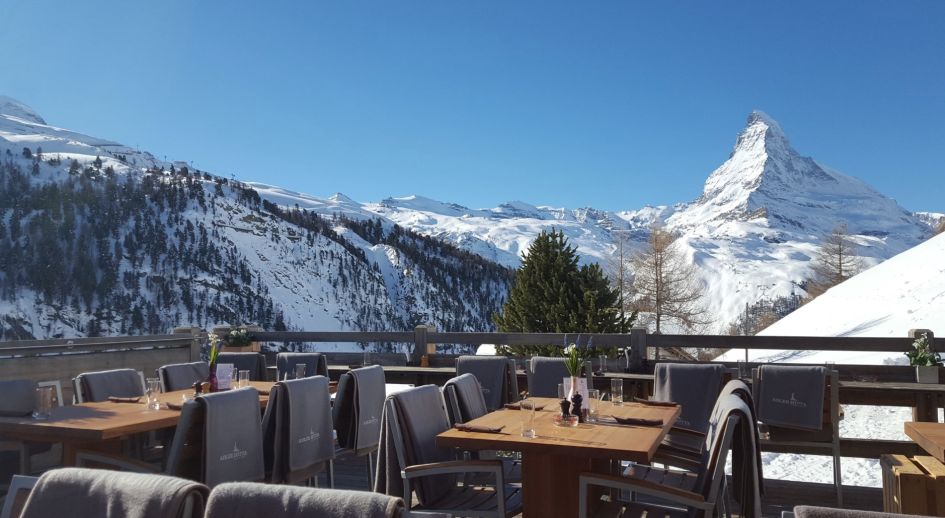 Perched at 2200m looking across the magnificent Matterhorn, Adler Hitta is a fantastic lunch stop whilst exploring the extensive ski area. Situated on the Sunnegga-Findeln ski slope during the winter, and hiking trail in the summer, the restaurant is a great place to eat out in Zermatt, snow or shine. And thanks to the new panoramic windows inside, the breathtaking views can be seen from any spot. The vibe at Adler Hitta is very relaxed, yet lively with a DJ and live music playing daily. Guests can enjoy a wide range of food including authentic dishes with natural ingredients and fresh alpine treats. Their rotisserie chicken roasted on a wood fire is famous around the world, and so definitely a must when visiting Alder Hitta on your ski holiday in Zermatt!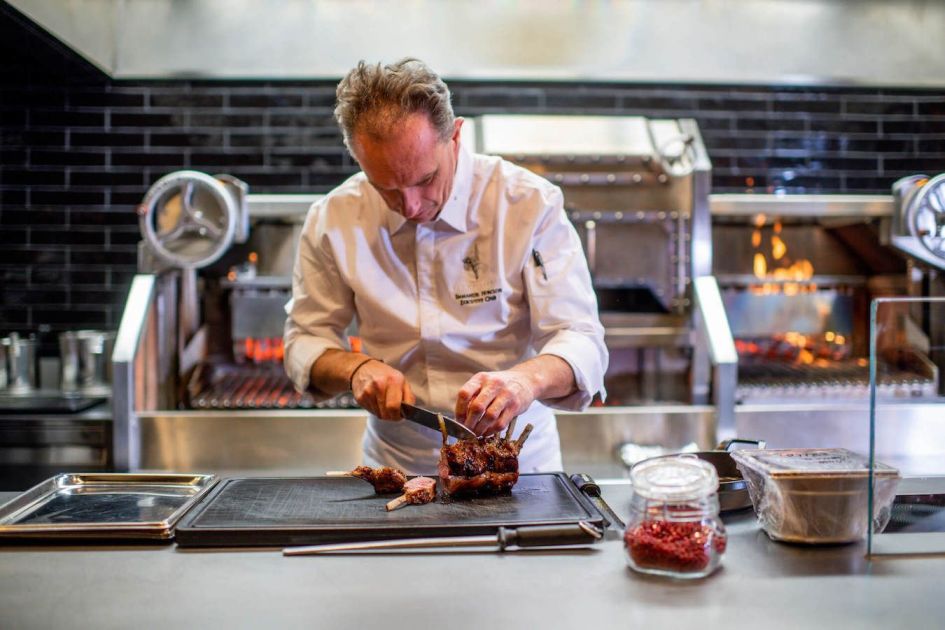 Schweizerhof Kitchen is a great restaurant to indulge in when on a self catered holiday in Zermatt. As part of the newly renovated Hotel Schweizerhof located in central Zermatt, the staff are out to impress, demonstrating their skills in the 'show Kitchen' and providing a selection of traditional Swiss gourmet dishes. Guests are surrounded by a lively, modern setting and are guaranteed to have a fantastic experience, tucking into a selection of classic dishes including succulent meats, BBQ style grills, homemade pizzas, and classic dishes with a twist. Each ingredient is carefully selected, always with a preference for local and Valais origins. There is also the option to take a seat in the statement bar where you will be given an extensive cocktail list and entertained by a DJ. It's the perfect spot après ski in Zermatt, or for your evening entertainment!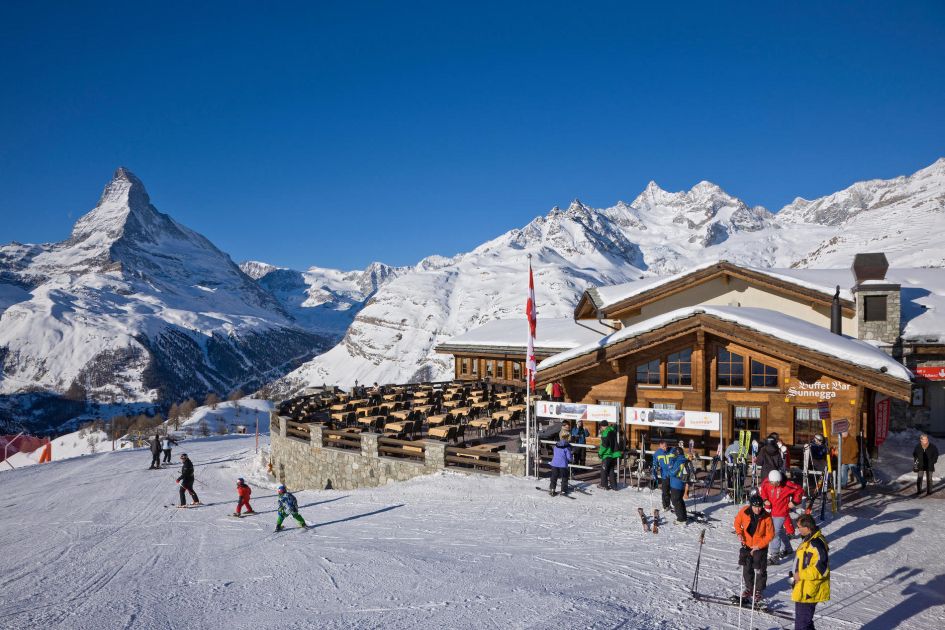 For those looking for a more informal lunch in Zermatt, Buffet Bar Sunnegga is a great choice. Thanks to its prime location for next to the Sunnegga Express lift station, the restaurant is easily accessible by foot, and provides the perfect meeting point for skiers and non-skiers. The word Sunnegga refers to 'sunny corner' and Buffet Bar Sunnegga is certainly no exception. Guests are spoilt with sunshine from the morning until sunset, so no need to worry about missing the afternoon sun, just stop at the restaurant when tummies are rumbling! Buffet Bar Sunnegga is a self-service restaurant and offers a range of local specialities including traditional Valais style meals, meats and popular pasta dishes; there is something for everyone. Not to mention the variety of local wines too!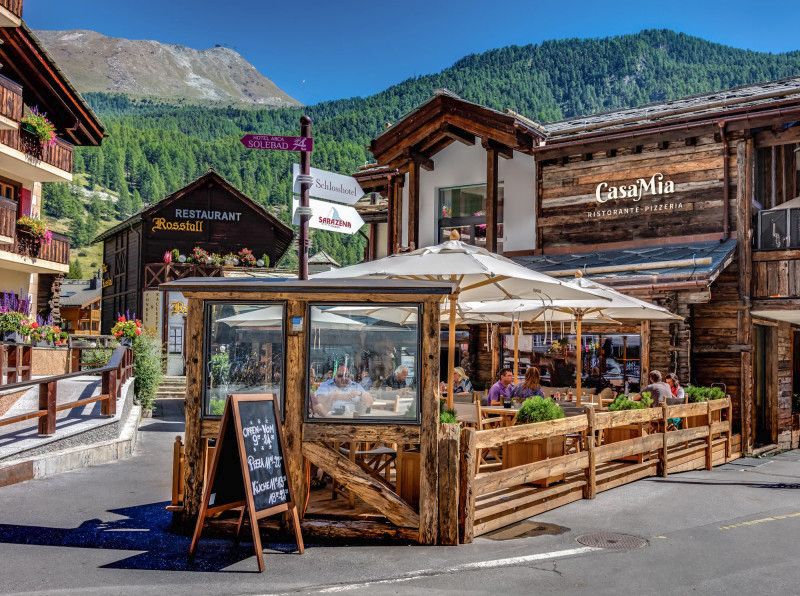 CasaMia is a small family run restaurant in the heart of Zermatt. Owners Nicole and Mario, with the help of their team, have made it their mission to bring Italian style and great pleasure to Zermatt, offering unforgettable experiences through their attention to detail and passion for their business. Their menu displays authentic Italian dishes including pizza, pasta, fish, a selection of meat dishes and also vegetarian options. During the warmer months, the restaurant's outside terrace is a great place for alfresco dining. Centrally located by the train station, CasaMia is a restaurant that can offer lovely lunch as well as evening meals for those on a self catered ski holiday in Zermatt. With great food and fine wine, what more could you ask for?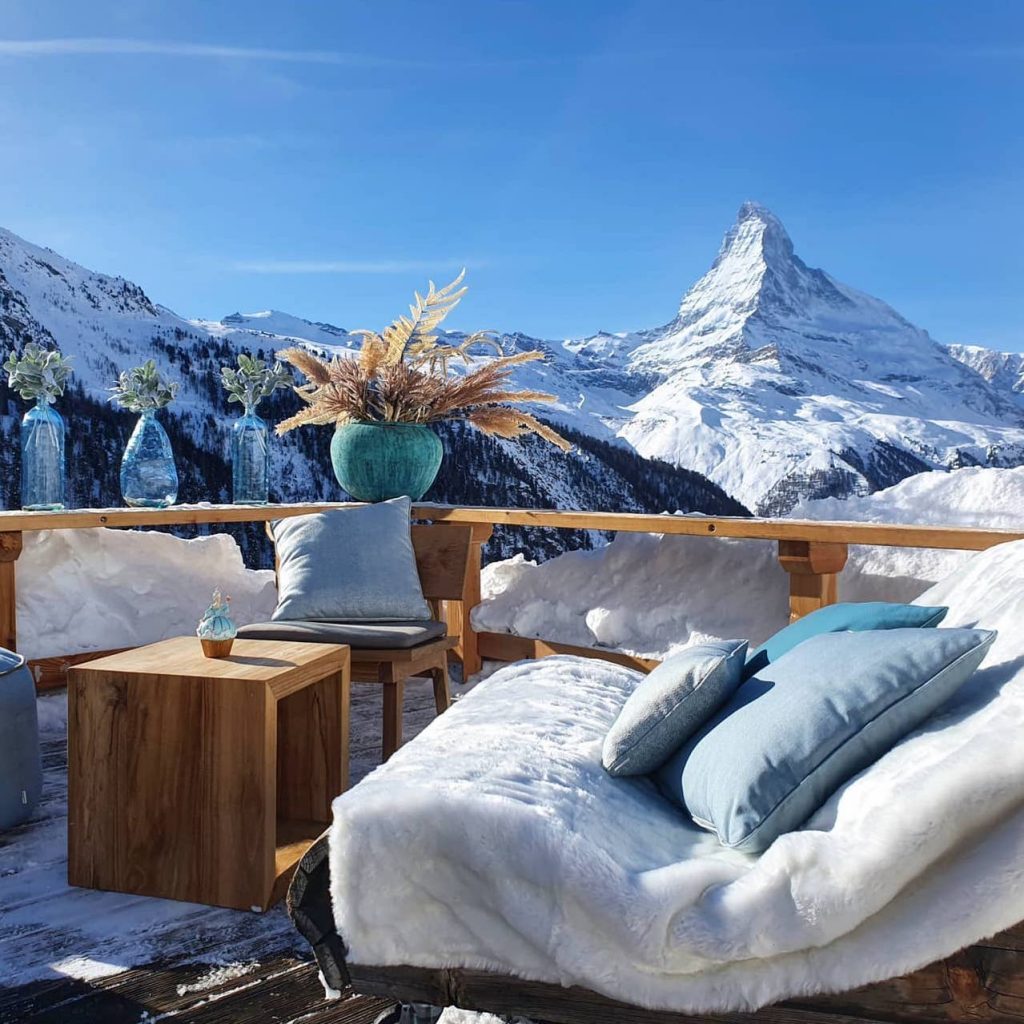 Magnificent Matterhorn views, high quality food and fine wine…everyone's idea of paradise. Situated at 2,320m altitude, this mountain restaurant takes full advantage of the views across the Matterhorn and the surrounding mountains by providing a range of outdoor furniture for up to 100 guests. It is worth stopping at Paradise to enjoy the beautiful sun terrace, friendly service and a great selection of Swiss dishes as well as homemade pasta specials.
Paradise is not just accessible for skiers, any keen walkers may like to hike from Zermatt via Winkelmatten, which takes approx. 50 minutes. Alternatively, you can take the Sunnegga Express to Sunnegga and walk down the valley towards Findeln on the signposted hiking trail for about 10 minutes. Skiers can access the restaurant via the piste from Sunnegga to Findeln and meet the non-skiers in the group at one of the best restaurants in Zermatt.
Zermatt offers some of the best self-catered accommodation in Switzerland. For those looking for complete flexibility on their luxury ski holiday in Zermatt, here are just a few of our self catered chalets in Zermatt…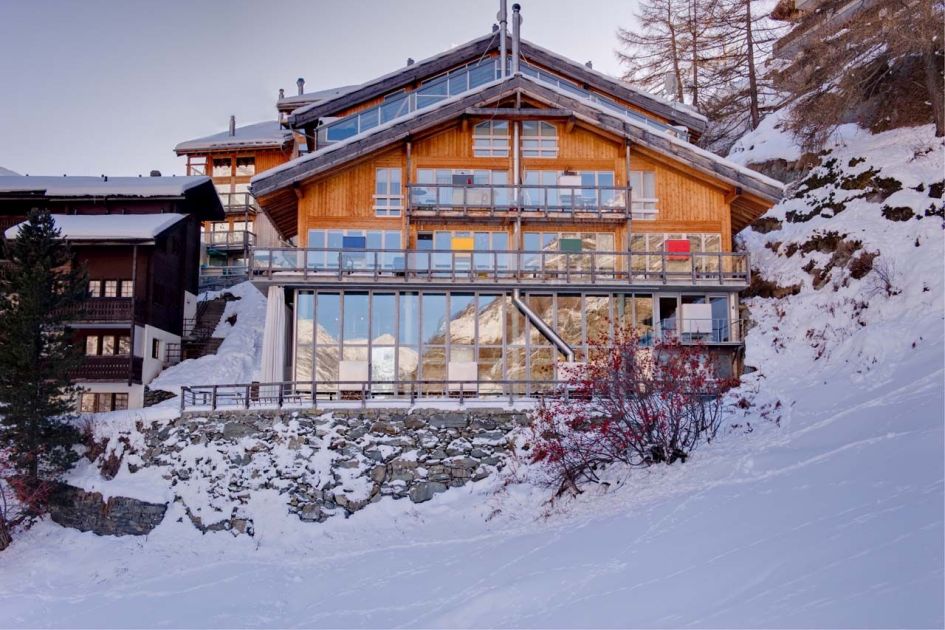 Heinz Julen Loft is a Manhattan style property surrounded by magnificent mountain views looking over Zermatt and beyond. Established by local designer Heinz Julen, this eccentric apartment combines glass, wood, and steel to create a stylish home from home feeling. Accessed via the Omnia Hotel lift which is located on the main high street in Zermatt, Heinz Julen Loft is perfect for exploring the local restaurants in Zermatt. As well as a range of amenities on the doorstep, the property itself has a selection of facilities for private use including an indoor hot tub, sauna, large balcony and terrace and a Steinway Piano. For guests looking for a catered ski chalet in Zermatt, Heinz Julen Loft can also be taken with a chef.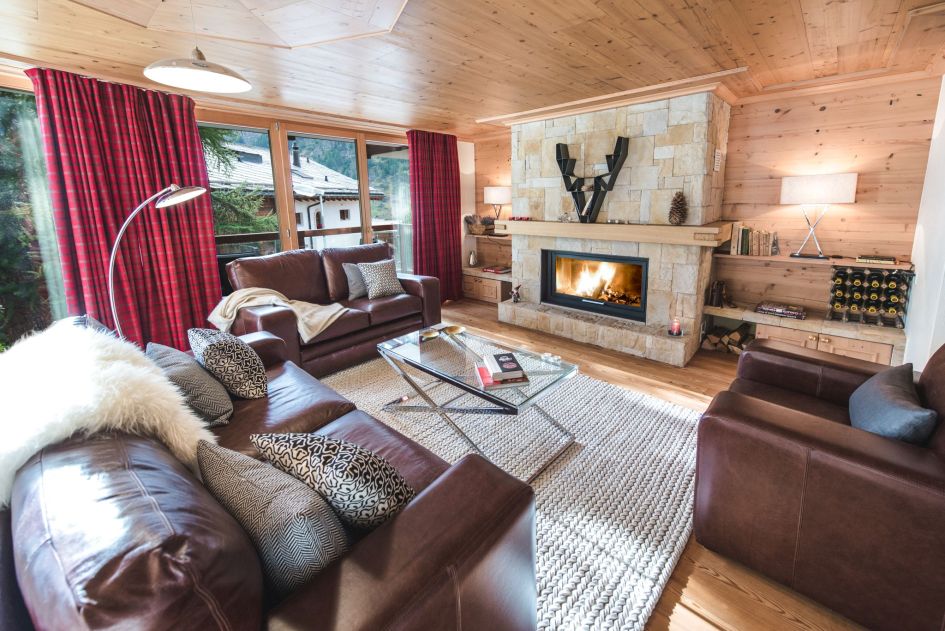 Located in the heart of the exclusive Winkelmatten area of Zermatt, Chalet d'Amore is within easy reach of the Klein Matterhorn lift station leading up to the wider ski area. Although slightly further away from the hustle and bustle of the resort centre, some of the best restaurants in Zermatt can be accessed within 15 minutes by foot. Accommodating 8-9 guests across 4 bedrooms and a spacious living dining area, this is a great chalet for families looking for a self catered holiday in Zermatt. For added relaxation, guests have access to a shared jacuzzi, sauna and relaxation area on the lower ground floor of the building.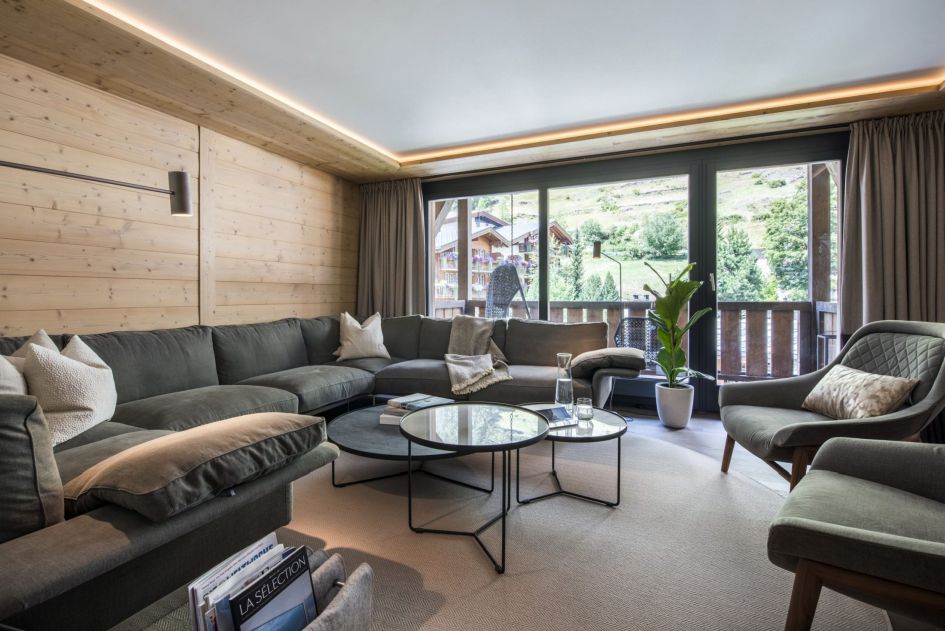 When looking for a self catered ski chalet in Zermatt, a central location allows you to benefit from being within easy reach of the resort amenities. Mount Whitney is a perfect example, being situated within metres from the local shops and nearest restaurants in Zermatt. If that's not enough, the apartment is located a couple of minutes' walk away from the Gornergrat lift station and train station, making your self-catered holiday stress-free. Positioned on the top two floors of the Nevada Residence, the apartment has great views across Zermatt and the surrounding mountains, which can be seen best from one of the few balconies. Mount Whitney is part of the Lagom Collection which is a sustainable chalet concept perfect for those who strive for an environmentally friendly ski holiday.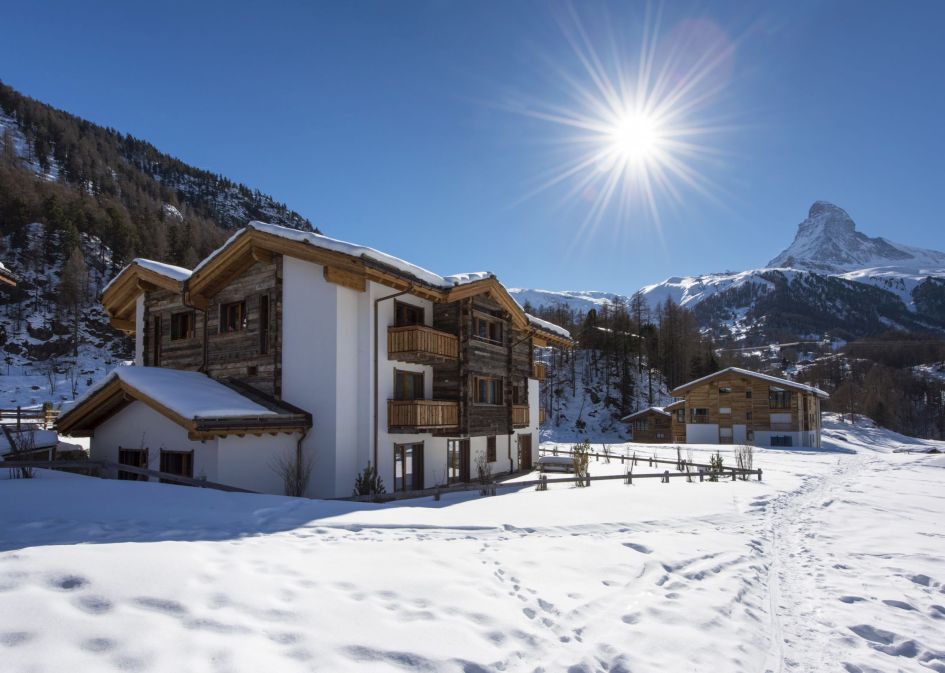 Nestled in the Winklematten region, Chalet Elena ticks every box for a self catered ski holiday in Zermatt. Depending on the conditions, it may be possible for advanced skiers to ski back to the chalet, whilst the less confident may prefer to walk 10 minutes from the Matterhorn Express gondola. Chalet Elena can accommodate up to 8 guests across 4 bedrooms and a homely living area, whilst the chalet's spa facilities are shared with Chalet Alex, also located in the same building. These spa facilities include a swimming pool, steam room, sauna, and treatment room. Elena has a great kitchen for your designated chef to cook up a scrumptious meal, however if you would prefer to be waited on, then the chalet can be taken on a fully catered basis on request. For larger groups of up to 20 or corporate ski trips, Chalet Elena and Chalet Alex can be taken together as Chalet Shalimar.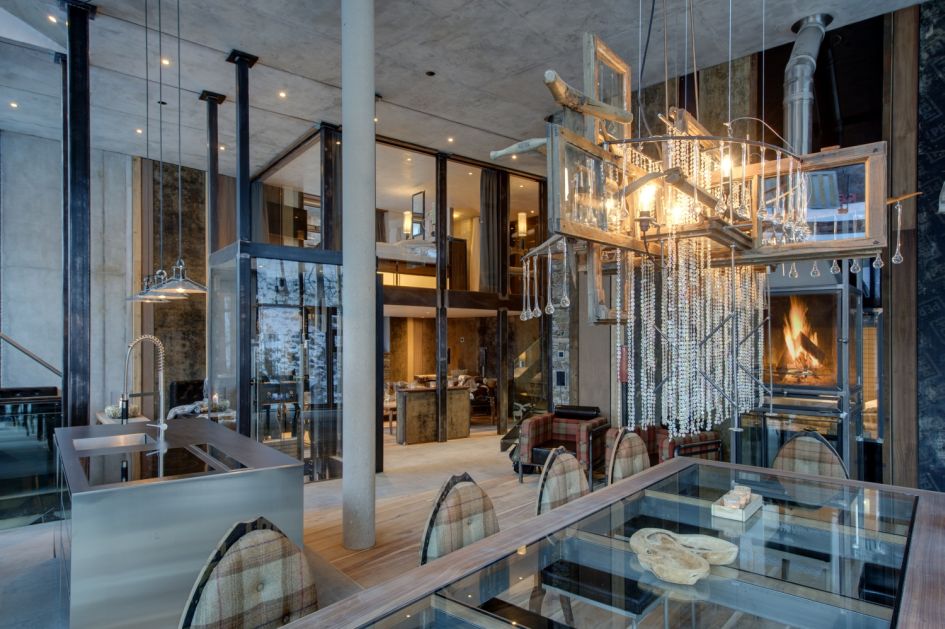 It is not hard to understand why the Backstage Loft features in our Ultimate Luxury Chalets Collection. With a combination of 600m² living space and a selection of private features including an indoor/outdoor hot tub, sauna, gym, cinema room and the use of the Backstage Hotel Spa and Wellness area, the chalet is one of a kind. Similarly, to Heinz Julen Loft, Backstage was designed by Heinz Julen himself, whilst incorporating his unique style and valuable designs to create one of the most luxurious self catered chalets in Zermatt. Although located in a quiet residential district, the resort centre is around a 5-minute walk away, and the pistes can be accessed within a matter of minutes, offering the perfect balance of peace and proximity. As well as being available on a self catered basis, Backstage Loft is offered on a fully catered basis, or with breakfast.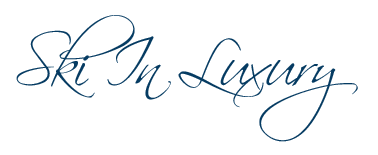 I hope that the above gives you a better understanding of some of the best self catered chalets in Zermatt as well as some of the top places to eat on a self catered holiday in Zermatt. If you would like further guidance why you should consider Zermatt, or where you should stay that would most suit to your group, please don't hesitate to get in touch by sending an email or giving us a call on +44 (0)1202 203650. Our Ski Specialists will be delighted to help you make plans for your next luxury chalet holiday in the Alps.