When Andy asked me to write a blog in my interview process for the job as a ski specialist, I desperately needed some inspiration. Luckily, having just finished a ski season as a chalet host in La Tania, this gave me something fresh in my mind that I could use. Now finding you luxury chalets for your own holiday, I'm really glad that I have seen the chalet service from the other side! If you are interested in what it is like to work as a chalet host or maybe just having a little giggle at my first blog attempt, Andy has fortunately asked me to share it with you all. Carry on reading to take a peek whilst I go and cringe behind my computer screen.
"You can't have your cake and eat it too." This proverb sticks strongly in my mind when I think of my chalet hosting experience. Not only does it revolve around food, as with most things in the chalet experience, but it also means you can't have the best parts of a ski season without some sacrifices.  As a chalet host, I soon learnt that a lot of hard work meant a lot of benefits down the road but these weren't my thoughts at the start of the season. In this post, I hope to give some insight into the life of a chalet host for anyone thinking of becoming a host, or to someone who is just curious if working a ski season is as amazing as it seems.
When my boyfriend, Toby, and I arrived for our roles as a chalet couple we were nervous but eager to start our adventure, but things soon came crashing down with a bump. We began with an intense two-week training period in the chalet complex, Les Bruyéres, with the whole team of hosting couples. It was an itinerary filled with learning the ins and outs of our responsibilities and whole days of cooking practice. A lot of stages were fun such as learning to drive the minibuses and the (very serious!) snow chain game, but trust me when I say it's daunting having to cook a 3-course meal for the directors of the company and 10 other mouths on your second night in resort! After having made friends with everyone in the team and one week of training, we were then allocated our chalets and resorts. Ecstatic to be staying near to some couples but terrified to learn that we were to be placed in one of the company's flagship premium chalets, we headed off to La Tania.

We then spent a further two weeks preparing and cleaning for our first week as hosts as the snow was late to arrive which meant our guests were too. Apprehensive to start, the day finally came and a family of 8 arrived on Boxing Day. Having heard the stories, both good and bad, of hosting groups we were soon to learn that this would be our most demanding week of the season. Being told in the middle of the first dinner that they wanted all their bed sheets changing because they felt "scratchy" was less than ideal.
Another situation that you should not be surprised to come across is when a guest arrives and announces that they have a dietary requirement you were not told about. Don't panic, there is always a solution to be found. On a high note, receiving our first group of guests also meant we received our lift passes, so we could finally hit the slopes! The snow was much better than we expected as we had been watching it melt over the weeks previously. Having skied in the 3 Valleys many times before it was a welcome return to the pistes, although it took a moment for us to find our balance again.

By the end of our first week we had found it was a gruelling task trying to have the energy to complete both all our daily tasks and get a full days skiing. I would definitely recommend setting aside one day a week to rest and recharge the batteries! We found the earliest we could finish our jobs was 11.30am on a good day and knowing we needed to be back in the chalet by 4pm this really only meant we had a few hours on the slope. Meeting up with the other hosts all the way over in Les Menuires was out of the question on any day except our day off.
After a few weeks of full on work, miles and miles of skiing and some very late nights, it was safe to say we were exhausted. Toby was also beginning to feel the strain physically and was consistently complaining that his back was aching but with little time to rest and still a desire to be out on the pistes most days, he decided to crack on. It was at this point we started to ask ourselves whether the amount of work was worth the small reward of a few hours skiing. Something had to change.

This is the moment Toby and I shifted our roles around so that we were working most efficiently. It is important if you are working as a couple or team to notice each other's strengths. As soon as you learn what works best and not do the jobs you find most enjoyable/easiest, things start to flow much better. This meant I was on breakfast duty, cleaning bedrooms and dinner prep, whilst Toby took over the making the starters, cake baking and desert making (my favourite – Oh!)
We were soon out by half 10 which meant we could cover much more ground and take a more relaxed approach to skiing. We found ourselves skiing with our neighbouring couple a lot of the time which gave us a bit of friendly competitiveness on the slopes. I would say, always try to keep variety in your time out on the pistes or else it begins to feel a tad monotonous and your days start to merge together.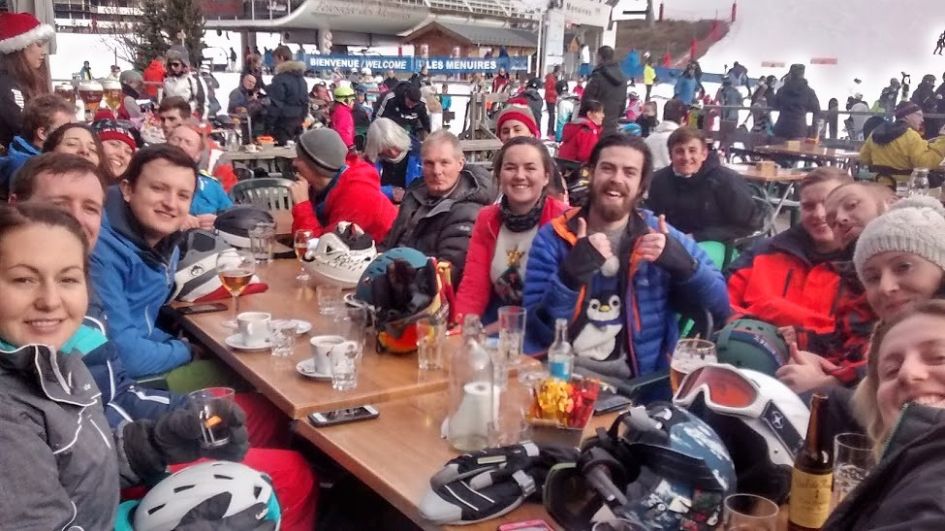 By the midpoint of the season, we honestly couldn't face another lamb tagine, or tarragon chicken, so although it meant dipping in to our small earnings, we began to treat ourselves to the occasional lunch out. 9.9 in Courchevel 1850 couldn't have got much better, a 3 course lunch meal for 9.99€ was a hidden gem to be found in the pricey and luxurious resort.
A great perk of chalet hosting are the tips! Although not always much, they came in very handy for providing us with a treat to lift our moods, create a memory or to solve an achy joint.  After a long weekend of transfers for Toby and changeover for myself, when we felt the sorest and most drained of energy, the following day couldn't be much better than when it was spent in Courchevel's amazing Aquamotion pool and wellness centre. True relaxation! However, it didn't quite manage to work its magic on Toby's back, which was much more severe than we had initially thought. Unfortunately this was our Achilles heel to our trip and a couple of weeks later we had to return home. Thankfully Toby is okay now and I'm very glad he made the sensible decision to stop before he caused permanent damage.
Overall, it can be said that although our season was a little shorter than expected, we learnt what was key to getting the most out of a role as a chalet host. Looking back even only a couple of months later, the lows seem trivial compared to the highs. I have just a few final notes of advice to survive the life of a chalet host.
Learn to love the company of your guests.
Make your free time what you want it to be. Don't feel like just because you went out there to ski, skiing is your limit.
Treasure the friendships, they get you through it and they will remain good friends when you return home.
Ski, Snowboard and anything snow related- after all it is the reason we're all out there so make the most of it!
AND FINALLY, APPRECIATE THAT YOU HAVE NOW BECOME A DOMESTIC GODDESS AND YOUR CHORES AT HOME WILL NEVER SEEM SO HARD EVER AGAIN!
If you haven't stayed in a catered chalet before and this has made you feel like it is something you'd like for your next ski holiday, we are always on hand to help and give advice in finding the perfect luxury catered chalet for you. Maybe you have stayed catered before and want to know what new chalets are out there now. We are more than happy to help! Just give me a call on +44 1202 203650 or send me an email.