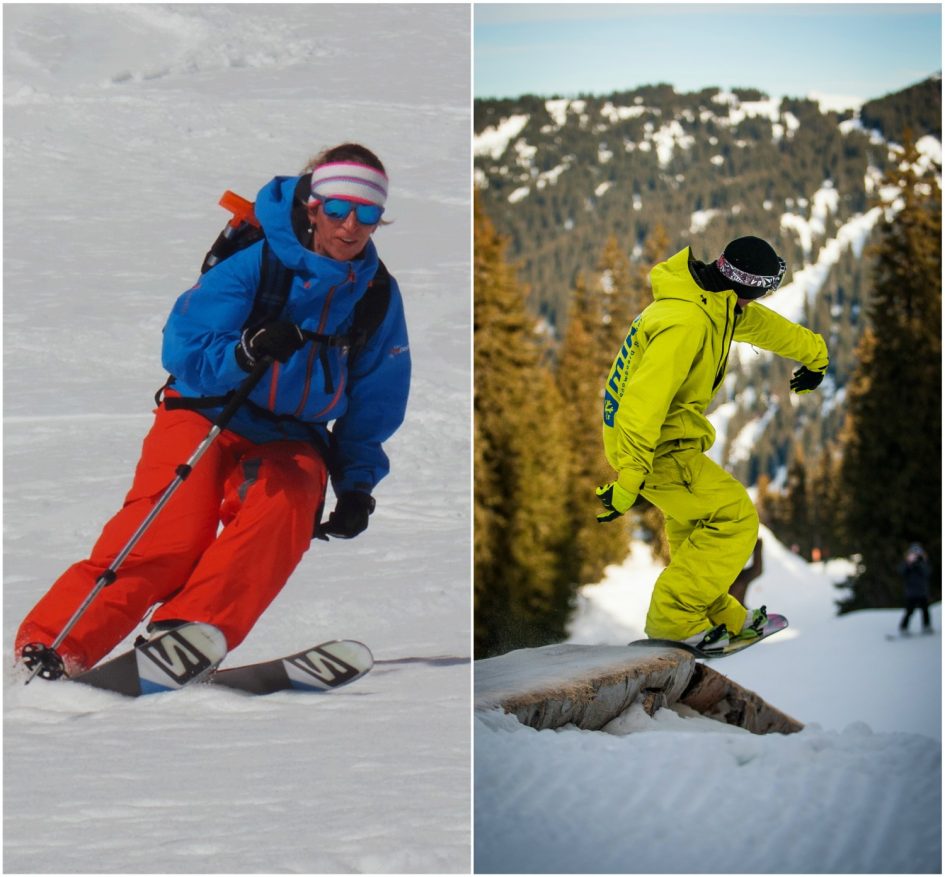 The Portes du Soleil is both a ski and snowboarding haven. Boasting 650km's of piste starting from shallow beginner runs, to well-kept snow parks, a permanent half pipe, as well as some of the most challenging downhill slopes in the Alps. There really is something for everyone.
I caught up with Helena McClintock from Ski Beyond and Tammy Esten from Mint Snowboarding; both qualified and experienced ski and snowboard instructors in Morzine and Les Gets as well as the rest of the Portes du Soleil ski area.
Are you a beginner skier? Are you a beginner snowboarder? Are you looking for the best off-piste skiing, the best runs for intermediate snowboarders or simply where to stop for lunch in the mountains? Read on to get a ski and snowboard instructor's guide to the Portes du Soleil.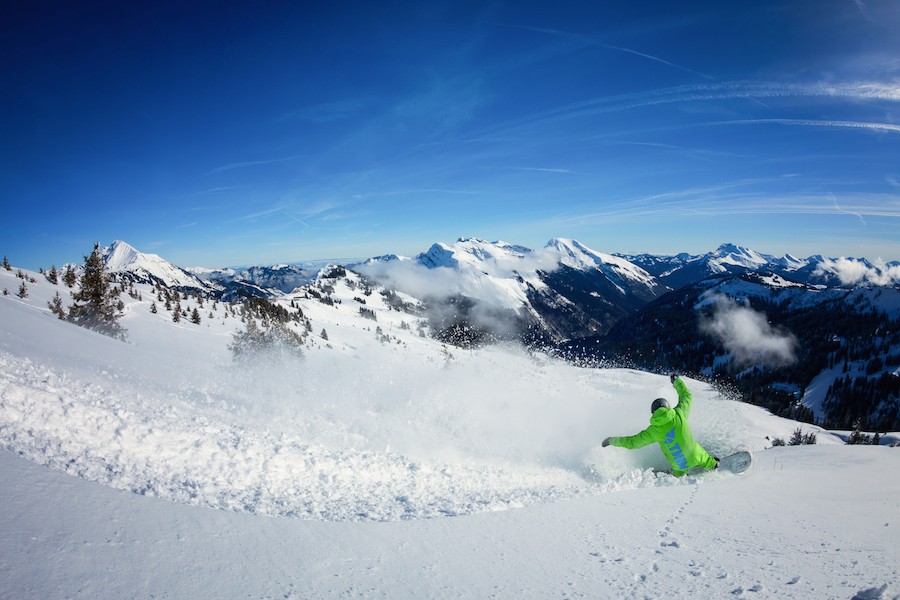 Best Runs for Beginner….
Skiers:
The Les Gets Beginner area is great, with a couple of magic carpets & rope tows, making learning to ski more enjoyable and easy to master. You will be gliding around and turning within no time. There are several nice green runs and a great progression on to some blue slopes all in the one area from the top of La Croix chairlift. The Indiana Park & the Milka Run also offer fun interactive runs, making it the perfect place for kids.
Snowboarders:
A great area for those relatively new or learning to snowboard is the gentle blue slopes of Super-Morzine. The runs are wide and south facing, which means that the snow is often soft and forgiving. The views are stunning and there are numerous restaurants to stop and refuel. Another great bonus of Super-Morzine is that the slopes are always quiet, with others preferring to venture further afield.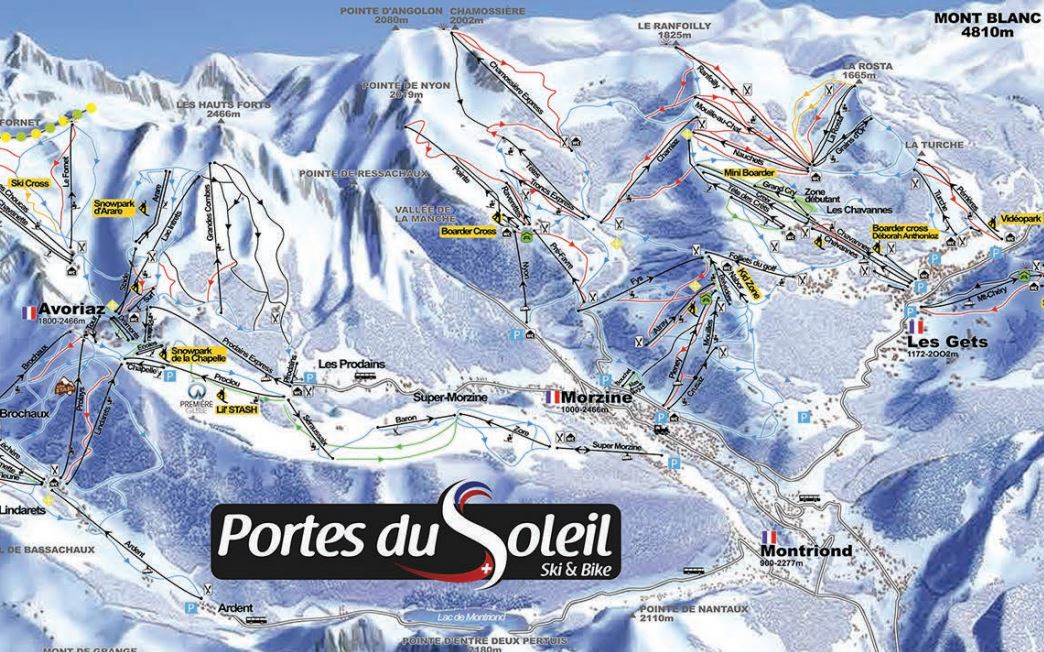 Best runs for Intermediate….
Skiers:
The Morzine & Les Gets area is perfect for developing intermediate skiers with some great blue & red slopes, the Rhodos run is a lovely quiet, wide red run perfect for developing technique. The run down Les Perrieres is also a fantastic long run with both flatter & steeper sections, great for testing out some new skills.

Snowboarders:
The Portes du Soleil is an intermediate snowboarders dream, with most of the 650km of slopes suited for intermediates you can explore forever! The tour of the Portes du Soleil is a fantastic day out if you want to get in maximum kilometres from your day on the hill. The Burton Stash snow park in Avoriaz is another favourite, as well as the empty slopes of Mont Chery in Les Gets.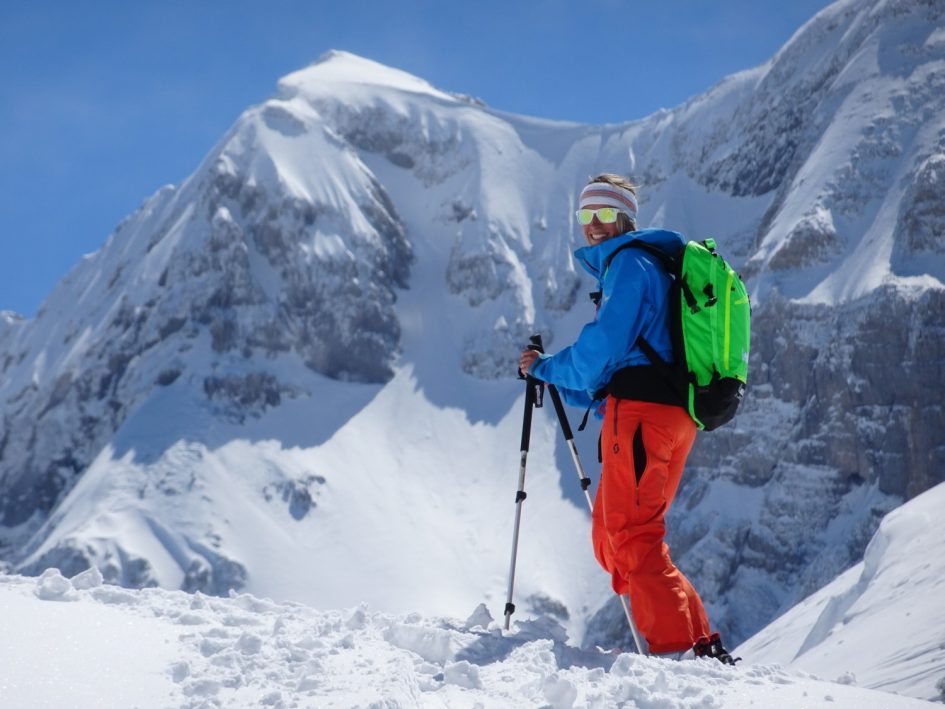 Best runs for Advanced….
Skiers:
For me, one of the best places to ski is on Mont Chery in Les Gets. It boasts red & black runs to keep you entertained for days. From lovely wide red pistes for working on carving, to steep red runs for short turns, and black runs for testing out your bump skiing……and it has a great tree area for those powder days!
Snowboarders:
For advanced snowboarders there are a whole heap of options based on freestyle riding. Some of the best snow parks are in the Portes du Soleil area, especially in Avoriaz itself. For advanced freestyle riders the Chapelle snow park is a great place to riding on a sunny day with both jump and rail lines. In Avoriaz there is always a well maintained half pipe, not for the feint-hearted!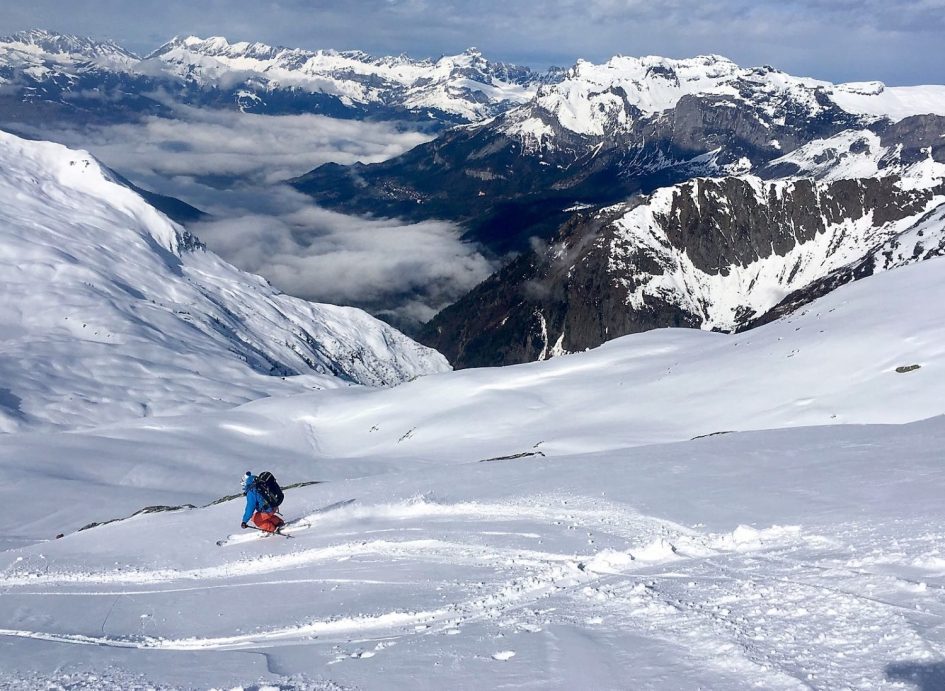 Best areas for off piste….
Skiers:
There are lots of places I love for off-piste skiing and most of them are easily accessed from Morzine, Les Gets & Avoriaz. Some of my favourite places are Mont Chery, Chamoissiere, and also skiing into Les Crosets from Avoriaz. It is always important to know what you are doing, where you are going & take the right equipment. Make sure you ask the professionals as the conditions can change so quickly in the mountains. I would always recommend getting an off-piste lesson. Here at Ski Beyond we will provide you with an off-piste pack with a shovel, transceiver and probe and will teach you how to use them.
Snowboarders:
There are so many incredible areas for riding off piste in the Portes du Soleil. The area has fantastic terrain below the treeline allowing for great powder runs in storm conditions in particular in the Lindarets bowl and Chatel. Then there are a huge number of couloirs ranging in steepness and technical difficulty for those advanced riders wanting an adventure. Here at Mint Snowboarding we offer courses in off-piste and back-country which we thoroughly recommend and an all time classic has to be the Vallée de la Manche, a 1,000m descent taking you from the top of the Avoriaz ski area down to the valley floor. It is a stunning descent, far away from civilization.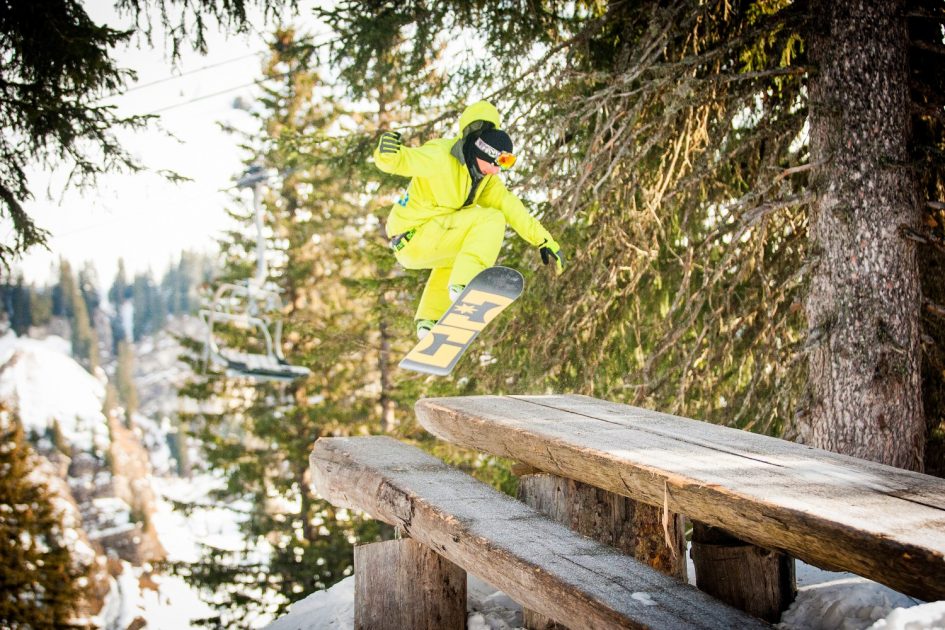 Best areas for low light day….
Helena – Ski Beyond:
On a low light day, I would always head for the trees either in Lindarets or Morzine & Les Gets.
Tammy – Mint:
The majority of the Morzine & Les Gets areas are under the treeline so allows for visibility on a poor weather day. There are some nice wide runs to carve on, perfect for beginner and intermediate riders.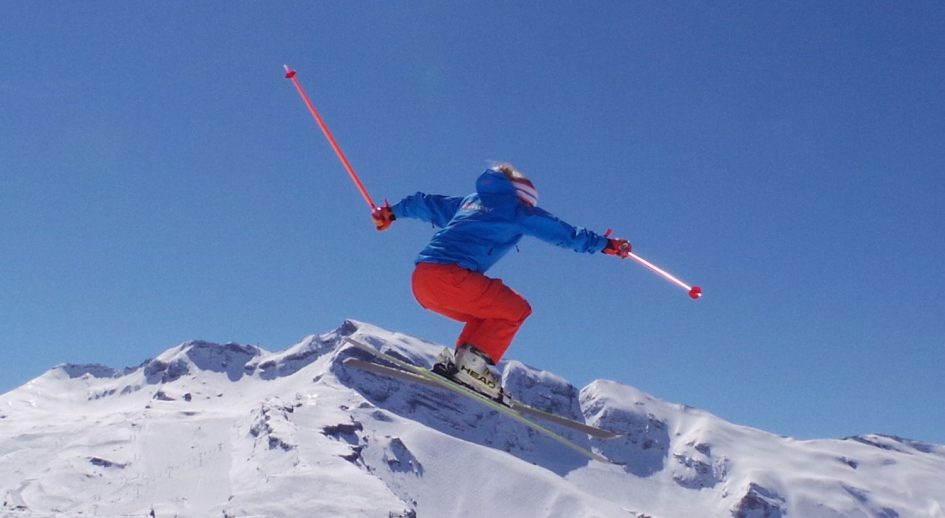 Best Lunch Spots in Portes du Soleil….
Helena – Ski Beyond:
Depending on which area you are skiing, we have a favourite lunch spot in each. Some of our favourites include Le Chaudron in Lindarets, La Paika in Les Gets & Le Vaffieu in Morzine, just to mention a few. Ask us when you are here and we can book a table for you and go through the best way to get there for your whole group.
Tammy – Mint:
For stunning views over to the Mont Blanc massif, you cant beat La Grande Ourse on Mt Chery, Les Gets. In Avoriaz check out the small but friendly Mamo's Cafe in les Lindarets or Changabang burger bar, ever popular amongst snowboarders.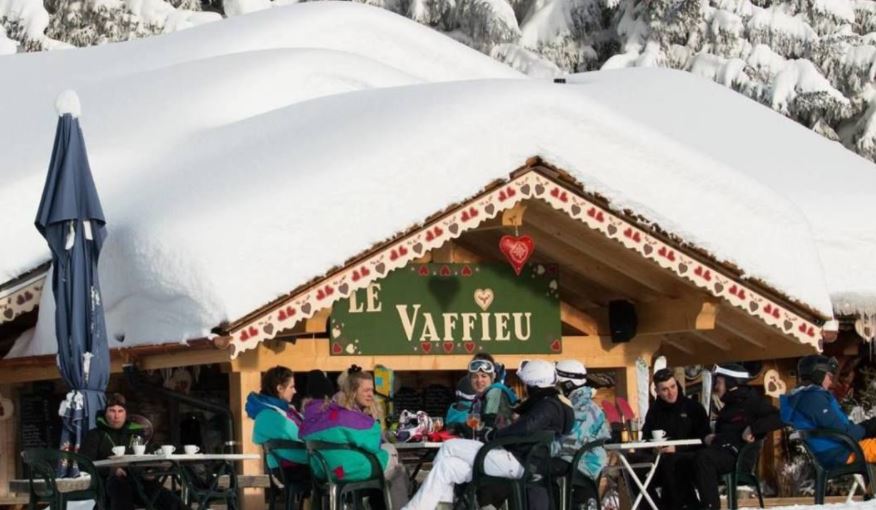 What Sets you aside from the competition?….
Helena – Ski Beyond:
We offer a true personalised service. We really care about you getting the most from your ski holiday and are passionate about improving & transforming your skiing. Ski Beyond offers lesson for all abilities & depending on your preference, we can offer private or group lessons as well as specialist ski clinics such as off-piste and mogul training to name but a few.
You can follow us on Instagram & Facebook. If you're looking to book lessons or simply want some information get in touch with us by sending us an email.
Tammy – Mint:
Established in 2005, MINT Snowboarding offers progression for all level snowboarders via private lessons, group courses and off piste guiding in the Portes du Soleil luxury resorts of Morzine and Les Gets, Avoriaz and Chatel.
You can follow us on Instagram & Facebook and get in touch with us by sending us an email or call on +33 450 84 13 88.

Thank you Ski Beyond and Mint Snowboarding for your very useful guide!

If you haven't booked your next ski holiday and need help finding a luxury chalet in Morzine and Les Gets, Chatel or Avoriaz, get in touch with us today on +44 1202 203650 or send us an email and we will be happy to help.