Heading to the mountains on a luxury ski holiday can be fuelled by many different reasons for many different people; participating in a variety of snow sports and winter activities, getting a taste of the Savoyard cuisines, indulging in quality R&R at a luxury alpine retreat, or perhaps letting your hair down for the infamous mountain après-ski scenes. These are the typical reasons people take a luxury ski holiday, but have you ever considered experiencing music festivals in the Alps? Imagine your favourite artists joining you in some of your favourite mountain destinations whilst you do your favourite mountain things…I mean, just think of the backdrop for that Instagram post!
The Alps welcomes mountain and music lovers to the various forms of entertainment in some of the world's most beautiful destinations. From world class artists and acts, to pool parties and cabaret, there's something for everyone. Take a look at our top festivals in the Alps for an experience like no other…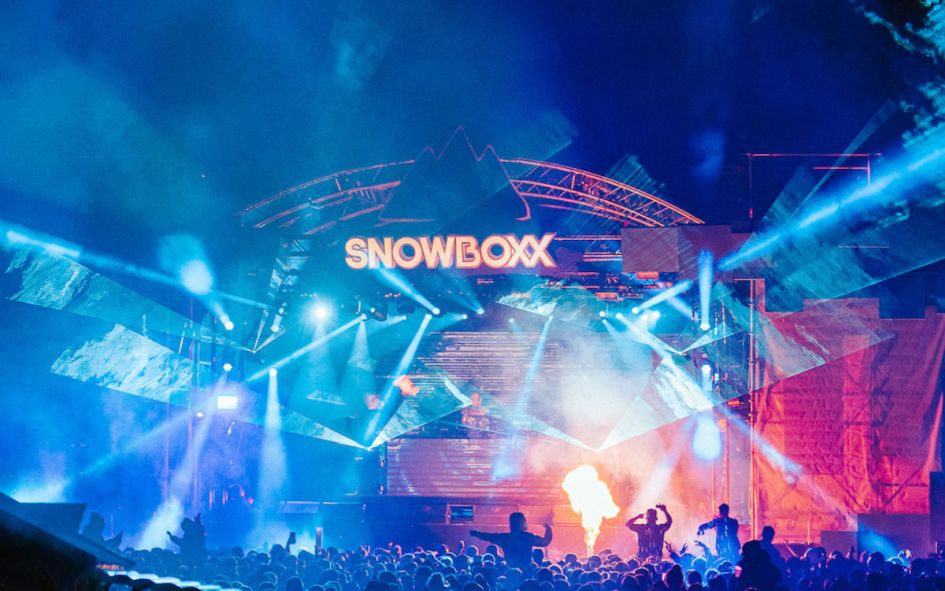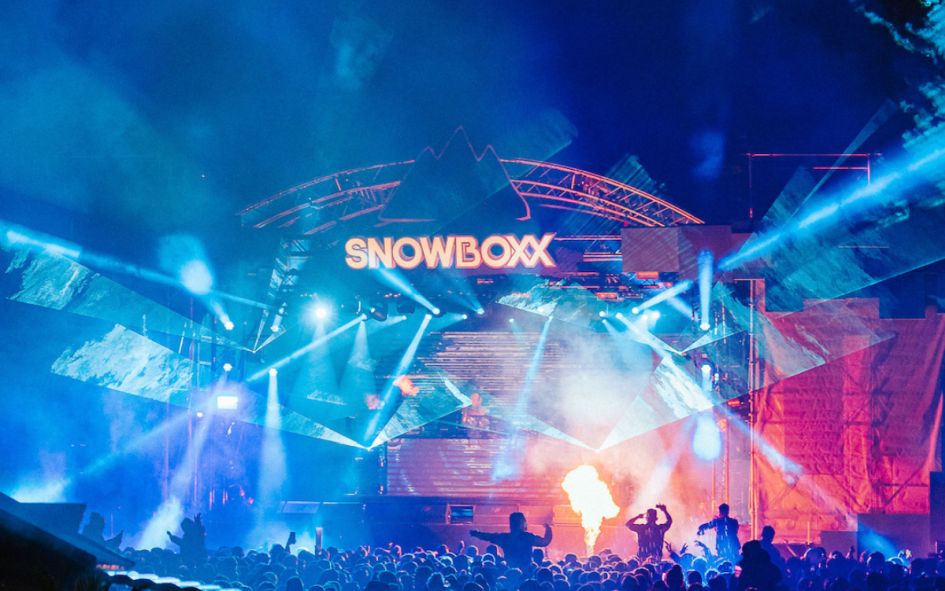 One of the biggest festivals in the Portes du Soleil, Snowboxx is set in the car-free ski resort of Avoriaz and offers more than just music and mountains. Typical to many resorts hosting festivals in the Alps, Avoriaz embraces a whole new level of 'alive' to the soundtrack of well recognised artists and DJ's and crowds of party people adorning vibrant apparel. You'll find stages dedicated to unmissable après ski on the mountain, goose-bump-producing sounds in a symphonious enchanted forest setting, late night clubbing downtown and epic parties with artists in secret locations. This mountain festival is one to witness!
Heading to the pistes, you can explore the vast Portes du Soleil ski area, which offers a great variety for all abilities and interests. If you feel as confident and untouchable on the slopes as you do when you are throwing shapes mid-festival, the Stash and the many snow parks in Avoriaz may well be the fun you are looking for. The Stash invites you to play around on rails, kickers, boxes and various fun obstacles at it's 100% natural playground. For a typical snow park experience, Avoriaz will again deliver in one of it's six freestyle snow parks. If flying through the air from a kicker is not your thing, there are plenty of other activities to get involved in from skimming pools to bottomless brunches – Snowboxx has a reputation for all of its wild and wacky activities.
Snowboxx 2023
Each year, the European Snow Pride Festival gets bigger and better. In celebration of individuality, this festival in the Alps is all about making a statement in snowsports. Each year, European Snow Pride takes place in the popular ski resort of Tignes, acclaimed to be the most actively and openly gay-friendly ski resort in France. So with open arms, Tignes invites everyone to join in one of the biggest gatherings LGBTQ+ skiers and snowboarders in the Alps. Expect to be lifted amongst a diverse range of entertainment events including parties thrown by popular international DJ's, first class cabaret shows, incredible pool parties and themed fancy dress après ski!
For more loud and proud fun, be sure to check out European Gay Ski Week, located across varying resorts each year.
European Snow Pride 2023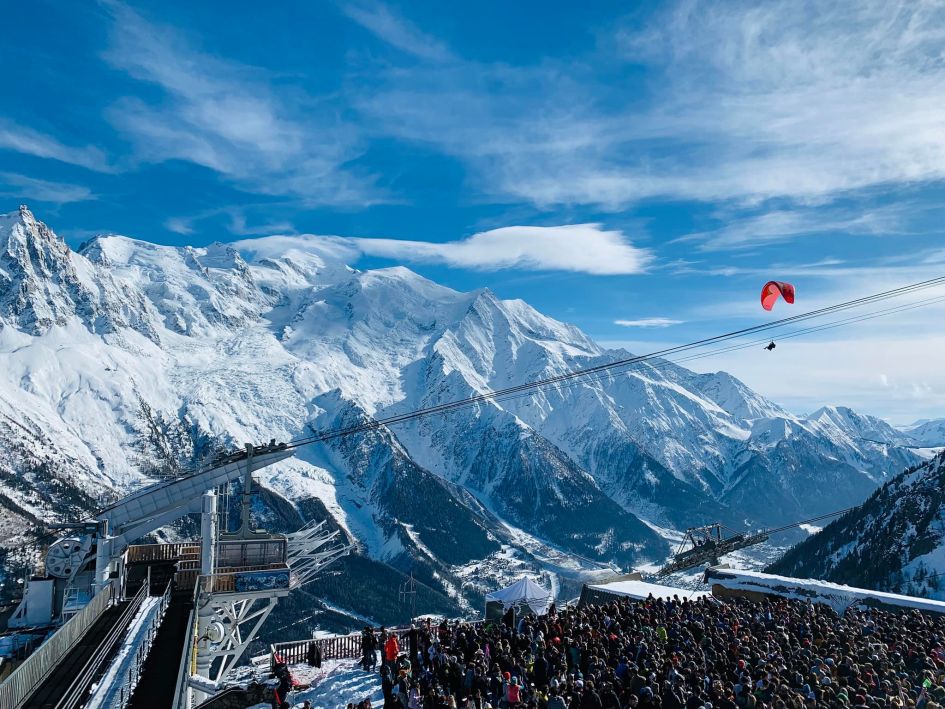 The Chamonix Unlimited Festival takes festivals in the Alps to different heights. Located in various areas in the Chamonix Valley, from the depths of 'Les Caves' in town to the very top of the Aiguille du Midi, the 5 day Electronic festival is full of fun.
Chamonix Unlimited features various DJ artists, open air events pool parties and après BBQ's. When considering music festivals in the Alps, this one is perfect for a cultural experience as it represents a merge of urban culture and free-skiing initiated by the collaborating Black Crows Ski brand. You can access all of the venues with the special ticketed pass which can include access to the ski areas and discounted prices at the après bars. Can you make Mont Blanc rumble?
Chamonix Unlimited Festival 2023
Where better to listen to the sounds of an acoustic festival than between the mountains of the world famous Swiss ski resort, Zermatt? The unique music festival has a total of 17 stages placed around the village and up at mountain top heights, close to the night sky stars. You can experience sensational acts from well-known acoustic acts on the Marquee stage or new and up coming artists, to small intimate sessions at Sunnega or the melancholic sounds of blues acts. Zermatt Unplugged prides itself in simply top-class acoustic music and delicious gourmet foods from partner restaurants – what more could you want?
Video Credit: Zermatt Unplugged
Zermatt Unplugged 2023
The famous ski resort of Crans Montana hosts THE techno and house party of the Alps at over 2,000 metres above seas level. It is led by some of the world's leading electronic music artists and is a well established festival in the Alps for its variety. Each year you can expect performances from old and new artists across various venues to celebrate like never before. From daytime dancing to moonlit clubbing, Caprices Festival will ensure you can ski and party until your legs can't hold you!
Caprices Festival 2023
Possibly one of the most renowned music festival brands in the world, Tomorrowland is home to legendary dance music across various venues throughout the year. It is at Tomorrowland Winter however where you experience the breathtaking picturesque scenery, sunshine and ski paradise of Alpe d'Huez. With 8 stages and some incredible artists, Alpe d'Huez awaits your presence for it to be the best yet. As far as music festivals in the Alps go, Tomorrowland Winter is a calendar highlight for many.
Tomorrowland Winter 2023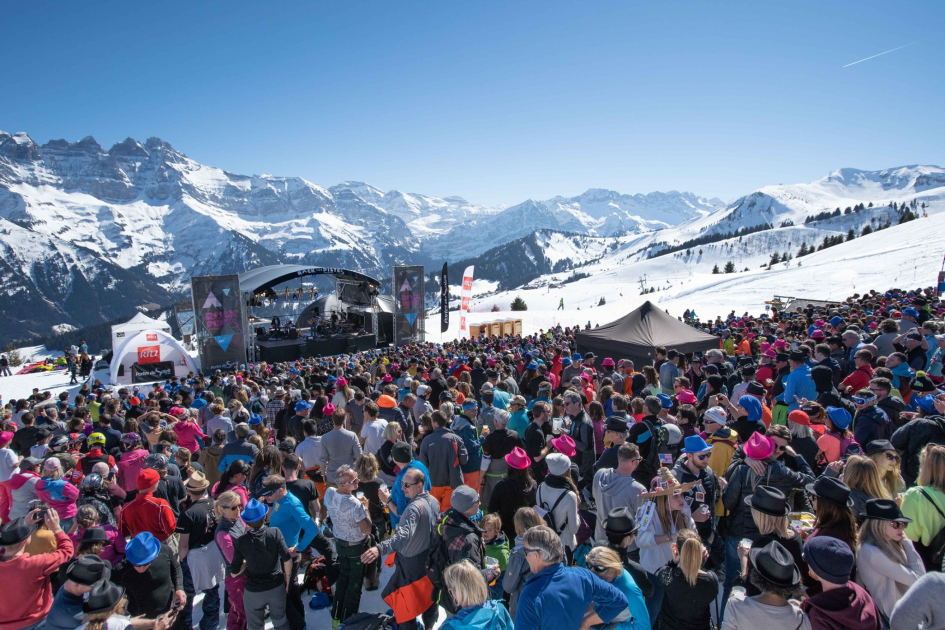 In attempt to quite literally 'rock the pistes', this festival in the Alps is one for the pop-rock lovers. The sound of well recognised artists echo the mountains and become the ultimate soundtrack to your days skiing in the Portes du Soleil. If you choose to stop off and unclip, you'll be boogying in your boots at one of the 5 main concerts, or 30 après ski concerts! Join nearly 30,000 festival goers for unique and unforgettable experiences amongst mountain heights in the Portes du Soleil.
Rock the Pistes 2023

So if you haven't yet booked your luxury winter ski break, perhaps consider tying it in with one of these top five alpine festivals and maximise your mountain experience. If you would like any more information or need any advice on where to stay do get in touch of give us a call on +44 1202 203650 and we'll be happy to assist in your search for a music festival ski holiday like not other.
e inspiration on luxury ski holidays and the best luxury chalets in the Alps, be sure to follow us on social media.