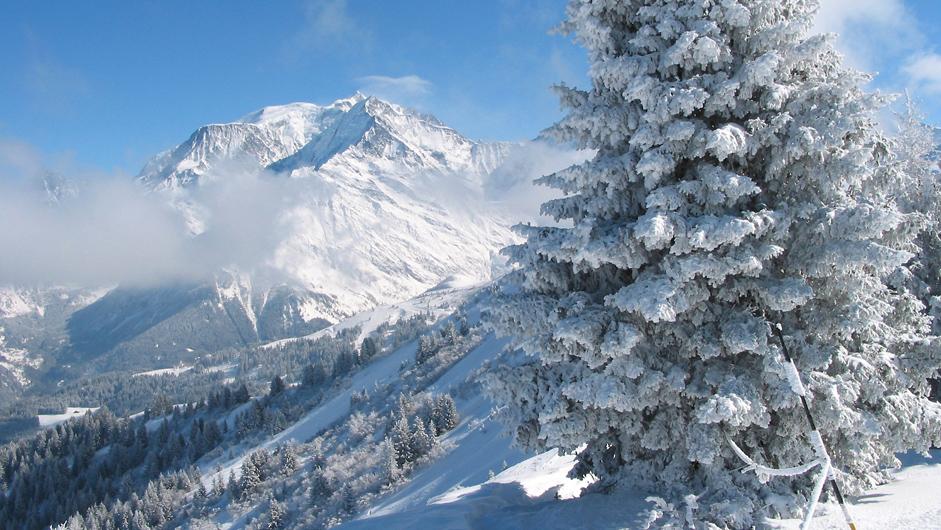 The French Alps boast some of the most famous ski resorts in the world, but sometimes it's worth considering the hidden gems for a luxury ski holiday. One of the best corners of the Alps for a memorable ski vacation is the resort of St Gervais in the Mont Blanc region. St Gervais boasts fantastic skiing for all abilities (as well as quieter pistes than many of the better known resorts!), a beautiful, historic town centre, world-famous spas, and of course, the highest mountain in the Alps.
If you're looking to discover somewhere new, consider a luxury ski chalet in St Gervais for your next winter holiday; where heritage and authenticity meet fantastic skiing and memorable experiences. Take a read through of our top reasons to visit St Gervais for a luxury ski holiday…
Balneology – Natural Spa Spring and Thermal Baths
Take a moment of wellness and relaxation during a luxury ski holiday to St Gervais. Enjoy a healing alpine spa experience at St Gervais' thermal baths. It is the place to revive tired ski muscles and reconnect with nature in a beautiful setting. The waters of the thermal baths at St Gervais have filtered through Mont Blanc itself over thousands of years. They can be experienced in naturally warm spring baths, a variety of steam rooms, and relaxing pools. Not only, the spa waters are recognised by the French Academy of Medicine for their healing properties, thus attracting visitors for centuries. Add an extra level of luxury to your St Gervais ski holiday, with these thermal baths being one of the top things to do in St Gervais.
Skiing for all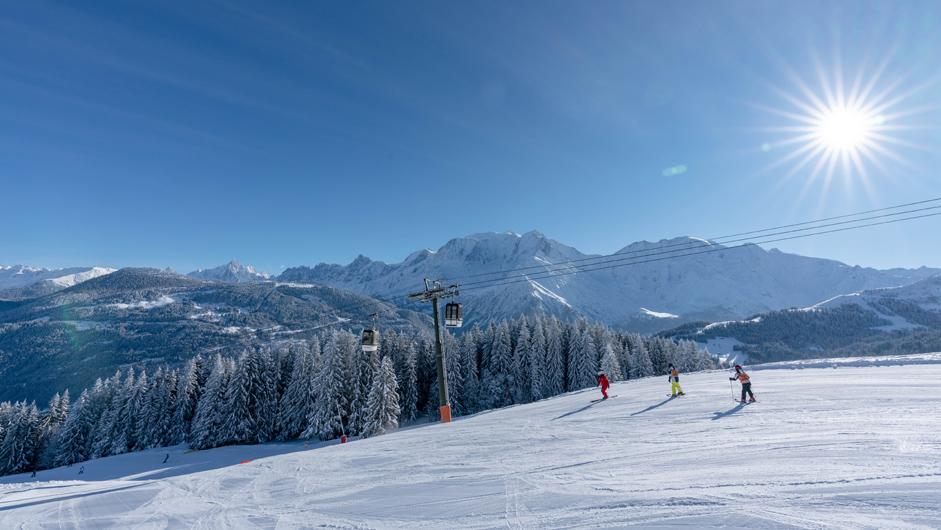 With plenty for all levels to enjoy, skiing in St Gervais is perfect for families and mixed ability groups. Beautiful tree lined pistes are friendly to beginner and intermediate skiers looking to build confidence during a St Gervais ski holiday, and top out at an altitude of 2,353m. As you'd expect from one of France's largest ski areas however, there's also plenty for advanced skiers to explore. From challenging pistes to back-country tree skiing, and a couple of snow parks, the experienced will be well entertained. For cross-country enthusiasts, skiing in St Gervais offers several beautiful trails to explore through alpine forests. Not forgetting to mention memorable night skiing excursions at twilight.
One of the particular highlights on a luxury ski holiday in St Gervais is how quiet the ski area feels; but the true unique draw of St Gervais is its proximity to Mont Blanc. The Alps' tallest mountain actually sits within St Gervais ski resort. Visitors can enjoy spectacular views across the Mont Blanc Massif during their stay, which adds that extra spark of je ne sais quoi. Altogether ensuring a St Gervais ski vacation is one of the most extraordinary in the Alps.
If you wish to explore further afield, St Gervais is also connected with the highly sought after ski resort of Megève as well as Les Houches by mountain tramway, home to the Kandahar World Cup run in the Chamonix Valley.
Peaceful and Traditional…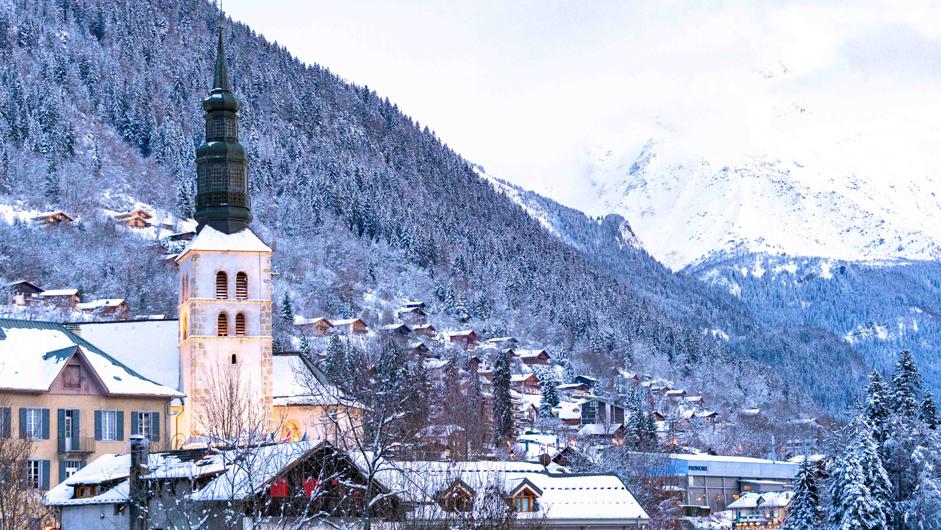 The ski resort of St Gervais is pretty, traditional, and boasts a strong cultural heritage. High-end visitors have travelled to St Gervais for centuries to experience rejuvenating effects of the thermal baths. They have left their mark on the town through its Baroque architecture and vibrant year-round community. There's a lot to explore and enjoy in St Gervais on top of the fantastic skiing. Wander around the village centre with it's artisanal shops and historic church for the cultural experience. Or discover the area's natural beauty on a unique journey to neighbouring town Les Houches via the Mont Blanc Tramway. Marked the highest cog-wheel train in France, the Mont Blanc tramway opens up panoramic views of famous local mountain peaks. It is a must-do activity during a luxury holiday to St Gervais.
…Despite its lively après scene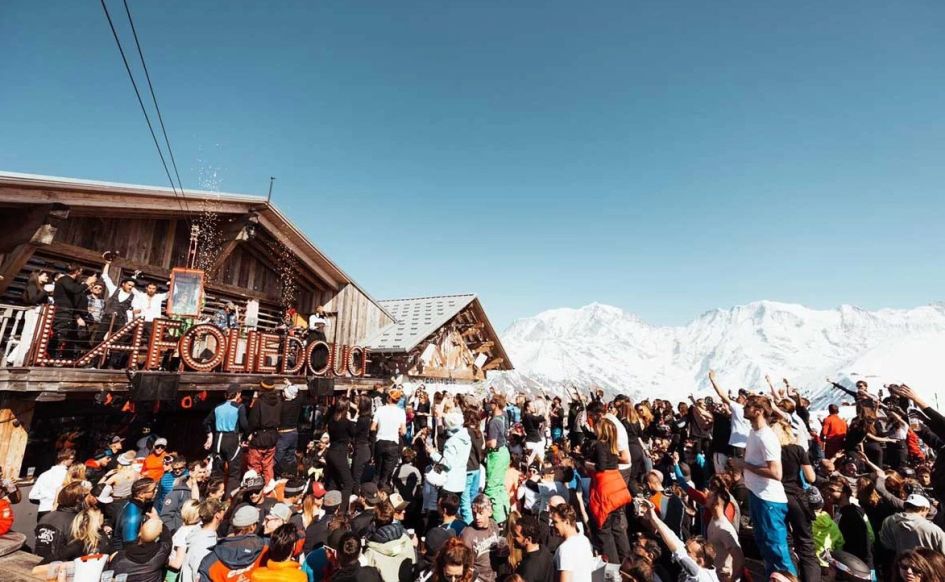 One of the best things about St Gervais is the combination of beautiful and traditional, with the fun and exhilarating! The resort of St Gervais boasts a fun, although not huge, après ski scene. It's just perfect for letting your hair down after a day skiing the Evasion Mont Blanc area. Après ski in St Gervais begins on the mountain. Live performances, dancing on tables, and mountain-top hedonism at nowhere other than the infamous Folie Douce. You'll find St Gervais' Folie Douce bar at the top of the Mont-Joux chairlift. Back to the bars in St Gervais resort itself, we love Les 3 Mousquetons. It's a friendly and relaxed bar loved by locals and visitors alike. It has a vibrant atmosphere, a range of drinks and tasty bar snacks.
Globally Inspired Dining
Evening Dining in St Gervais
Choosing a self catered ski holiday in St Gervais means you've hit the jackpot for exploring many dining options. You can find cuisines from around the world in this quaint Savoyard town. With Michelin star dining, St Gervais knows what's good when eating out on your luxury ski holiday in the French Alps.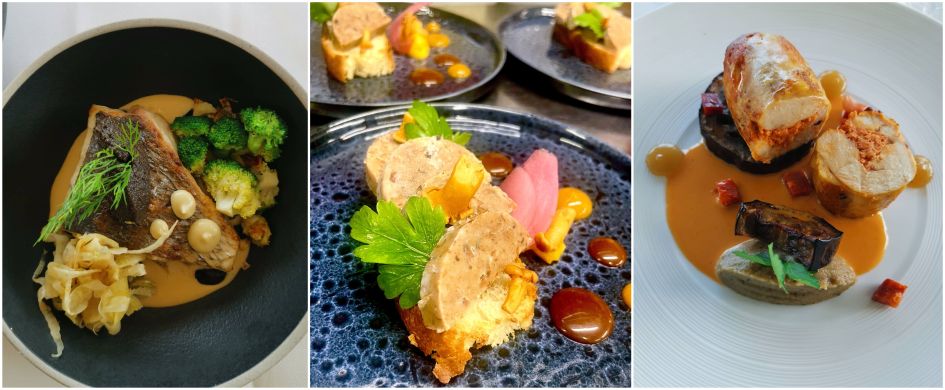 Restaurants for Lunch in St Gervais
A catered ski holiday in St Gervais can still offer up the opportunity to experience lunchtime dining. Here are our top mountain restaurants in St Gervais for lunch.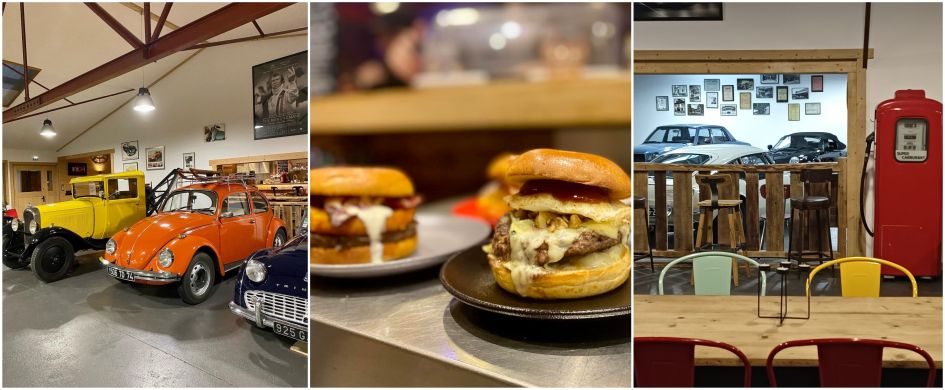 Luxury Chalets in St Gervais
We have a handpicked selection of luxury chalets in St Gervais, which all offer a great base for exploring this underrated ski resort in the Mont Blanc Region. From ski-in, ski-out locations to chalets with hot tubs, these chalets offer excellent value for luxury.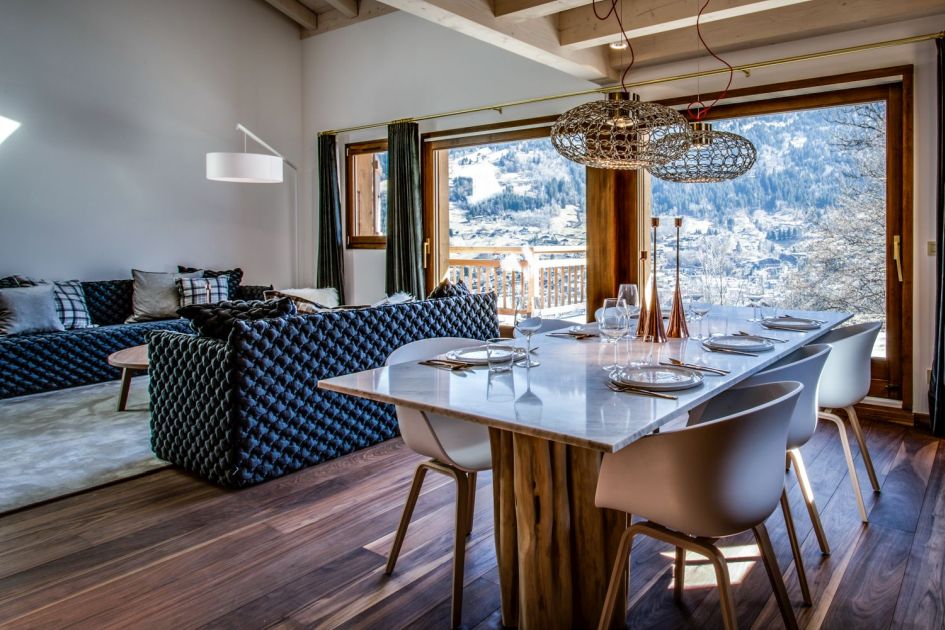 Elevated with stunning views of Mont Blanc, Chalet White Diamond is about a 5 minute drive or 15 minute walk from the centre. You can take advantage of the in-resort shuttle to the reach the slopes and be well looked after on your return to the chalet. With hungry tummies and hard-worked ski legs, let the team look after you with a quality multiple course dinner after you have recharged in the indoor hot tub or Hammam.
Chalet White Diamond accommodates 10-12 guests in 4 double bedrooms and a connected quad bunk-room.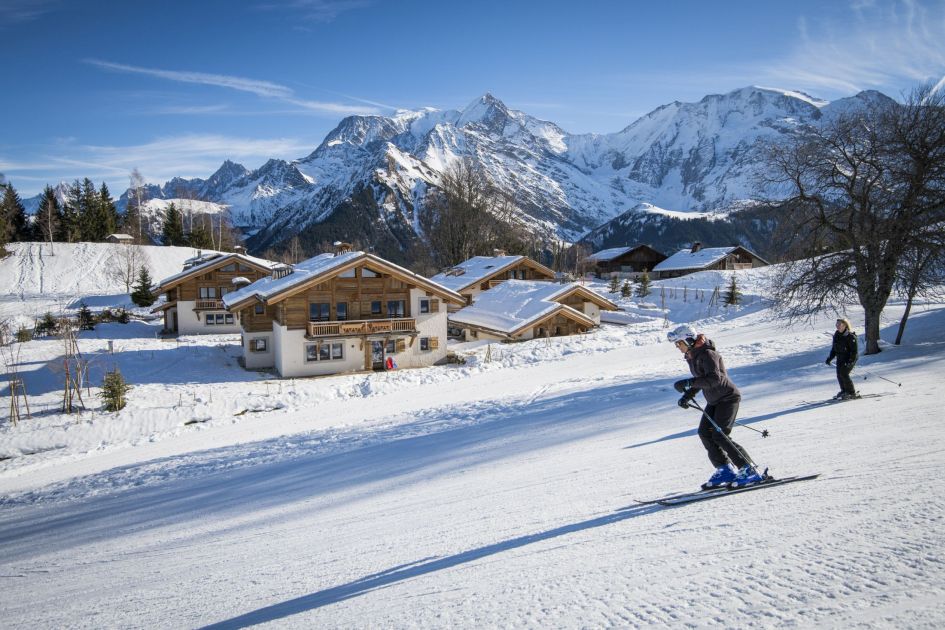 Located in a prime ski-in, ski-out position, Chalet Aster is set amongst neighbouring sister chalets, Chalet Carline and Chalet Silène. You could not be in a better position to explore the vast Evasion Mont Blanc ski area from your doorstep. Inside you can make yourself at home amongst stylish alpine interiors, stunning Mont Blanc views and rejuvenating wellness facilities. In addition, the Hotel Armancette located a short drive away, leaves its doors open for chalet guests to enjoy its five star amenities. A car or prearranged taxis would be advised should you wish to explore the town in the evenings.
Chalet Aster sleeps 10-14 guests in 2 double/twin bedrooms, 3 double bedrooms and a dormitory room, perfect for the children. Combine all three chalets for larger groups of up to 36 guests.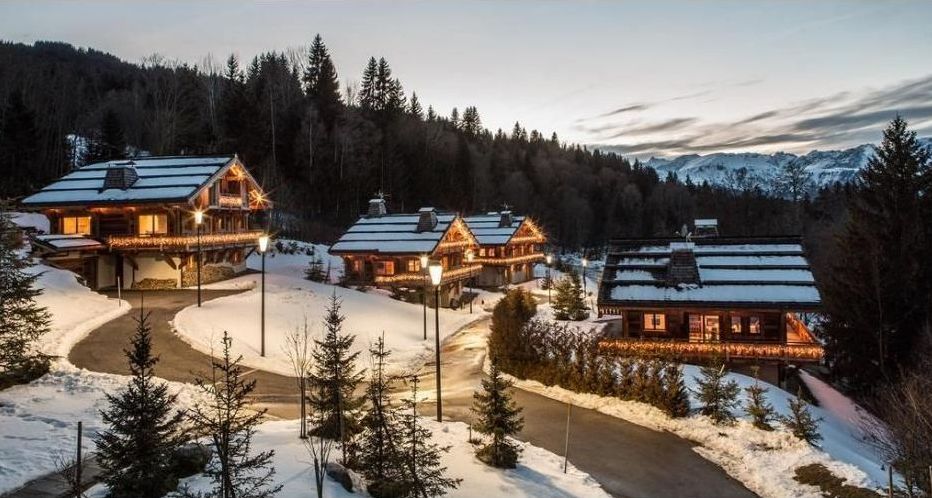 A combination property consisting of 4 individual chalets, Hameau du Renard Blanc offers the perfect set up for large family ski vacations or luxury corporate ski trips. Each chalet accommodates between 6 and 10 guests and all benefit from an outdoor hot tub to unwind after a day skiing in St Gervais. With a shuttle service to and from the slopes, you can enjoy the peaceful location whilst taking advantage of easy access to the St Gervais ski area. The south-facing terraces are perfect for enjoying an apéritif before the sun sets over the stunning mountain vistas.
Combining Chalet White Fox, Chalet Red Fox, Chalet Silver Fox and Chalet Grey Fox, Hameau du Renard Blanc accommodates up to 34 guests on a self catered basis.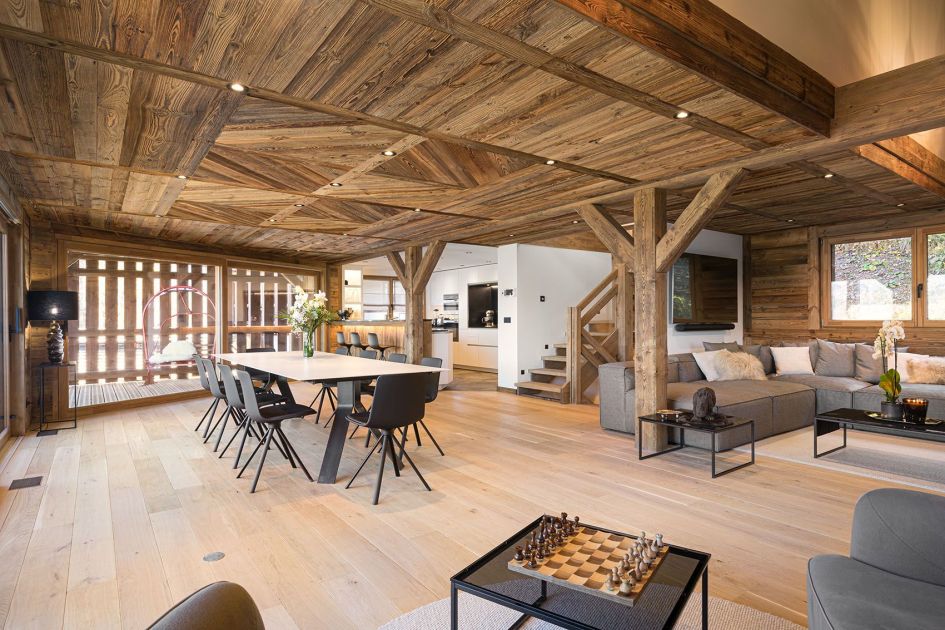 At the foot of the slopes, Chalet Les Cimes is a contemporary property that perfectly combines alpine traditions and stylish interiors to create a fresh homely feel on your luxury ski holiday in St Gervais. Offered on a self catered basis, your designated chef can take to the floor to impress you with their culinary skills in the sociable open plan kitchen and living space. Alternatively, you can add on catering services or of course explore some of the best restaurants in St Gervais. With a cinema room and wine cellar, both adults and children can be well entertained during the evening.
Chalet Les Cimes accommodates 8-10 guests but can be combined with Chalet Le Dôme for larger groups, forming Chalet Le 4810 for 16-20 guests.
Now that you know more about this hidden gem at the foot of Mont Blanc, perhaps a luxury ski holiday in St Gervais ticks the boxes for your next trip to the mountains? If so, our Ski Specialists are on hand to offer more advise about St Gervais ski resort and its luxury ski chalets. Get in touch by sending an email or giving us a call on +44 1202 203650.
For more inspiration on luxury ski holidays and the best luxury chalets in the Alps, be sure to follow us on social media.