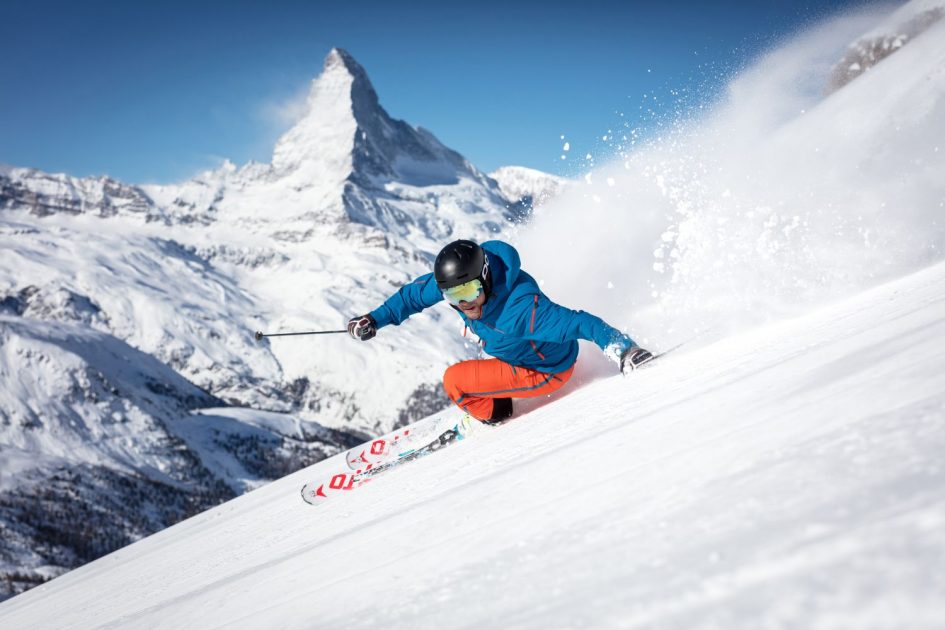 Zermatt is a resort that enjoy's some of the World's best skiing, all in the shadow of the iconic Matterhorn, but what makes this area so unique, where can you head for something a little different. We caught up with Rowena Phillips. Director of Matterhorn Diamonds Ski School in Zermatt. Here is her tips of trying a bit of Italian skiing during your luxury Swiss ski holiday. 
The border between Zermatt and Italy is a long high ridge, separating the teutonic north, from spirited Italy; a country of passion, pasta and Prada! But despite it's height and legendary nature, you can pass across this border without the need of Hannibal's elephants thanks to the Klein Matterhorn cable car (which is soon to be upgraded!) and the wonderful slopes that cross the border from Switzerland to Italy.
Once you have descended into Italy, your first big decision is whether you want to ski towards Cervinia itself or Valtournenche; Cervinia's gorgeous little sister resort, replete with empty, well maintained slopes, and excellent restaurants.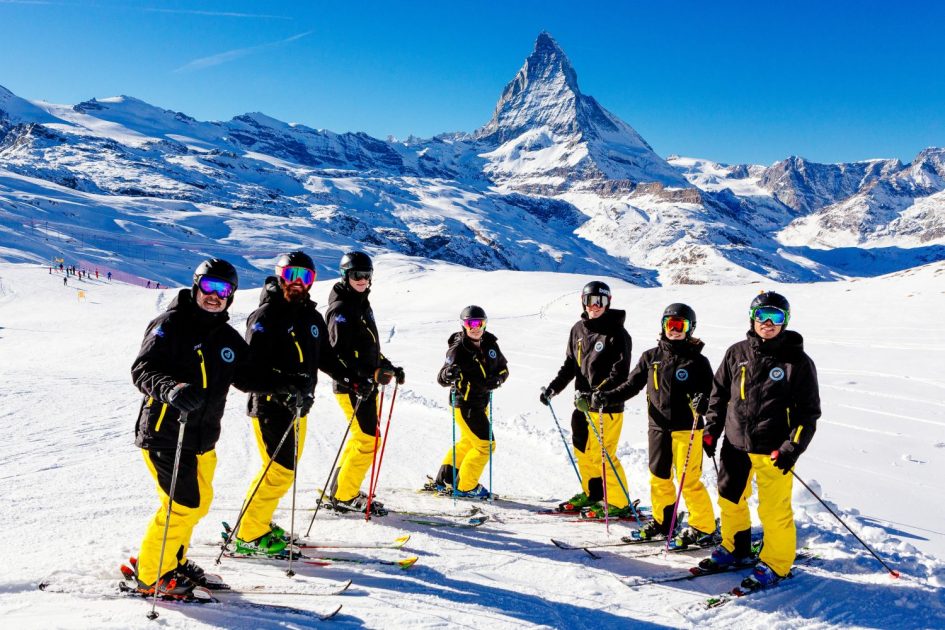 If you chose Valtournenche, you need to take a very short chairlift to access that valley and then the valley opens up to 7 (count them, 7!) runs all of which lead you down some fantastic reds (with the occasional black) to the bottom of a high speed 6 man chair, (which takes you back up to the slopes to rejoin Cervinia), or you can continue down towards Salette; the main hub above Valtournenche. These varying runs are a skier's dream, offering rolling varied terrain with open vistas south over the Aosta valley. If that weren't enough, the real gem is run 1, La Reine Blanche (the White Queen) from Salette to Valtournenche. It's a fantastic tree-lined winding run, with fantastic snow, and you'd be lucky if you see anyone else on the run at all.
In terms of restaurants, there are a couple of excellent snack bars and casual restaurants on the way down, including La Motta at and La Roisette. The dining in Italy is already worth the trip from Zermatt because restaurants offer such great value for money.
Just before the very end of the run no.1 and just above the village is Foyer des Guides, which is run by Walter; erstwhile manager of the Testa Grigia refuge and mountain guide. It is a beautiful modern wooden building, it has a great terrace to watch the skiers fly by and some excellent varieties of Grappa.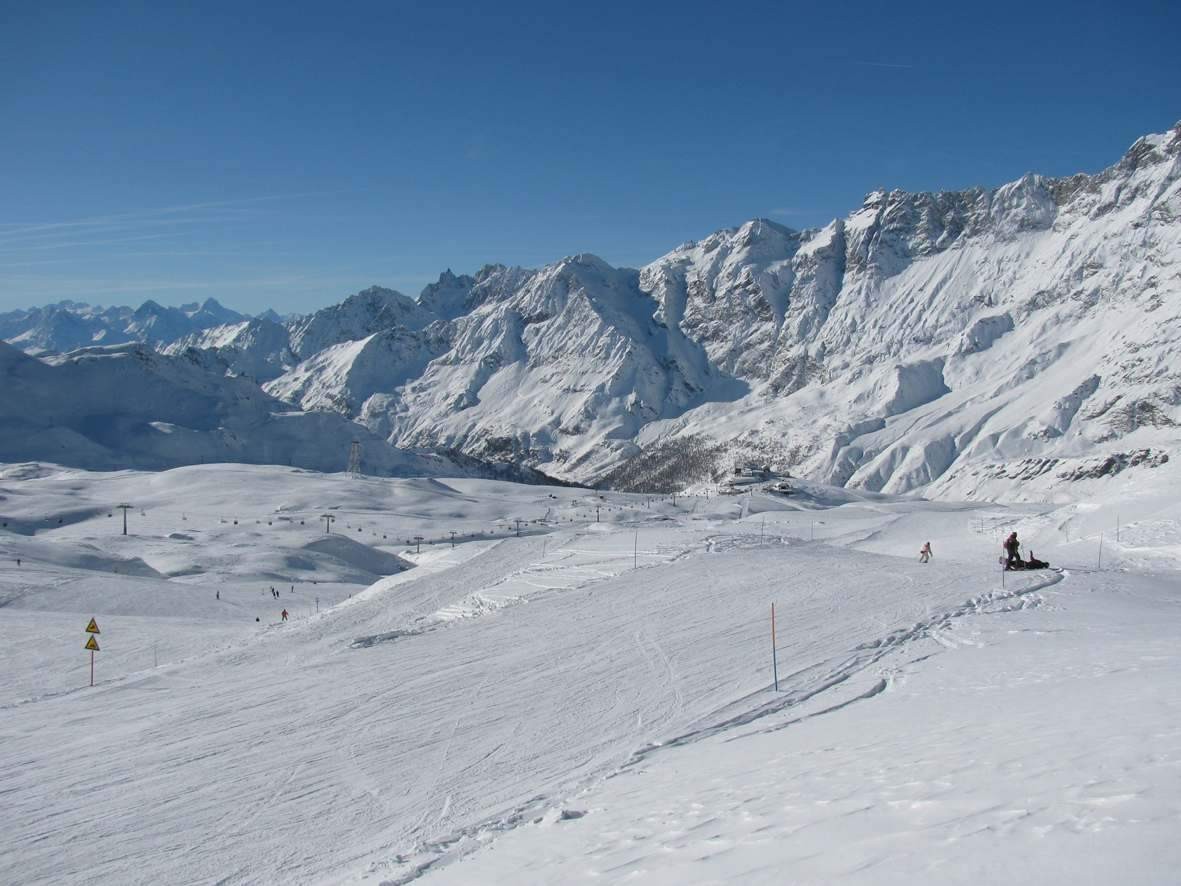 If you're feeling a little more adventurous, it's worth getting in touch with Les Rascard, a lovely old restaurant/hotel with stunning views and a huge terrace, about 10 mins drive from the bottom of Valtournenche. If you make a booking with them, they'll come and pick you up from the end of the slopes, then spoil you with a 4 course typical Italian lunch of Antipasti, Pasta, Mains and Dessert, with local herb and berry-based spirits to wash everything down at the end. After that they'll pour you back into the cars to take you to Cervinia to catch the last lift back to Zermatt (which is a lot later than the last Valtournenche connection). And you can make your way carefully back to Trockener Steg down the blue run before jumping in the gondolas back to the village.
The main thing to consider if you are skiing over to Italy from Zermatt is making sure you know the last lift times to get back over the border and also to keep an eye on the weather; if a storm suddenly blows through, it can shut the connection at short notice leaving you stranded in Italy for the night.. although I suppose there are worse places to get stuck!
If you're looking for luxury accommodation in Zermatt, then make sure you speak to the team at Ski In Luxury. Our clients have been travelling with them for years and they offer some of the best chalets in resort. You can call them on +44 (0) 1202 203 650 or you can send them an email.