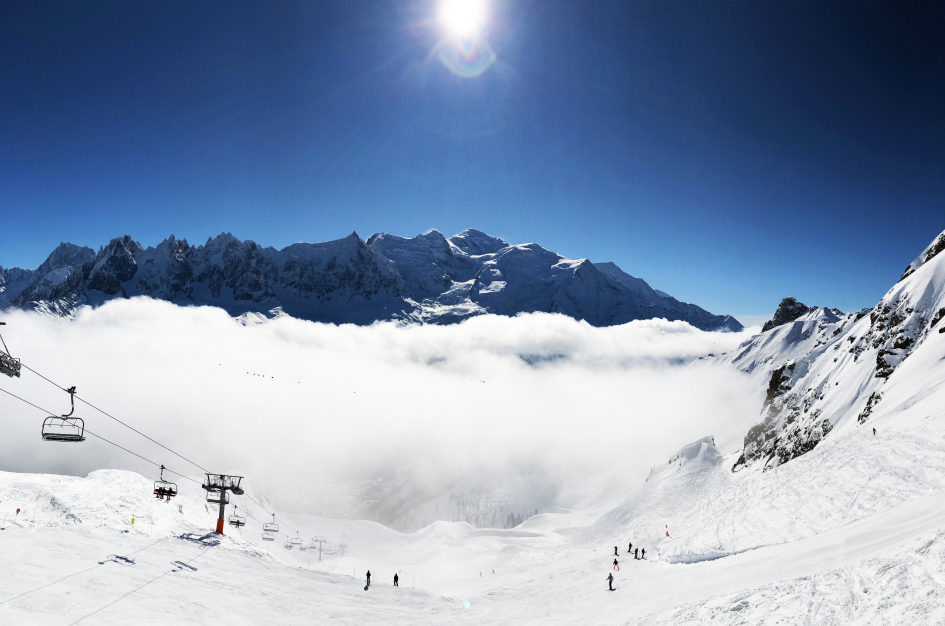 When deciding where to head for your luxury winter ski get away, choices can be tough. Where will the snow be reliable? How is the après ski scene? Where will offer something for our mixed ability group? Is there enough for the whole family? Chamonix may be known for the adventurous and advanced, but it also has a lot on offer for everyone else. Sat at the foot of Mont Blanc with stunning panoramas and a wealth of activity at your toes, this ski resort in the French Alps is a special place. Let me tell you about why I think the world-famous ski town Chamonix, home of the very first Winter Olympic Games (1924) and to the longest off-piste run in Europe (the Vallee Blanche), should be added to everyone's list of luxury ski resorts to visit. A luxury ski holiday in Chamonix is simply like no other.
Ski Areas in Chamonix
Chamonix is a renowned ski destination for its offering of mountaineering and extreme sports. Its geographical positioning to Geneva Airport, as well as the Swiss and Italian borders, means it is not only convenient, but also diverse. The bustling heart of Chamonix town expands out along the valley into the six ski areas: Brévent and Flégère, Le Tour, Les Houches, Grands Montets in Argentière and Courmayeur across the border in Italy. Depending on your ability, the snow conditions and weather on the day, you have the full advantage of being able to choose the best ski area to spend your day. Each area is unique in its own way but all guarantee breath-taking panoramic views along the valley with sight of the tallest mountain in the Alps, the iconic Mont Blanc (4,809m). Read on to find out more about what each ski area in the Chamonix Valley can offer…
Brévent-Flégère – Chamonix Centre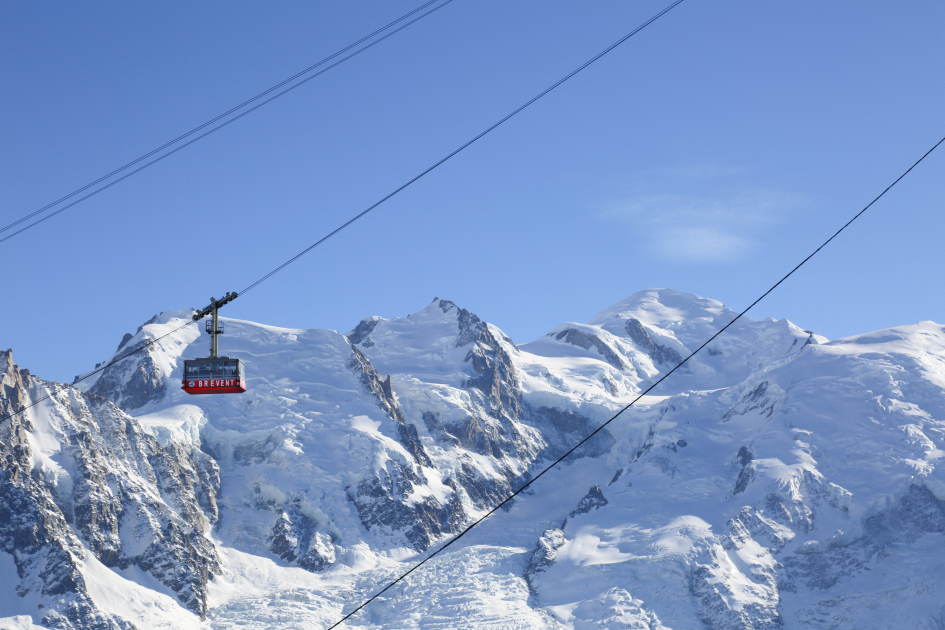 Accessible from the town centre, Brévent-Flégère is an expansive ski area in Chamonix, with a diverse collection of runs for the whole group to enjoy. Brévent – Flégère are linked together by a short gondola ride and are great areas to perfect your technique, test your speed and master your freestyle skills. Face the iconic Mont Blanc as you whiz around the cruisy wide pistes on the sun-kissed south-facing terrain. For the rise and shiner's Brévent – Flégère is the place to head for catching the early morning lift. You'll be met on the mountain with nothing but perfectly peaceful corduroy pistes – can you hear the sound of it now?
Must Do….
If it's your thing, try out the Freestyle airbag at Brévent; or if not catch the sun's rays on the south facing terraces whilst enjoying a well-earned beverage- the choice is yours!
Restaurants in Brévent – Flégère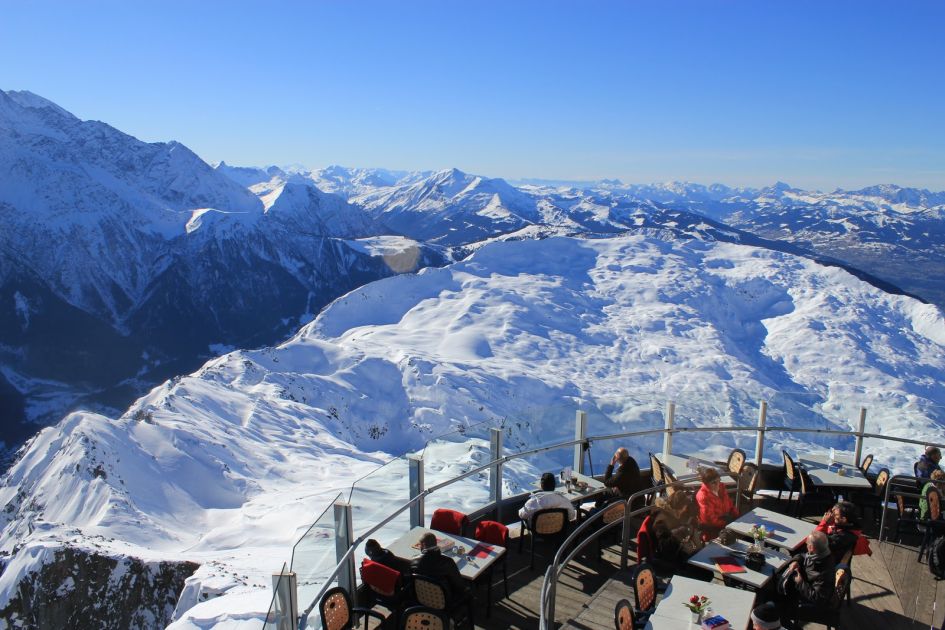 There are some excellent establishments to consider when skiing in Brévent – Flégère, after all, when you are covering the kilometres, you will need to refuel and recharge. On the Brévent side, you must make a stop at Le Panoramic, especially if it is a bluebird. You can probably guess by the name that you can sit here and enjoy a breathtaking vista of the dramatic peaks along the valley, whilst quenching your thirst on a well-deserved beer or tucking into a typical Savoyard lunch. If you end up being on the Flégère side when the hunger pangs kick in, fear not as L'Adret is an excellent alternative.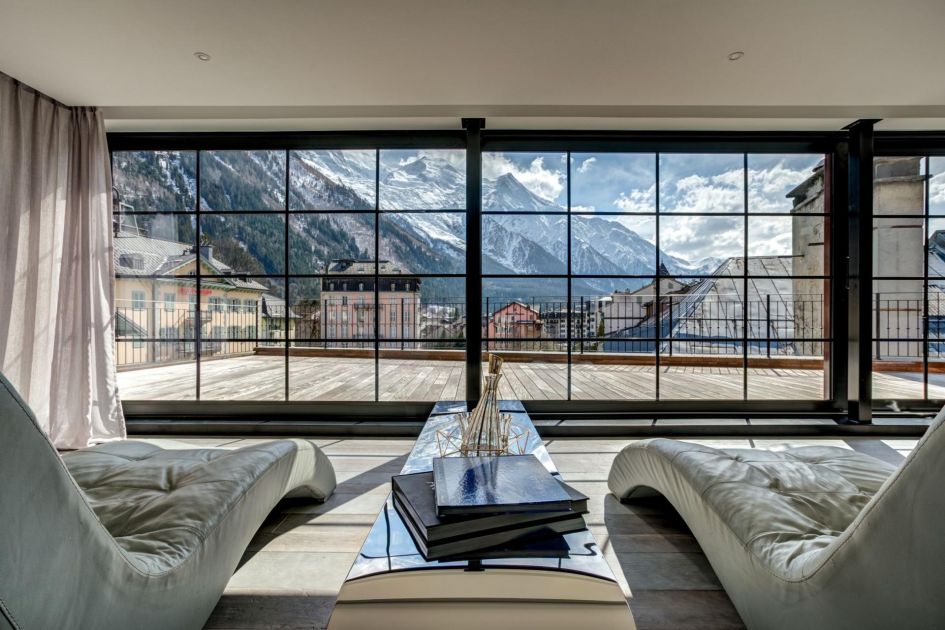 For the easiest access to Brévent – Flégère on your luxury ski holiday in Chamonix, we have a selection of luxury ski chalets conveniently located to start your day. Chalet Le Lustre is perfectly central, accommodating up to 10 guests. It combines the convenience of being centrally located with exceptional views of Mont Blanc.
Les Grand Montets – Argentière
For those adrenaline seekers, Les Grands Montets is an off-piste playground and an area to embrace the speed of steeper, more challenging slopes. Being the highest ski area of the Chamonix Valley, you can ski Les Grands Montets from November through until May! The north-facing aspect of Grands Montets gives it is reputation for having excellent snow quality, which only enhances the enjoyment for the intermediate and advanced skiers and snowboarders. All this combined with the availability of world-class off-piste itinerary runs, Grands Montets is a ski area that many travel far and wide for. So if you are up for a challenge, it's a must for the ski run bucket list!
At the foot of the Grands Montets ski area, you'll find Argentière. It is the small picturesque village along the northern end of the Chamonix Valley, nestled between Les Drus and Aiguille Verte. You can expect a peaceful and laid-back ambience in this typical Savoyard village, with a great choice of bars and restaurants to unwind and relax after full day skiing Grands Montets.
Must Do….
Climb up to the view point from the top of the Bochard lift for impressive views of Mont Blanc. Also, consider the home run down to the car park and bus station where the views along the valley are best exposed.
Restaurants at Grands Montets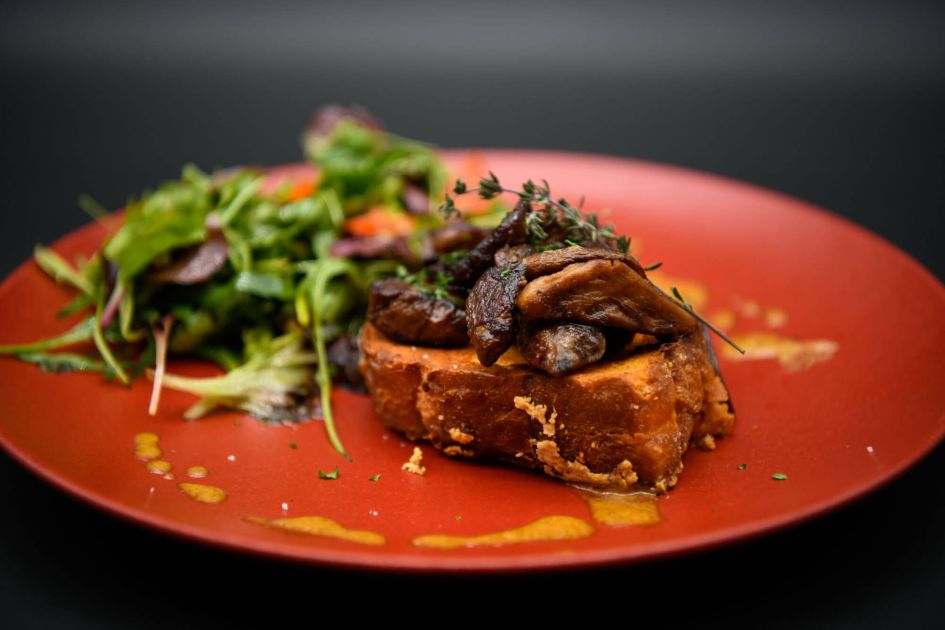 Only open in the winter months, La Table de Plan Joran is a must when skiing in Grands Montets. Its cosy setting will invite you in with a warm hug to indulge in top quality dishes which will do more than just fill a hole! Awarded the Maître Restaurateur award, you can expect local, top quality dishes from the Savoyard region. It is ski in ski out only, providing a idyllic setting for a mountain lunch with stunning views. Another excellent option is La Cremerie du Glacier for an authentic experience. It has been handed down the Ravanel family for generations and offers traditional specialties.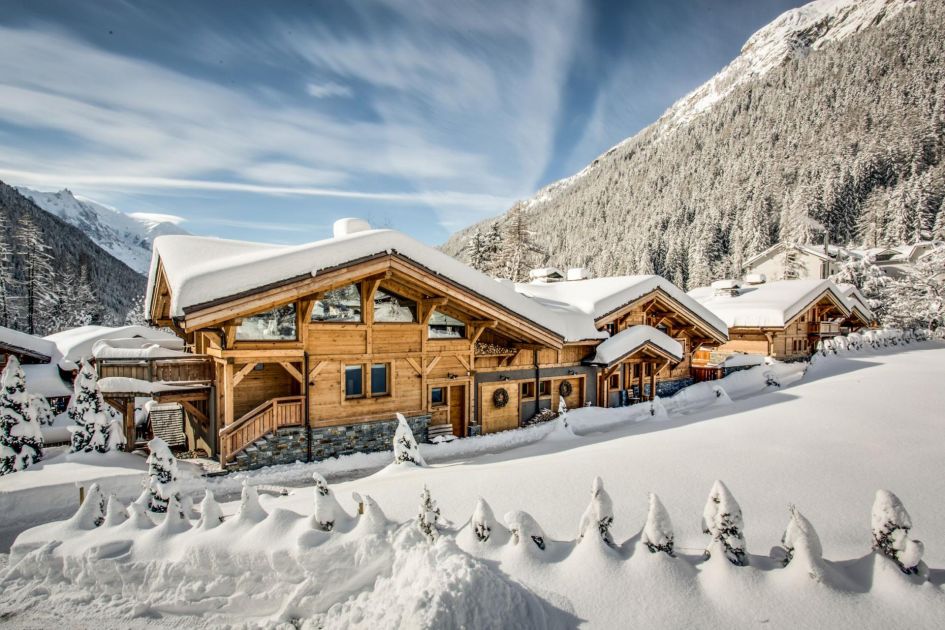 Les Rives d'Argentière is a hamlet of chalets that can sleep up to 49 people collectively. The hamlet is an excellent option for corporate ski holidays or large group celebrations. Alternatively, the chalets are available to be rented individually as  Chalet Ardoise, Chalet Terre, Chalet Cristal and Chalet Granit. Discover our full list of luxury chalets in Argentière here.
Le Tour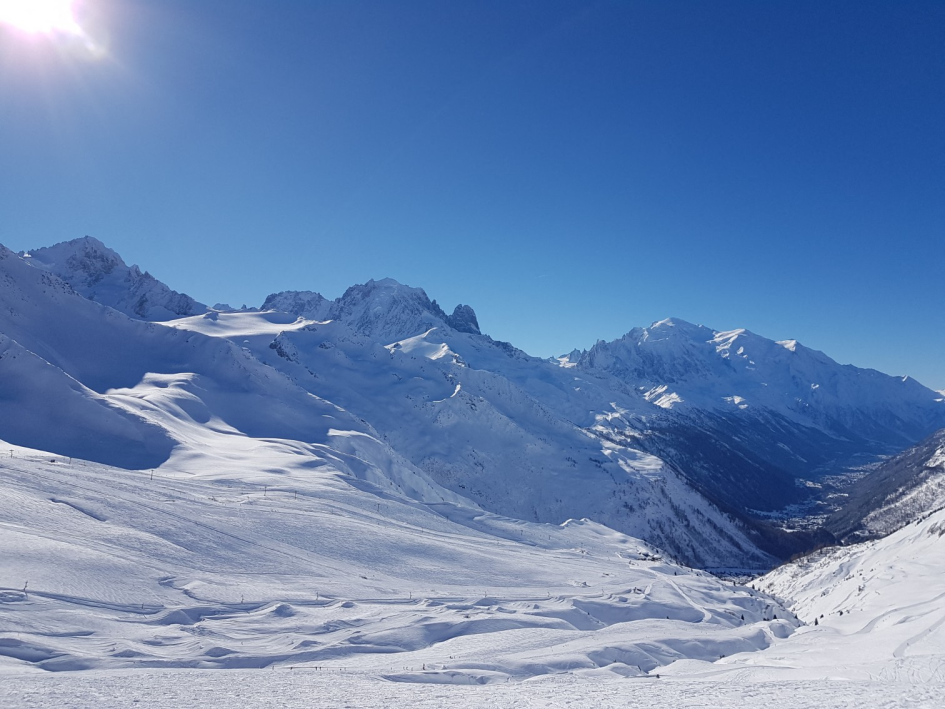 Le Tour (also referred to as Balme) is a suitable ski area for all abilities and all the family with a combination of broad slopes and gentle narrow tree-lines runs with impressive sights from one end of the valley to the other. Located at the top of the valley, you can expect incredible views reaching through Chamonix Valley, sheltered by its towering peaks. Its a top family friendly ski destination on your luxury Chamonix ski holiday.
Must Do….
Ski down to Vallorcine to cross the border into Switzerland for lunch!
Restaurants in Le Tour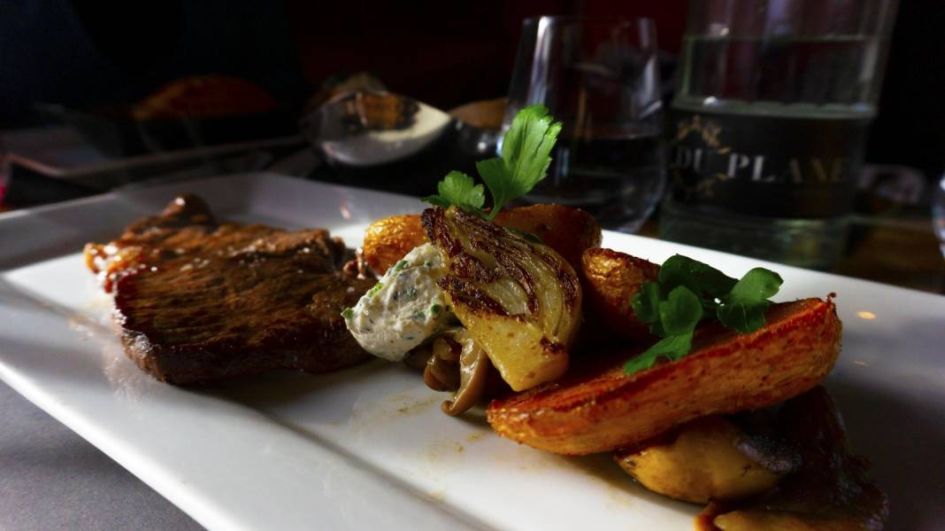 Head down the Vallorcine side for an exceptional fine dining lunch at Le Café Comptoir. Accessed towards the bottom of the home-run from Le Tour, it's perfectly positioned for a mountainside lunch. You'll be surrounded with alpine charm combined with a Scandinavian flair whilst you tuck into exquisite dishes. Savoyard specialities and fine dining dishes are on offer and booking is advisable.
Luxury Chalets Near Le Tour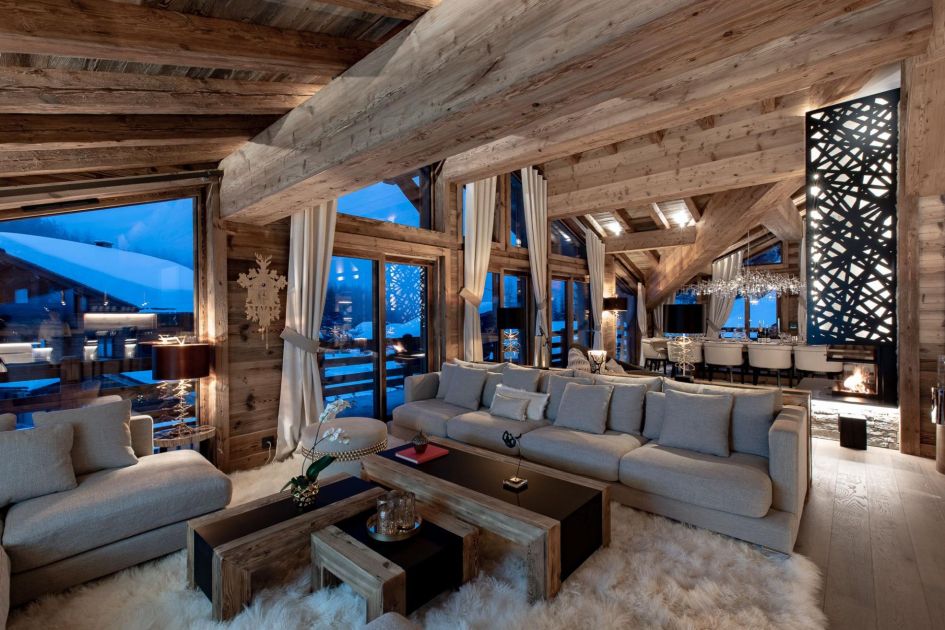 If you are looking for a luxury chalet in Chamonix in a peaceful location without compromising on facilities, Chalet Infinity is an exceptional option to consider. Accommodating up to 10 guests in the hamlet of Les Frasserands, you can access Le Tour in just a 2 minute drive and Grands Montets in 5 minutes. Enjoy a catered or self catered experience to suit your requirements, along with a wealth of facilities such as an indoor pool, outdoor hot tub, cinema room, table football sauna and bar area. Should you wish to stay longer, Chalet Infinity is one of our luxury ski chalets for seasonal rental. Argentière is the closest place to stay when skiing in Le Tour.
Les Houches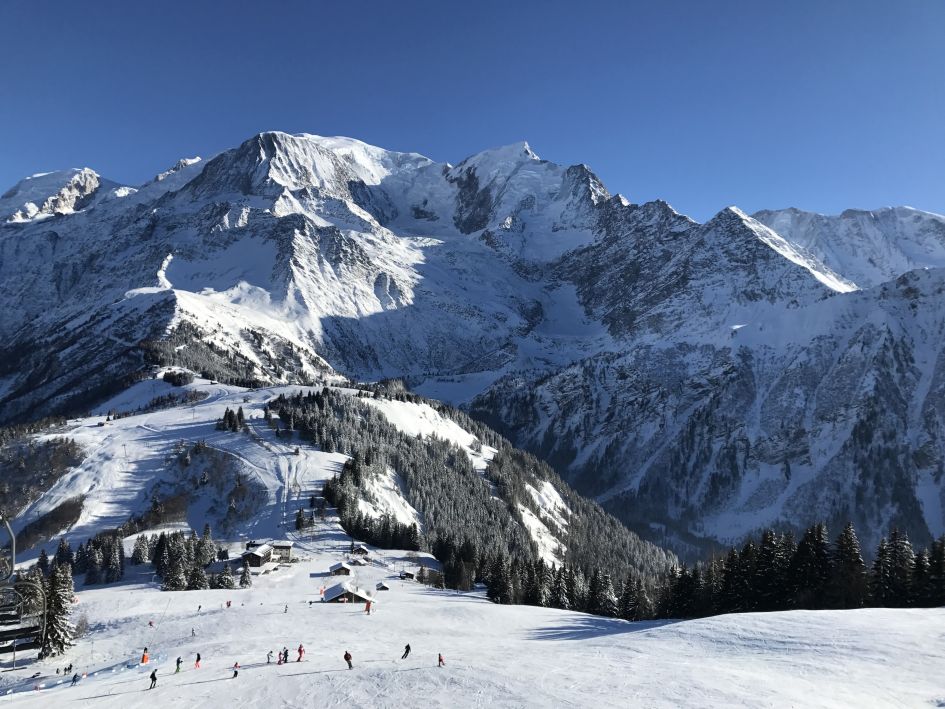 Les Houches (950m-1900m), at the foot of Mont Blanc, hosts panoramic views across the valley and is home to the Kandahar, a renowned downhill ski race route. Feel the motions of the pro's as you test your technique down the world-famous ski run. It's one for those up for the challenge, as the piste is black graded. For everyone else, there is 55km of pisted runs in Les Houches with suitable runs for all abilities. It is the most popular ski area in the Chamonix Valley families, especially with the slalom course feature and fun park.
Must Do….
I mean, you've got try the Kandahar right?
Restaurants in Les Houches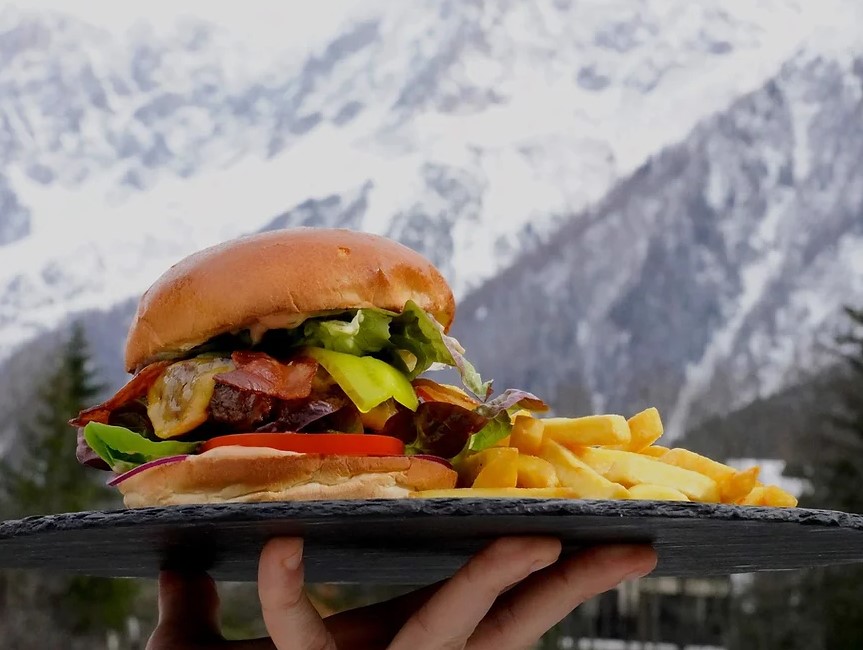 From traditional Savoyard cuisines to Argentinian and American diner style, Les Houches has a variety of options when it comes to eating out on your luxury ski holiday in Chamonix. Located at the bottom of the Bellevue car park, Kitsch Inn is a popular spot for a bite to eat to refuel. Alternatively, catch it at the end of the day where you may be treated to some live music. If a delicious steak meal is more what you look for after a day on the hill, La Tanière is the place to be. You can enjoy a sunny terrace or cosy atmosphere indoors, either way, you'll be served top quality food with a warm service.
Luxury Chalets in Les Houches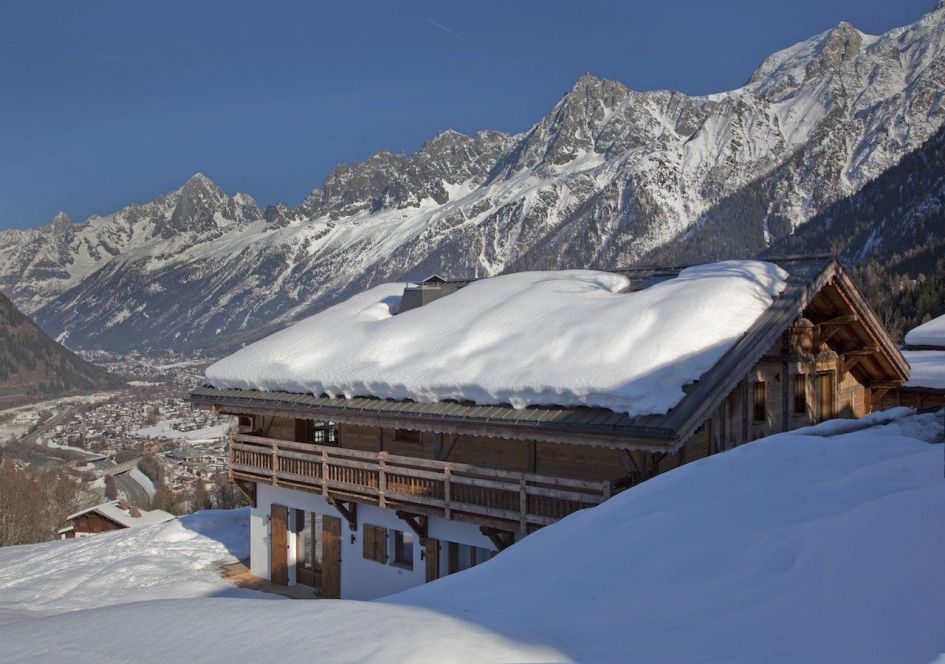 It is very rare to get a ski-in, ski-out chalet in Chamonix. They positioning of Les Houches, means there is a handful of luxury piste side chalets to enjoy immediate access to the ski area. Chalet Norel is an excellent chalet in a unique position. Benefiting from stunning valley views, an outdoor Jacuzzi, sauna and steam room, Chalet Norel can accommodate 8-12 guests on a catered or self catered basis. Although Les Houches accommodates families really well, Chalet Norel should be considered with caution for its location on the famous and challenging Kandahar ski run.
Ellie's Essentials: Things To Do On a Chamonix Ski Holiday…
There really is a diverse range of activity in this beautiful town that you can only do 'when in Chamonix'. I have shortlisted some of my essential "must do's" to ensure you make the most of your luxury Chamonix ski holiday.
Aiguille du Midi (3,842m)…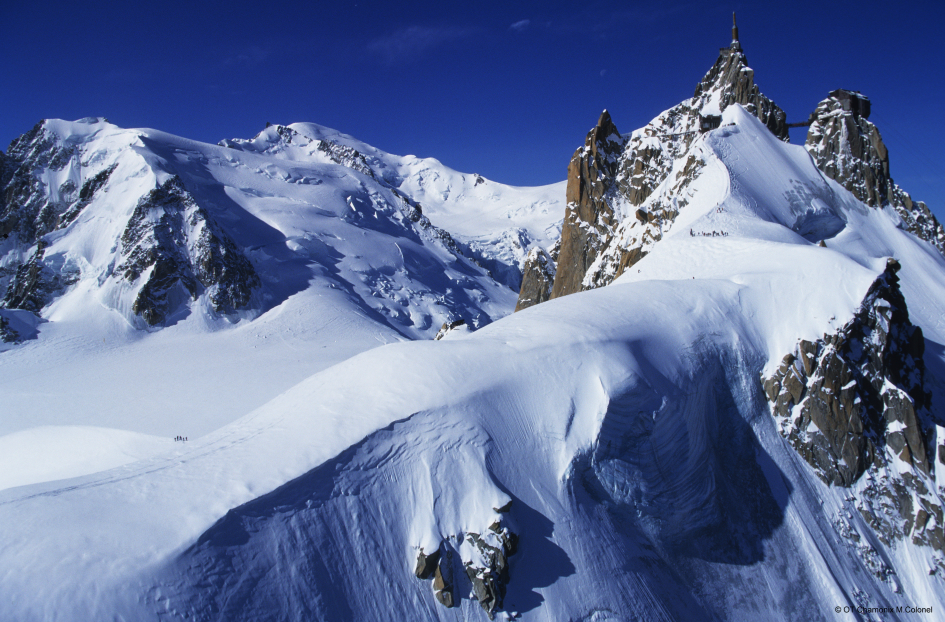 The Aiguille du Midi is not to be missed. The highest accessible peak in Europe boasts spectacular panoramic views across the French, Swiss and Italian Alps. It's a 'pinch yourself' moment. A feeling of being on top of the world. Camera, sunglasses and layers are essential; and if you're brave enough, take the exhilarating opportunity to 'Step into the Void' for the perfect Instagram pic!
Vallée Blanche…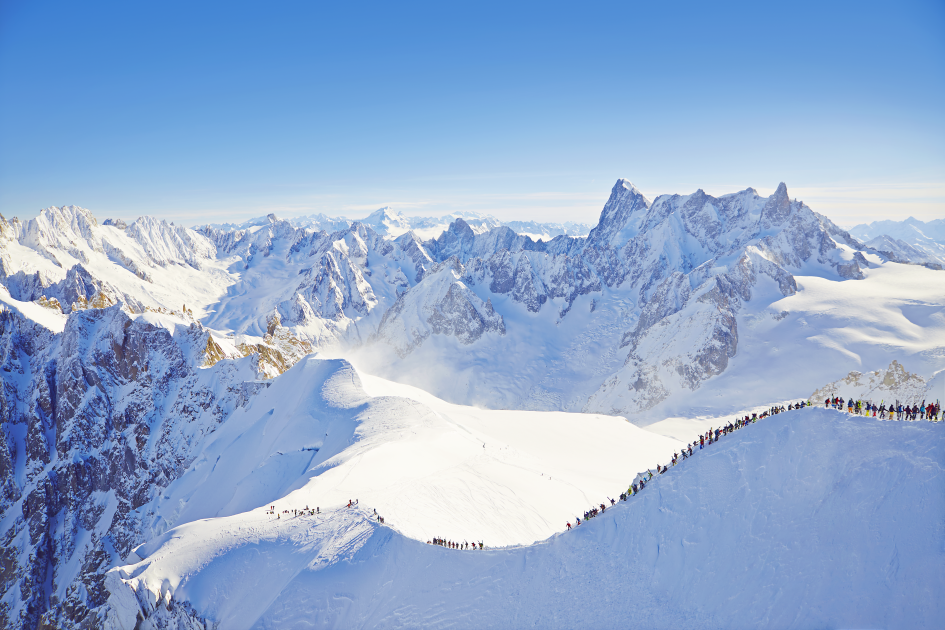 For the more experienced skier, this is one of the top "must do's" in Chamonix, a 'bucket list' item, the famous Vallée Blanche. The 20km off-piste route in the wilderness of the back-country is not for the fainthearted, but a life experience you'll never forget. Breath-taking views down a 2,700m descent generate adrenaline like never before. Could you tick it off the list?
Montenvers Mer de Glace (Sea of Ice)…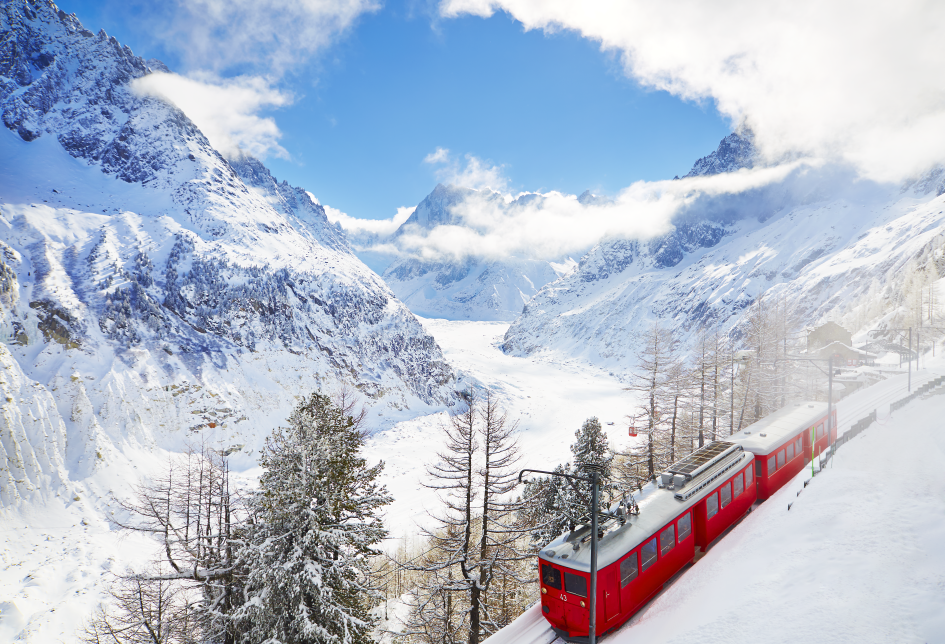 Head up on the scenic Montenvers railway to the top of the largest glacier in France (7km long). You can see the glacier movement over the thousands of years; visit the impressive ice grotto descending in a cable car; and learn about the history in the Glaciorium exhibition.
Purchase a Mont-Blanc Unlimited Pass…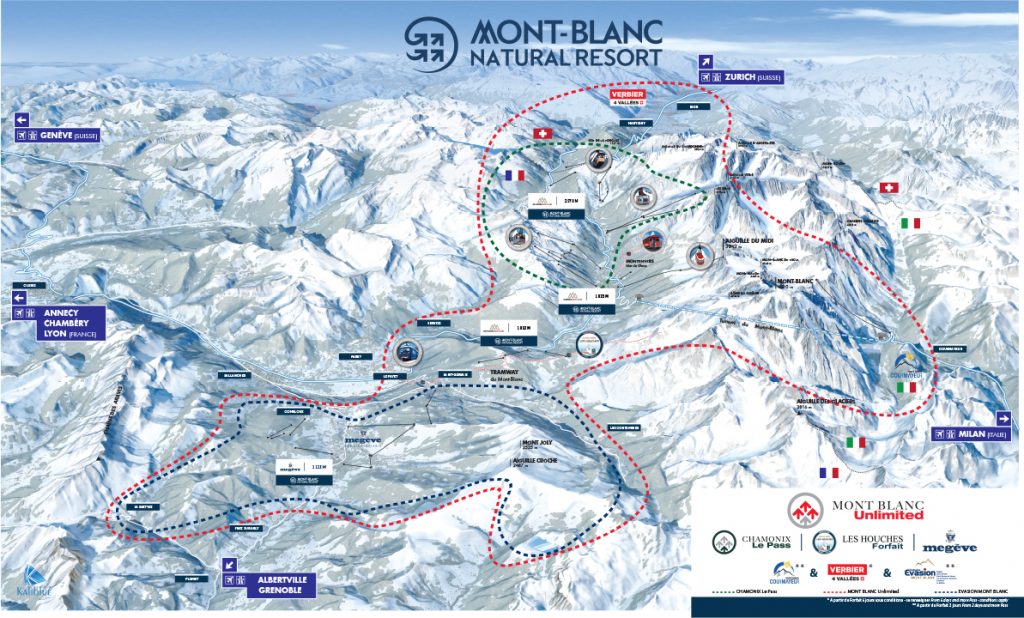 And finally, having Mont-Blanc Unlimited ski pass for the week (or longer) allows you to explore the valley further with access to all of the 'must do's' above and more including the famous Aguille du Midi and the Montevers Mer de Glace; the option to ski in Courmayeur and even across to the luxury Swiss resort Verbier; and allows you to take some time to relax with access to the pool, or show off your skating skills at the ice rink.
If you're seeking more than just a luxury ski holiday, a Chamonix winter holiday can offer you the adventure park, ice climbing, ski guiding, paragliding, sledging and the list goes on. Not to mention the extent of activity in the summer; from climbing and hiking to mountain biking and water sports. It's reasonable to say that Chamonix is a diverse mountain resort that will have something for every member of the party. The question is, how can you possibly fit all this fun into one week? I'll leave that up to you….you may have to consider extending your stay…
If you need some help and guidance or ideas of more places to stay, please get in touch with us by email or telephone on +44 1202 203650.