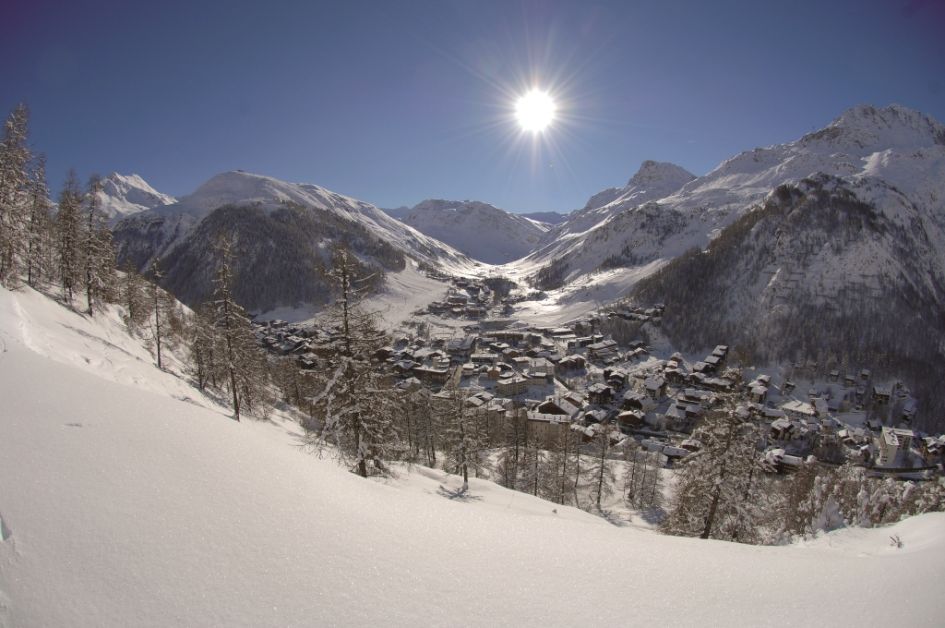 Val d'Isere, a resort steeped in history and a regular tourist hot spot for the European ski market. Having its first hotel open in 1888, the resort has since developed into a powerhouse within France having hosted the downhill Olympic Games on the Face de Bellevarde in 1992 and the 2009 World Ski Championships.
Offering an incredible amount of skiing, servicing the Espace Killy area, the team at Ski In Luxury take a look at how the resort is developing itself for the on-coming season and what will be new in place to make the 2016/17 season that bit more special, (like it needed improving already)!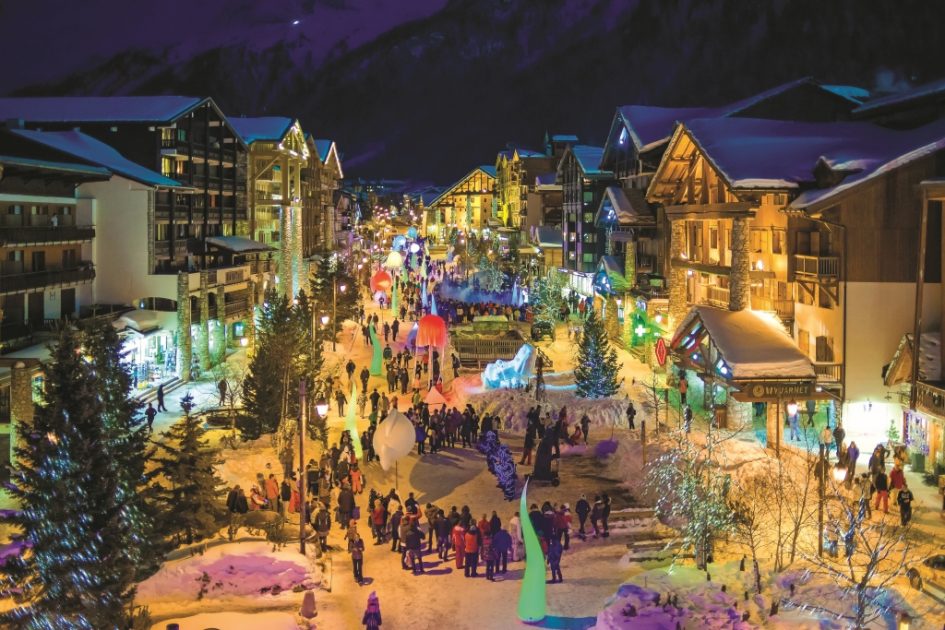 Ski Lift Development
The first ski lift in Val d'Isere the Solaise cable dates back to 1938, and has been instrumental in the resorts development since it opened all those years ago. The ski lift has been operated by the same company for 72 years, Val d'Isere Telepheriques, which by anyone's standard is a long, long time. The Solaise Express lift today is the third most used lift in the l'Espace Killy with 1,100,000 visits last season. Sadly, the time has come to bring things up to speed as the resort has developed year on year, and like everything keeps progressing. The old Solaise Express will be replaced by an newly built impressive 10-person gondola that will replace this long standing servant of Val d'Isere. With the redevelopment the gondola will bring with it a multi-annual investment programme that looks set to modernise the skiing that Val d'Isere offers and really take it to the next level. The link will give access to two-thirds of the ski area along with the Olympic cable car, and it looks destined to become the most important lift in resort.
The mind blowing 91 cabins, built by CWA in Switzerland, come set up with the entire works, just so that your journey is that bit more comfortable and luxurious. The cabin will include heated seats and WiFi, just in case you want to give your friends back home that extra bit more of holiday envy, (as we all need a reason to do that right!). The lift will be able to reach the summit of Solaise in just 7 minutes with skiers having the option to choose how they would like their skis to be transported with them, externally in the baskets or inside to keep them just as cosy as you.
Just to throw some further facts your way, the lift will have a 40% increase in capacity to the chair lift it replaces and carry up to 3,600 people ever hour. This just gets even more impressive. Completion of the lift is set to be by the end of summer or early Autumn this year, so make sure you have your skis waxed and sharpened and your ticket booked to Val d'Isere next season.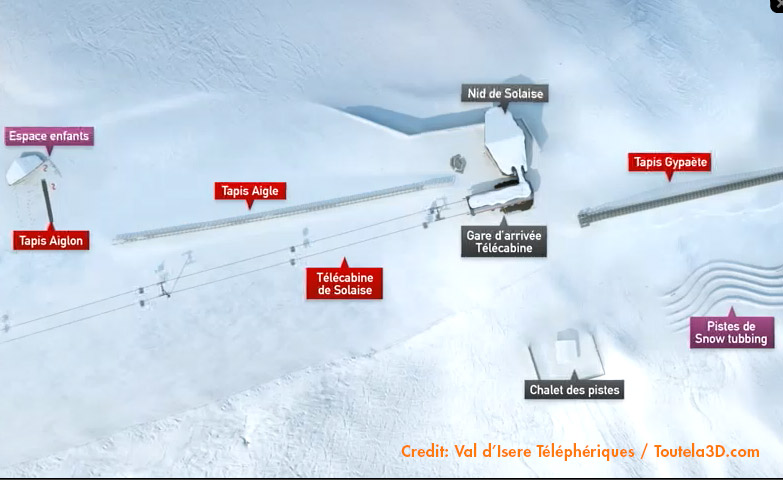 What About The Natural Impact?
The environment is an important focus of Val d'Isere Telepheriques and understandably so, having visited the resort and seeing its beauty first hand. The company has three main points of focus when it comes to this project, integration into the landscape, the conservation protected plant species and the noise nuisance.
To start with the new Gondola will reduce the number of lift stations from eight to two, and the total pylons from 34 to 16 which is a monumentally impressive effort into improving the affects on the landscape. The gondola machinery is being buried underground at the base area which will significantly reduce the noise it create effecting both inhabitants and the wildlife living around the area of the front de neige.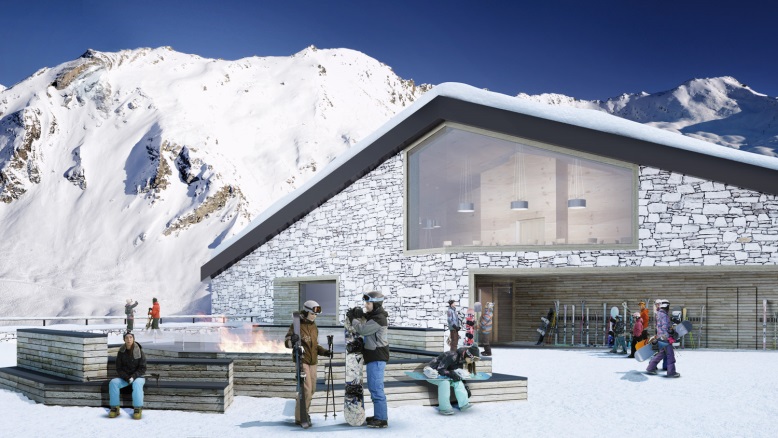 The New Day Lodge 
Who doesn't like having some refreshments, or taking on some food high up in the Alps after testing yourself throughout the morning! You won't have to go far with the New Day Lodge being located at the top of the newly built Solaise Gondola, with the completely pristine reshaped summit. Again, if you are allergic to facts then stop reading now or move onto the next sentence as to create this, bulldozers had to shift 70,000 cubic metres – a MILLION tons – of earth to have the new platform at your disposal for the new season. The Day Lodge has been themed around a North American Style Lodge, and has grand design style glass windows from floor to ceiling, for those liking to take a selfie at the top of the mountain with their loved ones! If you are looking to recharge your batteries, warm up and meet up with friends, then we are sure this will be the place you will want to be next winter.
Picnickers Welcome 
If the above wasn't tickling your fancy, then maybe a comfortable picnic area outside where skiers and boarders alike (we are all friends here), can eat their lunch and relax in warm and comfortable surroundings. This is equipped to have some of the luxuries you can find at home in your own kitchen with a microwave available to use if you need to heat anything up that you have taken with you up the mountain. Older children will be kept amused as there is table football, while for younger ones, a kids corner is located on the first floor with cushions and a TV showing cartoons (Parents can thank Val d'Isere Telepheriques later). If the weather is glorious then there are two magnificent sun terraces located with unbeatable views of the Bellevarde in one direction and the Solaise pistes in the other.
Reduced Prices for Lift Passes 
Along with introducing a new beginners area for those looking to tackle the mountain for the first time, to celebrate the redevelopment going on this year Val d'Isere is offering a special lift pass. Not only will it include the new beginners area but a substantial amount of the Espace Killy area suited for more advanced, or shall we say accomplished, skiers! The pass gives access to two village lifts at Legettaz and Rogoney, the newly built Solaise Gondola, three new magic carpets and the Madeleine, Datcha and Glacier chairs.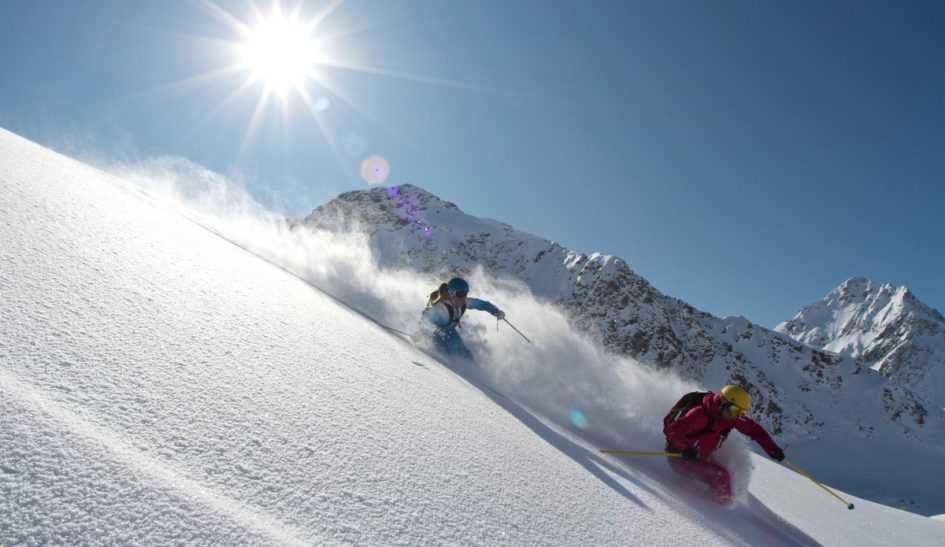 The lift company are also offering a one day discovery pass for those not as inclined to ski all day! This will cover all the Val d'Isere area (but not Tignes) for €49 Euros. If you were thinking that was the only offer, think again as they are also doing a six day Val d'Isere-Tignes pass for just €139 Euros if you book a week's worth of beginner lessons with a recognised ski school! This is will save you a very tasty €139 Euros per person.
If you want to know the areas lift pass rates, don't look further, we have included them below:
Full adult lift pass prices for the main season (17.12.16 – 01.05.17) Val d'isère-Tignes:
One day:€55.50 Euros
Six days:€278 Euros
Child (5-13) and senior (65-74):
One day,€44.50 Euros
Six days€222.50 Euros
(Early season reduced price lift passes available 26.11.16 – 16.12.16).
We hope this has got you as excited as we are for the forthcoming ski season in Val d'Isere, and if you are thinking that this has got you worked up into such excitement that you want some chalet options sent to you right away! Drop us an email, or give us a ring on +44 (0) 1202 203 650 and we can give you an insight into the amazing luxury chalets in Val d'Isere we have here, on portfolio. We look forward to speaking with you soon.