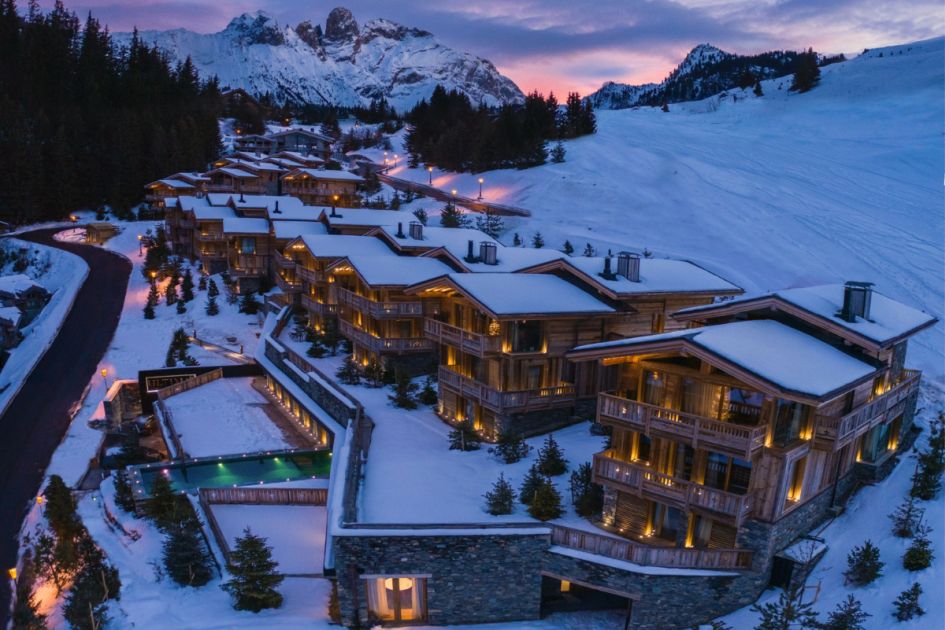 Ultima Courchevel is a unique concept that transforms the idea of a luxury chalet holiday in Courchevel. The standout service is only possible through the highly trained team of butlers, concierge, housekeeping, chauffeurs and personal chefs, who are all on hand to attend to your most spontaneous requests. In March 2022, I was lucky enough to travel out and experience all that these stunning ski in ski out chalets in Courchevel have on offer. Keep reading to discover more about my stay in this exceptional luxury chalet in Courchevel as well as an exclusive insight from the Operations Manager, Marie-Cécile Bouchet Pichon, and Executive Chef, Andrea Franceschi.
The Chalets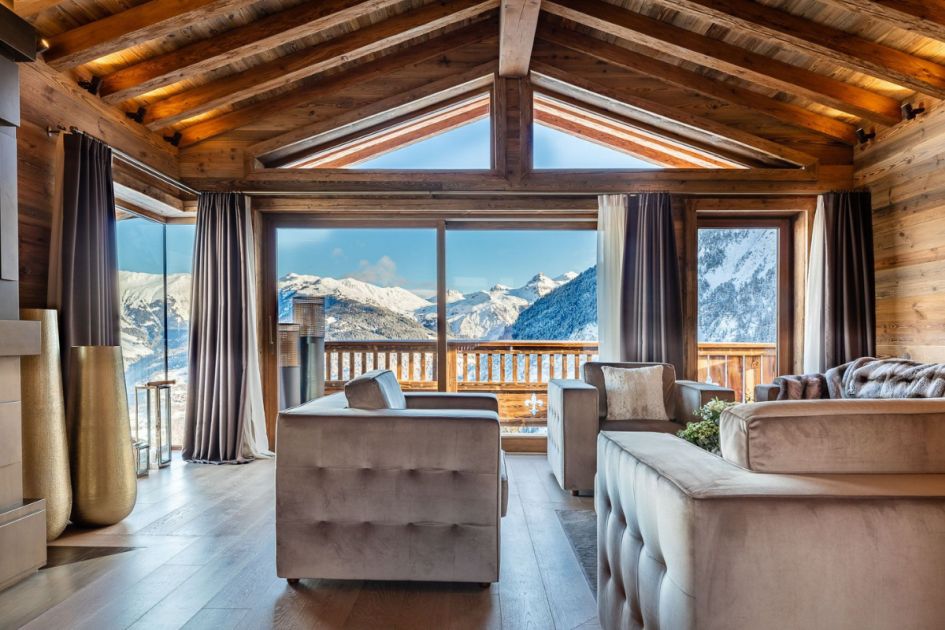 Ultima Courchevel consists of 13, 4-5 bedroom chalets spread across a North and South block. I stayed in Chalet 6 on the South block of chalets. Across 4 floors, Chalet 6 is a 4 bedroom chalet with marble ensuite bathrooms, and features a TV snug, open plan kitchen, dining and lounge area and a balcony perfectly positioned for views of Courchevel's surrounding peaks and valleys. Helping to preserve the ski legs, you can benefit from accessing 3 out of 4 floors by an internal lift. The south block of chalets and all the shared amenities are linked with corridors underneath for easy access to the restaurant, cinema, bar, spa and piste-side boot room. Each private chalet is available fully serviced with a 24/7 butler service, in-resort chauffeur service, private chef for 6 evenings and twice-daily housekeeping.
Upon arrival at Ultima Courchevel, we were greeted by a valet service who took care of the hire car and our bags, before being shown into the reception desk to check in. By the time we were introduced to our butler, Ernest, and shown into our chalet, our bags were ready waiting for us, as if by magic. After a tour of the chalet and choosing our room, we freshened up and got ready for an evening in the fine dining restaurant.
Location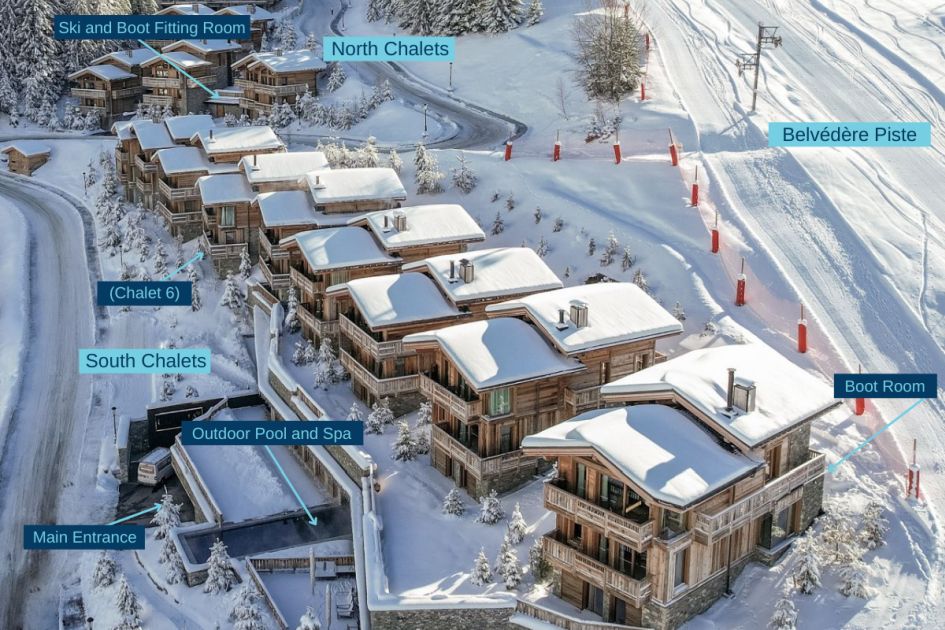 Ultima Courchevel is situated in arguably the best location in Courchevel Moriond. Located on the side of the green Belvédère piste, it is possible for all ski abilities to access the vast Three Valleys ski area from the boot room. Skiing out of the chalet complex takes you to the main gondola station, Ariondaz, which is where most ski schools meet and the kids club is located. For a family ski holiday in Courchevel, or for beginner skiers, Ultima Courchevel is perfectly positioned to start your ski day in the Three Valleys.
For heading into Courchevel Moriond centre, it is about a 10 minute walk and Courchevel 1850 is between a 10-15 minute drive. If your achy ski legs can't quite make the walk, or you have managed to line your arms with many shopping bags from Chanel, Gucci and Louis Vuitton in 1850, the in-resort chauffeur service will be there on call to take the extra weight off your feet.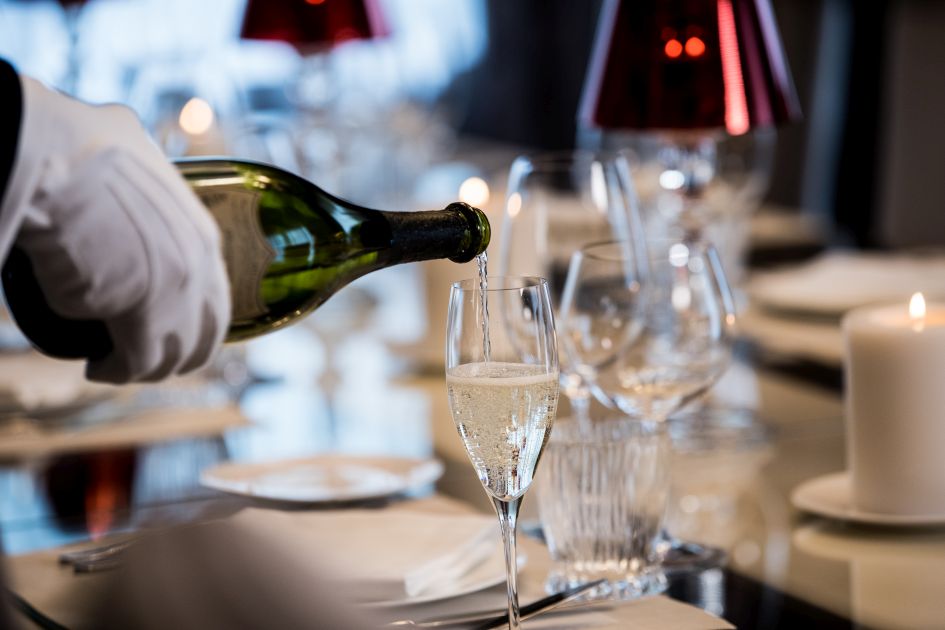 The connection between all the services, the cog that keeps the wheels turning. The personal 24/7 butler service at this luxury chalet in Courchevel, is a standout service. Our butler Ernest looked after us exceptionally well from start to finish and the attention to detail was second to none. It seems as though going to extra mile is second nature to the staff at Ultima Courchevel and the butler service is no exception. From making us a list of mountain restaurant recommendations to helping us plan our onward travel, everything had been thought of before it crossed our minds, and everything done without us lifting a finger. Ernest had spent most of his winter season at Ultima Crans Montana, for which he has given us an exclusive insight into a luxury ski holiday in Crans Montana.
Also ensuring the wheels don't fall off is Marie-Cecile who works hard behind the scenes as the Operations Manager, ensuring all the pieces of a guest's holiday goes smoothly….
"As Operations Manager, I ensure the many revolving parts of Ultima Courchevel Belvédère run smoothly, from a team of spa therapists, ski butlers, concierge, housekeepers, to the brigade of private chefs and kitchen crew. There's a signature level of service that we are known for as a brand, which is why I encourage everyone to deliver little surprises and heartfelt gestures for each guest.
It could be a rose on their pillow for International Women's Day, last-minute cocktail soirees within their residences after a day on the slopes or playing their favourite song as they arrive for their evening meal, prepared by a private chef. Our team work to predict the needs and wants of their guests but are also highly reactive for those moments that you just can't predict."
– Marie-Cecile, Operations Manager at Ultima Courchevel
Bespoke Ski and Boot Fitting Service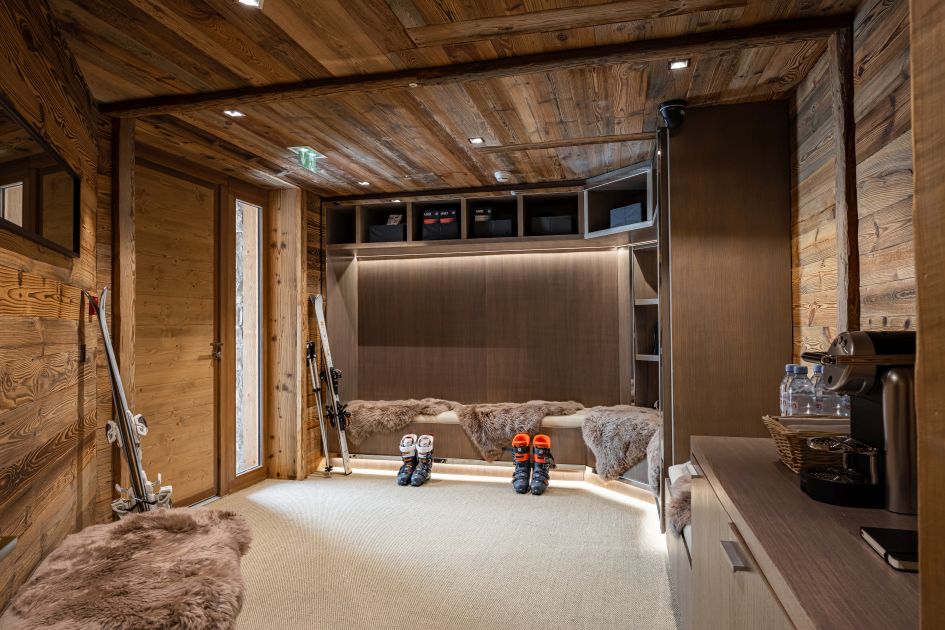 Before our first ski day, we were shown to the ski and boot fitting room on the north chalets block. The in-house selection was an impressive collection of well-serviced and well looked after skis and boots, ensuring maximum comfort and performance on the slopes. With what can usually be a stressful task, the fitting team matched us with equipment seamlessly, like something out of Cinderella. And just like clockwork, we arrived at the piste-side boot room to meet a freshly made coffee and our boots, ready to slip on, clip up and click into our skis, which were waiting for us on the piste. I can't be sure the Fairy Godmother wasn't behind all of this!
Dining at Ultima Courchevel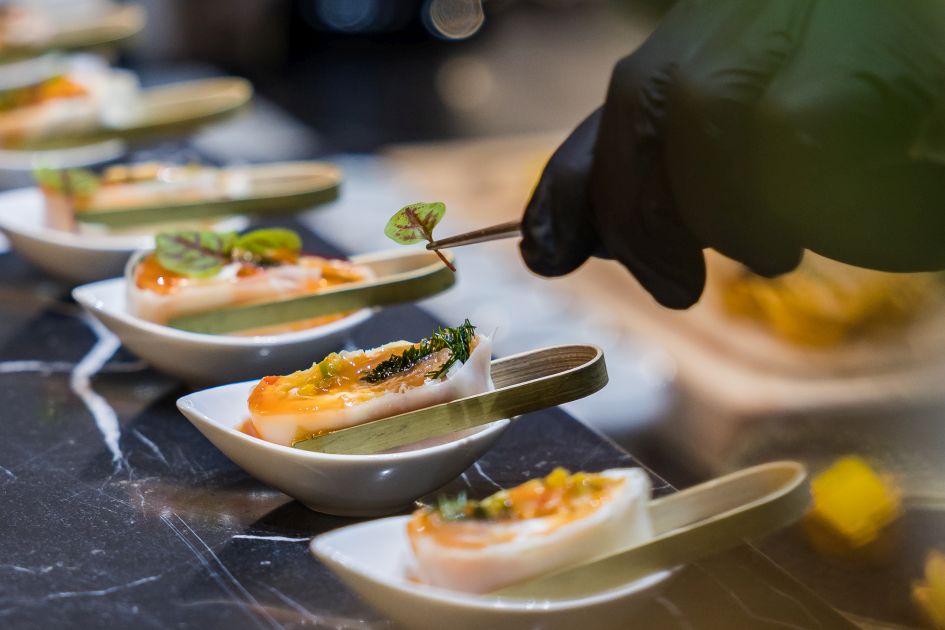 As far a luxury catered chalets in Courchevel go, Ultima Courchevel is certainly a special experience not to be missed. Offering full flexibility, guests have freedom to choose what they would like, when they would like it. The highly trained and globally experienced chefs can design and tailor a menu to suit each guest group.
Chef Andrea Franceschi explains how he is a key part to the guest experience:
"I see each day as Head Chef at Ultima Courchevel Belvédère and Ultima Gstaad as an opportunity to break the barrier between our kitchen and the guest. That's why I always personally introduce the dishes as they arrive to the table, detailing the ingredients I've chosen and where they've come from.
"We 'wow' guests constantly by weaving in touches of personalisation to their meals, which we've learnt from them throughout their stay. It can be an emotional moment when they notice flavours from their homeland or their favourite ingredient, which they mentioned just the night before."
– Andrea Franceschi, Executive Chef
Ultima Courchevel's private chalet fused hotel concept offers the option to choose whether you dine in your chalet with a private chef of an evening, or experience the exclusive fine dining restaurant. During our stay we got to experience both dining options, and without a doubt we were in for a treat on both nights.
Restaurant at Ultima Courchevel
In the restaurant we were treated with a special tasting course experience which featured gourmet dishes such as tuna and salmon tartar, squid, salmon and a delicious, smooth (but light) chocolate tart for dessert. In between these courses, the charismatic Italian chef proposed a few more of his experimental courses including croquettes served inside a butternut squash and mini pizza slices; because when the chef is Italian, it makes sense to bring a piece of home to Courchevel right!? Nevertheless, all courses served up were a delight and the passion, creativity and innovation shone through in every dish.
Private Chef Experience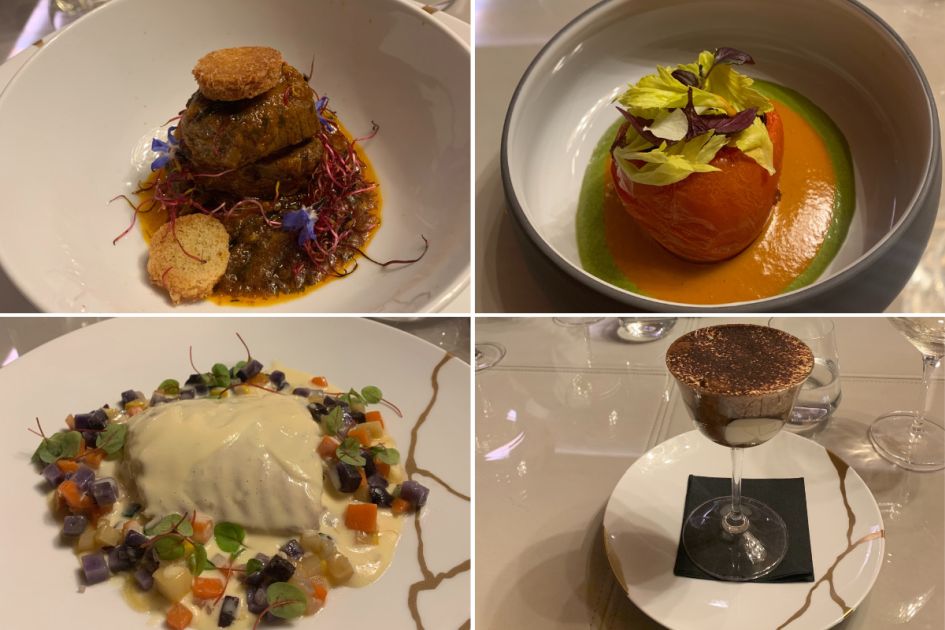 Dining in the chalet was exceptional. Whilst we were kept well hydrated with wine and water and conversation was flowing, Nemo the chef was quietly busying around in the open plan kitchen. Showcasing true talent and passion, Nemo served up 4 delicious courses starting with a slow roast Moroccan lamb dish, followed by a slow roasted stuffed tomato, and a vegetable medley fish dish to finish off the savory courses. The final course, co-created with real Italian talent, was hands down one of the best tiramisu's that I have ever tasted *chef's kiss*. All we had to do now was retire to the sitting room and relax whilst we digested the incredible culinary journey.
A Breakfast for Kings and Queens
Before the sun had risen, Ernest had been busy preparing a breakfast of dreams. We wondered on up to the open plan living room to find the table laid with fresh pastries, fruit platters, fresh bread with jams, pancakes and fruit juices. It's a breakfast paradise. As if that wasn't enough, the elevator rises to our floor, delivering our pre-ordered poached eggs and smoked salmon! I am not sure where we put it all, but we did it some damage, setting us up very well for a day on the slopes. You choose your breakfast the evening before so you can tailor your breakfast feasts to suit you.
The Spa at Ultima Courchevel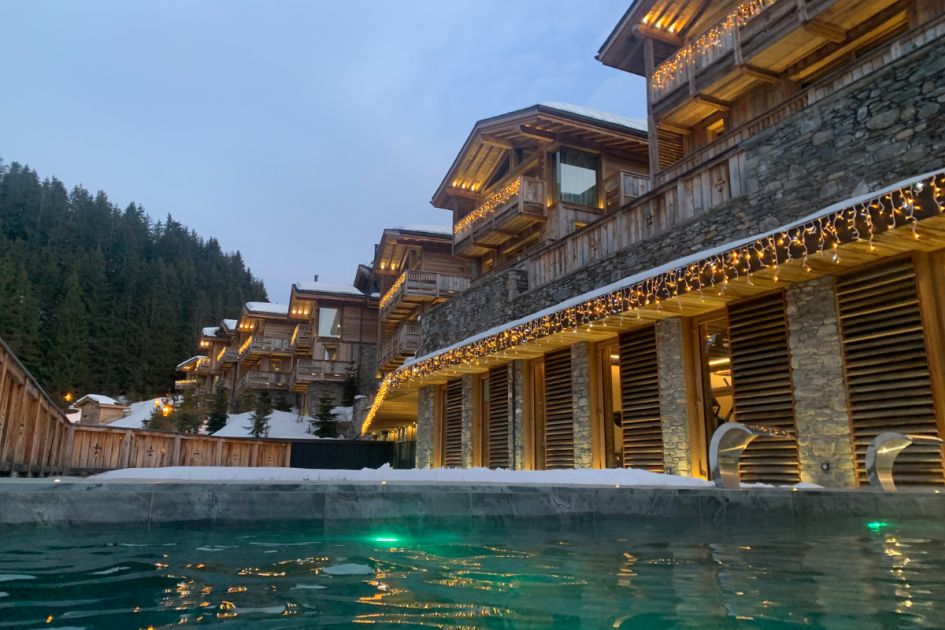 A full day skiing in The Three Valleys can certainly mean tired bodies and achy limbs after covering km's of piste across the largest ski area in the World. But fear not, the exceptional spa at this luxury chalet in Courchevel will magic away any tensions, ensuring you are recharged and reset to start afresh the next day. Depending on which chalet block you find yourself in, you will have access to one of the two stunning spas, complete with a swimming pool, sauna, Hammam and gym. For some extra pampering attention, book yourself a massage with a dedicated spa therapist or masseuse who will provide personalised wellness experiences and innovative treatments.

I was lucky enough to experience the spa connected to the south block of chalets. The heated outdoor pool was a dream; as the sun set over the mountains and full relaxation mode set in, there are few places you'd rather be. The tropical rain shower was a thrilling experience, complete with sound effects on four settings, taking your through a range of water temperatures (including icy cold!!). I certainly felt exhilarated after being brave enough to face the cold water, with the added benefit of targeting my hard worked ski muscles and rewarding myself with a nice hot sauna and steam after!
Sustainability at Ultima Courchevel
Ultima Courchevel is rooted in sustainability. This luxury chalet in Courchevel focuses reducing its impact on local communities and the environment. There are a few initiatives amongst their Sustainability Pledge 2022 that showcase how they are changing the way we experience luxury ski holidays in relation to concerns for the future of the planet, without sacrificing the ultimate luxury experience. Here are just a few of their initiatives:
Planting a tree for every night a guest stays
Geothermal energy sources
Local produce for a greener gastronomy
Partnership with Global Ocean to remove plastic from the oceans
Carbon offset journeys with VistaJet by planting a tree for every 10 kilometres
Commitment to work in alignment with and report on the 17 Sustainable Development Goals
The sustainable luxury ski holiday initiatives are implemented across their sister properties too: Ultima Crans Montana, Ultima Megeve and Ultima Gstaad.

So there we have it, a first hand experience into what it is like to stay at Ultima Courchevel. A BIG thank you to Ultima Courchevel for hosting us on behalf of Ski In Luxury, and to all the staff who looked after us so well.
When looking for a luxury chalet in Courchevel, a stay at Ultima Courchevel is an undoubtedly special experience, and one not to be missed. For more details or information on how to book, speak with our Ski Specialists by calling +44 (0)1202 203650 or sending an email.