I was fortunate enough to head out to Zermatt for the first time a couple of weeks ago, to see and experience Zermatt first hand. I soon realised that Zermatt holiday accommodation is vast and varied. So, how do you know what is the best luxury accommodation in Zermatt for your holiday plans? Luckily, I got to stay in three extremely different properties in Zermatt which gave me a real sense that there is something that will tick everyone's box. Fabulous hotels? Check! Luxury ski chalets? Check! Beautiful private apartments? Check!
Read on to find out what each option can offer you for your next ski holiday to Zermatt and which would best suit your ski holiday plans.
The Zermatt Luxury Hotel Option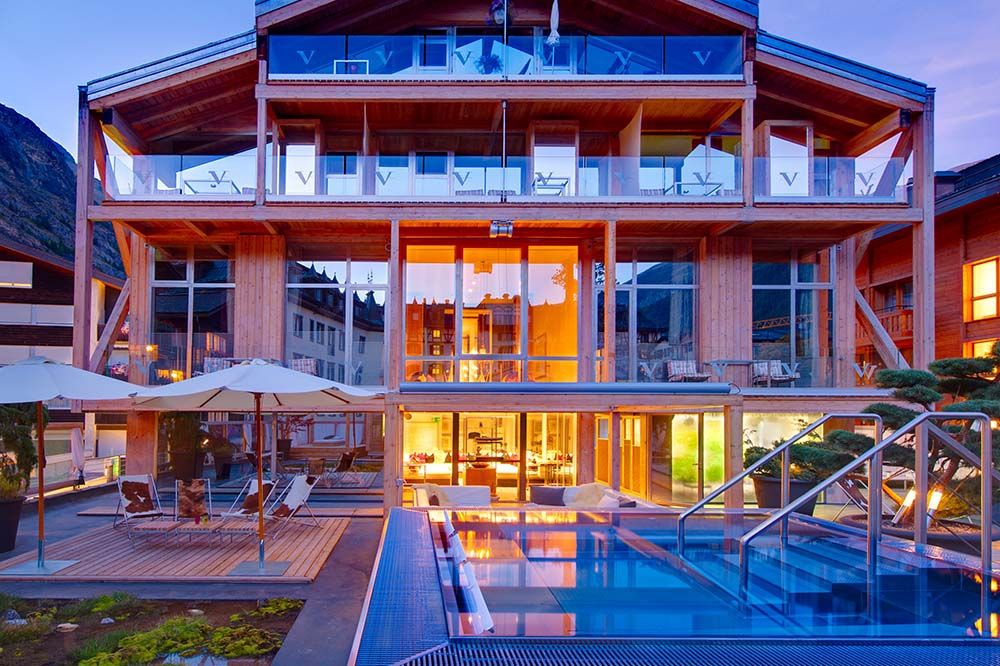 There are many reasons for choosing to stay in a luxury hotel for your holiday, but the simple fact is you pay for so much more than just a place to lay your head. Luxurious ski hotels provide a whole package; somewhere to feel spoilt, experience fantastic service and somewhere to switch off and relax after a long day skiing. The Backstage Hotel in Zermatt is a key example of how amazing a stay in a luxury hotel can be!
Backstage Hotel is a unique and luxurious hotel in the very heart and centre of Zermatt, just metres off the main street, the Bahnhoffstrasse. Designed by the eccentric Zermatt architect, Heinz Julen, this stunning hotel has an individual and bespoke design which will catch your attention and imagination.  Amongst the vast amounts of glass it is a common sight to see chandeliers of saxophones and trumpets, feathers and cutlery adorning the rooms & beautiful upholstery.
The hotel has 19 beautiful bedrooms; six cube lofts, six deluxe rooms and seven double bedrooms. They are all very stylish with much of the furniture designed by Heinz himself, great for the artistic and cultural clients among you.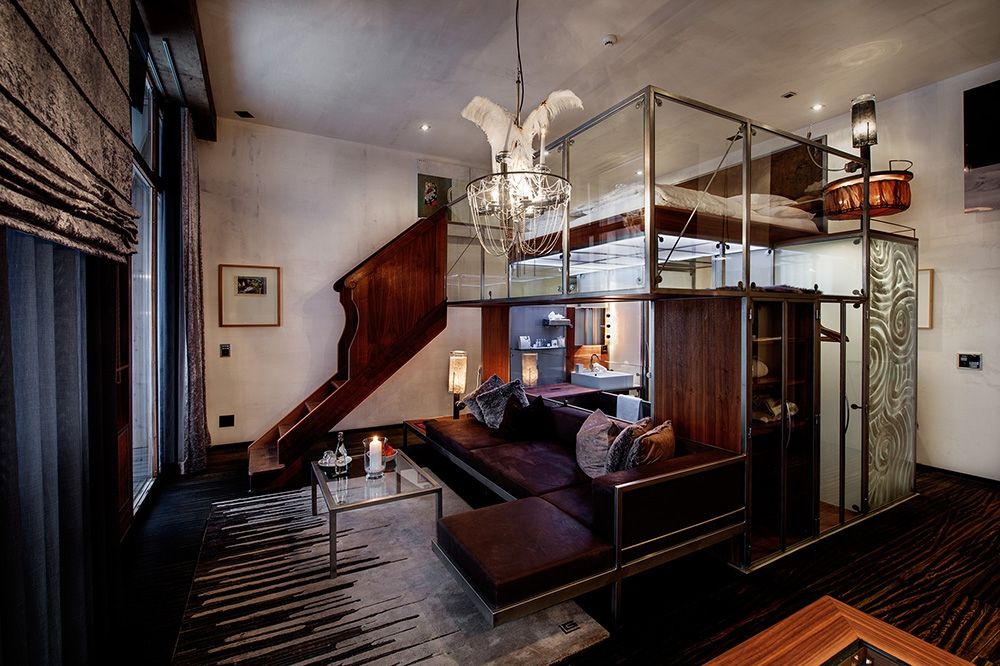 The wellness facilities in this luxury Zermatt hotel are incomparable to anything else. Designed around the creation story out of the Old Testament's Book of Genesis, this indoor and outdoor wellness area has 7 exceptional and very different spas, from steam rooms, salt baths and hot tubs to the more unique glass pearl bath and tropical climate room. A real WOW wellness!
The service is incredible with fine dining experiences in the hotel's Michelin star restaurant, creative cocktails offered at the cocktail bar and the added entertainment of the Vernissage bar, an art gallery and cinema downstairs.
For a luxury hotel experience in Zermatt and for more details on The Backstage Hotel click here.
The Luxury Catered Chalet Option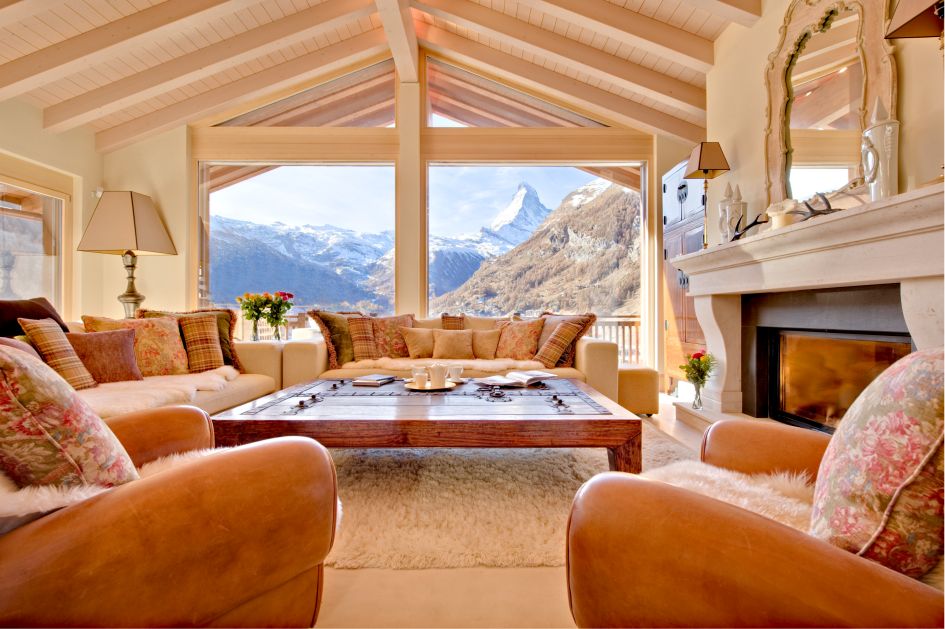 Established in 2005, we here at Ski In Luxury have completely grasped why for so many people a luxury catered chalet is the perfect base for their ski holiday. Renting a luxury catered chalet gives you taste of luxury living in a very comfortable and relaxing 'home from home' environment for the week. With a dedicated and professional team of staff to look after your every need and make your stay truly seamless, it means your stay in a ski resort comes without the hassle of having to make restaurant reservations or being worried that the food won't be to your taste. Chalet Grace in Zermatt is an opulent chalet that would honestly provide you with the ultimate luxury chalet experience for your next ski holiday.
Chalet Grace has a reputation for being one of the most luxurious and spectacular chalets in Zermatt. The chalet is located on the South-facing hillside in the exclusive Petit Village area of Zermatt, giving it the most fabulous and uninterrupted views of the Matterhorn and the village. I honestly felt that I could have spent endless hours gazing out of the gigantic living room windows without getting bored of the view.
The chalet has 5 elegant and spacious bedrooms, a fantastic wellness area, games room and cinema room. In my opinion, it is the stylish furnishings and decorations that make this chalet so special and stand out. The chalet has a completely unique character unlike any other chalet in the Alps. The chalet has a light and spacious style and many of the furnishings come from across the world each with their own story of how they came to be in Chalet Grace. It's a country manor house on holiday in the Alps.
What really sets the chalet apart from the rest is the amazing team that work here. With a dedicated concierge team to help with all your needs before arrival, you can be completely assured everything will be on hand for when you arrive. From therein you will be looked after by some longstanding as well as highly qualified staff. Upton, who was the host for my stay has worked here for many years and although not a skier he is drawn to staying at Grace because he loves his job and the guests who stay here. From the moment you are welcomed in to Grace to the time you have to depart this blissful chalet, you know nothing was too much trouble for the staff.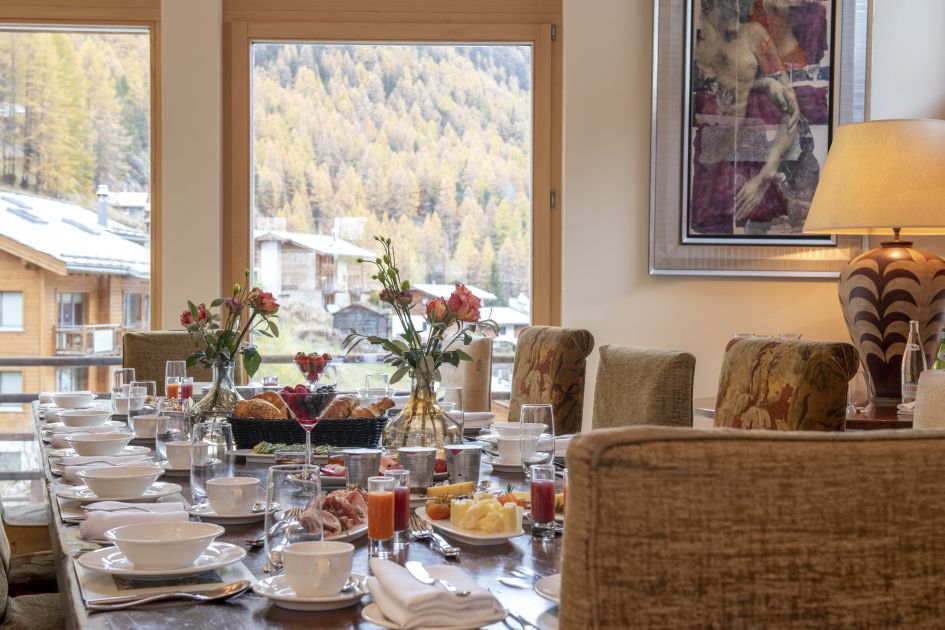 I haven't even got to the food yet! Oh, my goodness, are you are in for a treat! With high quality locally sourced ingredients, Michelin star trained chefs and a delightful wine list, the dinner service just tops your ski holiday experience. The team cater to your preferences which can go from creating a seven-course gourmet banquet, simple comfort food in front of the fire or even an out-of-this-world BBQ with local band providing the entertainment. A memorable ski holiday is sure to be made here.
For a luxury gourmet catered experience in Zermatt and for more details on The Chalet Grace click here.
The Zermatt Private Apartment Option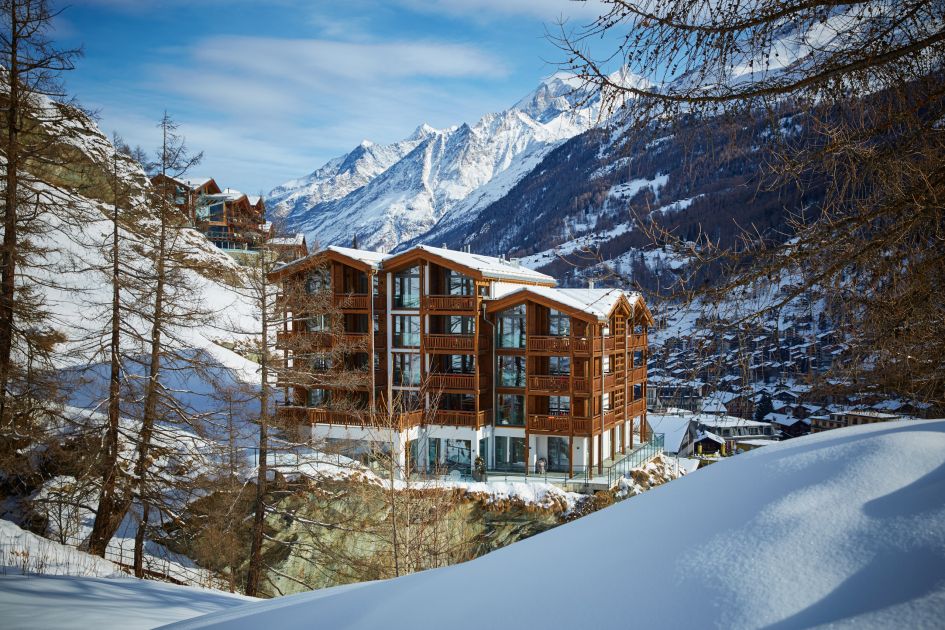 Staying in a luxury private apartment is a great option for a skiing holiday for anyone looking to have a winter escape without much hassle or planning. They are great for people who want to be flexible with their stay. Some people would say that luxury private ski apartments offer the simplest form of luxury for your ski holiday. BUT what if I told you, you could enjoy the privacy of a private apartment without giving up on the traditional service of a luxury hotel? This is exactly what La Vue in Zermatt does and we think it's great!
The luxury chalet, La Vue, offers six first class holiday apartments, from the spacious 2-bedroom Apartment Village to the luxurious 5-bedroom penthouse, Apartment Panorama. Each apartment is spacious, well-equipped and each one comes with a lovely characterful charm. La Vue is run by a lovely young family who also look after the Swiss Wallis iconic Schwarznaseschaf (Blacknose sheep). Because of this, each lovely room features an 'ovine style' from colourful woollen lighting to cosy fleece throws to sheep moulded soaps. Although subtle, it really does make the place feel very homely and you get a great sense for the work and love the family put in.
What make La Vue luxury apartments completely stand apart to any other private apartment is that they still come with the hotel service and hotel-style facilities. La Vue can pick you up in their very own electric taxi and deliver you right to the door of the chalet. More impressive than it seems, it really is James Bond style, they drive through a tunnel into the depths of the mountain until you get to the end where there is a lift to take you up to the chalet sat on its elevated position just above the centre of town and Zermatt church. While staying in the apartments there is a wonderful reception team to look after all your needs. The team also make sure your apartment is cleaned daily.
Although the kitchens come fully equipped for your stay, the team can happily arrange a private chef to come and cook for you in your private apartment. La Vue Chef de Cuisine, Alain Grandadam is sure to prepare you a menu of high-class delights.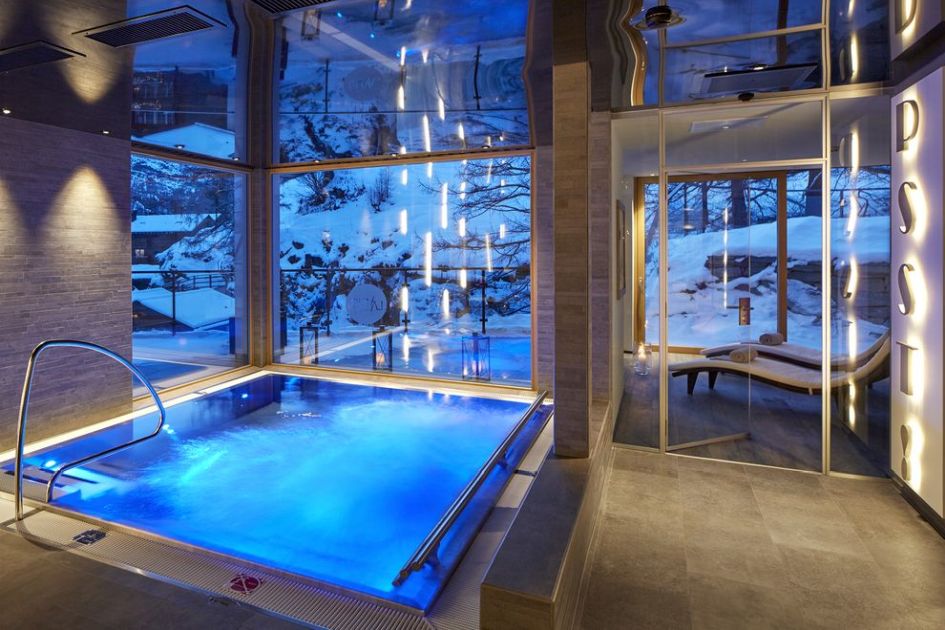 If this wasn't enough, the apartments all have access to the beautiful wellness space with rejuvenating whirlpool, classic wooden sauna, steam bath and massage room where they will gladly arrange a private massage for you. The Apartments also have a wine cellar, a conference room, great for corporate ski holidays, and a home cinema which they can organise a fantastic movie experience for your kids in …Bring out the popcorn!
Whether you are looking for a luxury corporate holiday, luxury family holiday or a getaway with your friends, LA Vue apartments could be perfect for your stay. Take a look at Apartment Edelweiss, Apartment Idyll, Apartment Panorama and Apartment village, or of course, you can always send us an email to find out more!
So, there we have it, three very different accommodation options in one of the most beautiful ski resorts in the Alps. Each one offers a unique stay in luxurious accommodation. Whatever you are looking for, one of them will hopefully cater to your needs! If you would like any more information about these luxury properties or what else we can offer in Zermatt, you can send us an email or give us a call on +44 (0)1202 203650. We will gladly help you on your way!