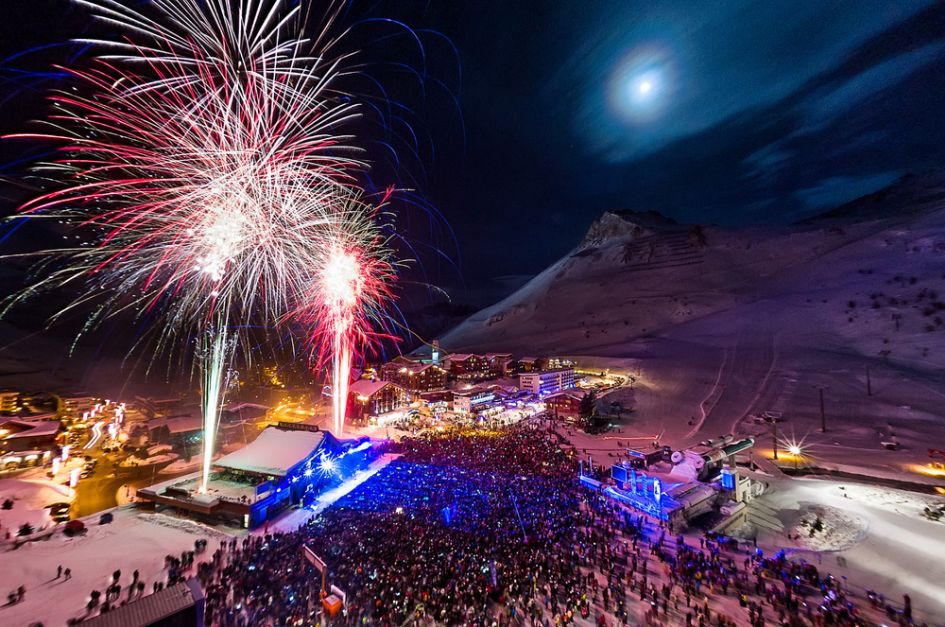 So I was lucky enough to visit Tignes just before Christmas which I was very excited about as I have quite a few friends heading out there this season to find jobs and catch as much powder as possible! Take a read….the first part of my epic 8 day 'fam' trip….
The glacier resort of Tignes is widely regarded as one of the best ski regions in the Alps. It is just a 40 mins drive from Val d'Isere over the mountain and together they make up the infamous Espace Killy, named after 1968 (Winter) Olympic gold medalist, Jean-Claude Killy. For those of you who don't ski….wait why are you reading this blog?….No for those of you not so familiar with the Alps, it is one of France's largest ski areas alongside the Three Valleys of course!
The main resort of Tignes Le Lac sits at 2100m beneath the well known 'Madonna' twin peaks as I like to call them, of La Grande Motte (3656m) and La Grande Casse (3852m). There is 1900m difference in skiing access from the Grande Motte Glacier right to the heart of the resort providing a huge amount of skiing reflected in the Piste Map below, which boasts over 150 runs. You are actually able to ski in Tignes for up to 10 months of the year with it's 300km of slopes open through until 3rd May 2015. Merde as the French say….that is a lot of skiing!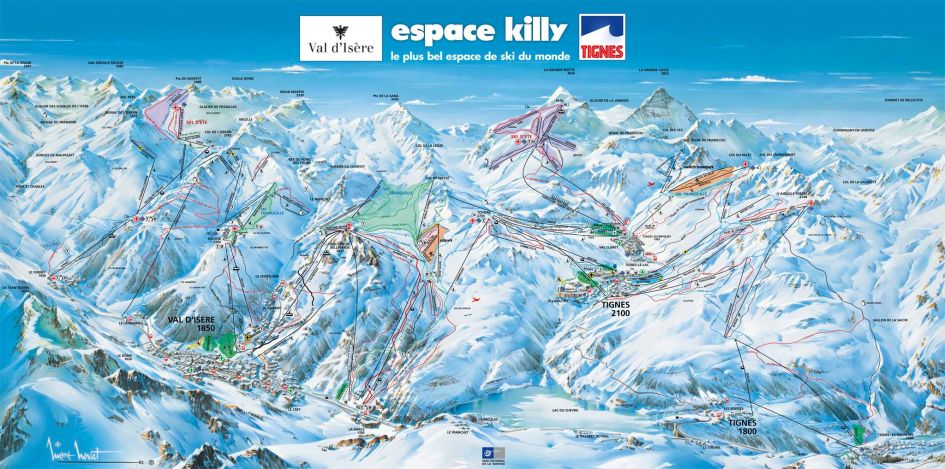 I was lucky enough to be hosted in two brand new chalet additions for this season called Chalet Ambre and Chalet Opale which occupies an incredible position next to the Almes pistes and has uninterrupted views of the surrounding peaks. Each chalet sleeps 8 people and can be interconnected to host larger parties if required by the garage space (and the kitchens secret larder room passage but shhhh don't tell anyone)!
With luxury furnishings throughout, rain forest showers, fabulous artwork including a very sexy shot-putter, both chalets have set a new precedent for luxury standards in Tignes. Champagne and canapés on arrival settles guests in perfectly for the exceptional gourmet catering which follows effortlessly throughout their stay. I can only describe the experience as delicious and that goes for the service too with their chosen male chalet host for the season! Yum Yum.
Although I was only in resort for a few days, I managed to get a day's skiing in, hooray! We headed out to early in a casual -11 degrees! Definitely the coldest I have skied in, however the sun was out and the snow conditions were beautiful. The Grande Motte Glacier can be reached by the state-of-the-art funicular which starts in Val Claret. The train only takes five minutes to reach Jean-Michel Bouvier's beautiful restaurant Le Panoramic where we were lucky enough to have lunch. From there you catch a cable-car raising you to 3,456m which is the top of the glacier and has breathtaking views of The Mont Blanc (15,782 ft, the highest mountain in the Alps for you not so familiar skiers)!
Le Panoramic Restaurant has something for everyone with canteen style dining for lighter lunches and those eager to head back to the slopes, or alternatively a full gourmet dining experience with quirky chalet style features and fur chairs for you to sit back and watch Jean-Michel himself cooking the most exceptional food! I shared the 400g Rib-Eye Steak complete with Marrow Bone and must say it was up there with one of the best meals of the entire trip!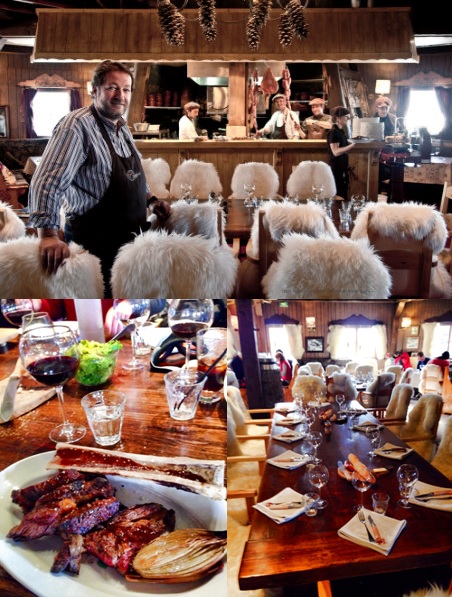 The wine tasted great too and I ended up having to get that state-of-the-art funicular mentioned earlier back down the mountain. For research purposes of course….voilà it works both ways!
A trip to the infamous Grizzly's Bar followed for a Vin Chaud or two and I must say what a lovely gem in Tignes. Now I have visited a fair few Apres bars in my short 25 year life, but nothing like Grizzlys. The owner had set a roaring fire out the front and has actually carved all the exterior and interior furniture with wait for it….his bear hands!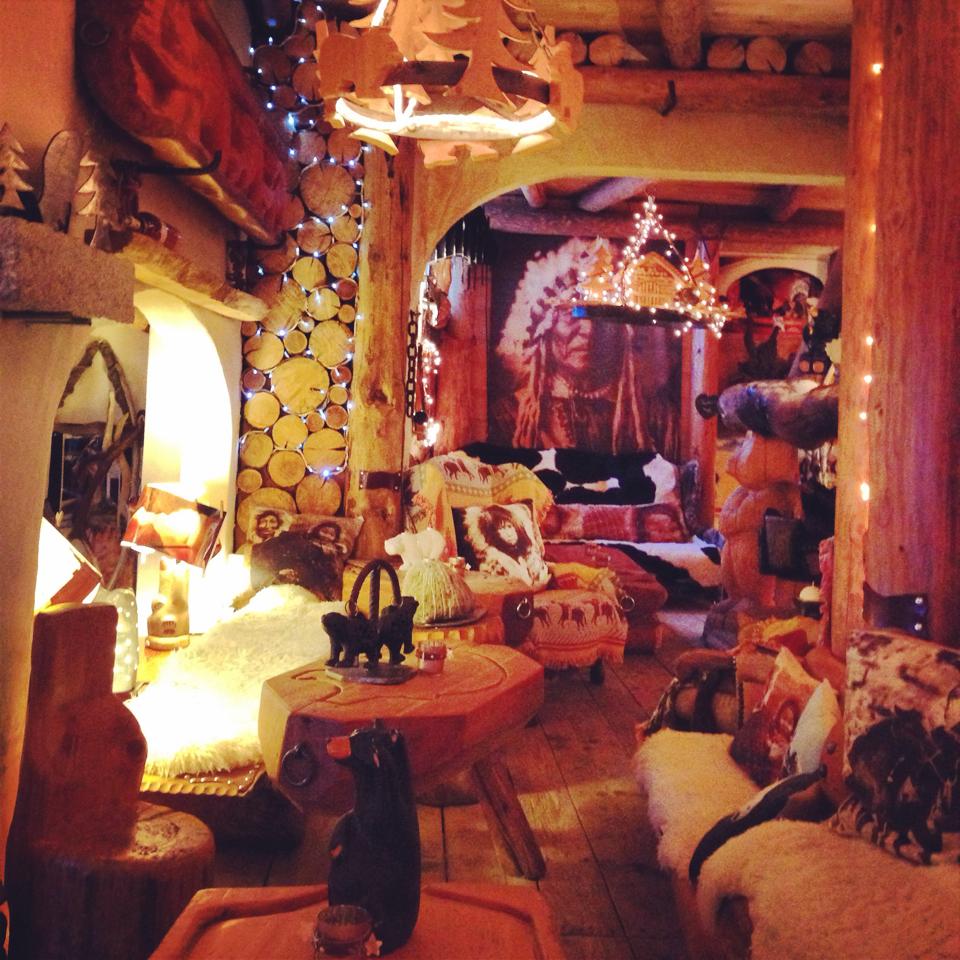 The next leg of my Tignes trip took me over to the neighboring smaller resort of Tignes Les Brevieres, if you scroll back up to look on the Espace Killy piste map you can just see the beautiful lake in the right hand corner positioned at 1550m in altitude.
The newly built Chalet Quezac takes pride of place as you drive into the village with spectacular views over this lake! Owned by French rally driver, professional skier and four times world freeriding champion Guerlain Chicherit, his masculine influence is easy to see from the moment you walk into this ultimate luxury cyber play chalet! Oh and all of Guerlain's prized trophies are on show just in case you still didn't know who he is (for those not so familiar skiers)….
Sleeping 12 guests with the potential for a further 2 little ones, the chalet was designed with Guerlain's own playful children in mind and comes complete with a 'snug' that can only be accessed by the smallest of explorers. Although I may be classed as small in the ski world, my anxiety of tight spaces stopped any attempt at squeezing through that toy tunnel!
Chalet Quezac comes on a fully catered basis with open bar and in resort chauffeur service. If you want an indulgent week of partying in this luxury chalet it is still available for some weeks in February and has just been discounted to as little as €15,000 for a 7 night stay! Contact us for more information…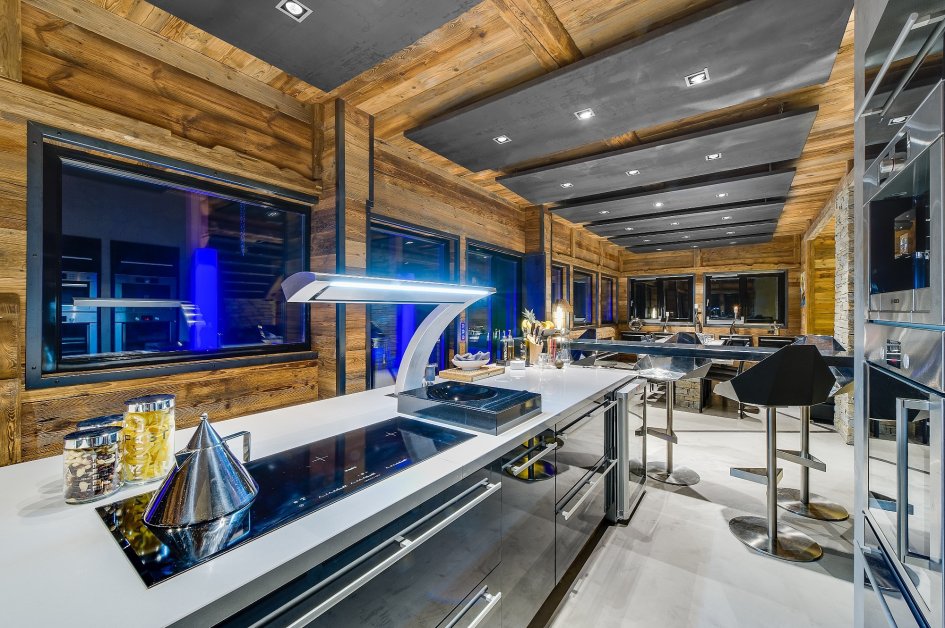 The town of Tignes Les Brevieres is tiny but very quaint in comparison to the larger and arguably ugly resort of Tignes Le Lac. Located just 50m from the gondola and nursery slopes, in the middle of the village, Chalet De La Cloche is also owned by a lovely family of ski enthusiasts who wanted to create their idea of a perfect chalet to holiday in a beautiful setting. They have certainly achieved that! Just a tip if you are driving into the little village yourself looking for the chalet and reach the infamous Ice Driving Circuit, also owned by who other than Guerlain Chicherit, then you have gone too far and need to turn back!
Designed to accommodate 16 people in eight double bedrooms, the chalet offers a superb alpine experience, providing all the amenities and services you would expect from a luxury modern boutique hotel, which De La Cloche does have that lovely feel of. The selling point I feel for the chalet is definitely the living space with high ceilings, a HUGE luxury plasma television, roaring fire and a very funky bar to sit and drink cocktails at whilst waiting for dinner.
I was lucky enough to be hosted by the chalets owners and their friends and together we tested the new, also very tasty, Australian chef for this season! The food was beautifully presented, tasted superb and the wine flowed freely which took us into the early hours on the sofa accompanied by cheese, coffee and lots of entertaining stories! It was arguably the best night of my entire trip.
Chalet De La Cloche has the perfect balance between luxury and laid back providing guests with a truly unforgettable experience. The owner's great humour is summed up fantastically with their own description of the chalets selling points…
"Attention to detail is everything here, so there are flat screens, plenty of sockets, plenty of light and a huge mirror, perfect for you boys… Oh and we haven't forgotten that without contact with the outside world we are all rendered a gibbering wreck, so we have WiFi access too…enjoy!"
Tune in next week for the second leg of my trip including the world famous event between travel industry enthusiasts….Courchevel Live!