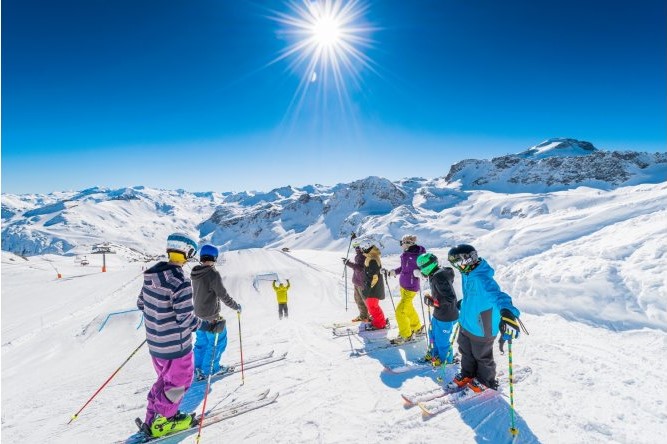 If you're someone who normally likes to build sandcastles over snowmen but feel like a change this year then keep reading. I'm going to show you why now is the right time to learn to ski, and why snowmen are just as epic as sandcastles.
By the end of this blog it won't be why should I go on a luxury ski holiday with my friends, but when. I know right now you're asking yourself "Why do people love ski holidays so much?" "What if I can't ski?" "What if I don't enjoy skiing?" My friend asked herself exactly the same questions a few years back, along with the added worry that she is scared of heights. It is now 4 years later and she is the one organising the ski holiday every year and is like a kid at Christmas – giddy with excitement for that first run every year.
So, let's take a look at my personal top 6 reasons why this is the year you should take that leap and book your winter holiday and learn to ski.
Beautiful Scenery

For me personally, my favourite place to be is in the mountains. There is nothing quite like breathing in that lovely fresh air, soaking up those glorious mountain views and having the sun beaming down on your face. Yes, you can get a suntan or sun burnt so don't forget the sun cream on your luxury ski holiday like I did on my first day a few years ago. I was so excited to drop my bags off and to get up the mountain that by the end of the day I was nicknamed "lobster".
With so much beautiful scenery to enjoy, such as in the photo above of Chalet Le Chardon in Val d'Isere, you will constantly be amazed and quite frankly in awe of the majestic mountains on your first ski holiday.
Luxury Chalets

As well as beautiful scenery, a stunning luxury chalet is equally as important to come back to after a day of learning to ski. You need that roaring fire to warm up next to, that hot tub to soothe those muscles you never knew you had, and some delicious afternoon tea as this is most definitely the one time you deserve it and don't have to feel guilty. I, of course, can't forget to mention the incredibly inviting and comfy bed to fall into at the end of that magical and thrilling first day on the slopes.
Make sure to check out our blog catered or self catered ski chalet, to get an idea of which one will suit your group best.
Age Knows No Boundaries

There aren't many holidays where the whole group whether young or old can be truly happy these days. That's the best part about a luxury ski holiday as you can learn to ski from 3 years upwards. You can be rest assured that everyone will have a fabulous time on the slopes learning to ski.
Family and Friends Time

There are endless ways to make the most of your luxury ski holiday with your friends and family. How about heading out to see the fireworks, watch the Coupe du Monde in Courchevel, taking a moment to watch the professionals race down the mountain and maybe learn a thing or two, or just simply enjoy each others company over a delicious gourmet meal. A perfect way to spend some quality time with friends and family, which in this day and age we all know is getting harder and harder with such busy schedules.
Extra Activities

The best part about a luxury ski holiday is that there are endless options. If it's bad weather or you just fancy half a day on the slopes then there are plenty of other activities to choose from. Why not try paragliding in Zermatt, with spectacular views of the Matterhorn to enjoy. Or if ice driving in Val Thorens sounds right up your street then take a look at Will's blog on our Ultimate Luxury Chalets website. If you're a particular fan of dogs or horses then book yourself onto a husky sledding tour or head to White Turf (annual international horse races), which start from the 12th February in St Moritz. If you want to head out into the trails but at a slightly slower pace then snow shoeing in Morzine is perfect for you. This really is a perfect way to go back to basics and truly enjoy the peace and tranquility which nature offers.
Après Music Scene

Finally, for me, a ski holiday is equally about getting out there and enjoying the apres music scene. Whether you want to head to the famous La Folie Douce up the mountain in Val d'Isere, for some amazing live music and dancing on the tables. Or if it's a sophisticated wine bar you're looking for then you will find it in the mountains.
With there only ever being one answer to the question to ski or not to ski, let the Ski in Luxury team guide you through your first ever luxury ski holiday, to make sure it is everything you wish for and more. Feel free to give us a call on +44 1202 203 650 or send us an email, so that we can make sure it is your first of many luxury chalet holidays in the mountains and not your last.