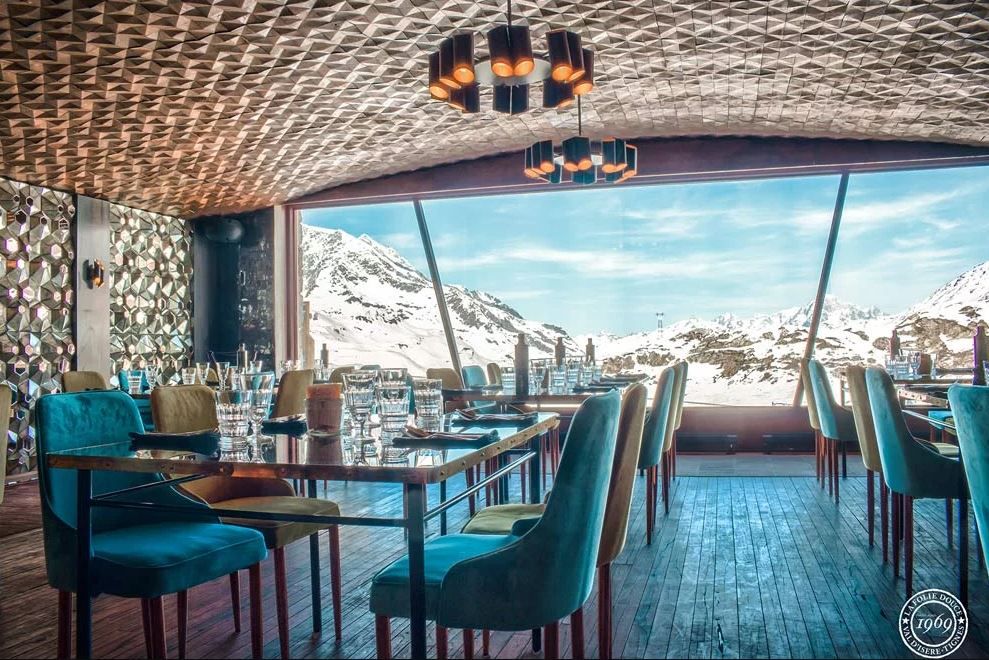 For many, eating out on your ski holiday is one of the highlights. Whether it's a refuel on the mountainside, or an evening out at the best restaurant in town, discovering the top local cuisines can certainly take your taste buds on an alpine journey of their own. And it's no different in the luxury ski resort Val d'Isere. If you wish to explore fine dining restaurants, places to eat for a relaxed evening or mountain restaurants in Val d'Isere, you have come to the right place. We have collated a list of some of the best restaurants in Val d'Isere to help you plan your culinary adventure on your luxury Val d'Isere ski holiday…
…A Mountain Lunch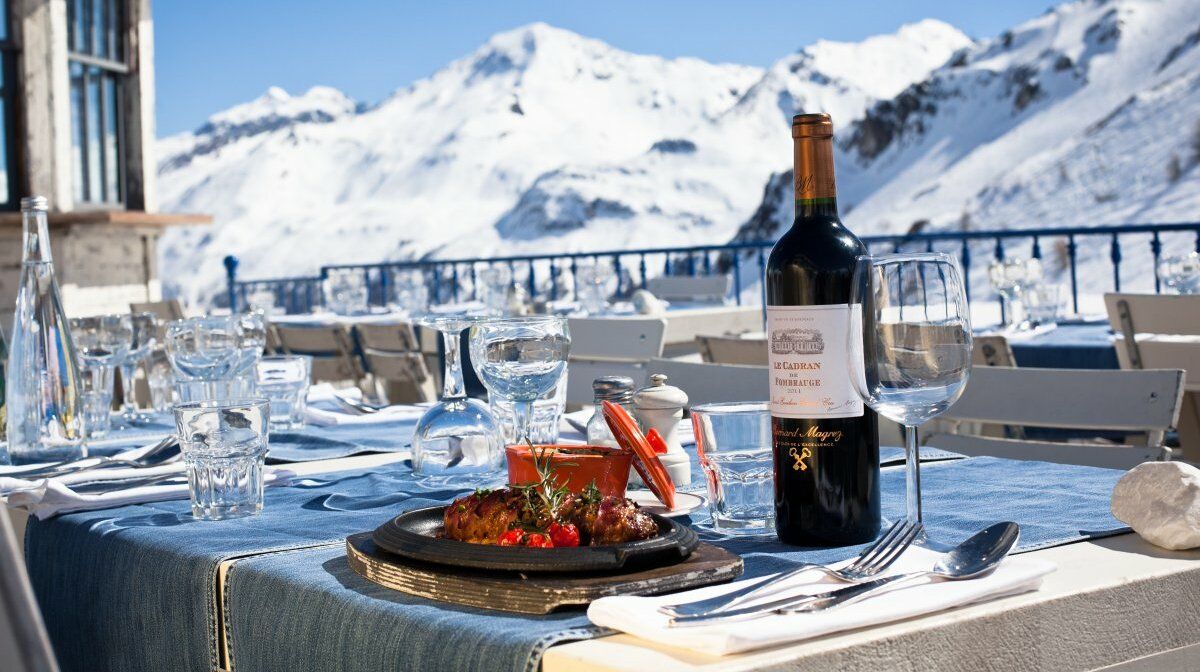 Everyone needs an idea of where they will stop for lunch to rest the ski legs and refuel for the afternoon ahead (whether that's more skiing or straight into apres!). Here are our top 5 Val d'Isere restaurants on piste…
Located at the top of the Le Fornet ski lift, Le Signal is in the perfect position for the whole group to meet for lunch on the mountain. Non-skiers can meet skiers by heading up by road or by foot, and together enjoy hearty and traditional French dining. The mountain views are well worth the trip over and arguably make it one of the best restaurants in Val d'Isere.

A piste side restaurant in Val d'Isere not to be missed. Peau de Vache is in an amazing location with a cosy and inviting atmosphere, especially on a cold and snowy day! Expect the finest local specialities including burgers, omlettes, steak, pasta and cheese boards. There is also a small terrace to sit out on to enjoy clear blue skies, sunshine and mountain views.
Beginners and non-skiers can join you via the nearby chairlift – and you may choose to join them afterwards if you have eaten or drunk too much to ski down La Face!

Part way down the blue Mangard slope you will find another of the best Val d'Isere restaurants on piste, L'Edelweiss. Enjoy a sophisticated atmosphere and stunning panoramic views from the terrace along with a refined menu offering exceptional Savoie regional dishes. From the highly popular Tartiflette to the Lobster Ravioli, a lunch at L'Edelweiss Val d'Isere will not disappoint.

If you've heard of Val d'Isere, you've mostly likely heard of La Folie Douce! As the first to open it's doors, Val d'Isere remains one of the most popular ski resorts with a Folie Douce. And when it comes to dining, you'll be spoilt for choice! Whatever you fancy for your mountain lunch in Val d'Isere, a stop off at La Folie Douce and its 5 restaurants will satisfy every member of the group:
For 5 restaurants in one stop, you can see why La Folie Douce makes our list of the best restaurants in Val d'Isere!

On the snowfront in Val d'Isere, La Sana is super easy to access and perfectly positioned for the whole group to meet. Excellent service and reasonable prices, together with the delicious and traditional menu, make for a perfect place to refuel and relax. On a bluebird, if you make it before the lunch rush, you can enjoy the sunshine from the small terrace whilst you tuck in!
…A Relaxed Evening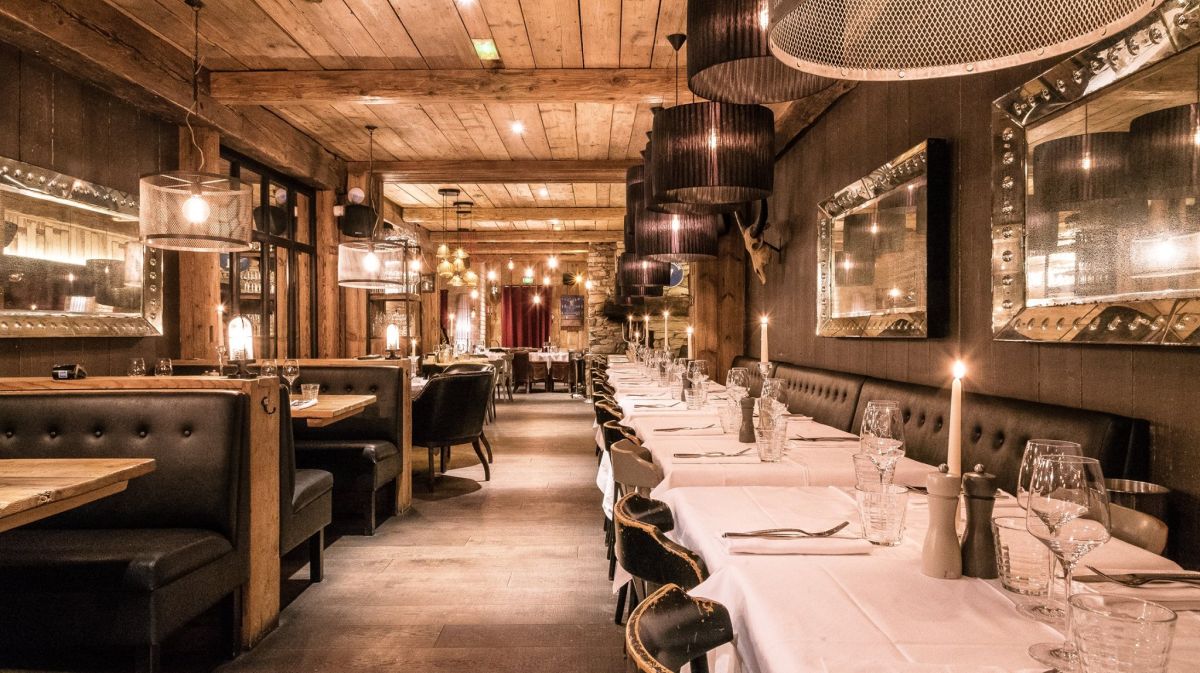 A chef night off on your Val d'Isere catered ski holiday might find you in one of the best Val d'Isere restaurants for the evening. To help you decide, we have shortlisted the top 5 below. And if you can't decide, well maybe a self catered ski holiday in Val d'Isere is the best route for you…!

La Baraque offers an evening of wholesome entertainment and great food. Browse the menu and sip one of the distinguished cocktails whilst the live band play on in the background, creating a convivial atmosphere between the four walls. Serving up Tapas or French classic dishes for main, you're in for a fabulous night.

When half the group is after a traditional Savoyard dinner and the other half is after something a little more exotic L'Arbre de Vie is the answer. From Cheese Fondue and Casserole to Pad Thai and Chinese Noodle soup, this Val d'Isere restaurant is a collection of cuisines to suit all palettes.

Located at the foot of the Solaise cable car and the Stade piste, L'Etincelle will extend a hearty welcome into its cosy and rustic-chic restaurant. The fireplace is the centrepiece of the restaurant not only for generating a cosy atmosphere but also as a stage for the wood fire cooked dishes. The menu encompasses top quality ingredients generating a choice of pizzas, fish and meat grills.

In a relaxed setting, Avancher is one of the best restaurants in Val d'Isere for its locally sourced menu cooked to perfection. Formerly known as 'The Racelette', this Val d'Isere restaurant offers an extensive traditional menu of course featuring 'La Raclette Traditionnelle de L'Avancher', staying true to its heritage. The rest of the menu consists of homemade gourmet dishes – you'll be in for a treat!

Traditional Savoyard cuisine is the tag line to this homely and welcoming restaurant in Val d'Isere. Being a family owned restaurant slightly off the beaten track, it's a true hidden gem and one that is popular with the locals. Also an apres ski bar, arrive for a boogie and a beer, to follow on with a hearty evening meal – you'll be sure to leave with that warm fuzzy feeling and a full belly!
…Fine Dining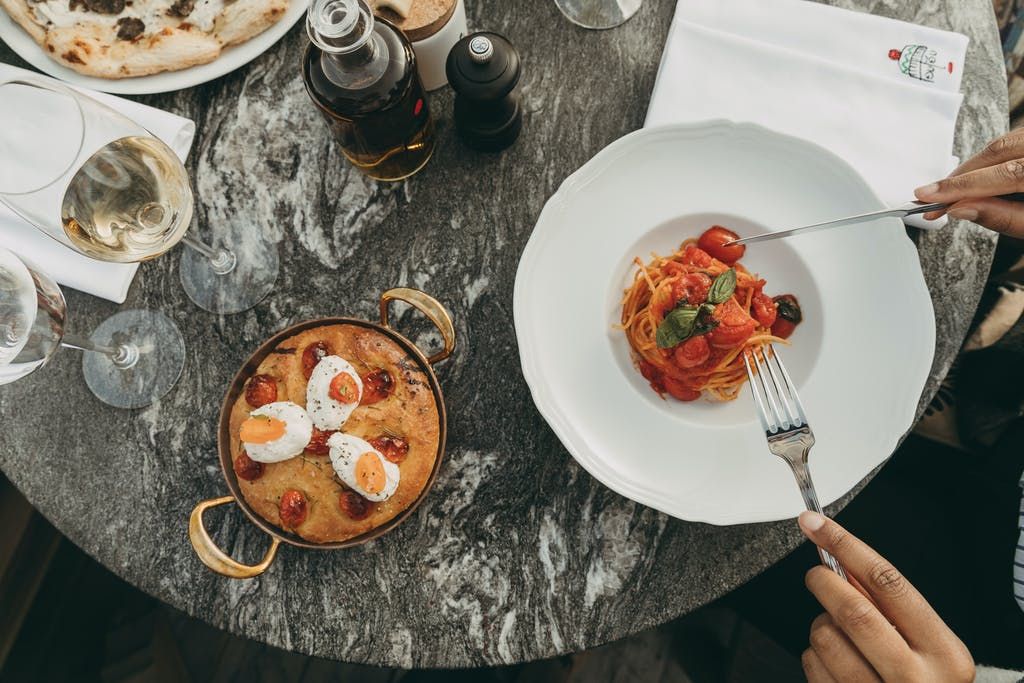 For those who enjoy the fine dining experiences or simply want to treat yourself on your luxury ski holiday, we have shortlisted 5 top fine dining restaurants in Val d'Isere for you to dine out on. From Michelin star to menus with a unique fusion of cuisines, Val d'Isere is sure to deliver in delectable dining.
#1 La Mourra

Located in La Mourra Hotel Village, this fine dining restaurant in Val d'Isere offers a unique menu encompassing a fusion of Japanese and traditional French dishes. Expect choices such as sushi or Wagyu beef for starter, skipjack tuna or filet of duckling for main and yuzu soufflé with coriander sorbet for dessert. It's certainly an eclectic mix of flavours but the concept proves popular with holidaymakers every year!

If you are looking for Michelin star restaurants in Val d'Isere on your luxury ski holiday, then look no further than L'Atelier d'Edmond. This foodies dream makes the list of the best restaurants in Val d'Isere for it's vintage and authentic style setting, with your tastebuds anticipating the culinary delights of chef Benoit Vidal. Find this gem in the unspoiled mountain hamlet of Le Fornet, where its sophisticated menu awaits you at the bottom of the slopes.

Sit back in the modern and contemporary comfort and relax in the good culinary hands of Restaurant Le Pier. The a la carte menu is offered in the evenings and is not short of choice. Using fresh produce, you can expect the chef to serve up delicious fish dishes, game delights and divine Savoie cheeses (yes including the traditional raclette and fondue!).  Suitable for all the family, with even the little ones catered for with an adapted menu just for them!

From the city of Paris to the alpine ski resort of Val d'Isere, Benoit Dargère brings you one of the finest dining concepts in the Alps.  Focusing on regional specialities and seasonal ingredients, expect a Mediterranean menu featuring classic dishes with a gourmet twist. Tagging onto the Val d'Isere après ski scene, it's the perfect venue to stop by after a day on the slopes. Expanding out onto the large terrace with panoramic views, enjoy your favourite cocktail under snug pergolas whilst you warm up by the fire pit. It's a super stylish après ski spot in Val d'Isere, where you can stay and enjoy delicious dining too!

The final fine dining restaurant in Val d'Isere to feature is La Table des Neiges. On selected evenings of the week, partake in large buffet style dining – with the Grand Buffet de la Mer on a Friday being one to note. Otherwise, satisfy the taste buds with the Chef Jérôme Labrousse's a la carte menu with set courses of divine gourmet plates.  Being in the very heart of Val d'Isere, a small walk from the slopes, you can choose to indulge in a gourmet lunch in town and take the opportunity to reconnect with non-skiing members of the group.
If you're looking for the finest ski chalets to match Val d'Isere's best fine dining restaurants, take a look at our Ultimate Val d'Isere ski chalet collection.
Our complete list of the best restaurants in Val d'Isere ends there (thankfully for our bellies!). If any of the restaurants mentioned above tickle your taste buds, be sure to book in advance to avoid disappointment. Should you have any further questions, or need assistance planning a luxury ski chalet holiday in Val d'Isere, make sure to get in touch with our knowledgeable Ski Specialists who will be happy to help. We have a growing portfolio of luxury chalets in Val d'Isere offered on a catered, self catered and bed and breakfast basis to ensure you meet your match. Get in touch today by sending an email or giving us a call on +44 (0)1202 203650.