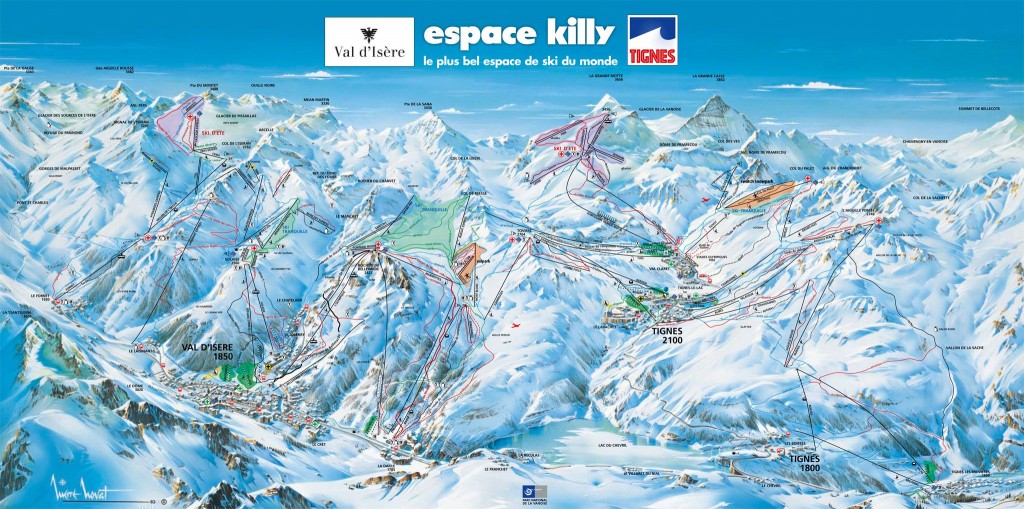 Tignes is widely known as one of the most snow-sure resorts in France due to its altitude and glacier skiing. But how much do you know about the resort? We've pulled together the top 5 pointers and snippets of info we think you should know about Tignes…
Glacier Skiing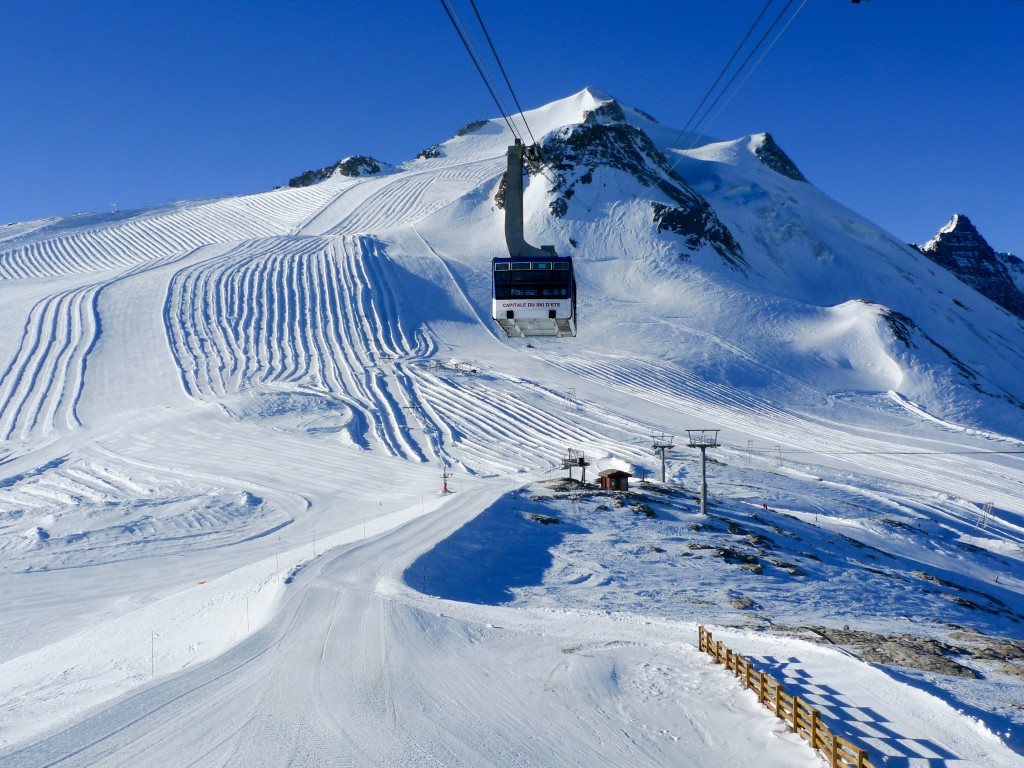 Accessed via the funicular lift from Tignes Val Claret, the Grand Motte glacier only closes for a couple of months each year, with Tignes' winter season starts in October and ends in May, and the summer skiing open from the beginning of July to the end of August. During the winter, temperatures can be mighty low up on the glacier at 3300m – usually up to 10 degrees celcius lower than down in Tignes Le Lac (2100m).  During the summer in Tignes, skiing is slightly more restricted with 20km of pistes and a snowpark open on the glacier – but nothing quite beats cruising down the slopes in a tshirt, topping up the tan!
From glacial to normal geology, another formation that I would thoroughly recommend checking out is L'Aiguille Percee (roughly translated to 'needle pierce'). Easy to get to by just simply looking for L'Aiguille Percee on your piste map. Here's a picture of me in front of it – if I look a bit lonely it's because my friends decided they were too cool to go and see a rock with a hole in it. Suit yourself.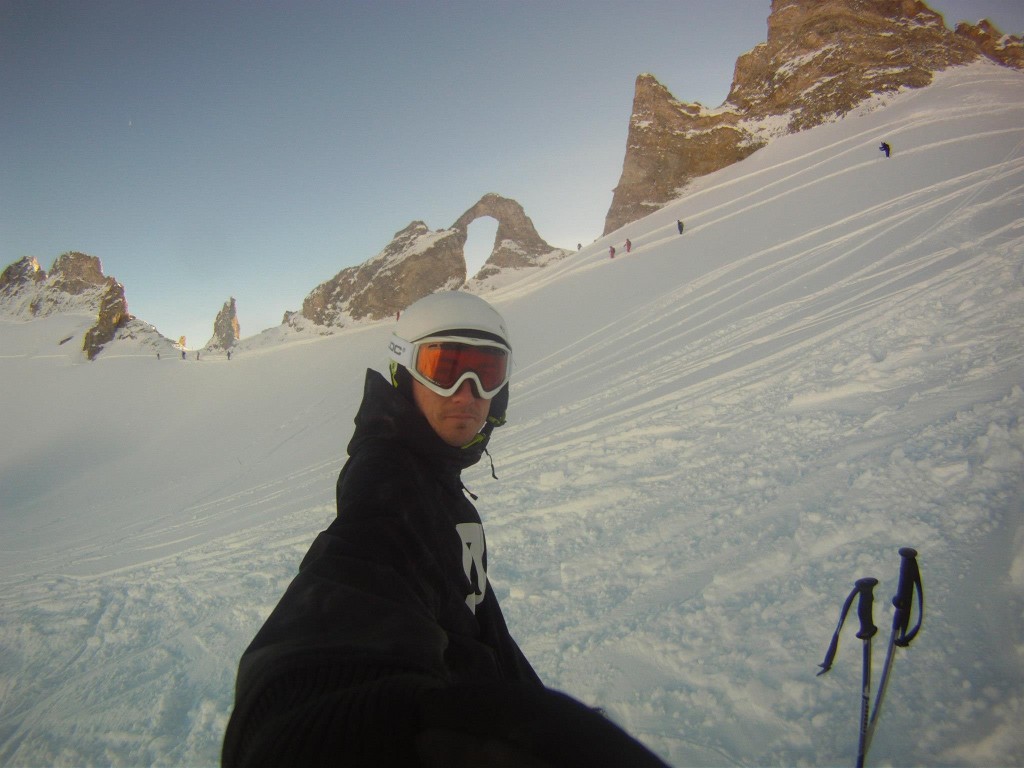 Extensive Pistes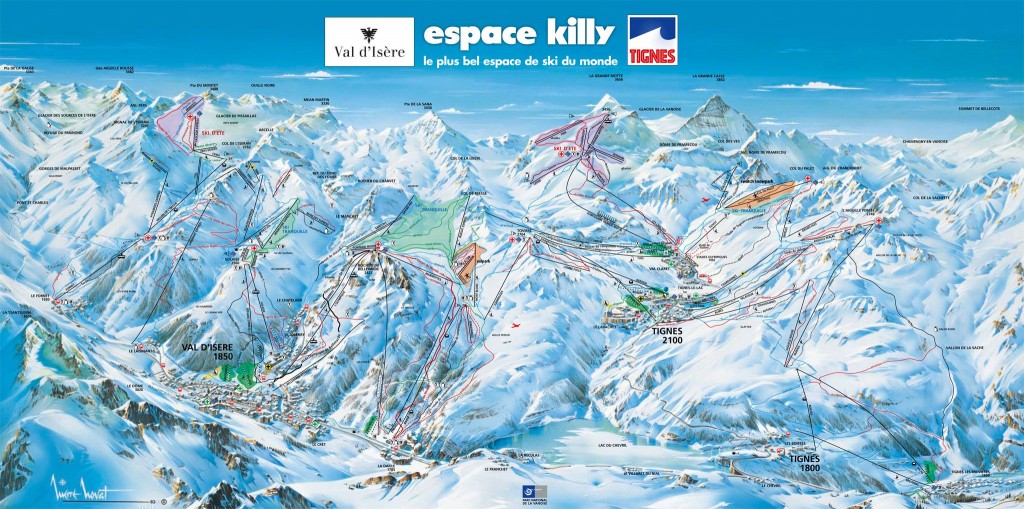 Tignes forms one half of l'Espace Killy, a Tarentaise ski region named after former French World Cup alpine ski Jean-Claude Killy. Along with it's neighbour, Val d'Isere, the ski area provides access to;
Green pistes: 20
Blue pistes: 67
Red pistes: 40
Black pistes: 26
The wide variety of runs in l'Espace Killy amount to a whopping 300km of ski-able terrain, that's half the size of the 3 Valleys. Due to the number of Black, Red and Blue pistes on offer we would recommend the resort to intermediate-advanced skiers….not to say there aren't plenty of easy greens and cruisy blues for your beginners to sink your teeth into (don't actually do that, especially if you have sensitive teeth).
The 5 Villages of Tignes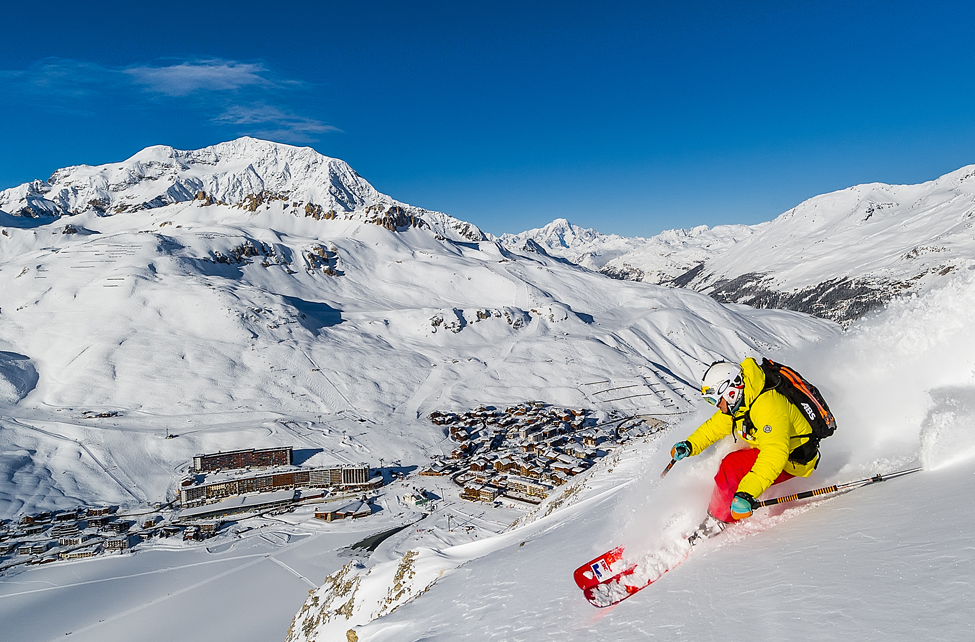 Tignes is split into 5 separate villages – Val Claret, Le Lac, Lavachet, Les Brevieres and Les Boisses. Val Claret is the highest village at 2100m and gives fantastic, easy access to the glacier. Along with Tignes Le Lac, you'll find most of the hotels, shops and restaurants situated in these two villages. Le Lac is also home to luxury chalet Ambre and Opale.
Le Lavachet is just down the road from Le Lac and is much quieter with just one bar (TC's bar) and a restaurant called 'Le Fermes des Tros Capucines' which is great and allows you to tuck in surrounded by the mooing of the cows in the barn underneath the floorboards.
Located further down the mountain are Tignes Les Boisses (1800m) and Tignes Les Brevieres (1550m) where the amazing Chalet Rock n Love and Chalet Quezac are located.
All villages in the resort are serviced by the ski bus which runs regularly, and most of the luxury chalets in Tignes that we feature on our website offer a private driver service!
New Year Knees-Up
Every New Year's Eve, Tignes and French radio RTL2 host a whopper of a party on the snow front in Tignes Le Lac. With the action commencing at 11pm they promise you the biggest New Year's celebration you've had! at 12 am there is a fantastic fireworks display, one previous guest of note is the French DJ and producer David Guetta spinning some celebratory tunes on the one and twos. The partying on the snow front ends at 1am, however if you're not content with that then there are plenty of bars in Tignes Le Lac that are open for extended hours to get you adequately sloshed.
Tignes on TV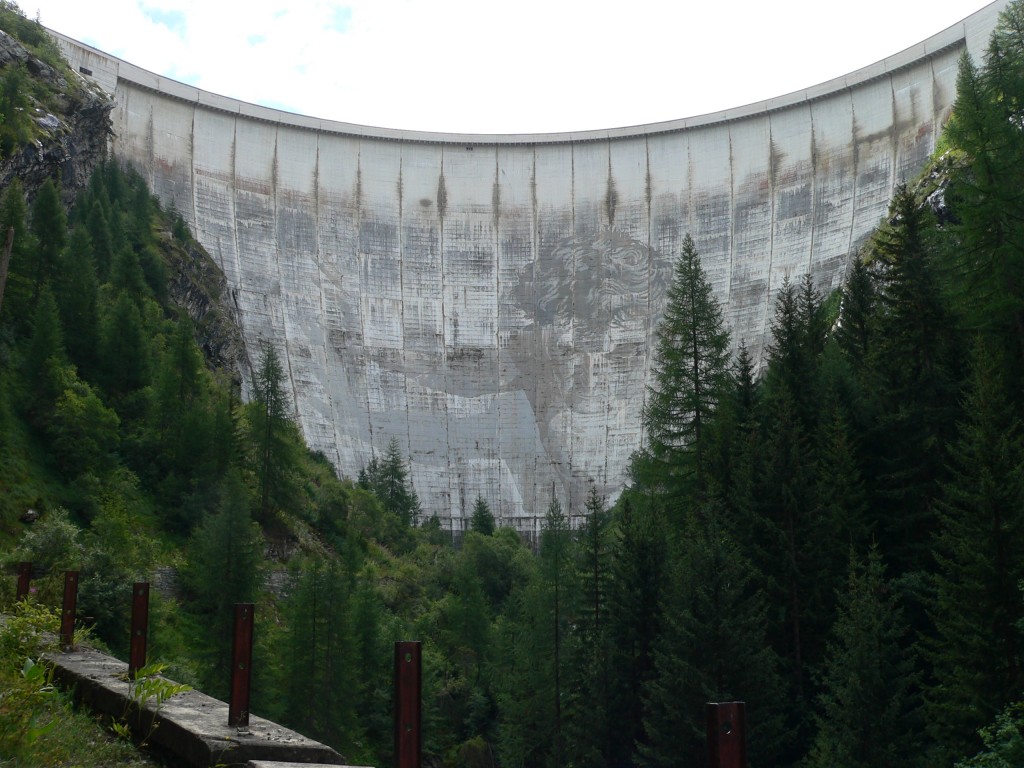 Back in 2012, Canal+ in France broadcasted the first series of 'Les Revenants' (The Returned), later broadcast on Channel 4 in the UK. The series was a bit of a bizarre one, where some residents started appearing back in their village about 12 years after their untimely deaths. Shortly after that, the water level of the reservoir starts to drop, revealing an old town that had disappeared under the murky water.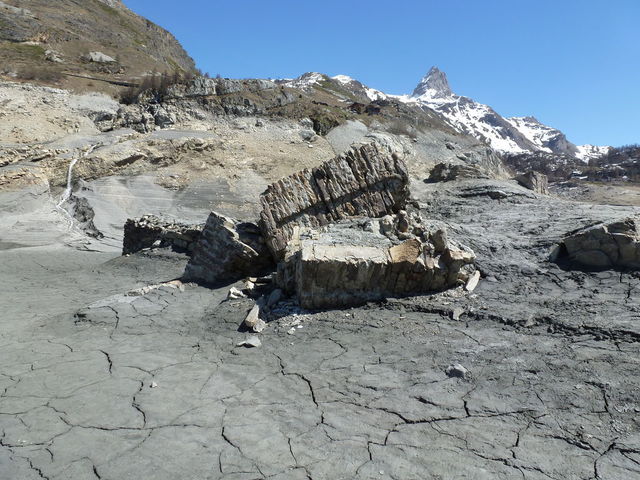 The program was actually filmed in Tignes, with some of the most important parts of the filming taking part around Tignes' dam and lake. The fictional series echoes the real-life history of the old town of Tignes which was flooded back in 1952, before the ski resort had even been built. The dam is the highest in France, towering 160 metres over Les Brevieres. The dam is now drained every 10 years and depending on how much snow melt there is, you can see the rooftops of the old church and houses. Spooky.
If this has whet your appetite then why not consider a luxury ski holiday in Tignes next season? Give us a call on (0)1202 203650 or send us an email and we can find your ideal luxury ski chalet in Tignes!