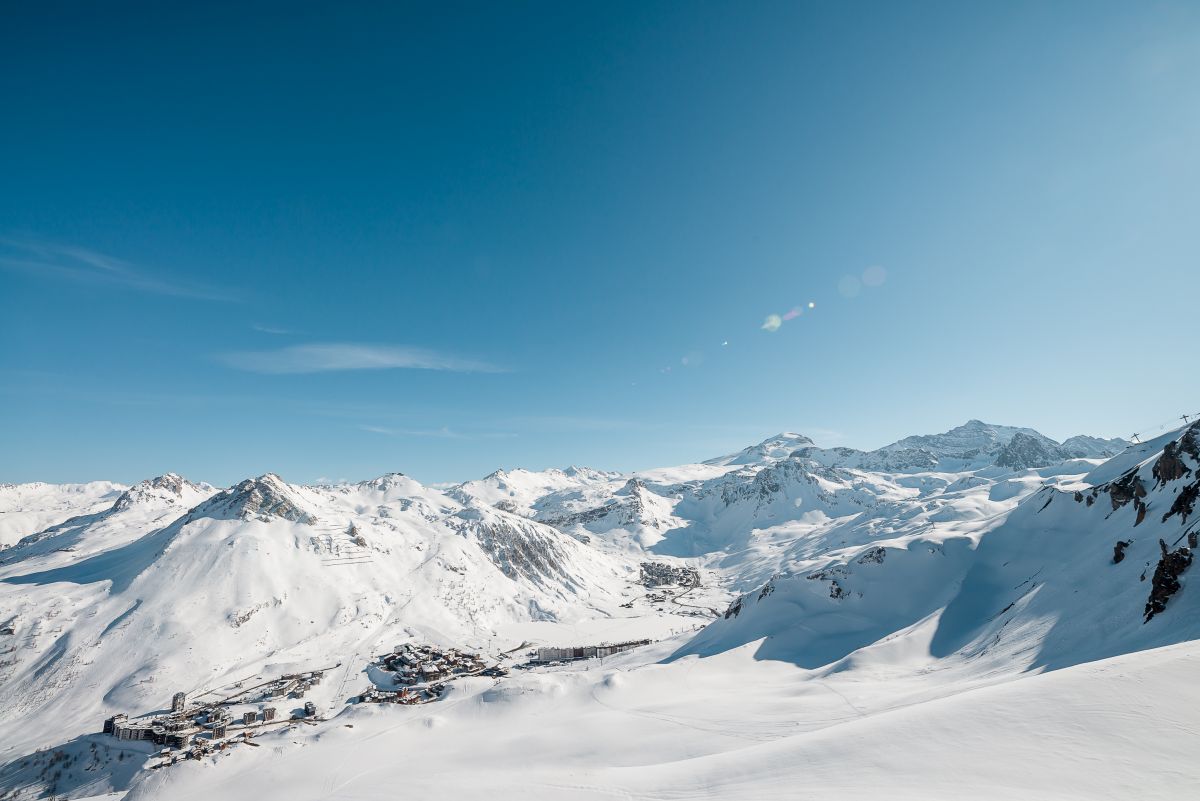 Tignes is widely known as one of the most snow-sure resorts in France due to its altitude and glacier skiing. But how much do you know about the resort? We've pulled together the top 5 reasons to help you plan your next luxury ski holiday in Tignes…
#1 Piste Skiing and Glacier Skiing in Tignes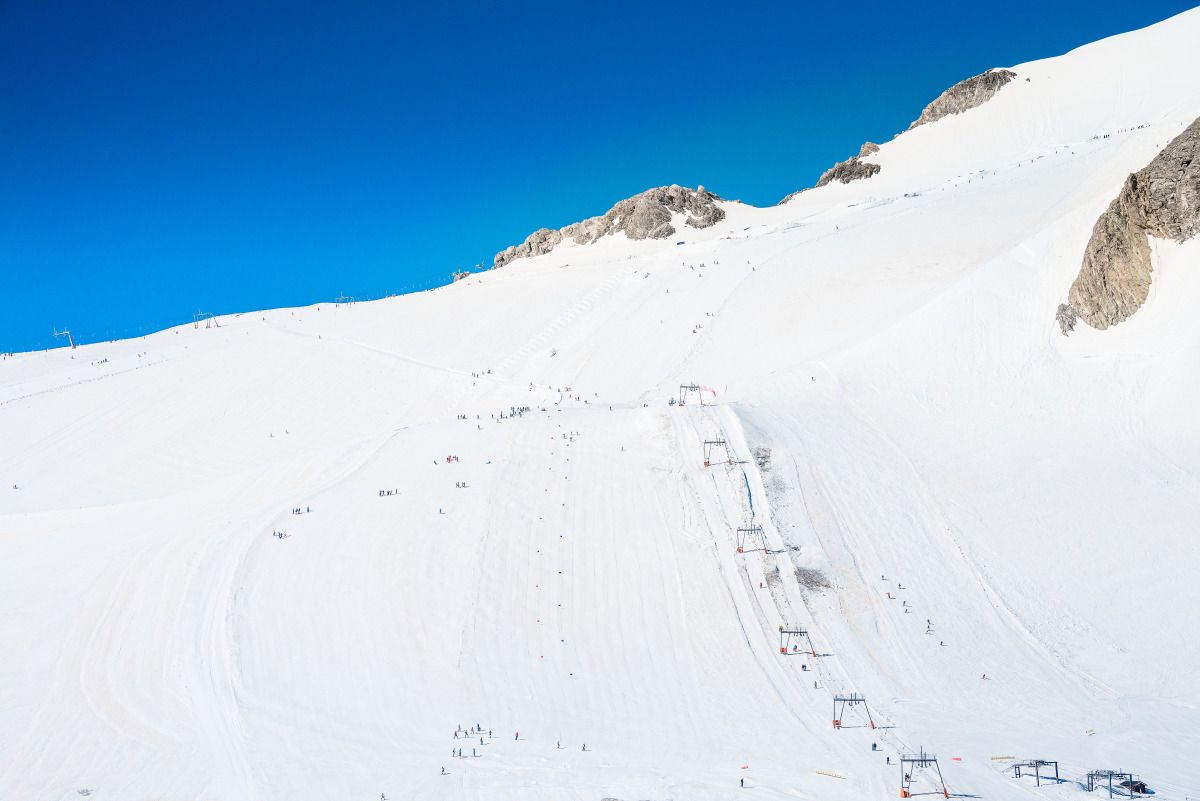 Accessed via the funicular lift from Tignes Val Claret, the Grand Motte glacier only closes for a couple of months each year. Tignes is renowned for long seasons (running from October to May) and snow promise, which is evident even in the summer months where you can carve up the pistes from the beginning of July to the end of August. During the winter, temperatures can be mighty low up on the glacier at 3,300m – usually up to 10 degrees celcius lower than down in Tignes Le Lac (2,100m). During the summer in Tignes, skiing is slightly more restricted with 20km of pistes and a snowpark open on the glacier – but nothing quite beats cruising down the slopes in a t-shirt, topping up the tan!
From glacial to normal geology, another formation that I would thoroughly recommend checking out is L'Aiguille Percee (roughly translated to 'needle pierce'). Easy to get to by just simply looking for L'Aiguille Percee on your piste map.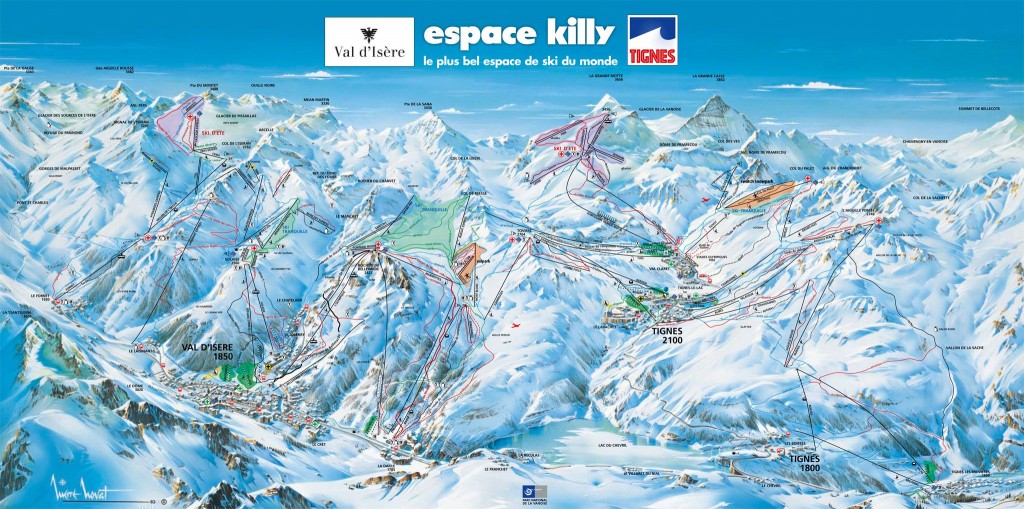 Tignes is one of the most famous ski resorts in the Tarentaise ski region. Along with it's neighbour, Val d'Isere, the ski area provides access to;
Green pistes: 22
Blue pistes: 65
Red pistes: 44
Black pistes: 25
The wide variety of runs in Tignes and Val d'Isere amount to a whopping 300km of ski-able terrain, that's half the size of the 3 Valleys. Due to the number of Black, Red and Blue pistes on offer we would recommend the resort to intermediate-advanced skiers….not to say there aren't plenty of easy greens and cruisy blues for your beginners to sink your teeth into.
#2 The 5 Villages of Tignes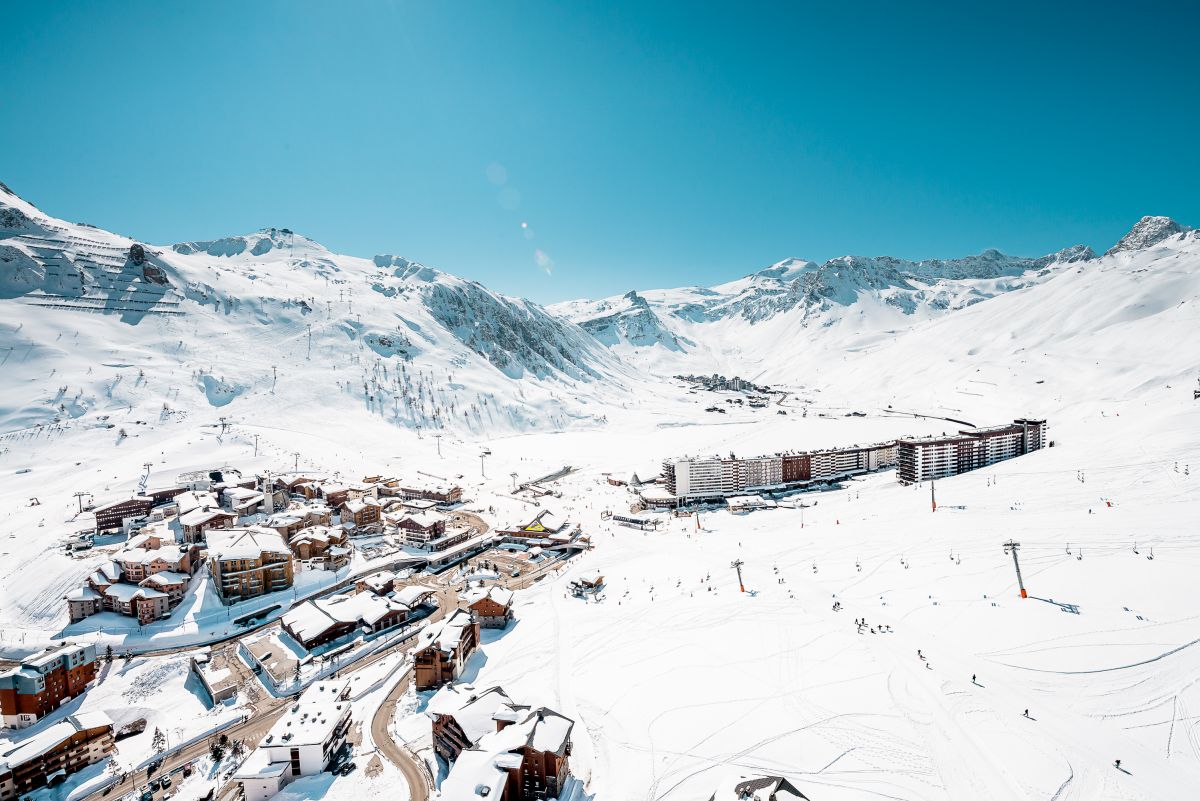 Tignes is split into 5 separate villages – Val Claret, Le Lac, Lavachet, Les Brevieres and Les Boisses. Val Claret is the highest village at 2100m and gives fantastic, easy access to the glacier. Along with Tignes Le Lac, you'll find most of the hotels, shops and restaurants situated in these two villages.
Le Lavachet is just down the road from Le Lac and is much quieter with just one bar (TC's bar) and a restaurant called 'Le Fermes des Tros Capucines' which is great and allows you to tuck in surrounded by the mooing of the cows in the barn underneath the floorboards.
Located further down the mountain are Tignes Les Boisses (1800m) and Tignes Les Brevieres (1550m) where the likes of the uniquely styled Chalet Rock n Love and Chalet Quezac are located.
All villages in the resort are serviced by the ski bus which runs regularly, and many of the luxury chalets in Tignes that we feature on our website offer a private driver service.
#3 Bars and Restaurants in Tignes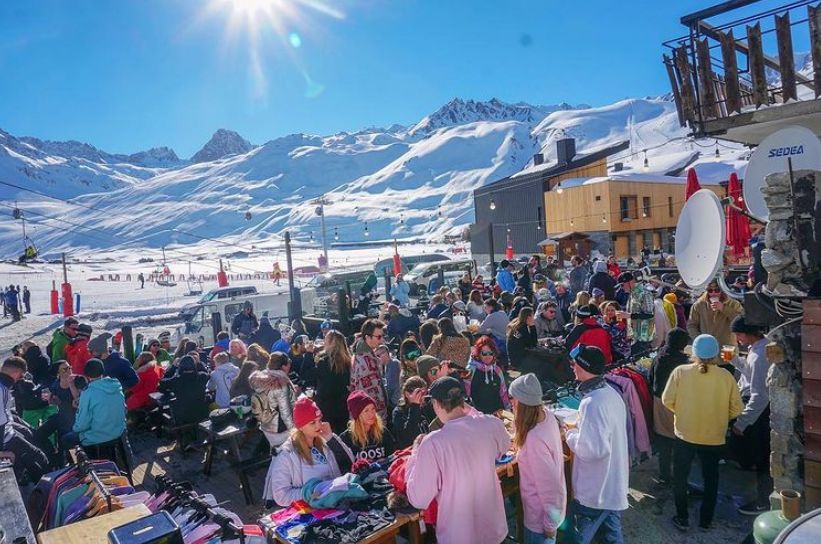 There is a large choice of bars and restaurants in Tignes to satisfy your desire for a post ski beer, boogie or mountain meal. Whether you end up in Val Claret, Le Lac, Le Lavachet or Les Brevieres, you'll be sure to have the chance to enjoy one of Tignes best bars for the ultimate après ski. Here are just a couple to tickle your fancy…
The Marmotte Arms is considered everyone's favourite local. You'll be welcomed like a warm hug on a cold day to indulge in craft ales, spirits and beers (soft drinks also available!) and enjoy gourmet pub grub! All whilst live après ski music is the soundtrack to your stay. The Marmotte Arms also offers live sports and great DJ parties downstairs in the Burrow Bar.
Taking it up a notch, at Loop Bar every night is a party night. Starting off with live bands at après and proceeding to world class DJ's in the evenings. Wraps and burgers are available for those get a little peckish and there's a super sunny terrace for you to soak up the sun and atmosphere! It's certainly a must on your next ski holiday in Tignes.
For those who didn't manage to determine the winner of the flat line ski race earlier in the day, perhaps need to battle it out with a couple of après ski beverages and a game of pool at Saloon Bar or a game of bowling at Jack's Club? A couple of great après bars in Tignes for those who aren't too fussed about climbing on the tables and throwing some shapes.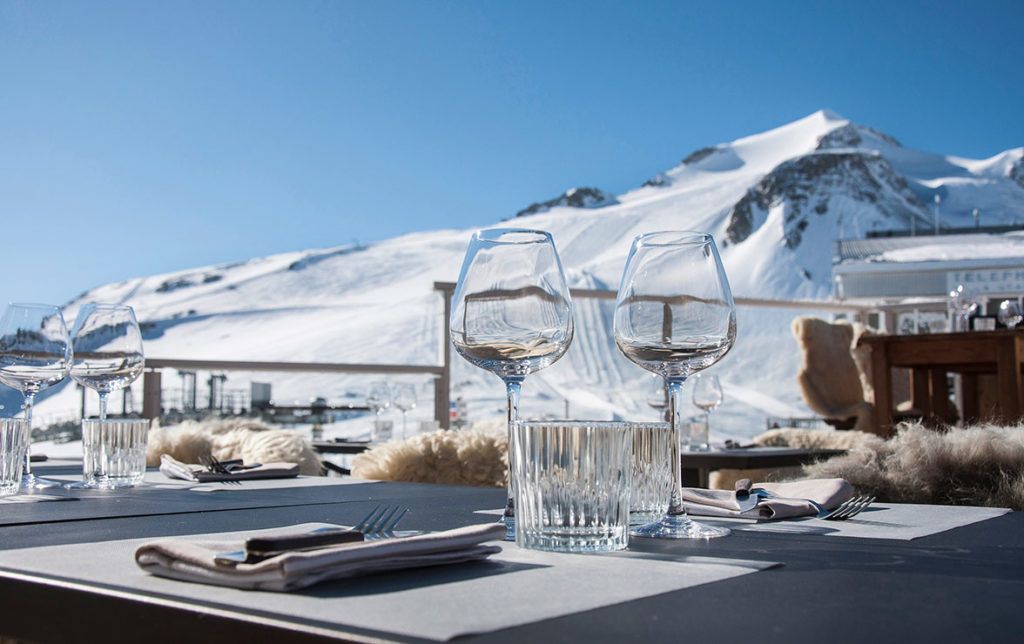 To fulfill your appetite after a full day skiing in Tignes, you will no doubt be looking for the best restaurants in Tignes for an evening meal. Whether it's the chef's night off in your Tignes catered chalet, or you have chose a luxury self catered chalet in Tignes, you will be spoilt for choice with where to eat out.
For fine dining in Tignes, make a trip to Ursus in Val Claret. With unique woodland interiors, enjoy mouthwatering regional and seasonal cuisine from the creative culinary expert Clément Bouvier. The Savoyard cheese trolley and fine wine cellar are worth a visit alone!
La Pignatta is a great restaurant in Tignes for the family and showcases some of the best pizzas in town. A relaxed dining atmosphere and friendly staff will ensure it's an experience to remember.
A ski holiday in Tignes is not complete without a stop at Le Panoramic. Located at the top to Grande Motte, the views are simply breathtaking. Accessible for skiers and pedestrians, it's the perfect place to reconnect with the group for an evening meal or a mountain lunch in Tignes. Choose from a Michelin star restaurant, alpine canteen cuisine or a take-away – there's something to suit all tastes.
For more of the best restaurants in Tignes, discover our full Gourmet Guide to Tignes.
#4 Events in Tignes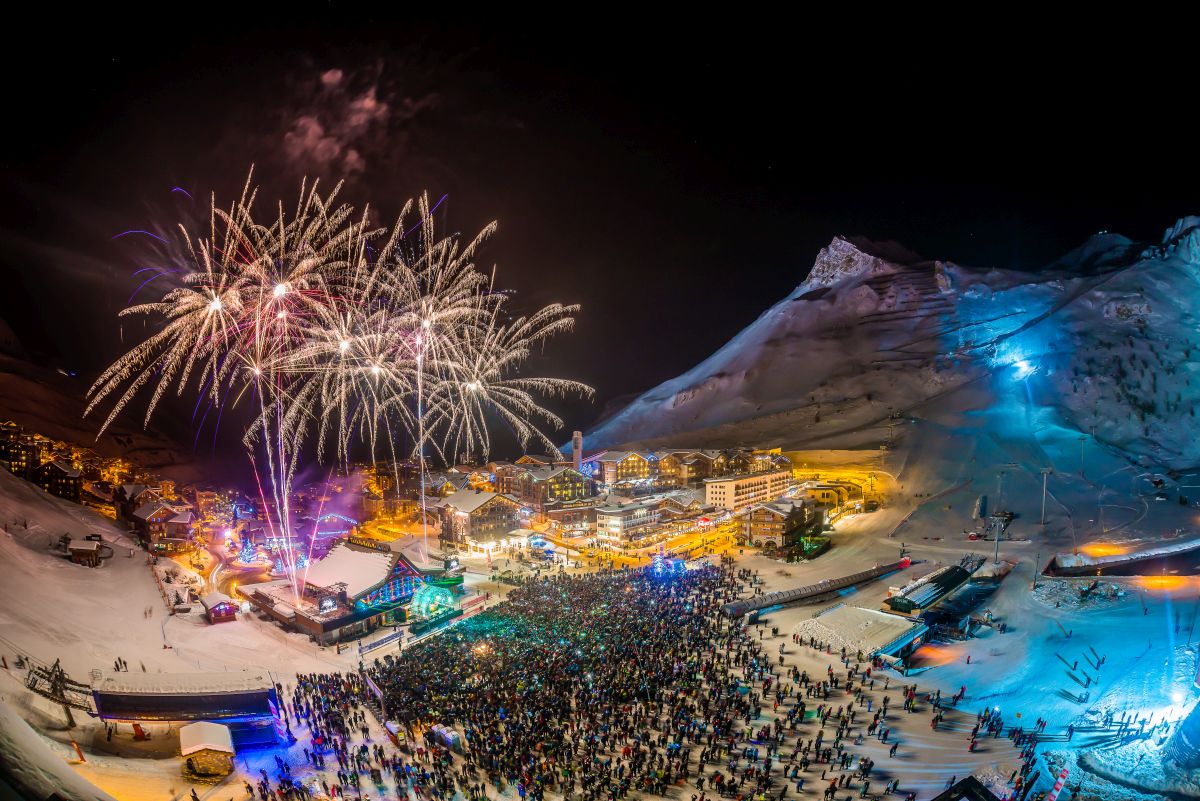 Mix up your traditional ski holiday in Tignes and tie it in with one of the many events in Tignes. Every New Year's Eve, Tignes and French radio RTL2 host a whopper of a party on the snow front in Tignes Le Lac. With the action commencing at 11pm they promise you the biggest New Year's celebration you've had! At 12 am there is a fantastic fireworks display, one previous guest of note is the French DJ and producer David Guetta spinning some celebratory tunes on the one and two's. The partying on the snow front ends at 1am, however if you're not content with that then there are plenty of bars in Tignes Le Lac that are open for extended hours to get you adequately sloshed.
Other events in Tignes include the European Snow Pride and Gay Pride where rainbow flags fly high in support of LGBTQ communities. Expect colourful pistes and parties like no other including cabarets, DJ events and a giant pool party!
It wouldn't be a ski holiday in Tignes without a luxury chalet to call your home. Here at Ski In Luxury we are always growing our collection of luxury ski chalets in Tignes and ensure we are always able to offer our clients the best places to stay.
A Top Chalet in Tignes for the Family…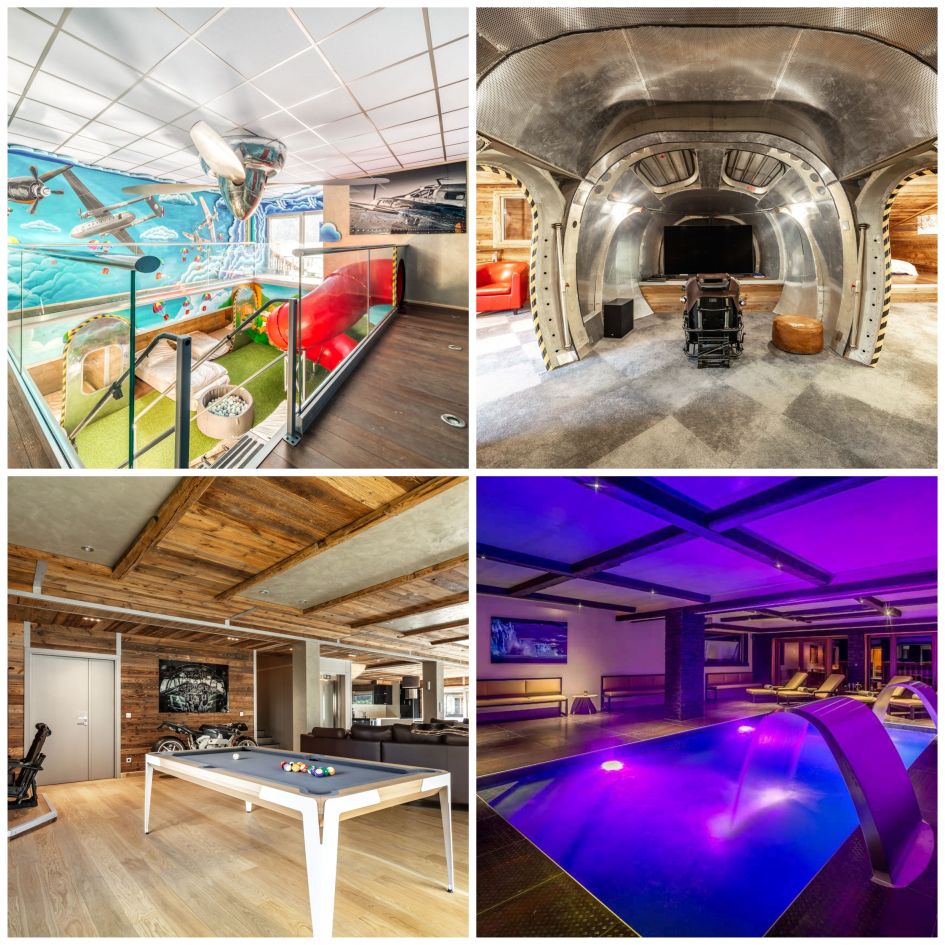 Chalet Tango Charlie is an exceptional chalet for a family holiday to Tignes. A combined chalet means 2 of almost everything! Whilst the adults relax and unwind in the wellness facilities, the children can be entertained for hours in the games room or play area (turned kids bedroom), complete with an internal slide! Its fun, quirky interiors offer a unique luxury stay for the whole family. Sleeping up to 30 guests, this catered ski chalet in Tignes is located in a residence with access to shared wellness facilities. NB: Also available to rent as individual chalets if your group is smaller.
A Top Chalet in Tignes for the Foodies…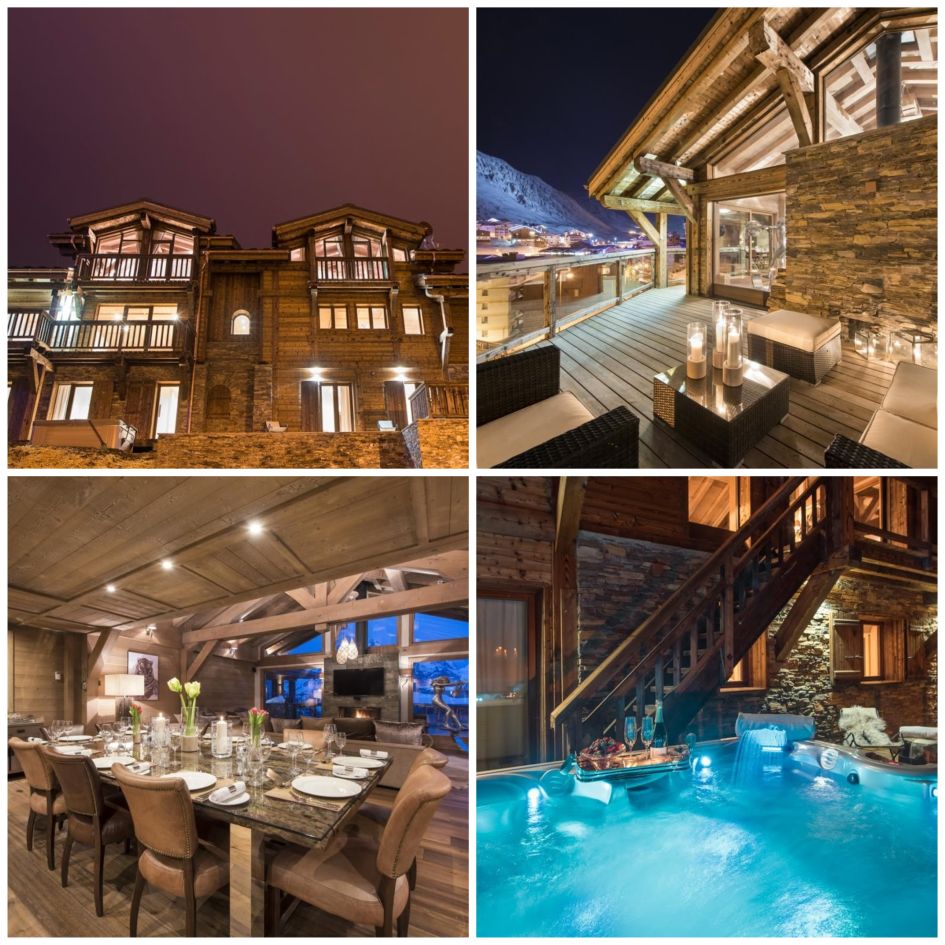 Chalet Opale Ambre is another combine chalet in Tignes that can cater for up to 21 guests. Located next to the Almes piste in Tignes Le Lac, you are perfectly positioned to start your day skiing in Tignes. On the contrary, you are also well positioned for your return home;  you can ski back the chalet in good conditions, and head straight for the hot tub with a glass of Champagne before your delicious, gourmet evening meal curated by your highly experienced chef. With an in house wine cave, you can also enjoy some of the best wines to accompany your meal.
A Top Chalet for a Self Catered Ski Holiday in Tignes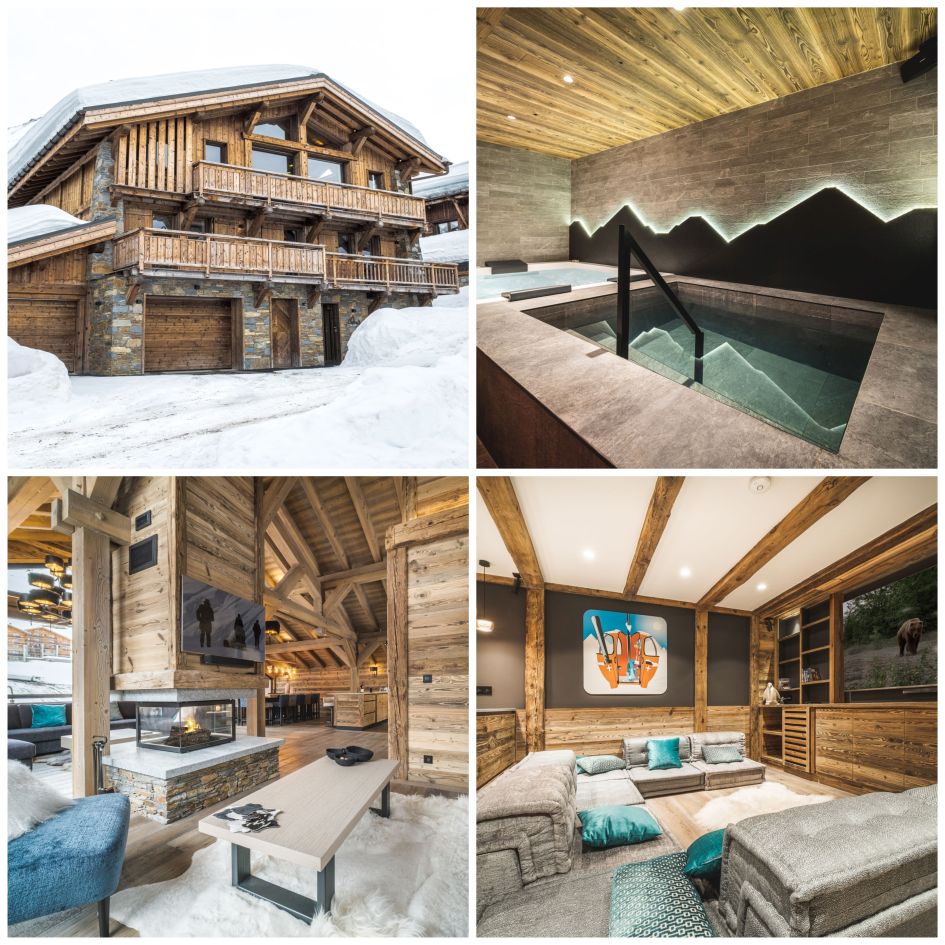 For a self catered ski holiday in Tignes, take a look at Chalet Arolla. Complete with a plunge pool, indoor Jacuzzi and Hammam, this chalet will meet all your relaxation needs after a day on the slopes. Not to mention its TV lounges, games room and wine cellar which provide further entertainment for the whole group. The designated chef will enjoy cooking up a feast for hungry mouths in the fully equipped kitchen; or if you wish to dine out and try some of the local restaurants, the chalet is located a convenient 5-10 minute walk into the centre of Tignes Le Lac.
If this has whet your appetite then why not consider a luxury ski holiday in Tignes next season? Give us a call on (0)1202 203650 or send us an email and we can find your ideal luxury ski chalet in Tignes!