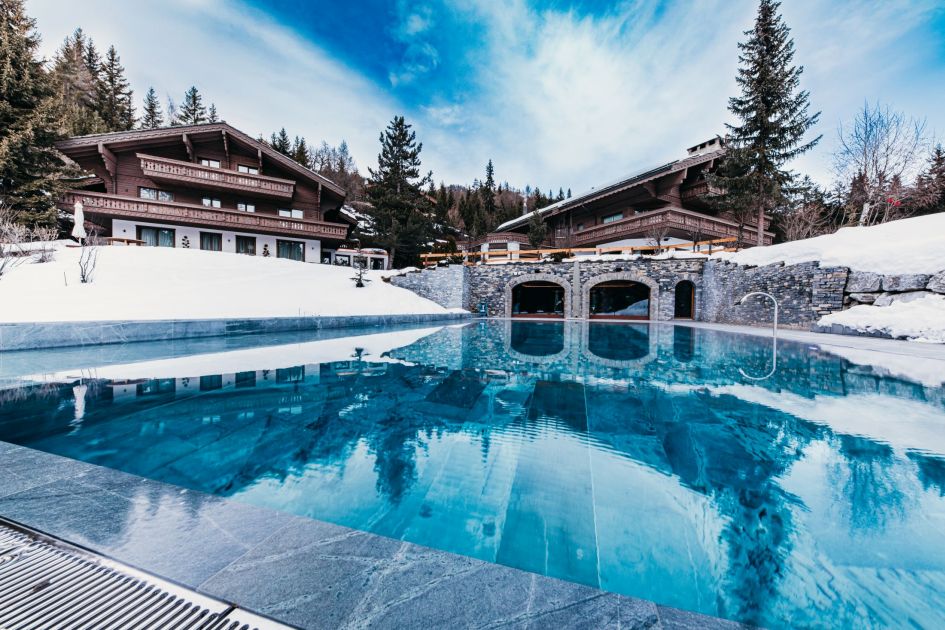 Can my luxury ski holiday be sustainable? Does a luxury eco chalet mean compromising on comfort?
To the first question, let's find out! To the second… absolutely not!
There's a lot to love about the Alps; the delicious food, the dramatic scenery and there's so much to do! However, like most, we are increasingly aware of our changing environment and how our holidays and hobbies can impact it. In the mountains this is noticeable by the warmer winters of the last five years, driving us to snow-sure resorts. So, when considering your perfect ski holiday to the Alps, and how to keep on going for years to come, sustainability and eco-friendly choices will begin to take greater priority.
Here are the best luxury eco chalets in the Alps so that your luxury ski holiday is greener than just its pistes:
As the crème de la crème, Ultima Crans Montana and Ultima Megeve both also feature with our sister brand Ultimate Luxury Chalets. They are amongst the best luxury ski chalets on offer, yet still prioritise sustainability to create an environmentally conscious luxury Alpine holiday. Although in different countries these long-distance sister properties have the same approach to give you the best eco-friendly luxury ski holiday on the market.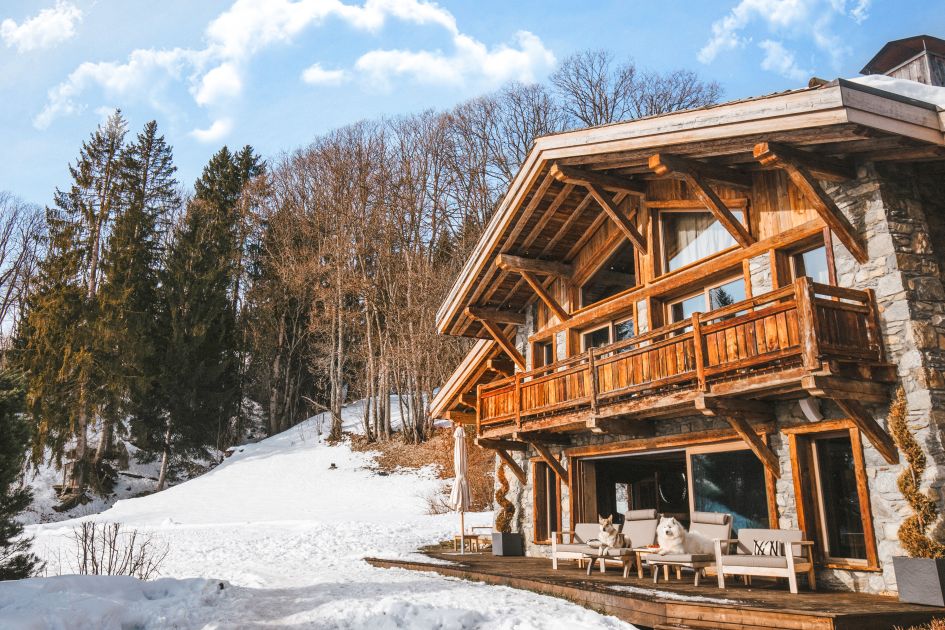 If you are concerned about compromising luxury in an eco-friendly ski chalet let these properties change your mind. Both chalets boast an array of incredible facilities such as saunas, outdoor swimming pools, fireplaces, fitness studios and cinema rooms. However, what makes them an outstanding option for your luxury ski holiday in France or Switzerland is the truly unique extras. At Ultima Crans Montana you can enjoy a yoga studio, cigar lounge and even your own private lake. Meanwhile at Ultimate Megeve there is a helipad, hairdressing salon, wine cellar and a private nightclub!
If you want a first hand account of what a stay at an Ultima property could hold, be sure to check out Ellie's Ultima Courchevel experience. Expect to hear about the incredible service, food and facilities.
At this point you may be thinking: Yes, these deserve a place amongst the top luxury ski chalets in the Alps but how are they environmentally friendly?
Rather than altering your experience, these properties put a huge effort into offsetting any environmental damage done. For instance, a tree is planted for each night every guest stays. In 2021 they planted over 10,000 trees mostly in the local area. This helps sequester lots of extra carbon released and regulates the natural water cycle – an all important eco-cycle for those who constantly check the snow reports. So voila, a holiday to a luxury eco chalet in the Alps that maintain those charming tree-lined runs!
CEO Simon Le Cossec knows that the finest ski holidays include luxury travel by private jets and helicopters. Conscious of this environmental impact they operate VistaJet, their own private jets. With which for every 10km their guests travel they will plant a tree. Over 1,000km sits between London and Crans Montana or to Megeve so, each way at least 100 trees will be planted just for you! Hopefully, this means that the ethically minded traveler can relax and enjoy the ultimate mountain holiday that they deserve.
From facilities, to service, to exquisite food, this five-star luxury hotel in Switzerland is outstanding. The Alpina Gstaad is not an average hotel experience. For instance, this luxury ski hotel in Switzerland offers unique experiences such as the Alpina Gstaad silent retreat, in which you hand in your devices, and experience the stunning Swiss Alps in tranquility.
The Alpina Gstaad is a luxury Alpine holiday built with sustainability at its core. Created to seamlessly integrate local resources into their practice, this luxury eco-hotel blends traditional Swiss produce and materials into a innovative Alpine stay.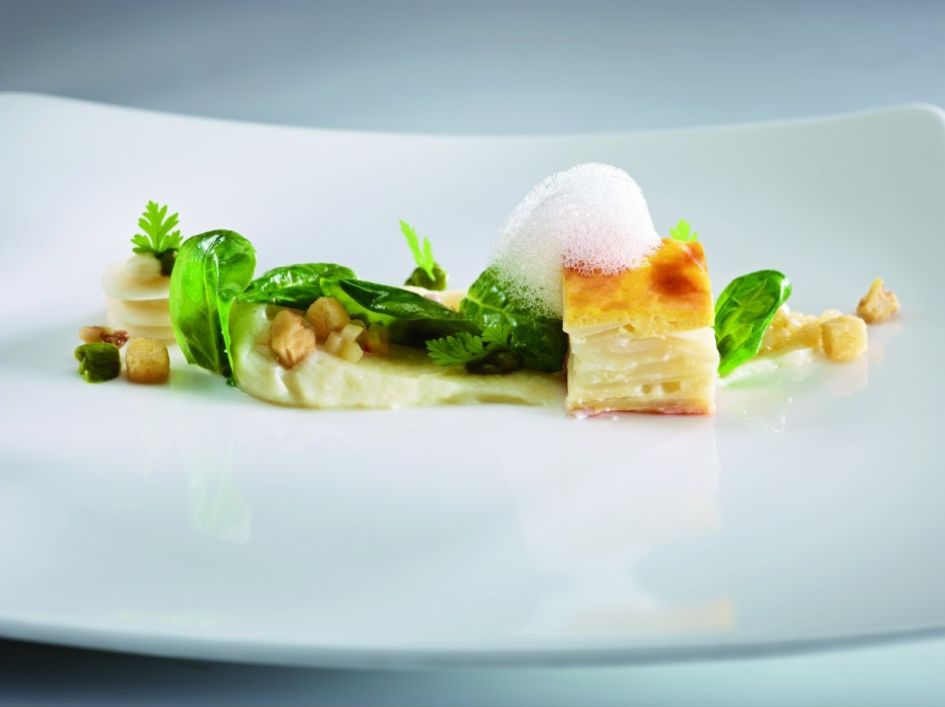 Their Michelin Star restaurant, the Sommet Restaurant, takes sustainability in high-end cookery to a new level with a zero-waste menu. Some of the Head Chef's zero-waste techniques include producing flour from stale bread, over-ripe fruits become pastry fillings, extra herbs flavor their homebrewed iced teas and gins. Not convinced yet? Well, all the honey at The Alpina Gstaad is from their very own bees (over 350,000 of them)! Additionally, with every zero-waste dish ordered they donate CHF 200 to Smiling Gecko – a charity that provides relief for suffering families in Cambodia.
Furthermore, The Alpina Gstaad are the first company in Switzerland to be awarded a coveted Gold certificate for sustainable tourism by Earthcheck. This demonstrates this eco-friendly hotel's longstanding mission to maximize guest experience while minimising environmental impact. The dream combination. Ever humble and grounded, The Alpina Gstaad recognizes that sustainability is not an achievement and the real reward for sustainable practice is enjoying the mountains for generations to come. How wholesome!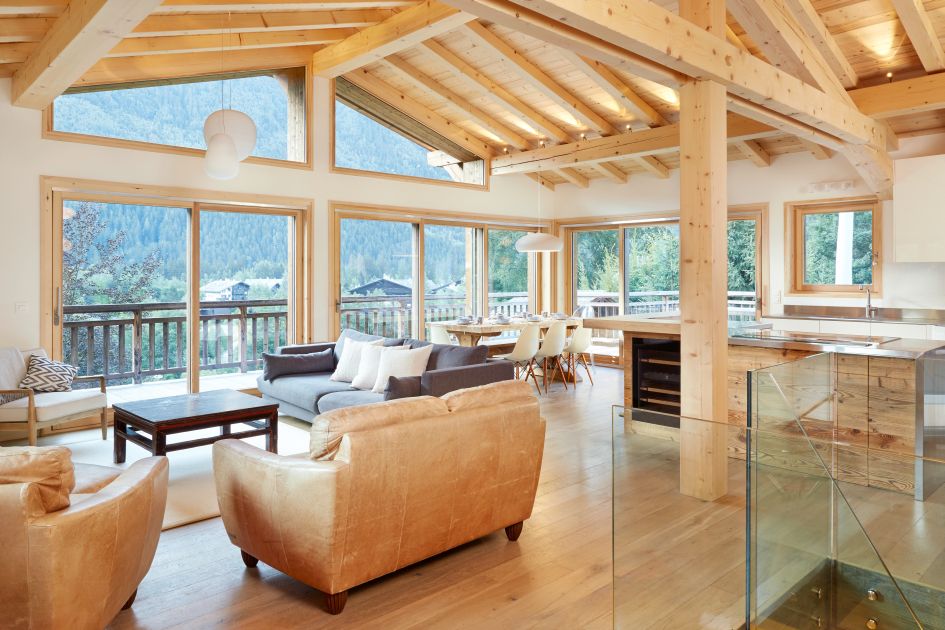 As the name suggests, the Eco Lodge in Chamonix is an incredibly eco-friendly luxury chalet. Indeed, it has been purpose built with green technologies and is a perfect option if you are looking for an environmentally conscious luxury ski lodge in Chamonix. The Eco Lodge is fully self-sufficient and powers itself through a state-of-the-art renewable energy system. It also has the Flocon Vert certification for properties dedicated to sustainable tourism in the French Alps.
Arguably one of the best environmentally friendly luxury chalets in Europe, the Eco Lodge is also just a gorgeous place to stay regardless. Its stylish interior décor is a blend of modern comforts and authentic ski chalet style. A particularly delightful aspect of this luxury eco chalet is the floor to ceiling south-facing windows in the living area which display a spectacular view of the Chamonix-Mont Blanc valley.
Moreover, Chamonix ski resort itself is a great region if you're looking for eco-conscious ski resorts. Although it isn't car free like some – Avoriaz, Zermatt and Saas-Fee – Chamonix has implemented an efficient (and free) electric bus service that can take you along the valley to all of the Chamonix ski areas. This works wonders to reduce the environmental impact of Chamonix's 4.5 million visitors each year. A unique feature to Chamonix is that it is home to the first eco-friendly ski school in Europe: Ecorider. Founded in 2009, it uses all electric vehicles and is partnered with Ripcurl and Dynastar to upcycle their gear so that their ski and snowboarding lessons are as sustainable as possible.
The Six Senses residences are luxury self-catered apartments in Courchevel that are purpose built with sustainability in the forefront. The whole building operates at 30% reduced energy compared to a non eco-friendly luxury ski chalet or hotel. Furthermore, any extra heat is collected and re-directed through the system to be re-used over and over.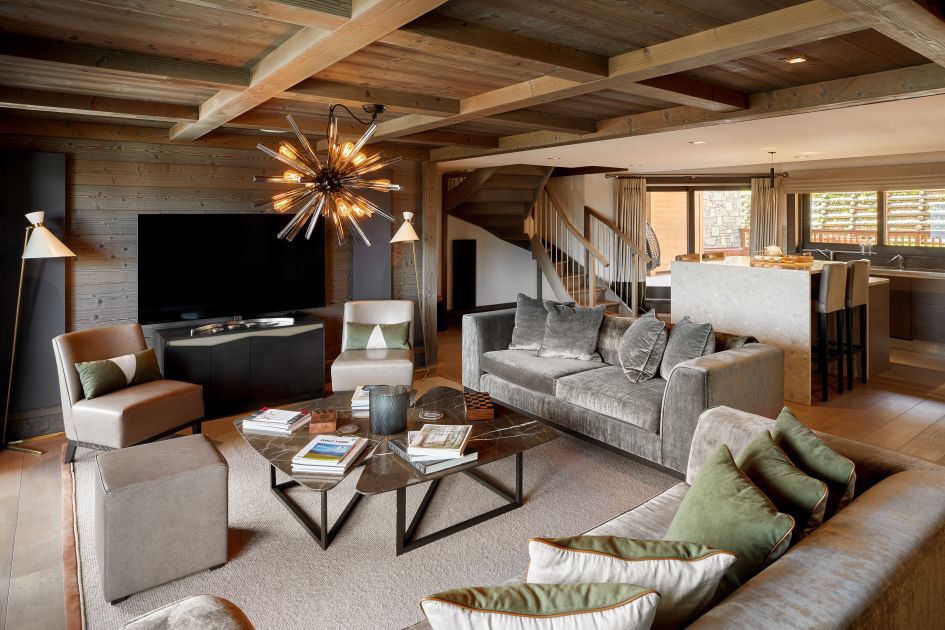 For some people, the highlight of a luxury ski chalet are the spa facilities. And, don't worry, wellness and relaxation facilities are not compromised at all with eco-friendly ski chalets. At the Six Senses all of the wastewater from their spas is recycled in order to preserve an excellent standard of stay but also preserve the environment. In 2021 this totalled 152,003 cubic metres.
Going back to basics, you'll be hard pressed to find a plastic bottle in the Six Senses especially as they work towards being completely plastic free by the end of 2022. As of 2021 this meant 877,761 glass bottles of water were given to guests instead of plastic ones.
Progress towards being a more environmentally friendly resort is coming for Courchevel 1850 as they have paired with Protect Our Winters, a charity who embolden mountain lovers to push for sustainable practices. Here at Ski In Luxury we are BIG fans of Protect Our Winters. We have been fundraising for POW this year, and in July 2022 we cycled the distance of the Tour de France (3,328km). Courchevel 1850, is certainly working towards being more eco-friendly, but needs to take a leaf out of neighbouring village, Courchevel La Tania's book. If you're looking for the best eco-friendly ski resort in the Three Valleys, La Tania takes the cake. It is 100% renewably powered through hydro-electricity and it is also fully car free!
Compared to the other purpose-built luxury eco chalets in the Alps, Chalet Cannelle is a 200 year old farmhouse that has been renovated to provide the best luxury chalet experience while also being kind to the environment. I think this encapsulates Châtel itself – a hidden gem of the Portes du Soleil. It is still a deeply traditional and agricultural area committed to its heritage while balancing the benefits of tourism. If you are not familiar with the ski region, here are 5 reasons to ski the Portes du Soleil.
Chalet Cannelle operates with renewable biomass fuel for heating and water. For electricity they use a certified green local provider. As much of the food as possible is produced at the chalet, especially in summer where they have an extensive garden for all fresh produce and their own flock of hens for the freshest of eggs. Also, all the fabrics through the chalet come from Fairtrade sources and are upcycled overtime.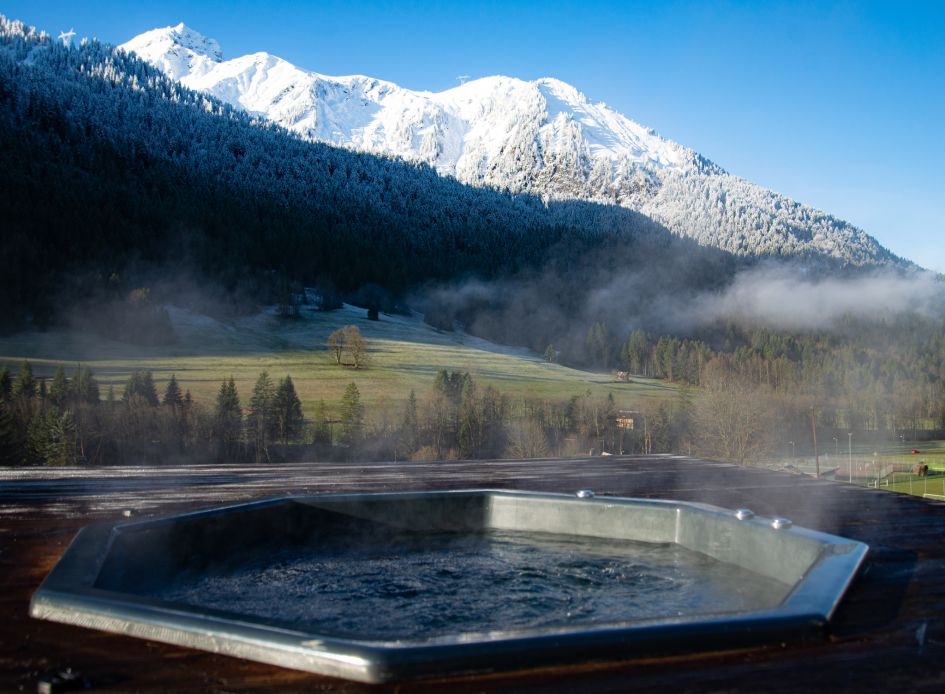 Now, everyone loves an outdoor hot-tub on their ski holiday however, sadly, this often isn't the most eco-friendly choice. To reduce its environmental impact Chalet Cannelle uses active oxygen to clean the water instead of chlorine. This is much, much kinder on the surrounding area when waste water is released. So you can soak your aching muscles after a day skiing in Châtel and fully relax in the hot-tub without concern.
If you are an ethically minded traveler, or even if you're not, we hope this blog has proven that luxury eco chalets in the Alps really can be luxurious! Obviously there are lots of other little changes you can make if you are wondering how to go on an eco-friendly ski holiday and help protect the mountains for future skiing generations.
The properties mentions each have some availability left for the winter 2022/23 season and represent the best luxury eco chalets in the Alps. Enquire with us today if you're interested in making your next ski holiday eco-friendly. You can send us an email or call us on +44 1202 203650.