Luxury chalets come in all shapes and sizes, and picking out a diamond in a sea of gems can sometimes be a difficult task. Location and levels of luxury service will usually be at the top of your list, however, the quality and design of your chalet should never be overlooked. With so many incredible chalets out there that will cater for anyone and everyone's needs, below you will find our list of top 10 luxury chalets that are full of incredibly intricate interior design, extravagant ski chalet art and musical history all in one place.

The Old Macaroni is a luxurious fully catered chalet situated in Morzine. The owner of this chalet has designed the property encompassing the perfect balance of style, class and delicate design, with family life most definitely in mind. Each of the bedrooms in this luxury chalet is designed after a famous novel, with the interior subtly reflecting their work. Bedroom 1 has sumptuous turquoise velvets running through with a predominantly blue theme, based around The Old Man and the Sea by Ernest Hemingway. Bedroom 2 has a certain depth to the room with burgundy features and a gorgeous stand-alone bath on the mezzanine, nodding towards the novel The Little Prince by Antoine de Saint-Exupery. The other bedrooms have influences from All Men Are Mortal by Simone de Beauvoir and Doctor Zhivago by Boris Pasternak, however a wonderful feature for any child or adult fan alike, is the Harry Potter children's bedroom. This room has 4 full sized double beds that are located on a mezzanine floor, so the kids can run around under the watchful eye of the adults below, casting spells in the hope they soundly drift off to sleep.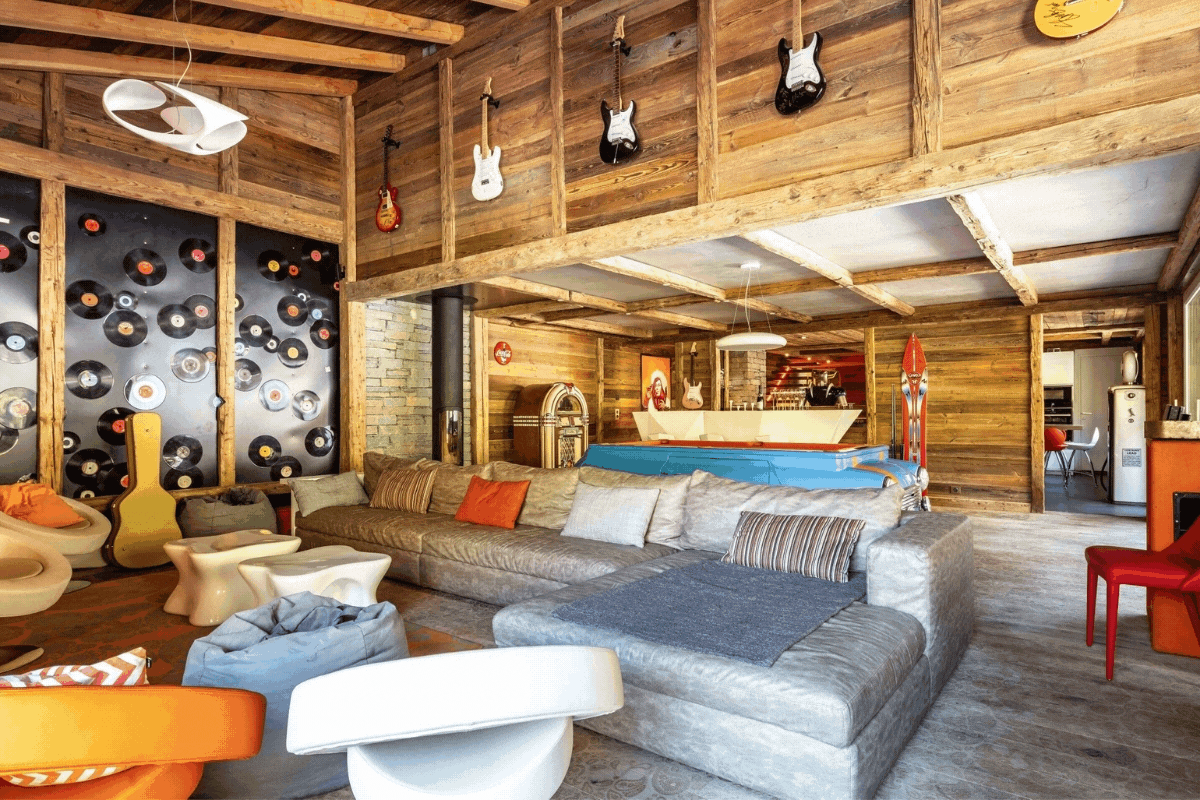 Chalet Rock & Love is situated in Tignes Les Brevieres and will transport you to the era when music was like no other. For any music fan this chalet is a memorabilia museum where you can spend the night. The ski chalet art is iconic and can be found throughout the building, featuring all your favourite artists that thrived in the rock & roll era. In the main living space, there are several guitars that hang, all signed by serious A-List rockers, from the likes of Rolling Stones, AC/DC, Pink Floyd, Led Zeppelin and Kiss. Alongside this, in the living area is a real vintage Mini Cooper that has been crafted into a pool table. If your love for vintage cars is not fulfilled there, in the children's "garage room" you will find a number of beds that have been hand crafted from VW T2 campers and CJ Jeeps.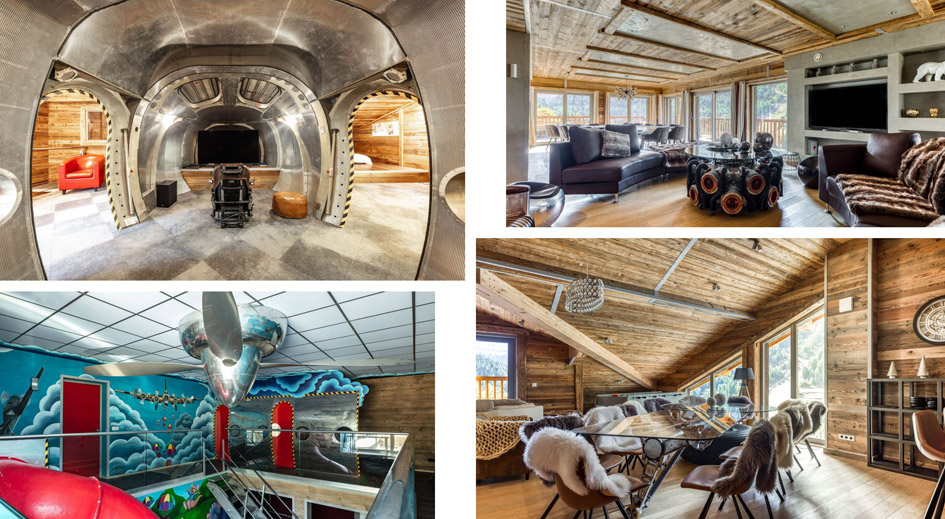 Also situated in Tignes Les Brevieres you will find Tango Charlie. This chalet is a part of the Black Diamond residence where every single chalet has been designed in a magnificent way, however this chalet in particular will really whisk you off your feet.  The property has a running theme throughout, in which half of a Nord Noratlas 1950's aircraft has been crafted into multiple features. The fuselage has been used in the children's room to create an exceptional gaming experience, the landing gear has been cleverly crafted into a dining table, the engine turned into a coffee table and the propeller has been fixed to the ceiling of the children's games room. For the aviation fans amongst us this chalet will take your expectations to the sky and beyond.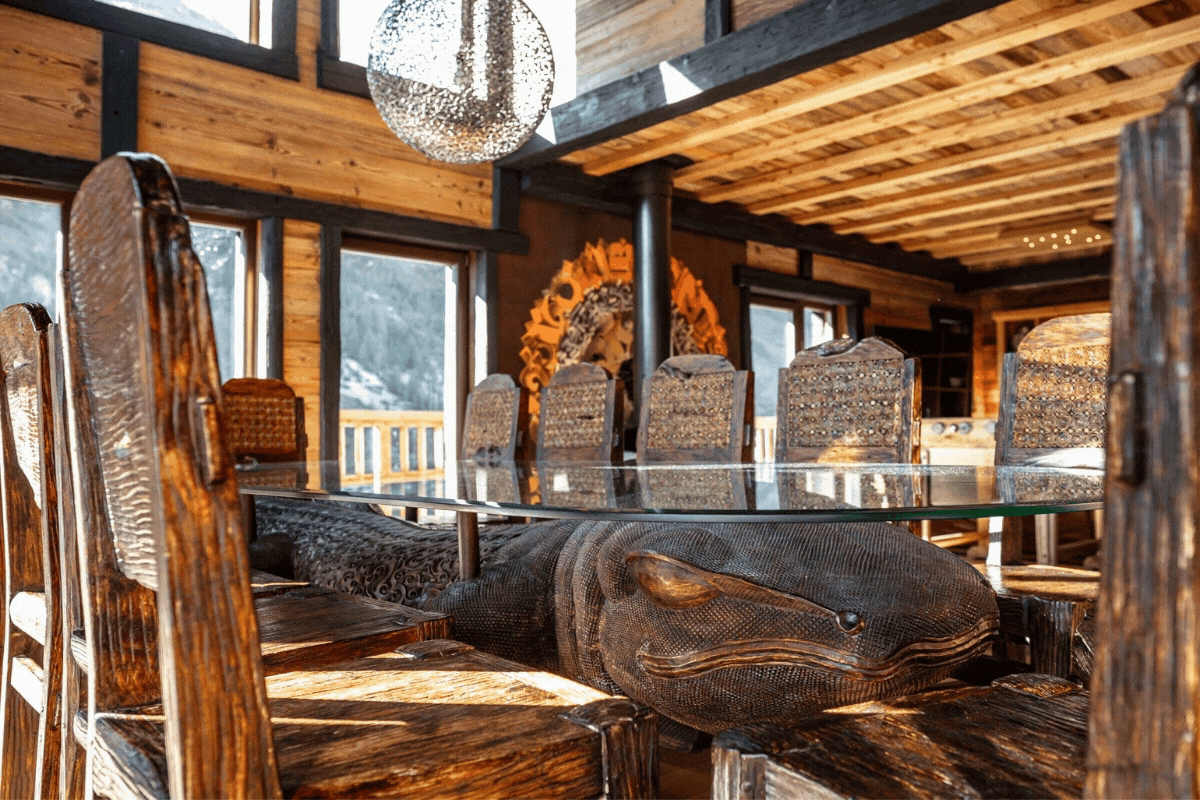 Chalet Ubud is another property that is part of the Black Diamond Residence and is perfect for someone looking to bring a slice of exotic living into their luxury ski chalet interior design.  All the features and furniture of this chalet consist of pieces from Bali.  From intricately designed doors and stunning pictures, to elegant bed frames and a full dining table set, with it's masterful giant salamander carved out of a single piece of wood.  It took a whopping 900 hours to create! To find out more about the other incredible chalets within the Black Diamond residence, follow the link to this blog: Black Diamond – Changing The Rules Of Tignes Luxury Chalets.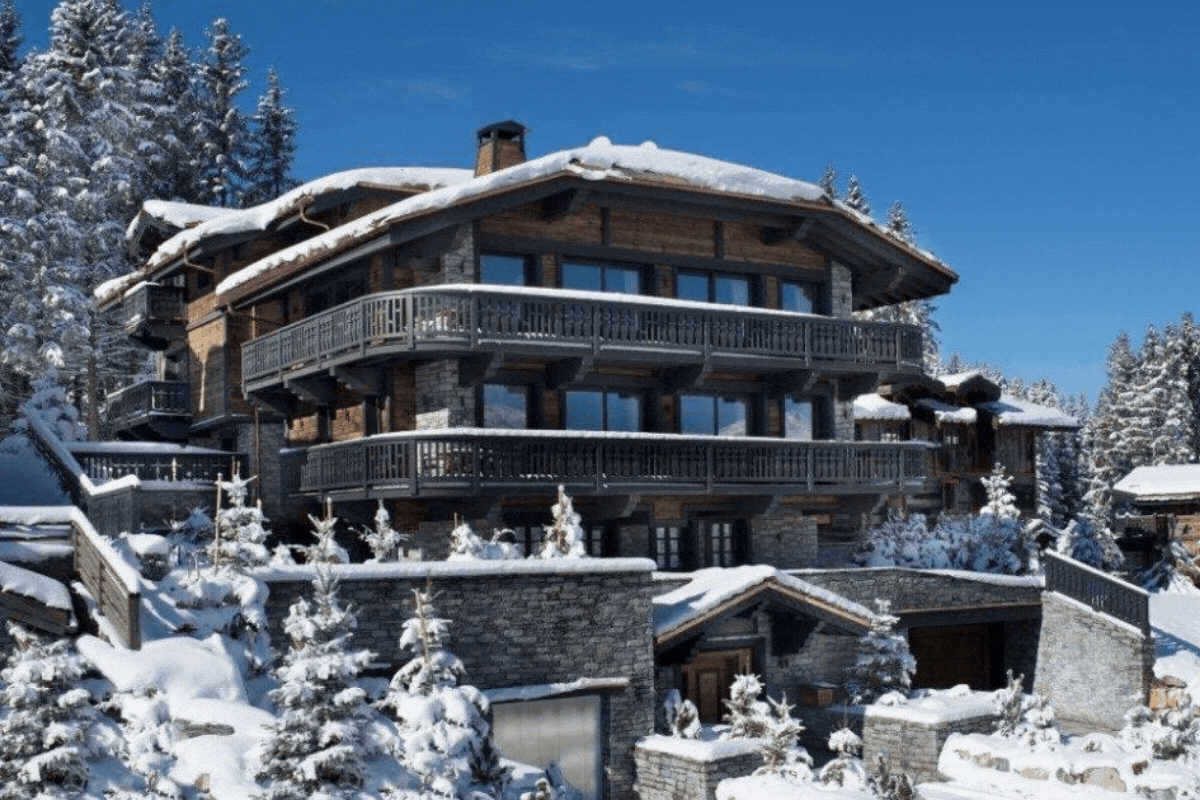 Chalet Edelweiss is the epitome of a high-end luxury chalet with ski chalet art and design at its heart. Sitting right on the prestigious Bellecote piste in Courchevel 1850, Chalet Edelweiss is a work of art itself, covering over 3,000 m² across seven floors, with eight bedrooms.
Not only does this chalet live and breathe luxury living, the chalet seconds as a high-end art gallery, showcasing pieces from established and emerging contemporary artists such as Marc Quinn, Gavin Turk and Kadar Brock. As well as blue-chip prints by Damien Hirst, Picasso, Indiana and Lichtenstein. There are cleverly contrasted vintage photographs in the cinema room, as well as antique Olympic posters in the ski room. In the dining room and office, winter scenes by early 17th century Dutch masters hang, with original oil paintings by Albert Marquet and Maurice de Vlaminck decorating the master suite. The star studded line-up of famous artists don't stop there as the spa, nightclub and entrance hall are complimented with large scale sculptures by Dali and Arman.  The result is an eclectic, unique and ultra liveable environment – ski chalet art like no other!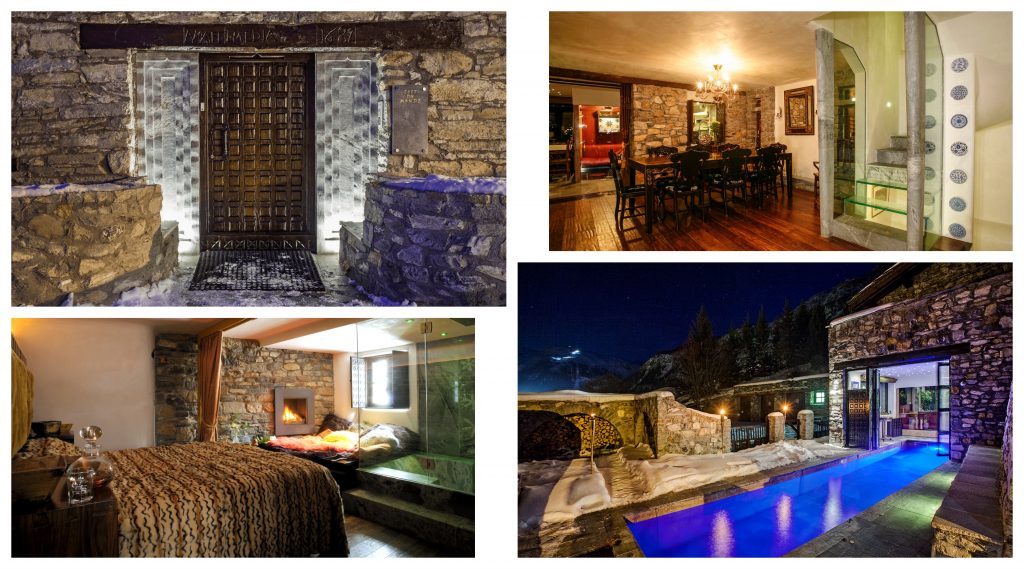 Domaine Toit Du Monde is a luxury ski-in, ski-out chalet located within the gorgeous mountains of Val d'Isere and is thought to be one of the oldest buildings in the Alps. The exact date of construction is not precise but it is estimated to have begun around 1680, seeing as "1684" is proudly carved onto the lintel above the main door. This would have been a final touch to construction. The building was used as a Monastery and the site had been carefully selected to withstand nature over the centuries. The stonewalls of the property are all a metre and a half thick and are still in excellent condition, allowing the property to stay nice and toasty from the fire in the winter and fresh and cool in the summer.  The building's perimeters were also set onto foundations designed in a V-shape to protect the building against avalanches and floods from melting snow.
In the windows of this chalet, which have all been retained during reconstruction, there are "seats" that have been carved into the stone and would have allowed the monks to read in the natural light until sunset. In keeping with the historic importance of the building, renovation has avoided the use of modern man-made synthetic building materials and no expense has been spared when using natural alpine rock, granite, marble, wood and leather. Wash basins and baths have been carved out of whole pieces of marble, with hand-made marble columns and walls engraved with snowflakes and historic Savoy chain motifs. The interior design of this luxury chalet will transport you through time with all the modern luxuries one would need for your ski holiday to the Alps.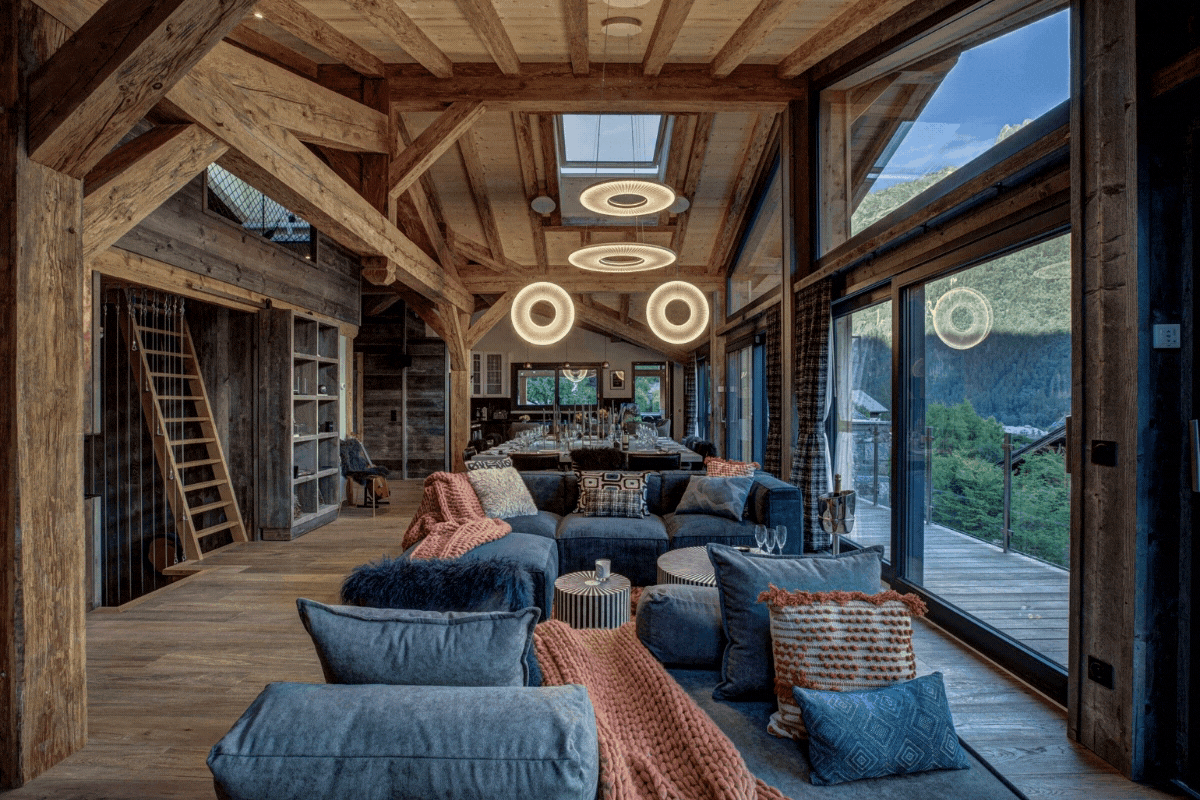 Chalet Rock & Roll is a stunning chalet located within the famous Chamonix valley that, from the moment you walk through the door, will make you feel like a true rock star. The chalets interior design has luxurious materials running throughout whilst also sticking to its true alpine roots.  Striking beams vault the large living space and are offset by the prominent contemporary lighting that stands out from the moment you walk in.
Each bedroom of this 14-16 person chalet has nods to musicians and artists from decades past, from handmade wall mounts appreciating the Rolling Stones' contribution to musical history, to the Queen room with Rolls Royce plaques as a nod to Freddie Mercury. Further rooms that feature icons such as The Beatles and Kiss will have you humming some of the greatest songs of all time, as you fall into a deep slumber. The intricacies of the musical design of this chalet fall down to the smallest details, even the kitchen cabinets have real guitar strings running through the glass panels!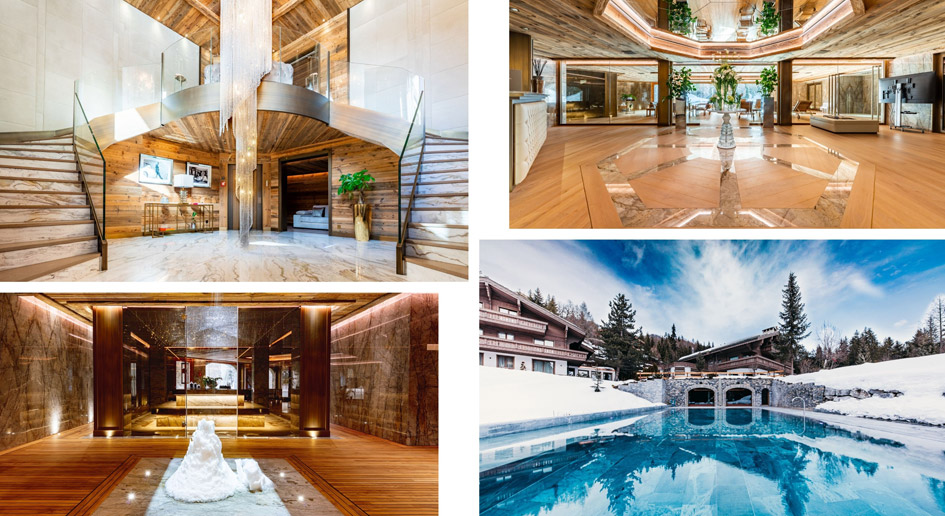 Ultima Crans-Montana is a monumental ski-in, ski-out property in the Swiss Alps that comprises of two ultra-luxury chalets. This property spreads over 4,500 m² and has luxury pouring through its veins. Featuring an on-site private lake, a gorgeous spa, outdoor heated pool and Jacuzzi as well as a high-tech cinema, cigar lounge, office and fully equipped gym…there is little left to be desired.
The interior designers of this luxury chalet have really spared no expense, with materials such as Bahia Blanca marble, teak wood, nubuck leather, bronze-covered chimneys, leather padded headboards and baccarat crystal chandeliers spread throughout. Not only does the integral design of this chalet feature such lavish materials, there are pieces of art across the properties from leading artists such as Richard Orlinski, Alec Monopoly and Oscar Munar. On top of this, one of the many impressive features of this chalet is the snow sculpture that is located in the spa. From an opening in the ceiling snow flakes drift down and slowly accumulate on the floor below, producing a glistening sculpture that really brings the snowy outdoors into the interior of this show-stopping luxury chalet.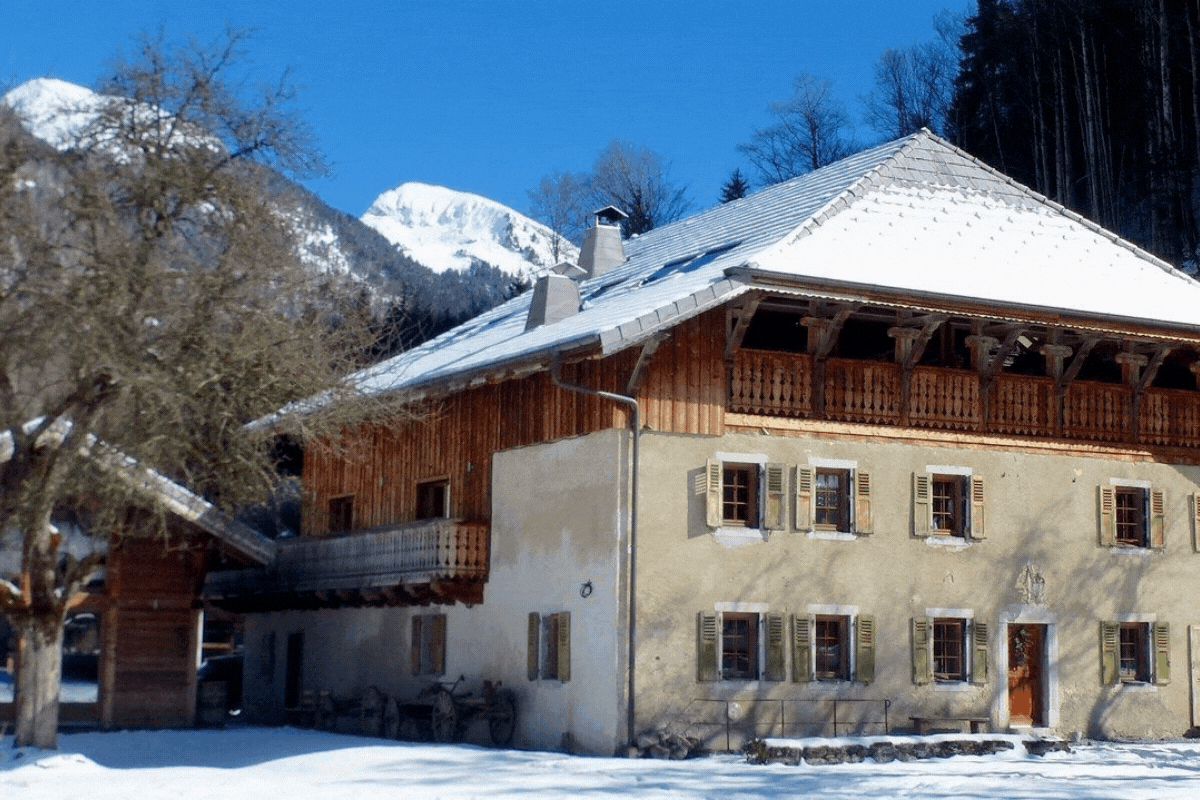 This chalet is located in the small village of Montriond, just on the edge of Morzine and stands proud as a gorgeous 19th century Savoyard farmhouse that was affectionately restored in 2010. The interior design of this chalet has been lovingly thought out and maintains its original form with striking wooden beams, bare stone walls, vintage furniture and a bovine theme running throughout.
The ski chalet art continues along the theme with paintings and prints of friendly cows found throughout, from the bedroom to the dining room and beyond. This luxury chalet has been scattered with wonderful and obscure antique items and trinkets, which maintain the chalet's homely and cosy feel that otherwise could be lost in a property of this size. Another wonderful aspect of Ferme du Lac Vert is the feature staircase that wobbles and winds it way up the property and is a standout piece of metalwork from a true artist.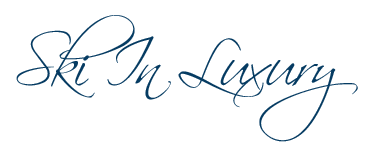 To have a further look into more incredible chalets in our portfolio that are full of incredible ski chalet art and interior design, send us an email or alternatively you can call us on +44 1202 203650. Your dream luxury ski holiday awaits!