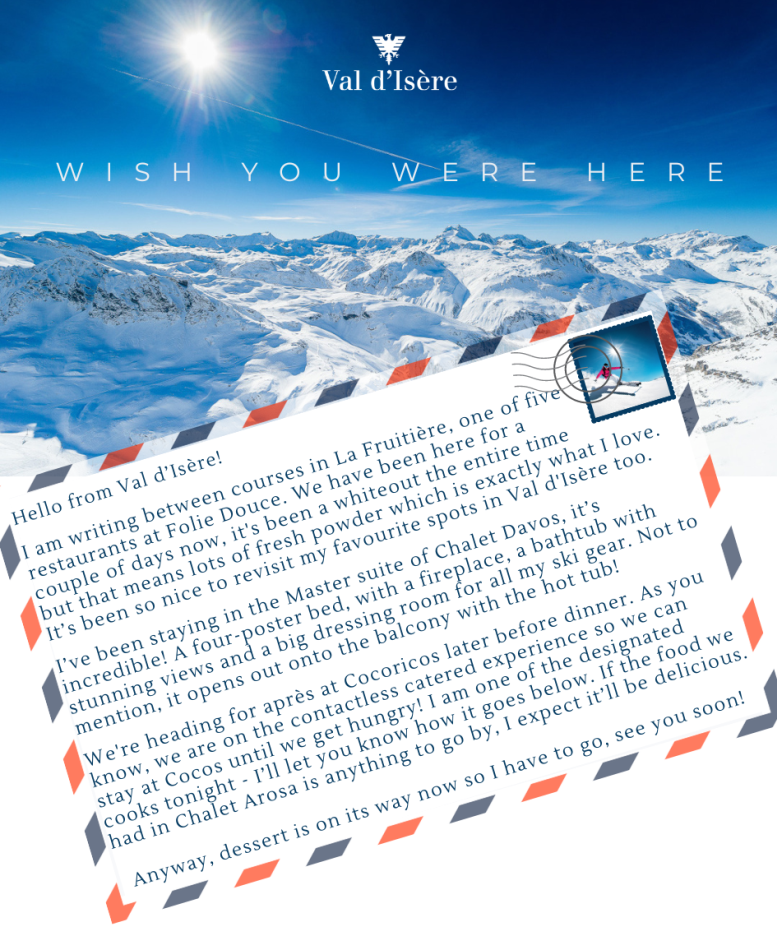 Now that I am back in the office, let me give you a more detailed account of my contactless catered experience…
This season the ski travel industry has enjoyed a return back to 'normal', once again providing the pre-Covid experiences that skiers have been eagerly awaiting. Nevertheless, there have been some changes across the industry, and one of the best is the rise of luxury ski holidays in contactless catered chalets. As part of my job, I was fortunate enough to travel to Val d'Isère and Alpe d'Huez early this winter. Here, I experienced first hand what a contactless catered ski holiday is like, along with all its benefits.
What is Contactless Catering?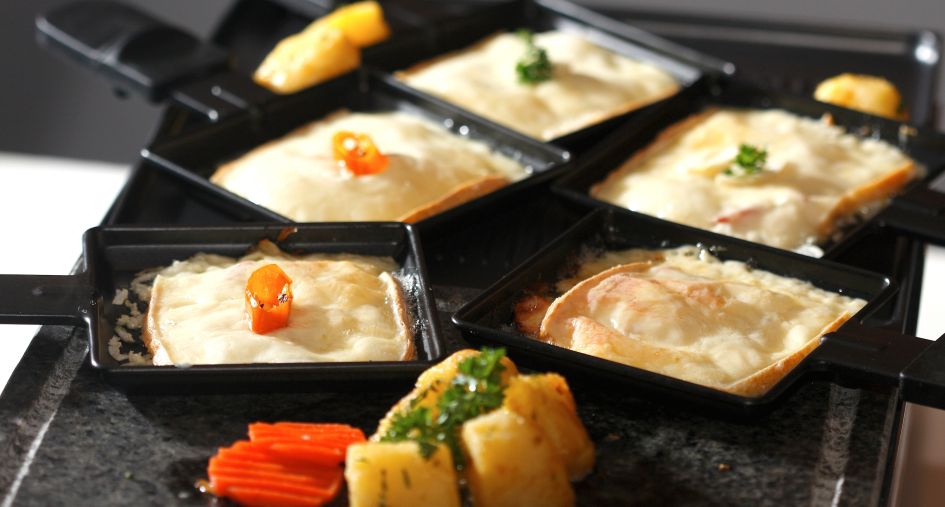 I've already used the phrase a number of times in the introduction. So you may be sat there wondering, what exactly is contactless catering? The best way to describe it is a hybrid between a self catered and catered ski chalet holiday. Guests will benefit from all of the delicious high-quality food you would enjoy in a luxury catered chalet, with the relaxed atmosphere and freedom of self catered ski holidays.
The food is all prepared off site by professional chefs. It is then delivered to the chalet with a very simple set of instructions every two or three days. This is to maintain the freshness and quality of the dishes. Each dish is clearly marked with its intended meal time (breakfast/afternoon tea/dinner), and course (starter/main/desert), along with some very straightforward directions for getting it from fridge to table.
What type of food do you get on a Contactless Catered Ski Holiday?
Breakfast on our contactless catered ski holiday was a continental selection with the option for bacon and eggs as well, for anyone wishing for a hot breakfast before hitting the slopes. Afternoon-tea was delicious and included a variety of sweet treats you'd expect on a catered ski holiday. Biscuits, pastries, cakes and doughnuts were all on offer during our stay, along with fresh fruit. The whole selection was sourced from local Savoyard delicatessens and supermarkets.
As you'd hope for on a luxury ski holiday, dinners were a real highlight! Our evening meals included pre-dinner nibbles and plenty of drinks to be enjoyed throughout. Every chalet is different, but typically you'll be treated to a delightful three-course meal, with a cheese platter and after dinner chocolates to finish. The dishes are all created using local Savoyard produce, providing you with an authentic taste of the French Alps.
During our trip, we experienced several nights of the contactless catered service, rounding off our week with a raclette night. This is typical of a week on a contactless catering ski holiday, which normally includes five nights of contactless catering, with a 6th night of raclette or similar alpine speciality. Raclette, for those unfamiliar, is a communal experience. Guests use a grill in the centre of the table to melt raclette cheese before pouring it over a variety of charcuterie and vegetable accompaniments. I cannot recommend it enough.
Advantages of Contactless Catering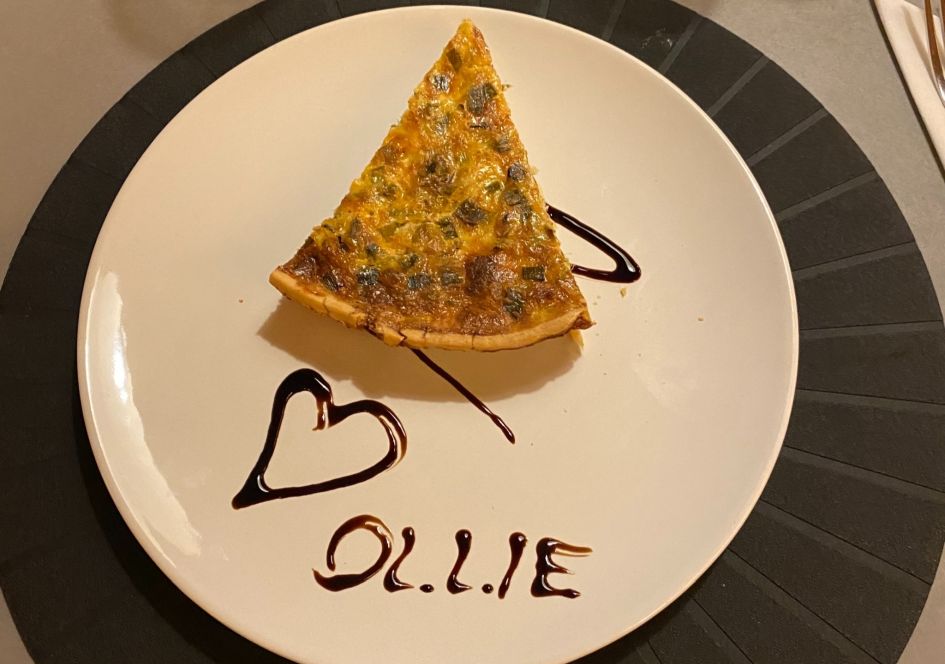 Contactless catered chalets were introduced as a way of maintaining a luxury catered ski holiday experience in a time of social distancing. The introduction of this service offers unexpected benefits compared to both a self catered and catered ski chalet holiday…
Easy-Peasy
One of my biggest worries when staying in contactless catered chalets was feeling like I'd have to take on the role of head chef and be busy slaving away in a kitchen, while everyone else was getting to experience the joys of a luxury ski holiday in France. However, all of those worries were quashed on the first night of cooking. I'd recommend reading the instructions to ensure you get the timings right so that every part of the meal reaches the table at the same time, but it really was an easy process. While there may occasionally be a dish that's a little more involved, with some pan frying for example, this wasn't the case on most evenings.
Quality Food
The major question when considering a stay in a contactless catered chalet is the quality of the food. There would be no point booking contactless catered chalets if the food didn't compare to the catered chalet experience. I can say with confidence that it definitely delivers! I was initially sceptical, given that you'd have to finish preparing the dishes yourself, but I was blown away with how good it was. The highlight for me was on our penultimate night; a tasty quiche for starter, followed by a lamb shank that fell off the bone and melted in my mouth.
No One Left Hungry
Not only the quality, but the portion sizes were extremely generous. After a busy day on the mountains, you need a good hearty meal to restore all that energy, and you certainly can't go wrong on a contactless catered ski holiday. There was enough to keep even the largest of appetites in our group sated.
All Dietaries Well Catered For
Another positive comes in the way of vegetarian and vegan options. You won't just be lumped with a small salad while everyone else tucks into a big three-course meal. The veggie options are given full consideration, with decent, tasty supplements for any meat products. We often found that one vegetarian meal was more than big enough for two people, so you won't be lacking in energy for the following day of skiing.
Advantages of Contactless Catering Over Self Catered Ski Holidays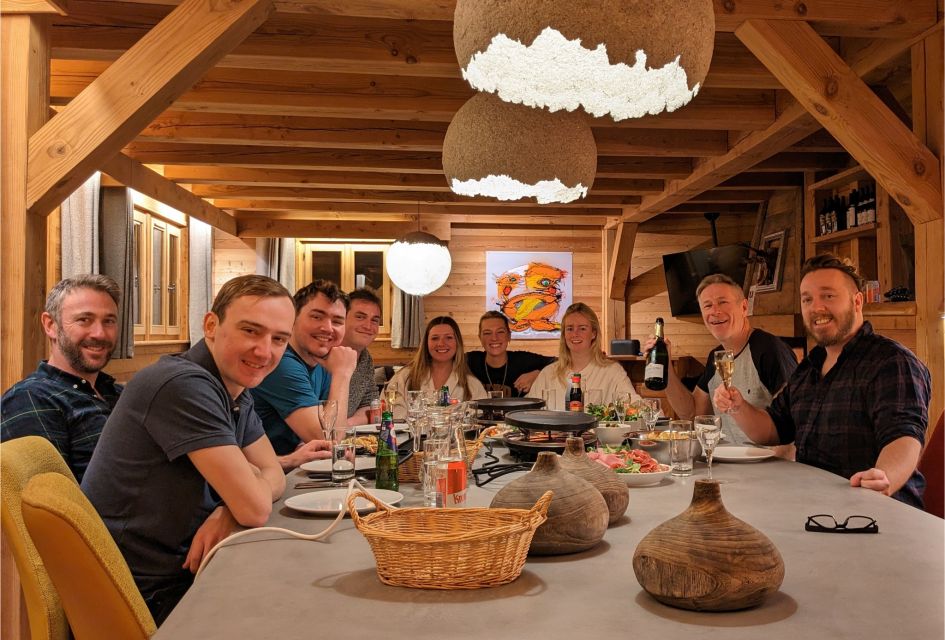 Time Saving
One of the biggest advantages of a contactless catered ski holiday over self catered is the savings in time. A set menu for the week means not having to worry about what you'll be having for dinner each day. It also means you won't have to worry about negotiating foreign supermarkets, trying to work out what and how much food to buy to feed your group.
Variety of Options and Fresh Ingredients
Menus are set by the ingredients available to the chefs that week. You might think this would limit you on what to eat. At least, in comparison to buying food yourself on a self catered ski holiday. However, I found between the generous portion sizes, the freedom to mix and match different meals and the wide variety of options available, this ended up being no issue.
More Time to Socialise
As previously mentioned, the instructions to heat the food up are incredibly straightforward. You'll end up spending almost no time at all in the kitchen. You won't need to spend hours on food prep, split between multiple people. Getting dinner ready for a large group really only needs one or two people at most. This simply means more time to enjoy the convivial living areas of your luxury ski chalet with the people you care most about.
Advantages of Contactless Catering over Catered Ski Holidays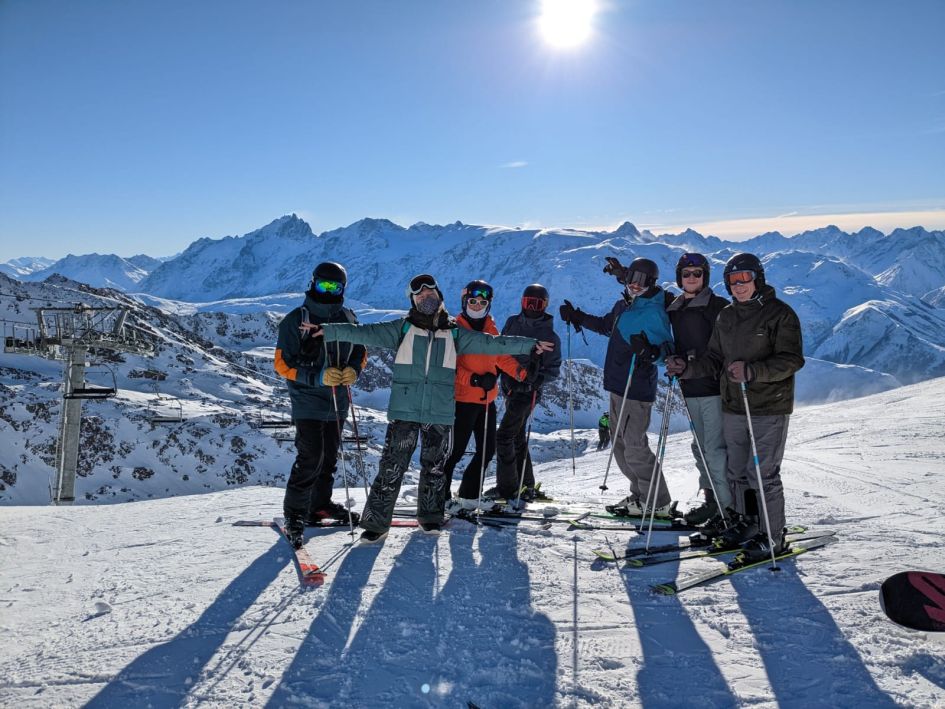 Freedom
I think the biggest positive to a contactless catered ski holiday over a typical catered one is the freedom it allows you. With full chalet staff and set meal times, catered ski holidays can be quite regimented. Having to return to the chalet at specific times for afternoon tea and dinner can interrupt precious après time! Contactless catered chalets provide you with the flexibility to plan your day how you wish.
For example, when in Val d'Isère, after a delicious late lunch in La Fruitière in Folie Douce and with the weather being a bit of a white-out, we headed over to Cocorico to continue our après session. As a result we ended up eating a little later. We were too busy enjoying the live band and being afforded the luxury of not having to make a set dinner time. On the flip side, the following night when in our contactless catered chalet in Alpe d'Huez, we opted to have dinner a lot earlier in the evening so we could head out to Zoo Bar in time to watch the England-France World Cup match.
Flexibility
The positives are not just limited to the flexibility of when you eat. It also extends to the flexibility of what you get to eat. Having a couple of days worth of options available means you're not necessarily limited to having set meals in a regimented order. You might fancy having the sweet snacks of afternoon tea as a midnight treat. Or maybe you're skiing in a whiteout and decide you want to return to the chalet as a group and have dinner as a big lunchtime meal; something to line your stomach before heading out to après. The choices are up to you.
Ultimate Privacy
Another advantage to contactless catered chalets comes in the absence of any staff. Some people may prefer having staff around to be attentive to your needs, but personally I enjoy the lack of staff as I feel it contributes to a more relaxed atmosphere amongst your group. I can often find it hard to properly unwind in the evenings when staff are hovering around the room. Contactless catered chalets give you complete exclusivity of the property, meaning your group can relax and socialise in complete privacy.
Affordable Luxuries
Having the food prepared off-site also means that you don't necessarily need an individual chef for each chalet, which has a knock-on effect in reducing the price. This means contactless catered ski holidays are a way to experience the high level cuisine of a catered ski chalet in a more affordable way. It works out that contactless catered ski holidays aren't much more expensive than self catered ones. Plus, once you factor in the cost of the various ingredients and meals that you would buy on a self catered ski holiday, it works out as an extremely sensible option.
Contactless Catered Chalets in Val d'Isère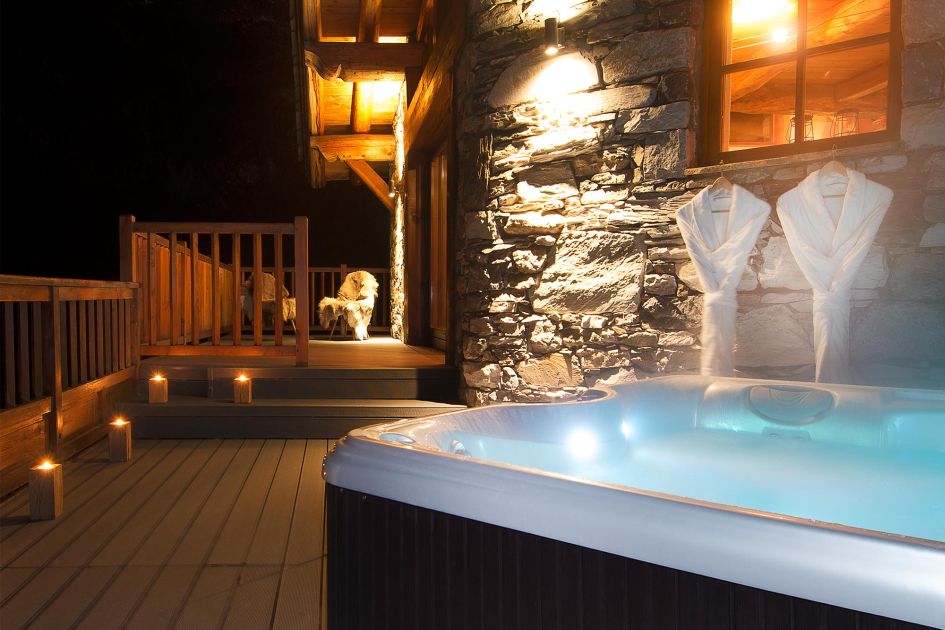 A rustic and traditional chalet in the Le Crêt hamlet of Val d'Isère; Chalet Arosa invites up to 10 guests to stay across 5 bedrooms. You will be left charmed by the authentic French touches, exposed wooden beams and feature stone fireplace, while also enjoying the luxury of some more contemporary furnishings. Head out onto the chalet's sunny and spacious balcony, perfect for relaxing in the sun during warmer spring months. This balcony houses the chalet hot tub, where your group can stargaze and catch up on the day's ski adventures. All this while the nominated chef for the evening sets up the contactless catered dinner.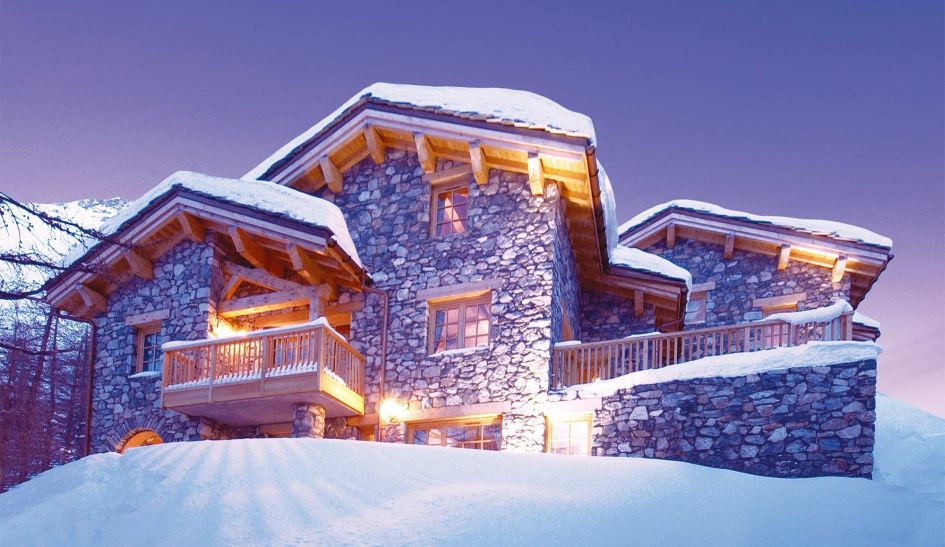 You will find Chalet Davos a literal stone's throw away from Chalet Arosa in the same Le Crêt hamlet. The chalet is slightly smaller, sleeping 8 guests and two young children in the stylish cinema room. While all the bedrooms have their charm, I had the pleasure of sleeping in the superior Master suite while here. A four-poster bed, cosy fireplace, expansive dressing room and an en-suite bathroom with views down the valley from the freestanding bathtub were some of the highlights of this bedroom suite. It also had direct access onto the balcony, where you'll find Chalet Davos' sheltered and sunken outdoor hot tub. It was perfect for a relaxing dip between afternoon tea and dinner during our contactless catered stay.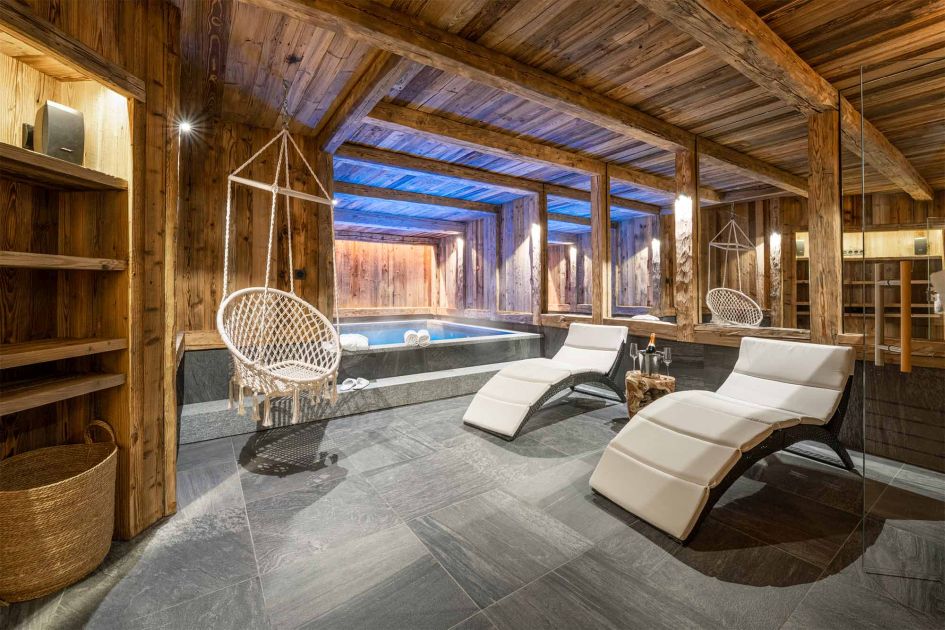 Situated a little up the hill in the Petit Alaska area of Val d'Isère, Chalet Inuit is a luxury contactless catered chalet for up to 10 adults and 2 children. The chalet oozes style, blending traditional Alpine features with a modern design. Chalet Inuit is perfect for groups who love to spend their evenings unwinding in their chalet. A deluxe spa area on the lower ground floor features comfortable loungers and a hanging chair to relax between sessions in the sauna and giant sunken stone hot tub. The two bedrooms on the upper floors offer incredible views to wake up to, looking straight down the mountain valley. The elegant round dining table, and the setting for your contactless catered meals, is found in the spacious open-plan living area on the chalet's upper ground floor.
Contactless Catered Chalets in Alpe d'Huez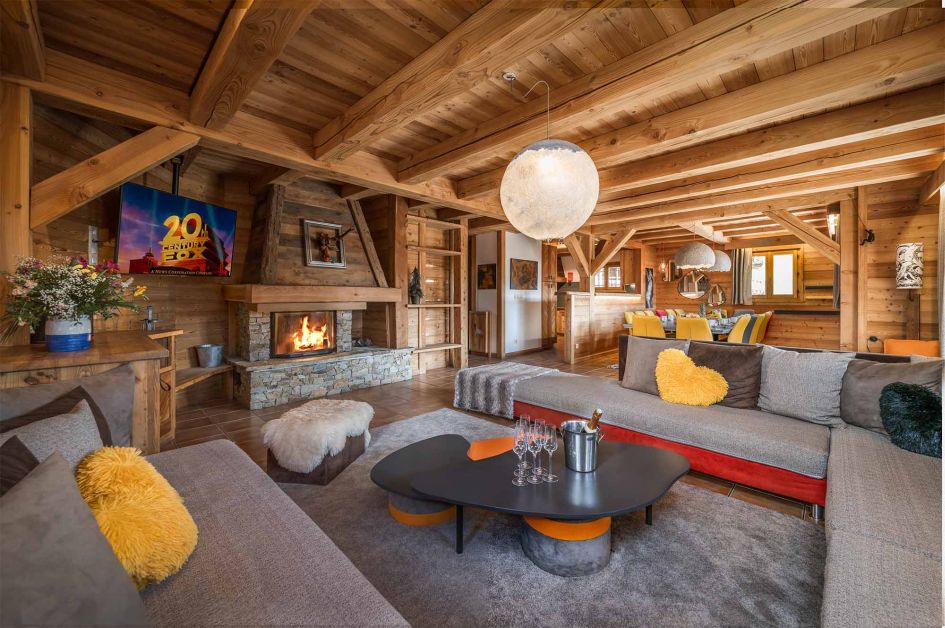 Chalet Le Chateau is the largest of a cluster of ski in ski out contactless catered chalets in Alpe d'Huez. It provides luxury accommodation for up to 15 guests in 8 spacious bedrooms. Marrying traditional wooden architecture with a contemporary flourish, this stylish chalet is ideal for large group ski holidays. Sociable evenings can be spent beside the warming fire in the vibrant, open-plan lounge before heading across to the extensive dining table where groups can all dine together. There is a spa area downstairs with a sauna and indoor hot tub to unwind after a full day of skiing, once you return from the slopes to the chalet's great piste side location.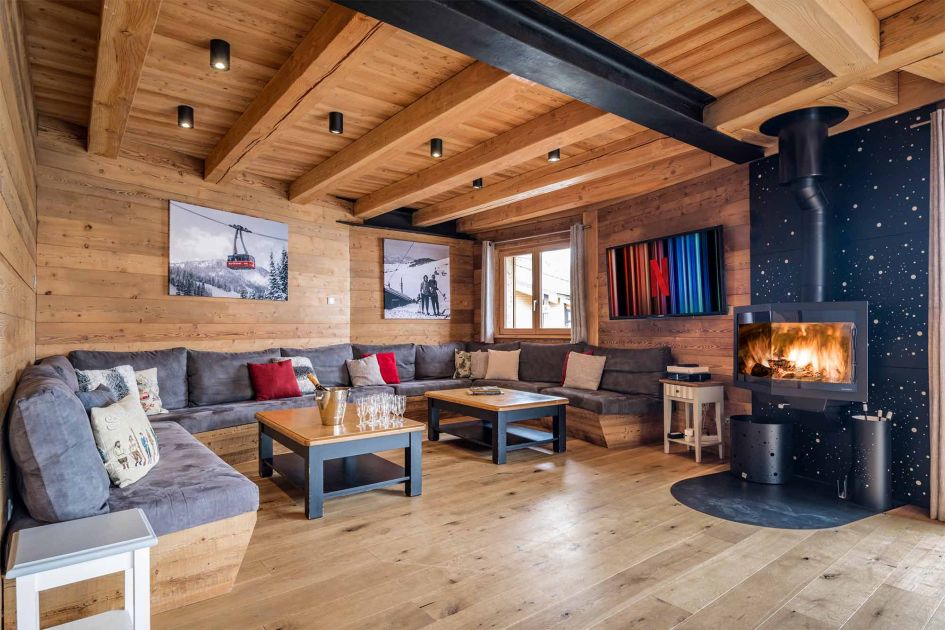 A pair of quaint, modern chalets occupying the same building, Chalet Woodpecker and Chalet Nightingale are in a fantastic location. They can be taken together or individually for a contactless catered ski holiday in Alpe d'Huez. Chalet Woodpecker sleeps up to 15 guests, with Chalet Nightingale sleeping up to 6. This means you can combine the two chalets for a maximum group of 21. The two chalets are similar in style and share a wellness area that features both a hot tub and a sauna for added luxury. The great location of these chalets can't be highlighted enough. Bars and shops at the resort centre are just a few minutes' walk away. For skiing, the slopes are just across the road and the beginner's ski area and main lifts are up the Télécentre lift that is just a 3 minute walk away from the chalets' entrances.
If any of the chalets in this blog have piqued your interest, or should you wish to speak to any of our Ski Specialists about other contactless catering chalet holidays, or any other options that might be best for you, then feel free to get in touch. You can give us a call on +44 1202 203650 or send an email.