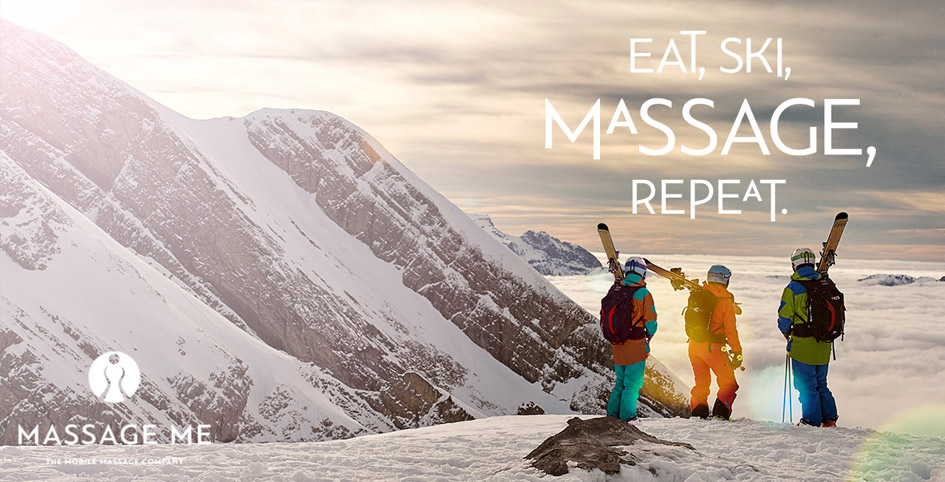 Where self-care can mean different things to different people, it is well recognised as a form of wellness or therapy to relax, refresh and rejuvenate. When you are on your luxury ski holiday, there is nothing better than heading straight to the chalet spa area or for an in-house massage to recharge and recover from a long day on the mountain. Whether it's a full body massage or a targeted treatment to relive aches and pains, massage therapy in the Alps is important for mental and physical recovery.
Ski In Luxury are proud to be partnered with Massage Me, providing bespoke well being solutions and massage therapy in the French Alps. In the current climate of the Covid-19 pandemic, we took some time to talk with massage therapy specialists about what our guests could expect this winter from a treatment with Massage Me…
Community
One of the things we are very aware of at Massage Me, is that our success is not about the individual, but about our team as a whole. From the office team to our team of very talented massage therapists, our shared values and passions are what makes each Massage Me treatment a success.
It is important that we all work together as a community to support one another, and also to improve our direct and indirect communities : the massage therapist community, the ski and alpine industry, and our clients.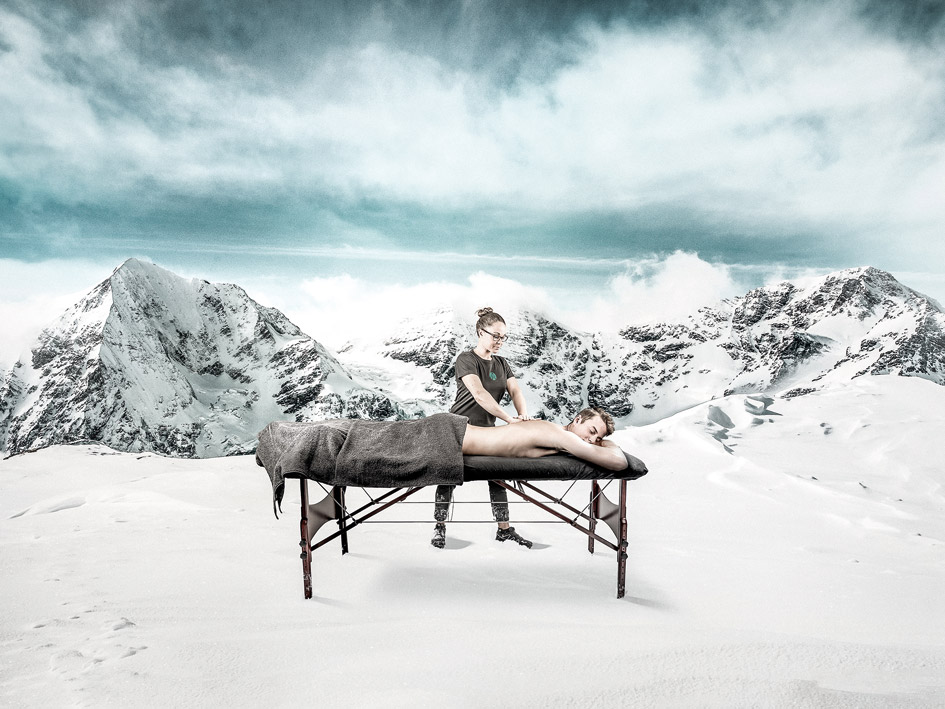 Why Massage Me?
Keeping it short and sweet, our core values driving every decision we take are to :
Promote good health, physical and mental
Promote equality for all
Minimise our environmental impact
You can read more about our mission on the Massage Me site. For our Ski In Luxury partners, today we are going to focus on 'good health' and specifically the current pandemic.
Covid-19 Safe Massage
With the help of our therapists and clients, we are all working together to make sure that at-home wellness is not only accessible again, but is enjoyable, relaxing and satisfying.
We have always practised excellent levels of health and hygiene and thanks to this dedication, this winter, our clients can expect this same level of service, with some additional measures.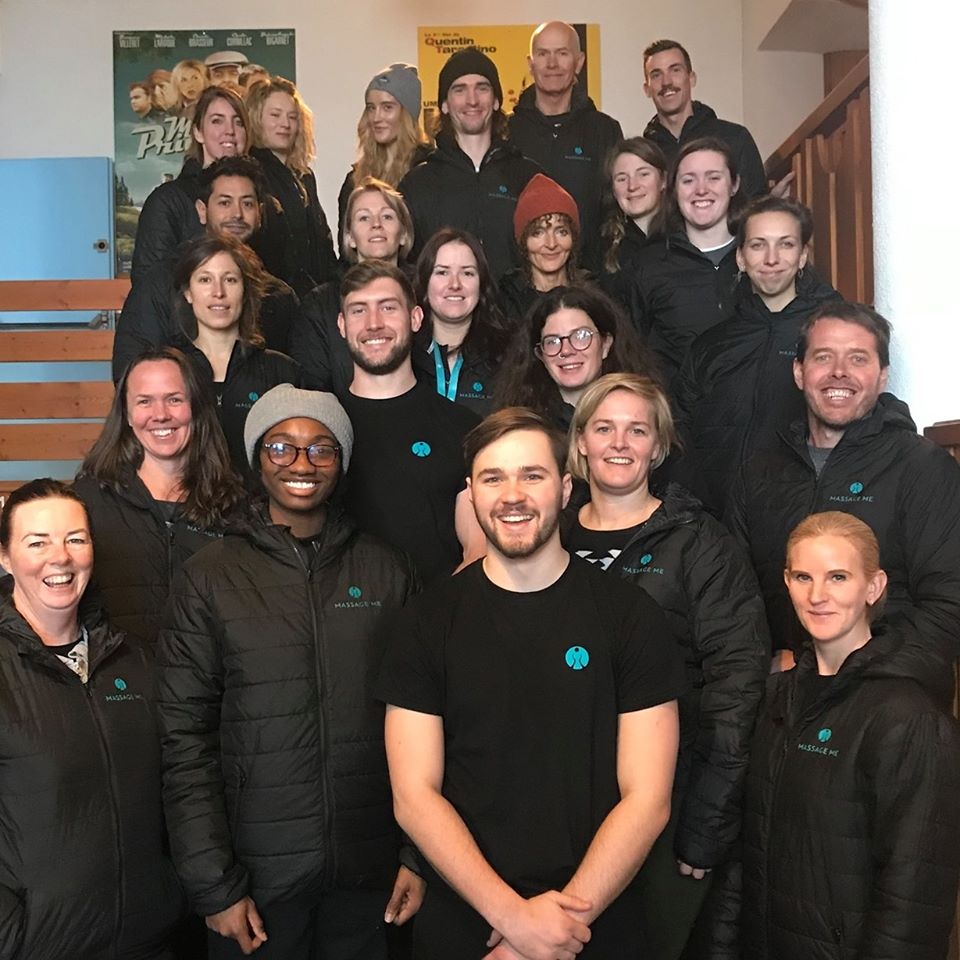 Team Massage Me
Before our team members start working with Massage Me, they all have to complete several mandatory training sessions in relation to Covid-19, created by bodies like WHO (World Health Organisation). By educating our team, we can make sure they are fully informed to assist you in the correct method, whilst also providing a fantastic treatment.
If any of our team are experiencing symptoms, or have been knowingly exposed, then they will follow the massage therapist Covid-19 guidelines and not be available to work, thus self-quarantining for 14 days.
Our therapists all live locally within your resorts, meaning that if you have a massage with us, your therapist will not be travelling a large distance into the resort.
PPE
You can expect your Massage Me therapist to still be wearing the same friendly, professional expression, but it might not be visible behind their face mask and visor. Our therapists will all be wearing the recommended PPE and clients are encouraged to wear what makes them feel most comfortable for their massage.
Touch and Contact
Whilst it might seem incongruous to be trying to minimise contact during a massage session, which relies on touch, this will be a focus. This included things like :
Encouraging you to complete the consultation process digitally with your therapist, rather than sharing paper copies
Processing payment digitally rather than handling cash
Asking you to open and close doors for your therapist – also providing access to a hand washing facility
Cleaning and Disinfection
Whilst the cleaning and maintenance of our massage equipment has always been mandatory, on receiving a massage, you will also be more aware of this.
On arrival, your therapist will disinfect and clean all the massage equipment, in your site
They will repeat the same process before departure
In the past, Massage Me have always provided the massage linen and towels. However, if you would prefer to use your own towels, then this is also encouraged
Bookings
To place bookings, you can contact Massage Me directly via email luxury@massage-me.com or use the online booking tool. There are some elevated procedures for booking as well and you will be asked additional health questions in relation to Covid-19, inline with WHO guidelines.
Our terms and conditions have been updated to allow booking with flexibility in regards to Covid-19, allowing risk-free booking. You can read more about our Coronavirus massage terms and conditions here. So if you need to reschedule or cancel a booking in relation to Covid-19, feel reassured that you can.
We do also ask that if you are showing symptoms to contact your medical professional and to not book a service with us. It is also currently advised against booking if you are deemed 'high-risk'.
We will be reviewing our policies regularly and also re-training and educating our team throughout the winter to make sure, in a fluid landscape, that our practices remain current.
***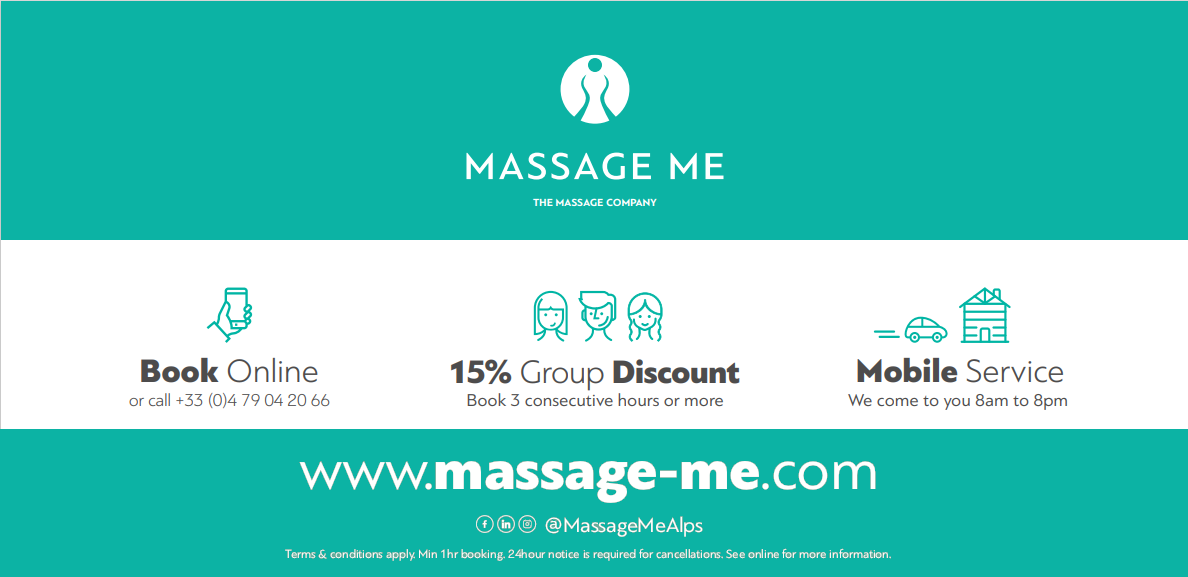 Massage Me are available for bookings from the first week of winter to the last. Therapists are available 7 days as week, from 8am – 8pm for :
Massage
Physiotherapy
Yoga
Pilates
Beauty Treatments
Bookings are live online now.
As the massage therapy in the Alps partner for Ski In Luxury, we are also excited to be able to offer guests the opportunity to reserve a dedicated therapist for the duration of your stay. If you'd like a therapist who is available solely for you and your chalet on your holiday, we can customise this experience for you. Simply send an email with your requirements and a member of the Massage Me team will get back to you.