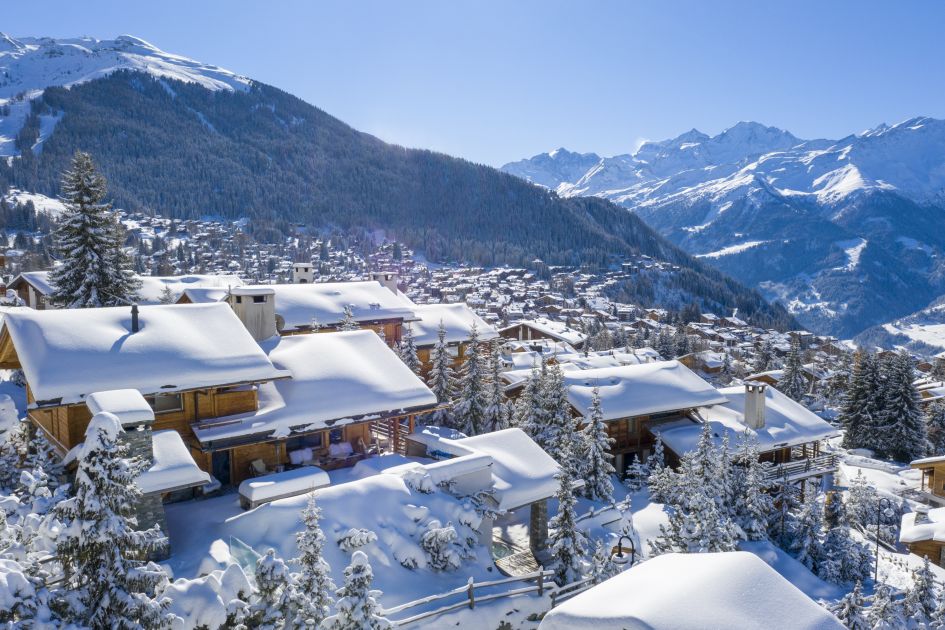 Nowadays, organising a family ski trip can seem difficult. For many people, a week skiing, tucked away in a luxury chalet, is the ideal getaway. However, with so many luxury ski resorts on offer, sometimes it can be hard to know what to go for. This is where we can help. This guide will introduce you to why this sought after ski resort in the Swiss Alps is so desirable, featuring 7 of the most magnificent luxury chalets in Verbier…
Verbier is well-renowned for being one of the most luxurious resorts out there. If you're a keen skier, who likes to ski until the minute the ski lifts close, then Verbier is the perfect destination for you. Being part of the 4 Vallées ski area, Verbier offers you access to over 400km of skiing; it is one of the largest lift-linked resorts in the world! The high altitude, with pistes reaching 3,300m, ensures reliable snow-sure pistes for skiing in Verbier for all abilities. Accommodation is also a big talking point in this ski resort in the Swiss Alps. So look no further than this guide, because the following luxury ski chalets in Verbier are true gems, and worth every penny…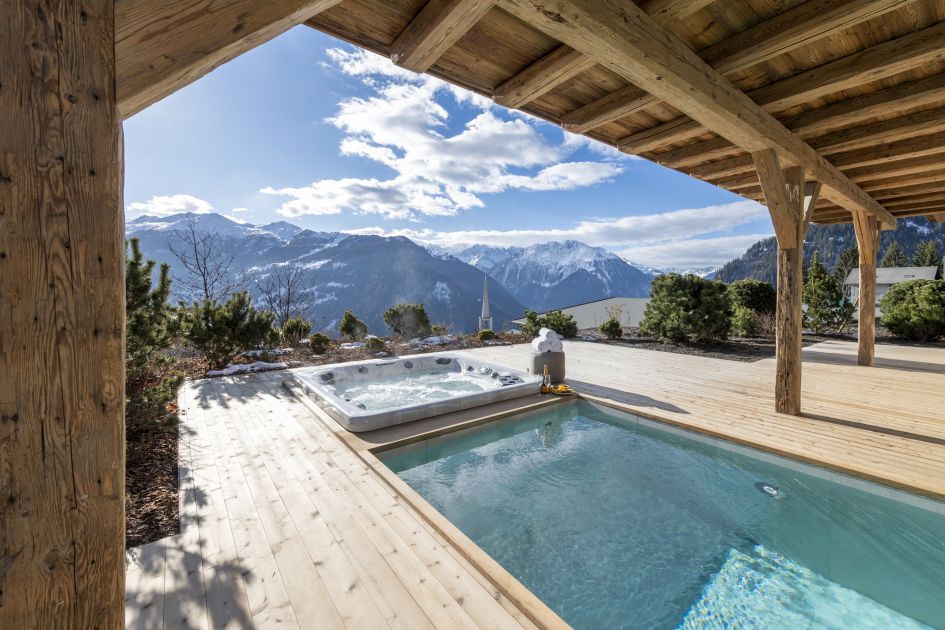 To start the list, we have Chalet Foulon, one of many luxury catered ski chalets in the Swiss Alps. However, what separates this 450m² Verbier chalet from the rest, is its copious number of incredible facilities. These include an indoor/outdoor swimming pool, sauna, outdoor hot tub, spa area, gym facilities and cinema room to name a few. Like most luxury chalets in Verbier, Chalet Foulon provides stunning mountain views for you to wake up to every morning. Possessing several balconies, you can take in these gorgeous views late in the day, until the stars come out. With facilities for the whole family to indulge in, there is no better way to spend your luxury mountain holidays in the Swiss Alps.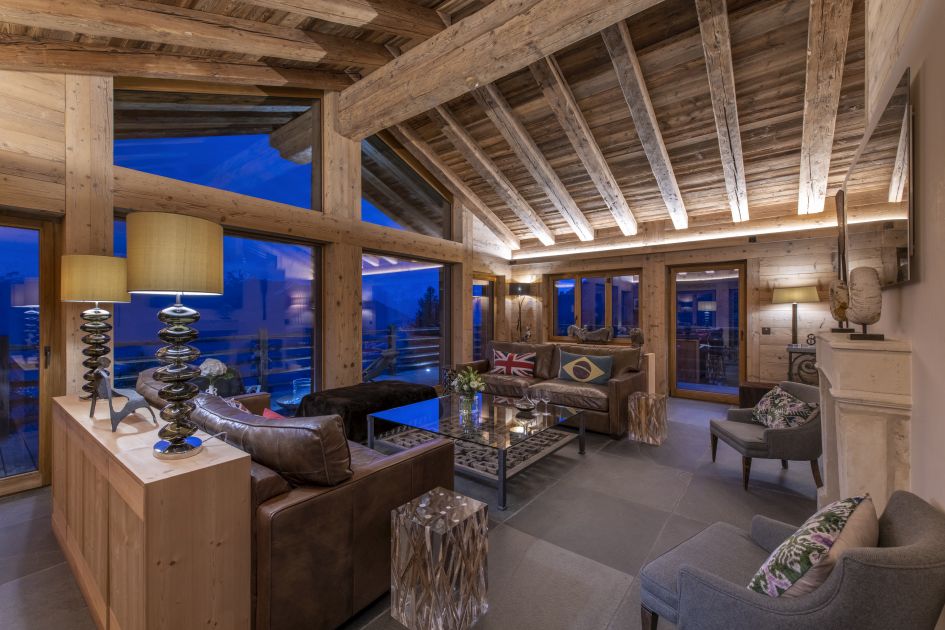 Another of our top luxury chalets in Verbier is Chalet Teredo. Featuring on our Ultimate Luxury Chalets website, it's an idyllic base for a luxury mountain holiday in the Swiss Alps. Hidden away in the peaceful Savoleyres area of Verbier, just minutes from the nearest gondola, Chalet Teredo oozes comfort and alpine style. The property boasts five luxurious bedrooms, a crystal-clear swimming pool, cinema room and much more for the family to enjoy. Expansive balconies with spacious seating are perfectly accompanied by picture-postcard views of Verbier. A great place to enjoy a glass of champagne with friends and family after a day skiing in the Swiss Alps.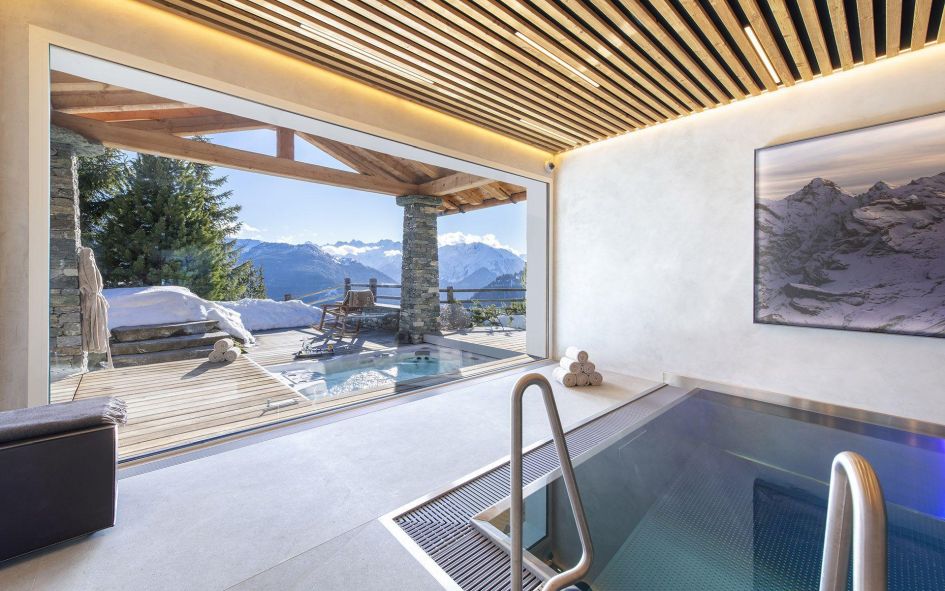 Another potential property for your luxury ski holiday in Verbier is Chalet Spa. Out of all the luxury ski chalets in the Swiss Alps, Chalet Spa could be considered the best when it comes to entertainment and facilities. This magical property offers a plethora of activities that will certainly cover everyone's desires. A whole host of wellness activities are included. Two outdoor hot tubs, a massage treatment room, sauna and gym offer quality adult-only time, whilst the kids take advantage of the games room and indoor swimming pool. At the end of the day, when the entire family is worn out, a cinema room awaits. The perfect evening entertainment, to recharge before another day on the slopes.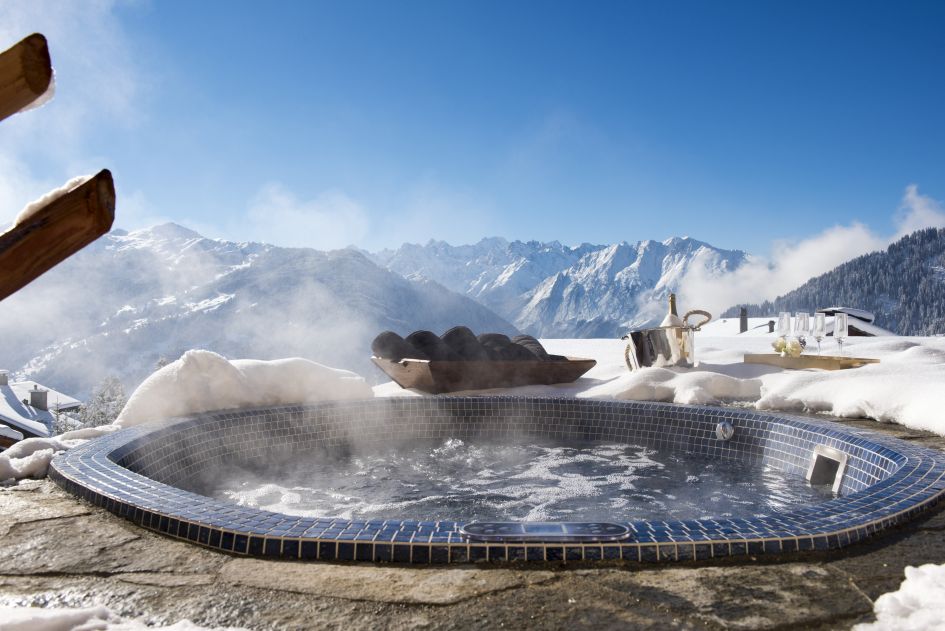 This luxury chalet in the Swiss Alps boasts 950m² of pure lavishness. Featuring in our sister brand's list of Top 10 Luxury Chalet Swimming Pools, Chalet Chouqui benefits from an impressive 15m indoor pool to meet your every relaxation need. As well as a whole host of wellness facilities, Chalet Chouqui also comes with arguably the most impressive views that any luxury chalet in Verbier has to offer. If your idea of a dream luxury ski holiday in Verbier includes relaxing in an outdoor hot tub and getting lost within the magical, snowy mountain views of this resort, then Chalet Chouqui is the place for you. As a catered luxury chalet, you can relax knowing everything is being cared for. Your private, experienced chef and chalet team will attend to your every desire. During your stay, your biggest concern will be which slope to tackle next. There are countless catered ski chalets in the Swiss Alps. However Chalet Chouqui definitely sits above most.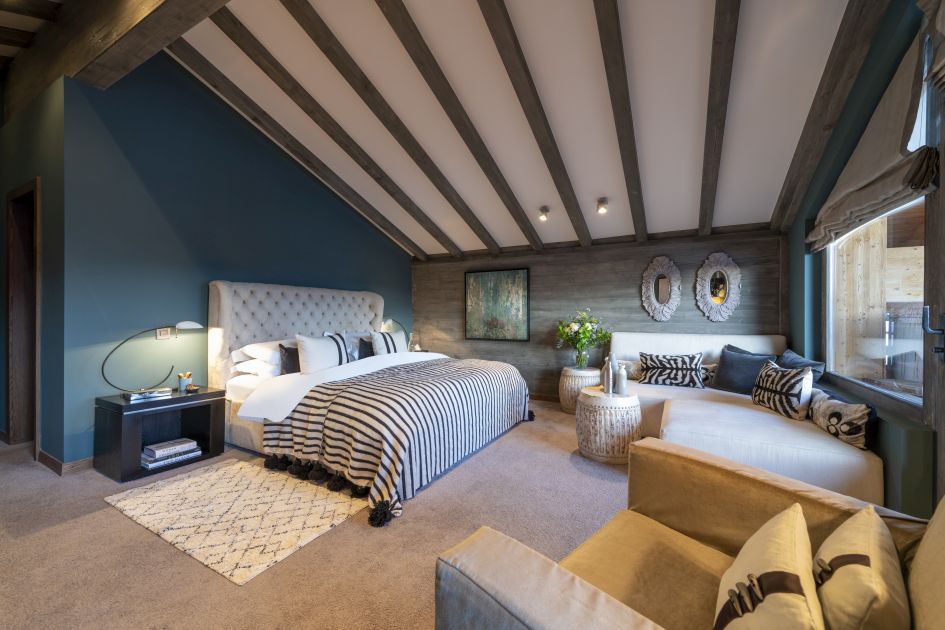 Hosting 13 bedrooms and sleeping up to 28 guests, Chalet No 14 is a great option for larger groups of family and friends. Despite being a huge property, the sophisticated yet simple design adds comfort and class to the chalet. Spacious living areas help cater for larger groups, especially when you're not exploring Verbier's après ski and nightlife. That said, a variety of bars and restaurants in the heart of Verbier await the arrival of your group for an unforgettable experience. What's more, Chalet No 14 offers you an exclusive 24-hour in-resort driver service for your convenience.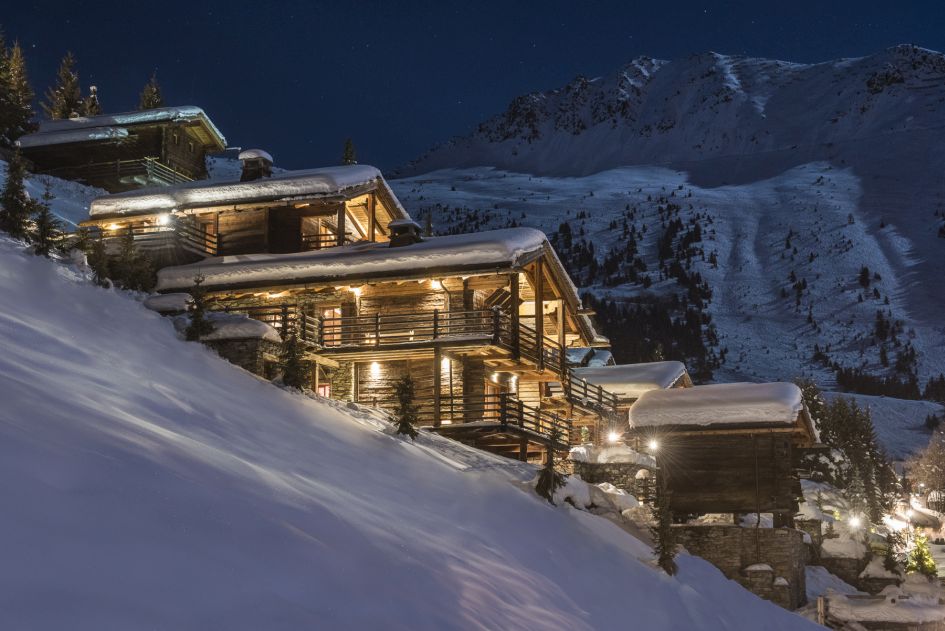 Chalet Orsini is luxury seasonal chalet rental featuring everything considered of a top luxury chalet in the Swiss Alps. An outdoor Jacuzzi, massage treatment room, hammam, and much more are all at your disposal during your stay. Typical alpine wood covers the interior and snug sofas surrounding the stone fireplace, make you feel right at home amongst the glorious mountains of Verbier. Continue to enjoy the mountainous views from the deck chairs on the master bedroom balcony. It's a perfect romantic setting to reminisce on the day gone by. Sleeping up to 13 guests, this is an amazing luxury family ski chalet.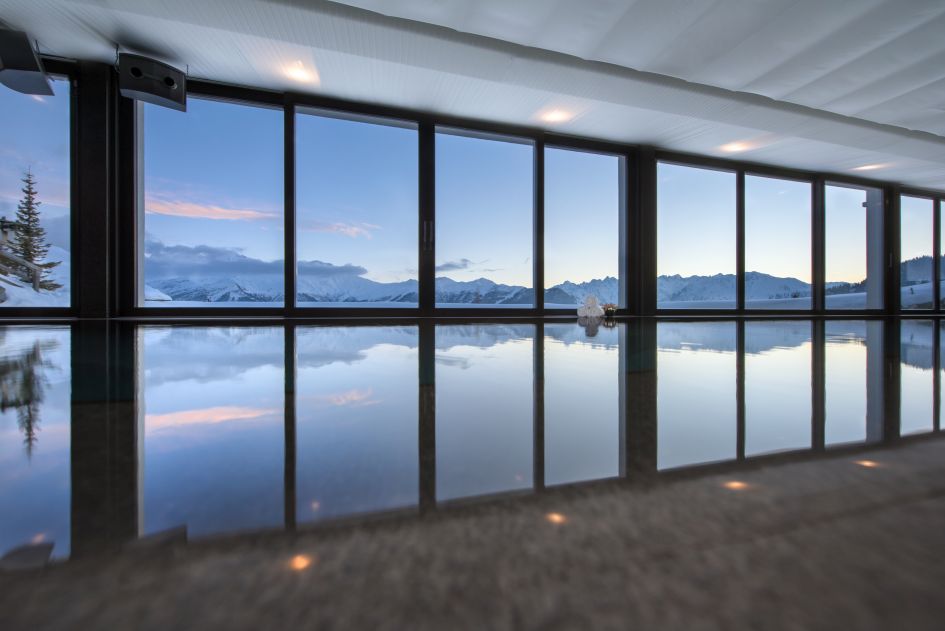 To end this mega list of the most magnificent luxury ski chalets in Verbier, we have Chalet Sagarmata. This glamorous 1,200m² property is surrounded by spectacular snowy views. Incredible mountain tops elevate the property and can be seen whilst recharging in the gorgeous 25m swimming pool. A wide array of other facilities is also provided to ensure all 14 guests remain entertained. This includes a hammam, sauna and massage room for complete relaxation. Spacious living areas, possessing slick, elegant designs create the perfect social evenings for when you and the family step off the slopes. To compliment these spaces, large glass windows allow glowing beams of natural light to spill through, which brightens up each room. Overall, Chalet Sagarmata offers the perfect stay for a luxury mountain holiday in the Swiss Alps. Similarly to Chalet Orsini, it is also available for a long-term stays.
Whilst this blog focuses on luxury chalet holidays in Verbier, for long-term chalet rentals similar to Chalet Orsini and Chalet Sagarmata, check out our Guide to Living In Verbier For the Winter.

These are some of the best luxury chalets in Verbier. We also offer many other catered and self catered ski chalets in the Swiss Alps and many other resorts. Find out more by speaking to one of our Ski Specialists. Just give us a call on +44 1202 203650 or send us an email.