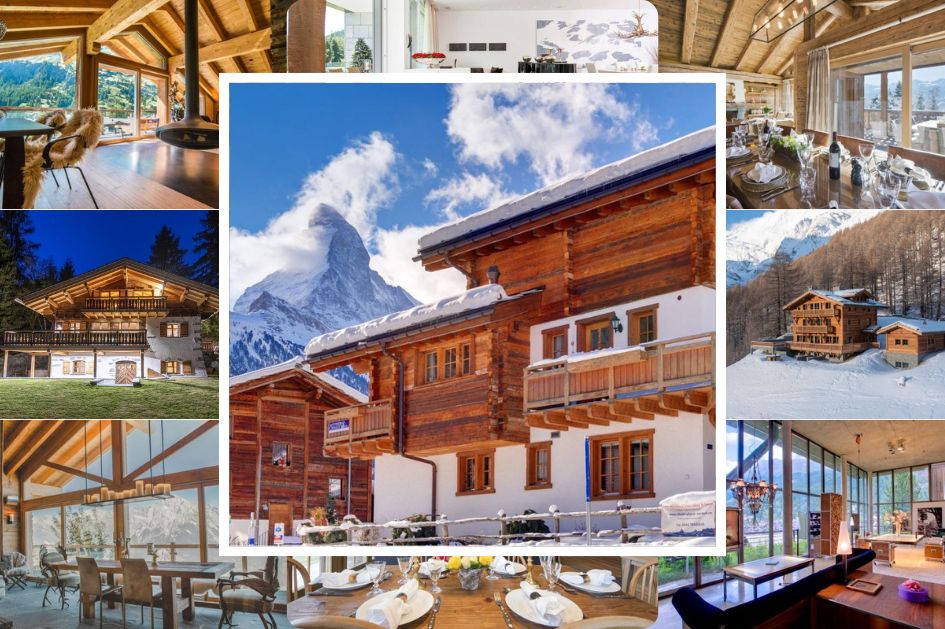 The Swiss Alps features a multitude of beautiful European ski destinations for your holidays, in luxury ski resorts such as Verbier, Zermatt, St Moritz, Saas Fee and more. Offering a world of flexibility for your trip to the Alps, self catering holidays in Switzerland are not to be missed. They allow for guests to holiday on their own time, without being restricted to set meal times, and yet still be able to benefit from the luxurious facilities found within these properties.
Self catering ski holidays provide the freedom to sample a range of tantalising local delicacies served by each resort's best bars and restaurants – something of a foodie's dream!
Let us introduce you to the luxury self catered ski chalets in Switzerland that have made our Top 10 list, and whether they tempt you to consider self catering holidays in Switzerland…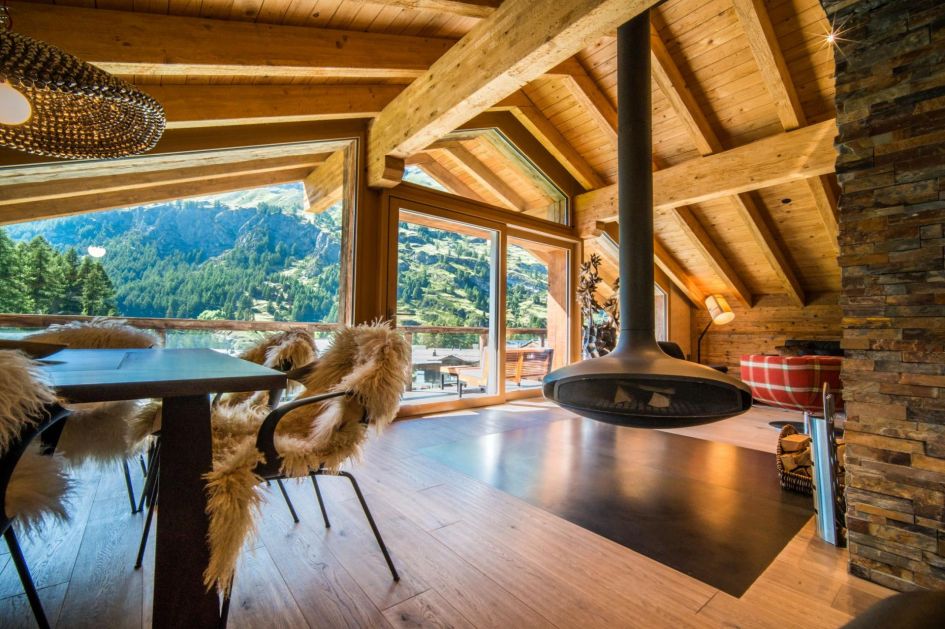 If you're desiring a luxury self catered ski holiday in Zermatt with Matterhorn views, look no further than High 7 Penthouse. This beautiful and spacious 235m² duplex penthouse accommodates groups of 8 guests across its 4 luxury double bedrooms, each adorned with their own unique décor and theme. Inside the penthouse's main open-plan living area, guests will be able to relax in the true essence of mountain living. Fusing contemporary with a classic Alpine design, this room is equipped with a sofa area, dining table and kitchen with breakfast bar, with all eyes focussed on the charming hanging wood fireplace and Matterhorn Mountain views captured by the vast window wall. Self catering holidays in Switzerland are not without their luxury wellness facilities, and High 7 Penthouse's wellness area features a relaxation bath and Bio sauna, ideal for a pamper session after a day skiing in Zermatt.
Situated on the second and third floors of the apartment building, guests can take advantage of the in-house lift for easy access to the penthouse. High 7 Penthouse can also be taken with a catered package, to include full gourmet catering, open drinks bar and an arrival transfer from Zermatt train station, perfect for those luxury catered ski holidays to the Swiss Alps!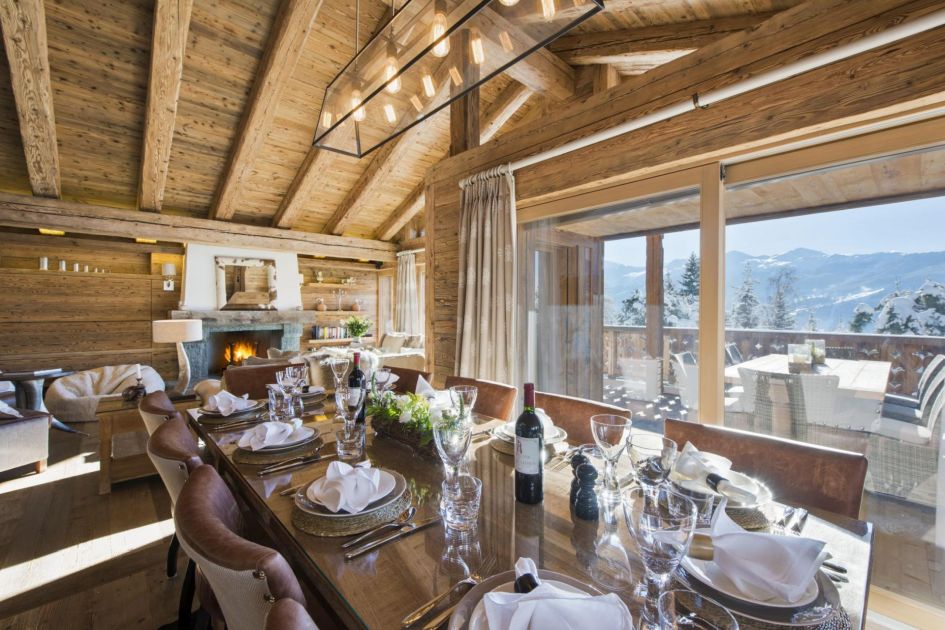 Self catering holidays in Switzerland cannot be talked about without mentioning the award winning ski resort of Verbier. Chalet Sherwood, located a few minutes from Verbier's resort centre and positioned close to the Les Moulins nursery slope, presents a suitable option for those luxury family ski holidays. Offering the height of Alpine chic, this gorgeous penthouse chalet-apartment is the pinnacle of a Swiss chocolate-box chalet and sleeps 8-10 guests across 3 floors. Chalet Sherwood maximises breathtaking valley views from sumptuous living areas, extensive terraces and homely bedrooms.
Perfect for a luxury self catering ski holiday in Verbier, Chalet Sherwood has two areas to host delicious meals when not eating out in resort; an elegant wooden dining table seats the whole group comfortably inside, or during the sunshine-soaked spring season in Verbier, why not dine alfresco on the large terrace looking out to mountain views? Meal preparations can be undertaken in the open kitchen, allowing your nominated cook to engage in after-ski conversations and cook in a social atmosphere.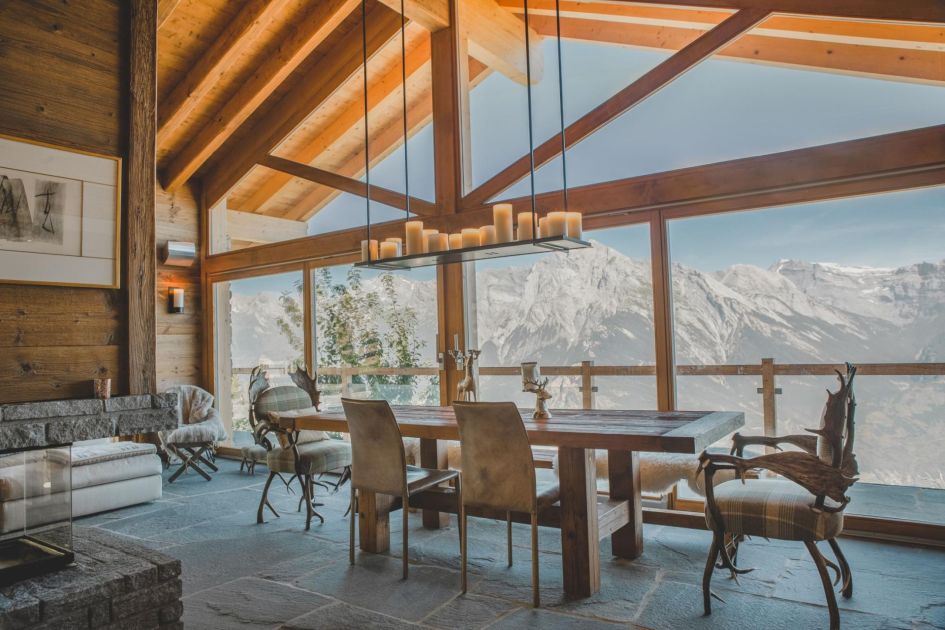 Chalet Bisse Blue is one of our hidden gems in the Swiss Alps. Decorated and finished with a harmonious blend of local wood and stone materials, Bisse Blue oozes a traditional, rustic chalet feel, enclosed by high ceilings and spacious interiors. It also features as one of our luxury ski chalets with saunas, meaning you have the modern amenities available to aid your post-ski relaxation needs.
Perched in an elevated hillside position, this luxury ski chalet in Nendaz is the true definition of a picture-postcard Alps dining experience for its 10 guests. Perfect for chalet nights in, the wooden dining table has been meticulously positioned to take advantage of a magnificent mountain backdrop framed by colossal floor-to-ceiling windows. At either end of the table, head guests will be able to dine seated on chairs wrapped with antlers – a perfect throne for your self catering holidays in Switzerland.
Should guests wish to venture out in the evenings, the chalet team can arrange for a taxi to take you to Nendaz ski resort centre and experience its selection of bars and restaurants. Otherwise, the centre is an approximate 10-minute stroll away.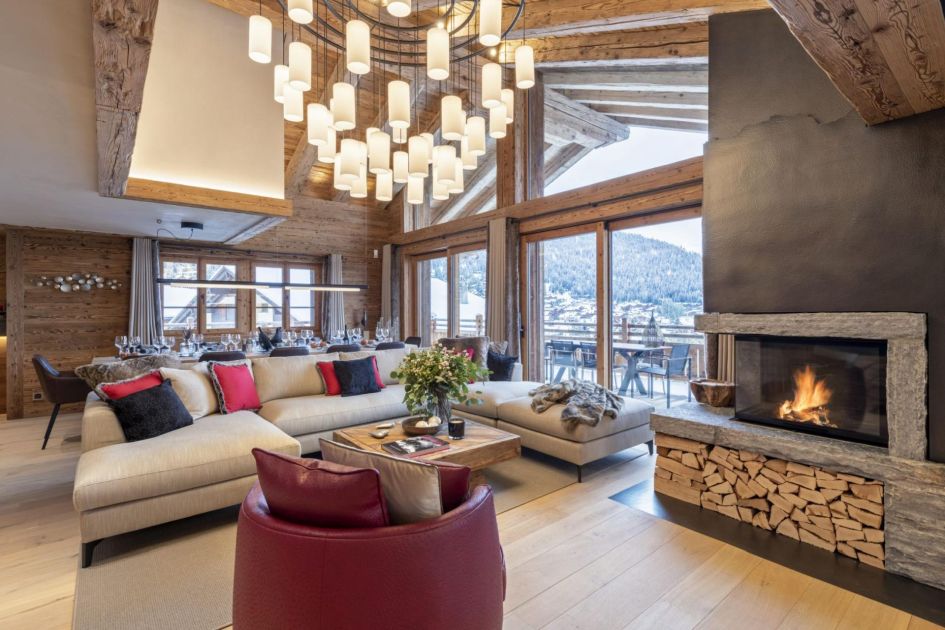 Spanning 5 floors, showcasing sophistication and an impeccable design throughout, it's clear to see why Chalet EastRock has to feature in our Top 10 list of luxury self catered chalets in Switzerland. Sleeping 8-10 guests, this stunning property harmoniously blends traditional chalet features with a cosy, contemporary feel, not to discount its wellness facilities such as the outdoor hot tub.
Enjoy an apéro and nibbles before dinner, in the classy bar area, which separates the modern kitchen from the rest of the spacious living room. An elegant dining table is positioned under double-height ceilings and with stunning, wide-sweeping views across the valley to Mont Rogneux, making it the perfect spot for the whole group engage in conversations from your day skiing in Verbier. When dining out, restaurants in Verbier centre are within a 10-minute walk from the chalet, where guests will find a wide selection of cuisines, as well as luxury shops, boutiques and bars. The Brunet bus stop is also a short stroll away for ease of transport in resort.
Listed as one of our luxury seasonal chalet rentals, Chalet EastRock can also be booked alongside neighbouring properties Chalet WestRock and Chalet NorthRock – an excellent choice for groups who wish to holiday together yet still enjoy the privacy of their own luxury ski chalet. If you're unsure of what life in a Verbier seasonal rental would look like, make sure to check out our guide to living in Verbier for the Winter!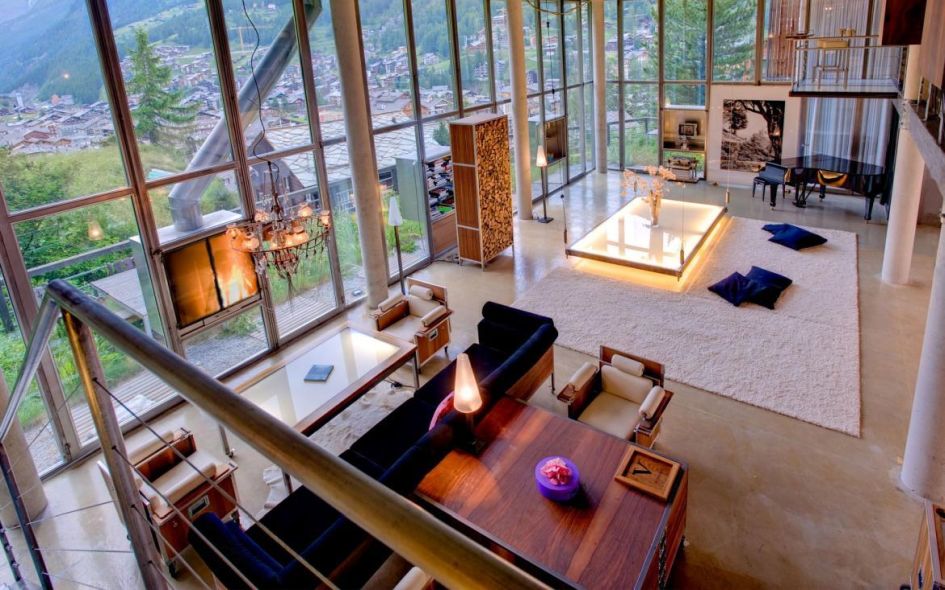 Next on our Top 10 list of luxury self catered ski chalets in Switzerland is Heinz Julen Loft. Featuring with Ultimate Luxury Chalets, our collection of the Top 100 finest luxury ski chalets in the Alps, this 300m² Manhattan-style loft is sure to impress. Unique décor and artwork are reflective and inspired by Julen's time in New York, captured in the natural light that floods through sensational window walls, also encapsulating your Alpine surroundings.
Well-suited to a self catered ski holiday in Zermatt, and those who enjoy entertaining, Heinz Julen Loft's illuminated table is height-adjustable and can be configured to whatever your group's needs! This one-of-a-kind table can be raised or lowered to transform into a coffee setting, host your evening meal or moved to ceiling height, ideal for a party space to continue your après ski celebrations.
Heinz Julen Penthouse is another of our luxury self catered ski chalets in Zermatt designed by the internationally acclaimed architect. This double-level 260m² penthouse is located above Heinz Julen Loft sleeping 8 guests. Adopting a similar style to the Heinz Julen Loft, the penthouse poses another option for those self catering holidays in Switzerland featuring well-lit interiors, mountain views and plenty of seating areas.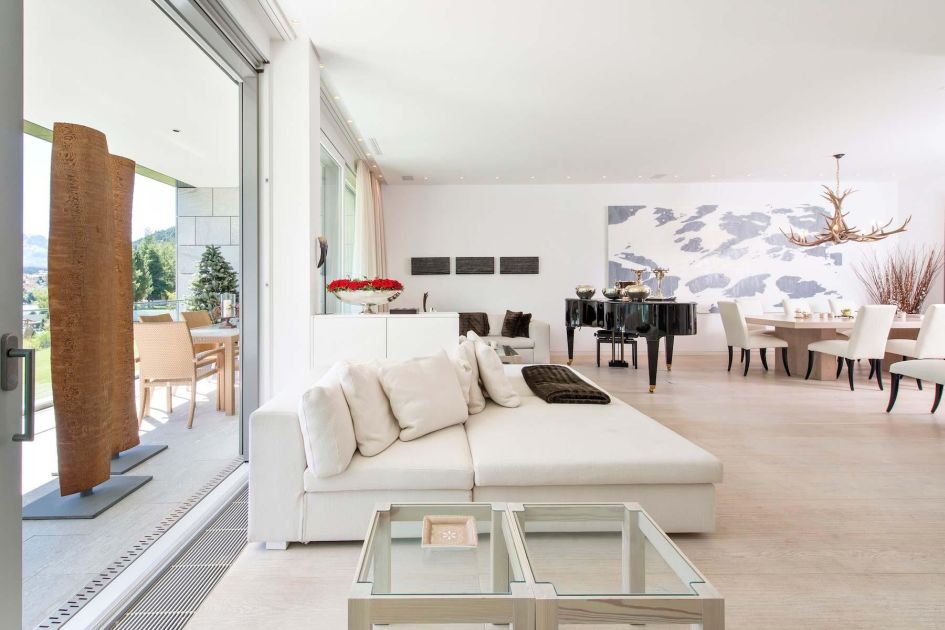 The first, and only, self catered chalet in St Moritz to feature on our list, Apartment Lakeside offers a wonderful option for smaller groups of 6 guests. Sitting in a private setting overlooking Lake St Moritz, this beautiful, self catered chalet-apartment is only 100m away from St Moritz's main shopping street. Being just a stone's throw away from a selection of high-end boutiques, gourmet restaurants and nightlife spots make Apartment Lakeside the perfect location for self catering ski holidays in Switzerland.
When not experiencing the many things to do in St Moritz, or the world-class skiing, bright and sleek white interiors will invite you into Apartment Lakeside's open living areas. Complemented with high-quality furnishings and touches of Alpine charm, a light and airy ambience can be felt in here, contributed by sliding glass doors opening out onto the terrace. With enough seating for 10 guests, Apartment Lakeside's dining table gives no greater reason to dine inside your chalet-apartment, under a distinctive, hanging antler chandelier. Despite being small in size, the modern kitchen is fully equipped with everything you would need for a self catered ski holiday in St Moritz. The kitchen is tucked away in the back of the apartment for any avid chefs to concentrate on meal preparations.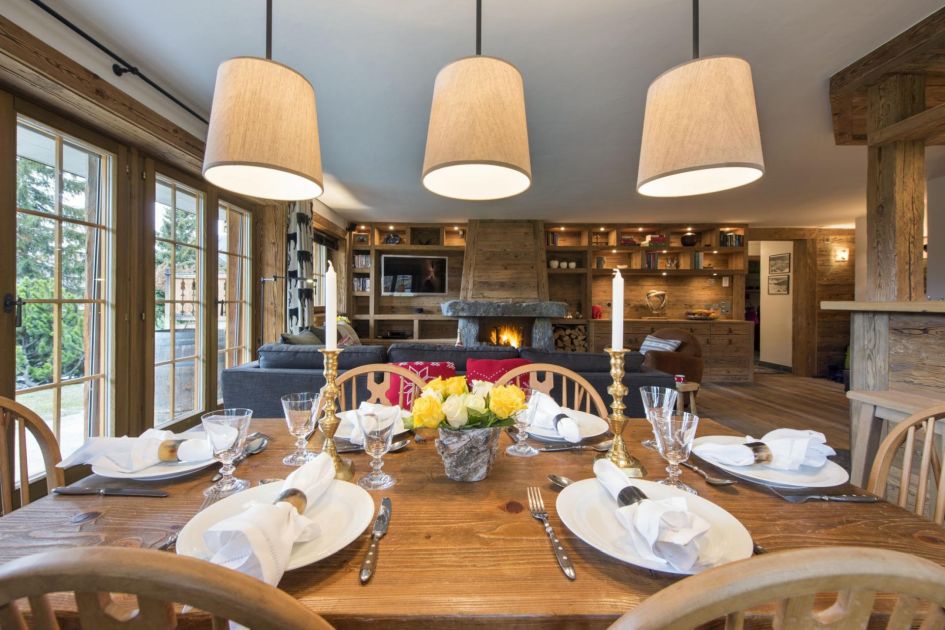 Chalet Hickory is a beautiful 2-bedroom chalet apartment in Verbier, posing an ideal option for any small families wanting to experience a self catered holiday to the Swiss Alps in winter. Interiors of reclaimed wood and exposed stone exude traditional Alpine charm, perfect for evenings spent in front of the crackling fireplace. Retaining both a spacious and cosy feel, the open living area provides a social atmosphere for family cooking nights. Afterwards, relax in the shared sauna and indoor swimming pool – but make sure to wait an hour before taking a dip!
Within walking distance to a number of bars and restaurants, Chalet Hickory sits in the heart of resort, just set back from Place Centrale. Not only perfect for foodies, this apartment is also perfect for your ski holidays in Verbier for its location just 600 metres from the main lift station. Alternatively, save any tired legs by making the most of your included 24-hour in-resort chauffeur service.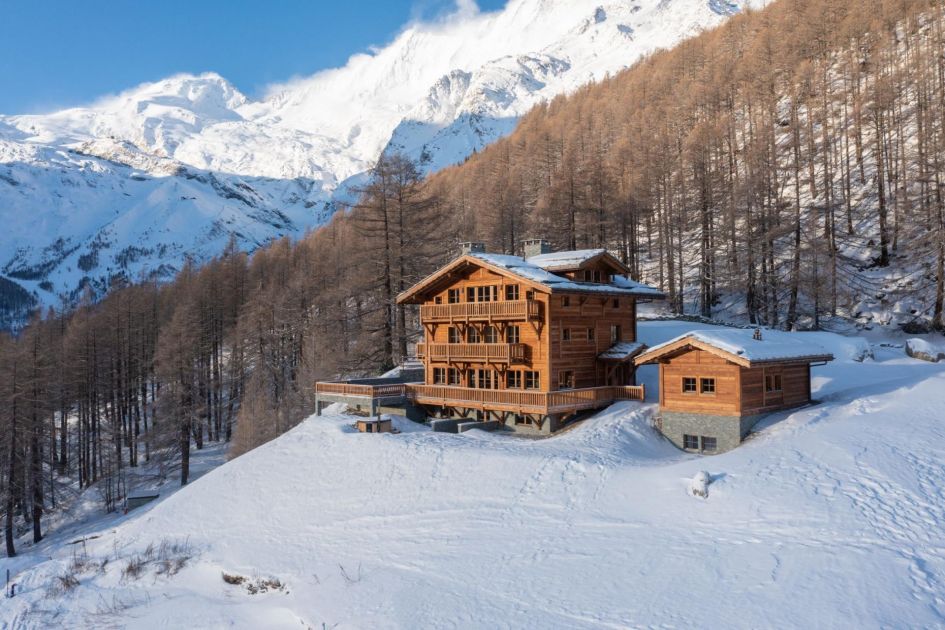 Perfect for those large group ski holidays in Saas Fee, Chalet Lycka is a sensational 600m² property boasting uninterrupted mountain scenery and an extensive list of luxury wellness facilities. Set high above the village, this self catered chalet presents the epitome of an Alpine ski retreat to the Swiss Alps for 12-17 guests.
Inside, Chalet Lycka effortlessly marries authentic chalet charm with modern amenities and luxe interiors. High-quality furnishings complement exposed wooden décor, mirroring the chalet's idyllic exterior throughout the extensive open living area. Seating 12 guests, Chalet Lycka's large wooden dining table enables the whole group to indulge on your nominated cook's creations. Alternatively, on blue sky days the large terrace will let you dine alfresco looking out to an uninterrupted, panoramic mountain skyline – what more could you wish for on your self catering holidays in Switzerland?
Chalet Lycka also offers plenty of options to soothe any tired ski muscles, featuring a plethora of wellness facilities including an outdoor Nordic bath, sauna, two steam rooms and gym facilities. The chalet's cinema room provides a welcoming entertainment space, once your muscle recovery session has finished.
Self catered prices include an in-resort e-shuttle service to the slopes and village, letting guests take advantage of the chalet's incredible hillside position without needing to worry. Should you require a catered ski chalet package, this can also be arranged for you.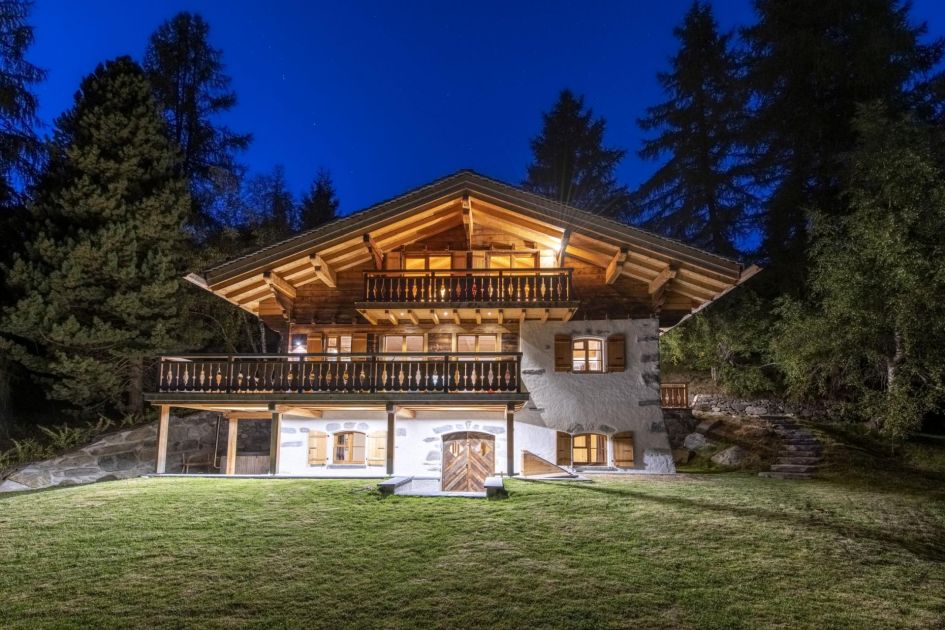 The final luxury self catered ski chalet in Verbier to make our Top 10 list is Chalet Tire Bouchon – a fabulous family ski chalet sitting in an elevated mountain position at the end of a snowy track. Featuring a beautiful façade, traditional Alpine elements and modern furnishings come together in perfect cohesion throughout the 250m² of living areas, suitable for hosting and sleeping groups of 8-10 guests. There is a seamless flow across Chalet Tire Bouchon's living areas, with a highlight being the contemporary dining table which presents a fitting setting for mealtimes and family breakfasts under feature lighting. An additional dining table, behind the family kitchen, is perfect for more casual breakfasts or children's dinners.
Verbier resort centre is also a 5-minute drive from Chalet Tire Bouchon, or Le Carrefour is even closer, a delicious gourmet, mountain restaurant just a 2-minute drive away!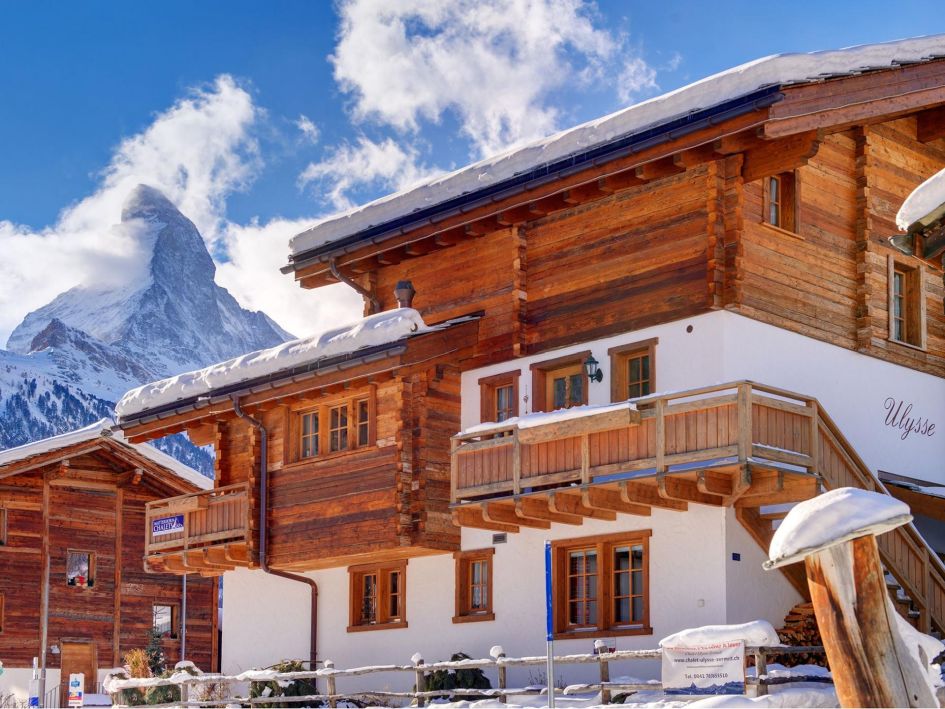 Last but in no means least, Haus Ulysse is the final name mentioned on our Top 10 luxury self catered chalets in Switzerland.
Sitting in Zermatt's 'Beverly Hills' region of Winkelmatten, Haus Ulysse is positioned in an enviable location for your self catered holiday to the Swiss Alps; the Sonnematten Restaurant is right next door to the property, and the Waldhaus is just 2 minutes away on foot, with plenty of others to be discovered on your way into the centre. The Matterhorn Express Gondola, which provides connecting access to one of the best ski lifts in Europe (the Matterhorn Glacier Ride), is also just a 5-minute walk away.
Haus Ulysse itself, is one of the few stand-alone chalets in Zermatt. Spanning 4 floors, this chalet benefits from uninterrupted Matterhorn and mountain views from an elevated position, for which up to 12 people can enjoy on their luxury self catered holiday in Switzerland. The tastefully decorated interiors exhibit an Alpine home-from-home feel, for a warm and friendly atmosphere after your return from a day's skiing in the Matterhorn Ski Paradise.
That concludes our top 10 self catered chalets in Switzerland blog! Should any of the luxury ski chalets featured on our list match your group's requirements for your own luxury self catering holidays in Switzerland, then don't hesitate to contact us! In addition to the properties on this list, we also showcase a plethora of self catered ski chalets in Switzerland across our portfolio to offer the holiday best suited to your needs. Get in touch with our friendly team of Ski Specialists by sending an email or by phone on +44 1202 203650, to organise your own luxury ski experience in the Swiss Alps…