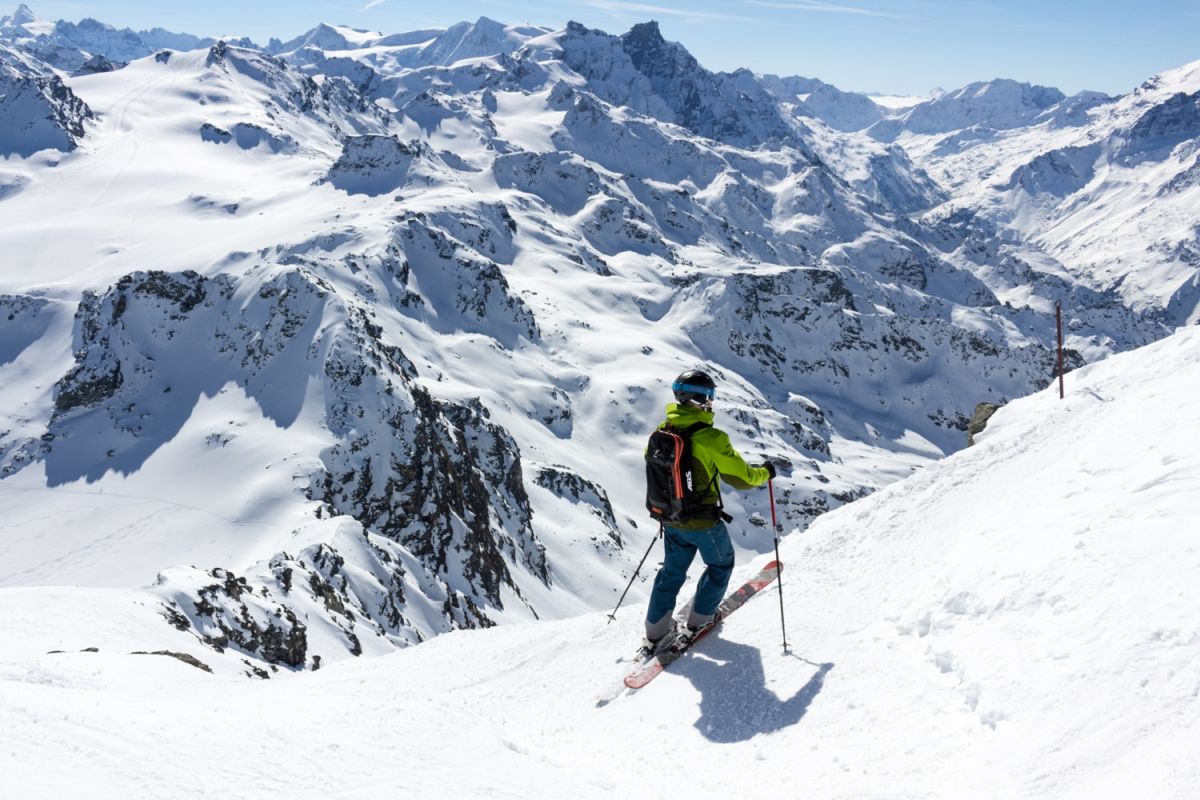 If you are wondering where to ski in Switzerland that offers peace, tranquillity and charm, then look no further than our list of hidden gems in the Swiss Alps. Escape from it all and enjoy breathtaking scenery, quiet ski slopes, and luxury chalets in Switzerland without compromising on quality and choice. Let us introduce you to the lesser-known, quieter resorts for your Swiss Alps ski holiday, paired with some of the best secluded ski chalets in Switzerland…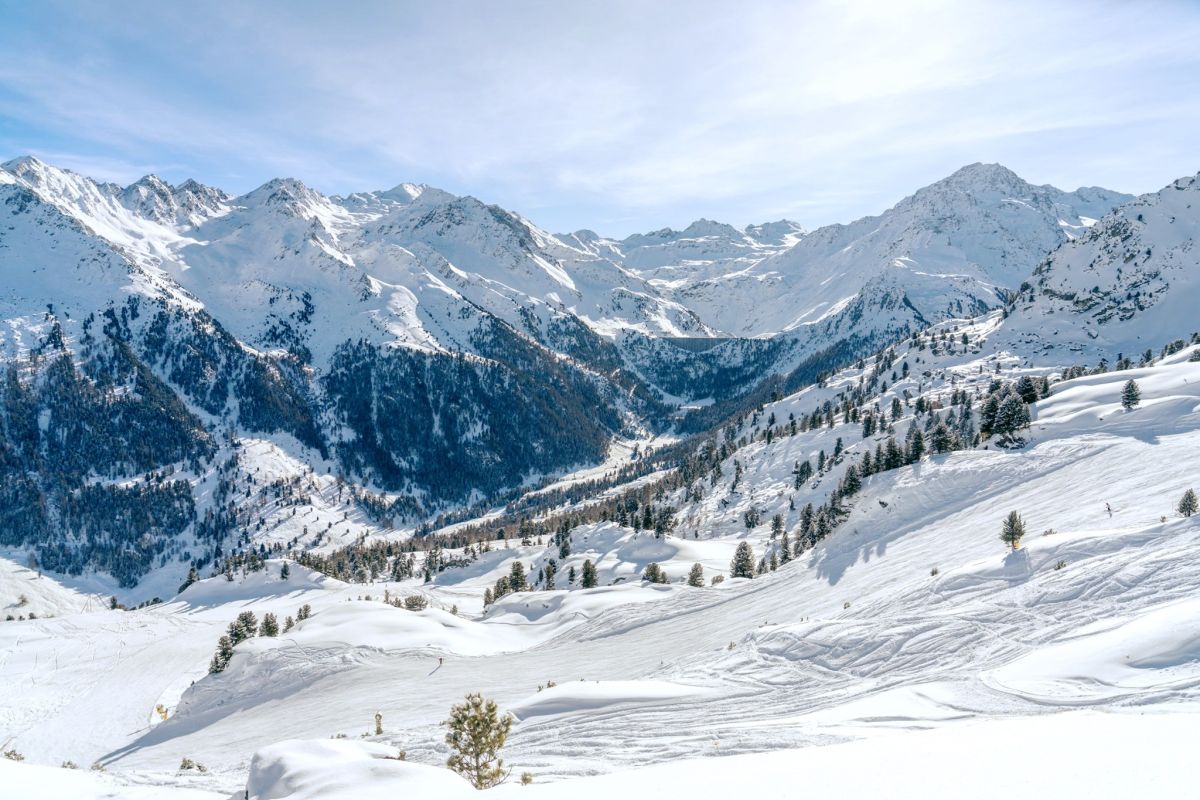 Sat up on a plateau above Sion, Nendaz (1,365m) is a real jewel of the Swiss Alps and is crowned with the magnificent peaks of the Rhône Valley all around. Just over the hill from its more famous neighbour, Verbier, Nendaz boasts an impressive 410km of slopes. In addition, you'll find 12km of local cross-country skiing routes, ski touring, 100km of winter hiking trails and 40km of snow shoeing paths. The Nendaz Printse Sector is a great, quiet ski area covering 220km and linking to Veysonnaz and Thyon. It's the perfect ski area for beginner to intermediate skiers with a variety of drag lifts to help build up confidence. For the adrenaline seekers, you're also in the right place. The 4 Valleys is home to some of the best freeride terrain in the world, so there will be plenty to get stuck into!
Additionally, the resort itself offers fantastic value for luxury and ample facilities for the perfect family ski holiday in Switzerland. With an ice rink, sledging, spa, shops and a great variety of restaurants, there is plenty to keep everyone entertained when off the slopes.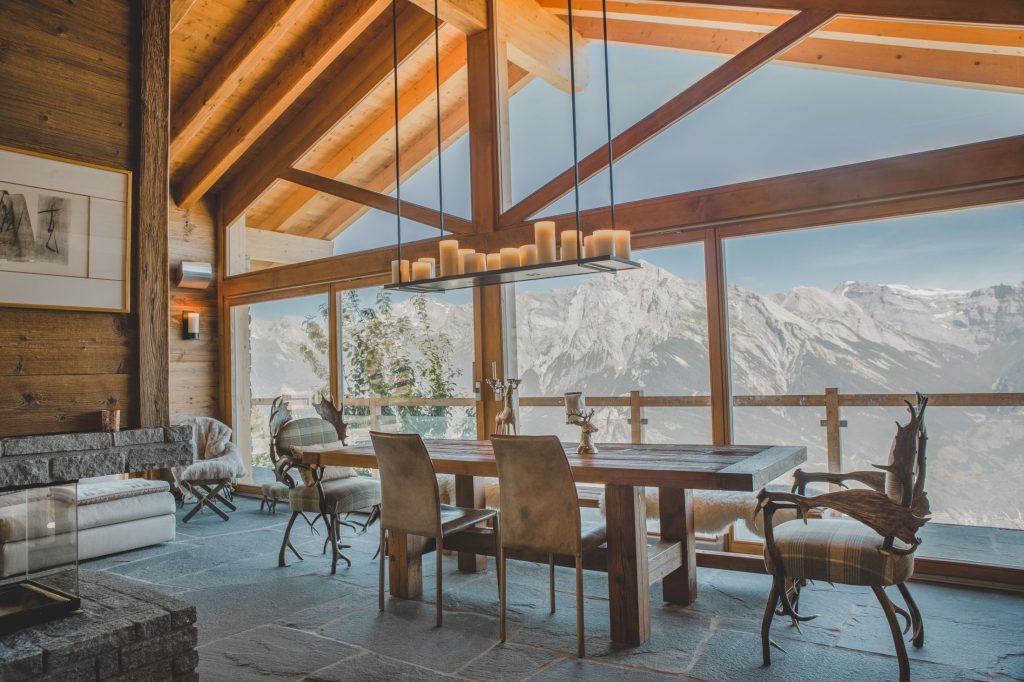 Elevated on the hillside and commanding far-reaching views across the Rhône Valley, Chalet Bisse Bleu is one of the best luxury chalets in Nendaz. Whether you take the chalet on a catered or self catered basis, these stunning views can be enjoyed whilst you tuck into your energy fueled breakfast, or whilst you indulge in an evening meal with the sun setting over the mountain peaks.
As far as chalets in Switzerland go, Chalet Bisse Bleu is the perfect match for a group of family or friends who are looking to retreat and escape from it all. Due to its peaceful location on the hillside, you can take advantage of the morning and evening shuttle service to take you to and from the ski lifts. On your return to the chalet, relax in the sauna or catch the spring sunshine from the comfort of the large terrace. It's a great choice for a winter retreat in the Swiss Alps.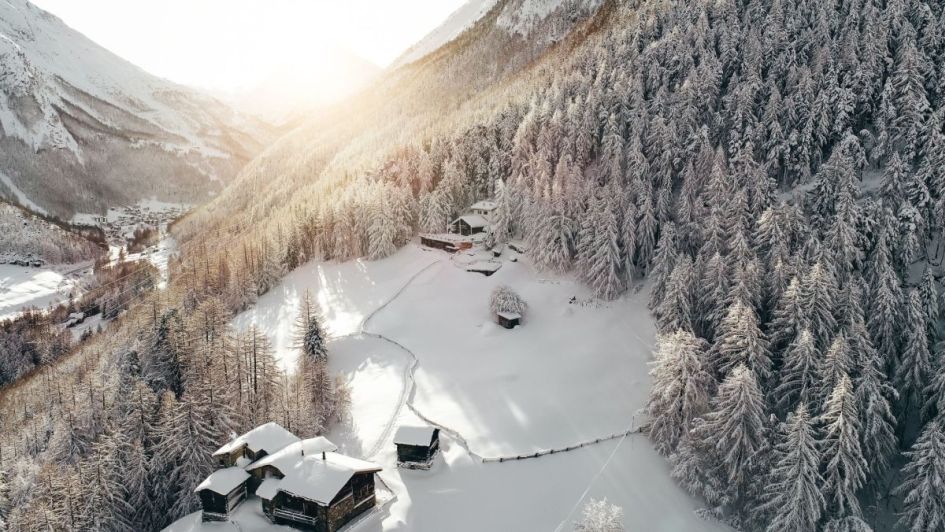 The car-free Swiss ski resort of Saas Fee sits at an altitude of 1,800m but offers some of the highest altitude skiing in Switzerland (just after the Matterhorn paradise resort, Zermatt). With year-round glacier skiing at Mittelallalin (3,457m), and approximately 100km of winter ski pistes (most above 2,500m), Saas Fee is an extremely attractive resort for a ski holiday in the Swiss Alps. Despite being a humble and quiet ski resort in Switzerland, that has maintained strict chalet style construction and no car policies for centuries, Saas Fee benefits from some of the most high-tech lift installations in the world.
When it comes to alternative mountain activities, Saas Fee is an adventurer's paradise. From walking trails and snow-shoeing to tobogganing and ice sports, or winter Via Ferrata and alpine canyoning to cross-country ski trails and glacier excursions, Saas Fee is much more than a small ski resort in Switzerland.
And for its size, there is a great choice of restaurants in Saas Fee, including the highest revolving restaurant in the world. Traditional alpine charm, extensive skiing and world-class achievements, not to mention some of our favourite chalets in Switzerland, put the understated Saas Fee on our map for one of the best hidden gems in the Swiss Alps.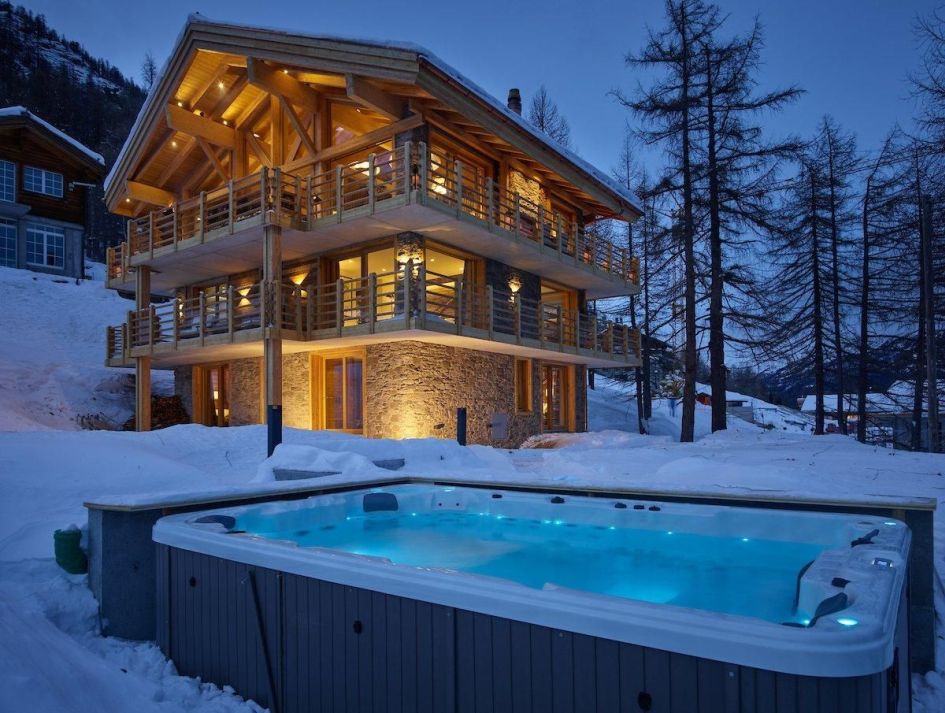 Chalet Annapurna is one of the most unique chalets in Switzerland and has everything you could possibly need for a mountain escape. This ski-out Swiss chalet spreads across 5 floors and 450sqm, and has been cleverly designed by local architect Iwan Kiechler who has maximised comfort and exposure to the spectacular alpine views. With an outdoor hot tub, sauna, bar, TV snug and south-facing terrace, it provides a sanctuary for the ultimate ski retreat in the Swiss Alps. In keeping with its humble surroundings, Chalet Annapurna is a cosy and traditional chalet whose small, talented team offer Michelin star standard dining, along with an open bar, electro-taxi and an all-round friendly service.
When thinking about where to stay in Saas Fee, we have a growing selection of handpicked luxury ski chalets in Saas Fee suit a variety of requirements.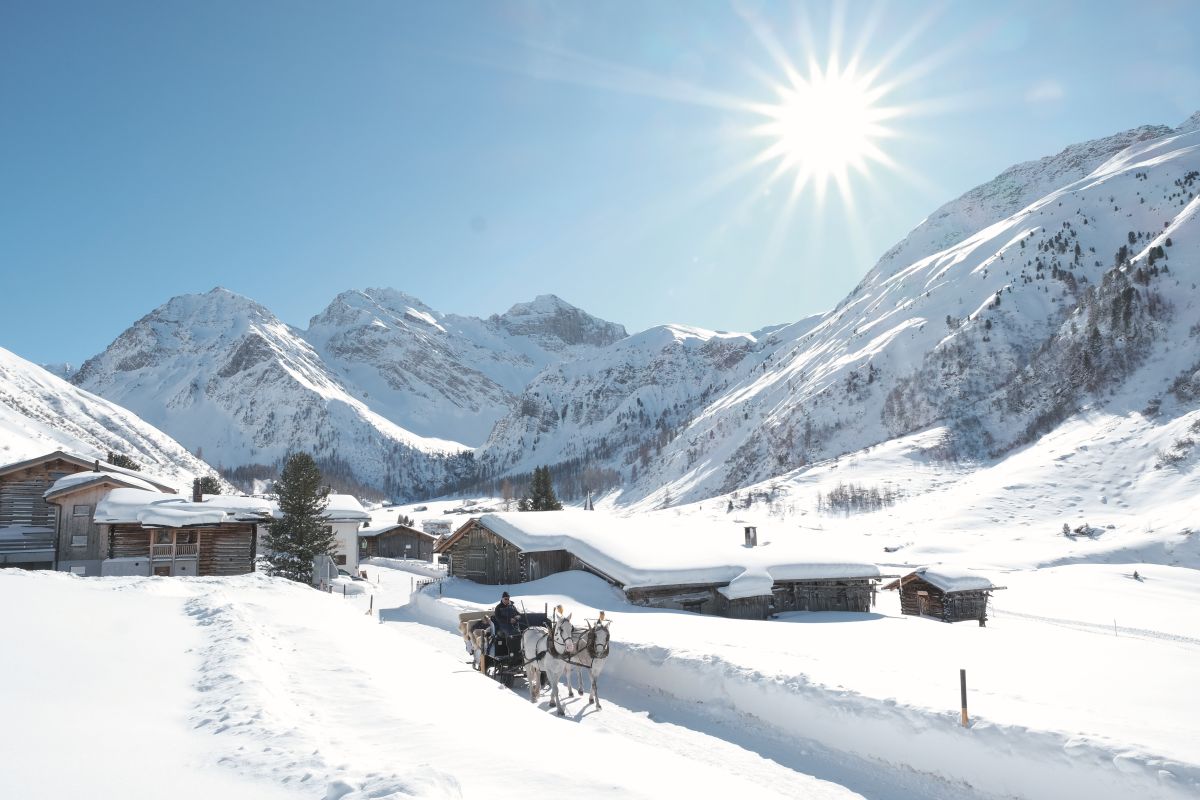 You might first recognise 'Davos' as the home of the annual World Economic Forum, where world leaders gather to discuss shaping and improving the future. Yet, Davos can also be recognised for being the highest town in Europe, the oldest ski resort in the Alps and for one of the largest ski areas in the Alps (shared with neighbouring resort Klosters). For an alpine town in the canton of Graubünden, it has a lot to be commended for!
The regional ski pass covers 6 ski areas and 300km of piste, of which 80% are above 2,000m making the majority of skiing in Davos snow sure. With such a large ski area, there is a great variety for all ski abilities and the slopes are never too crowded. Aside from skiing, there are plenty of mountain activities to satisfy your Swiss Alps holiday needs. Take a magical horse and carriage ride, speed down toboggan tracks, ice skate on Europe's largest natural ice rink (18,000sqm) or enjoy miles and miles of cross-country skiing. Variety is a constant theme in Davos as it also offers over 110 restaurants, which together cover a range of cuisines to suit all tastes. Davos is a truly idyllic destination for winter holidays in Switzerland.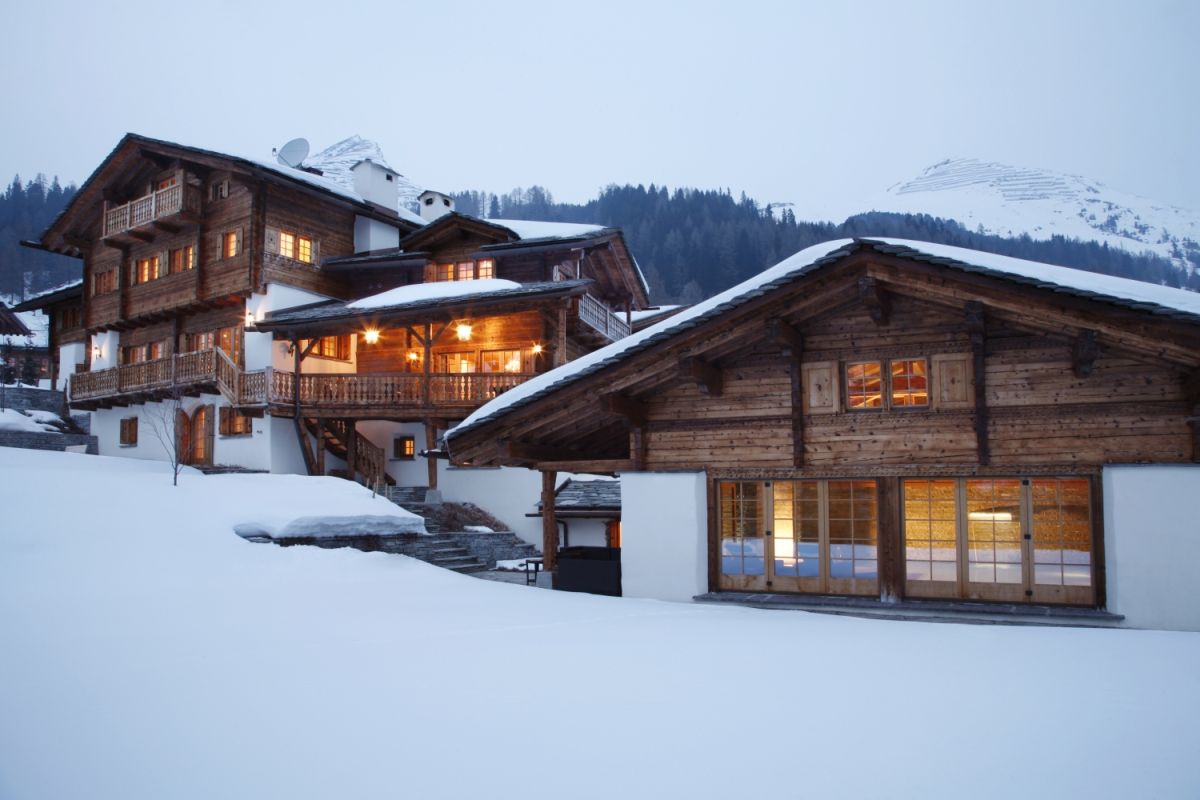 As Davos was a town before a ski resort, many of its larger buildings were converted to hotels; but for a Davos luxury chalet experience look no further than the fabulous Tivoli Lodge. Positioned in a rural and peaceful setting, yet conveniently ski-in, ski-out, Tivoli Lodge covers over 700sqm of living space and accommodates up to 18 guests.
The sensational spa, consisting of an indoor pool with jet stream, sauna, steam room and Jacuzzi, is the perfect sanctuary for the adults to relax and recharge. Meanwhile the children can enjoy entertainment facilities such as the TV lounge with board games, toys and consoles or enjoy one of the chalet's most unique features, a two-storey soft play area! Of course, when the indoor pool isn't occupied by unwinding adults, then the children can splash around with inflatable toys and pool games. Tivoli Lodge certainly sets the bar high for luxury family chalets in Switzerland.
Possibly Switzerland's most understated luxury ski resort. Known in the summer for having some of the best golf courses in the Alps, as well as being a popular destination for tennis and squash, Crans Montana offers plenty for the winter holiday enthusiast too. Golf courses turn into a heaven for cross-country skiing and 140km of downhill ski slopes emerge from the high plateau at 1,500m up to the Plaine Morte Glacier at 3000m. Skiers of all abilities will find plenty of variety to explore during a ski holiday to Crans Montana.
The combined twin resorts of Crans and Montana are set on a sunny plateau overlooking the Rhône Valley and are surrounded by many forms of natural beauty. With picturesque lakes, glaciers and forests, it's a delight for every nature lover and winter adventurer. Nonetheless, you can still benefit from the perks of a bustling cosmopolitan town with the large choice of high quality restaurants, extensive alpine shopping and some of the most exceptional catered ski chalets in Switzerland.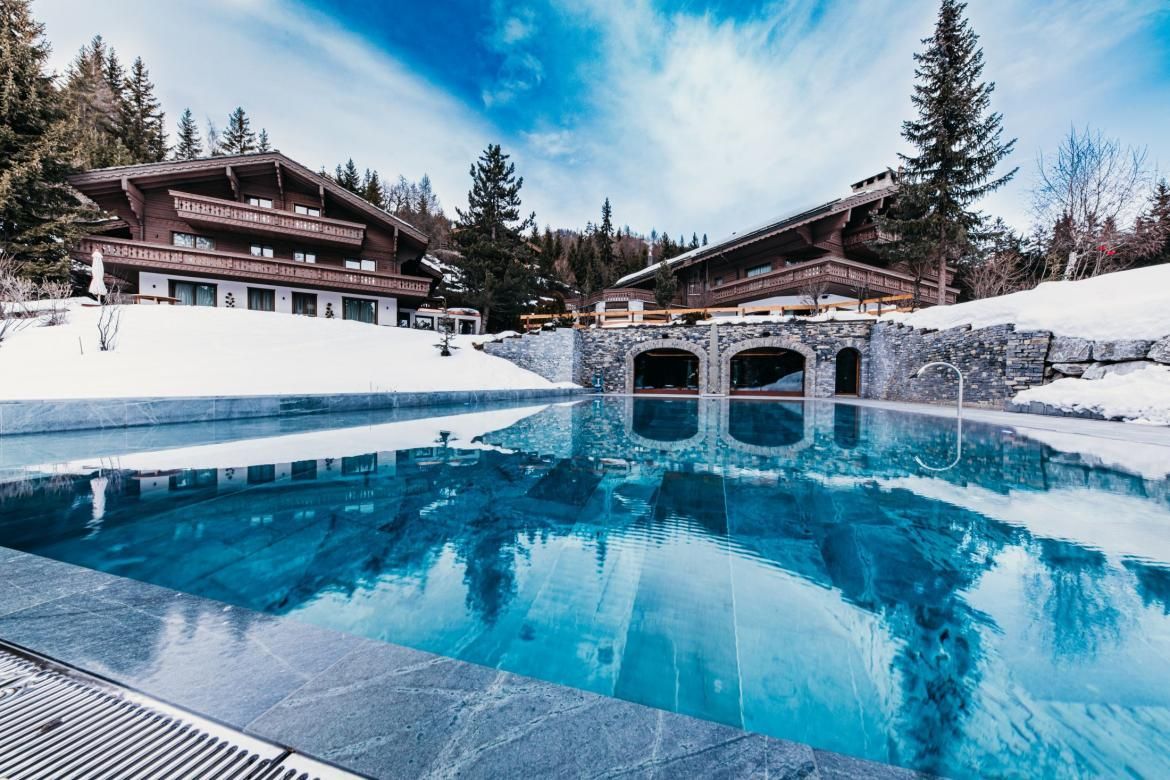 In light of the twin towns Crans and Montana, let's introduce you to a luxurious pair of ski properties; Ultima Crans Chalets (Ultima Crans 1 and Ultima Crans 2). With the option to book separately or combined, these luxury chalets in Crans Montana are arguably some of the most impressive chalets in Switzerland. With a private lake, ski-in, ski-out access to make the most of your time skiing in Switzerland, and nothing but 5* star luxury standards, there is little left to be desired.
Off the slopes you can spend hours using the spa facilities to unwind from your day of mountain activity, or enjoy an evening of entertainment playing games in the billiard room or snuggling up with a favourite movie in the high-tech home cinema. The ski chalet design and interiors as well as the service and facilities, will be sure impress. Discover more luxury chalets in Crans Montana.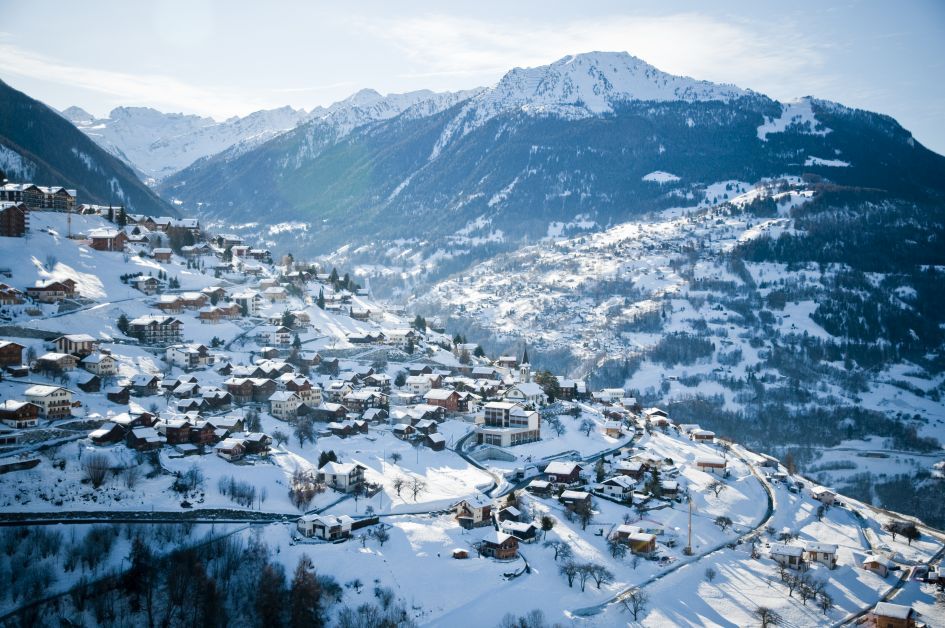 A small alpine village linked to the largest ski area in Switzerland, Veysonnaz is often overshadowed by the larger, more expensive 4 Valleys resort of Verbier. Veysonnaz is a charming and authentic Swiss ski resort offering an average 300 days of sunshine a year and spectacular mountain scenery. It's the perfect destination for those wanting to escape for a peaceful and beautiful ski retreat in the Swiss Alps.
As well as its connection to the 4 Valleys ski area, Veysonnaz's local ski area, Printse (also connected to Nendaz), comprises a great selection of reds and blues, making it a perfect Swiss ski resort for beginners. Additionally, the local skiing in Veysonnaz includes the challenging Piste de l'Ours (the bear's track), which is a legendary run in the World Cup. Veysonnaz is also the host of the Para Alpine World Cup. If you are up for more of an adventure, then have a go at Freetrack L'Eteygeon which is one of the most impressive freeride routes in both length and scenery! For the non-skier, there is snowshoeing, hiking, tobogganing, ice skating and husky sled rides (we recommend booking in advance).
Despite its small, quaint nature, Veysonnaz is in no shortage of good places to eat. Mountain restaurants boast panoramic views and sun terraces whilst down in the village you can experience authentic local cuisine as well as restaurants for that special occasion.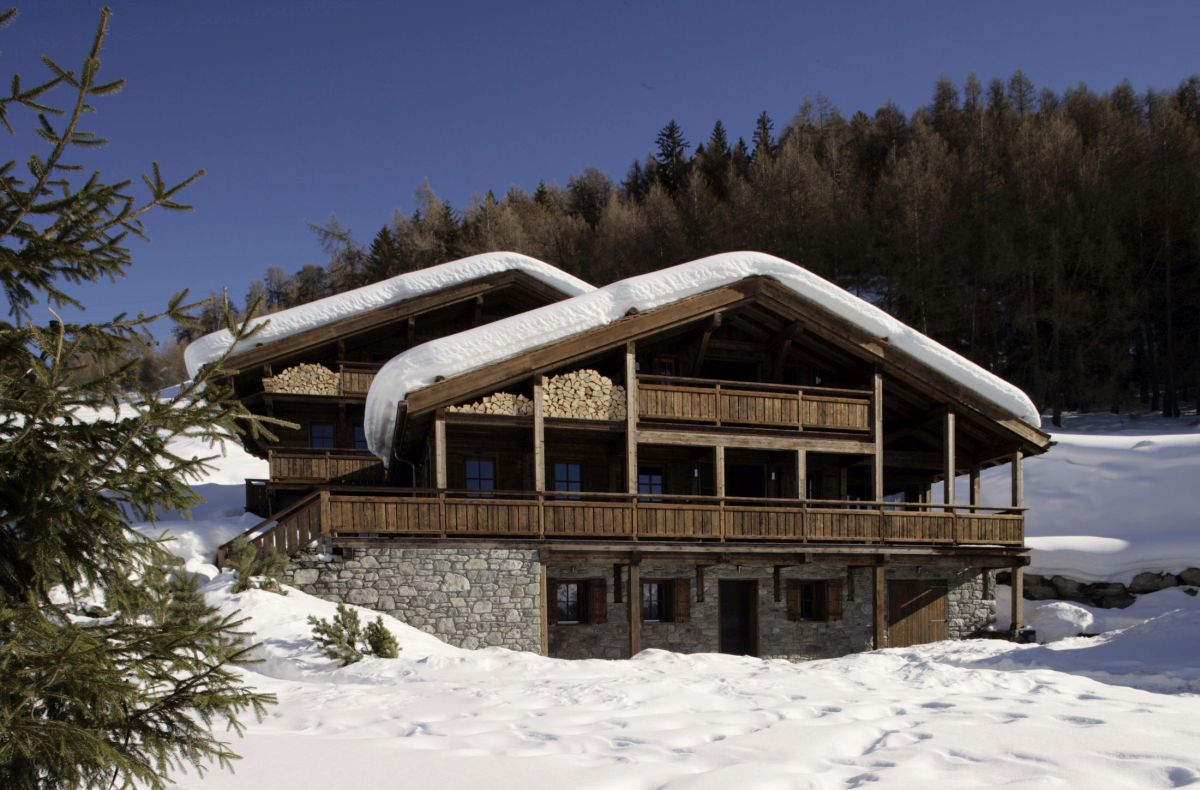 Tucked away in an enchanting forest above Veysonnaz and accessed by private road only, Hidden Dragon is the ultimate mountain retreat in Switzerland. Despite its remote location, this luxury chalet in Veysonnaz has ski-in, ski-out access so you can enjoy the vast 4 Valleys in no time.
Inside Hidden Dragon, you will soon feel restored, relaxed and re-energised with help from the feng shui principles and Shinto traditions incorporated in the interiors and facilities. With a Hammam, sauna, outdoor hot-tub, yoga room and massage therapy, there is everything you need to unwind and relieve aching muscles after a day skiing Veysonnaz, 4 Valleys.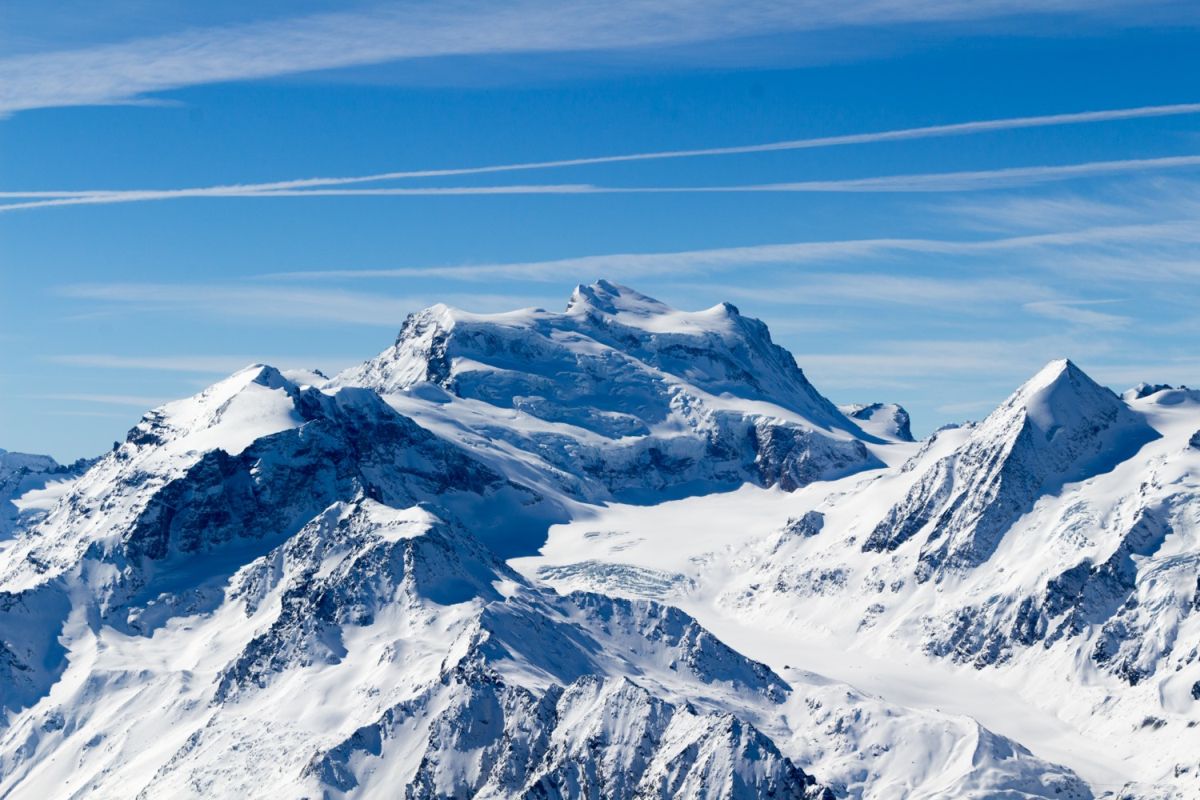 Also part of the immense 4 Valleys ski region, La Tzoumaz offers the idyllic base for a secluded ski chalet holiday in Switzerland. Verbier's undiscovered neighbour is a stunning resort in the Swiss Alps. Although La Tzoumaz shares the same lift system as Verbier, meaning immediate access to the 4 Valleys ski area, locally you can enjoy much quieter pistes and excellent conditions due to the north facing slopes that retain their snow for longer.
Holding the title for the having the longest sledge run in Western Switzerland (10km), as well as having a heated swimming pool, natural ice rink, the FunSlope and a great choice of ski runs to develop confidence, La Tzoumaz is perfect family friendly ski resort in Switzerland. There are some fantastic snowshoe trails where you can find yourself exploring a magical winter wonderland, seeing all the beauty at a different angle and slower pace. For a truly unique experience, the tourist office offer a guided snowshoe tour in the evening which includes a well-earned raclette dinner at the end! As 'tzoumer' translates as 'taking a break', La Tzoumaz is an excellent choice for a holiday in the Swiss Alps.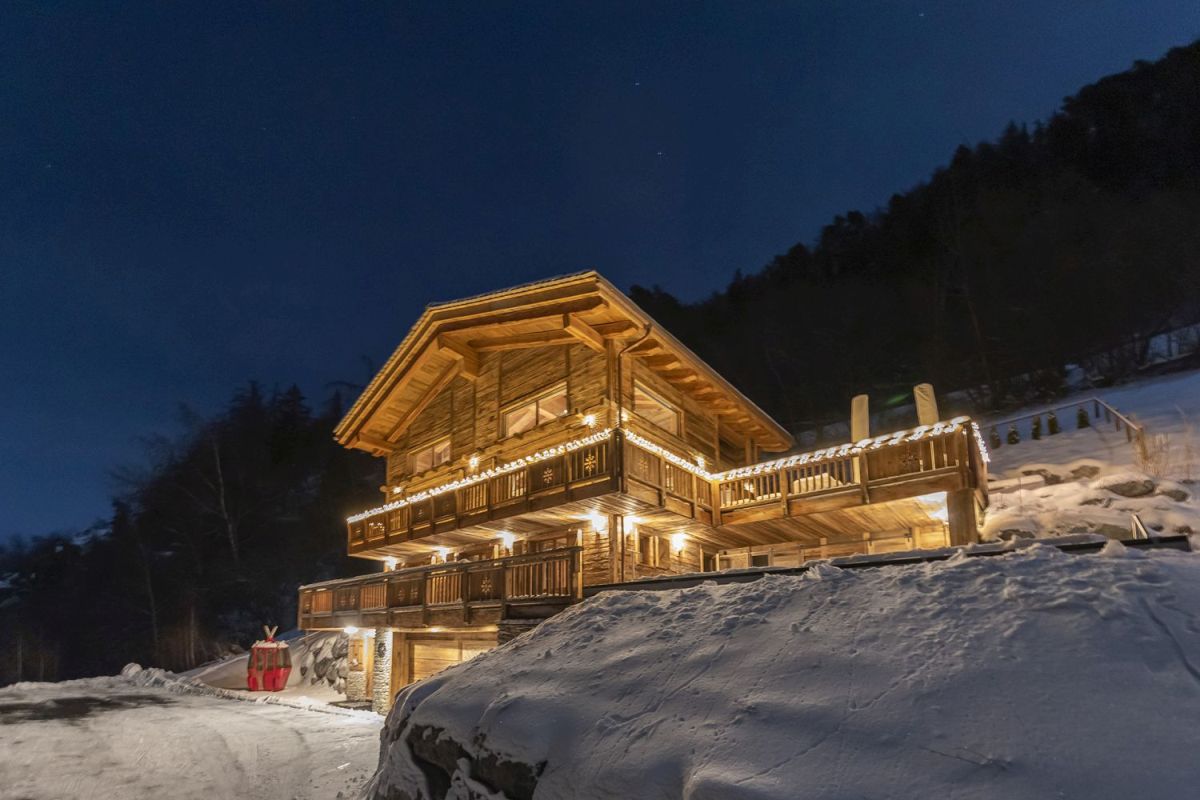 By way of secluded luxury chalets in Switzerland, Chalet V ticks all the boxes. It is one of the best chalets for escapism in our portfolio. Featuring one of the top swimming pools in the Verbier region, as well as an outdoor hot tub and sauna, the wellness at Chalet V is the ultimate set-up for relaxing on your ski holiday in Switzerland. In addition to these facilities, the whole family can enjoy relaxing by the outdoor fire pit, playing pinball or watching your family favourite blockbuster in the TV room.
Your stay at Chalet V will be memorable in many ways. From watching the mountain sunset in the infinity pool to the personable service provided by the chalet team, it's one of Switzerland's most special and unique chalet experiences.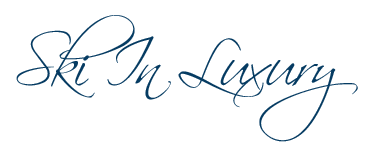 Heading to the quieter ski destinations on your next Swiss Alps holiday, certainly has its benefits, including a choice of some the most unique, secluded and best luxury chalets in Switzerland. We hope we have broadened your Swiss ski holiday options in this blog and you are inspired to enjoy an escapism holiday or try somewhere new. It has to be said that despite being some of the lesser-known resorts in Switzerland, there are some pretty impressive world-class statuses amongst them.
If you need further guidance on any of the resorts or chalets above, please do get in touch by sending an email or giving us a call on +44 (0)1202 203650. Our Ski Specialists will be delighted to help you make plans for your next luxury chalet holiday in Switzerland.