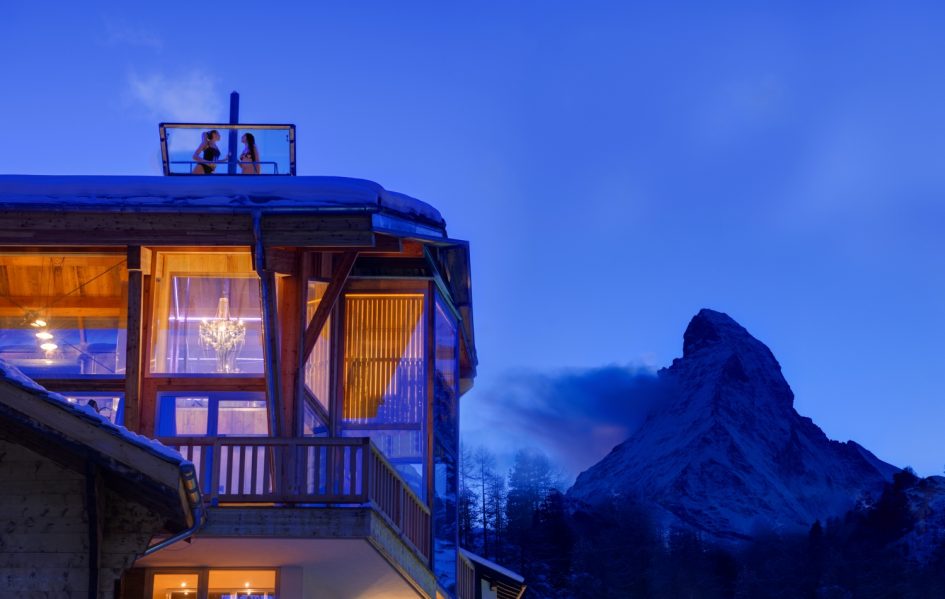 Are you looking to find a luxury ski chalet with a twist for your next ski holiday? Look no further than our Magnificent Seven – some of our most unique ski chalets with the most stunning and astonishing features that you couldn't fathom in your wildest dreams…
From the fun and quirkiness of indoor slides, to the greatest of entertainment features in such as rock climbing walls and inflatable igloos – take a journey with us through some spectacular luxury chalets, you won't believe your eyes!

Everywhere you turn there is something fascinating to capture both your eye and imagination at the fabulous, atypical Chalet Husky. Bright neon rainbow coloured lights are juxtaposed with traditional neutral colours and tactile materials.
A chalet with a multitude of dimensions, the action never has to stop with the array of activities and facilities on offer, with its wellness suite that's second to none, featuring a large 32m² swimming pool with infinity waterfall, sauna, hammam and massage treatment room – allowing you to relieve all of those aches and pains gathered on the piste. Plus, if you feel the slopes haven't given you a hard enough workout, you can head straight to the fitness room.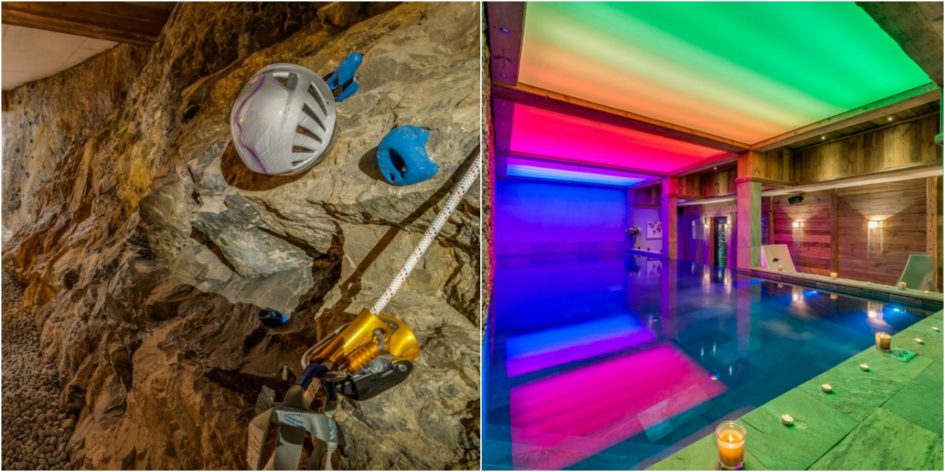 If you're the active type and are left feeling that the slopes haven't quite tested your agility, stamina and accuracy to the limits, this wondrous chalet also incorporates its own indoor climbing wall, as well as a place to compete against friends and family and release your inner cowboy with the archery and rifle shooting!
With the perfect mix of active entertainment and relaxation, this fully catered unique ski chalet sleeps 14 in absolute luxury.

If you're looking for a vibrant – some might say verging on psychedelic – luxury ski experience, look no further! Chalet Rock 'N' Love is truly one of a kind! Unlike any chalet we've ever seen, Guerlain Chicherit (the French rally driver, professional skier and four times world champion in free-riding), has most certainly made his mark on Tignes with this beauty. With his exuberant personality flowing through the decor of every room, it really is a sight to behold.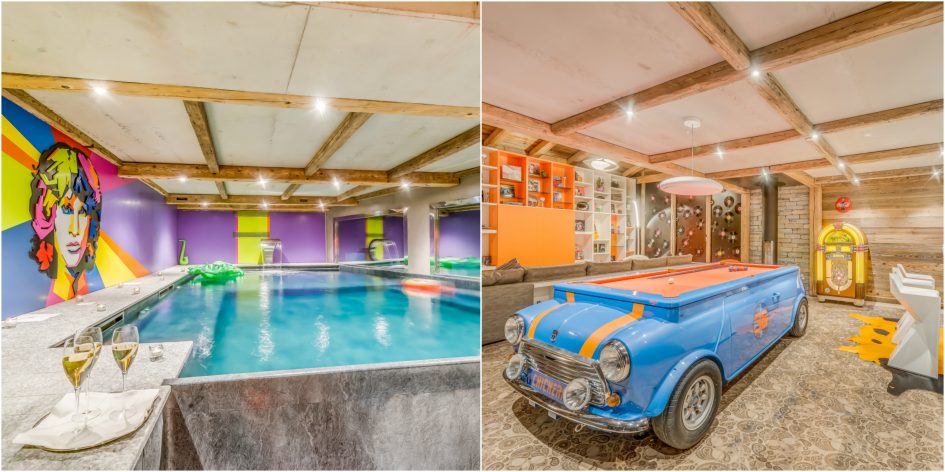 Aside from the explosion of colour, the kitsch 70's charm and the playful grown up 'toys', Guerlain has tapped into his adoration for cars by making elaborate features of some of the most loved vintage vehicles – by way of a Mini Cooper pool table and VW camper van beds. Once you have played on a Mini Cooper pool table, you'll never view the classic car in the same way again!
If that's not enough to wow you, might we also mention the chalet not only features an indoor swimming pool with a stunningly neon mural of Jim Morrison (for all of you Doors fans) but also a steam room, hammam, outdoor Jacuzzi and Hydro Jet bed for your ultimate relaxation!
Essentially, a trip that will pique your interest both on and off the slopes!
One of the most unique ski chalets in our portfolio, inject a bit of kookiness into your next ski adventure at Chalet Rock 'N' Love.

Originally a 1940's Valais house, Heinz Julen (artist, architect and designer) has added some depth and flare to this luxury ski chalet. Now a stunning three storey masterpiece of glass and local larch, there are spectacular 360 degree panoramic views of the village, not to mention the infamous Matterhorn.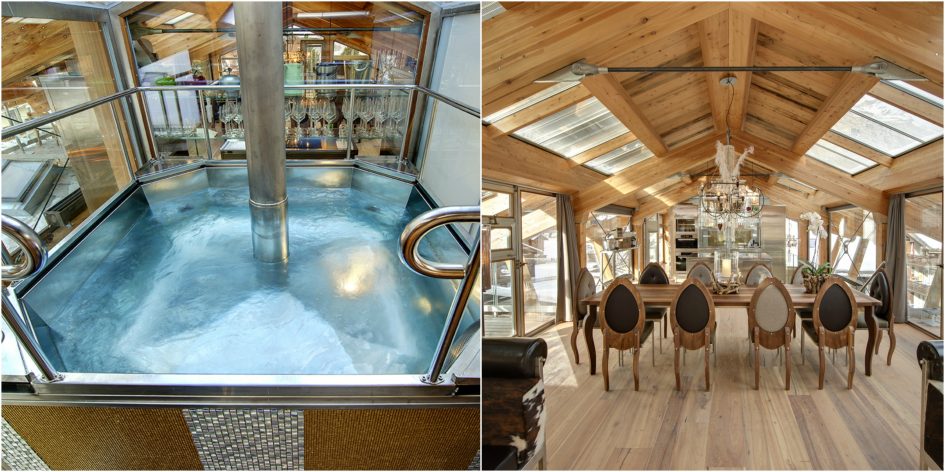 As if this chalet didn't already sound amazing enough, the piece de resistance is Heinz Julen's fascinating feat of engineering – the hydraulically lifted hot tub. If the stunning views of the Matterhorn by the fireplace could be taken to another level… well, they are! At the mere touch of a button you can be soaking up the breathtaking view in your luxury rooftop whirlpool, stargazing whilst sipping at a glass of your preferred tipple. This truly is an experience unlike any other!
A classy and unique ski chalet, Backstage Chalet sleeps 10-11 guests across 5 bedrooms.

La Datcha VT is a chalet in a complete league of its own in the popular high altitude resort of Val Thorens (2,300m). With extravagance and entertainment at the heart of its design, this luxury chalet has facilities for all. At a huge 1,200 square meters, this expansive chalet comes with everything you could expect of an exclusive luxury chalet.
The wellness space is an indulgent delight with an impressive swimming pool, both an indoor and outdoor hot tub as well as sauna, hammam and massage room! If long days pampering yourself in the spa is not for you then wait until you see what is elsewhere…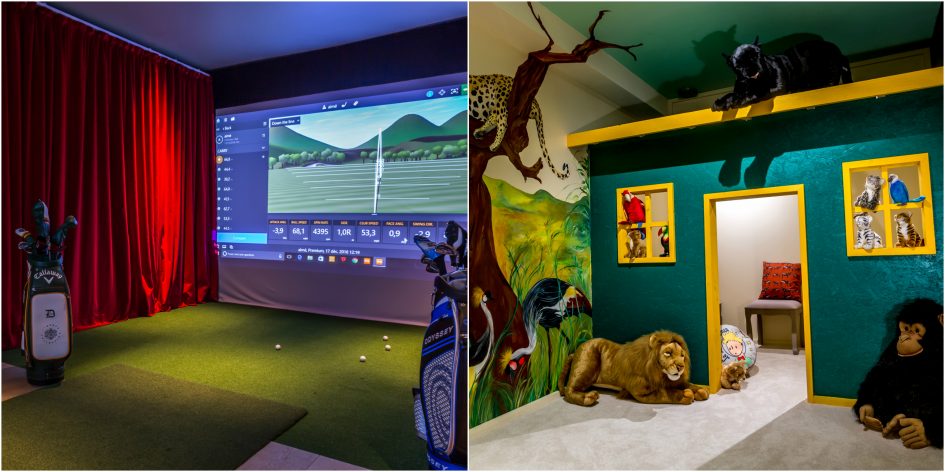 The entertainment space is unsurpassed in the luxury chalet world. Not only do you have the unique features of a golf simulator, Formula 1 simulator and amusement arcade for the kids – both big and small, but also two cinemas and brilliant play room for the younger ones.
If a bit of quiet and relaxation is needed then head to the business centre where you will find the library and cigar lounge or you could simply enjoy a classic wine from the extensive choice in your private wine cellar.
Make this your home from home during your luxury ski experience; one of the more unique ski chalets in out portfolio, La Datcha VT sleeps up to 15 guests in 8 amazing bedrooms!

A decadent, classy beauty with lots of traditional wooden features, this chalet obviously hosts the luxury aspects you'd expect, like an outdoor hot tub, free standing roll top baths, and a wine cellar. But there's more than meets the eye with this wonderful space, including a grand piano situated in front of the panoramic windows, and quirky slide which takes you down 5 floors from the cosy bar area to the wine cave on the lower ground floor.
If the slide isn't entertaining enough, once you have been propelled down to the wine cave you can partake in a leisurely game of snooker. If you feel like entertaining the snooker table can also be converted into a dining table big enough to seat 22 people – for those special occasions. There is also a great wellness space which includes a fabulous sunken fire pit for a sophisticated drink. The wow factor isn't just limited to the indoors, step outside and be in awe of your very own heated infinity pool!..Float on top of the world, enjoying spectacular valley views across snow-capped peaks and swimming under open snowy skies!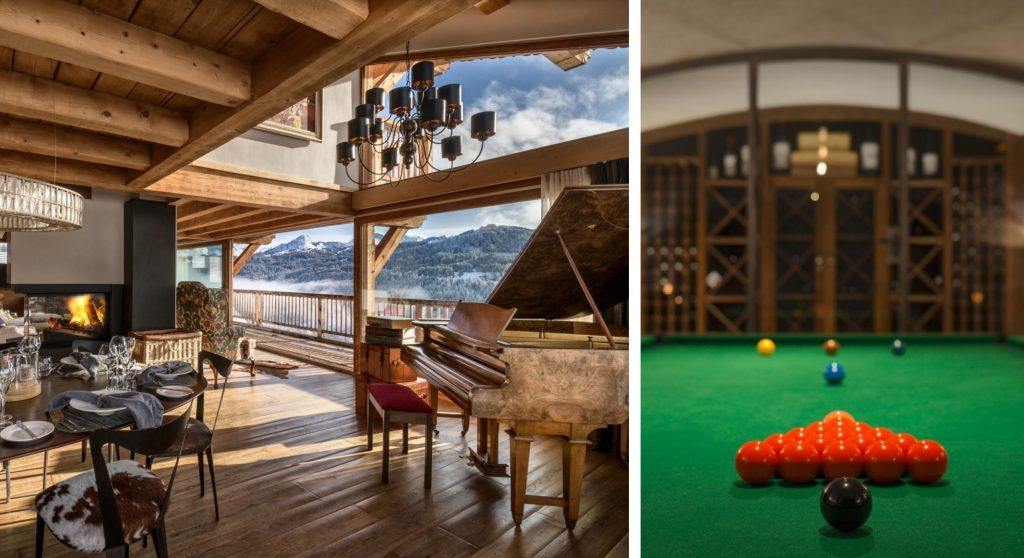 Let's not overlook the superlative views either, on a clear day you will see the world famous Mont Blanc in the horizon from the open plan dining and living area, as well as from the comfort of the master bedroom.
Slide into the traditional decadence with a twist at Grande Corniche, a beautiful and unique ski chalet. This luxury property accommodates up to 12 adults and 3 children in the main chalet with the option to add the neighbouring annexe for up to 4 additional guests.

This unparalleled chalet, a former 17th century monastery, marries majestic historical style with the most luxurious modern comforts imaginable. Greeting you with grandiose antique carved doors, this phenomenal chalet is situated on the piste, with the ski-in/ski-out feature giving you the option of the famous World Cup downhill 'Coupe du Monde OK' black slope on one side (if you're brave enough!) and the popular green 'Vert' slope on the other. Oh, and did we mention the helicopter pad is less than a minute's drive away.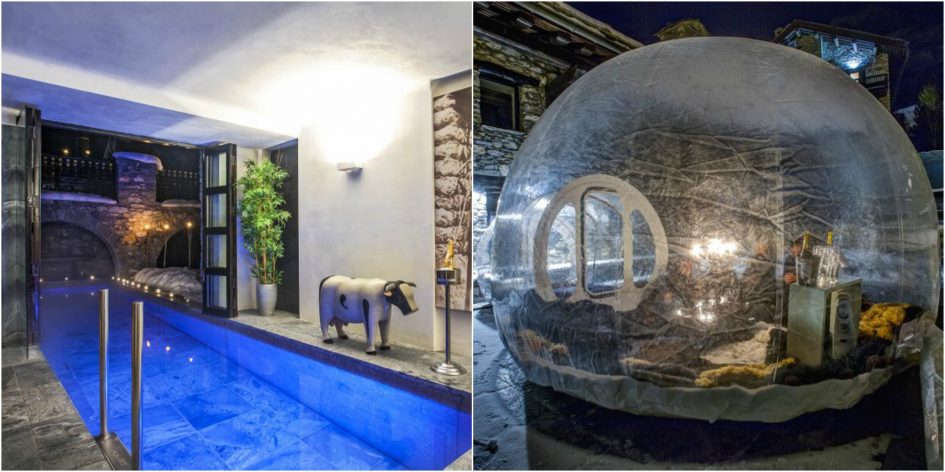 Don't on't be fooled by this unique ski chalets rustic appearance, there is an abundance of sleek and innovative facets inside, including an invisible swimming pool that can pop up between the dining area and the cigar room. however, if a pool isn't enough for you and you like a long soak on your own, each bath is of such impressive proportions that it is classified under French building rules as a 'swimming pool'. They also boast rain showers and convert into steam rooms, easily seating up to 4 or more people, with remote-controlled lights.
If you'd like to spend a romantic and cosy night under the stars, the chalet also features an incredibly romantic inflatable igloo, allowing you to feel at one with the universe from the luxurious warmth of this cosy cocoon.
Sleep underneath the stars and watch the earth move in this landmark building of the charming hameau of La Daille, which sleeps 8.

Redefining Alpine luxury, Tivoli Lodge is a highly desired mountain retreat. This luxury ski in ski out chalet is located in the exclusive Davos Klosters ski area in the Swiss Alps, which is a chosen resort for those in the know! The chalet itself mirrors the traditional Swiss charm of the resort but once you step inside it is home to a sumptuous, chic look and contemporary style.
If you are looking for the perfect chalet for a relaxing luxury holiday, Tivoli Lodge offers some amazing spaces to unwind in. The chalet boasts an impressive spa complex housing an indoor pool with jet stream and waterfall, Jacuzzi and separate sauna and steam room.
For the children there is a completely unique indoor two storey soft play gym. This includes a large ball pit, slides and clamber nets. If your kids are still full of energy after a long day on the pistes then this will be sure to entertain. Tivoli Lodge the perfect family friendly ski chalet!
This unique ski chalet sleeps up to 18 guests in 6 twin/double rooms plus a children's triple bunk room, and is ready for your next family getaway!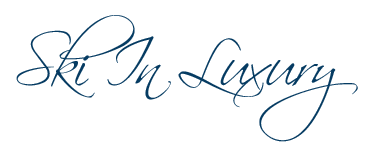 For more details about these unique ski chalets, or any properties with extra WOW  factor, give us a call on +44 (0) 1202 203650 or pop us an email.